Springfield Armory Hellcat Review: CCW Contender?
In this Springfield Armory Hellcat review I spent hours at the range testing this little pistol so that I could share my actual hands-on experience with you and let you know whether, in my opinion, the Hellcat is suitable as a concealed carry pistol.
Read on to see our review of the Hellcat pistol by Springfield Armory.
Hellcat Pistol Review
Here's what we're going to cover in this Springfield Hellcat review:
Hellcat SPECS
Caliber

9mm

Capacity

11+1 or 13+1

Sights

Tritium Sights, Optics Ready

Height

4″ or 4.5″

Barrel

3″

Twist

1:10

Length

6″

Weight

18.6 oz
Springfield Armory Hellcat Background
When Sig came out with their P365, they redefined what a concealed carry pistol could be and we don't think that Springfield Armory would disagree with us that the Hellcat is their answer.
The Springfield Armory Hellcat, much like the Hellion, is an imported firearm made by a Croatian manufacturer. Springfield has been releasing firearms that they import from HS Produkt in Croatia since about 2003. At first, they were bringing in the "XD" series of pistols which were a good value for a decent pistol.
Now they are bringing to market this Hellcat pistol as well as their new Hellion bull-pup rifle (I'm noticing a naming trend). Although the XDs were ok, these new offerings are a step above.
Just hold a Hellcat in your hands and you'll see what I mean – they've really stepped it up and the Hellcat is a serious contender.
The Hellcat is a micro 9mm pistol with huge capacity. It holds 11+1 rounds of 9mm with a flush magazine and 13+1 rounds of 9mm with the extended magazine.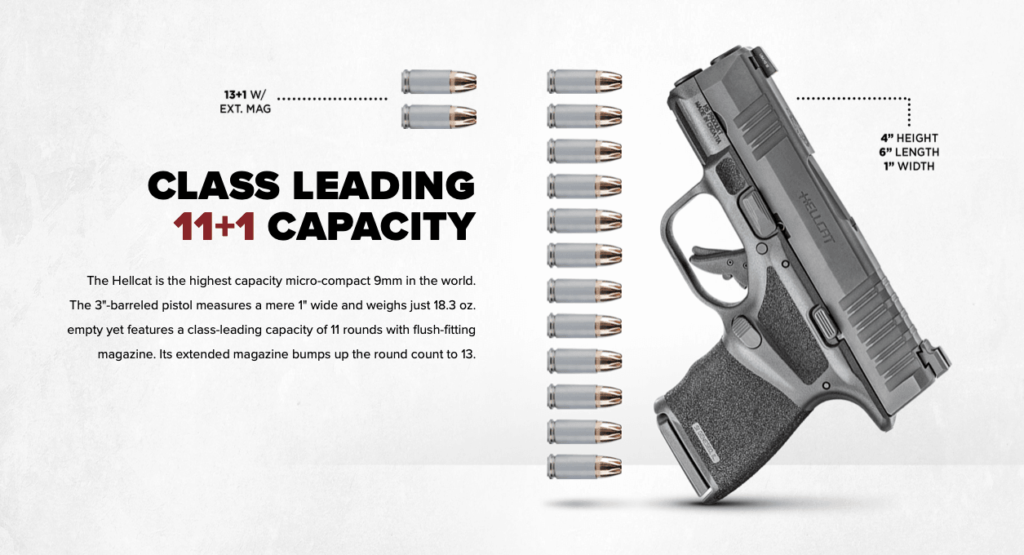 Springfield Armory Hellcat Features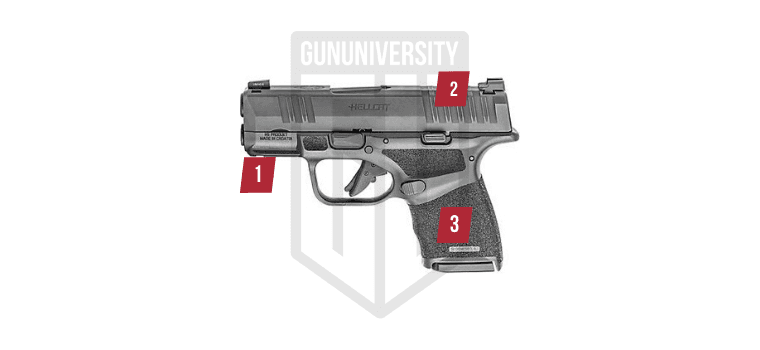 1
Standard Size Rail
The Springfield Hellcat uses a standard sized rail so that common accessories can be used.
2
Optics Ready and Wrap-Over Serrations
The Hellcat is available with an optics-ready cut straight from the factory and the rear slide serrations wrap over the top of the pistol.
3
11+1 or 13+1 Capacity
Super high capacity (at least one more round than any other comparably sized pistol).
Springfield Hellcat Review – Our Take
In no uncertain terms, we think that Springfield Armory has a winner here.
The easiest way for us to summarize the new Hellcat is like this: it's kinda' like a single-action Glock, with super high capacity, and effectively the same size as a Sig P365.
Here's our first thoughts:
Super high capacity… great job Springfield Armory!
Competition is a great thing… Sig has dominated the CCW market with their P365 and it's interesting to see the new Hellcat by Springfield Armory as a challenger.
This invites an interesting question: is Glock being left in the dust?
Glock is still the gold-standard for reliability and toughness. However, they are being left behind on capacity in their magazines. The Glock 48 is the closest comparison to the Hellcat and it has almost half the capacity. In fact, other manufacturers are making aftermarket Glock magazines so that Glock can get near the capacity of these new micro pistols.
They've done a few cool things.
First, Springfield Armory introduced the pistol with optics-ready models available. This is a smart move as the future of pistols involves dots of some sort. Whether they be red dots like the Shield RMS or tritium/fiber optic systems like whats on the new Sig p365 SAS.
In fact, if a manufacturer introduces a pistol meant for defense and it doesn't include the ability to accept a red-dot, then they've missed the boat.
Second, if you don't use the optic portion, they've carried the slide serrations up and over the top of the slide. We're not yet sure if this will catch on a holster but we think it is a cool option for better grip!
Other cool features include a unique sight picture, a flat trigger profile, reversible mag release and a standard rail (even on a micro pistol).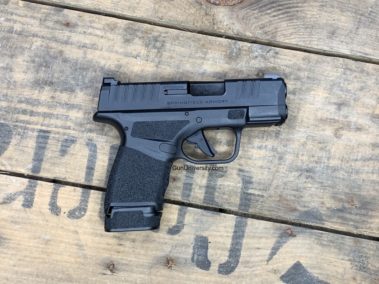 Our first hands-on experience with the Hellcat
We took the Hellcat to the range and fired 400 rounds and had zero malfunctions. Obviously, that's a great start!
The Hellcat was a bit "snappy" in my hands when I was shooting it, but, honestly, so is any micro pistol we've shot. We really have no complaints about the recoil – it was really fun to shoot!
The little pistol is also accurate!
I fired the first 390 shots on steel and decided to shoot one 10-shot group at 10 yards to see what it could do.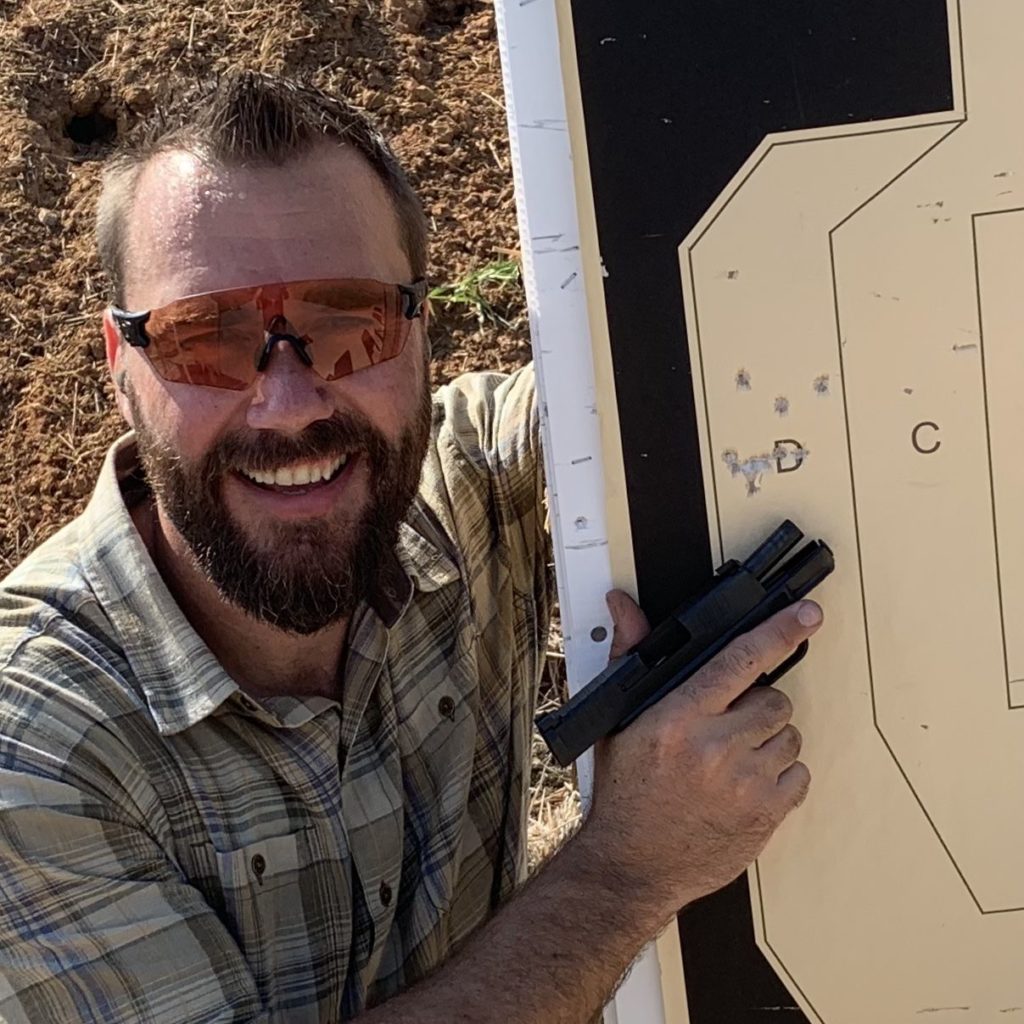 I'm not the greatest group shooter so I'll take this performance any day – especially out of such a small handgun.
Curious about the new Springfield micro pistol, I wanted to take it apart to see what was going on inside before I took it to the range to shoot it. Upon taking the slide apart, I realized that the Springfield Hellcat is easiest described as a single-action Glock. Seriously, just look at that striker and tell me that you don't see a Glock influence.
That's right, the slide internals not only look VERY similar to Glock slide internals, they also assembled largely in the same manner. I think this is a great thing – I love it when a design team allows parts to hold each other in place instead of drilling a hole and inserting a roll pin. Also, if the Glock has reliability figured out (they do), why not learn from them?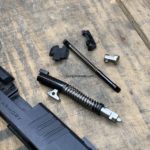 Even the trigger shoe and some of the trigger springs in the frame look very similar to a Glock setup. Of course, the parts are unique and the operation is different in that the Hellcat is a true single-action instead of having the striker be partially charged on trigger pull like a Glock.
When we picked up our brass after our shooting session, we noticed yet another similarity to a Glock pistol, the primers had the tell-tale Glock shaped rectangle from the striker hole and even had a similar striker mark (with a bit of primer-drag).
What we loved: The Hellcat is a high capacity micro pistol that has proven very reliable. We have no concern recommending this pistol to anyone.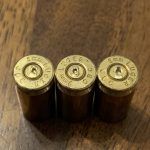 What we didn't love: The price. Yes, it's a great pistol, but the MSRP is the same as the Sig P365. See our Sig p365 comparison below to see why we think the Hellcat should be at least $100 less expensive.
Also, we didn't love the slide release lever. This is VERY likely just a personal thing but it bears mentioning. When I was shooting the Hellcat like I would normally shoot a pistol, it failed to lock the slide back on an empty magazine EVERY SINGLE TIME. This is because I was inadvertently holding the slide release lever down with my thumb. However, when I shot the pistol with my thumb very far away (not my normal grip) the slide locked back as it should. Therefore, it's not a function issue with the Hellcat, but rather a bit of a design issue.
Yes, I'm blaming the design for my grip. I had others shoot the pistol as well and it happened to them. I compared it to my p365 and the Hellcat's slide release lever is much further back on the pistol and it sits just under my thumb's knuckle making it almost impossible not to touch (especially on such a small pistol). The p365, however, has a slide release lever much further forward and out of the way of my thumb.
I get it – it's my fault. Springfield Armory made a very easy to access and actuate slide release lever, A byproduct of that choice is that it is very easy to hold down (for me). Also, even the slightest touch causes it to not hold the slide open.
The trigger. According to others, the trigger is better than a Glock trigger. To me, it's hard to say if it is "better," but it is certainly crisper/shorter travel than a Glock. But, when you compare it to other single action triggers, it actually feels more like a Glock trigger. I hope this makes sense.
Also the reset, although audible/tactile is a bit far out for my liking (especially for a single action trigger).
Springfield Armory made quite a few claims about the Hellcat 9mm, let's address them each:
Wrap over slide serrations. Springfield wrapped the rear slide serrations over the top of the slide.
This is AWESOME and I wish more manufacturers would do this! It really made a difference.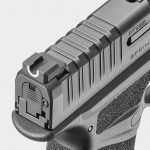 I actually wish that they did this for the front serrations, too.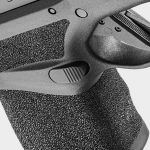 Special texturing. Springfield Armory claimed that they had a unique texture incorporating flattened triangles so that the grip wasn't too abrasive with shorter triangles that were engaged with a tighter grip. Their diagram and description seem great! However, in reality, the grip texturing appears to be fairly standard texturing and very similar to the p365.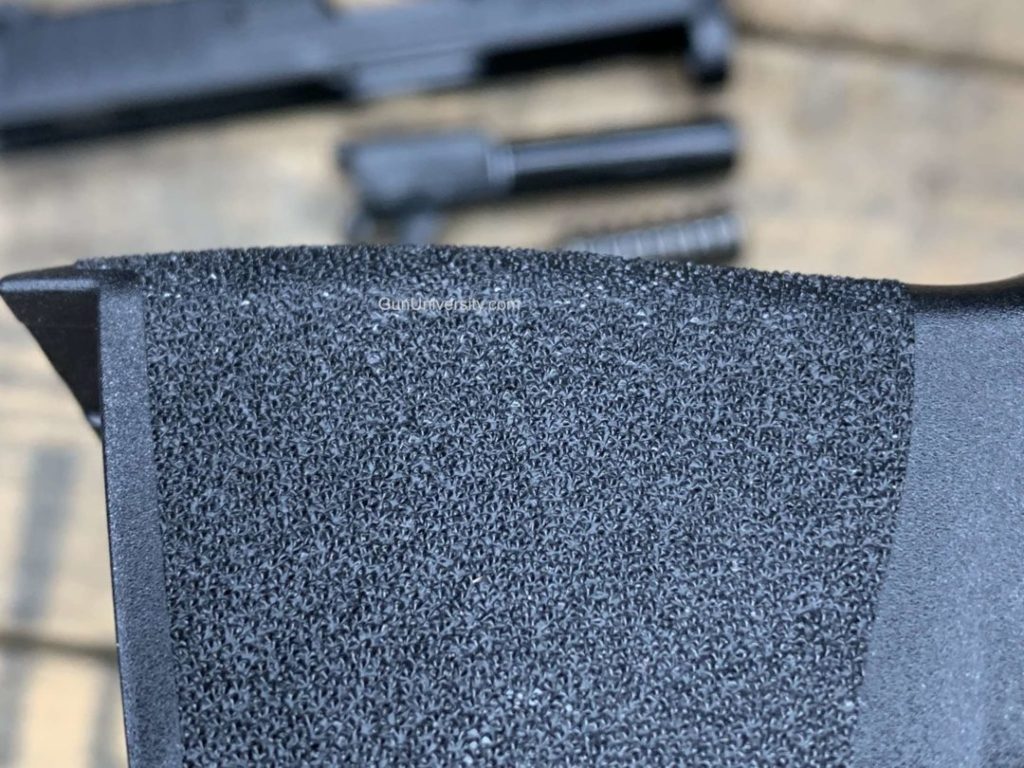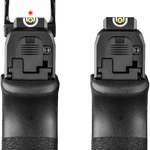 U-dot sights and Optics ready configuration. Here's another kudos to Springfield Armory – these sights are great for a CCW pistol. I didn't like them out of the box, but once I started shooting the Hellcat, I realized how quick and easy it was to keep the giant yellow/green dot on the target.
Also, red-dots are clearly the future of pistol sights. It is really cool to see a manufacturer offer an optic ready version straight from the factory when the pistol is released.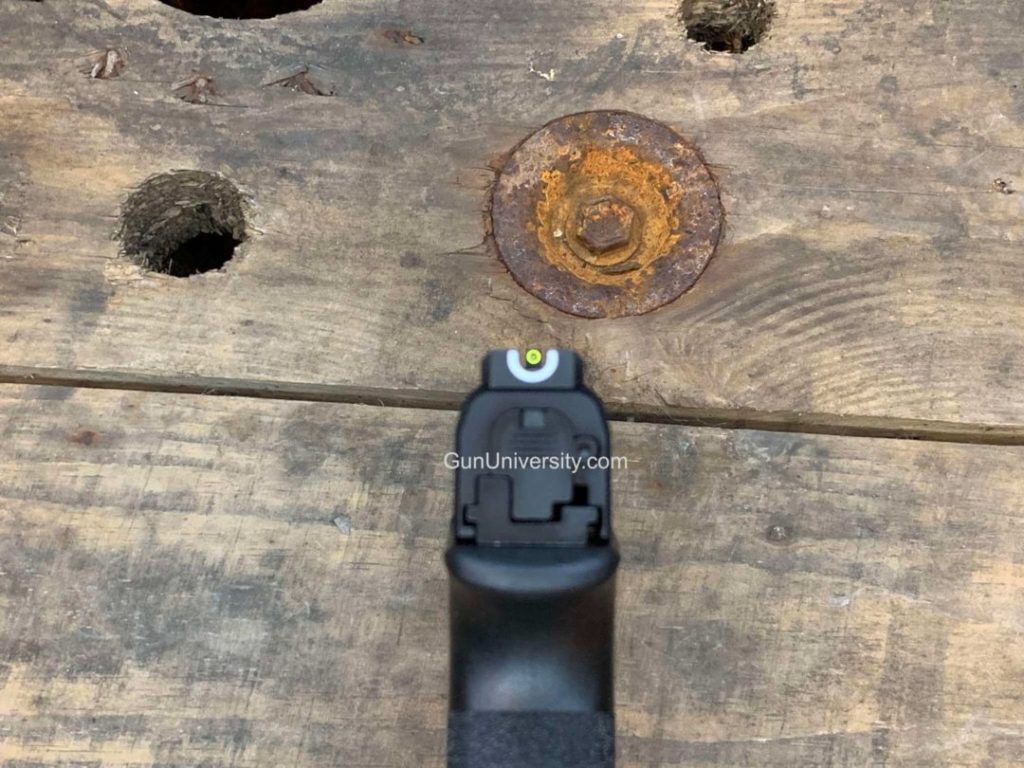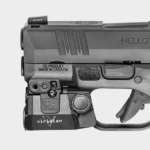 Full-sized accessory rail. Even though the Hellcat is a micro pistol, Springfield made it with a full sized accessory rail so that common accessories can be mounted.
This is a great idea!
Also, if you're doubting my analogy to this being a VERY Glock-like pistol, take a look at the accessory rail – it looks just like a Glock from the single horizontal groove for mounting to the embedded serial number plate (and its orientation).
Our summary:
The Springfield Armory Hellcat is a reliable accurate pistol that would be great as a CCW option and we recommend it without hesitation.
However, it still feels like a gun made in Croatia (because it is) in that it feels like a solid "value" gun that has a LOT going for it. However, when compared to other single action striker-fired firearms, the trigger falls short. This wouldn't be a problem if the Hellcat wasn't the same price as these more professional-grade guns.
I really like the Hellcat. I think Springfield knocked this pistol out of the park. I'm just trying to be a critic and give you everything. This gun is MUCH better than any XD I have shot. If you like XDs, you'll either LOVE the Hellcat because it's so much nicer, or you'll hate the Hellcat because you don't know what a good pistol is.
I'll also add that I did list as one of the top 9mms, however, there were a couple of its class that did do better. On my list of CCW guns though, it got a better score – but still not the #1.
Springfield Hellcat Pros and Cons
Super High Capacity
Reliable
Accurate
A bit pricey
The Trigger is nice, but others are better for a single-action
Report Card

Shootability

The gun is a bit snappy (so are all micro pistols) and the trigger isn't great. It's better than many other guns, but not as nice as others.

B

Reliability

Very reliable (except for the slide lock back if you hold the pistol like me)

A+

Ergonomics

Felt great in my hand. Slide serrations were a big plus.

A

Accuracy

Plenty accurate. I shot a better group than I typically do with a full-sized pistol.

A

Value

Great gun that I easily recommend. However, with the same price point as an American made gun that is just a bit nicer, it suffers a bit on the value grade.

A-

Our Grade
A-
Reviewed by Ryan Cleckner
Reader's Grade
A
Based on 139 Reviews
Your Grade
Do You Own This Gun? Leave A Review
Success Your Grade Has Been
Added To Our Reader's Score
We use email to verify the accuracy of our reviews. We promise to never spam you.
Springfield Hellcat Gun Deals
Springfield Hellcat Ammo
Range Rounds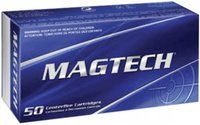 MagTech 9mm 115 GR FMJ Ammo
Best Defense Rounds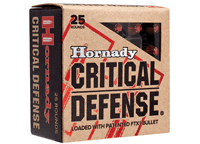 Hornady Critical Defense 115 GR
Springfield Hellcat Starter Pack
If you own the Hellcat or are looking to get one, here would be some suggestions I recommend that you get with your gun. You might already own some of these items, but if you don't then you should possibly look at grabbing them.
Hellcat Accessories and Upgrades
Other Sub-Compact Pistols to Check Out
We know that some of you are still needing more info and more options. The Hellcat is an amazing gun, but there are others in its class that are just as good if not better. So we want to help you by giving you at least one more review to see what else might compare.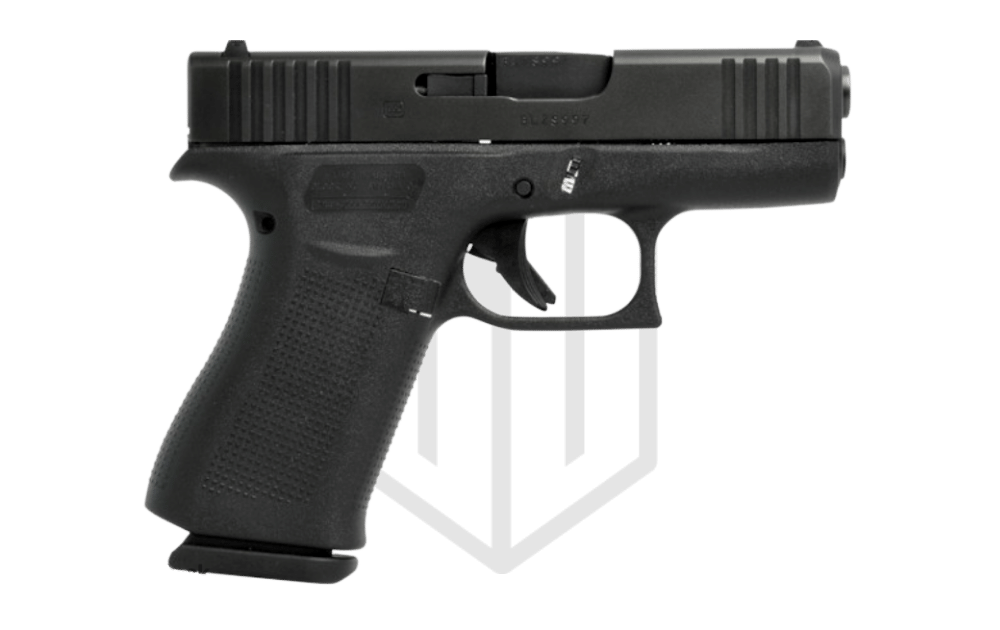 A single-stack "slimlined" Glock pistol specifically designed for CCW.
Shootability

A+

Reliability

A+

Ergonomics

A

Accuracy

A+

Value

A+
Reader's Grade
A
Based on 114 Reviews
Your Grade
Do You Own This Gun? Leave A Review
Success Your Grade Has Been
Added To Our Reader's Score
We use email to verify the accuracy of our reviews. We promise to never spam you.
The Glock 43X is a mixture of the Glock 48 and the Glock 43. Glock was very smart by creating its version of the P365. We didn't like it has a smaller capacity compared to the P365 but we did love it accuracy! You can see more by READING HERE.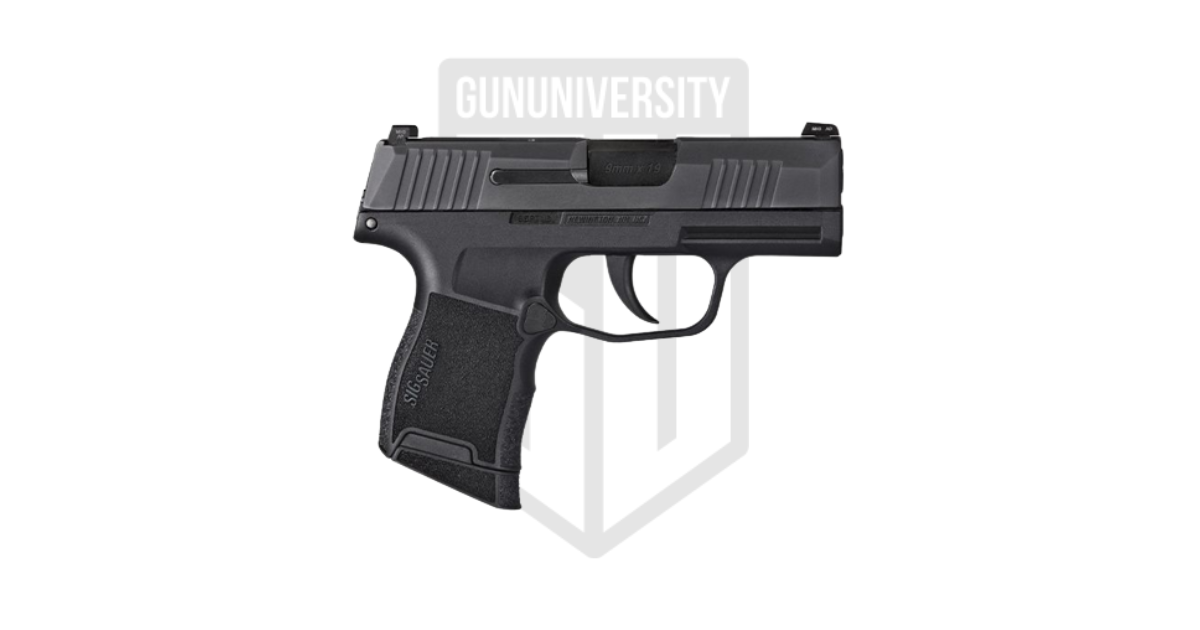 The Sig 365 set a new definition for what a great concealed carry handgun can be – it quickly became the go-to 9mm for many shooters.
Shootability

A

Reliability

A+

Ergonomics

A+

Accuracy

A+

Value

A+
Reader's Grade
A
Based on 146 Reviews
Your Grade
Do You Own This Gun? Leave A Review
Success Your Grade Has Been
Added To Our Reader's Score
We use email to verify the accuracy of our reviews. We promise to never spam you.
This little baby is so capable and versatile, that it is not a tiny version of the gun I'd rather have…. it IS the gun I'd rather have. READ MORE
How to Care Your Springfield Armory Hellcat
The most important thing we can do for our firearm is to keep it clean and maintain it. The Hellcat is a stellar firearm, so it's important to take care of it and keep it operational. Keeping up with the maintenance will make it last a lifetime!
If you want to start cleaning your gun right away, here is the recommended cleaning kit for the Springfield Hellcat:
Important Links And Manuals For Your Springfield Armory Hellcat
If you want to start cleaning your gun right away, here is the recommended cleaning kit for the Springfield Hellcat: