Marlin Model 60 Review: Discontinued but not discounted
If you are in the market for a general-purpose .22 rifle, chances are, sooner or later, you will encounter the Marlin Model 60. Although a more old-fashioned design compared to rifles like the ubiquitous Ruger 10/22, the Model 60 can do many of the same jobs for less cash. Although the Marlin Firearms Company recently ceased production of the Model 60, there are millions of examples out there that are ready to serve.
Marlin Model 60 Specs
Name

Model 60

Caliber

22LR

Action

Semi Auto

Safety

Crossbolt

Magazine

Tube

Magazine Capacity

15+1 or 18+1

Receiver

Anodized Aluminum

Sights

Fixed Post (Front) Adjustable Notch (Rear)

Optics Mount

3/8in Dovetail

Barrel Length

19 or 21 inches

Rifling

Micro Grooved

Stock

Birch – Monte Carlo

Weight

5 lb 9 oz
Marlin Model 60 Background
In 1959, the Marlin Firearms Company developed a tube-loaded heavy barreled 22 rifle in the Model 99. This rifle was stocked in walnut and the next year, a less-expensive birch stocked version of the same rifle was launched as the Model 60. To offset this, the traditional rifling of the Model 99 was replaced by Marlin's Micro-Groove rifling, a set of sixteen grooves that aided in bullet deformation. From the start, the Marlin Model 60 was an inexpensive rifle that shot like the best, a reputation that has continued to stick.
Until the upswing in magazine bans in 1980s, the Model 60 was offered with a 21 inch barrel and a magazine tube that held eighteen rounds. That model was phased out in favor of a 19 inch barreled version that could be sold in states that now prohibited magazine capacities exceeding fifteen rounds.
That did little to hurt the Model 60's popularity. A number of Model 60 variants continued in production beyond those hurdles as well as the acquisition of Marlin by the Remington Arms Company in 2007 until production ceased in 2020. In that time, over eleven million units were produced, making it among the most popular 22 rifles ever. The Model 60's action would also be tooled for several detachable box magazine fed rifles in the Marlin line up like the Model 70 and Model 795.
Marling Model 60 Features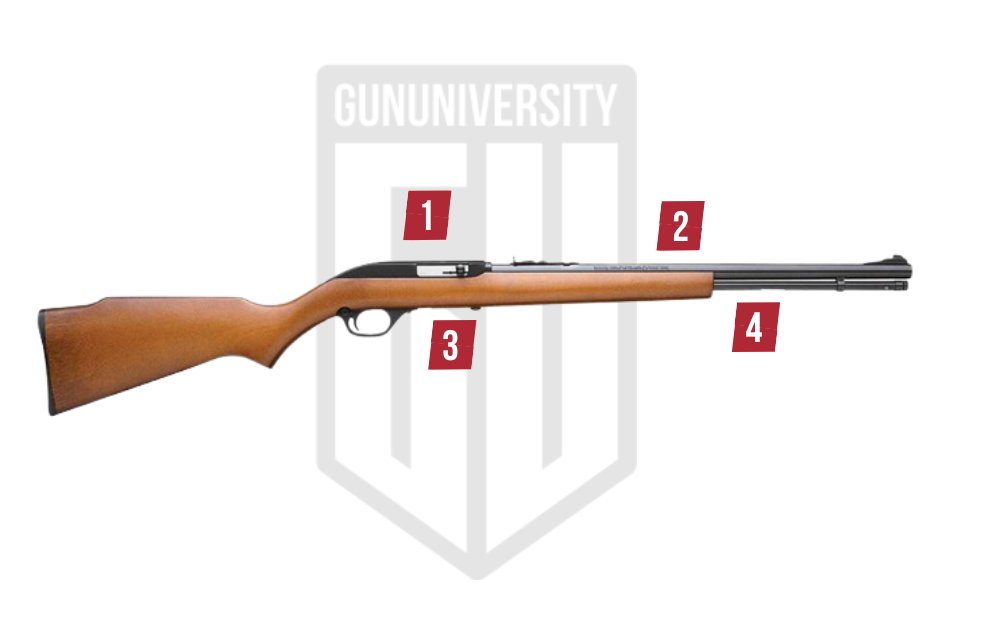 1
Optics Ready
3/8 inch rail compatible with rimfire rings and optics.
2
Micro Groove Rifling
Promotes greater accuracy by reducing bullet deformation.
3
Bolt Hold Open
  Signals an empty gun both to the shooter and on the range.
4
Tubular Magazine
Fixed magazine below the barrel that cannot be misplaced.
Models and Variations of the Marlin Model 60
Over the years, the Model 60 has been offered in numerous configurations including:
Base model 19 inch barreled rifle with birch stock and blued barrel (reviewed rifle)
Laminated stock with 21 inch barrel (featured)
Synthetic stock with nickel finish
Marlin Model 60 – How Does It Shoot?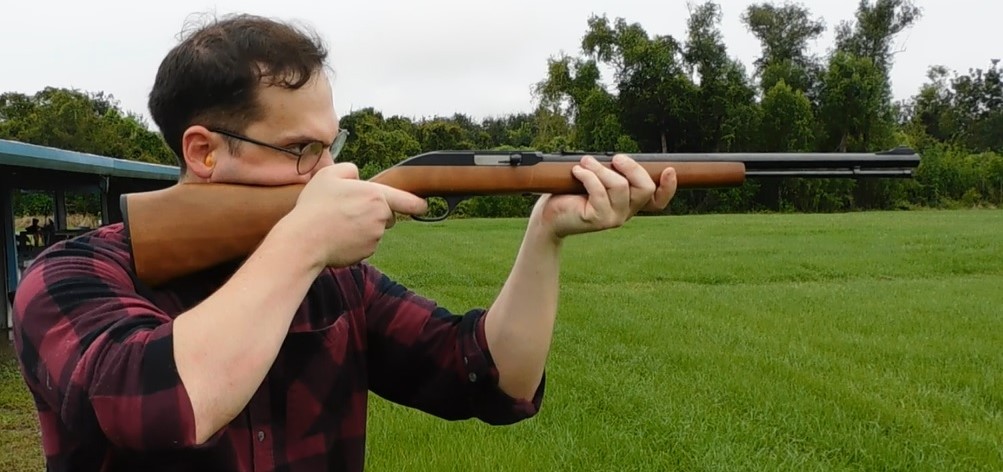 Shootability
Many 22 rifles out there are built around smaller statured shooters, with shorter barrels and shorter length of pull on the buttstock. With a length of pull of 13.5 inches the Model 60 is set up for adults.
The blacked-out rear sight is easy to adjust to get to your desired point of aim, but the fixed front post is on the thicker side. This arrangement of the iron sights lend themselves well to snap shooting at targets inside 30-40 yards, but the front post will cover smaller targets beyond that. The buttstock is a Monte Carlo style with a pronounced comb. With cheek to the comb, the sight sit somewhat lower than your line of sight. Your eye will naturally fall on a rifle scope, but with the existing iron sights I had to push my cheek down a bit further to pick them up.
Once you get around the iron sights or opt for an optic, the Model 60 gets much better. With either fifteen or eighteen rounds of 22 Long Rifle ammunition at your disposal, you have plenty of opportunities to hit what you are plinking or hunting without having to reload. The nineteen-inch barrel gives the rifle a muzzle-heavy feel that absorbs the 22 LR's minimal recoil and steady to aim when shooting offhand. The twenty-one inch model is just a hair steadier.
Reliability
A well-built 22 rifle is one that can last and the Marlin Model 60 is no exception. Where 22 rifles go wrong is in the ammunition. 22 LR is a rimfire cartridge and it tends to be more prone to dud rounds than centerfire ammunition. Further, the powders, wax lubricants, and exposed lead projectiles used leave behind more of itself after you shoot. With small-box ammunitions like CCI Mini Mags, Federal High Velocity Match, and the like, neither of my Model 60s have experienced a dud round and go further without cleaning. Using bulk pack ammunitions like Winchester Western and Remington Golden Bullets results in more dud rounds and a dirtier rifle overall. But the Model 60's simple blowback action coupled with the rifle's use of dual extractors allow it to keep cycling rounds past the six hundred round mark.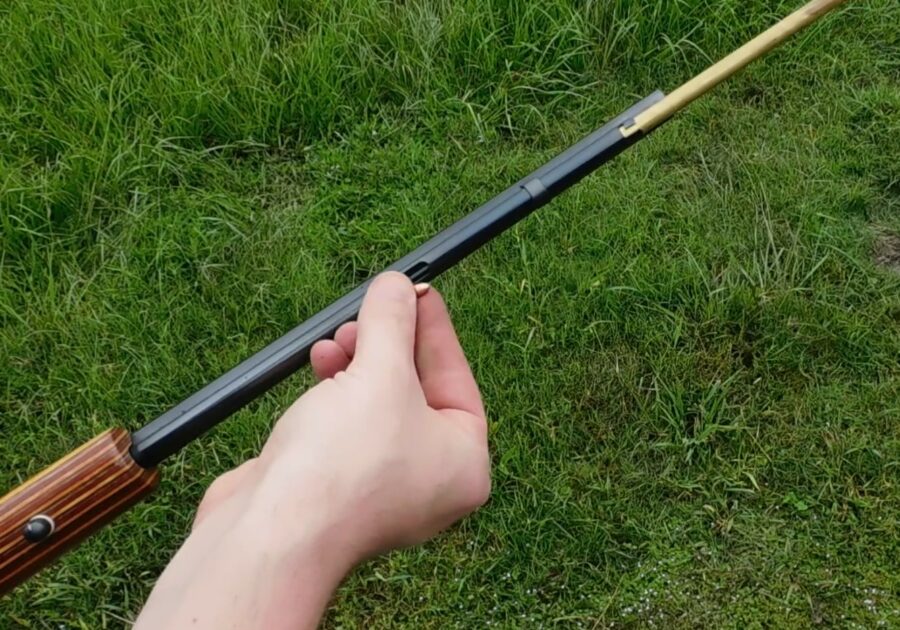 However, the tubular magazine can pose an issue should you need to clear a malfunction. In particular, a failure to extract can be a problem since there is no detachable magazine to remove from the rifle to clear the new round pushing against the empty case in the chamber. With the Marlin, you have to back out the magazine tube before proceeding.
There are many first-generation Marlins out there with decades of field use and shooting that continue to work perfectly; but some shooters who have Marlins with high round counts (tens of thousands of rounds) can have issues with the feed throat. The feed throat feed rounds from the tube magazine onto the carrier to be pushed by the bolt into the chamber. The throat is overlapping piece of sheet steel that may require bending back in place to restore function.
Ergonomics
The Monte Carlo stock lends itself better to shooting with an optic. Certainly, you can get the most accuracy with a good scope. But getting around the stock iron sights is not much of a chore. The rear sight is a piece of crude, stamped steel, but it is screw-adjusted for elevation and can be driven in its dovetail for windage adjustments. The front sight is fixed in place and comes to a rather fine triangle. Some rimfire rifles have a fine, gold bead that won't cover up small targets, but can be hard to see. Others have front sights that are simply too big if you are going after small game or shooting for groups. The Model 60's sights fall somewhere in the middle.
Functionally, the Model 60 has very few controls that are easy to pick up. The charging handle is easy to manipulate and can be locked open by pulling the handle fully to the rear and pushing in the handle. Some Model 60s will even have a white arrow on the handle to remind you. The rifle does not lock fully open when you are out of ammunition. It holds open, ¾ of the way to let you know you are out of ammunition and signals a safe rifle, but once you reload, you will have to drop the bolt release under the trigger guard and draw the charging handle back again to chamber a new round; or you can just pull the handle back to go to work.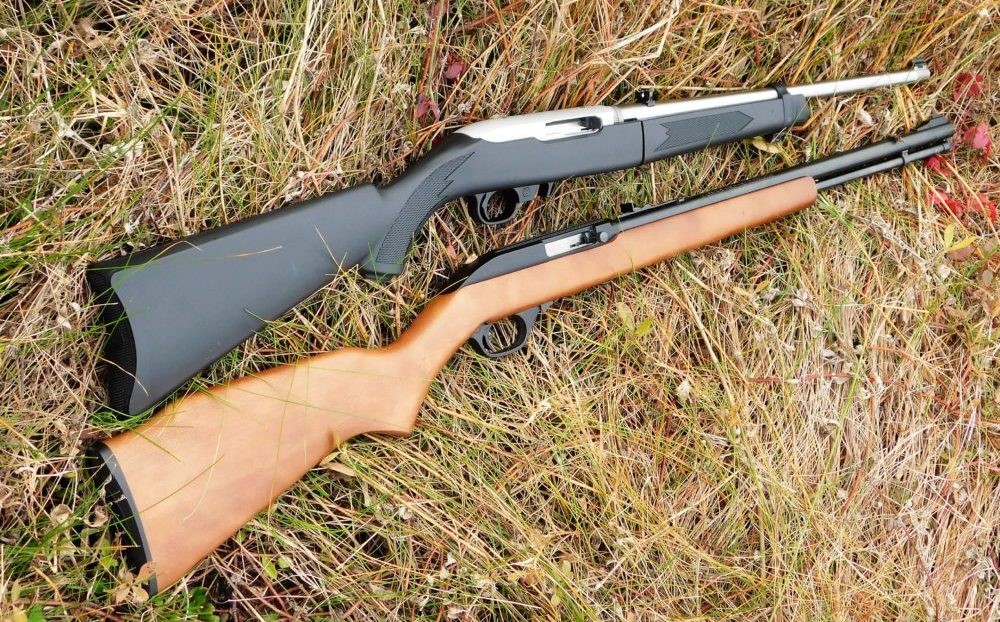 The safety is a simple, crossbolt type at the front of the trigger guard. For your typical right-handed shooter, it is easy to finger the safety off when you go to fire but it requires some hand switching to reengage.
The tube magazine is bullet proof when it comes to cycling the ammunition and, unlike detachable magazines, you can't lose it. But loading the tube is slow. You have to twist the knurled end of the tube at the muzzle, draw out the inner tube, and drop your rounds rim-first, into the tube until it is full. You might elect to buy a Spee-D-Loader or Ludex loader. This rotating stack of plastic tubes holds pre-loaded stacks of ammunition to dump into the magazine all at once. It is a neat trick, but a bit bulky to carry around.
Accuracy
Those who want a faster-loading and more customizable rifle, the Marlin Model 60 tends to fall short compared to the Ruger 10/22 or the Marlin 795. But when it comes to accuracy, the Model 60 can have the edge. In my own experience, the Model 60 is the most accurate autoloading 22 rifle I ever got my hands on—or at least one that the ordinary person is going to buy. There are high-end competition guns and some bolt actions that will give you better groups, but for what it is, the Model 60 is hard to beat.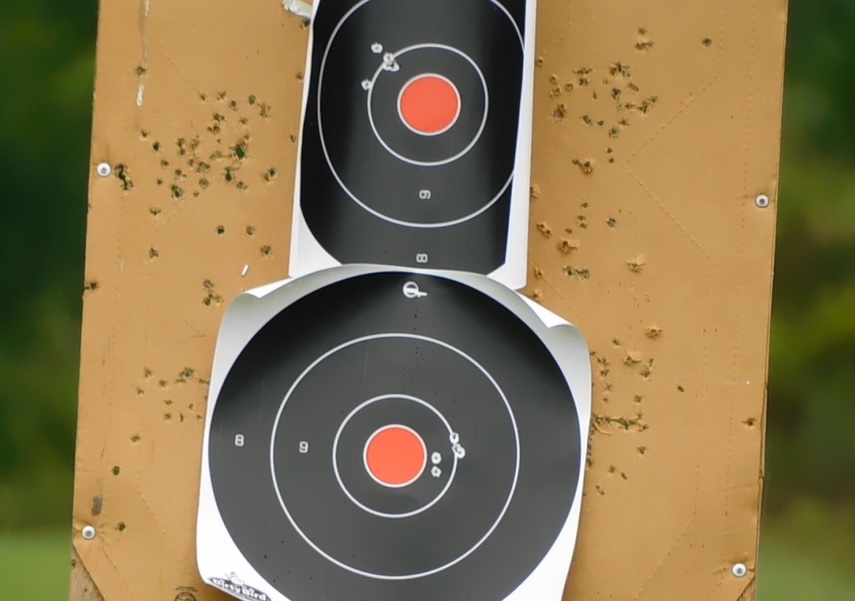 The Model 60's accuracy is often attributed to its bull barrel and the use of Micro-Groove rifling. While I cannot attest to the latter, the former makes the Model 60 a uniquely stable platform for off-hand and bench shooting. From the bench with iron sights, it is not difficult to turn in 50 yard five-shot groups measuring around 1 ½ inches. That is what I usually get using high velocity 40 grain small-lot ammunition like CCI Blaser and Federal High Velocity match. Bulk pack ammo like Remington Golden Bullets widen those groups some, while standard velocity loads like Federal Target, shrink my groups to about 1 inch flat. While your milage can vary, I would not be surprised by one-hole groups if you opt for a scoped rifle and match ammunition.
Value
The ultimate fate of the Marlin Model 60 is unknown as of the date of this writing. It may reenter production under Ruger's ownership, like other Marlin designs. It might be out of production forever. No matter what happens, the Model 60 still represents a tremendous value, especially if you treat a rimfire rifle as a tool. The Model 60 is fun to plink with and shoot on the range, but you are more or less stuck with a rifle that can only be modified so much to fit the wants and needs of the end user. It is not the rifle of a tinkerer, but one who buys a rifle simply to put holes in things. Add an optic, add a sling, and done. With the Model 60, what you see is what you get—and that is a serviceable, reliable, accurate 22 rifle. Brand new, the Model 60 could be had recently below $200. With eleven million units out there, there are plenty of rifles and spare parts to be had at a good deal. You are going to pay budget 22 prices for something that is more than a cut above.
Marlin Model 60 Pros and Cons
Bull Barrel – Heavy barrel for a steady hold
Bolt Setup – Dual extractors to remove sticky shell casings
Capacity – 15-18 rounds of 22 LR is greater than most 22 rifles out of the box
Tube Magazine – Loading is slower than a detachable magazine
Feed Throat – Throat widens after high round count and needs to be pinched back in place
Report Card

Shootability

Not child friendly, but a pleasant shooting experience for adults.

A-

Reliability

Feeds, fires, and ejects 22 LR rounds better than most, but can be tricky to clear hard malfunctions.

A-

Accuracy

More than enough!

A-

Ergonomics

A few, easy to understand controls. But it isn't as modification friendly as other rifles.

B+

Value

Cheaper to buy and less adaptable than its biggest competitors, but more refined than other rifles in its price range.

B+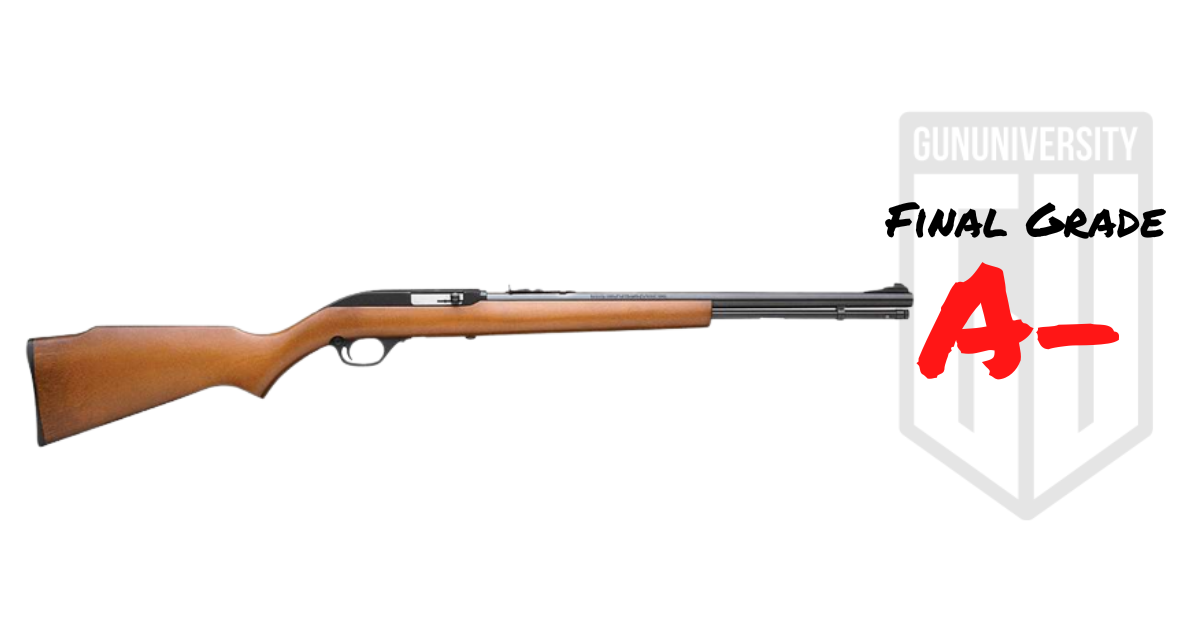 Our Grade
A-
Reviewed by Terril Hebert
Reader's Grade
Based on 1 Reviews
Your Grade
Do You Own This Gun? Leave A Review
Success Your Grade Has Been
Added To Our Reader's Score
We use email to verify the accuracy of our reviews. We promise to never spam you.
Marlin Model 60 Starter Pack
If you own a Marlin Model 60 here are a few extra things you'll probably want to pick up–if you don't have them already.
Marlin Model 60 Gun Deals
At the moment there are no new Model 60s being made. If you want one you will have to look on the used market.
Upgrades and Accessories for the Marlin Model 60
This gun is pretty close to perfect, but there are a few things that you should think about getting to customize your Shadow 2 and take it to the next level–such as a sweet red dot and some aftermarket grips.
Best Accessories For The Marlin Model 60
Accessory
Details
Check Price

Leupold VX-Freedom 1.5-4x20 Rifle Scope

Light profile for field carry

1.5x magnification ideal for quick, close shots

4x magnification crisp out to 200 yards

Check Price

M60 Trigger Guard Complete

Milled steel replacement for polymer trigger guard
Flat face trigger

Check Price

Spee-D-Loader

8 Chambers
Can hold up to 28 rounds per chamber

Check Price
Best Ammo for Your Marlin Model 60
You will want some low cost bulk 22LR to spend hours shooting this fun little rifle. You will also want some reliable high quality ammo for seeing just how accurate this rifle can be and for hunting. Here are some of our favorites.
Plinking Rounds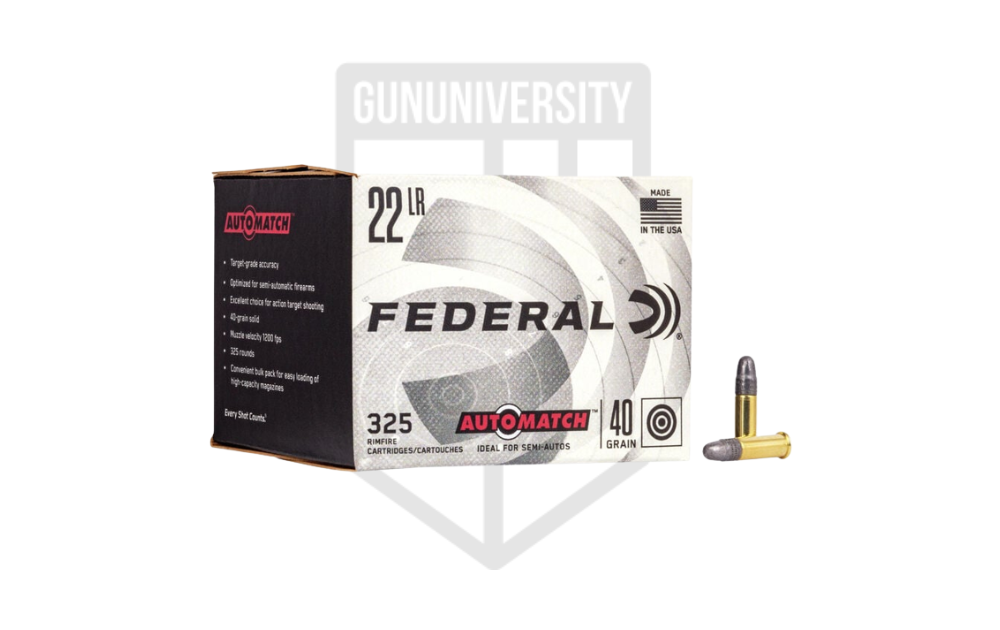 Federal AutoMatch 22 LR 40 Grain LRN
Accurate
Consistent and reliable
Affordably priced
Hunting Ammo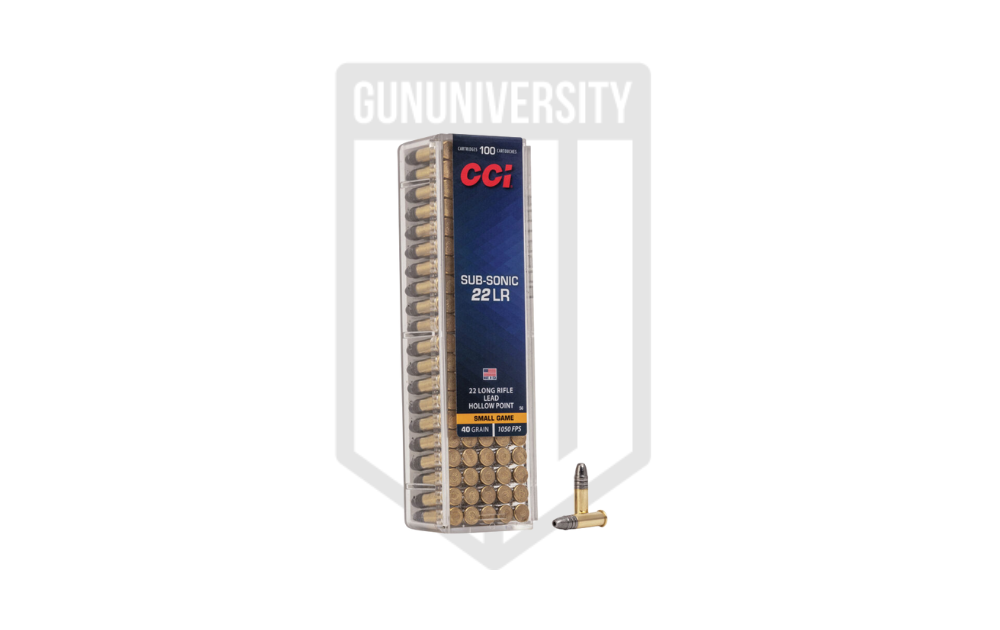 CCI Sub-Sonic HP 22 LR 40 Grain HP
Bullet expands without fragmenting
Great performance on small game
Other .22LR Rifles of its Class to Check Out
The Marlin Model 60 is a great rifle. Since it is currently not in production, here are a few other 22 rifles we think are worth checking out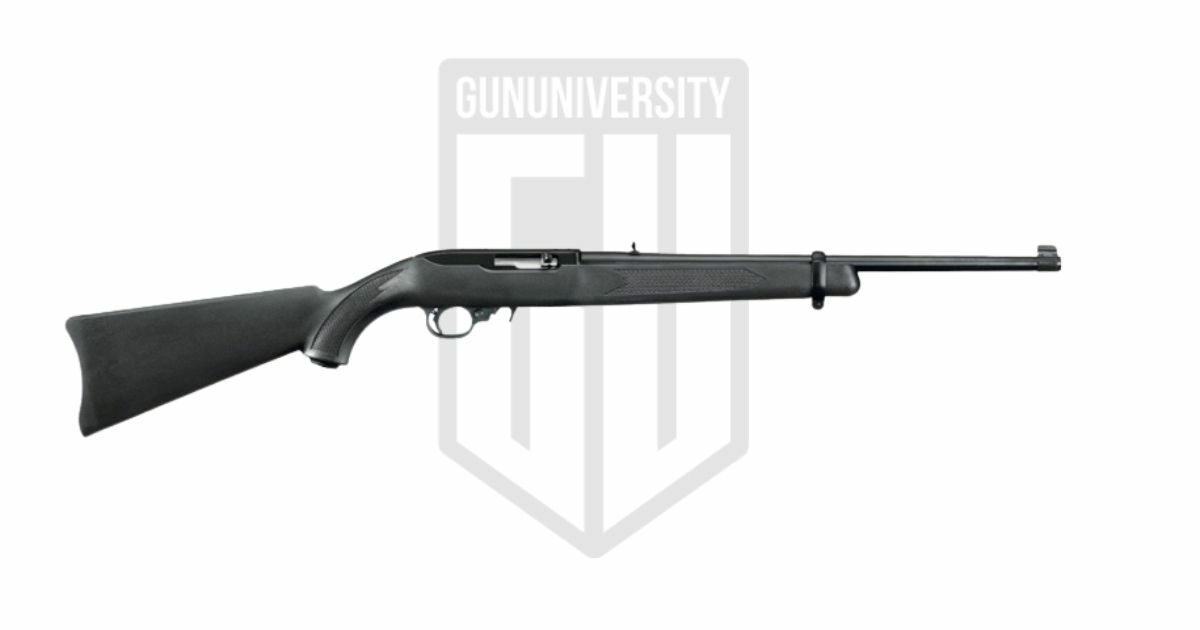 The Ruger 10/22 sets the standard for what a 22LR rifle should be.
Our Grade
Reader's Grade
TBD
Based on 0 Reviews
Your Grade
Do You Own This Gun? Leave A Review
Success Your Grade Has Been
Added To Our Reader's Score
We use email to verify the accuracy of our reviews. We promise to never spam you.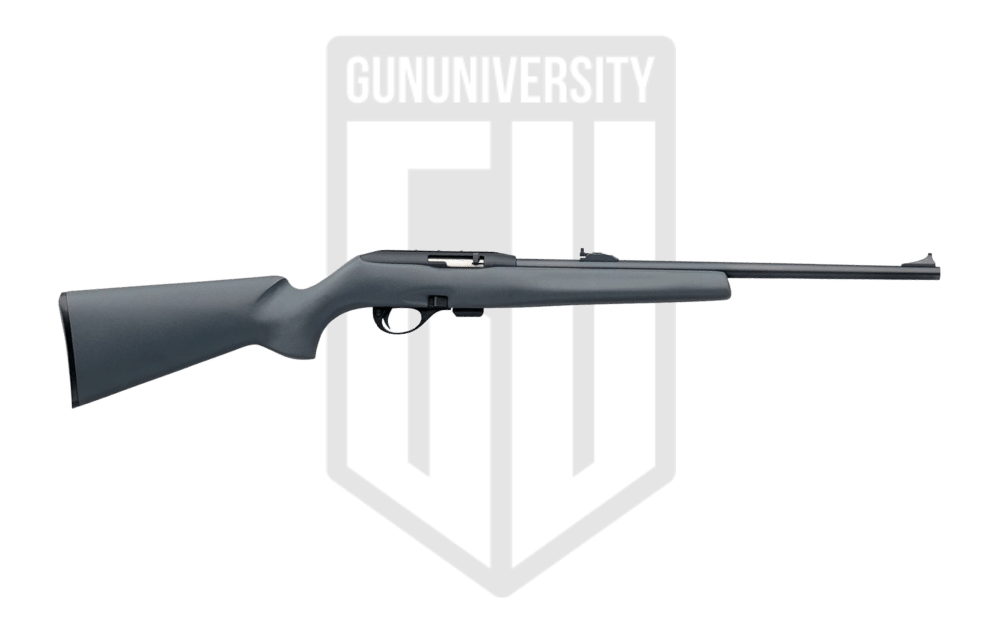 Shootability

C

Reliability

F

Ergonomics

B

Accuracy

A

Value

C
Reader's Grade
B-
Based on 11 Reviews
Your Grade
Do You Own This Gun? Leave A Review
Success Your Grade Has Been
Added To Our Reader's Score
We use email to verify the accuracy of our reviews. We promise to never spam you.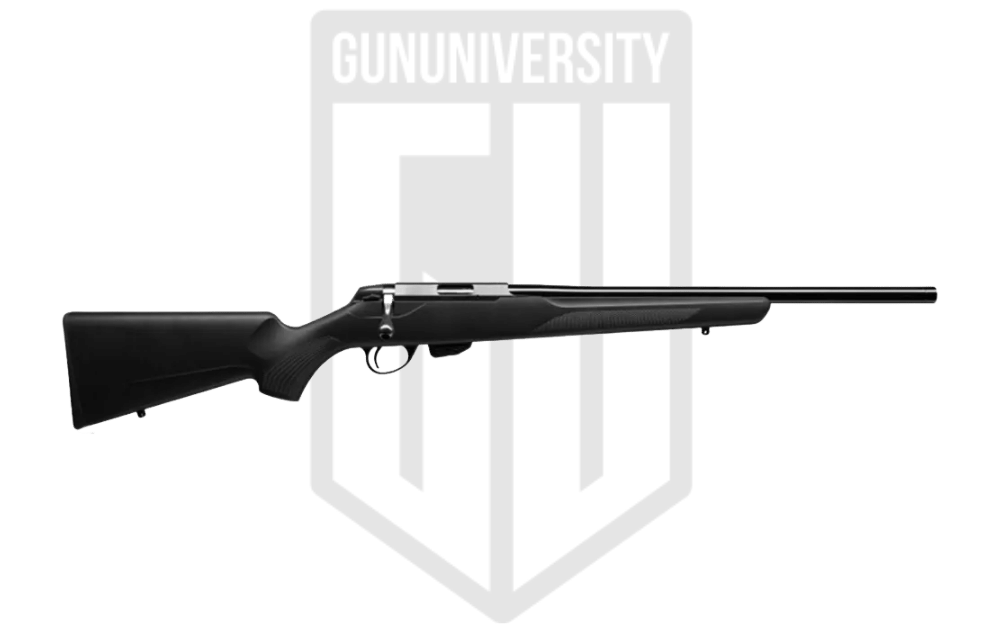 Shootability

A

Reliability

A

Ergonomics

B+

Accuracy

A+

Value

A+
Reader's Grade
A-
Based on 8 Reviews
Your Grade
Do You Own This Gun? Leave A Review
Success Your Grade Has Been
Added To Our Reader's Score
We use email to verify the accuracy of our reviews. We promise to never spam you.
How to Care for Your Marlin Model 60
All rimfires need a good cleaning to keep them running well. Check out this video on how to take down, clean, and re-assemble your Marlin Model 60.
Important Links and Manuals for Your Marlin Model 60
Looking for some more information on the Marlin Model 60? Check out the links below for the manufacturer's website, operator's manual, and other neat content.