Shotguns for Home Defense : Everything You Need to Know
I believe in the idea you should reveal your bias when possible, and my bias is a love of shotguns. The good news is today I get to indulge fully into the world of shotguns for home defense.
Today, we are going to explore shotguns for home defense, and in doing so, we will acknowledge the downsides of using a shotgun for home defense. On top of that, we will set you up with the type of shotgun that works best for home defense, as well as the accessories, techniques, and storage options for home defense shotguns.
The Home Defense Shotgun Defined
Shotguns vary quite a bit in size, caliber, design, and more. It can be confusing when you walk into your favorite gun store and see dozens of different shotguns. Which works and which doesn't?
This problem is also what can make shotguns so great as a platform – with different barrels shotguns can be extremely versatile. If the options for shotgun barrels are overwhelming, check out our shotgun barrel guide.
For our purposes here, let's define what a tactical shotgun, or home defense shotguns, should be – what characteristics work best.
When choosing a home defense shotgun, carefully consider the following characteristics:
What Barrel Length for a home Defense Shotgun?
The ideal barrel length for a home defense shotgun is between 18 and 20 inches.
Smaller is better, and by law, shotguns must have a barrel at least 18 inches long, and anything shorter requires a tax stamp.
This length keeps the shotgun short enough for use inside the house and aids in reducing weight. Shorter is easier to handle in close quarters, and home defense is the definition of close quarters.
Are Pistol Grip Shotguns A Good Option?
Shotguns with pistol grips have gotten quite popular as of late with the Shockwave and TAC 14 firearms. Those are fun, but not effective. You want a shotgun with a stock. Shotguns have a good bit of recoil, and without a stock, they become very difficult to control. The stock will increase your control over the shotgun, ensure it's easier to aim, and reliably functions shot after shot.
What Caliber Should I Choose?
12 and 20 gauge are the most common shotgun calibers on the market, with the 12 gauge being much more popular and common. While other calibers may work, finding dedicated shotguns designed for tactical use in different calibers can be tricky. 12 and 20 gauge are both potent man stoppers.
If you are choosing between the two, I would suggest 12 gauge unless you have recoil control issues. The 20 gauge will be a bit softer, but 12 gauge is much more potent.
What shotgun action is best for home defense?
Shotguns come in nearly every action type you could ever imagine. Pump or semi-auto actions are the best choice for a home defense shotgun.
Pump-action shotguns tend to be more affordable and very simple.
Semi-auto shotguns tend to be a little ammo picky, but easier to use and faster for follow-up shots. I'm a proponent of semi-auto shotguns, but a good pump action will most assuredly get the job done.
Editor's Choice
Let's make it quick and simple; if you want a list of my favorite home defense shotguns, here they are.
Best Pump Action Shotguns For Home Defense
Best Semi Auto Shotguns For Home Defense
What are the Best Pump Action Shotguns?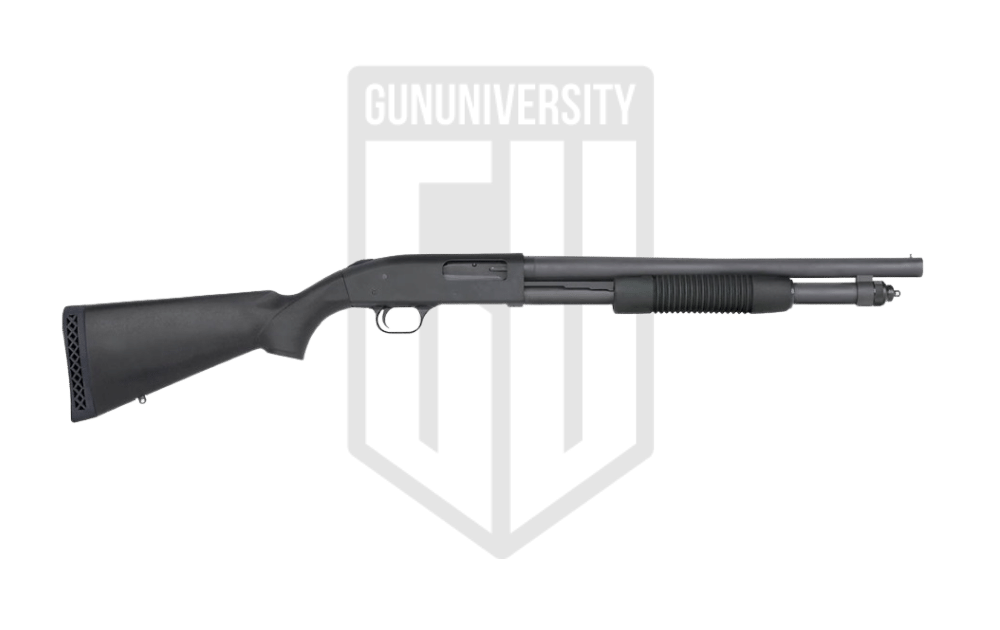 This pump-action powerhouse was created through hot demand by the US military.
Reliability

A+

Accuracy

A

Customization

B

Ergonnomics

B

Value

C
Reader's Grade
A+
Based on 1 Reviews
Your Grade
Do You Own This Gun? Leave A Review
Success Your Grade Has Been
Added To Our Reader's Score
We use email to verify the accuracy of our reviews. We promise to never spam you.
The standard Mossberg 590 is lighter than the 590A1 due to the thinner barrel and the more balanced design is better for home defense. The 590 is the military's pump-action shotgun of choice and is well known for its durability and simplicity. This shotgun comes in many forms including the very popular Mossberg Shockwave.

Reliability

A

Accuracy

A

Customization

A+

Ergonomics

A+

Value

A+
Reader's Grade
A
Based on 8 Reviews
Your Grade
Do You Own This Shotgun? Leave A Review
Success Your Grade Has Been
Added To Our Reader's Score
We use email to verify the accuracy of our reviews. We promise to never spam you.
This is as simple as it gets. Remington pump-action shotguns have served generations of law enforcement in various configurations, and they aren't going away anytime soon. 870s tend to be tighter than 590s and a bit smoother, and just as reliable. Be sure to check out Gun U's full review on the Remington 870 Tactical Express Magpul–the same great 870 only decked out in Magpul furniture.
What are the Best Semi Auto Shotguns?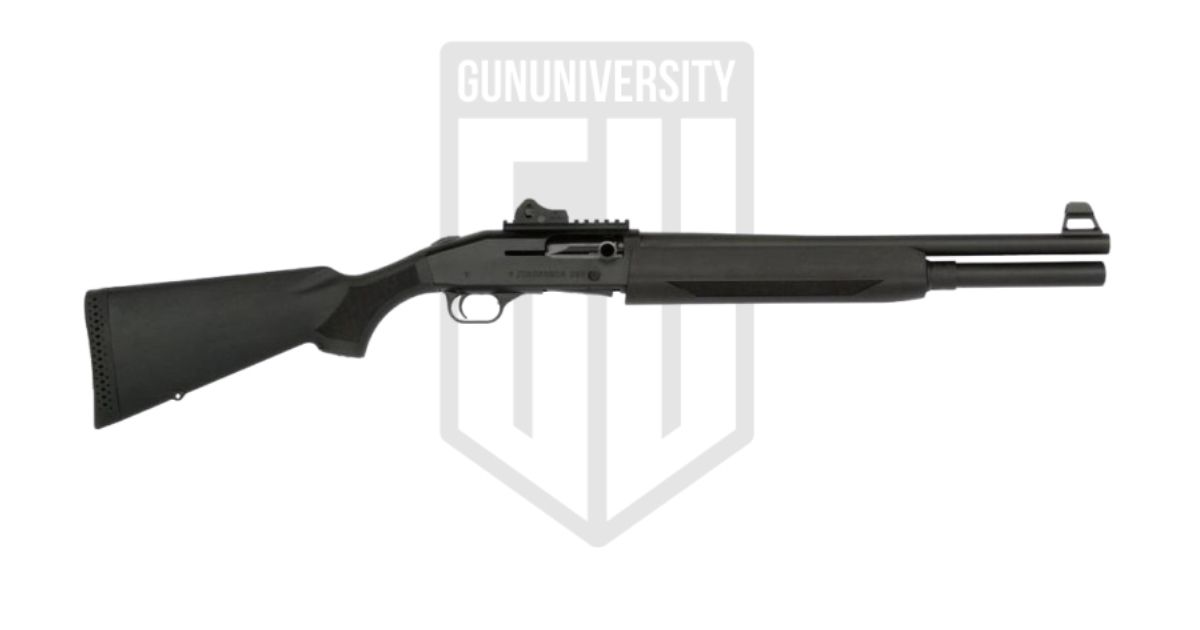 Reliability

B

Accuracy

A

Shootability

B

Ergonomics

B

Value

A
Reader's Grade
A
Based on 21 Reviews
Your Grade
Do You Own This Gun? Leave A Review
Success Your Grade Has Been
Added To Our Reader's Score
We use email to verify the accuracy of our reviews. We promise to never spam you.
The Mossberg 930 SPX is an out of the box ready semi-auto shotgun that broke the mold on the myth that semi-autos have been made in Italy to be reliable. The 930 SPX is an ultra-modern combat shotgun with an 8 round capacity, awesome sights, and a reliable design. I've written a full review on the Mossberg 930 SPX here for those of you interested.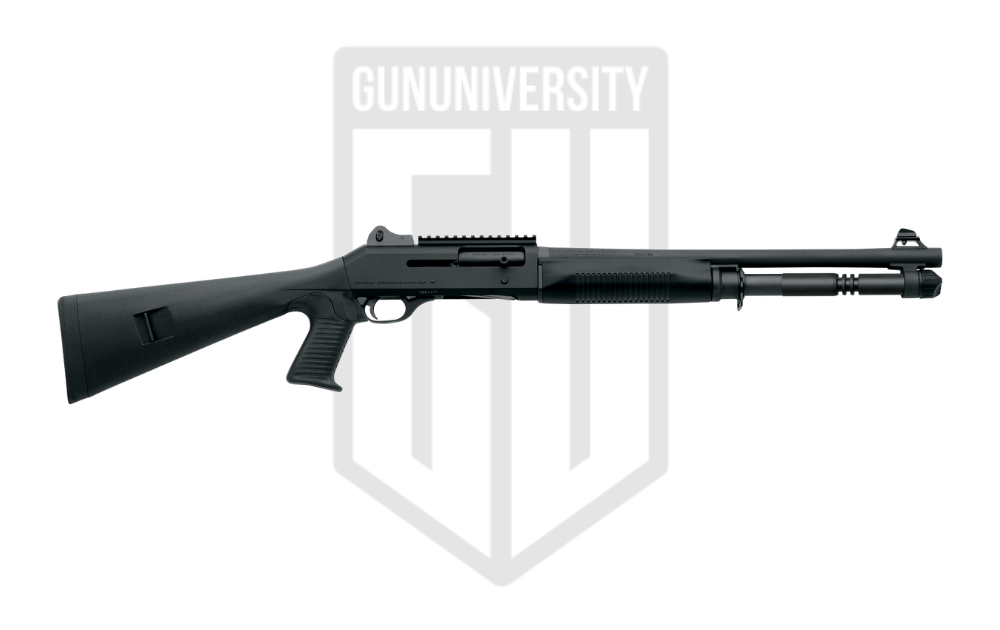 Shootability

B

Reliability

B

Ergonomics

A

Accuracy

A+

Value

D
Reader's Grade
B+
Based on 14 Reviews
Your Grade
Do You Own This Gun? Leave A Review
Success Your Grade Has Been
Added To Our Reader's Score
We use email to verify the accuracy of our reviews. We promise to never spam you.
The USMC's choice of semi-combat shotgun and my personal favorite, is the Benelli M4. Albeit, this is only for shooters willing to invest in making the gun 922R compliant and extending the magazine tube. If so, the M4 gives you a bombproof and ultra-reliable semi-auto shotgun. And if you're looking for more info, head over to our full Benelli M4 review for more details.
Pros and Cons of Home Defense Shotguns
Shotguns have excellent strengths and also lots of notable weaknesses. Examining the pros and cons of shotguns should be done in the context of their purpose. Limited range isn't a downside since home defense is already a limited range situation. Load versatility isn't necessarily a strength since the ability to use slugs, and birdshot doesn't come into play for home defense.
Shotguns deliver the most payload per trigger pull of any shoulder-fired firearm.
Good shotguns are typical cheaper than good rifles.
While aiming is critical, effective shot placement is easier with a shotgun.
Tactical shotguns are commonly available in states with restrictive gun laws.
Shotguns can have heavy recoil.
Pump-action shotguns require two hands to operate.
Low ammo capacity
Shotgun Techniques and Tactics
When it comes to shotguns there are unique tactics and techniques worth knowing before the shotgun joins your home defense arsenal. Here is a brief overview of basic shotgun know-how.
Pattern Your Gun and Ammo
If you do only one thing on this list, it should be patterning your gun and ammo. Patterning is the act of shooting your target with your chosen home defense load and examining how it performs. Different ammo and different shotguns will pattern differently. It's critical you know how your shotgun patterns before you entrust it to a home defense role.
The purpose of patterning is to know how your ammo will spread at specific distances. This way, you can better account for each and every pellet that leaves your shotgun. Once you choose an ammo type and shotgun, measure the longest possible shot you could take inside your home. Set up at that range and take a shot. Observe how the ammo performs. If the pattern is too wide, try a different choke or different ammo.
If your shot patterns decently tight in your target, go five steps forward and five steps backward and fire it again. This allows you to better understand the max range of your load and where it impacts at close range. Study it, learn it, and occasionally refresh yourself on it.
Push-Pull Method
To combat recoil, I suggest the push-pull method. This was designed by Rob Haught, shotgun extraordinaire, and is the best way to control a shotgun. It's simple, you mount the shotgun, and with your firing hand, you pull rearwards into your shoulder and, with the support hand, push forward.
You exert this tension right before you fire and release it after the weapon fires. If it's a pump-action shotgun, you then work the action. Assume the tension prior to every shot and maintain until the shot is fired.
The push-pull technique will reduce recoil and increase your overall control over the gun.
Shoot and Load
Shotguns have low ammunition capacities, and it's unlikely you'll run dry in a fight. However, weird things happen. Learning how to reload your gun is critical. With a tube-fed shotgun, you should never run dry. Build a habit of firing one or two rounds and slapping two more rounds in the tube.
In accessories, we'll talk side saddles, and I think they are a must-have. Learning to load intuitively and without having to look at your ammo source or gun is an important skill to have. Practice reloading the tube and slamming a round into the ejection port when you are completely dry.
Short Stocking
Another Rob Haught technique is short stocking. If your gun is too long, you can place the stock over your shoulder to make it shorter. It sits at a sideways angle, pulled downward, and pinned to the top part of your shoulder. This shaves off several inches of shotgun and makes it more maneuverable indoors and around corners.
Before you start short stocking, make sure you know how to use a proper push-pull technique. That's the first build block for this tricky technique. If not, you might get a split chin or lip. Short stocking is a more advanced technique, and it's best to start with low recoiling birdshot and work your way up.
Accessories
Shotguns are simple weapons, and you don't need a quad rails worth of gear to make one effective. However, there are a few accessories that are handy for a home defense shotgun.
Light
If you only purchase one accessory for your shotgun, purchase a good quality light. Lights from Surefire, Modlite, Streamlight, and Steiner are all high-quality options for weapon lights. You want something bright and tough that's also accessible.
A few lights I like are the Surefire DSF series and Streamlight TL Racker. They replace your pump and integrate a light into your gun seamlessly.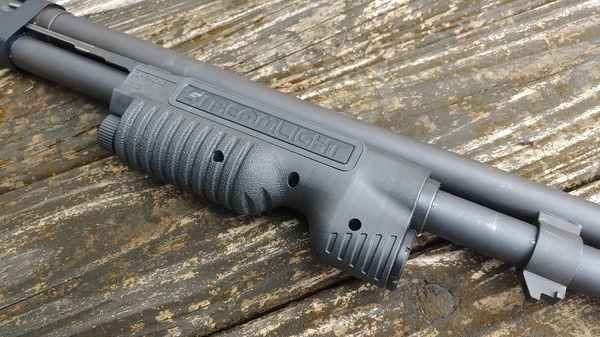 Another option is an M-LOK pump, or magazine tube rail mount will allow you to mount whatever light you feel you need. I'm a big fan of the TLR 1 and the Surefire X300 series. These are pistol lights, but inside the home, they work well on shotguns.
Extra Ammo Carrier
Extra ammo is always handy, and it's wise to keep a little extra on or near the gun. Side saddles are the simplest option, and they stick to the gun, so it's always there. I like shotgun cards, which are nylon side saddles that attach via velcro. I've learned along the way that 4 to 5 shot carriers work best and keep the gun light and handy.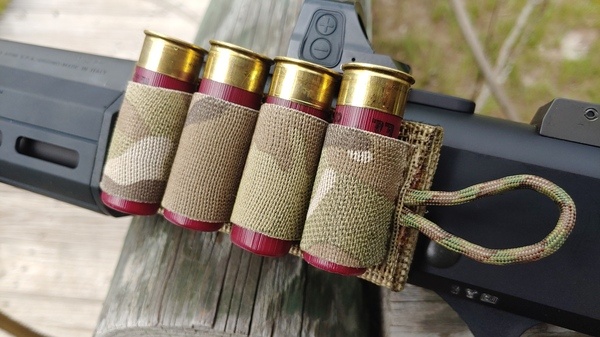 Shotgun card wise I always suggest ESSTAC cards. They are made brilliantly, and that's what I rock on my Benelli M4. They are well suited if your shotgun is a little different than the standard Remington or Mossberg models.
For dedicated side saddles, Mesa Tactical makes some brilliant solutions. They are extremely well made, easy to install, and will last forever.
A slightly cheaper option is from a company called TAC Star. They make a ton of different side saddles for different guns and provide you anywhere from 4 to 6 rounds of ammo.
A Sling
Slings keep the gun stuck to your body. In a home defense scenario, a sling ensures no one can grab the gun and take it away from you. A sling also allows you to drop the gun without putting it down to use your hands for different tasks. A reliable two-point sling is the best option.
My go-to is the Blue Force Gear Vickers Sling. This two-point sling comes in various colors, sizes, and with the option for a padded sling. The quick-adjust point makes it easy to tighten or loosen the sling as needed.
Viking Tactics takes a close second place with a reliable design that uses a similar quick-adjust system. Lots of options are available from Viking Tactics as well.
Optics
Optics on a shotgun are optional but are a very good choice for home defense. On shotguns, a red dot makes the most sense, and specifically a micro red dot.
Smaller dots ensure the gun stays small and is easy to see in a natural shotgun shooting position. Micro red dots, when paired with mounts from Scalarworks, KE Arms, and Aridus Industries, present you with a very low mounted optic.
My main choice of optic would be the Trijicon RMR. It's a well-proven optic with military and police forces and is a go-to micro red dot optic for most firearms instructors.
The second choice would be a Holosun 507c V2. It's proven to be quite tough and reliable. It's cheaper and has three different reticle options with a massive 32 MOA circle that I adore for shotgun use.
Ammo Options
Regardless of the load, you end up choosing, and I will never advise you to use slugs or birdshot. Birdshot because it's for birds, slugs because they typically pack more punch than you need. Number 1 buckshot is my personal favorite, but no one makes a purpose-built defensive load in number 1 buck. Commonality rules the day and 00, or double ought is the most common load you'll find.
You'll notice all my selections are eight pellet versus nine pellet. Nine pellet buckshot will occasionally have a flyer. A flyer is a pellet that flies away from the main group of pellets. Eight pellet buckshot is more consistent.
Best Ammo for Your Home Defense Shotgun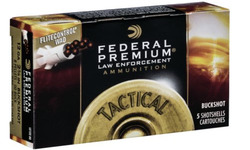 Federal FLiteControl 00 Buck 8 Pellet
These loads are the law enforcement standard and hold the tightest pattern I've ever utilized. Tight patterns mean you always know where your pellets are going to land. This has a reduced recoil laid that is quite soft and perfect for pump-actions.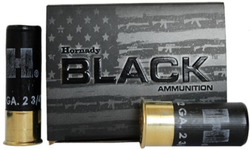 Hornady Black 8 Pellet
Hornady Black uses the same shot cup at FliteControl, and this allows it to group tightly as well. This load is a full-powered load that has more oomph and hits a good bit harder. This load also works better with picky semi-auto shotguns.
Safe Storage
Hornady Rapid Safes are an awesome advancement in safe storage. It combines safe storage with rapid access. These safes utilize either a lock and key, a 4 or 6 digit pin, or an RFID bracelet, keychain, card, or sticker to instantly open and give you access to your weapon.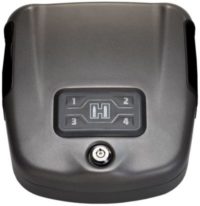 The Hornady Rapid Safe Shotgun Wall Lock is a small, simple, and affordable option that latches across the top of the receiver and locks the shotgun down. The safe can be mounted to a wall, under your bed, or anywhere else. The downside is that it doesn't work will semi-autos due to their charging handles. It also is not friendly towards optics or side saddles.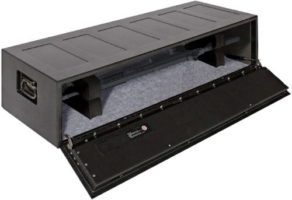 The Rapid Gunlocker under the bed safe is huge and fully encases your shotgun. This safe allows you to access your gun rapidly, while fully encasing it. This safe is less picky about gun design and accessories, but also much bigger and costlier. However, when it comes to a good compromise of access and security, there is no better option.
Boom and Bang
Shotguns are very powerful and destructive weapons that are well suited for home defense. And they are excellent home defense weapons if you approach them with a little bit of knowledge. Hopefully, you're leaving here with that knowledge now.
If you have any questions, please feel free to ask below, and we'll do our best to steer you to the right place. (Don't forget to check out our shotgun reviews to find the right model for you.)