Kimber Micro 9 Review (Bel Air Edition): A compact 1911 for conceal carry?
The Kimber Micro 9, Special Edition Bel Air, is a compact 1911 style handgun chambered in 9mm. What sets the Bel Air apart from other micro 1911 guns is the color scheme. As stated in the name, Bel Air Blue is the frame's color which has been paired with a polished stainless slide and a set of ivory Micarta G-10 grips. This combination gives this model a soft, elegant look. But what about its function and reliability? Keep reading to learn more.
Kimber Micro 9 Specs
Name

Kimber Micro 9

Caliber

9mm Luger

Magazine Capacity

7+1

Action

Single Action

Slide

Stainless Steel

Frame

Aluminum

Sights

White dot

Barrel

Stainless Steel

Barrel Length

3.15 inches

Overall Length

6.1 inches

Thickness

1.06 inches

Weight Unloaded

15.6 ounces

Safety

Manual Thumb Safety
Kimber Micro 9 Background
The Kimber Micro 9 includes 12 separate series of 1911 style guns, with the Bel Air being in the Special Edition series. Kimber is known for their quality and even more, their distinctive looks. In 1979, Jack and Greg Warn, founded the company, originally called Kimber of Oregon, and started building quality .22 caliber long rifles. Most would assume they started the company to build the 1911's we know and love today.
The company ran into financial issues and was sold to another company. That company later filed for bankruptcy protection and ultimately its assets were liquidated. In the early 1990's Greg Warn, one of the original founders, revived the company with the help of an investor. The new company was named Kimber of America. Greg Warn was pushed out after the investor acquired a majority investment in the company. Kimber was then partnered with another company to build a line of 1911 handguns.
Next, Kimber moved to New York, and they continued to make 1911 handguns. Today, the name Kimber is synonymous with 1911-style guns. That brings us back to the Kimber Micro 9 and the special edition Bel Air. Let's look at the details of this little CCW gun and see how it holds up on the range.
Kimber Micro 9 Features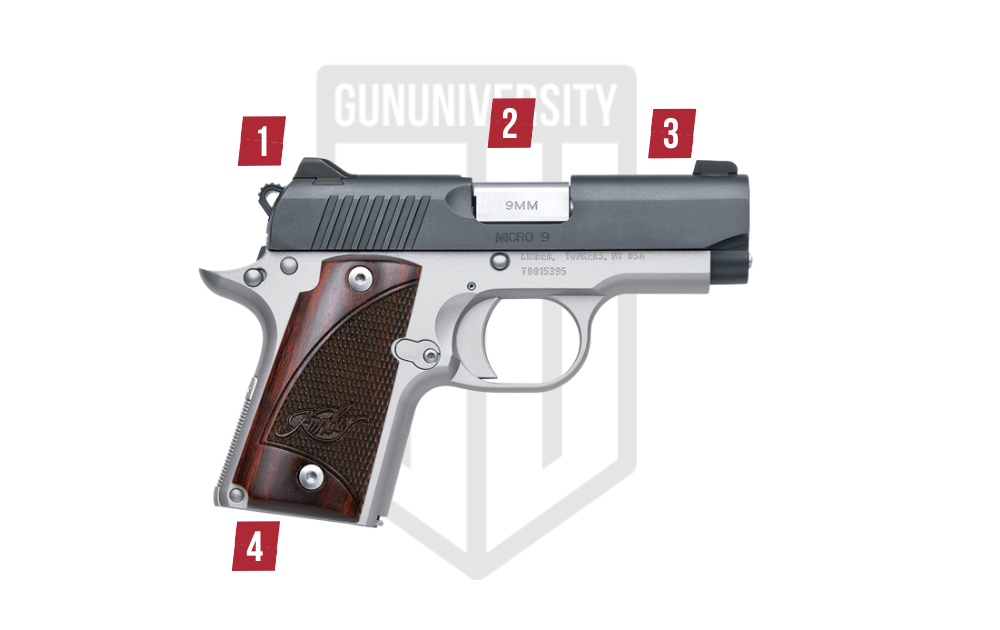 1
1911 Features
The thumb safety, slide release, and mag release are all based on standard 1911 features. 
2
Stainless Steel Barrel and Slide
All micro 9 barrels and slides are machined from stainless steel giving them excellent durability against moisture.
3
Iron Sights
All Micro 9 sight are made from steel and machined dove-tailed for durability. 
4
Extended 7-Round Magazine
The extended mag included not only allows an additional round, but it also extends the grip for better control.
Models and Variations of the Kimber Micro 9
There are more than 20 variations of the Kimber Micro 9. Here are a few to check out.
Kimber Micro 9 – Our Take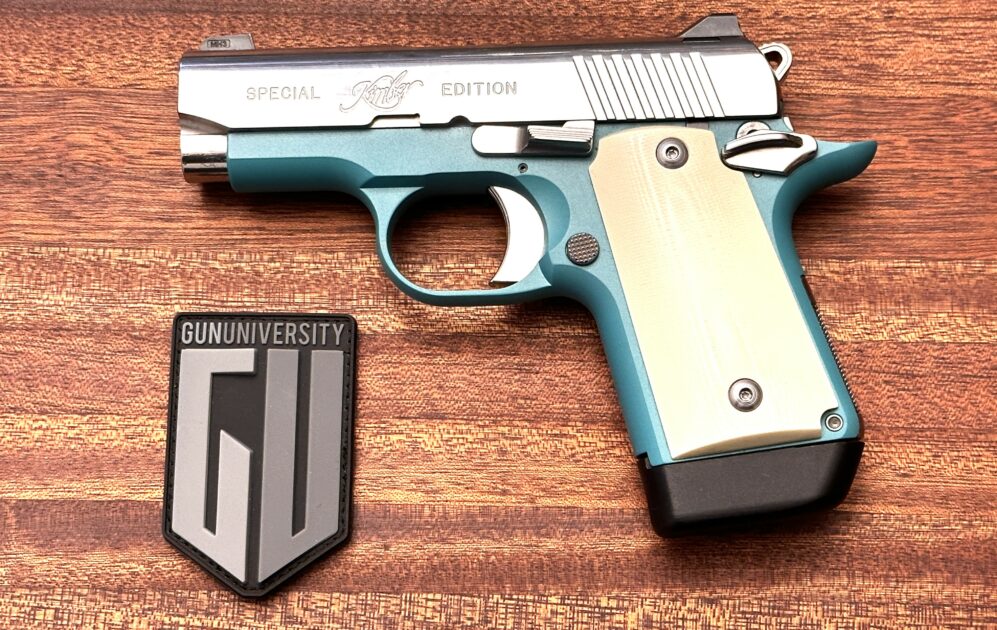 With the Micro 9 series, Kimber went all out with their finishes. The finish is part of what sets Kimber apart from other 1911 guns and the extensive Micro line gives plenty of options. In fact, there are more than 20 variations of the Kimber Micro 9. Each one offers a different combination of color, grips, and slide serrations. When you hold the Micro 9, you really do feel like you have taken a full-size model and shrunk it down to a compact size that can be easily concealed. But should a 1911 size handgun be that small? Let's take a closer look at the good and bad.
Finish and quality
In the handgun world, the 1911 is like the AR-15. There are mil-spec standards and more manufacturers making complete guns or parts than one could count. But just because a gun is made to specifications does not mean it is good quality. Proper quality control standards and/or the use of cheaper materials are the most common problems with lower quality firearms. In this area, Kimber does well. The Micro 9 series has an aluminum frame and stainless slide. The trigger, slide release, thumb safety, and hammer are also stainless steel. The quality is what you would expect from Kimber.
The finish in the Bel Air is impressive, a designation I give sparingly. The Bel Air Blue on the frame is a unique color that reminds me of a retro toaster or refrigerator, but somehow it works on the Micro 9. The flat color pares well with the polished slide and soft off-white ivory grips. This look may not be for everyone, but for me they knocked it out of the ballpark.
Ergonomics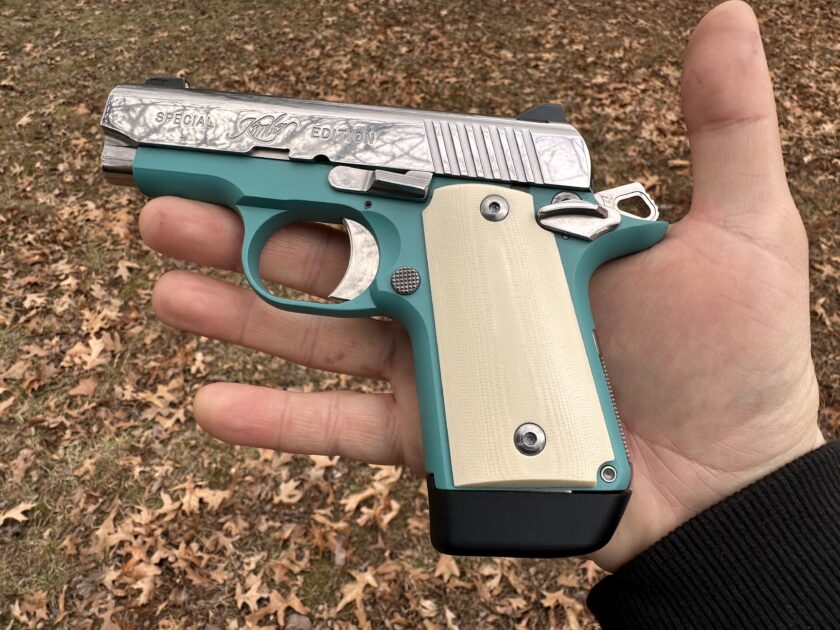 On one hand I like it that Kimber kept the Micro 9 a true 1911 style, but this also causes some issues for me with a gun this small. I have carried a 1911 on duty before, and just like the AR-15, we trained to manipulate the safety to the point it became habit. A 1911 is meant to be carried locked and cocked. The safety on the Micro 9 was easy to flip down before firing, but not so much to flip back up. Because of the size of the gun and how short the thumb safety is, it started to dig into my thumb when flipping it back to the safe position multiple times.
The next issue I found was the difficulty it took to chamber a round into the Micro 9. Between the recoil spring, pressure from the hammer and the slick stainless slide, I wouldn't call it easy to rack the first round into the chamber. If your hands were sweaty or wet for any reason it may be nearly impossible. Pulling the hammer back first and then racking the first round did help, but some more aggressive slide serrations would have helped.
Reliability and Accuracy
On the range, the Micro 9 did better than I expected for such a small frame 1911. It did have a little kick to it which is expected for any micro sized gun, but I was able to keep a good grip on it and fire quickly. The slide release was easy to manipulate during drills and once that first round was chambered, I could keep going without issue. The trigger pull has a 1911 appearance but is not a true 1911 trigger. It is a tilting trigger meaning the entire trigger does not slide to the rear. Having said that, it does have very little play and somewhat of a 1911 feel to it when you pull the trigger. For a compact CCW gun, it is sufficient.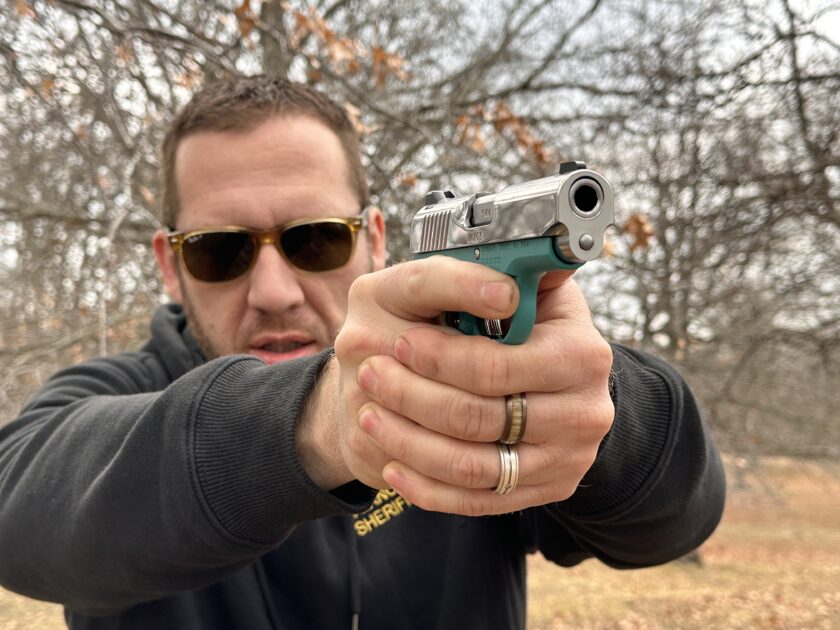 I shot FMJ ammo through to get a feel for how it handles and had no issues with cycling. After that, I put a box of Winchester USA Ready Defense ammo through it and got the same acceptable results. 1911-style handguns are not known for their reliability with hollow point ammo, so it is important that you fire at least 50 rounds through it with any hollow point ammo you plan to carry.
Disassembly
This is probably where I disliked the Micro 9 the most. The Micro 9 comes apart like a more modern style handgun as apposed to a 1911. You pull the slide back and remove the slide stop and the slide can be pushed forward off the frame. Sounds easy right? It should be, but on the Micro 9, it's a little more difficult than most other guns I have stripped down. Because of the slick surface, the slide can be a little hard to hold back far enough to clear the cutout on the slide for the slide stop to be removed.
The next problem is Kimber decided to make the slide stop flush on the other side. This requires something pointy to push it out far enough to grab it. I could live with this, but trying to hold the slide back and push the slide stop out from the other side of the gun using a tool is just annoying. They do make a tool that can be inserted in the chamber that holds the slide open the correct amount while the slide stop is removed, but that's just another tool to keep track of. Once apart, the barrel, guide rod and recoil spring were easy to remove and clean. Re-assembly was also more difficult than I expected. While this was not the worst I have seen, a new shooter will struggle greatly with field stripping and reassembling this gun.
Kimber Micro 9 Pros and Cons
Style – 1911 Style Gun
Aesthetics – Great finish and appearance
Magazine – Extended mag included with purchase
Reliability – Reliable
Size – Compact size
Chambering – Hard to pull the slide back to chamber the first round
Safety – Thumb safety can dig into thumb when pushed upwards
Take Down – Difficult to disassemble and reassemble
Report Card

Shootability

Easy to shoot when familiar with a 1911

B

Reliability

Cycled both FMJ and HP ammo without issue

A

Ergonomics

Not user friendly with field stripping. Not enough serrations or texture on slide when chambering a round.

C

Accuracy

Good short trigger pull, and accurate for a micro-sized gun.

A

Value

On the high side for a compact gun, but good quality and finish doesn't come cheap.

B+

Our Grade
B+
Reviewed by Jason Mosher
Reader's Grade
B
Based on 1 Reviews
Your Grade
Do You Own This Gun? Leave A Review
Success Your Grade Has Been
Added To Our Reader's Score
We use email to verify the accuracy of our reviews. We promise to never spam you.
Kimber Micro 9 Starter Pack
After you get your Micro 9 there are a few extra things you'll probably want to pick up–if you don't have them of course.
Gun Cleaning Kit: Keep your Micro 9 well maintained and ready for use. We've got a whole article dedicated to gun cleaning kits you'll need to keep your pistol in tip top shape.
Eye Protection: This should go without saying, but you need to invest in some quality shooting glasses. One errant piece of brass, and you're in for a bad day. Check out our recommendations for the best shooting glasses!
Hearing Protection: If you're picking up a Kimber Micro 9, get some quality hearing protection, your ears are not getting any better. We've gathered all of our favorites to help you decide the best hearing protection for you.
Here are some of the best deals you'll find when searching for your new Micro 9.
Best Ammo for Your Kimber Micro 9
We recommend that for your CCW firearm you have two different types of ammo–one for training and one for carrying. In the case of the Kimber Micro 9 , you'll want some ball ammo to go to the range with and train and some defensive carry ammunition.
Range Ammo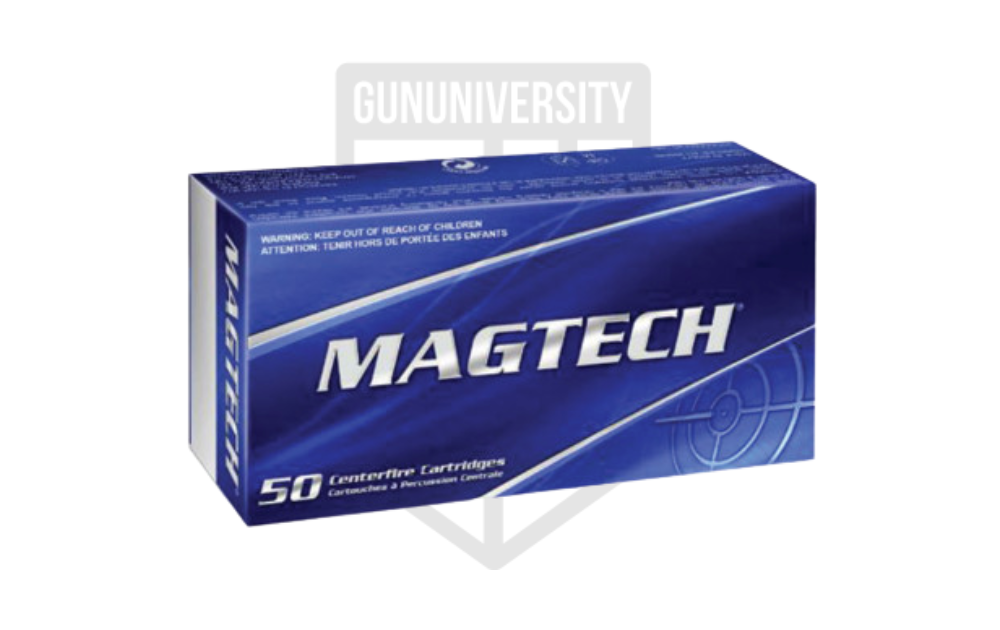 MagTech 9mm 115 GR FMJ
Carry Ammo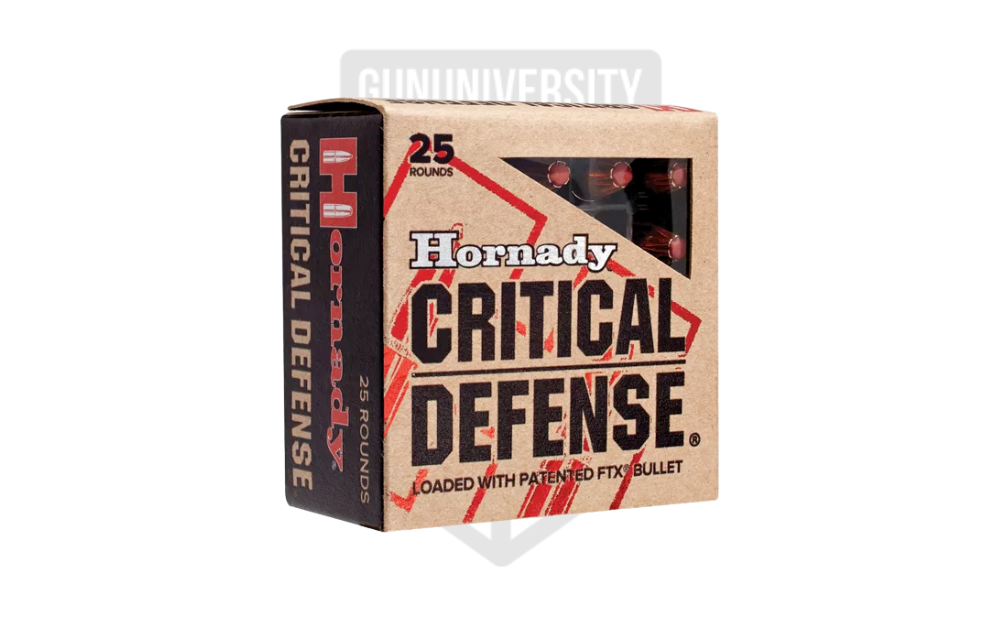 Hornady Critical Defense 9mm 115 Grain FTX
Other CCW Handguns to Check Out
The Kimber Micro 9 is a good option for CCW. We think you might like learning more about these other CCW options we have reviewed.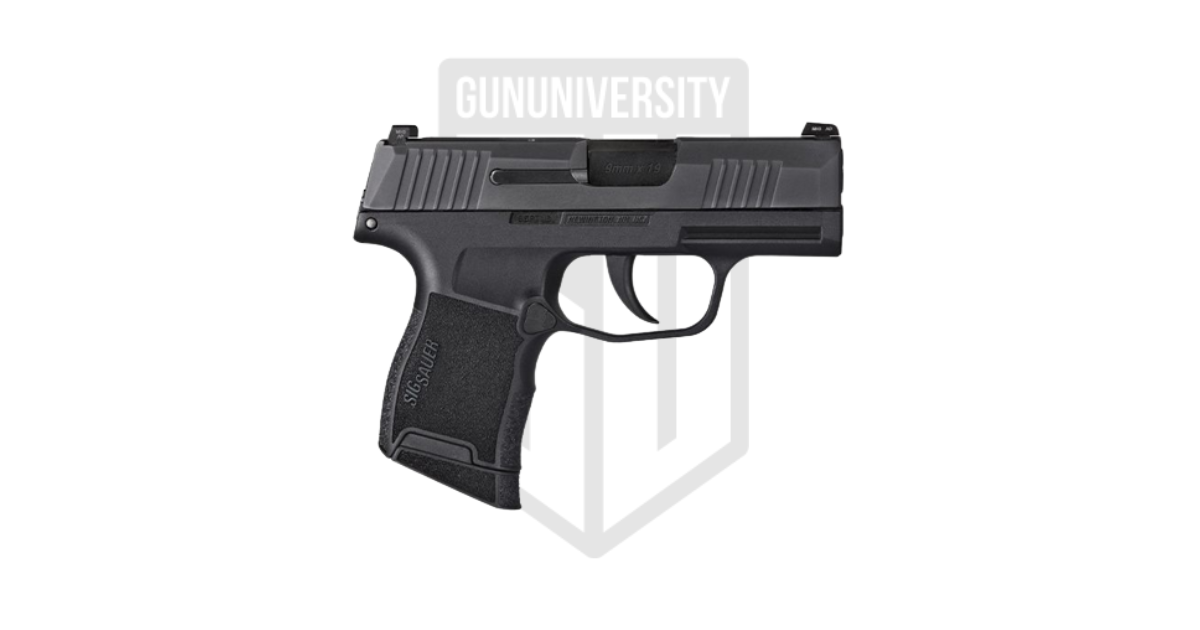 The Sig 365 set a new definition for what a great concealed carry handgun can be – it quickly became the go-to 9mm for many shooters.
Shootability

A

Reliability

A+

Ergonomics

A+

Accuracy

A+

Value

A+
Reader's Grade
A
Based on 146 Reviews
Your Grade
Do You Own This Gun? Leave A Review
Success Your Grade Has Been
Added To Our Reader's Score
We use email to verify the accuracy of our reviews. We promise to never spam you.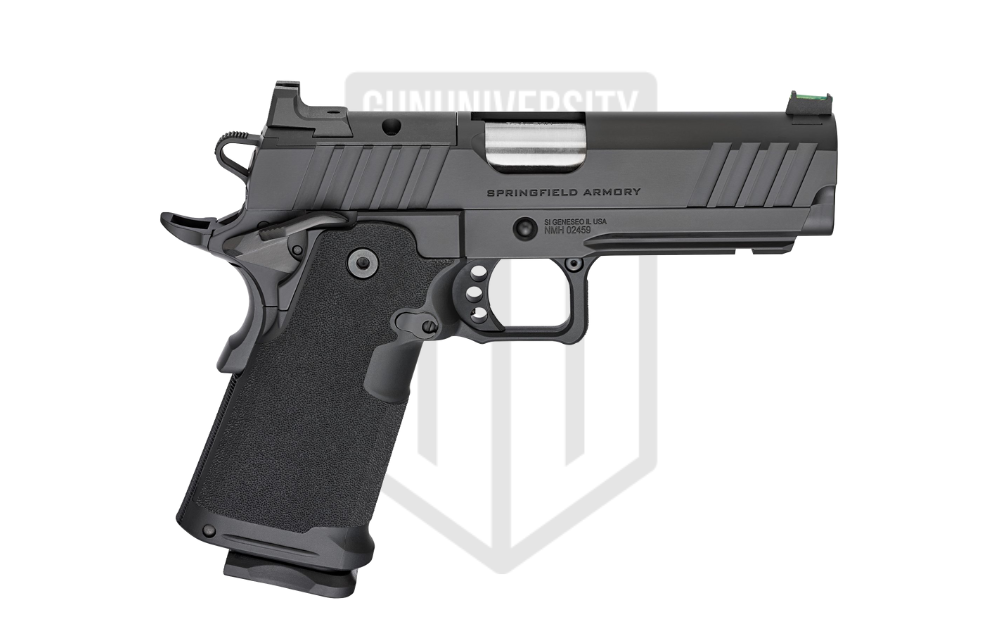 The Springfield Prodigy is an excellent double-stack 9mm 1911 with many performance upgrades straight from the factory.
Shootability

A+

Reliability

A+

Ergonomics

A+

Accuracy

A+

Value

A
Reader's Grade
B-
Based on 2 Reviews
Your Grade
Do You Own This Gun? Leave A Review
Success Your Grade Has Been
Added To Our Reader's Score
We use email to verify the accuracy of our reviews. We promise to never spam you.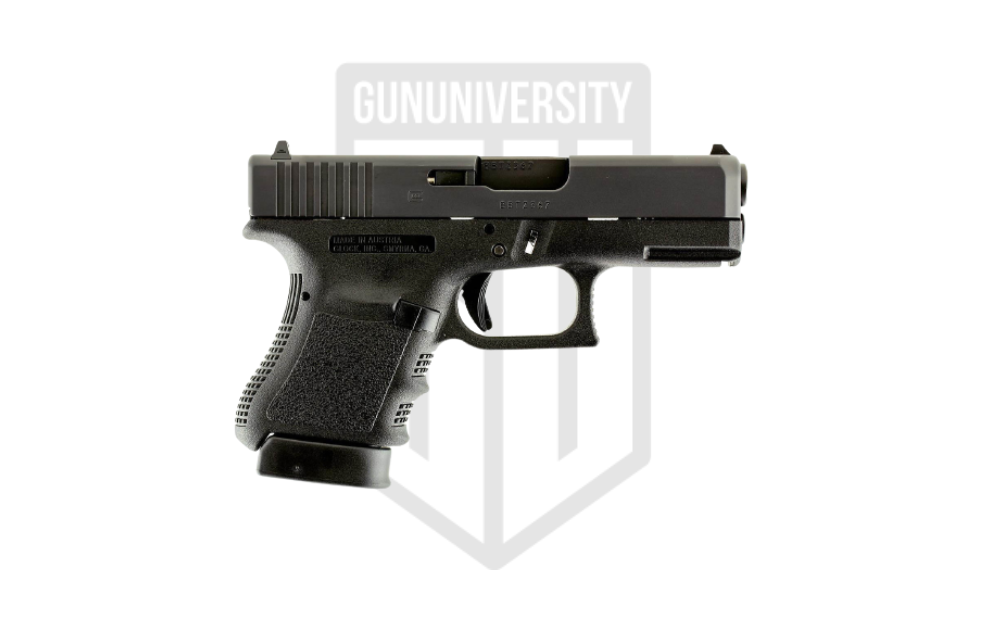 A subcompact Glock frame chambered in the venerable 45 ACP cartridge
Shootability

B-

Reliability

A

Ergonomics

B-

Accuracy

A-

Value

C+
Reader's Grade
Based on 2 Reviews
Your Grade
Do You Own This Gun? Leave A Review
Success Your Grade Has Been
Added To Our Reader's Score
We use email to verify the accuracy of our reviews. We promise to never spam you.
How to Care for Your Kimber Micro 9
You need to learn how to disassemble care for your handgun. We've found this video from Kimber America that shows you how to take down and reassemble your Micro 9.
Important Links and Manuals for Your Kimber Micro 9
Looking for some more information on the Kimber Micro 9? Check out the links below for the manufacturer's website, operator's manual, and an entertaining video from Colion Noir.