Henry Homesteader vs Smith & Wesson M&P FPC
In early 2023, two companies launched two very different 9mm carbines at approximately the same time. The Henry Homesteader and the Smith & Wesson M&P FPC (Military & Police Folding Pistol Carbine) both look very different but accomplish the same goal: providing 9mm firepower in a carbine format as opposed to a pistol. In this article we compare the two, Henry Homesteader vs Smith & Wesson M&P FPC.
Spec Comparison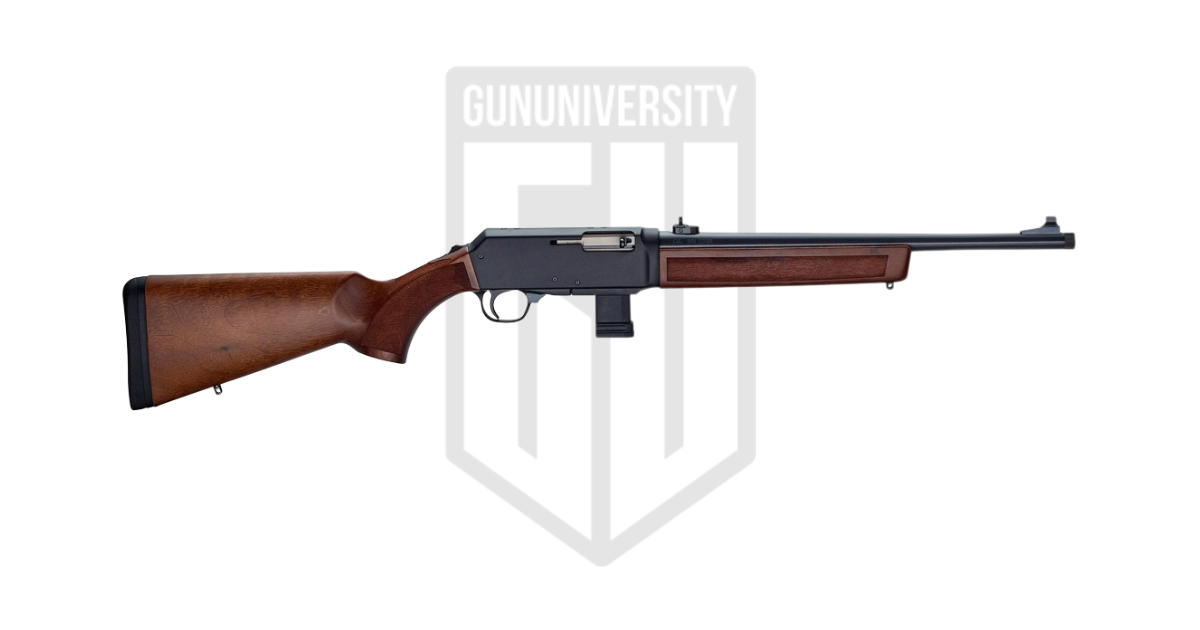 Henry Homesteader
Final Grade : A
MSRP : $928
Operating System
Semi-automatic blowback
Check Price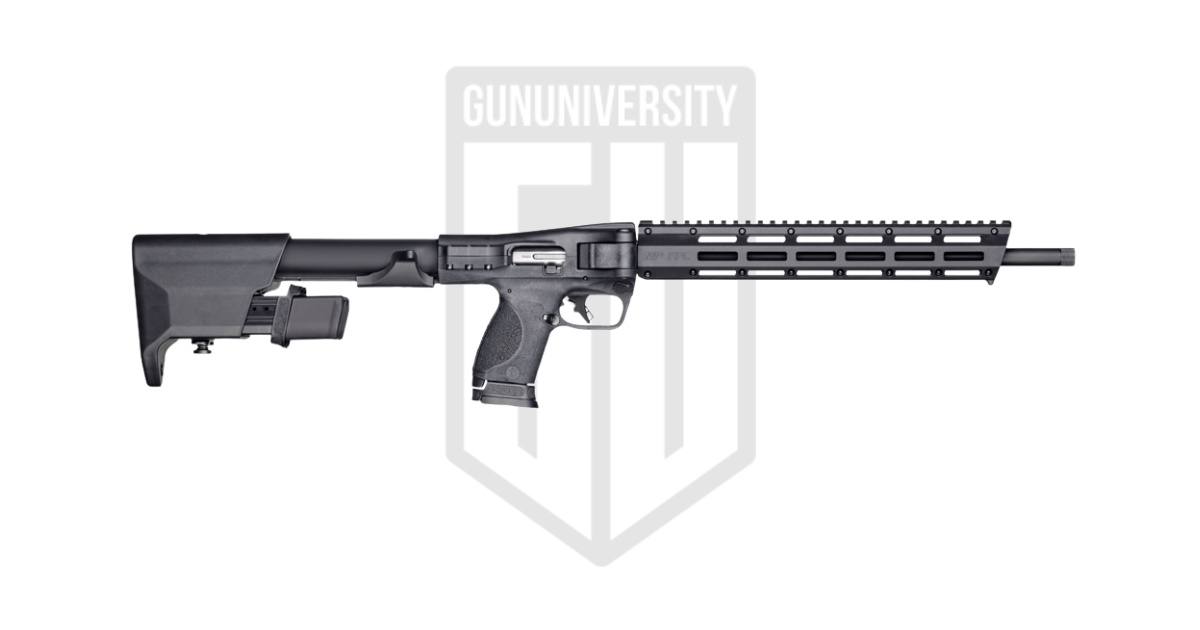 Smith & Wesson M&P FPC
Final Grade : A-
MSRP : $659
Operating System
Semi-automatic blowback
Check Price
Why Compare the Smith & Wesson M&P FPC and the Henry Homesteader
When 2 firearms of a similar nature hit the market at the same time, it makes sense to compare them both. While some of us might have no problem buying one of each, many of us still buy our firearms one at a time and often make hard choices between one or the other.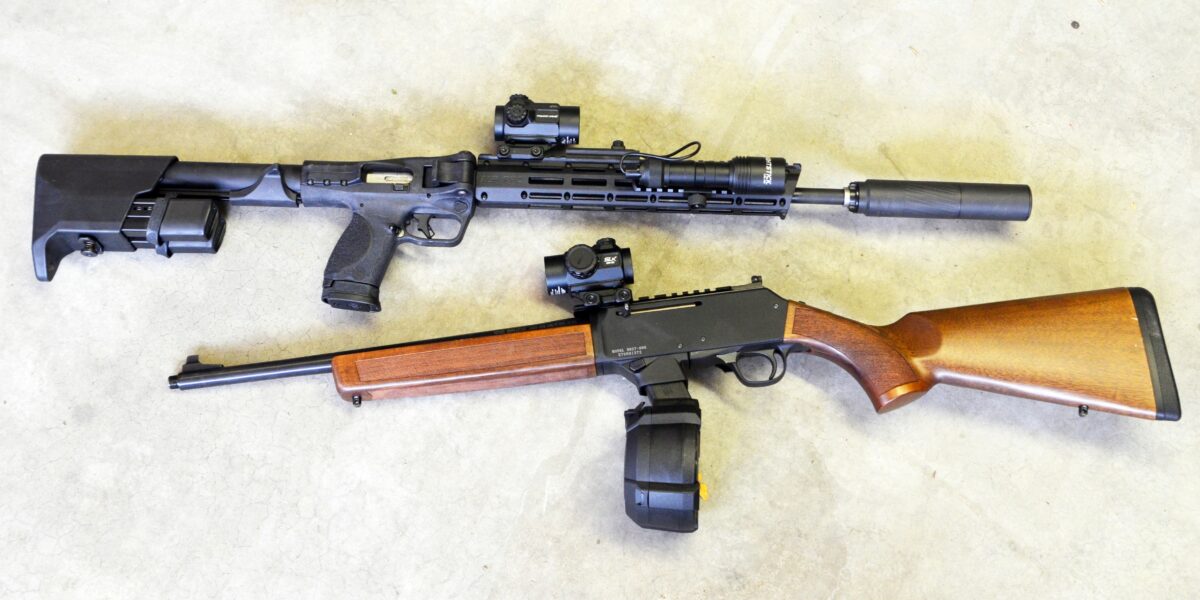 Pistol caliber carbines (PCCs) in 9mm sit in a special niche. They are not great for hunting due to the nature of the round. They can be suitable arms for self-defense because they offer more accuracy, stability, and an increase in muzzle velocity when compared to most pistols. Their greatest asset is for plinking and target shooting. This is because of the lower cost of 9mm ammunition when compared to rifle calibers and the fact that many indoor ranges allow PCCs as opposed to full-fledged rifle rounds.
There are plenty of 9mm PCCs out there, but these are probably the two newest kids on the block.
Henry Homesteader vs Smith & Wesson M&P FPC
We will compare the accuracy of both carbines using the same ammunition. Both carbines will use the same unmagnified red dot sight by Primary Arms. We will look at the features of both to determine which one offers the best bang for the buck.
Henry Homesteader vs Smith & Wesson M&P FPC Our Grades
Henry Homesteader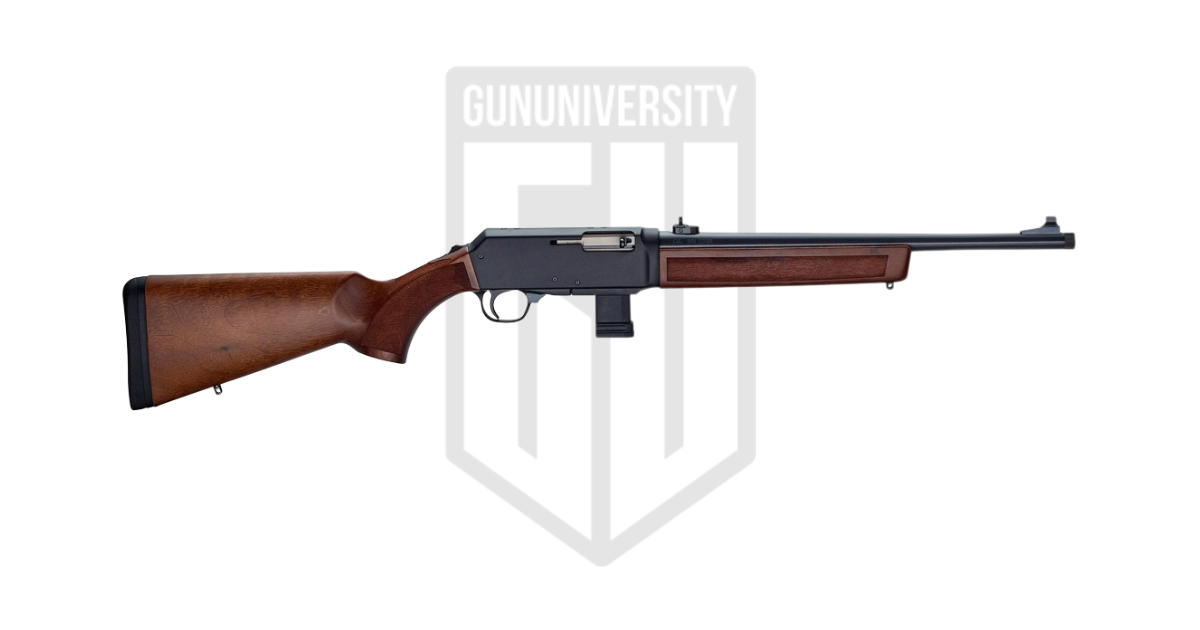 Smith & Wesson M&P FPC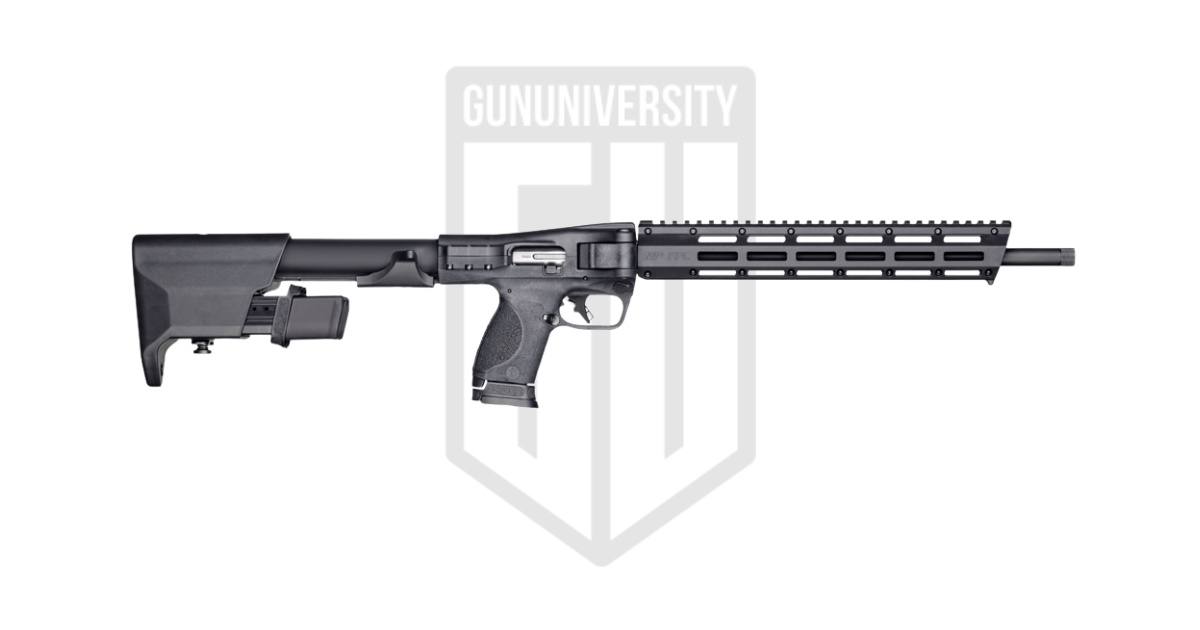 Henry Homesteader Review
We mostly know Henry Repeating Arms for their fine lever action and single shot firearms. So seeing the Homesteader in their booth at a national trade show was a surprise. The Homesteader has a traditional old school look to it. They use the same fine walnut cut and milled on their reserve is Rice Lake, Wisconsin, as found on their lever action rifles.
Henry Homesteader Features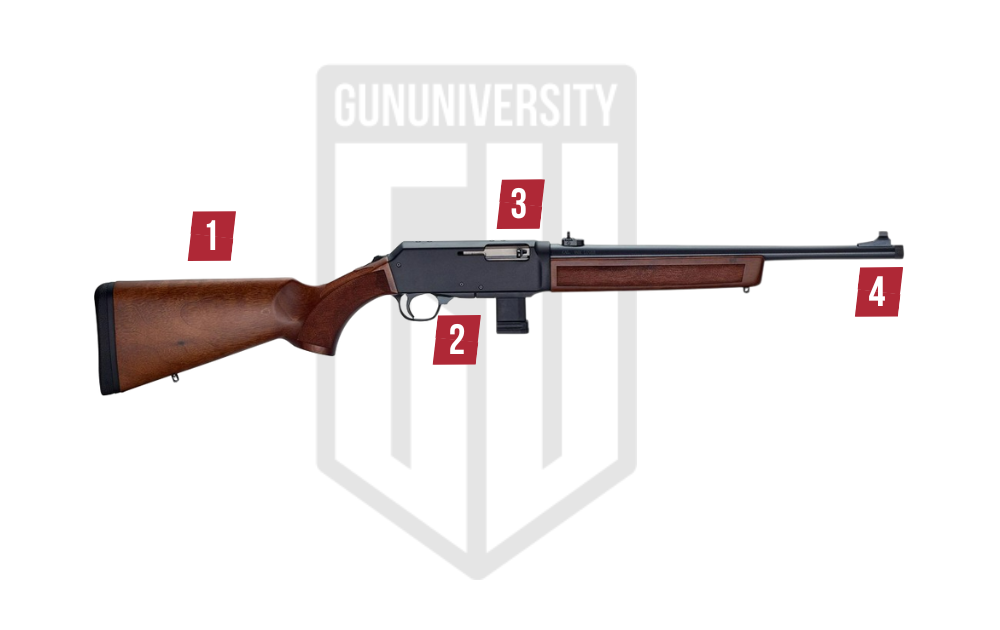 1
Wood Stock
An attractive walnut stock graces the Henry Homesteader. This gives a retro look to the carbine. I find it reminiscent of a Thompson sub-machinegun or Winchester self-loading rifle from the early 20th century.
2
Magazine Compatability
In a unique twist, Henry offers 3 versions of the Homesteader based on the magazine type. The default version uses Henry's proprietary 5 or 10-round magazines. Version 2 allows the use of Glock 17/19 series magazines and version 3 takes Smith & Wesson M&P series or SIG Sauer P320 magazines. You get the default with every version, but the other two come with a magazine well adapter for the aftermarket magazines in question.
3
Ambi Bolt
The bolt handle can be placed on either the right side or left side of the bolt. This is based on user preference.
4
Threaded Barrel
The Henry Homesteader sports a threaded barrel in ½ x 28". You may not need a muzzle brake or a flash suppressor on a 9mm carbine, but a good suppressor like the Thunderbeast Arms Fly-9 or the Silencerco Osprey makes shooting much more comfortable and pleasant.
Henry Homesteader: Our Take
Unlike most carbines these days, the Henry Homesteader is a shooter right out of the box. They equip it with a nice set of XS sights mounted on the barrel. However, in the interest of mounting a red dot sight, we installed a rail by Skinner Sights that came with a rear mounted peep sight, so the XS rear sight had to go. The Skinner rail proved to be superior by adding more eye relief to the irons and a Picatinny rail for the red dot.
Primary Arms sent us 2 of their latest SLX MD-25 sights. This is a 25mm Microdot Gen II sight with an AutoLive – ACSS-CQB Red Dot Reticle. We used this sight on both rifles. The moment you pick up the firearm on which it is mounted, the dot powers on. Let it sit motionless for about 30 seconds and the sight will turn off. Intended for a 5.56 or 7.62 rifle, the reticle features three BDC dots underneath the chevron, allowing for 600 yards of bullet drop compensation. You may not need that for a 9mm carbine but I found the horseshoe reticle grabs the eye instantly for close range shooting. The reticle for this sight is a central chevron, centered in a 65 MOA circle with four positioning points. Once zeroed, it performed like a perfect red dot on the range for our purposes.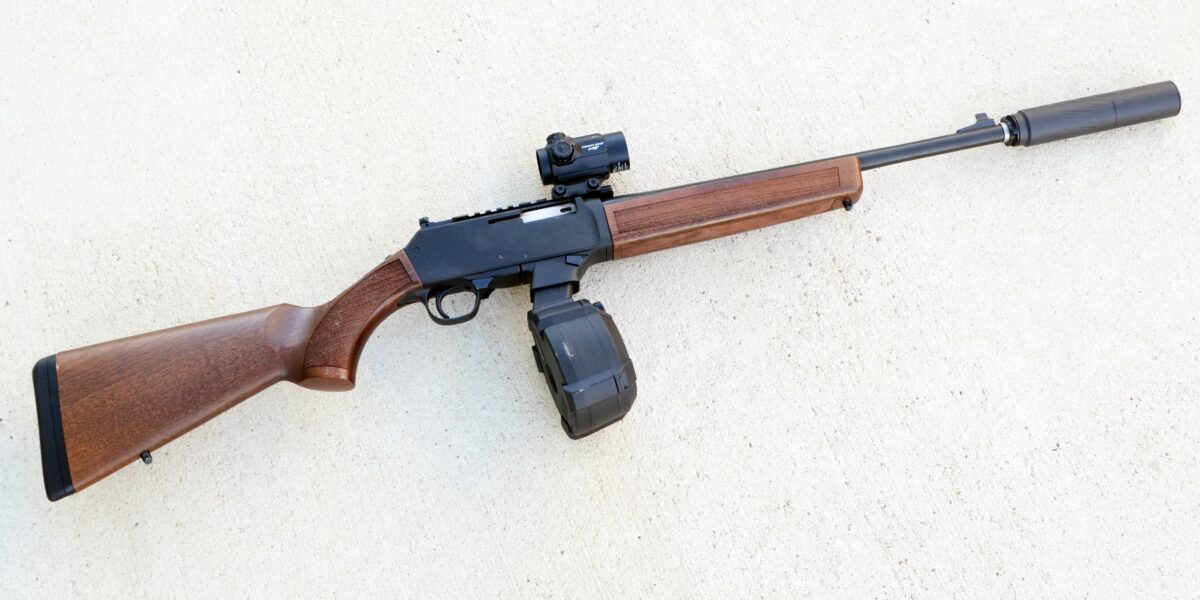 The Henry Homesteader proved accurate and reliable with zero malfunctions. We mostly fired Bellom ammunition from Serbia, supplied by Global Ordnance. This ammunition is clean and accurate, but most importantly it is extremely reliable. We shot a few hundred rounds of Bellom along with 147-grain HUSH through the suppressors. Previous testing with different types of JHP (jacketed hollow points) also proved reliable.
With the Glock magazine well adapter in place, we used everything from factory G19 and G17 magazines to higher capacity 32-round Glock 18 magazines and a Magpul D-50/9 PCC magazine. It's probably no surprise that the drum yielded the most fun on this range trip.
What I liked best about the Henry Homesteader was its classic feel while shooting. It pointed extremely well, yielded great accuracy, and had great ergonomics all around. For a company mostly associated with lever action rifles, Henry built a great 9mm semiautomatic.
Probably the only con I could see to the Homesteader was the lack of even a single MLOK slot to allow the mounting of a flashlight. After taking a fair number of low light shooting courses, I have come to appreciate a mounted weapon light on my long guns.
Henry Homesteader Pros and Cons
Ergonomics & Aesthetics – It has a traditional stock profile and that should appeal to many shooters. Its non-threatening look and lack of evil features like a pistol grip or a shoulder thing that goes up will make it popular in so-called ban states.
Threaded Barrel – Allows the addition of a suppressor
Accessories – The lack of an MLOK slot, or even a single slot rail to mount a flashlight, was disappointing. However, this is a new rifle, and it will take a little time for the aftermarket to catch up. By the time you read this, there may be options on the market already.
Henry Homesteader Gun Deals
Smith & Wesson M&P FPC Review
I may have had about a 9-month advance notice before they announced the Homesteader. However, the S&W M&P FPC completely caught me by surprise by not even appearing on my radar. That said, Smith & Wesson got a sample to me within a matter of days. Equipped with a pistol grip, plenty of rails, and the ability to fold in half; it offers features not found in the Henry.
Smith & Wesson M&P FPC Features
Smith & Wesson M&P FPC Features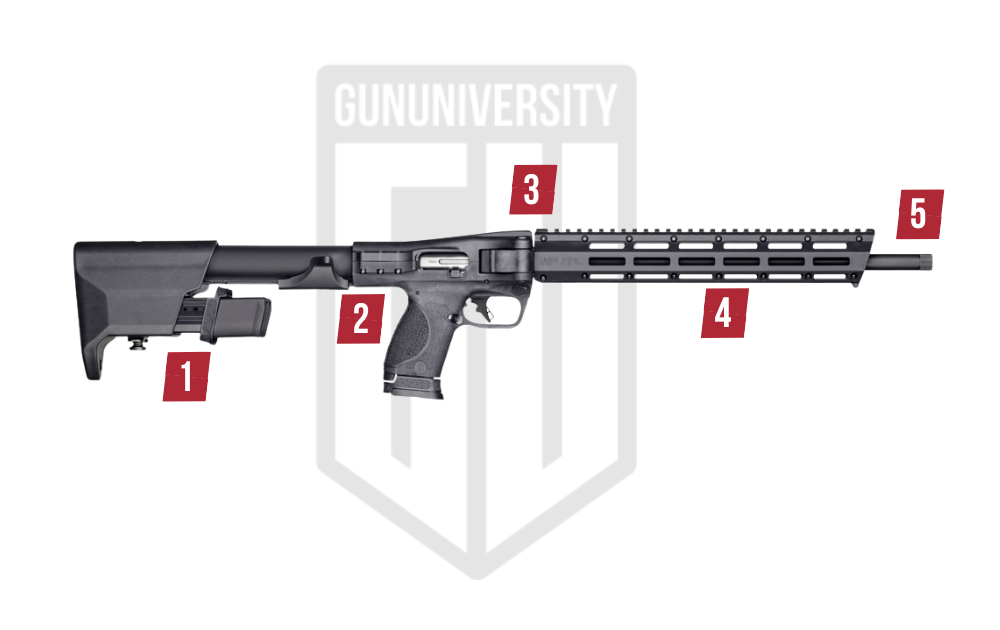 1
Ammo Storage
The carbine ships with one 17-round and two 23-round magazines. There is an onboard storage feature to store two magazines in the butt stock for ease of access.
2
Pistol Grip
An ergonomic pistol grip with various back straps allows a precise fit to the shooter's hand. Magazines load through the grip just like the S&W M&P pistol
3
Folding
The Smith & Wesson M&P FPC is a 9mm blowback operated semiautomatic carbine that folds in half for compact storage. This allows the carbine to be stored in a vehicle, boat, aircraft, or even in a bugout bag.
4
Picatinny and MLOK
The top of the carbine features a Picatinny rail with multiple MLOK slots on the bottom and sides.
5
Threaded Barrel
This carbine has a threaded barrel in ½ x 28" so a silencer can be mounted.
Smith & Wesson M&P FPC: Our Take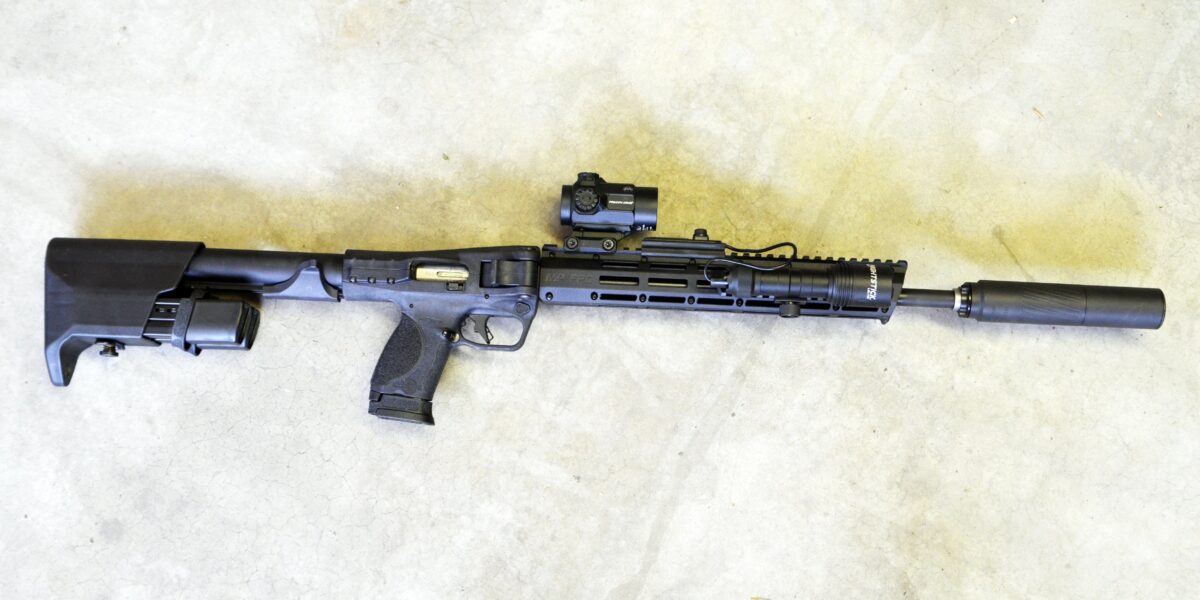 This rifle was a lot of fun to shoot. It is light enough to be fired with one hand and the trigger is almost perfect when compared to a typical M&P pistol; especially the first generation of these.
It was additionally a lot easier to customize than the Henry. The Primary Arms sight mounted quickly and easily. Similarly, the Nightstick weapon light went on easily.
If there was one thing I did not like, it may have been the way the FPC folds for storage. While not a complete catastrophe like the KelTec folding carbine, which prevents you from folding it with an optic because that folds top to bottom; but the FPC folds into my preferred spot for mounting a flashlight. However, I could work around it and adjust.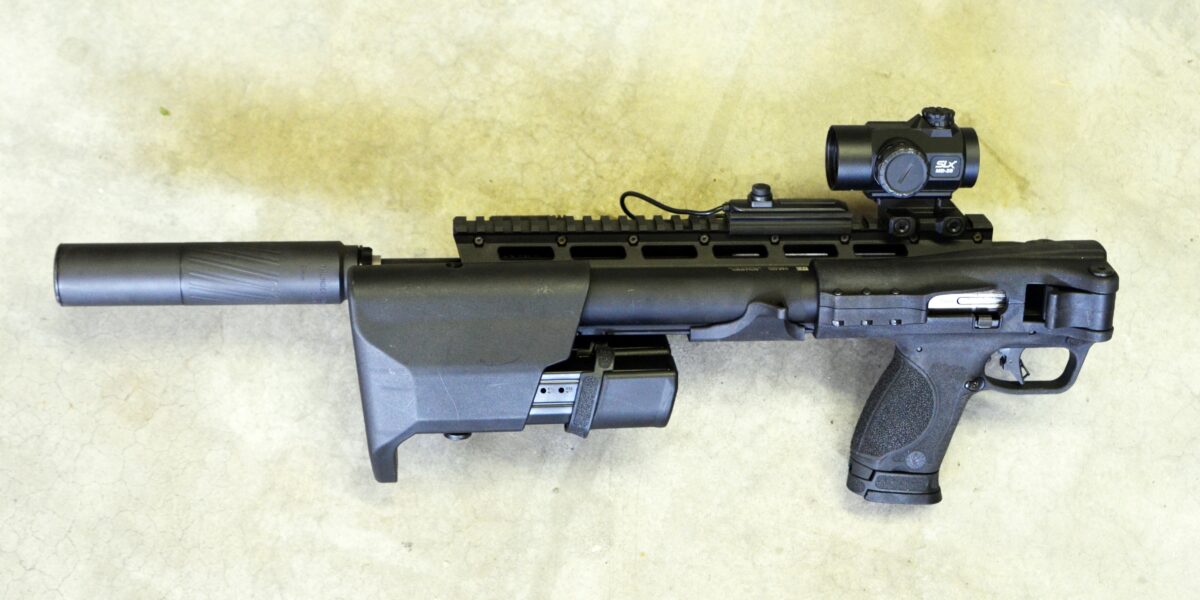 Bottom line, if you never fold it, you can load it up with every plug and play accessory on the market: lights, lasers, scopes, red dots, vertical fore grips. The sky is the limit. If you fold it, the entire left side is nearly wasted.
Fans of the full size M&P pistol with a good supply of magazines will rejoice. Glock shooters, maybe not so much.
If the Homesteader has a traditional look and feel; the M&P FPC is tactical from the ground up.
Smith & Wesson M&P FPC Pros and Cons
Size and Weight – The S&W M&P FPC is compact and light enough to go anywhere. I could fit it into many Go bags and backpacks to transport it covertly. Had I found myself in an active shooter situation, I could have probably returned fire with a bit more authority than just using a handgun.
Threaded Barrel – With subsonic ammunition, Federal 147 grain JHP, both silencers proved to be quiet and efficient.
Capacity – Two 23-round magazines and a flush fitting 17-rounder were better than the 5 and 10-round magazine that ship with the Homesteader
Sights – Does not come with usable sights ready to go out of the box like the Henry. If a lack of sights keeps the price down, it's not too bad of a trade-off.
Henry Homesteader vs Smith & Wesson M&P FPC: My Pick
While both rifles were great, the Henry very slightly edged out the M&P FPC. For a more in-depth review on the Henry Homesteader, click here.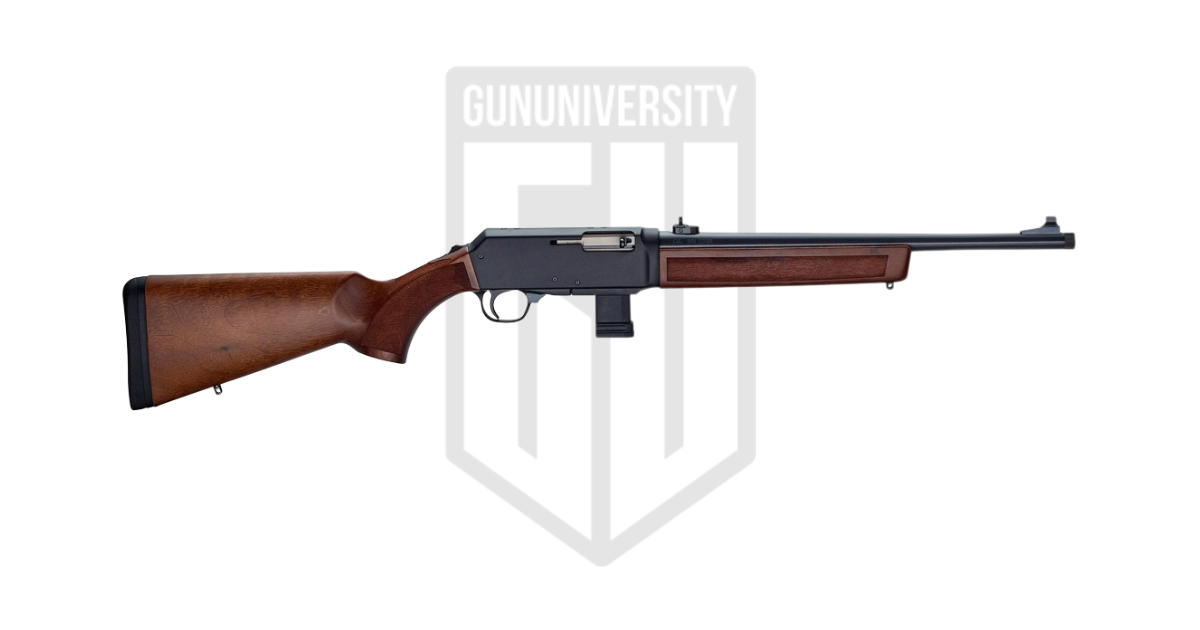 Henry Homesteader vs Smith & Wesson M&P FPC
Winner
Upgrades and Accessories for Henry Homesteader
Important Links and Videos
And here are two field strip and assembly videos for each rifle.