Palmetto State Armory AR-V Review [Field Tested!]
Who could foresee the popularity of PCCs? Starting almost a decade ago now, the world of PCCs exploded! Today, one of the latest on the market for review is the Palmetto State Armory AR-V.
PSA AR-V Specs
Barrel Length

16″

Gas System

Blowback

Caliber

9mm (9×19)

Twist Rate

1 in 10″

Muzzle Device

Birdcage Flash Hider
What's an AR-V
The AR platform excels for a wide variety of calibers, including pistol calibers. PSA has produced AR-type PCCs for almost forever. Typically they stuck to the Colt SMG and Glock magazine platforms for magazines and bolts. The AR-15 is already a super ergonomic platform, and a massive swath of American shooters are familiar with it.
Creating a 9mm AR isn't tough. Direct blowback works easily enough, and due to the AR's popularity, you can take advantage of the huge aftermarket available to the AR. In general, the AR-15 layout provides a supermodular rifle that's lightweight, easy to use, and doesn't take a team of engineers to create.
The AR-V takes advantage of all that. It ditches the Glock and Colt mags in favor of CZ Scorpion mags. Why? Well, because they are better for rifles and subguns. Colt SMG mags are okay but made from heavy metal, a pain to load, expensive, and occasionally hard to find.
What's wrong with Glock magazines? Not a lot. They are cheap, easy to find, and available in a variety of capacities. However, the fact they are made for a pistol has some downsides. First, last-round bolt hold opens are rare. Second, the magazine release can be tricky. Finally, they have this weird backward slant that looks weird.
The AR-V utilizes Scorpion magazines that are cheap, readily available, and come equipped with LRBHOs (Last Round Bolt Hold Open) and make the mag release easy. They are well made, proven, and offer a true subgun mag option. Palmetto State Armory produces the weapon as a handgun and as a rifle. We are reviewing the rifle variant.
PSA AR-V Features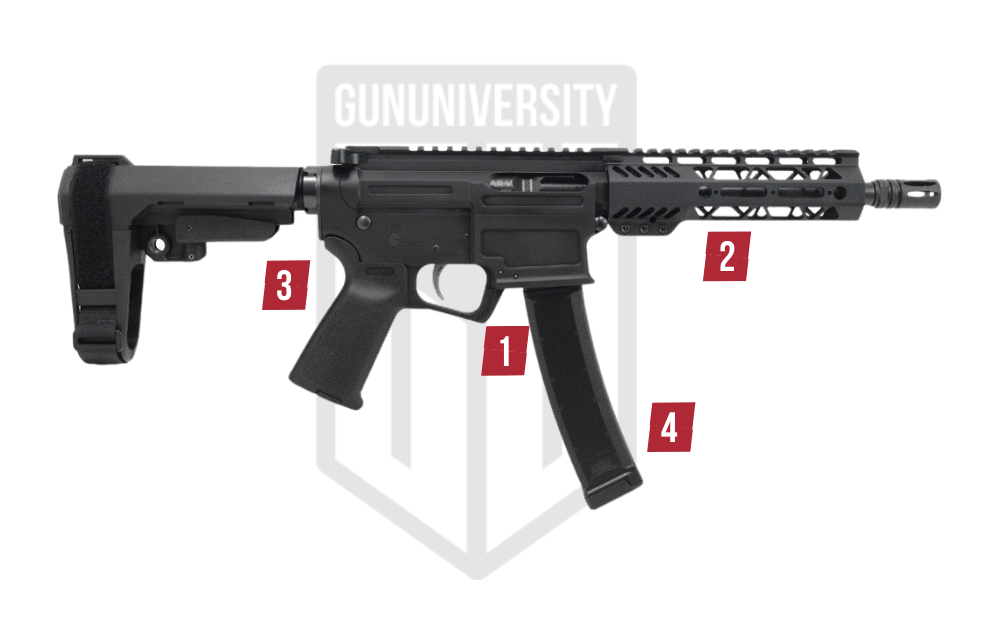 1
Ambidextrous Magazine Release 
4
Scorpion Magazine Compatibility 
Going Hot With the AR-V – Our Take
My love of pistol caliber carbines is tied to the love of cheap ammo, easy range requirements, and relatively soft recoil. We get all that with the AR-V. 9mm might be slightly pricey right now, but it's still considerably cheaper than 5.56. PSA ships the gun with a single PSA-produced 35 round AK-V U9 magazine. It's PSA's own take on the Scorpion magazine, and Scorpion mags from CZ, Magpul, Manticore, and more can work with the AR-V.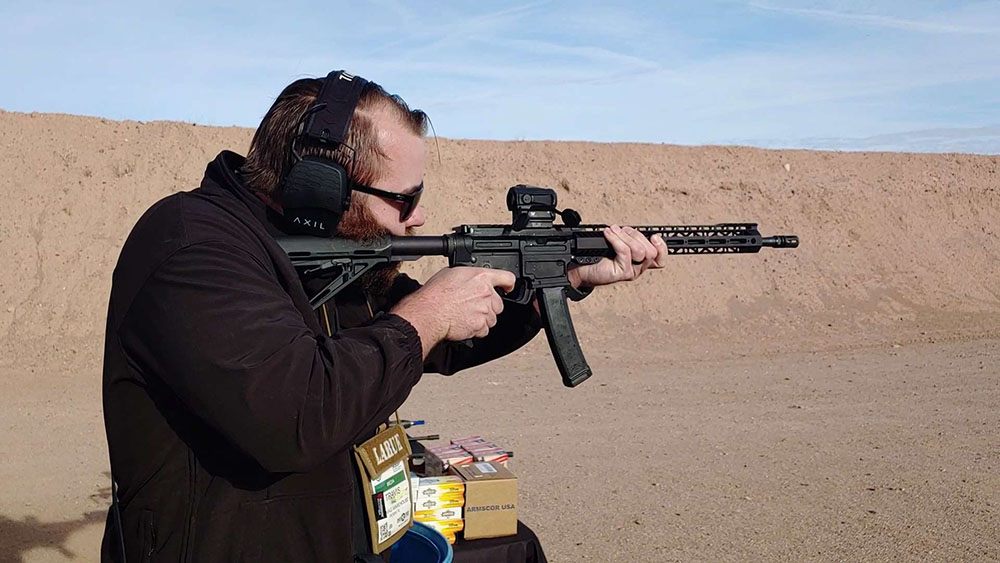 What caught my eye at first was the magazine release. I'm so used to a button that the Scorpion-like magazine release placed in front of the trigger guard threw me off. It's actually awesome. You can push it forward with your trigger finger, and the mag drops free with ease. The magazine release is ambidextrous and works brilliantly.
I won't lie. I'm so used to the AR-15's magazine release that I often found myself reaching for it. It took a few magazine changes to get used to the new Scorpion-like ambidextrous magazine release. PSA changed the bolt release a bit as well. It's on the left-hand side and pushed a little lower on the mag well.
This is less of a button and more of a latch that moves up and down. I found it very easy to use and manipulate. Sending the bolt home doesn't take a ton of force, and neither does locking the bolt to the rear.
Other than those two switches, it's all AR-15. The safety, charging handle, handguard, stock, all that fun stuff is all AR 15. The M-LOK rail is thin and light and keeps the weapon well balanced. The layout is super familiar, and shooters will quickly adapt to the little platform.
Going Hot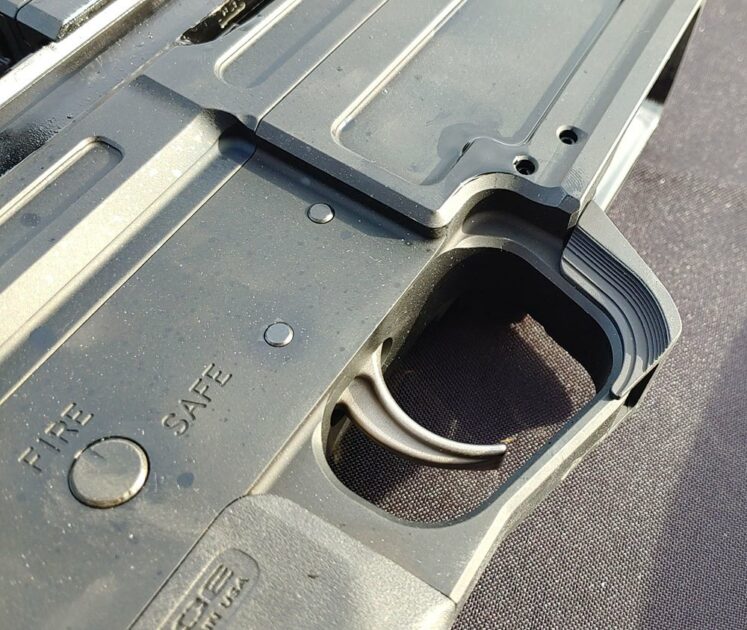 Blowback operated systems do offer a rather rough recoil sensation. It's all relative, but you wouldn't think a 9mm can recoil like a 5.56, but it's not uncommon. Somehow, the AR-V avoids this fate. For a blowback-operated firearm, the recoil really isn't bad. It's soft shooting and easy to fire rapidly and accurately.
A 9mm coming out of a 16-inch barrel doesn't result in much muzzle rise. You'll be able to control the weapon easily enough and drive it from target to target. This kind of gun would likely do pretty well in PCC comps like USPSA and Steel Challenge. I enjoyed alternating between targets both near and far. The fun of swapping between targets at 10 yards and out to 50 yards in the same string of fire is tough to explain.
It's addicting, and the AR-V's light recoil and minimal muzzle rise make it easy to accomplish. Also, let's not forget this is an accurate gun. Pistols rounds aren't made for rifle-like accuracy, but the AR-V does quite well. At 50 yards, I used a red dot to drill a hostage plate back and forth. It wasn't fast, but I had no problems hitting the swinging plate.
On 10-inch gongs, I could be both fast and accurate. I kept that thing swinging, and hearing that sweet ding only made me shoot faster. While the gun's accurate, the trigger isn't anything to write home about. It's just a mil-spec type trigger that's a little mushy and a little stiff, but it has a solid reset.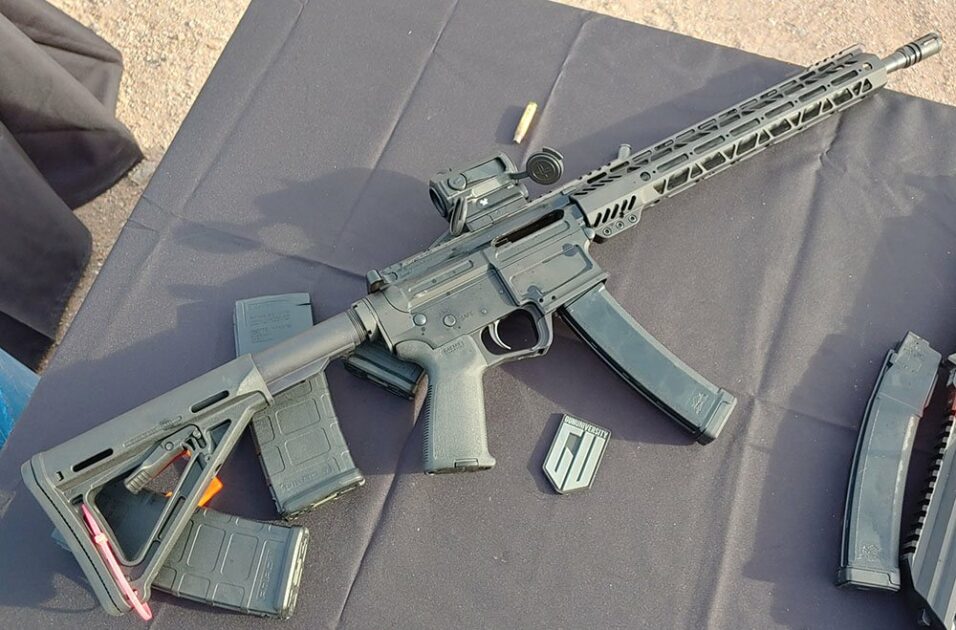 Pew and Kaching
Reliability was not perfect. I had one failure to feed with the AR-V. The round didn't make it fully into the chamber and got pinned between the bolt and chamber. This was with the stock PSA magazine and was the first round in a full magazine. Defeating the malfunction was easy to defeat but bears mentioning.
This only occurred once, with standard, brass-cased 115-grain ammunition. Other than that, the gun ran and ran. It was filthy dirty by the end of the day and didn't seem to have any further issues.
When it comes to price, this isn't the cheapest of plinkers. With an 899 price point, the AR-V demands a hefty sum for a PCC. It's a limited use weapon but is a high-quality example with a unique magazine system. As far as I know, this is the only AR PCC that uses Scorpion mags, and exclusivity brings a high price point. 
PSA AR-V Pros and Cons
Relatively soft recoil
PSA-produced 35 round magazine
Not the cheapest option for PCC
Reliability wasn't the best
Report Card

Shootability

The AR-V handles like a kitten. It's soft shooting, low recoiling, and very easy to work with. Plus, the adjustable stock and lightweight M-LOK rail make it suitable for all shooters. 

A

Reliability

One malfunction isn't bad and could have been a complete fluke. I didn't see the problem repeated throughout my shooting, loading, and more shooting. 

B

Ergonomics

PSA nailed the ergonomics. The magazine release and bolt lock/release are perfect. They are well done, easy to reach, and manipulate. Everything else is pure AR with a few touches from Magpul. 

A

Accuracy

For a PCC, this little fella is dang accurate. It's no sniper rifle, but it puts lead where you want it… as long as you stay inside of the 9mm's effective range. 

B

Value

It's an expensive PCC that's up there in price. However, it's also the only combination I know of, of AR and Scorpion mag. 

B

Our Grade
B+
Reviewed by Travis Pike
Reader's Grade
B-
Based on 4 Reviews
Your Grade
Do You Own This Handgun? Leave A Review
Success Your Grade Has Been
Added To Our Reader's Score
We use email to verify the accuracy of our reviews. We promise to never spam you.
PSA AR-V Gun Deals
PSA AR-V Ammo
PSA AR-V Starter Pack
So what's next? Well, if you decide to get the PSA AR-V, you're going to need to pick up some must-have basics. Here's our recommendation for what you need to get started.
Gun Cleaning Kit: Otis All Caliber Elite Range Box on Amazon or build your own personalized cleaning kit with premium components.
Shooting Glasses: All it takes is one piece of rogue hot brass, and you'll learn the importance of shooting glasses. But not all glasses are built the same. See our recommendations for the Best Shooting Glasses.
Hearing Protection: Firing a gun without wearing proper ear pro can be very dangerous and detrimental to your hearing. Find out the best hearing protection for you in our full length review.
Storage: Check our our article on the Best Biometric Gun Safes
Targets – If you're wanting a great resource for shooting practice or zeroing your optics on your optics rifle or pistol, download our FREE Sighting in Targets below.
With the basics outta the way, let's jump into some cool accessories you might want to consider when purchasing your PSA AR-V
PSA AR-V Upgrades and Accessories
There's a bunch of different options available to accessorize the PSA AR-V. However, if we had to choose only a few options… Here's our picks.
PSA AR-V Accessories
Compact Red Dot
Proprietary Mount
Multiple Reticles

Check Price

Light and Slim
Utilizes 1" webbing and custom designed hardware

Check Price

White LED produces 1000-Lumens
10, 000-Candela
200m beam runs 1. 5 hours

Check Amazon

Great In-Ear option
Custom molded – super easy and comfortable
NRR: 31

Check Amazon
HOW TO CARE FOR YOUR PSA AR-V
Not only do you need to keep your firearms safe and secure, you're also going to need to know how to take care of it. While scouring the internet, we came across this excellent video;
Important Links And Manuals For Your PSA AR-V
For more info regarding the PSA AR-V, check out the following resources: