CZ P10C Review: Hands on Testing
We know CZ for its famed hammer-fired, metal-framed handguns featuring their brilliant DA/SA triggers. However, with the P10 series, we are getting a mold-breaking polymer frame and striker-fired pistol. Today, we are reviewing the compact variant, the P10C.
CZ P10C Specs
Caliber

9mm Luger

Frame

Fiber-Reinforced Polymer

Action

Striker

Capacity

15+1

Barrel Length

4.02 in

Overall Length

7.3 in

Weight

26 oz

Front Sight

Fixed Metal Sight

Rear Sight

Dovetail Metal Sight

Optics Mount

Optics Ready Variations Available
CZ P10C Background – The World of CZ Polymer Frames
The announcement of the P10C didn't generate any excitement in me. I love CZ firearms, and I love DA/SA hammer-fired actions. When CZ decided to join every other company in producing a strike-fired pistol, it generated some curiosity, but I wasn't excited. It's just like every other Glock clone, right? This wasn't CZ's first striker-fired, polymer-frame pistol. The CZ-100 came out in 1995 and didn't impress anyone. It had a terrible trigger, weird features, and a proprietary rail.
CZ seemed to learn their lesson and went back to the drawing board with the P10C. The P10C uses a partially cocked striker and an aggressive but modern frame design. The rail is a standard Picatinny design, and features like adjustable backstraps are present here. CZ ensured this was a true competitor in the striker-fired polymer frame market.
The P10C was the first variant released, where C stands for compact. It's a Glock 19-sized firearm, which makes sense. The Glock 19 has long been the most popular Glock, and the compact size is often the best compromise for shooters, concealed carriers, and home defenders. While it's now a family of firearms, the P10C jump-started it all and has been quite successful for CZ.
CZ P10C Features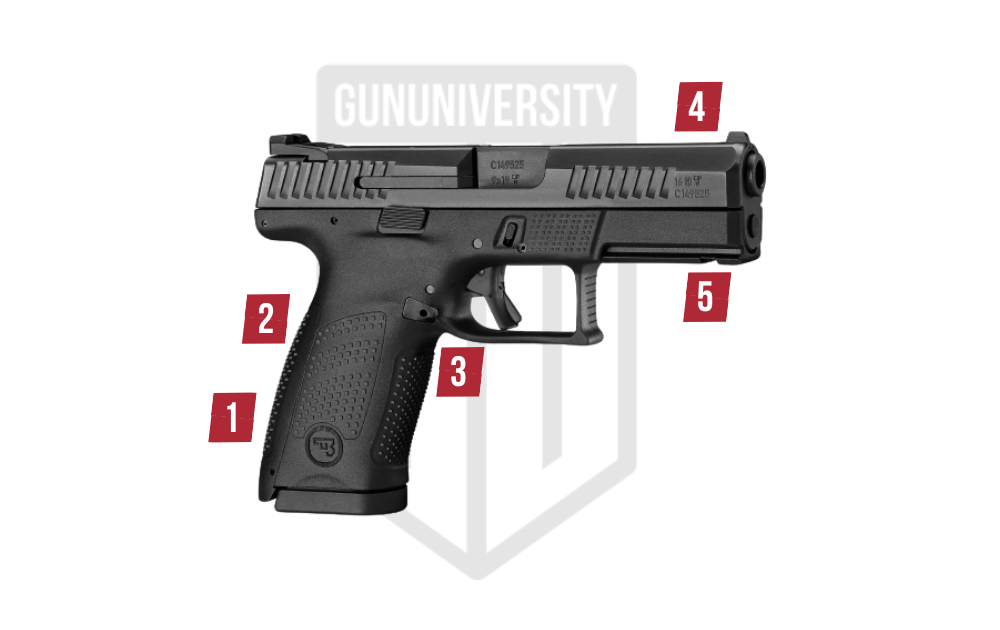 1
Grip Stippling
Aggressive grip stippling makes recoil management easier, but can be irritating to skin for concealed carry.
2
Adjustable Backstraps
A mild palm swell and beavertail along with three interchangeable backstraps will make the gun fit many different hands
3
Magazine Release
Ambidextrous magazine release for the left handed folks out there.
4
Metal Sights
Tactical 3 dot sights made from metal allow for single handed manipulations
5
Accessory Rail
Can mount a weapon light
Models and Variations
The CZ P10 family ranges from micro sized to full sized frames and slides along with optics ready variations. There is even a competition variant.
CZ P10C Review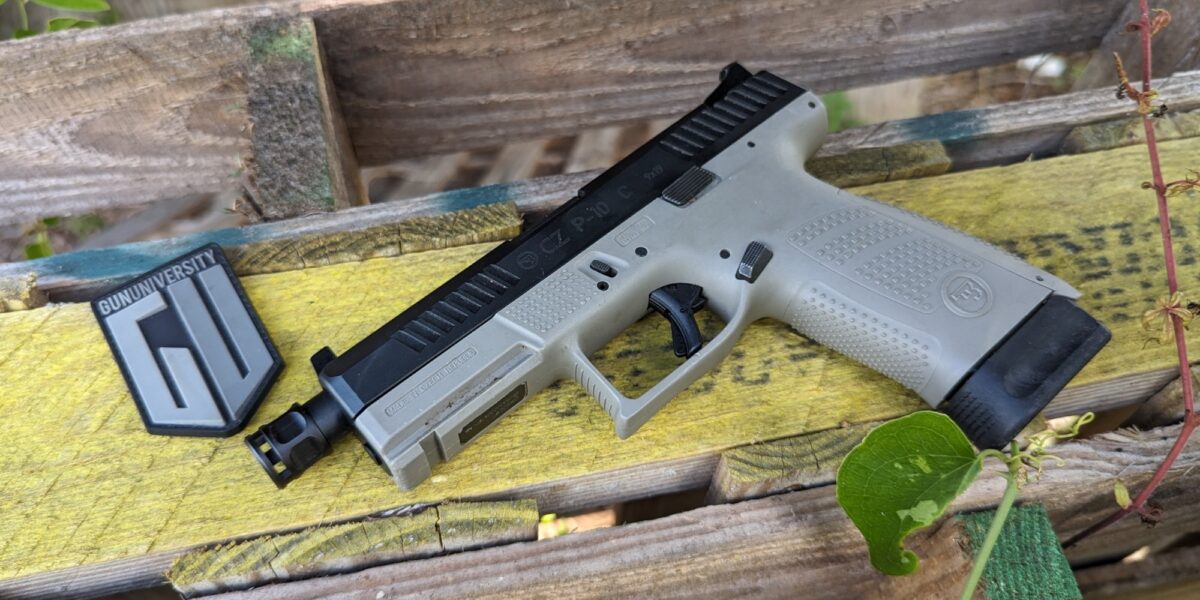 The P10C holds nothing back. It's a very modern pistol. The only thing I feel mine is missing is an optic cut, but CZ makes an optics-ready model. This particular model is the P10C Sniper Grey Model. It features a few extra features. This includes suppressor height sights and a threaded barrel.
One feature that's universal for the P10C series is the aggressive ergonomics. The grip is stippled to the extreme, and it's one of the most aggressive factory grips I've ever experienced. It clings to your hand and doesn't seem to want to let go. It makes soaking up rapid-fire recoil quite easy.
The design of the frame allows for a very high grip with a rear overhang that protects the hand from slide bite and allows for a high grip. The trigger guard has a nice undercut that allows for a comfortable high grip on the gun. CZ uses one of the few slide releases that my thumb does not automatically press downward with an aggressive thumb's forward shooting style.
Overall, it scores well in ergonomics. Be warned that aggressive grip texture can be painful against the body when carried IWB.
Ringing Steel
The gun's ergonomics and the fact it's a 9mm make it an easy shooter. Recoil is mild and typical, but the ability to get a nice high grip and the aggressive texturing certainly helps make it easier to shoot. You won't feel like you're fighting with it, even in rapid-fire sessions.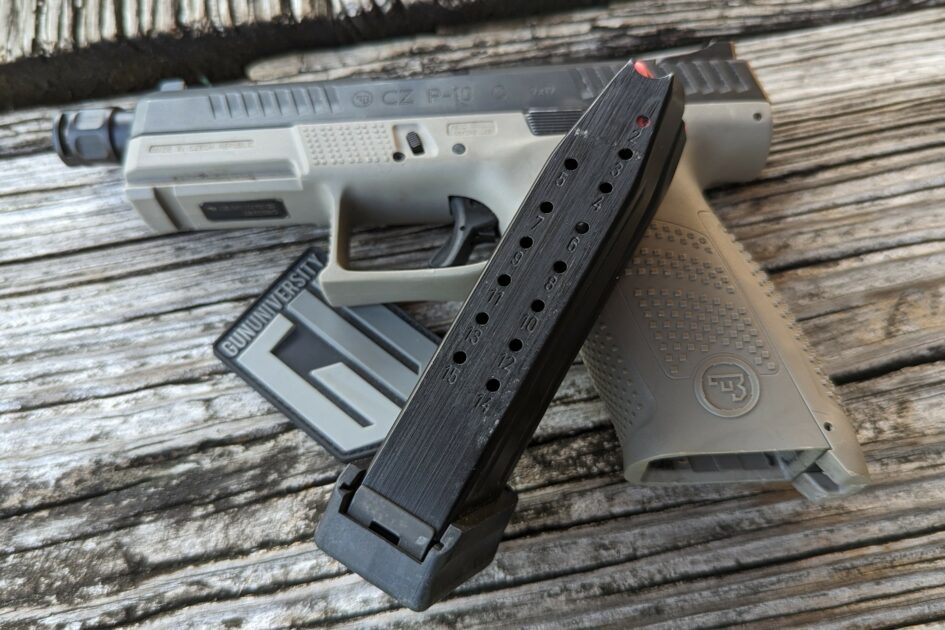 The standard iron sights are nice, with plenty of air between the sights for a quick and effective sight picture. The trigger beats most factory triggers, hands down. It's better than Glock, FN, and SIG. It's smooth and to the point, with a noticeable wall and clean brake. No grit and no sponginess to be found.
This adds up to a gun that can punch out and hit a target without difficulty. Producing tight groups at 25 yards isn't tough, and you can keep your groups under two inches easily.
Money Well Spent
What made me pick up a P10C was the fact it cost two Hi-Points, meaning about 300 bucks. These things go on special and sale all the time, and they seem to be one of the more affordable options out there. Even at full price, they often sell for less than five hundred dollars.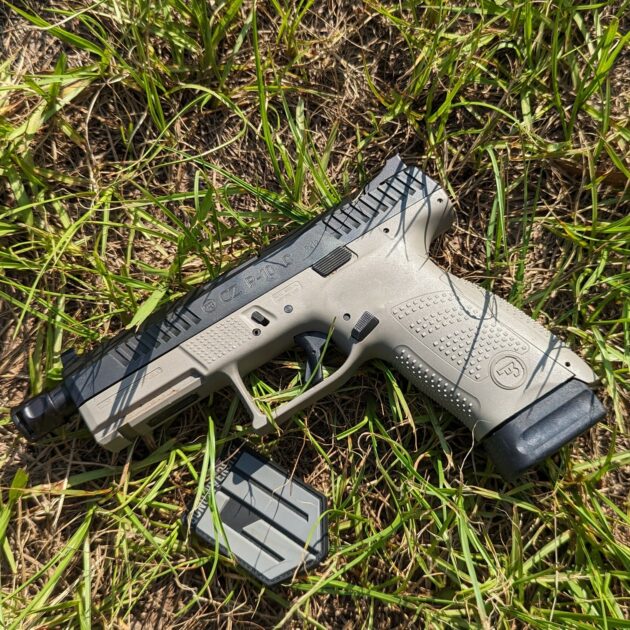 Blast away as much as you want, and it won't mind. I've owned the gun for a few years now, and it's never tapped out. The worst I've seen happen is some failures to fire with steel-cased stuff. It's likely more related to hard primers than problems with the gun. I've shot the gun in a class and a match and still have never cleaned it. The gun just works.
I was wrong about the P10C. I might not have been excited about the gun, but I have found it to be an excellent handgun overall. It's easy to shoot, accurate, sticks to your hand, and doesn't tap out with the worst ammo.
CZ P10C Pros and Cons
Great Ergonomics
Excellent Trigger
Good Accuracy
Reliable
Stippling – Aggressive Grip Texture Rubs the Skin
Report Card

Shootability

The gun's recoil is light and easy to handle. The ability to get a nice high grip makes it easy to handle.

A

Reliability

No problems over years, classes, and matches. Can't beat that.

A

Ergonomics

I love the control placement, the ambi mag release, the grip design and stippling, and nearly everything. However, I take a letter grade off cause it will rub your side raw when carried.

B+

Accuracy

For an iron-sighted compact handgun, the CZ P10C is impressive. It won't win a 50-yard bull's eye match, but for practical accuracy's sake, the gun will put lead where you need it.

A-

Value

If you can catch one on sale, the prices are killer. If not, it's still a great value for less than 500 dollars but doesn't quite pinch all the pennies.

B
Our Grade
A-
Reviewed by Travis Pike
Reader's Grade
B+
Based on 13 Reviews
Your Grade
Do You Own This Gun? Leave A Review
Success Your Grade Has Been
Added To Our Reader's Score
We use email to verify the accuracy of our reviews. We promise to never spam you.
CZ P10C Starter Pack
Eye Protection –Having a good set of eye protection is important for all trips to the range.
Hearing Protection – Here are our picks for best hearing protection.
Gun Cleaning Kit – Check out our favorite gun cleaning kits.
First Aid Kit – Every range kit needs a first aid kit.
Upgrades and Accessories for the CZ P10C
Here are some suggested upgrades for your CZ P10C
Upgrades and Accessories for the CZ P10C
Best Ammo for Your CZ P10C
The Federal American Eagle 9mm 124 grain matched my carry ammo closely, and I like the extra punch 124 grain has for knocking steel over at matches. From the P10C, it's controllable and feeds perfectly. The gun certainly doesn't mind it.
Speer Gold Dot has long been my go-to for defensive ammunition. It's consistent, reliable, and hit shard. The rounds expand consistently and reach beyond the minimum depth for penetration.
Range Ammo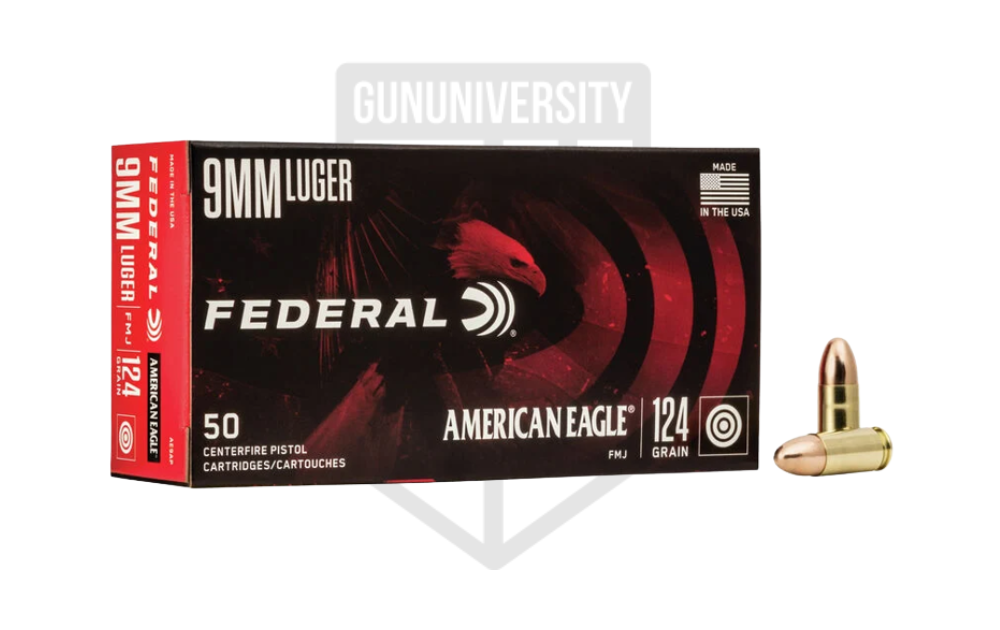 Federal American Eagle 9mm 124 Grain FMJ
Defensive Ammo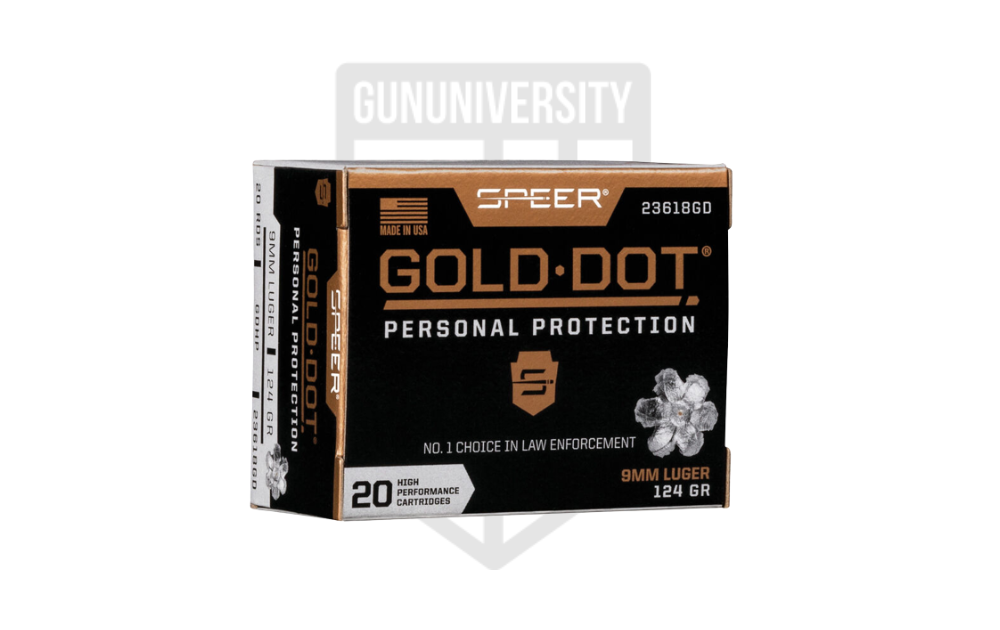 Speer Gold Dot 9mm 124 Grain
Other Handguns of its Class to Check Out
The Glock 19 and Walther PDP are competitive options to the CZ P10C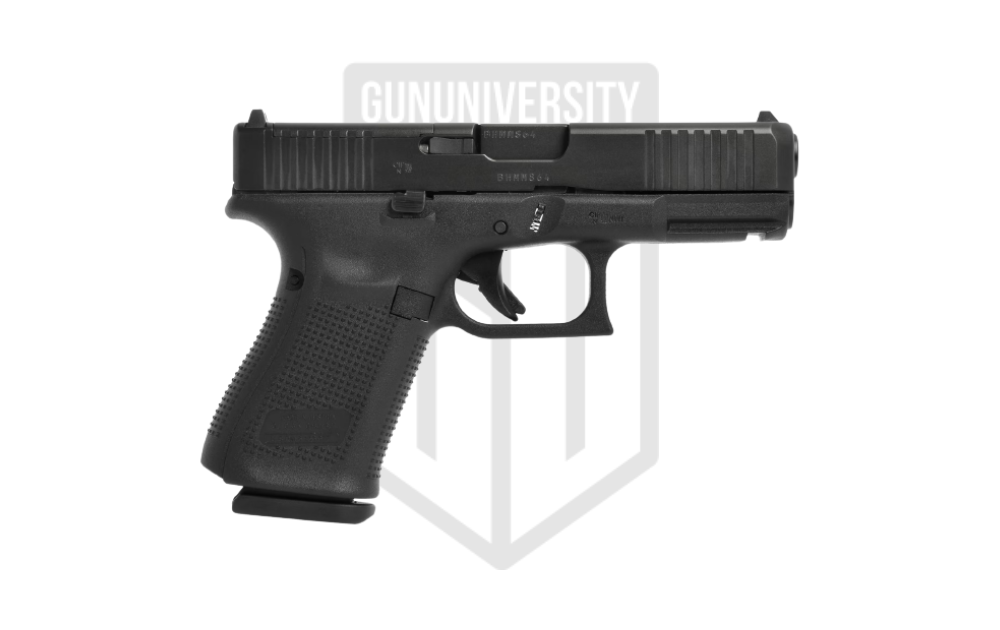 The popular compact Glock 19 with upgrades including optics ready MOS system, removed finger grooves, and front slide serrations in 9 mm Luger.
Shootability

A

Reliability

A+

Ergonomics

B

Accuracy

A

Value

A
Reader's Grade
A+
Based on 2 Reviews
Your Grade
Do You Own This Gun? Leave A Review
Success Your Grade Has Been
Added To Our Reader's Score
We use email to verify the accuracy of our reviews. We promise to never spam you.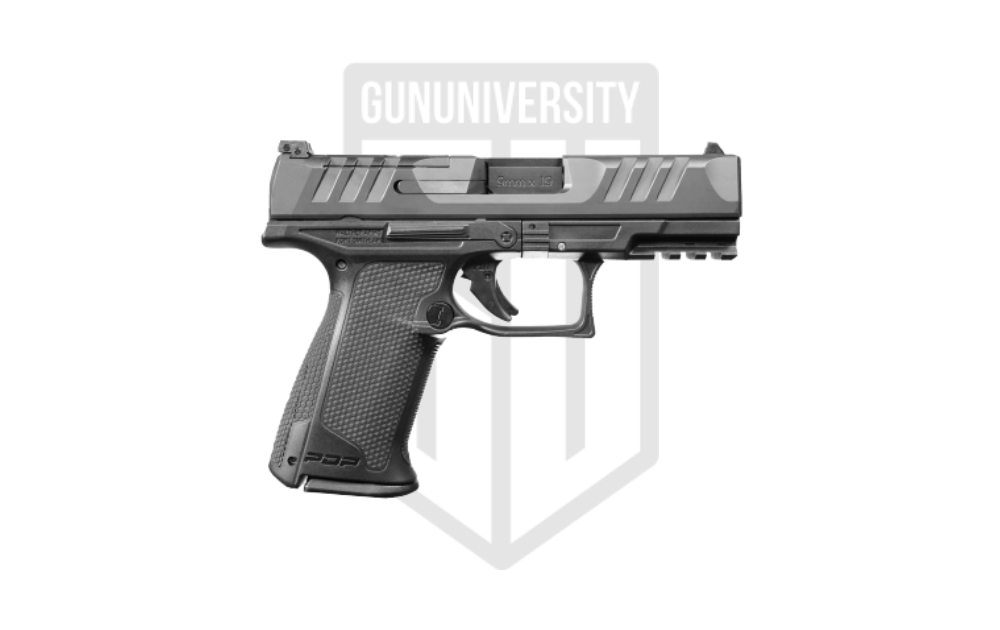 The Walther PDP F series of handgun is a polymer framed 9mm engineered for the female shooter.
How to Care for Your CZ P10C
Here is a short video showing you how to field strip and re assemble your CZ P10C.
Important Links and Manuals for the CZ P10C
Check out the links below for the manufacturer's website and operator's manual.