Pocket pistols are an ever-evolving category of handguns that seem to get lighter, higher capacity, and more powerful with each passing year. That makes the designs that seem to persist with little change that much more endearing. Among these is the derringer. These archetypical two-shot double-barreled pistols were popular in the Old West, despite not packing much of a wallop or much capacity. Although the derringer's advantages have dwindled further over the years, people still buy them—particularly those made by Bond Arms out of Granbury, Texas. Bond has been making big-bore all-steel derringers since 1995, but their new Stinger model is perhaps the truest homage to the original and, perhaps, the most practical derringer in the age of the polymer auto pistol.
Bond Arms Stinger RS Specs
Caliber

22 Long Rifle

Action

Single Action

Safety

Cross Bolt

Capacity

2

Frame

Stainless Steel

Grips

Zytel

Sights

Rear-hinge and Fixed Front blade

Overall Length

5 in

Barrel Length

3 in

Weight

18.2 oz

Optics Mount

None
Bond Arms Stinger Background
The story of the derringer is often traced back to Henry Deringer, the mid-19th century Philadelphia arms maker of small single-shot percussion pistols. But the first gun that we would consider a derringer in the most common and most misspelled sense is the Remington Model 95 that was introduced in 1866. This double-barreled tip-open pistol held two rounds of .41 rimfire and it was a popular hideout gun that sold well into the 1930s. Although small revolvers and semi-auto pistols hold more rounds, the double-barreled derringer continues to hold both a nostalgic aura and a practical appeal.
Bond Arms has been making derringers since 1995. These are not your great-grandfather's old Remington either. Bond Arms derringers are chambered for conventional pistol rounds, including 357 Magnum and 45 Colt. I always had an appreciation for pocket guns of the Old West, of which the old Remingtons were archetypical.
I always wanted a modern version of the same size. Some makers like Cobra and the American Derringer Company come close, but the quality is poor. Bond Arms derringers are high quality, but they are big, given the rounds they fire. But when Bond introduced their Stinger line, I was ready to try. The original Stinger is noticeably thinner and uses a lightweight aluminum frame and steel barrel. It is chambered for 22 LR, 380 ACP, 9mm, and 38 Special. The RS model that I ultimately got my hands on is all-stainless steel, but keeps the thin profile of the original. Mine is a 22.
Bond Arms Stinger Features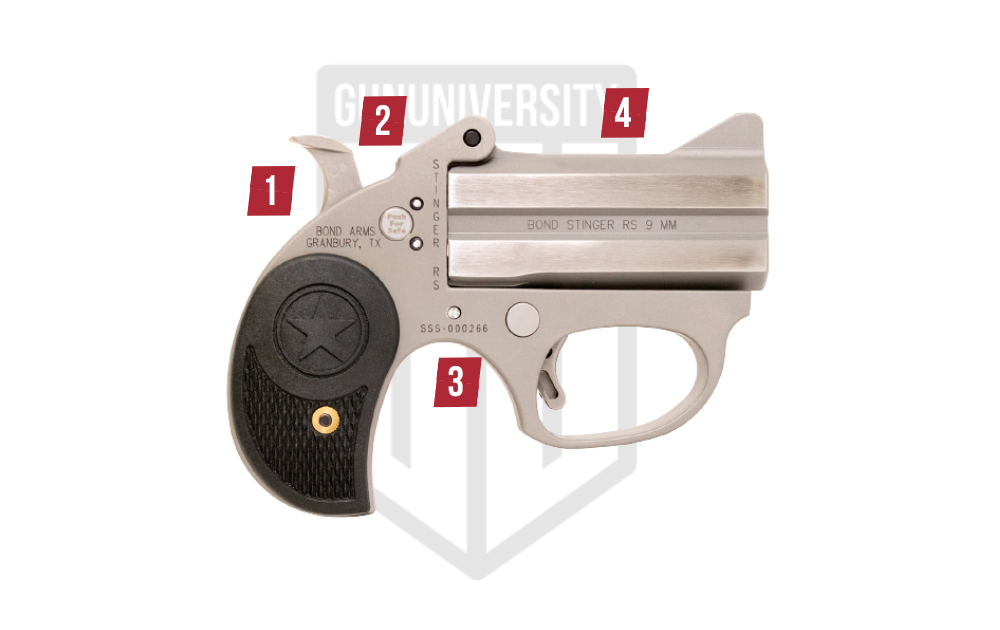 1
Single Action
Hammer must be cocked for every shot
2
Rebounding Hammer
Hammer block safety and rebounding hammer prevents firing unless the trigger is depressed
3
Stainless-Steel Construction
Weather-resistant finish with some polished and some bead blasted sections
4
Tip-Up Barrel
Barrel hinges upward for easy loading and unloading
Models and Variations of the Bond Arms Stinger
The Stinger comes in a few variations, including frame material and calibers.
Aluminum-framed Stinger in 22 LR or 380 ACP
Steel-framed Stinger RS in 22 LR, 380 ACP, 38 Special, and 9mm Luger
Bond Arms Stinger RS 22: How Did It Shoot?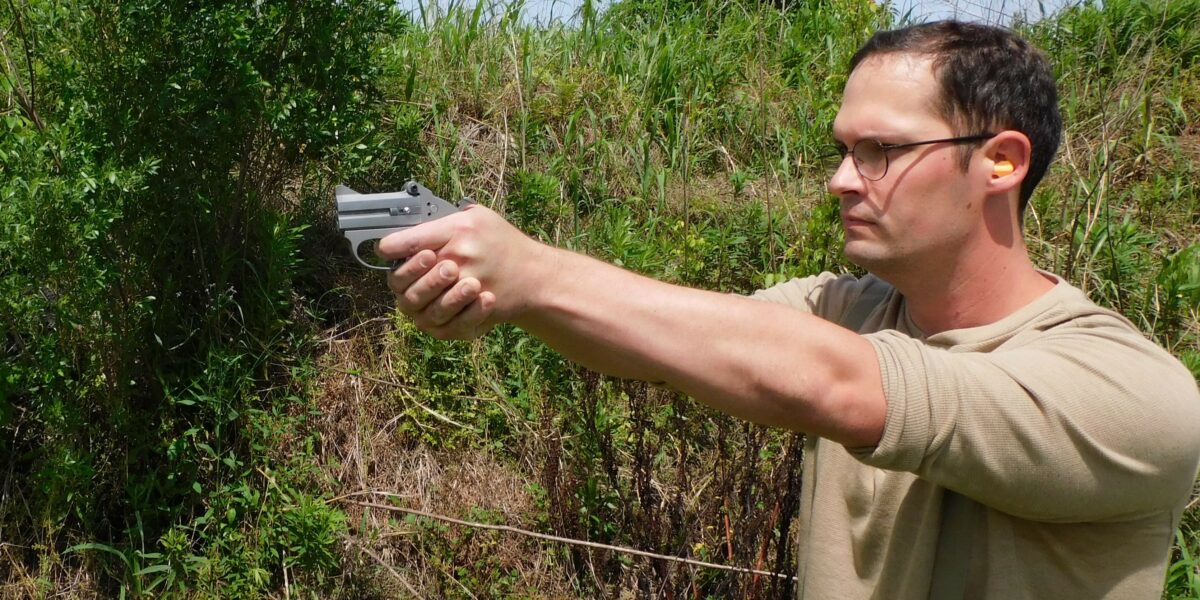 With so many excellent pistols and revolvers out there, it can be hard to justify the derringer, particularly the Bond Arms derringers. Derringers enable you to deploy them quickly and use them effectively at point-blank distances. However, these advantages are neutered by the platform's two-shot capacity and the tedious loading procedure. Bond compounds the issue by building their derringers like stainless-steel tanks, which cuts into ease of carry. The Stinger appealed to me as the most practical of the bunch, as it is both lighter and thinner than the rest of the lot. As a concealed carry gun, the Stinger can be a niche option in the larger calibers. But for the life of me, I did not understand why Bond would make a two-shot derringer in 22 Long Rifle. That was until I shifted my perspective of the .22 derringer class not as a dedicated defensive firearm, but as an all-around tool. In that context, the Stinger RS is surprisingly viable.
Shootability
The Stinger RS has a narrow birds-head grip that I could only get two fingers on. Ordinarily, a lack of grip makes a pocket pistol a pain to shoot. The Stinger's bark is much worse than its bite. The 22 LR is a small-bore rifle cartridge. When pushed out of the Stinger's three-inch barrels, the round leaves a lot of unburned powder that flashes once it leaves the muzzle. The Stinger is loud. But despite its report, recoil is low. The Stinger is all-stainless steel and weighs a dense 16.2 ounces loaded. That weight soaks up what little recoil the 22 LR produces.
Reliability
Derringers are a beautifully simple design and their reliability is one of the platform's remaining high points among pocket pistols. All that is required to fire the pistol is to cock the hammer and pull the trigger for each shot. Loading and unloading is done manually. The Bond Arms Stinger RS is very reliable save for user error. I had a tendency to bump the cross bolt safety with my shooting thumb, accidentally engaging the safety when I intended to fire. Fortunately, the Stinger has a locking screw that can be torqued down with an included Allen wrench. The locking screw can be secured in the safe position to prevent the pistol from firing or it can be tightened in the fire position to prevent a click when you expected a bang. A quick turn of the wrench and range sessions became boring due to the Stinger's reliability. Out of two hundred-fifty rounds fired over multiple range trips, I had no failures to eject or failures to fire. 22 LR ammunition is not always the most reliable. Dud rounds happen, but even the failure prone Remington Thunderbolt and Golden Bullet loads ran reliably.
Ergonomics
Just by looking at it, the Stinger does not seem like an ergonomic pistol. The grip is small compared to the size of the frame and the barrel. The lack of recoil of the 22 LR offsets the lack of a full grip. After the first ten rounds downrange, I started to warm up to the grip, which gave me a good reach to the trigger. In fact, I could get a better grip on the pistol with two hands with my support hand wrapped forward of the firing hand. I could even push my thumbs to rest on the side of the barrel, something you cannot do with the reciprocating slide or revolving cylinders on other handguns.
There are precious few other controls on the Stinger. The barrel release is knurled and polished. It is easy to depress, but if you are having a long range session, the knurling can start to irritate your thumb from the constant reloading. The same is true when you use the thumb to push the manual ejector to extract the spent brass.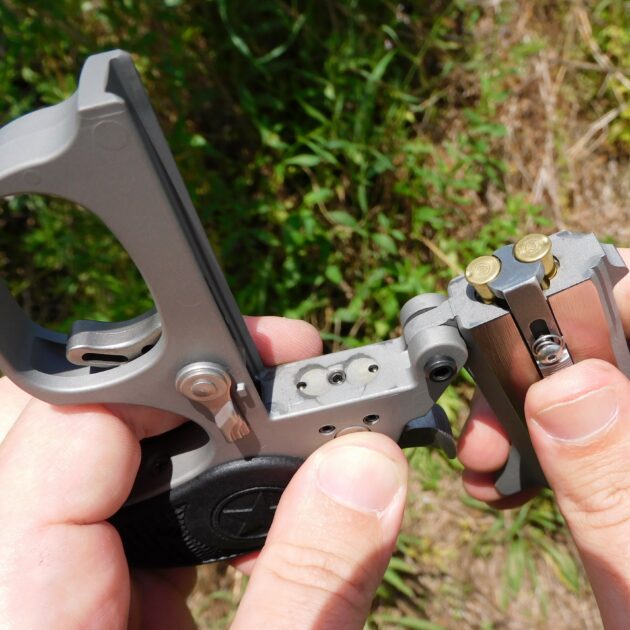 The Stinger has a rebounding hammer block, which makes it drop safe. This makes the cross bolt safety redundant to me, but at least Bond gives you the option to fix the safety in the preferred position.
One aspect of the derringer I am glad Bond Arms incorporated into the Stinger is the integral trigger guard over the spur trigger. This gives your trigger finger some leverage as you work your firing hand to cock the pistol. Most derringers have spur triggers and are more awkward to cock as the trigger finger hangs in space.
Accuracy
Derringers are close range get-off-me guns. Bond Arms recommend effective range for their products is a distance of twenty-one feet. So I shot it at twenty-one feet, then thirty-feet, then seventy-five! Or 7, 10, and 25 yards respectively.
Out of the box, the Stinger had a one thing going for it and one going against it. The trigger pull weight is fair, at just over five pounds. It breaks after a solid wall of pressure with no mush or take up. On the other hand, the sights left something to be desired. The Stinger has a tall front blade machined into the barrel and the barrel hinge acts as a rear sight. Both are bead blasted a dull grey. It can be tempting to align a higher part of the hinge in the rear notch rather than the front sight if you are in a hurry.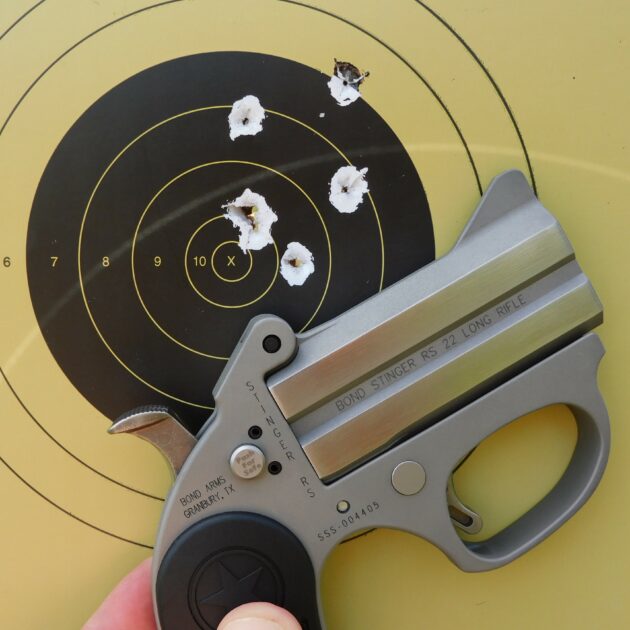 While a simple coat of point on the sights can help with the contrast, I ran the pistol as it comes out of the box. Accuracy was much better than I expected. My particular pistol liked CCI Mini Mag 40 grain ammunition. I could put six rounds into under two-inches at the point of aim from seven yards away. CCI Standard Velocity loads were not far behind. I also tested the Federal 30 grain Punch and 45 grain subsonic loads for accuracy, resulting in groups of about three inches to five inches respectively. The groups did not measurably change at ten yards.
Double-barreled firearms tend to put shots in two distinct spots on target. Together, there is no difference with the Stinger. But I tested my point of aim using the top barrel and bottom barrel. The top barrel's rounds hit to the point of aim. The bottom barrel printed a group one inch low and left.
At twenty-five yards, I lobbed rounds at a ½ steel torso target. I missed a few shots, but hit with most. At closer distances, the Stinger has plenty of accuracy to tag ground squirrels and snakes, never mind for more social purposes.
Value
When we talk about value in a handgun, we are inevitably wrapped up in monetary machinations. We should ask just as much of what kind of gun are we getting for that exchange. The Stinger RS is the more economical version of the original Stinger. Steel is cheap and it is polished smartly, but selectively. The RS is still an attractive pistol and it can be had for under $300. That is very little money for a Bond Arms and is competitive with other small pocket pistols, particularly the class of single-stack .380 pistols dominated by the Ruger LCP and the Smith & Wesson Bodyguard. Those pistols are semi-automatic and come from the factory with a capacity of 6+1. Those guns are also several ounces lighter. Objectively, I can shoot the Stinger better and it carries flat in the pocket without a distinctive outline of the grip giving away a pistol. But there is more to a handgun than concealed carry as we know it.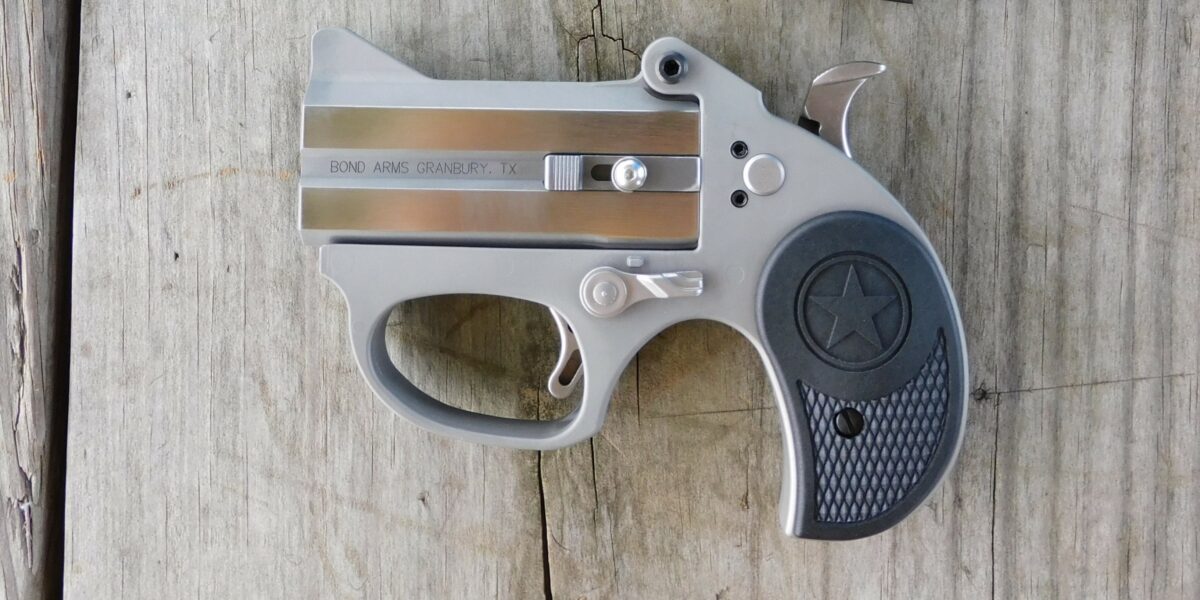 I carry a Ruger Single Six as a hunting sidearm. I can shoot it well out to fifty yards. My problem is that it is heavy and most of my shots taken at pests or errant rabbits are at much closer distances. The Stinger is more than half the weight and marginally less accurate for most things I could see using a handgun for. As I got to shooting the Stinger, I began to think it would be a good option to tuck into the belt, especially when you are carrying other equipment. Another scenario that I dreamed up was the use of the Stinger as a beach or tackle box gun. Although I wouldn't consider drawing the Stinger from waterlogged swim trunks to shoot a shark on my leg, I could see a double-barreled rust-resistant pistol like the Stinger coming in handy for most other things. As a general tool, the Stinger RS is probably going to be worth the price of admission.
Bond Arms Stinger RS Pros and Cons
Stainless Steel – Rust and corrosion resistant in all weather conditions.
Single-Action – Can be stored loaded with the hammer down indefinitely.
Low Capacity – The problem should be solved with the two rounds available.
22 Long Rifle – Low powered for some tasks, but useful for others.
Report Card

Shootability

Easy to manage

A+

Reliability

100% reliable, once the safety is tightened to the fire position

A-

Ergonomics

Intuitive and easy to use, but rough on the hands after many reloading cycles.

B+

Accuracy

By pocket pistol standards, well above the cut.

A+

Value

A worthwhile tool outside of concealed carry.

B+

Our Grade
A-
Reviewed by Terril Hebert
Reader's Grade
A+
Based on 1 Reviews
Your Grade
Do You Own This Gun? Leave A Review
Success Your Grade Has Been
Added To Our Reader's Score
We use email to verify the accuracy of our reviews. We promise to never spam you.
Bond Arms Stinger RS Starter Pack
These three items are must haves for all firearms owners.
Hearing Protection: The short barrel of the Stinger is going to be very loud, good hearing protection is a must.
Eye Protection: Here you can find our favorite shooting glasses.
Gun Cleaning Kit: While the bond arms is not very complicated, having a good gun cleaning kit will make the job of cleaning up this little handgun easy.
Bond Arms Stinger RS Gun Deals
Upgrades and Accessories for the Bond Arms Stinger RS
For handguns we always recommend a good holster. You can also customize the grips to make it more comfortable in your hands and get a good method for carrying spare rounds.
Upgrades and Accessories for the Bond Arms Stinger RS
Best Ammo for Your Bond Arms Stinger RS
If you are considering using 22LR for self-defense, we recommend using high quality ammo to make sure it will work when needed. Here are two great options for you.
Range Rounds
CCI Mini Mag 40 grain RNL
Reliable rimfire priming compound
Excellent accuracy for most uses
Defensive Ammo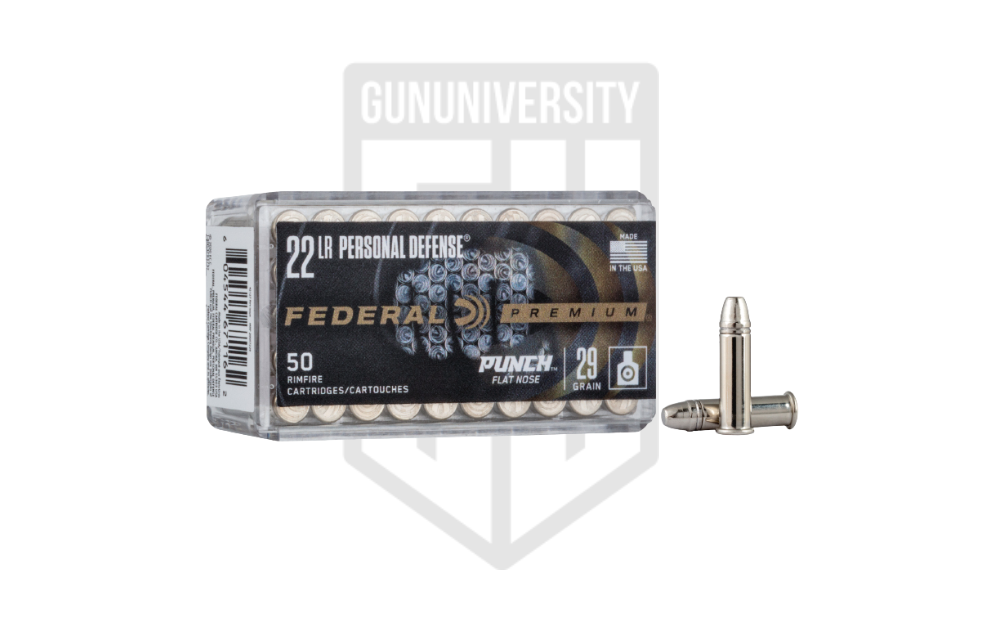 Federal Punch 29 grain Flat Nose
Nickel plated casing for corrosion resistance
Velocity over 1100 feet per second from the Stinger
Other Pistols of its Class to Check Out
If you are considering carrying a 22lr handgun for self defense, check out this full articles on the best 22lr handguns.
We also have a full article on the Best Pocket Pistols for you to check out.
The Ruger LCP II in 22lr is a great competitor to the Stinger RS.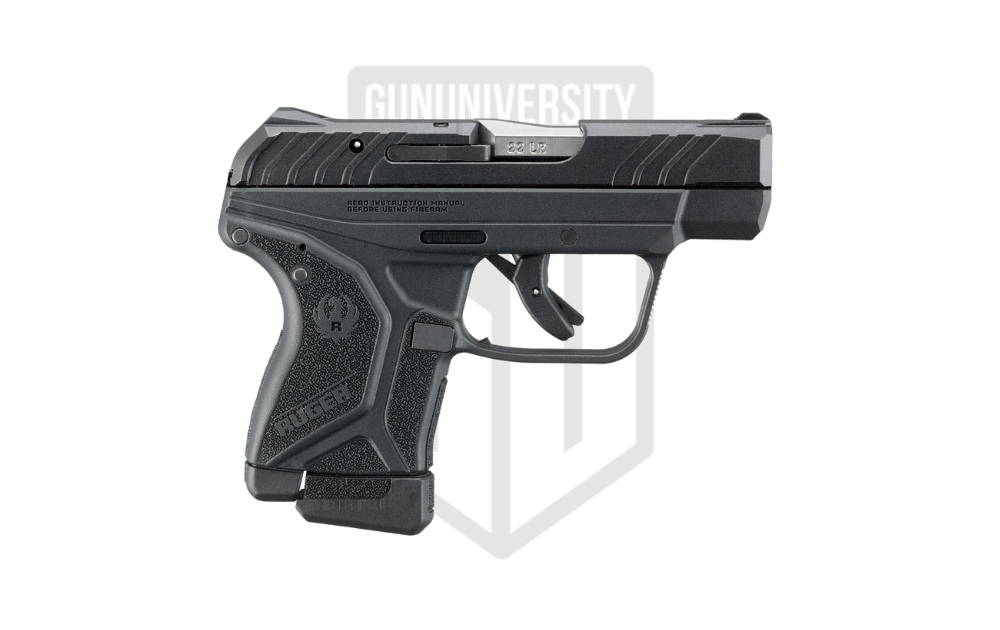 A low-recoil pistol with an easy-to-manipulate slide that shoots comfortably regardless of your hand size or strength.
Shootability

A+

Reliability

B

Ergonomics

B

Accuracy

C

Value

A
Reader's Grade
B
Based on 14 Reviews
Your Grade
Do You Own This Handgun? Leave A Review
Success Your Grade Has Been
Added To Our Reader's Score
We use email to verify the accuracy of our reviews. We promise to never spam you.
How to Care for Your Bond Arms Stinger RS
One of the pros of the Stinger is its simplicity. In this video from Bond Arms, they walk you through its features, including the safety adjustment that was mentioned in the article above.
Important Links and Manuals for Your Bond Arms Stinger RS
Check out the links below for the manufacturer's website and operator's manual.