Glock 21 Review: Should this Glock replace your 1911?
The Glock 21 was the first .45 ACP model in their lineup. This review takes a look at one of the most prevalent striker fired .45s on the market.
Glock 21 Specs
Name

Glock 21

Caliber

45 ACP

Capacity

13+1

Action

Striker Fired

Frame

Polymer

Sights

Polymer

Barrel Length

4.61 inches

Weight Loaded

38.8 ounces

Safety

None
Glock 21 Background
Glock's first models were chambered in 9mm, followed by 10mm. The G21 introduced the ubiquitous .45 ACP chambering to Glock's lineup in 1990. Much like their other models, it features a polymer frame with a steel slide.
While it may seem outdated today, in the 1980s and 1990s there were real concerns about the lethality of the 9mm Parabellum cartridge. The infamous FBI shootout in Miami in 1986 resulted in the deaths of several agents, and the failings of the 9mm ammunition available at the time directly contributed to the bad outcomes of that engagement. The post-incident reviews ignited a search for more effective handgun calibers and ammunition.
The .45 ACP was able to meet the standards laid out in the new regime of ballistics testing. It also had a reputation for effectiveness stemming from two world wars, Korea, and Vietnam. And the most prevalent .45 was the 1911.
The G21 was created for shooters who wanted a .45, but wanted a lighter, more reliable, higher capacity pistol than the 1911. The 13-round magazine is almost double the capacity of a 1911. A loaded G21 weighs about the same as an empty 1911.
More recent advances in ammunition technology have obviated the advantages the .45 ACP once held. 9mm has become the default choice for defensive handguns. But the venerable .45 still has certain advantages, particularly when suppressed, and it remains a key player in the Glock lineup.
Glock 21 Features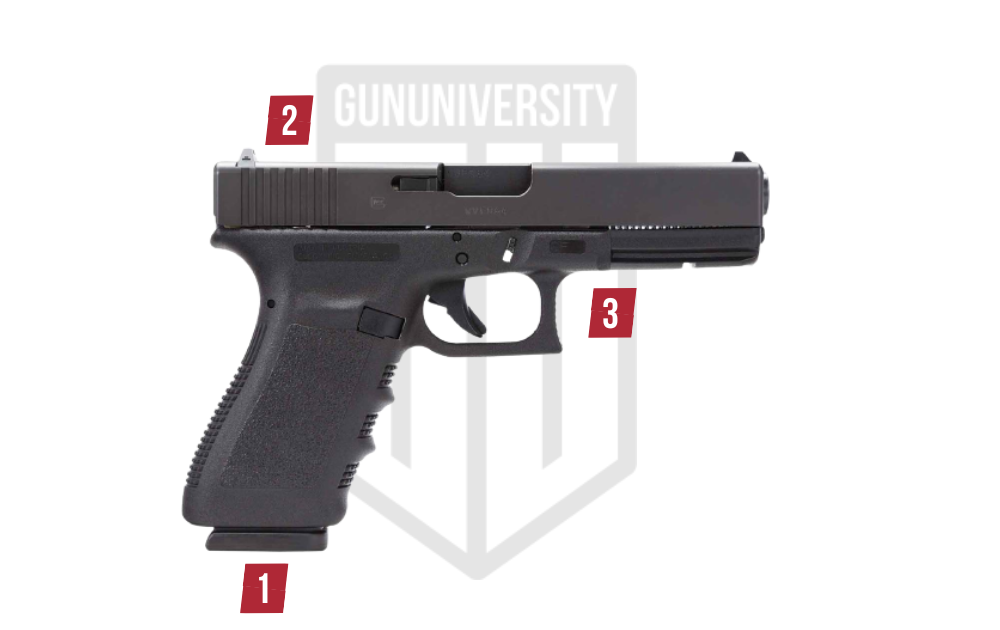 1
High capacity for a .45 ACP
At 13 rounds, the Glock 21 magazine is almost double that of a standard 1911!
2
Legendary Glock reliability
Glocks are known as reliable firearms, and the Glock 21 is no exception.
3
Light weight for its category
When compared to metal framed 1911s, the Glock 21 is much lighter to carry all day on duty.
Models and Variations of the Glock 21
This review is specific to the G21 Generation 3 Short Frame, but is very comparable to the newer Generation 4 model. Older Gen 3 models had even larger grips, but the SF and Gen 4 models have improved this slightly. The Glock 41 is a related model, with the frame of a Gen 4 G21 and a slimmed down extended slide.
Glock 21 – Our Take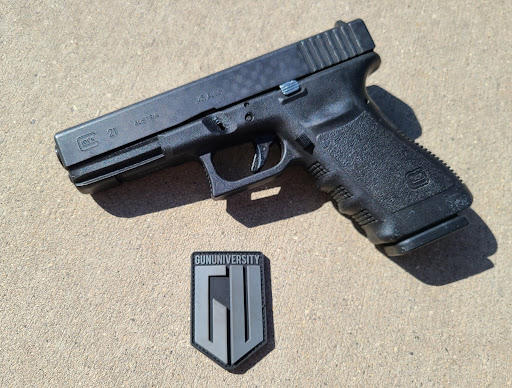 A heavier caliber gun will always produce more recoil than a lighter caliber. The laws of physics are laws. Accordingly, the G21 has more recoil than a compatible 9mm model like the G17. It is not, however, a difficult gun to shoot. The Glock 20 is the same gun, but chambered in 10mm. They perform similarly, but the muzzle flip is more pronounced on the .45 Auto. This is due to the additional mass of the larger bullet. Neither is abusive or painful in any way, but recoil control takes more effort than smaller calibers.
Reduced capacity and increased recoil are obvious disadvantages to the .45 ACP generally, and those remain true on the G21 as well. The added recoil over a 9mm slows down the rate at which aimed shots can be taken. Yes, with training and practice, it can still be fast enough. But it will be more difficult, again, because the physics are what they are.
As for the decreased capacity, that is a factor too. But it is not as much of a factor in the specific case of a G21. Going from a 7-round 1911 magazine to a 17-round G17 magazine is a real difference. But comparing that same G17 to the 13-round magazine in a G21 is not as wide of a gulf. It is also a fair argument that in most civilian defensive shootings the 4-round difference between the two is very unlikely to be an issue. If you are someone who insists on shooting a .45, the Glock 21 is one of the most sensible options available.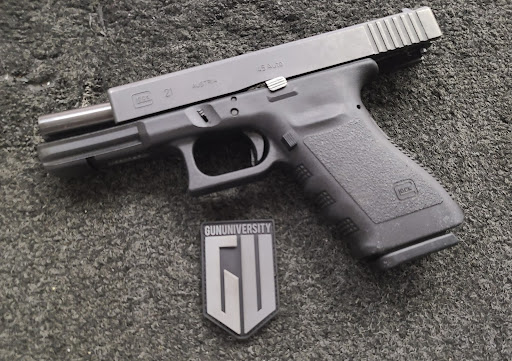 Ergonomics
Ergonomically, the G21 is like any other Glock but a little "chunkier." The grip diameter is noticeably larger than the 9mm or .40 S&W models. Recent variants like the Gen 3 Short Frame and Gen 4 did reduce the grip size, but it can still be an issue for shooters with smaller hands.
The slide of the G21 is substantially larger than the slides found on the 9mm or .40 S&W Glocks. This causes the gun to feel top heavy when unloaded. However, when loaded, this is balanced out by the weight of 13 rounds of .45 ACP in the magazine.
Reliability
Glocks are boringly reliable. That is exactly what you want in a defensive handgun. What the G21 lacks in soul it makes up for in dependability. This is not a gun that must be perfectly cleaned and lubricated to function properly. It is probably the most reliable .45 ACP on the market.
There is little to say about the controls of the G21. They are the same as any other Glock. As of the time of writing, there is no Gen 5 model 21, so ambidextrous slide catch levers are not available. The trigger safety, magazine release button, and slide catch work as would be expected and are located in the normal positions. Disassembly is also the same as the rest of the family.
One of my few gripes with the Glock 21 is the use of cheap plastic sights. Aftermarket metal sights need to be added for any serious use, and night sights would be even better. Plan on budgeting for better sights if you pick up a G21.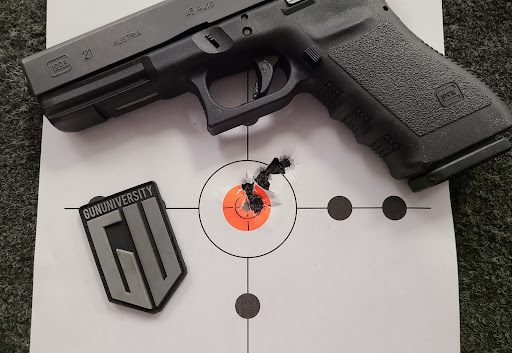 Accuracy
The Glock 21 boasts solid accuracy. It is not the equal of something like a match grade 1911, but it will still outperform most end users. Even with the subpar factory sights, it will still shoot solid groups. The striker fired trigger mechanism is not a light, crisp single action pull, but it is still very usable.
Aftermarket support is decent, but not exceptional. There are a decent variety of holsters available including duty-grade models (because the G21 has been issued to police forces around the U.S.). Spare magazines are readily available, and the integrated accessory rail facilitates the mounting of weaponlights or lasers. Do not expect a large range of compensators and niche accessories as can be found for the G19.
Glock 21 Pros and Cons
Capacity – Good capacity for a .45 ACP
Reliability– Excellent reliability
Size – Large grip
Top Heavy– Top heavy handling
Report Card

Shootability

Muzzle flip is pronounced but it is still a solid shooter

B+

Reliability

It just plain works, rain or shine

A

Ergonomics

Girthy grip may be an issue for some, but it's not a deal breaker

B

Accuracy

The stock trigger is not match grade, but it still shoots solid groups

B+

Value

Street price around $550 is fair, even considering the sights

A-

Our Grade
B+
Reviewed by Daniel Young
Reader's Grade
A
Based on 6 Reviews
Your Grade
Do You Own This Gun? Leave A Review
Success Your Grade Has Been
Added To Our Reader's Score
We use email to verify the accuracy of our reviews. We promise to never spam you.
Glock 21 Starter Pack
If you're serious about owning a Glock, there are a few extra things you'll probably want to pick up–if you don't have them of course.
If you are looking for a Glock 21 we've done the legwork for you. Here are some of the best deals you'll find when searching for your new Glock 21.
Upgrades and Accessories for the Glock 21
Glocks may have the largest aftermarket support in the industry. Check out out some upgrades we think you will like below:
Best Accessories For The Glock 21
Accessory
Details
Check Price

Trijicon HD Night Sights

Rugged Design
Day and Night Sight

Check Price

Factory Glock 21 Magazines

13 Round Capacity
45 ACP Double Stack
Polymer

Check Price

Ghost Minus Trigger Connector for Glock

Drop in replacement
3.5 lb trigger pull
smoother, lighter and more consistent trigger

Check Price
Best Ammo for Your Glock 21
We recommend that that for every firearm you own to procure two different types of ammo–one for training and one for working. For the Glock 21, you'll want some ball ammo to practice at the range with and some high quality duty ammunition to really make the most out of your purchase.
Range Rounds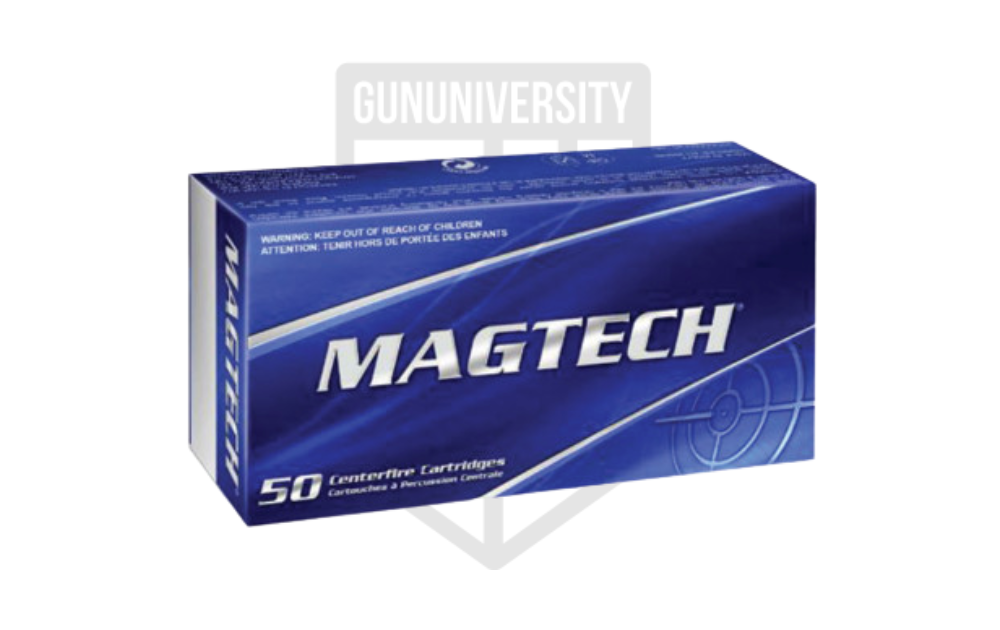 MagTech 45ACP 230 GR FMJ
Duty Ammunition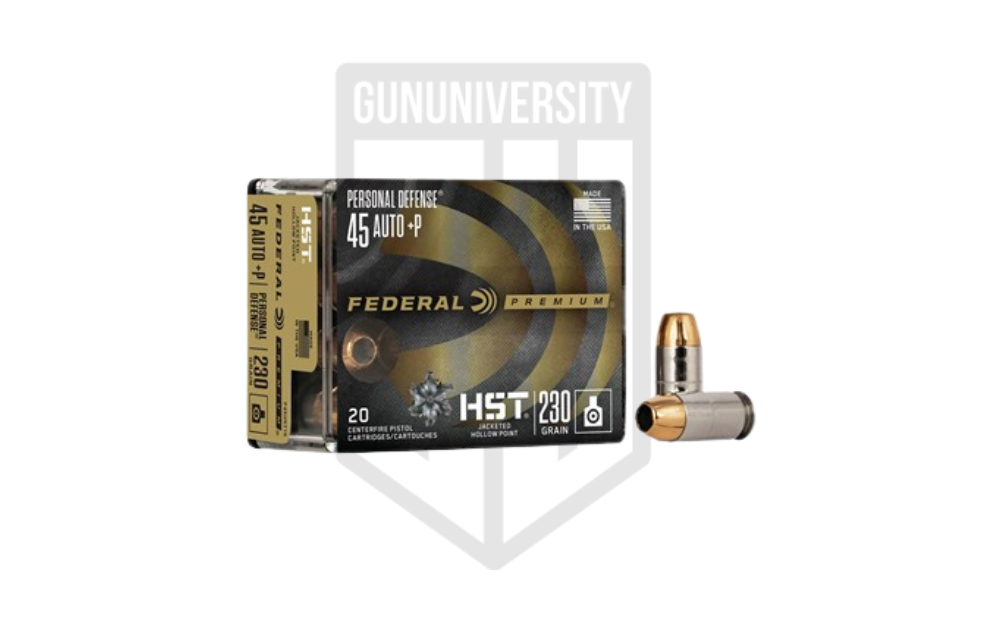 Federal Premium 45 ACP 230 GR HST
Other Pistols of its Class to Check Out
The Glock 21 is a good option for duty. But if you're not sold on Glock or 45 ACP, there are other options out there. See below for some of our favorites. If you like the 45 ACP and want to stick with the 1911 aesthetics, check out our Best 1911 review.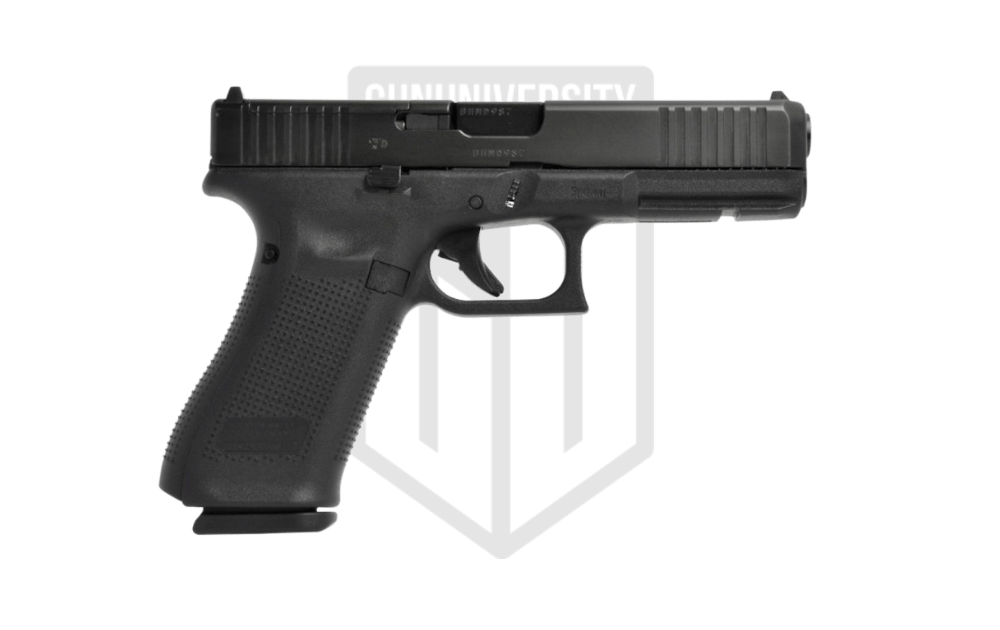 Revolutionizing the world since the late '80s, Glock is a defacto standard across the world for civilians, military, and police.
Shootability

A

Reliability

A+

Ergonomics

A

Accuracy

A

Value

A
Reader's Grade
B+
Based on 10 Reviews
Your Grade
Do You Own This Handgun? Leave A Review
Success Your Grade Has Been
Added To Our Reader's Score
We use email to verify the accuracy of our reviews. We promise to never spam you.
The Glock 17 is a gold standard in full size duty handguns. If you like Glocks, but want to more capacity this would be a great options.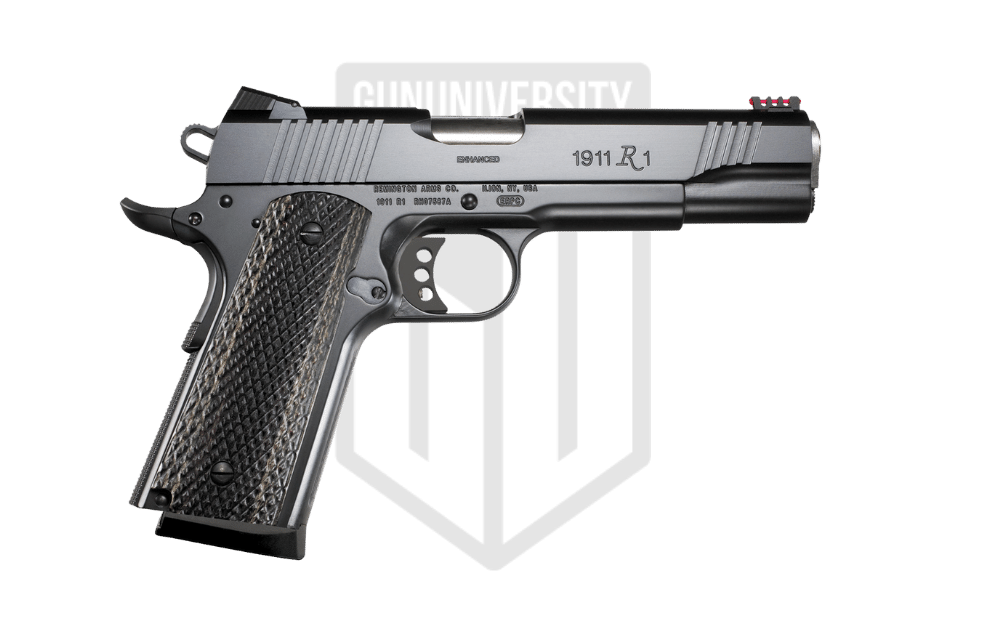 A dominant force in competition. For sure handling, the flat mainspring housing and beavertail grip safety are checkered 20 LPI. Also features a robust fiber-optic front sight, extended performance trigger adjustable for overtravel, adjustable rear sight and two 8-round magazines.
Shootability

B+

Reliability

B

Ergonomics

A-

Accuracy

B

Value

B-
Reader's Grade
A-
Based on 9 Reviews
Your Grade
Do You Own This Handgun? Leave A Review
Success Your Grade Has Been
Added To Our Reader's Score
We use email to verify the accuracy of our reviews. We promise to never spam you.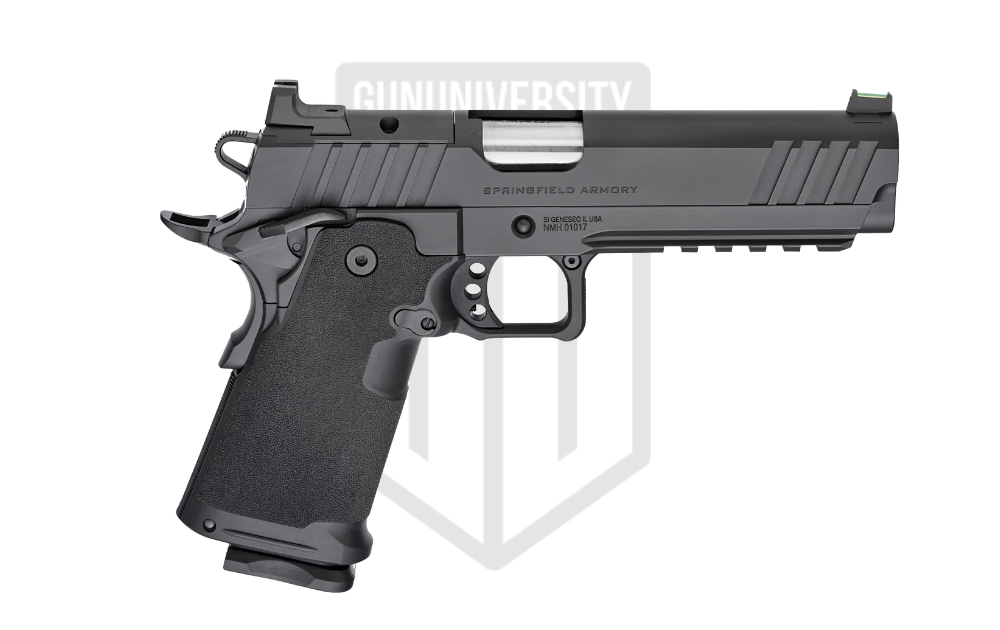 The Springfield Prodigy is an excellent double-stack 9mm 1911 with many performance upgrades straight from the factory.
Shootability

A+

Reliability

A+

Ergonomics

A+

Accuracy

A+

Value

A
Reader's Grade
C-
Based on 3 Reviews
Your Grade
Do You Own This Gun? Leave A Review
Success Your Grade Has Been
Added To Our Reader's Score
We use email to verify the accuracy of our reviews. We promise to never spam you.
How to Care for Your Glock 21
Caring for your Glock 21 is the same as any other Glock. Check out this video to get a thorough walkthrough.
Important Links and Manuals for Your Glock 21
Looking for some more information on the Glock 21? Check out the links below for the manufacturer's website, operator's manual, and other neat content.