Sightmark Wraith HD 4-32×50 Review: Worth it?
When it comes to night vision scopes, the Sightmark Wraith HD 4-32×50 has been my go-to choice for years. Mounted on my X95, it's my preferred choice for coyote hunting under the cover of darkness.
Although I like my Wraith HD scope, there are better night vision scopes available. But, you'll have to pay more for only slight improvements. So, in this Sightmark Wraith HD review, I'll show you why, and also areas where it is weak.
Sightmark Wraith HD 4-32×50 Specs
Magnification

4-32x

Objective Lens Diameter

50 mm

Digital Zoom

1-8x

Length

10.5 in

Width

1.875 in

Height

3 in

Weight

36.3 oz

Elevation Adjustment

70 MOA

Windage Adjustment

170 MOA

Adjustment Value

1/5 MOA
Specs of the Sightmark Wraith
Before diving into the specs and my personal experiences, it's worth noting that the Sightmark Wraith has carved a unique place in the night vision riflescope market. Known for its affordability and remarkable features, it's a scope that outperforms its price point. This makes it an optimal choice for hunters and target shooters alike.
The Sightmark Wraith boasts an advanced 1920×1080 HD sensor, offering full-color clarity during the day and 1080p HD digital night vision when the sun sets. It comes with 10 reticle options and 9 color choices, allowing for a customizable and accurate target acquisition. The scope has a detection range that extends beyond 200 yards, further amplified by a removable 850nm IR illuminator. To top it off, it has 4x optical and up to 8x digital zoom capabilities.
This digital riflescope offers a plethora of features:
4x optical zoom and 8x digital zoom
1080p HD digital night vision imaging
10 reticle options and 9 color choices
Built-in video recording with a memory card slot
IR illuminator with a removable 850nm filter
Full-color clarity for daytime usage
External micro USB port for extended battery life
Sightmark Wraith Features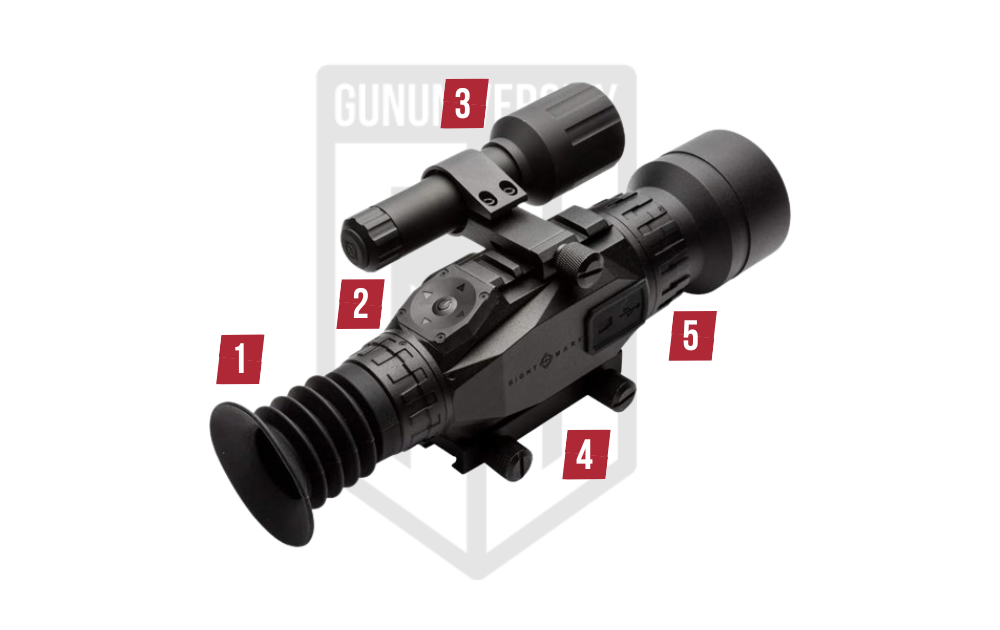 1
Optical/Digital zoom
4x Optical zoom along with 8x digital zoom help you see and identify your targets.
2
Accessible buttons
Button mounted on the top of the optic are easy to access.
3
IR illuminator
IR illuminator mounted to a picatinny mount on the top of the optic improve your capabilities.
4
Picatinny mount
The built in picatinny mount makes mounting your Sightmark Wraith easy
5
External USB port
Allows user to increase battery length by adding external battery pack.
Models and Variations
The Wraith line of optics from Sightmark offer a few different variations. There are two options in the HD line, the 4-32×50 that we reviewed in this article and the 2-16×32. They also offer two options in both their 4k Max and 4k Mini lines. In the 4k Max you can get either a 3-24 or 4-32 x50. The Mini line has a 4-32×32 and 2-16×28 options.
Sightmark Wraith HD 4-32X50 Review
Like I said in the intro, I love this night vision scope. I think it sits at an excellent price and has been my go to NV rifle scope for some time. Granted, there are some issues with it, and it isn't perfect. However, when it comes to other digital night vision riflescopes holding the same capabilities and features, you'll need to increase the price. It's for this reason that it got my editor's choice as the best affordable night vision scope.
So, why such high praise? Let's jump in.
When I first mounted this scope on my rifle, I noticed its weight. Yes, it's bulky, almost doubling the weight of my rifle, but let's face it, that's the nature of a night vision scope. Using 4 common AA batteries, I found it quite efficient. The external micro USB port is a plus for extended usage.
The Sightmark Wraith HD is simply a game-changer when it comes to tracking and accurate target acquisition. With 10 reticle options, you have the flexibility to adapt to different shooting scenarios. Whether I'm spotting a coyote hundreds of yards away or training at a range, the reticle settings never disappoint.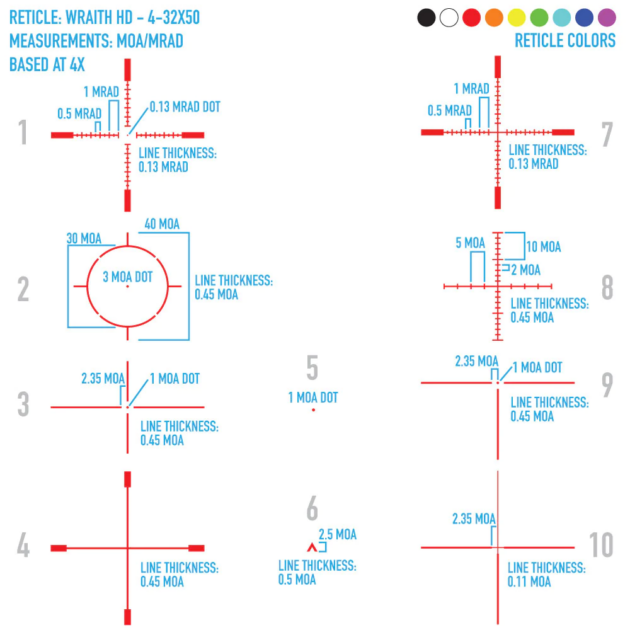 The advanced 1920×1080 HD sensor provides impeccable full-color clarity during the day and switches seamlessly to night mode as dusk falls. However, there's room for improvement, especially in screen brightness settings for better night vision adaptation. The digital night vision performance is outstanding, easily outclassing other scopes in this price range.
The turrets offer responsive adjustments but lack the tactile feedback found in high-end models. Yet, the scope holds zero exceptionally well, something invaluable for any seasoned shooter.
When it comes to value, the Sightmark Wraith HD is unparalleled. It offers features found in scopes that are two or three times its price. You have digital night vision, video recording, and a wide range of reticle options, all within a budget-friendly price of around $500.
But let's be real here – while the video recording feature does sound cool, in all my years, I've never used it. Perhaps it's because I'm not a YouTuber or influencer or something, but I've never thought to bring an SD card and record my hunt. So, perhaps that is important to you, but for me, I think it is an extra feature that most won't use and probably adds to the size and weight of the scope.
Regarding the Wraith's IR illuminator, it is both a powerhouse and a power drain. I've seen details out to 300 yards at the lowest IR setting, which is far beyond the 200-yard claim. The IR wavelength and equivalent IR power are well-balanced, making the use of an additional IR flashlight unnecessary for most nighttime activities. However, I've found that the IR illuminator is a bit of a power drain and if you leave it on too long or forget it, your night vision scope can quickly become useless.
Tips and Hints with the Wraith
There are a couple of recommendations or changes that I'd make and wish I knew about before getting it. So, I want to call out some of these things here:
Battery: While the scope does use 4 AA batteries, consider carrying a portable charger for the micro USB port for prolonged use when you travel.
Mounting: For bolt-action rifles, you may need an extended picatinny mount for better eye relief. However, the Sightmark Wraith feels at home on an AR-platform.
IR Illuminator: If you forget to turn off the IR illuminator, you'll drain the batteries. An LED indicator would've been a nice addition, but just make a mental note to switch it off.
Learning Curve: The UI can be unintuitive at first, especially when toggling between night vision mode and video recording features. Spend some time familiarizing yourself with the controls.
My Final Thoughts
As I said, I've gone through many types of night vision scopes, and while there are better ones out there with better glass, capability, and features, you will have to pay an exorbitant amount to get them. Whereas with the price of the Sightmark Wraith, you're getting a solid NV scope that performs well and is reliable. If you reduce the price any further, the quality and capability will significantly decline. To me, it's like the goldilocks of NV scopes. Not too expensive, and not too cheap. Not exactly premium, but not low quality. It's just right for my needs.
Report Card

Tracking and Reticle

The 10 reticles options provide many options for different shooting scenarios

A

Glass and Display Resolution

I was able to see fine details even beyond 300 yards.

B+

Turret Feel

The button adjustments work but lack the tactile feel found in higher end options.

B+

Value

With features found in much more expensive scopes, the Wraith has exceptional value.

A+

Our Grade
A-
Reviewed by Dave Chesson
Reader's Grade
B
Based on 3 Reviews
Your Grade
Do You Own This Optics? Leave A Review
Success Your Grade Has Been
Added To Our Reader's Score
We use email to verify the accuracy of our reviews. We promise to never spam you.
How does the Sightmark Wraith Compare to the ATN X-Sight 4K Pro?
A question I get a lot from people is how does the wraith compare to ATN's X-Sight 4k pro? Now, I'll admit, I'm not an ATN fan. I've found that their stuff usually sounds amazing and is capable, but in the end, they break or just don't come through on what they promise.
But trying to keep my bias out, my objective opinion is still legitimately that the Sightmark is better.
In a side-by-side comparison with the ATN X-Sight 4K Pro, a popular contender in the night vision riflescope category, the Wraith holds its own. While the ATN has a more user-friendly interface, the Sightmark Wraith HD comes out ahead in terms of value and equivalent IR power. Furthermore, the ATN is more expensive than the Wraith, which is pretty big when comparing the two.
Another key aspect between the two is that the Wraith's IR illuminator is impressively robust, often exceeding the manufacturer's detection range claims. Moreover, the Wraith offers excellent display resolution, enabling me to spot fine details even beyond 300 yards.
So, if you're thinking between the two, save your money and get the better option – the Sightmark Wraith HD.
FAQs for the Sightmark Wraith
Is this scope good for traditional bolt-action rifles?
Yes, but consider an extended mount for better eye relief.
Can the scope be used during the day?
Absolutely, it offers full-color clarity for daytime usage.
How do I extend battery life?
Utilize the external micro USB port for an additional power source.
Conclusion
If you're on the hunt for a night vision riflescope that offers unparalleled value, look no further than the Sightmark Wraith HD 4-32×50. From its incredible digital night vision capabilities to its versatile reticle options, this scope is a complete package for anyone serious about night-time hunting or target shooting. The features it packs easily overshadowed its minor shortcomings, especially at its price point. Happy hunting!
Important Links