Diamondback DB15 Review [2023]: Is the Diamond Series Worth It?
The Diamondback DB15 series of rifles are now available in multiple trim levels including the Diamond series which features Diamondback's own unique lower receiver design. These rifles are known for being underestimated and over-performing, making them a great choice for any shooter which brings us to reviewing this rifle.
Diamondback DB15 Specs
Caliber

5.56mm NATO

Barrel

Mid-Length 16″

Twist

1:8 RH

Capacity

Gen 2 PMAG 30 Rd

Trigger

CMC 3.5 lb Single Stage Drop-In

Weight

7.15 lbs

Overall Length

37 1/4″ (Expanded)
Diamondback DB15 Background
My experiences with Diamondback's rifles began in 2016 with a review of their AR-10. AR-10s at the time were relatively very expensive to own and reliability was considered an added bonus.
The DB-10 was reviewed then, and retailed for under $1,000, shooting sub-moa without any hiccups. That grabbed my attention.
Before that test and ever since the Florida-based company perhaps best known for their love-it-or-loath-it tiny DB9 pistol has been cranking out high-value rifles at very reasonable prices.
The DB15 Diamond Series is Diamondback's premium line including upgraded triggers, furniture, a nice hard case, and sights included in the box.
Additional premium features include smart choices like a mid-length gas system, pinned gas block, shot-peened, and magnetic particle inspected bolt carrier group, and a 4150CrMov, black nitride barrel with a 1:8 twist rate to hit that sweet spot for maximum efficiency with common bullet weights.
With an MSRP of $1,159 and a common retailer price (August 2020) of around $1,000, The DB15DSB model we tested is priced and featured to compete with some of the bigger brands.
Unlike some of the more popular brands though, Diamondback has created a unique look with its own lower receiver, handguard, and muzzle brake.
The upgraded Magpul furniture and CMC trigger cause an increase in cost some manufacturers shy from; preferring to keep MSRP low and minimize the risk of not picking what the consumer wants.
Let's take a deeper look at how Diamondback did with their flagship rifle line.
Diamondback DB15 Diamond Series Features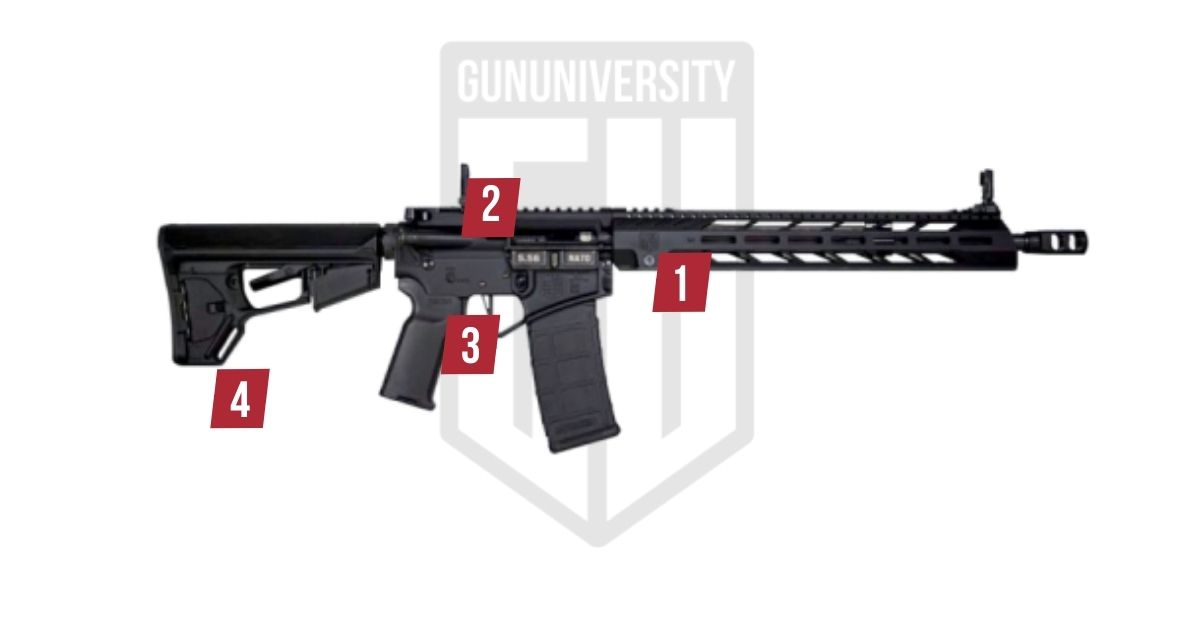 1
Lower Receiver
Unique to the Diamond Series platform.
2
Mid-Length Gas System
Built with pinned gas block.
3
Superior Trigger
CMC 3.5 lbs trigger.
4
Decked Out Furniture
Complete with Magpul furniture and included folding sights.
Diamond Series – Our Take
Opening the included Flambeau Pallet Packer Case ($25 value) certainly gives the feeling of a premium rifle. Not only is the case part of the total package, but it's a step above your standard plastic case, as it includes velcro straps that thread through slots in the case foam to secure the rifle in place. Magpul MBUS folding sights ($90 value) are also included but not installed, so the user can place them where desired or simply leave them off for testing.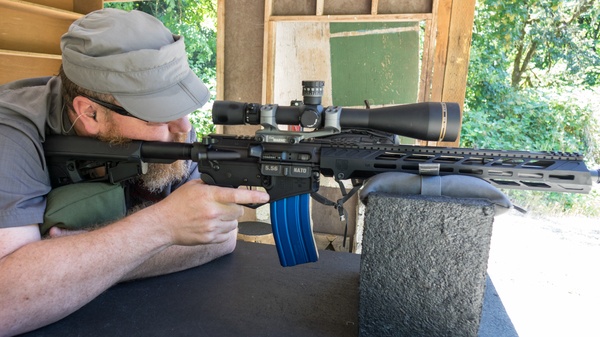 The anodizing is rich, and darker on the lower than the handguard or upper receiver, but overall a solid finish. The handguard mates nicely to the upper receiver but did require a slight adjustment to be perfectly aligned. Upper and lower receivers are made with a standard mil-spec play which is a relief considering the Diamondback-custom Diamond lower. Contrary to popular belief "mil-spec" tolerances are looser than many commercial manufacturers would strive for, but this is done to ensure compatibility. A little loose still fits. Too tight, and the gun stops being fun.
Diamondback had the opportunity to tighten things up when they created the Diamond lower, but by keeping it "mil-spec" they ensured the lower would work with the widest variety of uppers. The improvements Diamondback did makeover mil-spec include an oversized trigger guard that doesn't rub the firing-hand middle finger knuckle. I call that condition "patrol knuckle" because it was on patrols in Afghanistan that the standard grip-to-trigger guard interface caused me much grief and eventual calluses followed by an aversion to the "good enough" and attraction to receiver and grip designs thoughtful enough to address this.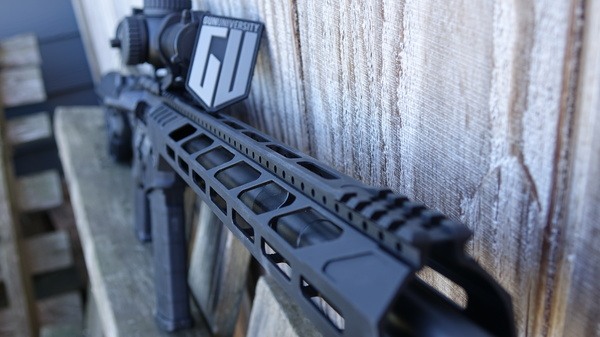 It's doubtful many civilian shooters need to care about this, but the Diamondback is a rifle I could patrol with. Of course, the most apparent feature is the arced and shortened magazine well and broad bevel. The shorter front to the magazine well literally widens the possible angles of approach for a reload. This is great for those accustomed to rock-and-lock rifles like the AK and even proved useful during our accuracy testing as it permitted easier insertion of a 30-round magazine while shooting from a rest.
A rifle's furniture is where humans and machines attempt to meld. Starting in the shoulder the Magpul ACS-L (roughly an $80 value) stock provides good shoulder pocket fitment and an angled top for cheek weld. A Quick-detach cup is also included to be installed if the user desires, or they can use the traditional loop point on the bottom of the stick. As an extra bonus, Magpul makes use of empty space with a trap door for storage. Operators can stash a couple of batteries for their favorite accessory or a handful of Skittles for refreshment (Carnik Con reference).
The grip chosen for Diamondback is also beyond the standard A2 stick. Another Magpul piece, the MOE-K2+ ($25 value) has a more vertical angle to make shorter length-of-pull rifles more comfortable. On an adjustable-stock rifle like the Diamondback, it means the stock can be adjusted shorter without cramping your arm. Bench and prone-position shooting is also much more comfortable. The grip has a rubber over-molding that is slightly tacky (in the adhesive sense) and very comfortably lines up to the CMC 3.5 lbs single-stage trigger (approximately $170 value). I've known CMC Trigger to produce some of the best for the money and the unit installed by Diamondback was no different. No take-up, just a clean break with enough travel to reduce pulling on the rifle, audible and tactile rest right back at the wall for another shot.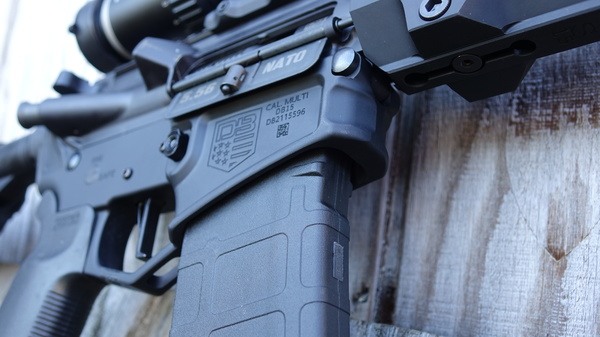 The handguard allows generous airflow around the barrel with holes almost big enough to slip a finger into and burn yourself. I could see possibly getting a finger twisted in rough handling, but if someone doesn't have the mental clarity to operate a firearm, they shouldn't be handling it either. MLOK slots can be found at the 3, 6, 9, and 12 o'clock positions with nice texturing on the end and lightning cuts about to keep the rifle quick to maneuver and negate any weight gains typically experienced with 15" handguards. Out on the end is a muzzle device of Diamondback's own design featuring two chambers and four vertical ports. The chambers serve to counter recoil and the ports to counter muzzle rise. Smartly the ports are angled slightly so muzzle flash won't obscure target visibility.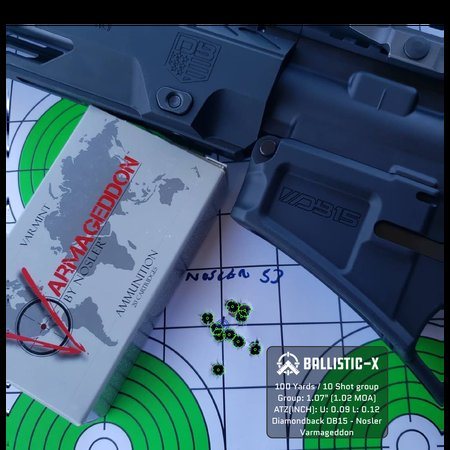 One note of possible negativity, though the manufacturer specifications stated a pinned gas block, is that the rifle we have has a screw-mount gas block. Pinned blocks are preferred because when done properly they are maintenance-free and can be counted on for heavy use. The screw-mounted blocks should be checked from time to time because even the best thread locker can be baked to worthlessness on a gas block. Fortunately, the handguard's generous MLOK slots align perfectly for easy access to check the screws.
Tired of feature talk yet? It took up the majority of the review for two reasons. First, people ought to know what they're getting for $1,000, and second, the DB15 was boringly reliable and just as accurate as the Diamondback I reviewed four years prior. We fired a variety of rounds ranging from 35gr to 77gr and the mid-length gas system cycled them all. Accuracy was outstanding as seen in the photograph, and that's a ten-shot group with five shots each from two different shooters. Combine that with the value-added upgrades cited previously and the DB15DSB is a steal for $1,100.
They may not quite have the brand equity of the bigger AR makers, but with guns like these it won't be long before they do and we'll get the cool points for knowing Diamondback was good before they were a household name.
Video Review of the Diamondback DB15
Diamondback DB15 Pros and Cons
Accuracy vs Cost Ratio
Functional Styling
Complete Package with Case and Sights
Furniture, trigger, and sight upgrades included may not be your preference
Muzzle brake is obnoxious to be around.
Report Card

Reliability

Not a single malfunction during testing regardless of bullet weight or magazine type used.

A

Accuracy

10 shots at 100yards in under an inch, not much more to ask for.

A

Shootability

Smooth recoil from the mid-length gas system and unfortunately loud muzzle brake.

B

Ergonomics

Furniture is a personal preference, controls are standard AR15.

C+

Value

Upgraded features though provided at an excellent value may not be to your liking.

B

Our Grade
B+
Reviewed by Graham Baates
Reader's Grade
A
Based on 40 Reviews
Your Grade
Do You Own This Gun? Leave A Review
Success Your Grade Has Been
Added To Our Reader's Score
We use email to verify the accuracy of our reviews. We promise to never spam you.
Finding the right gun these days can be difficult. And unfortunately, the same applies to the Diamondback DB15DSB. As a matter of fact, this gun is even more difficult to locate than most guns. However, they are carried online at Palmetto State Armory.
Diamondback DB15DSB Gun Deals
Best Ammo for Your Diamondback DB15
When it comes to ammo, 5.56 NATO isn't necessarily the cheapest caliber around. And it's getting increasingly more difficult to find–hopefully you've learned how to properly rat-hole away ammo. Either way, it's important that you keep two different types of ammo if at all possible if not just to lighten the burden on your wallet. Purchasing cheaper rounds for range shooting and higher-quality working ammo is the way to go.
Range Rounds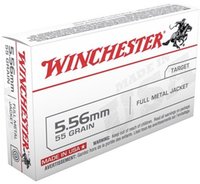 Winchester White Box 55 GR FMJ Ammo
Working Ammunition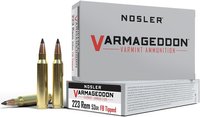 Nosler Varmaggedon 53GR Ammo
| | |
| --- | --- |
| Marketplace | Cost Per Round |
| Nosler | $0.87 |
Diamondback DB15 Starter Pack
The Diamondback DB15 Diamond Series is a pretty solid buy–especially when it comes to getting started. It comes with its own storage pack and other neat accessories straight out of the box. However, there are a few essentials you'll be expected to have/provide on your own.
Upgrades and Accessories
When it comes to this weapon, there's plenty of room for accessorization on top of the cool things that come with it. Check out some of these different upgrades you can utilize to maximize your shooting experience.
Best Accessories for the Diamondback DB15
Accessory
Details
Check Price

Warne Scope Mount Extended Skeletonized 30mm

Quality Mount from a Trusted Name
30mm Tube Diameter
Good for Target/Tactical

Check Price

Leupold VX-3i LRP 6.5-20x50

Indestructible Leupold Quality
LRP Adjustments--Zero Stop with Revo Indicator
Front Focal Plane

Check Price

Riton Optics X5 Tactix 1-6x24

Zero Resettable Turrets
Six Levels of Red Illumination
Clean Room Assembled
Fast Focus Eyepiece

Check Price

OneTigris Multicam Shooting Sandbag

Easy to Carry Handle
Great for Front or Rear Shooting
Made of Durable Cordura Nylon

Check Price
Who are Diamondback Firearms?
There are probably many of you out there who've never heard of Diamondback Firearms. And that's nothing to be ashamed of. After all, they're a smaller company still growing into their brand.
But don't let that fool you. These guys pump out some real quality weapons. And GearReport.com has had the unique opportunity to visit them down in Cocoa, Florida, and speak with them.
Important Links and Manuals for Your Diamondback DB15
Looking for more info on the Diamondback DB15? Then head over to the manufacturer's site and download the user's manual for other DB15 series and full instructions on owning one of these great firearms.