Henry Homesteader Review: Breaking Tradition
Henry's new Homesteader represents a significant break from Henry's traditional lever action offerings. The Homesteader is a magazine-fed, semi-automatic carbine chambered in 9mm Luger. The gun reminds us more of the M-1 Carbine or Ruger 10/22 than the Old West. Those firearms set a high bar. We recently got our hands on a Homesteader and put it through its paces. So, how does it stack up? Read on.
Henry Homesteader 9mm Carbine Specs
Caliber

9mm

Action

Semi-automatic blowback

Safety

Tang

Capacity (Henry mags)

10+1

Barrel Length

16.37 in

Barrel Threads

1/2×28

Overall Length

35.75 in

Weight

6.6 lbs

Front Sight

Screw on front post

Rear Sight

Adjustable aperture rear

Scope Mount

Drilled and tapped receiver

Stock

American Walnut

Receiver

Hard anodized black aluminum
Henry Homesteader Background – A New Branch
Henry has recently branched out from its trademark lever action firearms with the Homesteader and their new line of Big Boy Revolvers. The latter mesh nicely with Henry's lever guns, but the Homesteader is an entirely different animal. Many Henry rifles and carbines are chambered in pistol calibers like .45 Colt, .357 Magnum, or .44 Magnum. The Homesteader is the company's first product in the 9mm market. It has a traditional wood and steel design, but with a unique approach.
We mentioned that the Homesteader reminds us of the M-1 Carbine and Ruger 10/22, but it looks more like the Browning BAR series. Operationally, it combines all three of these rifles. The side charging handle is common to all three, while the Homesteader uses a blowback action like the 10/22. The magazine is more like the M-1 and the Ruger, with the mag release and bolt catch being very 10/22-like. One improvement over the 10/22 system is the Homesteader's factory bolt catch, which is an aftermarket upgrade on the 10/22.
The result is a handy, rugged carbine chambered in the world's most common cartridge. The Homesteader works well for varmints, small to medium-sized game, and even home defense. Henry's decision to make a semi-automatic rifle is bold. However, it shows that they understand the market and the Homesteader may become popular with customers.
Henry Homesteader Features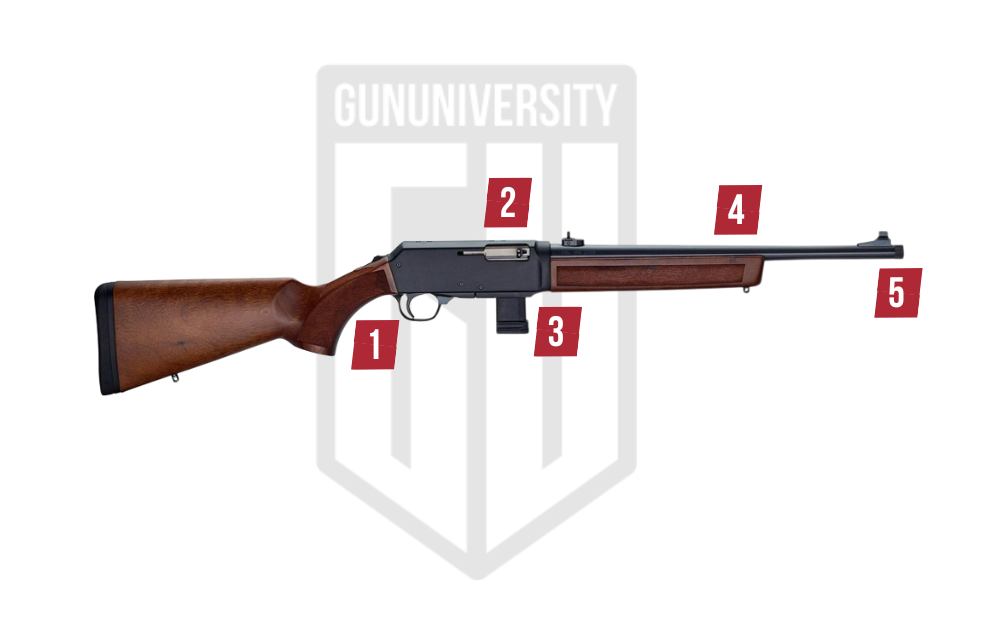 1
Ambidextrous
The magazine release and tang-mounted thumb safety are fully ambidextrous, while the side charging handle is easily reversible.
2
Caliber
Chambered in 9mm and rated for +P and +P+ defensive rounds, the Homesteader is versatile and capable.
3
Magazine Versaility
With the right adapter, it takes Glock, Sig P320, or Smith & Wesson M&P mags. Or you can just use the Henry factory mags.
4
Light and handy
The 16-inch barrel and 6.6 lb. weight make the Homesteader easy to handle and take along for the ride, whether on horseback, as a truck gun, or hunting.
5
Threaded Barrel
1/2×28" threaded barrel makes the Homesteader suppressor ready. Or you can just add a muzzle brake like we did.
Models and Variations
Henry offers four choices for the prospective Homesteader customer, though the rifle itself remains the same. The options encompass magazine choice. Each Homesteader ships with one 5-round and one 10-round Henry factory magazine. You can choose to go with those magazines alone. But for an extra 30 bucks, you can add a mag well adapter for 3rd, 4th, and 5th Gen Glock 17 or 19 mags, or another that accepts Sig P320 and Smith & Wesson M&P mags.
We think providing shooters with the potential opportunity to use their pistol mags in the Homesteader was a smart move. That makes the gun very attractive and shows that Henry's design team thought about their customers.
Henry Homesteader: My Take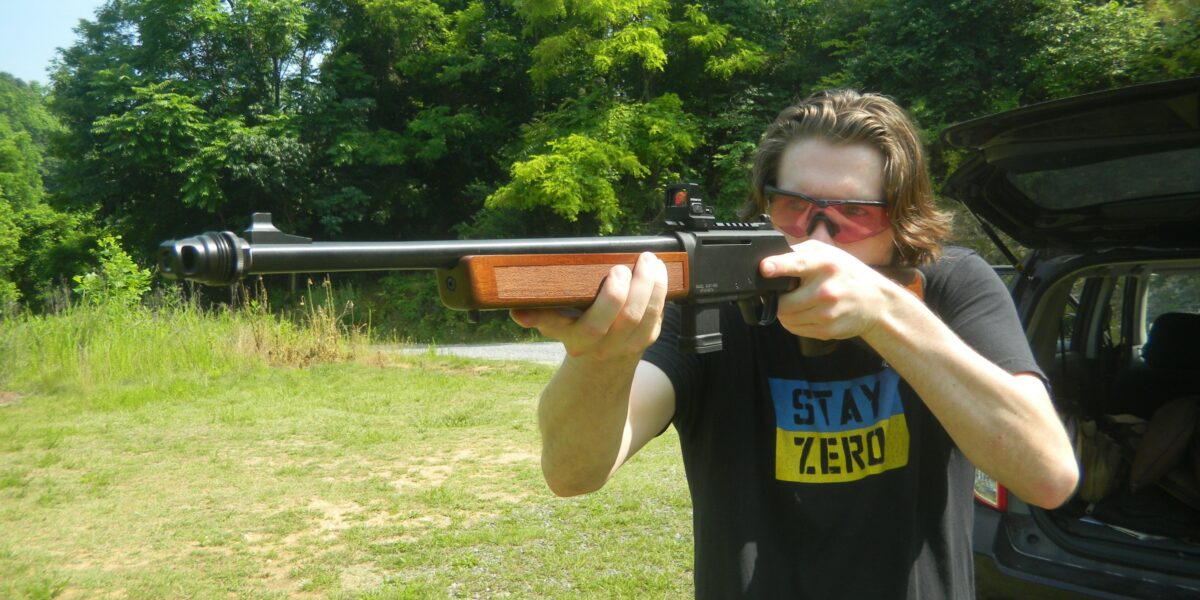 We want to say up front that Henry provided the Homesteader for review purposes. We get to keep the rifle. That's a nice perk, but it did not affect our opinion in any way. We shot a Homesteader at SHOT Show, but we were unsure if Henry could create a dependable semi-automatic gun on their initial attempt.
My co-tester and I have had the Homesteader for three months now and have a good handle on how it performs, what we like, and what we don't like. So, let's get into it.
Shootablity
The Homesteader is a light and handy carbine that works for multiple roles. We compared it to the M-1 Carbine, but it's a good pound and a half heavier than our M-1s. That's not a knock, because 6.6 lbs. isn't heavy, but we want to temper expectations after that comparison. The main reason for that added weight is the heavier stock and handguard coupled with a beefier receiver. The walnut stock is clearly more substantial than the M-1's stock.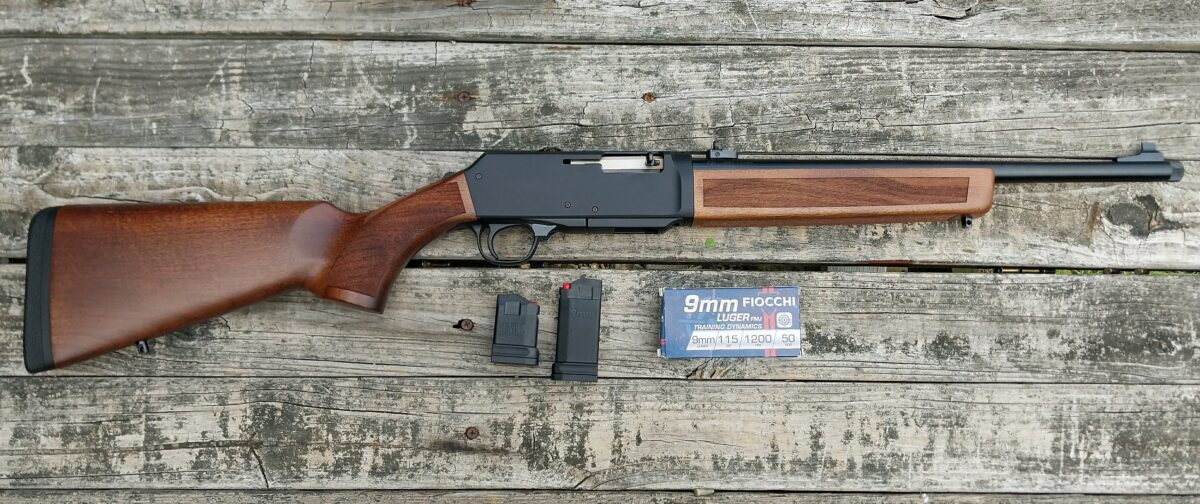 But that added weight also means the Homesteader has a lighter felt recoil than the M-1, though that isn't much either. My son, and co-tester, thinks the Homesteader a bit snappy, though I disagree. I classify the recoil as slight, with just a touch of muzzle rise. We mitigated that a bit by adding a SilencerCo ASR single-port muzzle brake. We also disagreed on the brake's effects. He thought it noticeably tamed the Homesteader, while I couldn't tell much difference. It did help the muzzle rise a bit, though. Either way, recoil is quite manageable and not at all unpleasant. A soft rubber butt pad helps with that as well.
Henry says the gun's recoil is "counteracted with a reciprocating mass inside the forearm." We weren't sure what that meant, so we called Henry and asked. They kindly explained that the squared off handguard contains a weight that times the blowback action, facilitating proper ejection. That weight also helps mitigate recoil. So, now we all know.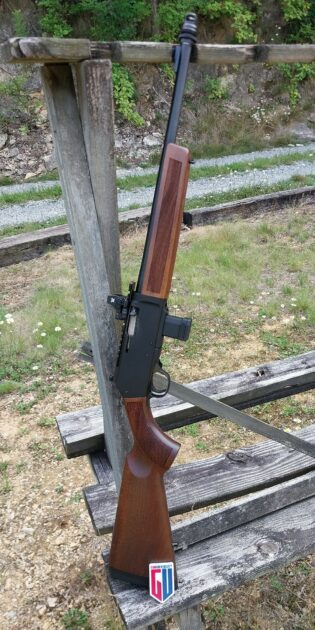 The Homesteader fits both of us quite well, though taller folks with longer arms may not like that the rifle doesn't have an adjustable length of pull. Not being a "tacticool" rifle, despite the threaded barrel, we don't see that as a real negative. Henry markets the Homesteader as a multipurpose firearm, though they emphasize the hunting aspect.
The Homesteader is, however, easily upgraded, thanks to the threaded barrel and the drilled and tapped receiver. We decided to add a Skinner Sights picatinny rail with an integral peep sight up top, to which we mounted a Vortex Defender CCW red dot. That made the Homesteader quite versatile, and we plan to keep that setup, though a suppressor is very possible in the future. We should note, however, that the walnut handguard precludes adding other accessories like lights or lasers. That's not a big deal for us on the Homesteader because we have other rifles set up with that stuff. Your mileage may vary.
The Homesteader's 16-inch barrel and nice balance make it quick to point and the sights are easily picked up. We didn't really care for the factory sights, which we'll address below when discussing accuracy. The trigger is good, though it didn't especially stand out one way or another.
We found the Homesteader pleasant and easy to shoot, despite our slight differences over recoil. We both enjoy the rifle very much and think it will be anything but a safe queen. It will get hard use and we expect the gun will be up to the challenge.
Reliability
This one is easy. We've run the Homesteader through about 500 rounds. We have purposely not cleaned the gun, nor the two factory Henry mags. The red magazine followers are now black, but they've run without a hitch. We've run 115 and 124-grain FMJ loads, as well as a box of 124-grain Hornady American Gunner +P hollow points, through the Homesteader. We are happy to report that we had no reliability issues.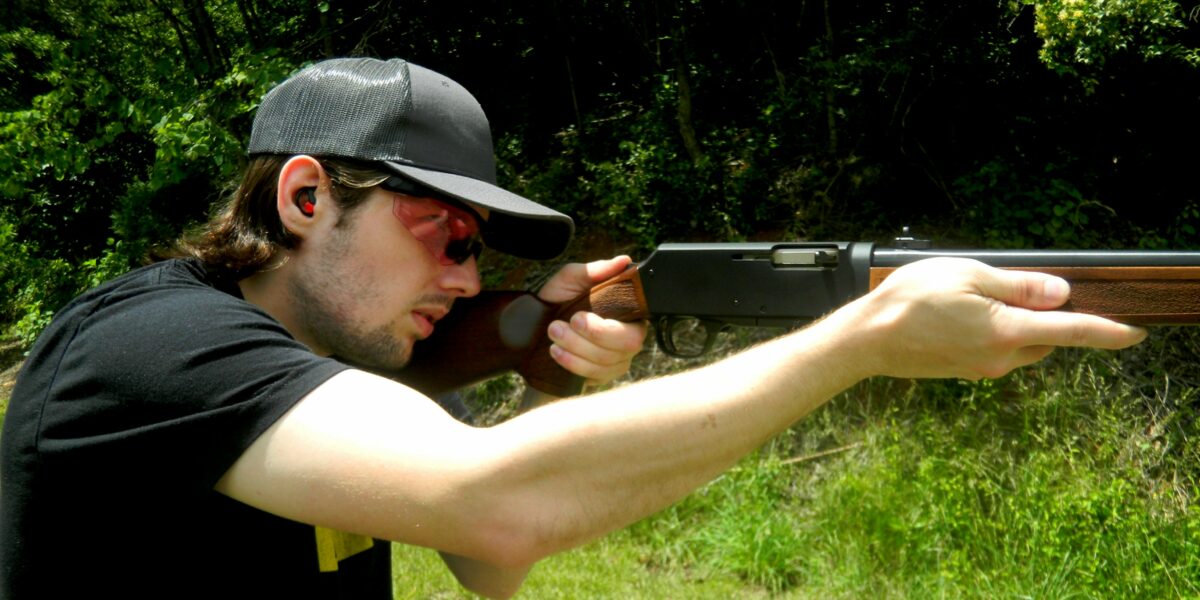 I'll admit that reliability was my main concern, given Henry's inexperience with semi-automatic rifles. And unproven proprietary magazines always require some skepticism. But so far, the gun and the magazines have passed with flying colors. We've seen nothing to indicate that will change.
Ergonomics
I mentioned that the Homesteader fits both of us very well, in terms of length of pull and general feel. We both like the stock's solid heft and the walnut handguard fills the off-hand nicely. We also like the handguard's texturing, which adds some grip. That same texturing adorns the pistol grip, which we also like. We see the Homesteader as a "working gun," if that makes sense, and Henry has designed it that way. It's not fancy, but it is very functional. It's not overtly good-looking, but the walnut does look nice, and it will be durable. The fixed length of pull may be an issue for some, but it worked well for us.
We love the Homesteader's ambidexterity. The tang-mounted thumb safety is large, tactile, and right where you want it. And it's easily visible to maximize safe operation. The magazine release is under the receiver, just in front of the mag well, as on a Ruger 10/22. It's easily reached with either hand. The charging handle is easily reversible. It takes less than a minute, so it doesn't have to stay one way or the other. That's a very nice touch for us, since I'm a hard-core right-hander, while my son is truly ambidextrous but prefers to shoot left-handed.
We also like that Henry included a bolt catch just forward of the trigger guard. It's easily reached once you learn where it is. As mentioned, it works like the 10/22 bolt catch, though it's only available on the Ruger as an aftermarket part. Bill Ruger apparently thought not having a bolt catch was a safety feature, a premise with which we cordially disagree.
My only complaint about the controls is that I don't find the mag release to be especially intuitive. I have to think about it. I hold the same opinion regarding the 10/22's mag release. Both are easy to reach, but I almost invariably fumble with them. Maybe that's just me and it won't affect you at all. My son has no opinion on it and thinks it's fine. But it's worth mentioning.
We like that Henry included factory sling attachments already on the gun. We've criticized the company before for the lack of attachments on lever guns, so these made us happy.
All-in-all, we like the way the Homesteader feels. The controls are easy to reach, and they work. The stock, pistol grip, and handguard provide solid support and a firm grip. Exactly what you want for an everyday work rifle.
Accuracy
The Homesteader itself is very accurate. We'll get to that momentarily. But we need to talk about the factory sights first. We understand this will be subjective, but we didn't much like the barrel-mounted ghost ring rear sight. We are fine with ghost rings, but these had too much space for our taste. The front sight post is clearly visible, but the extra air around it, through the ghost ring, detracted from our accuracy. Plus, we prefer ghost rings to be mounted further back for maximum sight radius.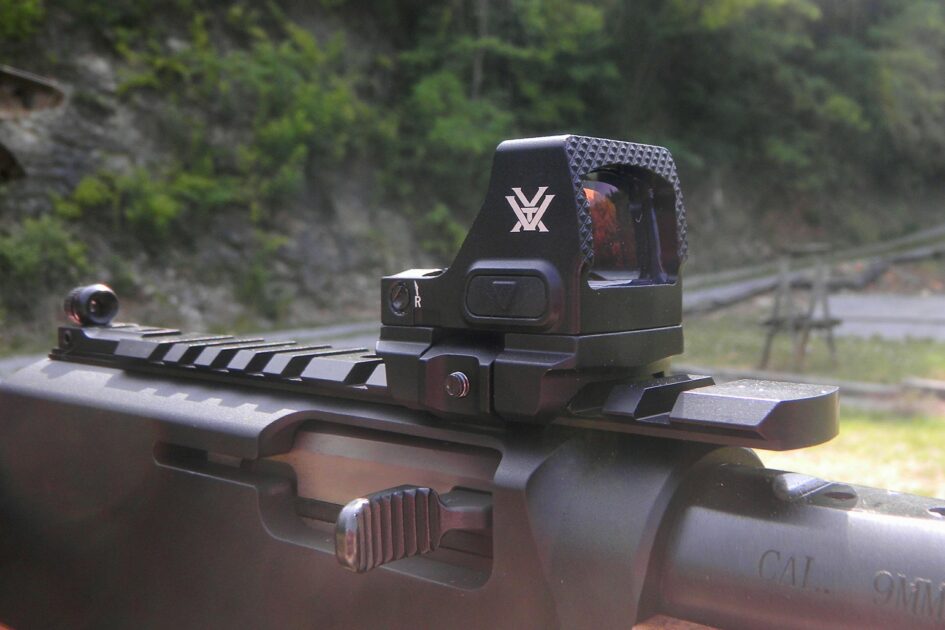 We rectified that situation by adding a Skinner Sights rail with integral peep sight. They make the rail for the Homesteader and it fits precisely in the factory drilled receiver holes. This was a big improvement and dialed us in nicely. But the rifle was even better after installing the Vortex Defender CCW red dot.
The optic showed us just how accurate the Homesteader really is. After zeroing the Vortex at 85 yards, I began plinking unsupported at a 12-inch plate at 125 yards. I easily rang the steel four out of five times, over and over. And the near misses were my fault, not the rifle's. We've repeated that accuracy through several range trips now. If you do your part, the Homesteader consistently delivers hits on the target. We are very pleased.
Value
Henry's MSRP for the basic Homesteader, as of this review, is $928.00. The models with Glock and Sig/M&P mag well adapters are $959.00. We easily found Homesteaders online in the $779.99-799.99 range. We think that is good value indeed.
The Homesteader is a solid, reliable, and accurate rifle. It's not fancy, but we believe it will be a firearm that people will reach for over and over for a multitude of tasks. The multiple magazine options provide even more value, as does the 9mm Luger chambering. We love our .357 Magnum carbine, but 9mm makes a ton of sense here. The Homesteader is purposely versatile for maximum usefulness. It might not be the gun you show off to your friends (or it might), but it will probably be the one you keep close to hand, whatever you're doing.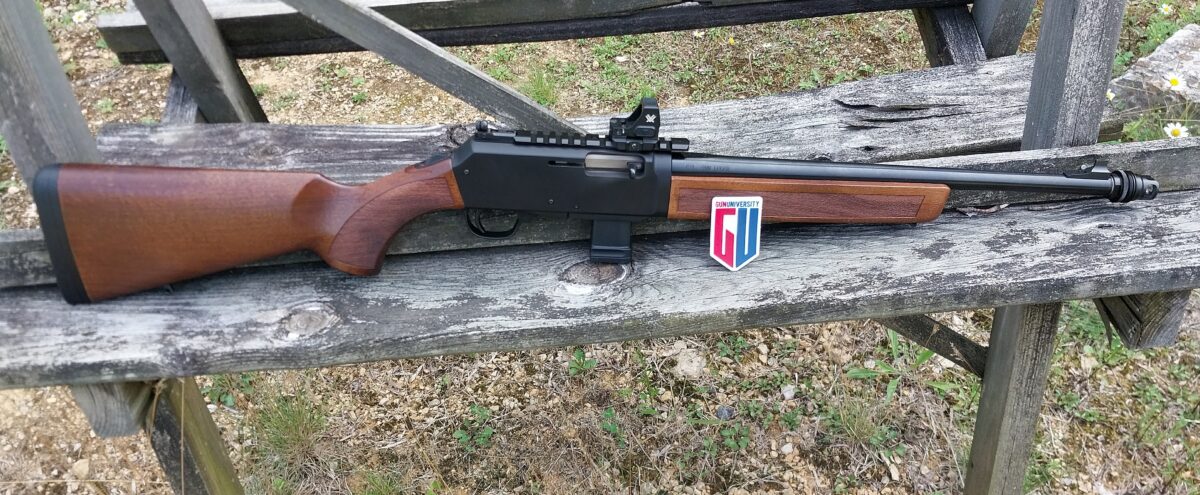 Henry Homesteader Pros and Cons
Utility – The Homesteader is good for many tasks, including hunting, pest control, self-defense, or just plinking. The 9mm chambering is a big plus.
Ambidexterity – The controls are well-designed for right and left-handers.
Accuracy – The Homesteader is a very accurate rifle, which we particularly love because of the role we see it filling.
Accessory friendly – This isn't a tactical rifle, but you can add numerous optics, muzzle devices, and suppressors. For a work rifle, that's very nice indeed.
Magazine options – We love that Henry gives their customers options for rifle/pistol magazine compatibility.
Sights – The factory ghost ring is too open for our tastes, and we think they should mount it on the receiver, not the barrel. Fortunately, upgrades are easy.
Fixed Length of Pull – We don't really see this as much of an issue. The Homesteader is after all, a wood stocked rifle. But it may be a turn off for some, so we list it here. We expect that we could easily find an extended butt pad if needed.
Report Card

Shootability

We found the Henry very pleasant to operate. It's handy, points naturally, and the recoil is mild.

A

Reliability

The Homesteader ran so well that it pleasantly surprised us. Not because we doubt Henry, but because it's their first shot at a semi-automatic rifle, along with new proprietary mags. But the gun's performance eliminated our concerns.

A+

Ergonomics

The Homesteader's ambidextrous and functional controls make this an easy grade, despite my issues with the mag release. But I strongly suspect that I'm the problem there, not the gun.

A-

Accuracy

I'd love to give this one an A+, but my dislike of the factory rear sight won't let me do it. The rifle itself, however, is dead on.

A

Value

The Homesteader may look a bit plain, but it delivers the functionality. We see this as a work gun that will prove its worth over and over. The magazine options and 9mm chambering are big deals, in our opinion.

A-

Our Grade
A
Reviewed by Bucky Lawson
Reader's Grade
TBD
Based on 0 Reviews
Your Grade
Do You Own This Gun? Leave A Review
Success Your Grade Has Been
Added To Our Reader's Score
We use email to verify the accuracy of our reviews. We promise to never spam you.
Henry Homesteader Starter Pack
Eye Protection –Eyes are hard to replace, so you will want to have eye protection for all trips to the range.
Hearing Protection – Hearing only gets worse, never better. Get yourself some quality hearing protection to at least slow down your hearing loss.
Gun Cleaning Kit – Check out our favorite gun cleaning kits to help keep all of your firearms well maintained.
First Aid Kit – A first aid kit is a must for range and home.
Slings – We love that the Homesteader came with sling mounts. Here are some of our favorite slings.
Henry Homesteader Gun Deals
Upgrades and Accessories for Henry Homesteader
While the Homesteader does not have accessory rails or MLOK slots, you can improve the aiming by adding a scope rail. You can also get an adapter to fit Glock magazines (or Sig or M&P) so the homesteader is a perfect companion for your carry gun.
Upgrades and Accessories for Henry Homesteader
Best Ammo for Your Henry Homesteader
Here are some of our favorite 9mm ammunition choices for target and self defense.
Target Ammo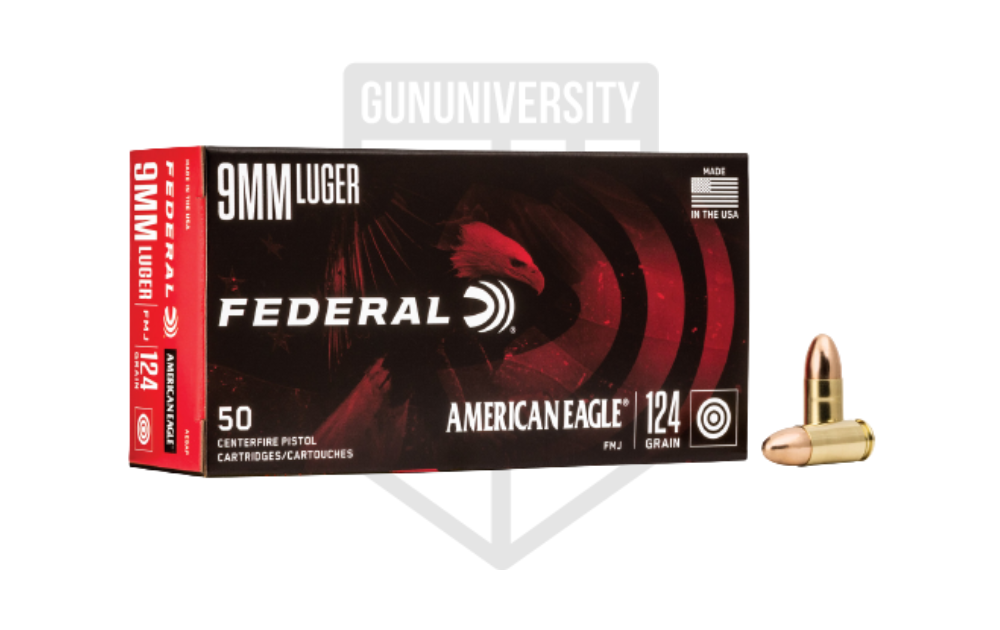 Federal American Eagle 9mm 124 Gr FMJ
Self Defense Ammo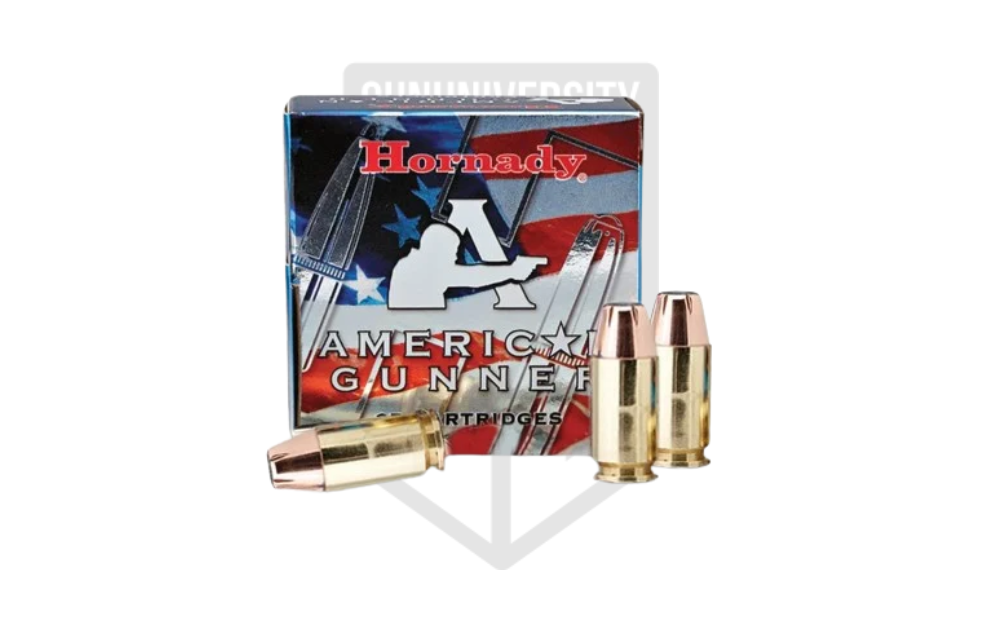 Hornady American Gunner 9mm +P 124gr XTP
Other PCCs of its Class to Check Out
The Homesteader has a lot of competition in the best pistol caliber carbine world. Here are some of our favorites to check out.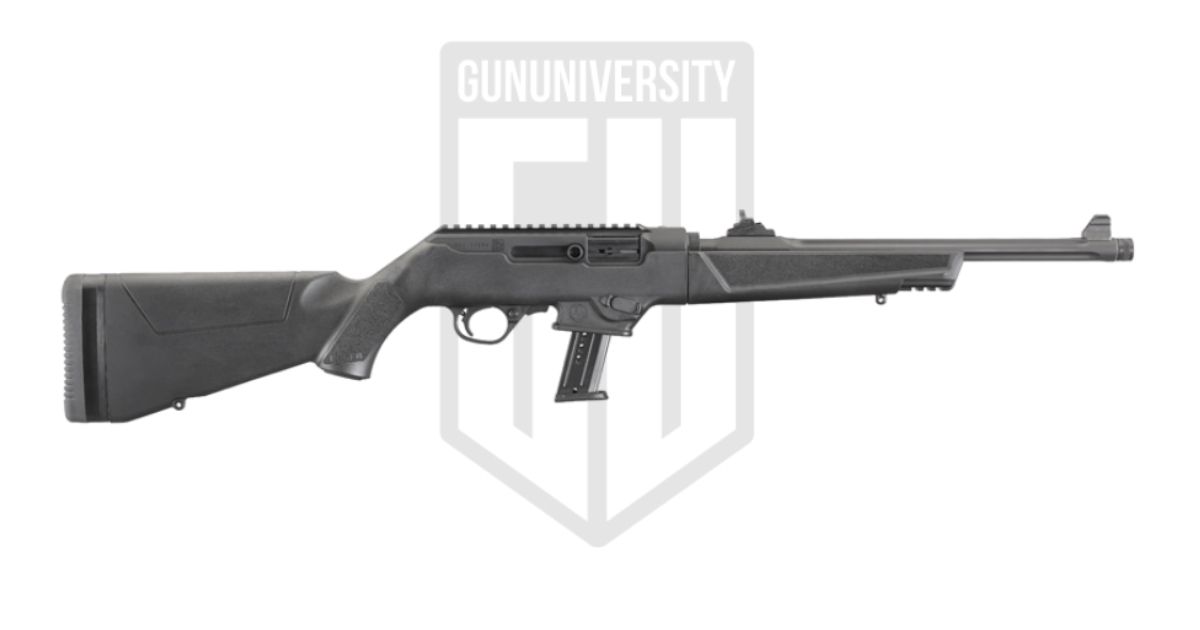 Shootability

A

Ergonomics

B

Reliability

A+

Value

A

Accuracy

B
Reader's Grade
A
Based on 20 Reviews
Your Grade
Do You Own This Gun? Leave A Review
Success Your Grade Has Been
Added To Our Reader's Score
We use email to verify the accuracy of our reviews. We promise to never spam you.
We did a head to head comparison of the Homesteader vs the S&W FPC. See which one we thought was the best.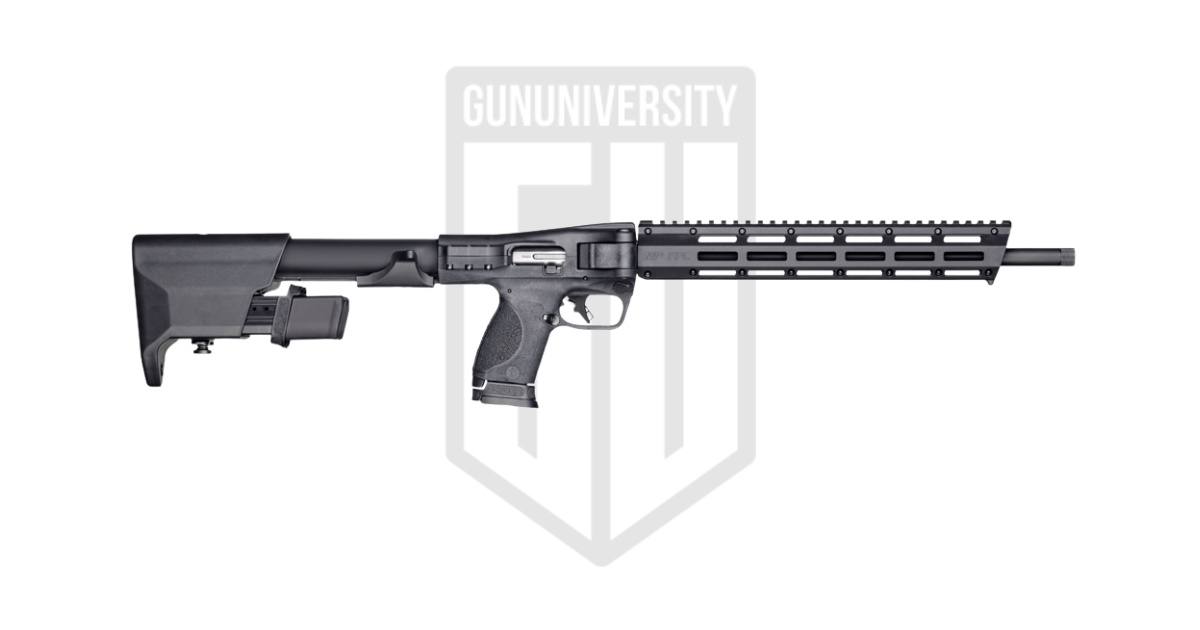 A PCC featuring a folding stock with extra ammo storage and MLOK handguard.
Shootability

A

Reliability

A-

Ergonomics

A

Accuracy

A-

Value

A-
Reader's Grade
TBD
Based on 0 Reviews
Your Grade
Do You Own This Gun? Leave A Review
Success Your Grade Has Been
Added To Our Reader's Score
We use email to verify the accuracy of our reviews. We promise to never spam you.
How to Care for Your Henry Homesteader
Here is a video showing you how to disassemble and clean your Homesteader.
Important Links and for the Henry Homesteader
Check out the link below for the manufacturer's website.