Walther PDP F-Series Review: Not Just for Females!
When it comes to selecting a defensive handgun, there are many good choices, but just as many that are bad. There is never a best gun for everyone, there is just what is best for you. New shooters or those struggling with different models now have more options than ever before. There are now a multitude of handguns out there designed to make the most laborious aspects of shooting more forgiving. These aspects can be a short trigger, a light-racking slide, or easy-to-load magazines. Guns like the Smith & Wesson EZ and the Ruger LiteRack come to mind. These pistols are easy to work with, but they designed them for concealed carry. But if you want a handgun that is a bit more substantial, don't overlook the Walther PDP F-Series.
Walther PDP F-Series Specs
Caliber

9mm

Action

Striker Fired

Capacity

15+1, 18+1

Sights

3 Dot w/ Adjustable Rear

Optics Ready

Yes

Slide

Steel

Frame

Polymer

Barrel Length

3.5in or 4 in

Weight (loaded)

28 oz
Walther PDP F-Series Background
Walther has been producing innovative firearms for over a hundred years. Their current lineup is an interesting mix of old and new, to the consternation of some. The Walther PPK was innovative when it was first introduced in 1931, but does not fit the standard for a modern .380 pistol. Yet, Walther has only expanded their PPK lineup, while more modern and well-loved designs, like the P99 and PPQ, were quietly discontinued over the last few years. In their place, Walther introduced the PDP, or Personal Defense Pistol, in 2021.
The PDP has a modular design that allows for the free exchange of barrels and slides on different frames. It also comes from the factory milled for a red-dot optic plate. In 2022, Walther followed up on its initial success with the PDP F-Series, which is made especially for female shooters.
The F-Series is touted for its Superterrain front and rear cocking serrations on a slide that is weighted to require 20% less force to rack. Additionally, they slimmed down the grip circumference between the trigger guard and the back-strap to accommodate smaller-handed shooters who might otherwise struggle with a longer trigger reach.
While a bit trimmer than the PDP, the F-Series is not a low capacity pop-gun like other easy-to-shoot offerings. It chambers the 9mm Luger cartridge. These compact pistols fall in the same size category as the Glock 26 and the Glock 19, whether you opt for the 3.5 inch or 4.0 inch barreled models, and the capacity is a respectable fifteen rounds. When paired with PDP full-size magazines, capacity is boosted to eighteen.
Walther PDP F-Series Features
1
Full Grip
Ergonomic, full handed grip for maximum control over the pistol.
2
Optic Ready
Milled and tapped for a red-dot plate.
3
Ambidextrous
Ambidextrous slide release and reversible magazine release
4
Stepped Chamber
The barrel's chamber is tapered, which better supports the ammunition on firing, and results in higher velocity.
5
Picatinny Rail
Rail for the appropriate weapons light or laser.
Models and Variations of the Walther PDP F-Series
Outside the standard PDP, the F-Series is only available in two models at present:
Walther PDP F-Series: How Does It Shoot?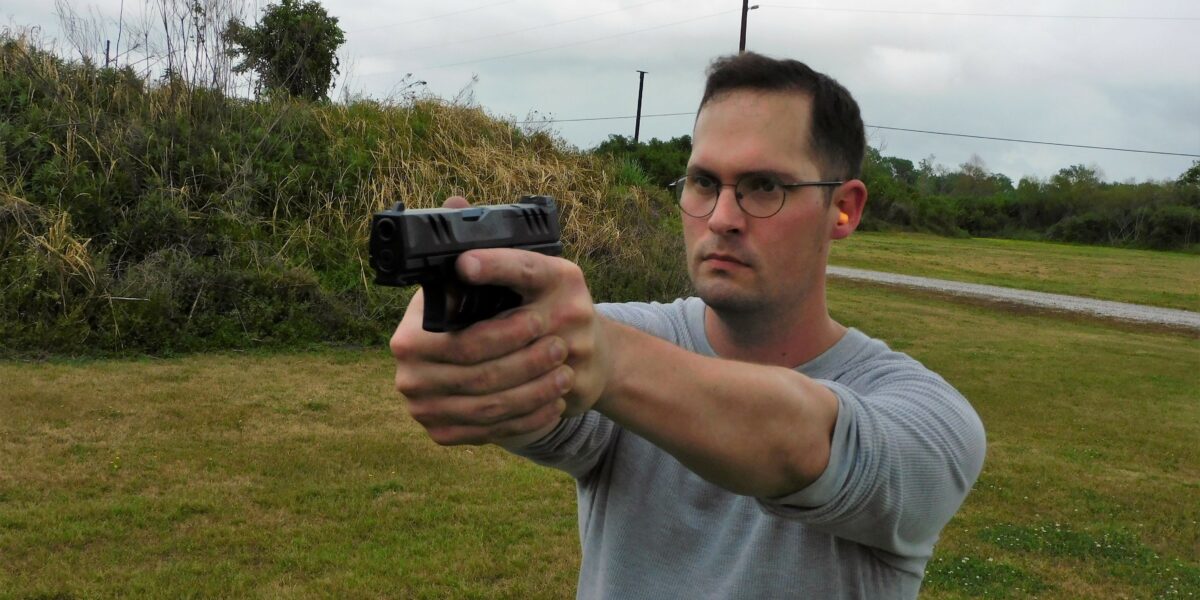 Although firms like Glock and Smith & Wesson were quick to colonize law enforcement holsters and the minds of gun enthusiasts everywhere, Walther has always had a track record of making a pistol that is a cut above. The F-Series was designed with female shooters in mind, but it can also be used by anyone looking for an easy-to-use and duty-ready platform. In other words, if you can shoot a conventional pistol, should you be able to shoot something like this even better? While that is a question I will leave unanswered, the F-Series is a great candidate. While my 3.5 inch model is more ideal for concealed carry, I ask you to magnify its pluses and minuses if you want that duty-ready 4 inch model.
Shootability
When it comes to the Walther PDP, they intrinsically linked shootability to ergonomics. Walther has a knack for developing polymer frames with grips that people can actually feel comfortable holding. It has a generous palm swell that gives the bottom fingers plenty of purchase, while the tapered trigger reach allows plenty of movement for the index finger. While I have larger sized hands, I did not put too much finger on the trigger, but there is also plenty of room for smaller hands to get enough finger on the trigger. Good trigger placement, plus good sights and an excellent trigger makes the PDP an easy gun to shoot. The 3.5 inch barrel has a shorter sight radius, but the three-dot sight picture is neither too big nor too small. Thus, allowing easy indexing on large targets while still working well for shooting groups.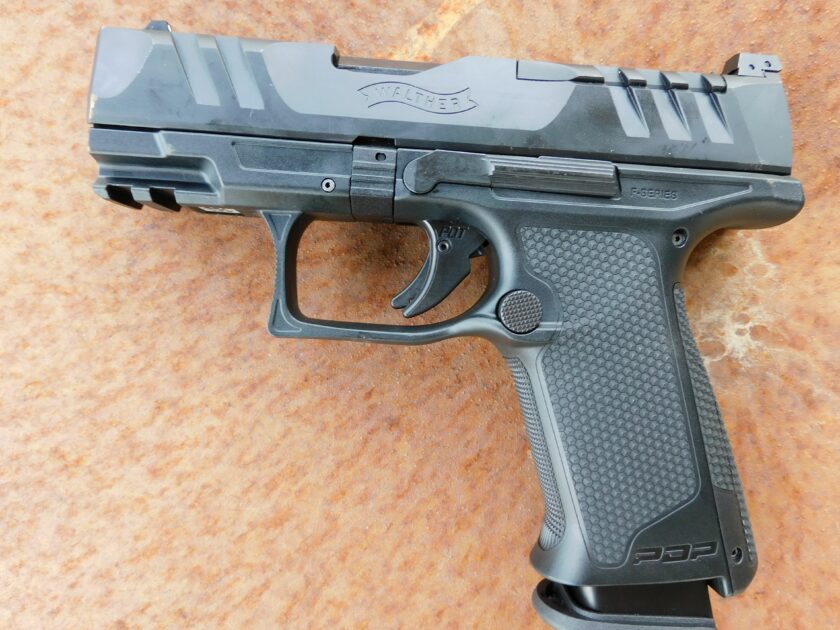 People often criticize the Walther PDP as a snappy handgun. This is thanks in no part to the stepped and supported chamber that results in higher pressures and higher velocity from a given load. The F-Series has a lighter recoil spring, which would only lead to higher muzzle flip and recoil. But I never found recoil to be any better or worse than other pistols of its size. It certainly did not overcome its advantages in ergonomics to affect my ability to hit targets.
Reliability
I have six hundred rounds down the pipe of my PDP. While my best accuracy came with various 115 grain standard pressure 9mm Luger ammunition, I also tested higher pressure +P and NATO-spec loads and subsonic hollow-points. No matter the ammunition, there was never a failure to feed or fire. But my larger hands would often ride over the slide stop, preventing the pistol from locking open on the last shot. Smaller-handed shooters need not worry.
Ergonomics
There are two opposing views of Walther ergonomics. Walthers tend to be both well thought out and efficient, yet they also often look blocky. But I think we can break down much of this by looking at the frame first, then the slide.
The frame is well finished and the controls are large and where they should be. The grip has stippling from side to side and front to back. To me, it feels like skateboard tape on your hands with sweaty palms, but it does not feel onerous when the pistol recoils in the hand.
The Walther PDT, or Performance Duty Trigger, is the runaway feature of the pistol but the one I also dislike the most. The trigger shoe has a safety protrusion, like a Glock safe-action trigger. It is there because it works and prevents accidental discharge even if I bump the trigger. This trigger, however, is all metal and has none of the mush of a Glock. The trigger breaks cleanly after very short travel and the reset is audible and easy to shoot to. It breaks at just over four pounds of pressure. On the other hand, the movement between the trigger shoe and the safety rubbed my trigger finger raw after a 100 round range session.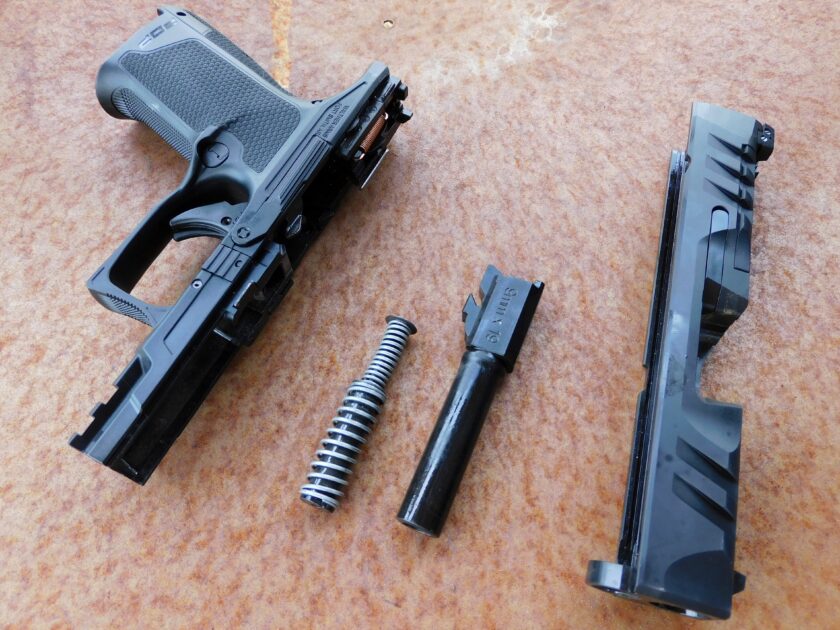 The PDP comes with two fifteen-round steel factory magazines. Although the F-Series is touted as an easy pistol to operate and shoot, the magazines have no assisting devices. So it loads like a conventional magazine, which may be a challenge for the gun's intended end users. While I had no issues loading or unloading the magazines to full capacity, I recommend a loading tool if magazine loading is something you struggle with.
Outwardly, the PDP looks blocky compared to other 9mm compact pistols. That is largely down to the appearance of the slide and how trim the reach is from the back of the grip to the trigger. The slide is well machined with useful and deep cocking serrations and it is legitimately easy to rack, although not as effortless as a .380 Smith & Wesson EZ. They milled the PDP for a red-dot. Walther does not include an optics plate, but offers one free for the particular optic of your choice. Where the PDP F-Series really is blocky is in the slide thickness, which is 1.34 inches in diameter. That is slightly bigger than the chunky Glock 19. Does it matter? That will be up to you and how you want to carry.
Accuracy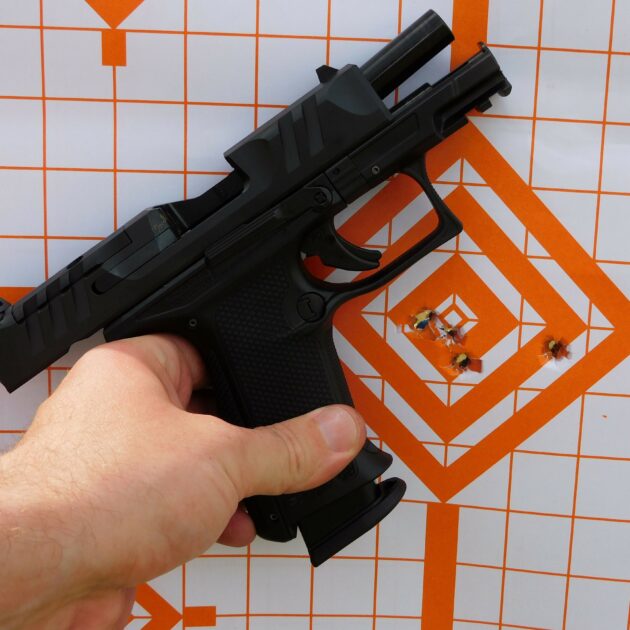 At twenty-five yards, I could reliably put five rounds into a 6 inch group when shooting offhand. At distances out to fifteen yards, we can measure the groups in a ragged hole of about 1 ½ inches. While I could achieve this sort of accuracy with other stock handguns, it always took some time on the range to practice. I was doing so on my first day on the range with the PDP. The excellent grip and trigger paid further dividends when I decided to start shooting quickly. Double-tap drills on a ½ size steel torso at 30 yards could be done with boring regularity using the stock iron sights. With a red dot mounted, you can expect better accuracy and probably go faster.
Value
At this time, the PDP F-Series has an MSRP of $699 and I got mine out the door at that price. For an easy-to-shoot platform, it is higher in price. You can get a Smith & Wesson EZ for $200 less. On the other hand, you sacrifice capacity, caliber, and the red-dot capacity. Likewise, a bone stock Glock 19 can be had for less. However, the newer generation of red-dot ready pistols coming onto the market are right in the PDP's ball park. So one might ask, why get the Walther over those options? I asked myself the same question since I was in the market for a red-dot pistol, and I would have happily paid more for the Walther's ergonomics and trigger.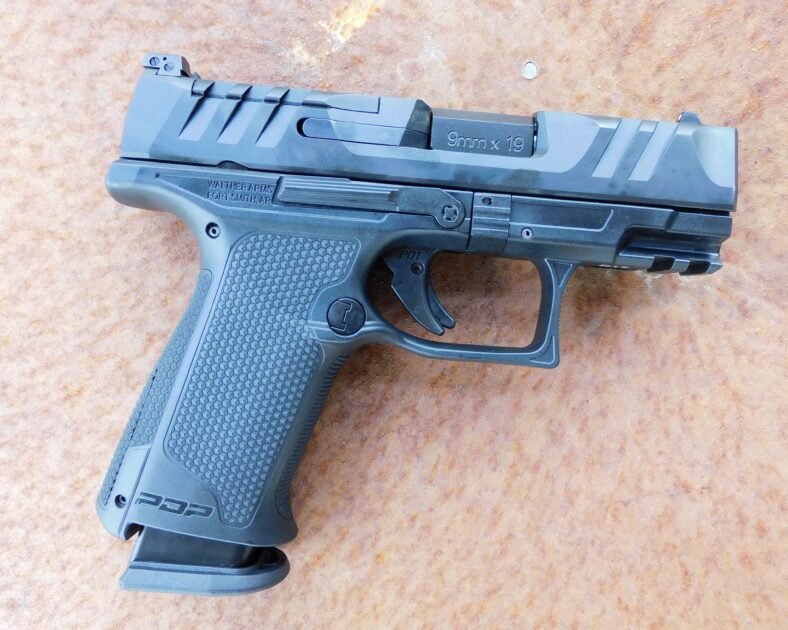 Walther PDP F-Series Pros and Cons
Easy-rack slide – Pistol is easy to load and unload, thanks to the lightened dual recoil spring.
Crisp trigger –The PDT trigger has a light break, making one-hole groups a real possibility.
Optics cut slide – Walther provides a free optics plate when requested during purchase of PDP. The slide comes cut for an optic already.
Conventional Magazines – May require a loading tool to reach full capacity.
Blocky – For a compact pistol, the slide is thick.
Report Card

Shootability

Excellent due to the ergonomics.

A+

Reliability

No problems, aside from having hands that are too large and keeping the slide from locking back.

A+

Ergonomics

Best set up for smaller hands, but excellent as a stock option.

A-

Accuracy

Top-notch for an average Joe like me.

A+

Value

An excellent modern duty pistol for most of us.

A+

Our Grade
A+
Reviewed by Terril Hebert
Reader's Grade
A+
Based on 2 Reviews
Your Grade
Do You Own This Gun? Leave A Review
Success Your Grade Has Been
Added To Our Reader's Score
We use email to verify the accuracy of our reviews. We promise to never spam you.
Walther PDP F-Series Starter Pack
These items are must haves for all firearms owners and range trips:
Walther PDP F-Series Gun Deals
Upgrades and Accessories for the Walther PDP F-Series
For handguns we always recommend a good holster.
We also recommend the aimpoint red dot sight and why not upgrade the trigger while you are at it.
Finally, you can never have too many spare magazines, and why not get the magazines that hold the most rounds?
Upgrades and Accessories for the Walther PDP F-Series
Durable Kydex construction
User-adjustable retention
True-Fit design
Adjustable cant
Lifetime warranty

Check Price

Duty rated
Larger Window yet similar footprint to a RMR
Side mounted battery compartment

Check Price

58% decrease in pre-travel
50% decrease in total travel
CNC-tuned NP3'ed OEM bar for constancy, safety, and quality

Check Price

Blued stainless steel construction
Polished steel spring
Polymer follower
Numbered witness holes
Removable polymer floor plate

Check Price
Best Ammo for Your Walther PDP F-Series
There are lots of good 9mm options out there. Here is a good range and a good defensive ammo option.
Range Rounds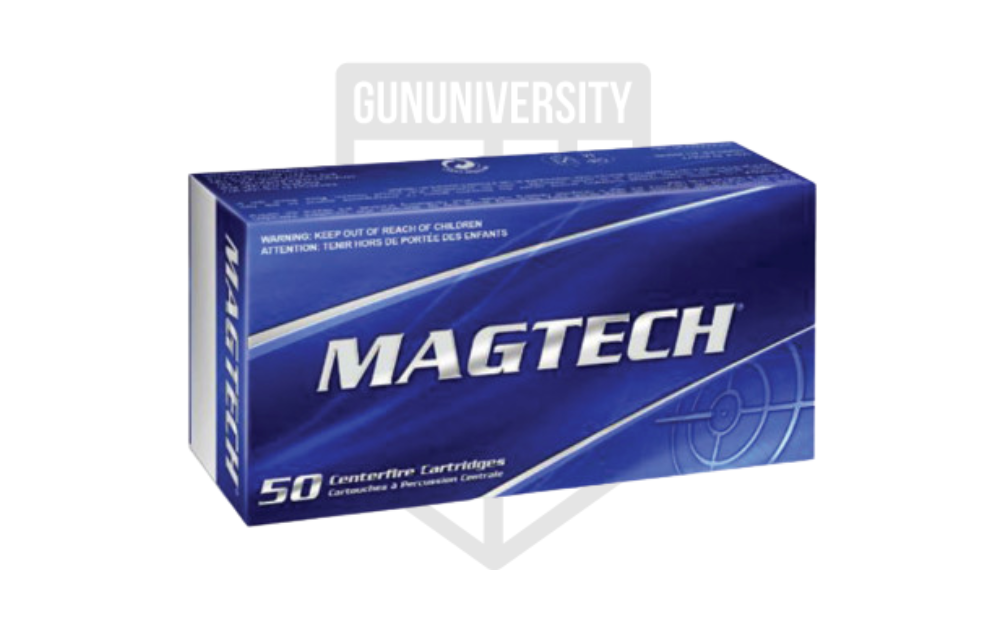 Magtech 9mm 115GR FMJ
Defensive Ammo
Hornady Critical Defense 115 grain FTX
Other Pistols of its Class to Check Out
We gave the Walther PDP F Series a real high score. Check out the full size Walther PDP and the Smith & Wesson EZ.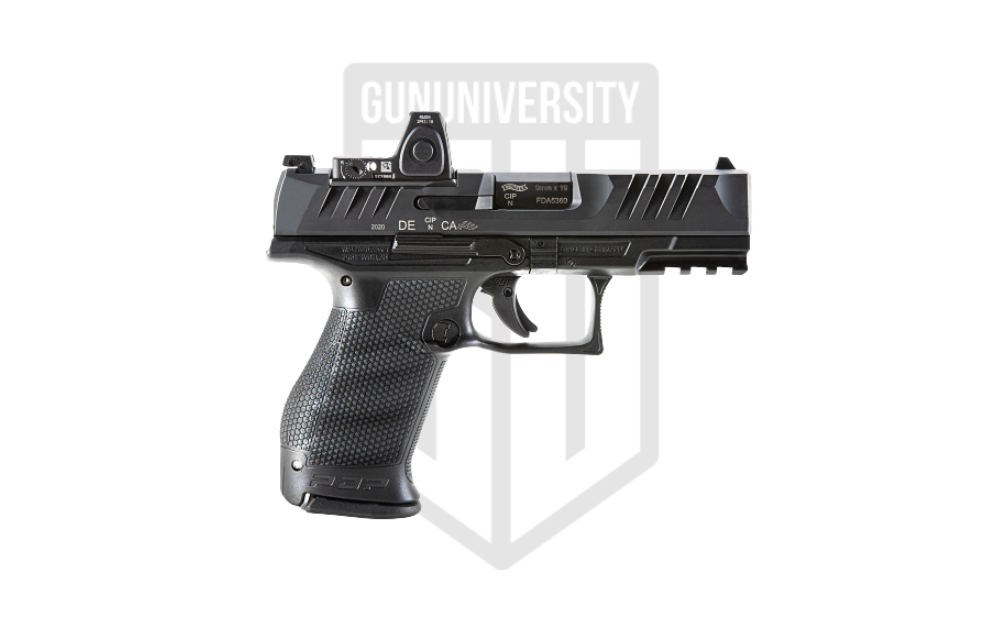 The Walther PDP series of handguns is a polymer framed 9mm available in several different grip and barrel sizes.
Shootability

A

Reliability

A

Ergonomics

A+

Accuracy

A

Value

A+
Reader's Grade
A+
Based on 8 Reviews
Your Grade
Do You Own This Gun? Leave A Review
Success Your Grade Has Been
Added To Our Reader's Score
We use email to verify the accuracy of our reviews. We promise to never spam you.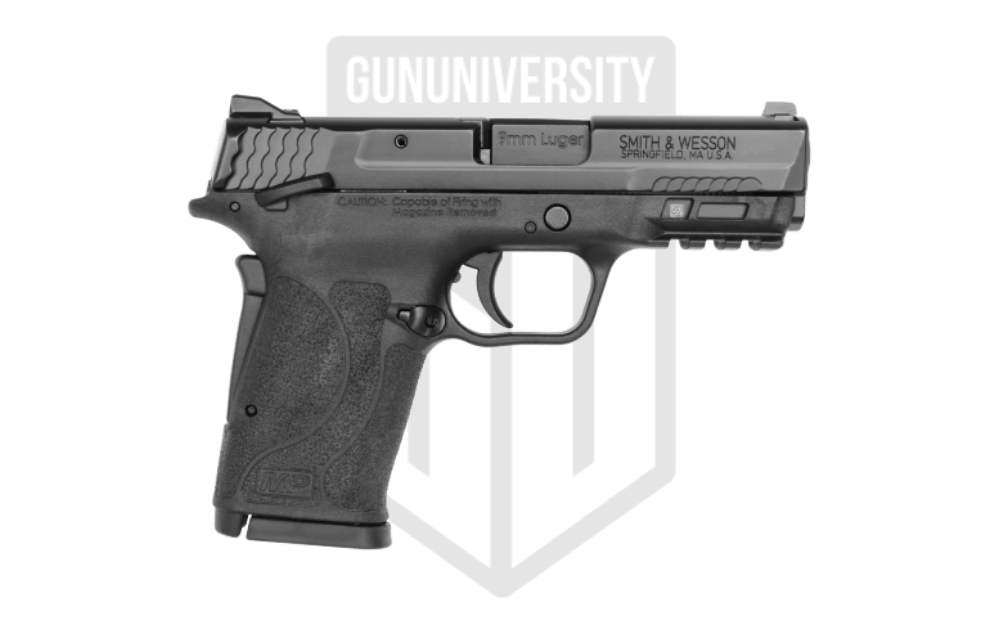 Smith and Wesson's bold combination of the .380 shield platform in 9mm.
Shootability

B-

Reliability

C

Ergonomics

B

Accuracy

C+

Value

B
Reader's Grade
B+
Based on 10 Reviews
Your Grade
Do You Own This Gun? Leave A Review
Success Your Grade Has Been
Added To Our Reader's Score
We use email to verify the accuracy of our reviews. We promise to never spam you.
How to Care for Your Walther PDP F-Series
I have pointed out Walther's outstanding online users manual before. Go there to learn all you need to know about your PDP. Here is a video review on the Walther PDP F-Series.
Important Links and Manuals for Your Walther PDP F-Series
Check out the links below for the manufacturer's website and operator's manual.