7 Best Rifle Slings: +Buyers and Users Guides
Sling, sling, sling. Boy does a good sling make a huge difference. On long guns, a sling makes such an enormous difference. A simple strap made of nylon, leather, or whatever that connects from one end to the other of your rifle and provides many benefits to the shooter. We can and should use slings for hunting, tactical purposes, competition, and even just range use. If you do anything more than look at your rifle, a sling nearly becomes necessary.
What Is a Sling
It's a strap, essentially. It fits on your gun and then gives you a versatile means to carry your rifle. What a sling is, is simple. What a sling does is more important. A sling makes life easier when you are carrying your rifle. It allows you to go hands free when possible and allows you to climb a tree stand, navigate obstacles, or maybe carry a deer. On the split side, when it comes to tactical use, the sling offers you the same hands-off freedom, and you can climb, fight, and carry the wounded.
Beyond support, a sling can also be an aid to accuracy and stability. With proper tension set, the sling can stabilize the rifle and act as a supportive element in your shooting. You can use this not only for slow-fire accuracy at an NRA High Power match, but also in tactical applications or competitive scenarios. I use a sling to provide tension when I shoot PCC matches, and those are rapidly moving and timed matches.
Slings can also help you retain your weapon. Lord forbid you fall, trip, or stumble and drop your dad's prized pre-64 Winchester Model 70 in the dirt. Trust me, don't do that. In the tactical world, it's also valuable to prevent someone from taking your weapon. It's awfully hard to take someone's gun when a 1.25-inch of strap is securing it to your body.
This article coves slings for all types of rifles. If you are looking for a sling for an AR-15 style rifle, we have an articles dedicated to those here.
Gun University's Choices of the Best Rifle Slings
Best Rifle Slings Specifications
Below is a table of the specs for each sling. Click the name of the item to jump to that review.
Best Rifle Slings
Here is our list for the best rifle slings:
Best Rifle Slings – Reviews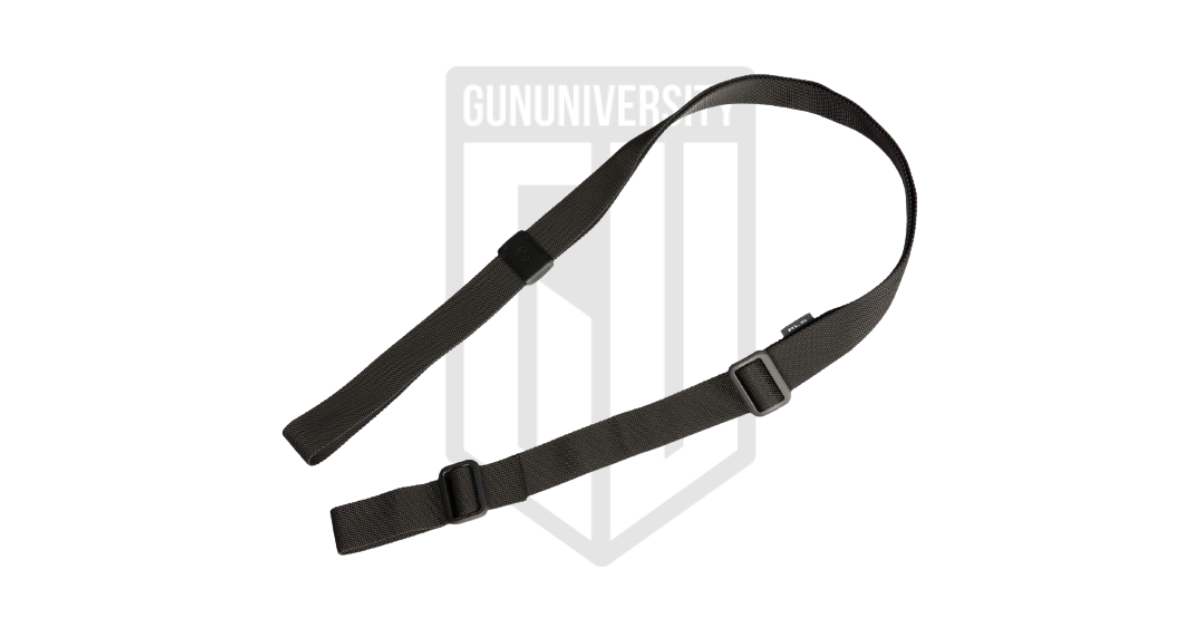 A lightweight and affordable sling made from 1-1/4in nylon mesh webbing.
Magpul RLS Rifleman Loop Specs
Points

2

Material

Nylon Mesh Webbing

Width

1.25 in
Magpul RLS Rifleman Loop Review
If you want to spend less than 30 bucks and still get a good sling, then the Magpul Rifleman's Loop is for you. It's as simple as it gets, and it's aimed at a wide variety of rifles, but more specifically at rifles used for hunting. The rifle uses modern materials and attachment methods that come from the Magpul tactical series of MS slings. This includes their proprietary nylon and polymer hardware.
A loop sling is a specific shooting sling. If you ever served in the Marine Corps, you might have used one a time or two. It's a means to set up a sling to provide the most stability possible. The Magpul RLS Rifleman Loop Sling comes with a rifleman's loop built into it. You run your support arm through the loop to create instant tension to help stabilize your position. This tension makes aiming easier and makes accurate shooting easier.
The Rifleman Loop Sling combines both the Rhodesian sling design with the classic 1907 match slings. This brings us a modern but stable sling. With traditional slings setting up a rifleman's loop takes some time. With the Magpul RLS, you can flow right into it with ease. The design is solid, and like most Magpul products, it's designed to last.
Magpul RLS Rifleman Loop Pros and Cons
Affordable
Well Made
Aids In Accuracy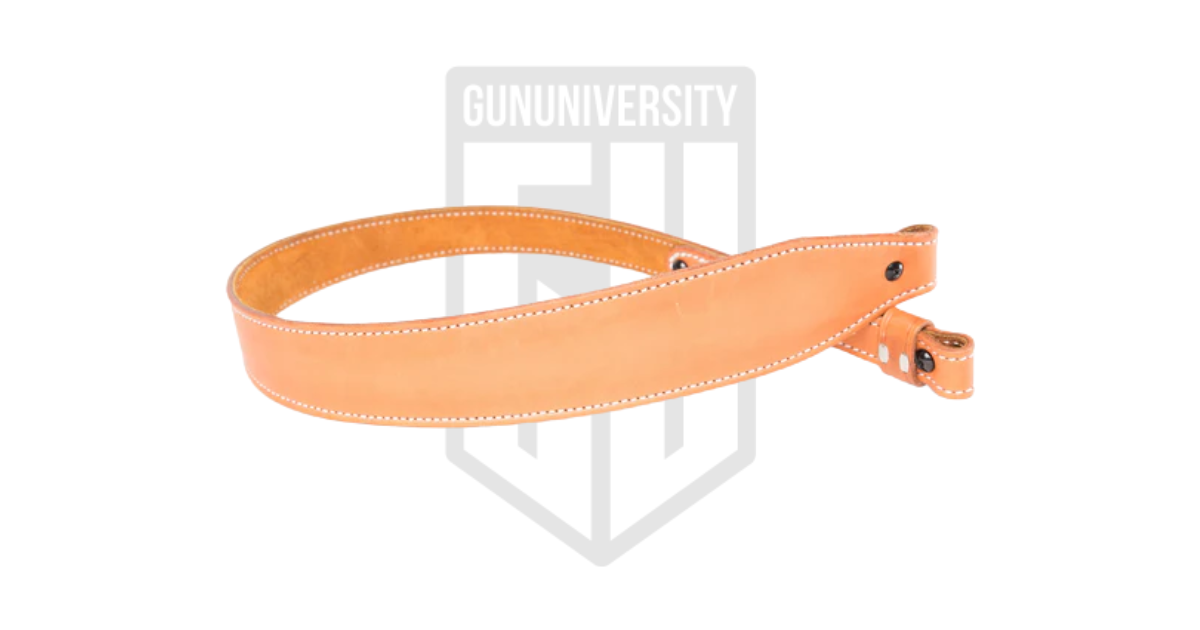 A customizable leather sling with a very classic look.
Diamond D Leather Rifle Sling Specs
Points

2

Material

Leather

Width

1+ in
Diamond D Leather Rifle Sling Review
The ancient art of leatherworking will seemingly never fade away. In a day and age of space-age materials, awesome nylons, meshes, and more, leather still has its place. In rifle slings, it's easy to see why some would appreciate the classic leather rifle sling. If you want a leather sling, you want a good one, and it's tough to get better than Diamond D Leather.
The Diamond D Leather sling is a classic two-point design that's adjustable for length via Chicago screws. The top of the sling has a Cobra-like flare which helps support the weight of the rifle as it's carried over the shoulder. There is nothing tactical about this thing. It's a simple strap designed to help carry the weapon and nothing more.
While it's remarkably old school, it certainly has its charm. A tactical sling just doesn't look right on my Marlin 336 rifle. A good leather sling looks and functions well. Good leather work isn't cheap, but at around 60 bucks for the base model, the Diamond D Leather, leather rifle sling won't drain your wallet. You can go fancier, add basket weave, stamps, and even your initials if you like things fancy.
Diamond D Leather Rifle Sling Pros and Cons
Supportive
Extremely Well Made
Adjustable
Arbor Arms Dual Adjust Weapon Sling Specs
Points

2

Material

Webbing

Width

1.25 in
Arbor Arms Dual Adjust Weapon Sling Review
My all-time favorite rifle sling is the Arbor Arms Dual Adjust Weapon Sling. It's a modern tactical two-point that's designed by a Recon Marine who knows a thing or two about slings and other soft goods. With the Arbor Arms Dual Adjust Weapon Sling, you can adjust both the rear and front portions of the rifle sling rapidly.
These adjustments allow for a significant amount of instant adjustment to ensure the sling is exactly where you need it to be. This allows more control and customization over the sling while eliminating the tail. This helps you keep the sling ready for whatever situation you may have at hand. Outside of the dual adjust design, the Arbor Arms sling uses a textile blend that never stiffens or hardens. It's rugged, well-made, and easy to adjust and secure.
The quick adjust front grab adds both a loop and a tab so it can be easily engaged and quickly adjusted. Users can add a pad if need be. There is also a precision version that allows you to attach the sling to your belt to create tension and stabilize your shooting position. Arbor Arms is leading the way in sling innovation, and Dual Adjust Weapon Sling is a fantastic option for modern rifles like the AR-15.
Arbor Arms Dual Adjust Weapon Sling Pros and Cons
Endlessly Adjustable
Extremely Well Made
Easy to Size and Adjust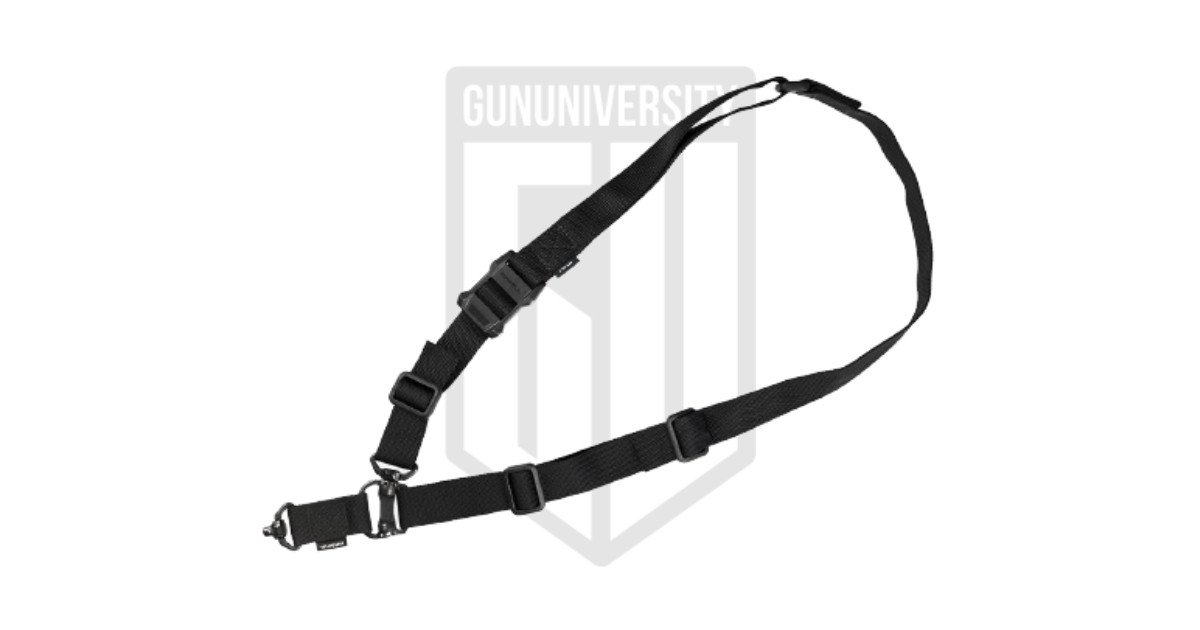 A lightweight modular sling with quick detachment points made from 1-1/4in nylon mesh webbing.
Magpul MS3 (or MS4) Specs
Points

1 or 2

Material

Nylon Mesh Webbing

Width

1.25 in
Magpul MS3 (or MS4) Review
The Magpul MS3 started life as a modern tactical two-point. It's no different from most modern slings. Magpul uses its famed polymer mix to provide durable but also affordable and lightweight hardware to the MS series. Additionally, the sling has a rapid adjustment slider that allows you to easily loosen or tighten the sling on the fly. While that all seems standard, what makes the MS3 different, and by extension the MS4, is its ability to convert from a two-point to a one-point.
The Magpul MS3 (and MS4) allow the user to quickly and efficiently remove the front end of the sling and clip it to the rear end. This instantly turns the MS3 into a single-point sling. It's quite handy when working corners and barriers, as well as moving shoulders and moving in and out of vehicles. The MS3 makes life easy to maneuver and allows you to focus on the task at hand instead of focusing on dealing with your sling.
Outside of that one big feature, the Magpul MS series are very well-made slings. They allow for easy use and adjustment. They are quite wide and very supportive. The slider is snag free but still easy to use, even when gloved. The Magpul MS3 and MS4 only differ in their attachment methods. One uses clips, and the other uses QD-type align swivels.
Magpul MS3 (or MS4) Pros and Cons
Modular
Well Made
Easy to Adjust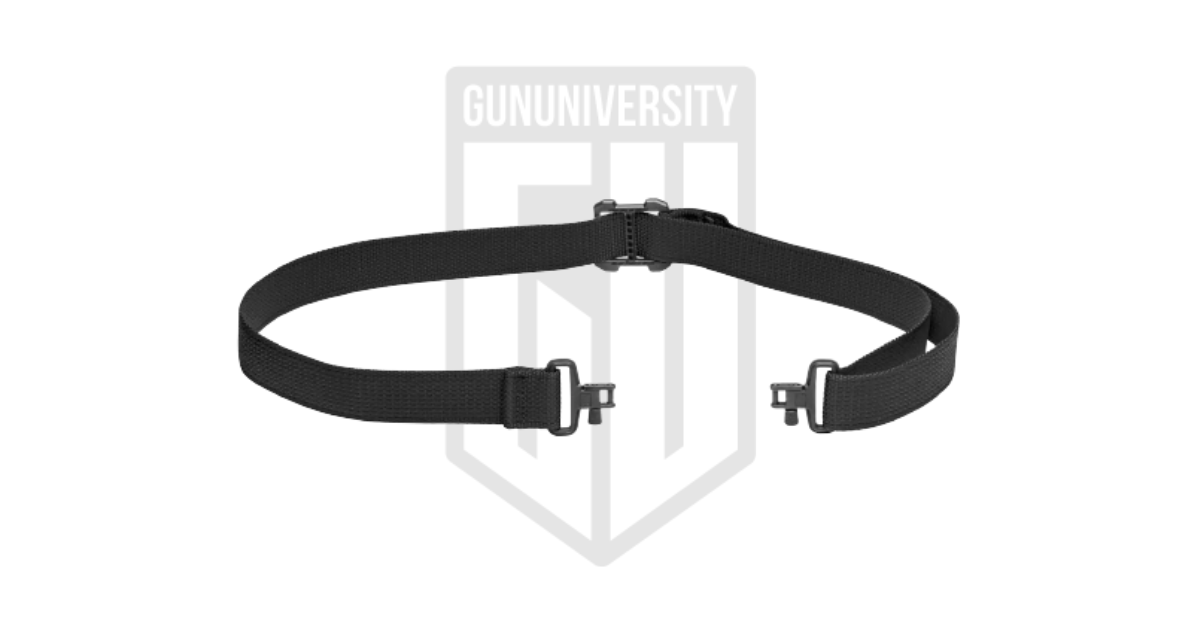 A simple 2 point sling made from 1-1/4in Cordura webbing.
Blue Force Gear Hunting Sling Specs
Points

2

Material

Cordura Webbing

Width

1.25 in
Blue Force Gear Hunting Sling Review
We mostly know blue Force Gear for its tactical gear. They make chest rigs, plate carriers, and tactical slings. The BFG Hunting sling was a pleasant surprise, and it provide hunters with a traditional sling that has a few modern features worth noting. The BFG Hunting Sling is a simple two-point design that comes with sling swivels pre-installed and ready for mounting to nearly any type of rifle. These only work on traditional sling swivels, unfortunately.
Pairing a set of high-quality sling swivels, with a high quality for less than fifty bucks, is pretty dang solid. They make the BFG Hunting Sling with the same care and quality as the BFG tactical slings. It's highly adjustable, from 46 to 26 inches, with relative ease. The materials are top-notch and will certainly suffer the punishment of fall deer season.
Much like their tactical slings, the Hunting Sling allows for rapid adjustment. You can very easily tighten and adjust the sling on demand. We don't have a tab, but a lower profile slider that makes it easy to adjust without sticking out too far. It's made to be simple, quiet, and durable. What more do you need?
Blue Force Gear Hunting Sling Pros and Cons
Affordable
Durable
Easy to Adjust
Blue Force Gear Vickers Sling Specs
Points

2

Material

Cordura Webbing

Width

1.25 in
Blue Force Gear Vickers Sling Review
If you want what's likely the most proven tactical sling on the planet, the Blue Force Gear Vickers sling is it. Larry Vickers, a Delta Force commando, designed the BFG Vickers sling, which is now widely used by the US Marine Corps and Air Force Security Forces. The military has issued over 300,000 to its members.
The Blue Force Gear Vickers sling features a rugged CORDURA that's extremely durable and won't roll, crack, or snap under pressure. The quick adjustment tab is big, wide, and easy to grab and pull. BFG makes a ton of sling hardware to make it easy to mount the sling anywhere you could want it. You can rig a BFG sling up to an AR, an AK, a G3, a hunting rifle, or a lever gun, and it'll work without issue.
Overall, this was the modern tactical two-point that started it all. It's become extremely popular with variations with integrated pads, models made for specific platforms, lightweight options, and even job-specific slings like the Medic. If you need it, Blue Force Gear likely makes it.
Blue Force Gear Vickers Sling Pros and Cons
Easy to Adjust
Numerous Variations
Tons of Hardware Available
Get's Slightly Stiff Over Time
Boonie Packer Safari-Tac Sling Specs
Points

2

Material

Webbing

Width

2 in
Boonie Packer Safari-Tac Sling Review
The Boonie Packer Safari Sling is an affordable sling design, and by the name, it's easy to guess what the purpose is. It's a hunting sling! Specifically, a sling is designed to allow you to carry your weapon in a quasi-ready position while moving through the brush. It's quick and easy to snap from your binoculars to your rifle for a quick and easy shot.
This sling attaches to a traditional buttstock in a rather neat way. It allows the gun to be carried in a tactical manner without having to deal with the traditional rifle sling swivel. The mounting method makes it easy for the rifle to stay flat against your body and comfortable to carry. Like a modern tactical sling, you get a slider to allow for easy adjustments.
It's not exactly a quick-adjust design, but it doesn't require you to remove the sling from the rifle. The Safari Sling works with all manner of traditional rifles and even shotguns. This provides you with a simple but versatile hunting sling that won't break the bank either.
Boonie Packer Safari-Tac Sling Pros and Cons
Easy to Adjust
Hands-Free Hunting Option
Affordable
Limited In Rifle Compatibility
Best Rifle Slings – Buyers Guide
Slings do lots and lots of stuff. Here we have both a buyers guide to help you choose the right sling features for you along with a users guide to explain how to properly use and size your sling.
The Points of Slings
We've covered the figurative point of slings, but what about the literal point? When we talk about slings, you'll often hear things like 2 points, 1 point, etc. Let's break down those points and what they mean. Let's dig into the point of slings. The term point often is utilized to describe how the sling connects to the gun and the user.
One Point Sling (Single Point) – A one-point sling is one big loop, and it connects to a single point on a sling. They have slowly fallen out of favor but are still handy in some niche situations. In and out of vehicles, they are quite nice to have. They also allow for a ton of freedom of movement. However, they don't offer much support when carrying the weapon. The weapon can swing around if you are hands off (no longer holding the weapon in your hands and using your hands for other tasks). Additionally, they don't offer any tension support for aiming your rifle. One-point slings do work best with short carbines and subguns.
Two Point Sling – A two-point sling is the OG of slings. They've been the standard since the very beginning. A two-point sling attaches to the front and rear of the gun, often near the barrel and at the stock. These slings are versatile and popular in the market, available in modern tactical designs or the classic leather strap used in hunting rifles. Two-point slings are quite popular and are the most popular sling currently on the market.
Three Point Slint – Three points were all the rage a few decades ago in the tactical world. A three-point attaches to two points on the rifle, and then a third strap connects to the user. They were famed for the support they provided, but have fallen out of favor due to the tactical two points. Three points tend to be a mess of straps and a bit more complicated than they need to be. The modern world does not look upon them favorably for that reason. I hated having a three-point on my M16A4 and was so excited to see the Blue Force gear sling take over the Marine Corps.
Packing Heat
When choosing a sling, you have to take into account a few factors.
Length – First and foremost, the length of the sling in comparison to your body and weapon. A sling that fits an AR-15 carbine might not work well with a great big precision rifle.
Sling Hardware – Additionally, you'll want to examine what hardware you need to attach the sling to your rifle. Most use simple sling swivels, and modern rifles and rail systems allow for QD ports if desired. Other guns, like the AK, may benefit from loop-style attachments. The famed HK hoops are another popular way to attach a sling. Your sling and weapon need to gel well with how you plan to attach it.
Users Guide – How To Wear A Sling – Tactical Style
Let's talk about how to set your rifle sling up for success. Having a sling is just one part of the battle. Knowing how to set it up is the second part. With that said, there are lots of ways to set slings up. This is just the way I've found most successful.
Let's divide the sling and rifle into front and rear portions. The front portion of the sling attaches to the front portion of the rifle. How far forward matters to you, the shooter. When mounted closer to the receiver, it is easier to use in and out of vehicles and tight-fitting locations. However, if your sling has quick-adjust control, the mechanism can be awkwardly located on the sling.
My favorite position is right behind where my support hand sits on the rifle. This keeps the sling out of the way but is still easy to reach.
When we get to the rear of the stock, we have to examine where you mount the rear portion of the sling. With most modern rifles, this means either on the stock or on a point in front of the stock at the rear of the receiver.
Mounting it closer to the rear of the receiver makes it easier to use in and out of vehicles, as well as around barriers. Swapping your rifle from shoulder to shoulder also is easier with this setup.
I attach my sling to the stock of my rifle. I find this maximizes my ability to use the stock as a supportive shooting aid. Attach the rear portion of the sling to the dominant-hand side of the stock. This seems odd, but it has a purpose. With the sling mounted to this side of the rifle, you can easily swap shoulders without getting choked out by the sling.
Outside of mounting the sling, it needs to be sized for the user. When sized, you need to account for a plate carrier or a chest rig in your sizing. Those can add inches to your body. Heck, you might even need to account for warming layers.
If you have a quick-adjust sling, run it as loose as possible for sizing. With it loose, throw it over your body and observe where it sits. We want to adjust the sling until it sits right over your chest at approximately mid-chest height with the quick adjust selector running loose.
When we make adjustments, you want to make them from the rear first. Adjust the rear portion to tighten or loosen the design. If you run out of adjustment in the rear, you can adjust the front. The reason we avoid adjusting the front is to give the quick-adjust device as much space as possible to adjust.
Once properly sized, the sling should sit at your chest level and easily move into your shoulder. At the same time, there should be some tension when shouldered. When you tighten the quick-adjust device, the gun should be tight against the body for a truly hands-free experience.
Slung Out
Slings are one of the most affordable accessories on the rifle accessory market. It's quite nice to have and can be a multi-purpose tool for your rifle. Like most things guns these days, there are options for everyone. Hopefully, we've provided a diverse selection of slings that provided you with an excellent sling option for your specific purpose. I also hope that we've helped you learn how to wear it.