FN 509 LS Edge Review: Taking the 509 Series to The Next Level
The latest handgun from Fabrique Nationale stretches things out a bit. The FN 509 LS Edge takes the FN 509 series to a different level. Today we are taking the gun for a run and seeing if it lives up to the FN name.
509 LS Edge Specs
Caliber

9mm

Operation

Double-Action

Mag Capacity

10 Or 17 Rd

Weight

31 Oz.

Barrel Length

5″

Overall Length

8.2″

Twist Rate

1:10″ Rh

Height

5.9″

Width

1.35″

Trigger Pull

4.5 Lb. – 6.7 Lb.

Sight Radius

6.7″
Humble Beginnings
FN makes a ton of small arms for the United States military. I carried an FN-produced M16A4 and M240 as a Marine, and FN's firearms dominate military armories. It wasn't a big surprise to see that FN decided to toss an entry in the Army's modular handgun contest. FN didn't win, but we did, and FN made the wise move to make the FN 509 their flagship handgun.
The Army didn't choose the FN 509, but it didn't get abandoned entirely. Brinks, the armored car company, selected the FN 509. Recently, the LAPD also chose the 509. It's not without a home by any means. 
What exactly is the FN 509? Well, it's a striker-fired, polymer-frame pistol chambered in 9×19. Predictably, it uses a double-stack magazine and gives users a capacity of 17 rounds in a flush-fitting magazine. Various capacity magazines exist, including California-approved 10 rounders and tactical 24 rounders. 
The FN 509 proved popular enough and evolved over time to produce various models.
I'd imagine the gun's overall design was made to be modular and easy to switch up on the fly. It might not have the FCU of the P320, but that doesn't mean you only get one flavor of FN 509. FN's done a fantastic job of producing various models at various price points
This includes compact, tactical, and now the FN LS Edge variants. LS stands for Long Slide, and the barrel length reaches 5 inches. Edge can stand for bleeding edge, which is an accurate way to describe the weapon. Sure, we get the long slide, but we get so much more than that.
The LS Edge comes optic ready, with the fancy two-tone finish, and it comes with a variety of favorable features found on modern handguns. FN took the 509 series to the moon with the LS Edge. The design pushes the pistol away from concealed carry and more towards the competitive market. 
Although, the idea that the LS Edge couldn't be used for home defense or duty is silly. Neither of those duties has a concealment need. It's a big gun, and if you like big guns, the LS Edge might be a rock-solid go-to for a variety of roles.
FN 509 LS Edge Features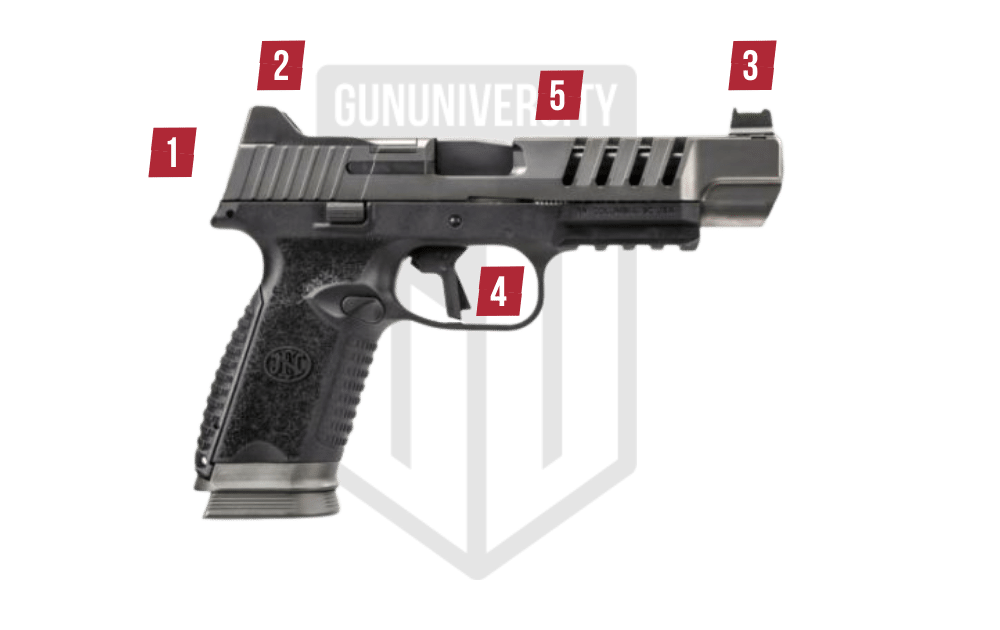 2
Suppressor Height Sights 
FN LS Edge Review – Our Take
The LS Edge comes with an optics mounting system that mixes a variety of plates and screws and more to allow you to mount all your favorite handgun optics. Dozens of pistol optics are covered. FN takes optics ready to a new level with the addition of actual suppressor height iron sights. Why suppressor height sights aren't standard on all supposed "optics ready" handguns is beyond me.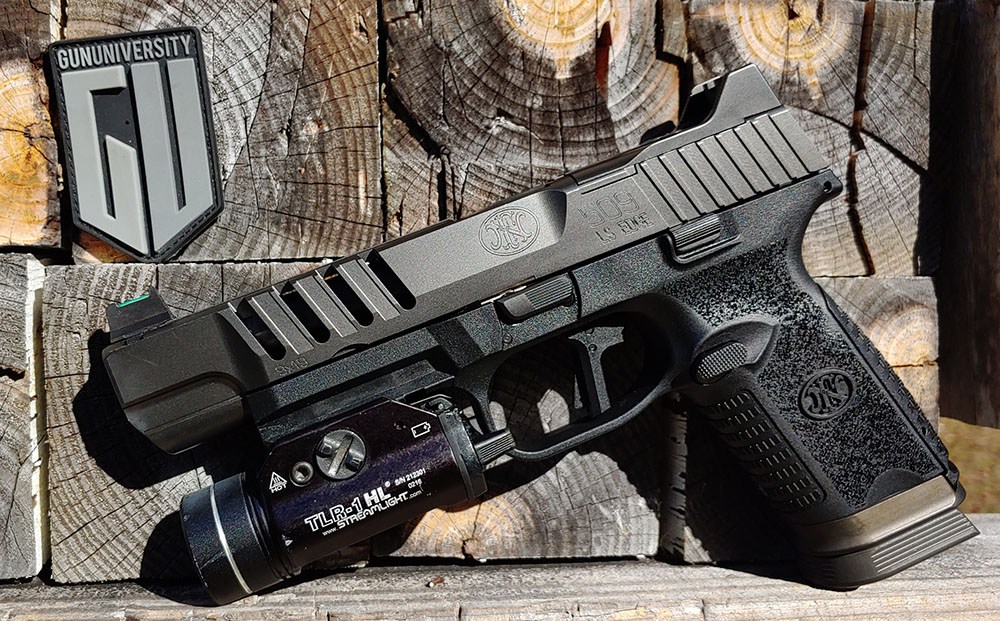 The included iron sights are all kinds of sweet and perfect for this pistol. Our front sight packs a high visibility green insert that's quick for the eyes to see and well suited for long-range accuracy. A big benefit of a long slide is a longer sight radius, which makes the weapon easier to shoot accurately.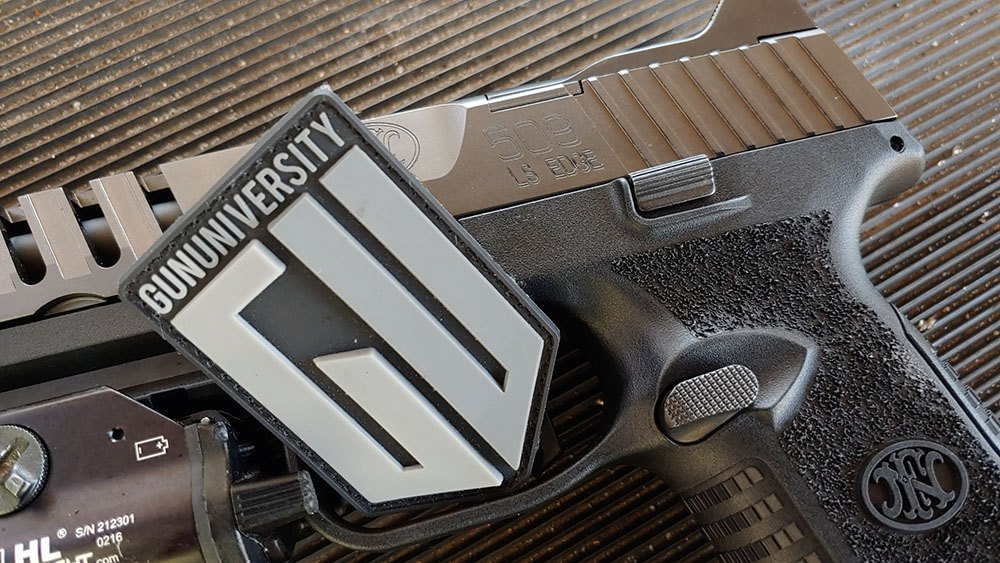 A thin front sight makes it easy to see a target at longer ranges. The all-black rear sights offer awesome contrast to the high vis front sight. Those tall rear sights are also protected by a set of metal 'wings' that allow the weapon to be racked on a belt, table, or whatever without damaging the tall rear sights.
FN packed the gun with a flat-faced trigger that breaks cleanly at 90 degrees. It's a light and short trigger pull with a little take-up then a solid little break. A good trigger combined with good sights and a long sight radius makes the weapon very easy to shoot accurately. Oh, and I forgot to mention that the barrel is a target-crowned, hammer-forged barrel.
At 50 yards, I had more dings than not on a steel gong. Within 25 yards, it felt like it was harder to miss than hit. Putting round between a Fred 3D's eyes wasn't a challenge at 7, 10, or 15 yards by any means. Neither was hitting eight playing cards in 7 seconds, at ten yards. 
That long slide the LS Edge packs helps with some recoil and muzzle rise. FN used several strategic cuts to lighten the slide. A lighter slide reduced felt recoil by reducing the reciprocating mass of the slide. Those slide cuts also help better balance the gun. A lot of long slide firearms feel front-heavy, but the LS Edge feels remarkably balanced. Recoil is very controllable, and the gun's full size, aggressively textured grip certainly helps.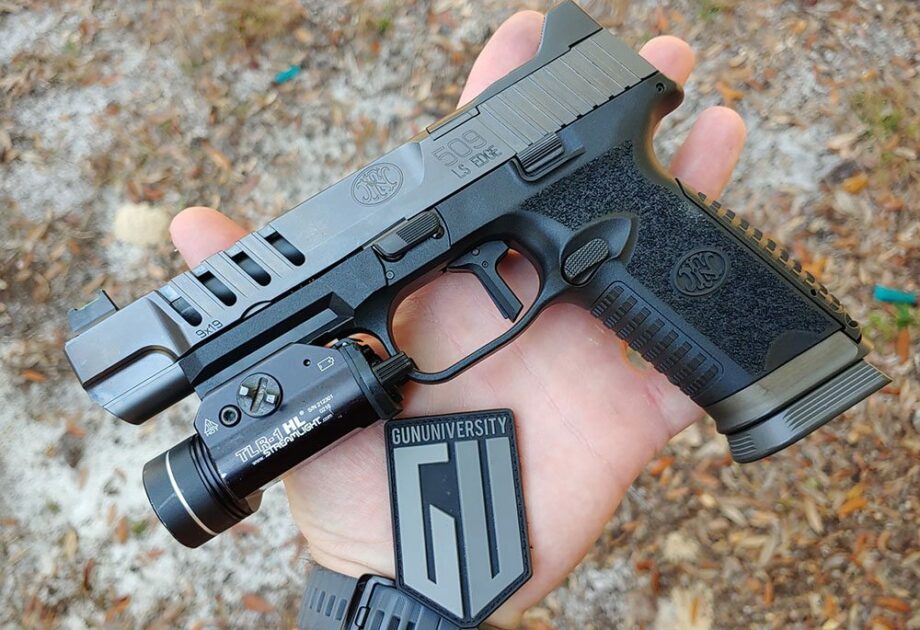 The grip comes with interchangeable palm swells to fit the grip to your hand. A small beavertail allows for a high grip, but the trigger guard keeps you from getting any higher. I don't see a lot of room to thin it out for a better undercut, either.
FN graced the pistol with a few awesome ergonomic upgrades. A set of oversized, ambidextrous slide stops are nice. The magazine release is massive and textured, and when that's paired with the integrated magwell, your reloads can be quite fast.
I rather enjoyed the intuitive and rapid reload. Sometimes features help boost your confidence in the weapon, and I felt that way running reload drills. The mag went where I wanted it, right when I wanted it to.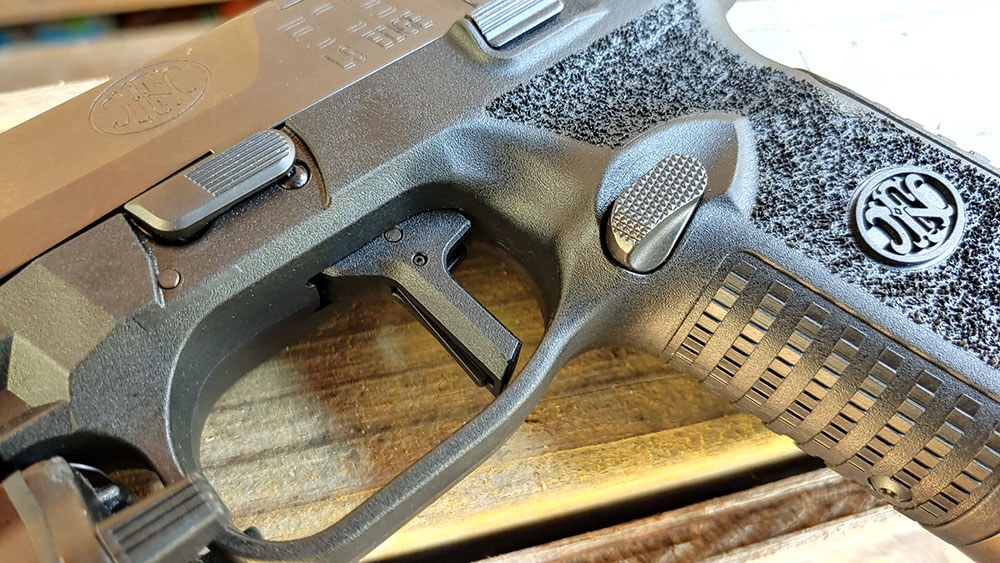 I typically prefer a wide variety of ammunition to test reliability. Times being what they've been, limited me to several hundred 115 and 147-grain brass-cased FMJs, and 20 rounds of 124 SIG JHPs. The LS Edge took no issue with my ammo selection and blasted its way through over 400 rounds of ammo without issue. Heck, the mags even held up to sand exposure from so many reloads. 
Shooting the FN 509 LS Edge is a breeze. It doesn't buck with recoil, the sights are easy to use at any range, and the gun packs a wallop speed-wise. FN put a lot of thought into the gun, and it very clearly shows. The weapon's remarkably balanced, reliable, accurate, and it's a lot of fun to shoot. I felt so capable with the LS Edge I thought it's not that big. I can totally conceal carry it.
With the Phlster Floodlight, it might just be possible.
LS Edge Pros and Cons
Extremely Accurate
Optics system is Low Profile 
Great Trigger 
Well Balanced 
Easy to track sights 
I would prefer an even higher grip
Expensive 
Report Card

Shootability

The LS Edge offers an awesome shooting experience free from the constraints of poor ergonomics. Recoil and muzzle rise is low, the gun's grip is comfy, and it's super easy to control. Tracking sights with the long slide is easy, and the gun is even well balanced. 

A

Reliability

The FN LS Edge ate everything without complaint. The gun worked well, even when the magazines ate a healthy amount of sand during reload drills. No complaints whatsoever. 

A+

Ergonomics

It's almost perfect. My main complaint is that I feel like a higher grip would be better for control purposes. Give me a bend and buck to that trigger guard, and let me get my hand nice and high. 

B

Accuracy

Oh boy, hell yeah, this thing is accurate. It's one of the most accurate pistols I've ever handled, and the combination of great sights, a long sight radius, a great trigger, and a match-grade barrel make it super easy to shoot. 

A+

Value

Oh, boy, with an MSRP nearing $1,500 bucks, this is not a cheap gun. The price at most gun shops seems to be around 1,299ish, so still, not much better. That being the gun is featured filled and does offer you a top-notch experience.  

C

Our Grade
A-
Reviewed by Travis Pike
Reader's Grade
A-
Based on 9 Reviews
Your Grade
Do You Own This Handgun? Leave A Review
Success Your Grade Has Been
Added To Our Reader's Score
We use email to verify the accuracy of our reviews. We promise to never spam you.
FN 509 LS Edge Gun Deals
FN 509 LS Edge Ammo
FN 509 LS Edge Starter Pack
So what's next? Well, if you decide to get the FN 509 LS Edge, you're going to need to pick up some must-have basics. Here's our recommendation for what you need to get started.
Gun Cleaning Kit: Otis All Caliber Elite Range Box on Amazon or build your own personalized cleaning kit with premium components.
Shooting Glasses: All it takes is one piece of rogue hot brass, and you'll learn the importance of shooting glasses. But not all glasses are built the same. See our recommendations for the Best Shooting Glasses.
Hearing Protection: Firing a gun without wearing proper ear pro can be very dangerous and detrimental to your hearing. Find out the best hearing protection for you in our full length review.
Storage: Check our our article on the Best Biometric Gun Safes
Targets – If you're wanting a great resource for shooting practice or zeroing your optics on your optics rifle or pistol, download our FREE Sighting in Targets below.
With the basics outta the way, let's jump into some cool accessories you might want to consider when purchasing your Edge!
FN 509 LS Edge Upgrades and Accessories
There's a bunch of different options available to accessorize the FN 509 LS Edge. However, if we had to choose only a few options… Here's our picks.
FN 509 LS Edge Accessories
White LED produces 500 lumens
IPX7 Waterproof
Low Profile

Check Amazon

Reliable Biometric Scanner
Sturdy and Well Built
Cheaper Than Most Biometrics

Check Amazon

Great In-Ear option
Custom molded – super easy and comfortable
NRR: 31

Check Amazon

17-Round Magazine
Nitride-finished steel body
Removable polymer floor plate

Check Price
HOW TO CARE FOR YOUR FN 509 LS Edge
Not only do you need to keep your firearms safe and secure, you're also going to need to know how to take care of it. While scouring the internet, we came across this excellent video;.
Important Links And Manuals For Your FN 509 LS Edge
For more info regarding the FN 509 LS Edge, check out the following resources: