Best Single Stack 9mm Pistols [2021]: Great CCW Options
What goes better than cookies and milk?
9mm and concealed carry guns. Specifically single stack guns. Single stack 9mms are so popular they have their own category outside of the standard full size, compact, and subcompact dichotomy.
There are tons of great single-stack 9mms out there, and they dominate the market. Why are single stack 9mms so popular? What are the best single stack 9mms?
Both good questions, and both we plan to answer today.
WHY A SINGLE STACK?
Single stack 9mms are immensely popular for concealed carry due to their size. The smaller a gun is, the easier it is to carry comfortably and the easier it to conceal. Small, lightweight handguns don't tug on your belt, sag in your pants, or cause you to constantly adjust your belt and pants.
The thin design also makes these guns less bulky. Single stack 9mms don't stick out or cause serious bulges when hidden under a t-shirt. People of nearly any size can carry a 9mm single stick conveniently and comfortably.
Speaking of different sized shooters, single stack 9mms offer superior ergonomics for most shooters. The thin grip that envelopes the thin magazine makes it easy to fit into most shooter's hands. Even shooters with big hands will often experience a more comfortable grip when it's thinner.
These are the big whys when it comes to why a single stack is such a popular choice, but let's dig into what the best single stacks are.
THE BEST SINGLE STACK 9MM PISTOLS BY CATEGORY
Best Single Stack 9mm Pistols
Best Single Stack 9mm Spec Comparison
GLOCK 48 RAIL REVIEW
The Glock 48 rail is a unique single stack firearm. Instead of being an ultra-small, near pocket pistol sized weapon, the Glock 48 is roughly the same size as the Glock 19.
However, the Glock 48 is much thinner and lighter. Therefore it's easier to carry and easy to shoot.
The Glock 48 rail fills the hand and gives you maximum control over the gun. The pistol is an excellent compromise between size and combat potential.
The longer slide gives you a longer sight radius for more accurate shooting, and the extra Length also helps mitigate muzzle rise and blast.
The Glock 48 was already an excellent firearm. It was reliable, comfortable to shoot, and available with a 10 round factory single stack magazine.
The rail version is made even better.
The rail allows for the attachment of a weapon light like the new Surefire XSC. Additionally, Glock added cuts to accommodate Shield RMSc pattern optics. This is by far the most modern single-stack option on the market.
GLOCK 48 RAIL PROS AND CONS
S&W SHIELD EZ 9MM REVIEW
Do you have weaker hands? Issues racking the slide or loading a magazine? Well, if so, then the S&W Shield EZ 9mm might be for you.
The S&W EZ series is specifically designed to address the problems people with weaker hands have with automatic handguns.
S&W built this gun to be insanely easy to handle.
The slide features small wings, aggressive serrations, and an ultra-easy to rack slide. It glides rearward with almost no effort.
The original Shield requires 23 pounds of force to operate the slide, and the EZ series is only 13 pounds of force.
The Shield EZ is not the smallest gun, but the size also makes it lighter recoiling and easier to handle.
The Shield gives you eight rounds of 9mm in an easy to load magazine. The magazine has two nubs that can be pulled downwards to make loading each round much easier.
This means no more squeezing in rounds one at a time and fighting the spring the entire time. The EZ 9 is an easy shooting gun perfect for those with arthritis, weak hands, or other impediments.
S&W SHIELD EZ 9MM PROS AND CONS
WALTHER PPS M2 REVIEW
How can your gun be wrong if James Bond carries it? Bond carries a PPS, at least in the novels, and Walther's little 9mm single stack is quite popular.
The Walther PPS M2 is the latest and greatest in the PPS family and is an excellent choice for concealed carry. What I appreciate most about the PPS series is the various magazines available for the gun.
The PPS M2 can accommodate 6, 7, and 8 round magazines.
The 6 round offers a flush-fitting magazine to reduce the gun's size as much as possible.
The 7 and 8 round magazines offer slightly longer grips for improved control and capacity. These various magazine sizes allow you to tailor the size of the gun to your hand, your personal situation, and your means of concealed carry.
It can be pocket carried with the six-round magazine, or OWB carried with an 8 round magazine for maximum ammunition and control. Another option the Walther PPS M2 offers is an optically enhanced model that comes from the factory fitted with a Shield RMSc sight.
The Walther PPS M2 is an outstanding carry gun that's thin, ultra-lightweight, and modular for various carry situations.
WALTHER PPS M2 PROS AND CONS
SIG P938 REVIEW
The SIG P938 is a micro-compact, single action only quasi 1911 pistol designed for deep concealment. This is an ultra-small pistol that is fascinatingly small but ultra controllable.
Most guns this size slap and buck in hand, but the SIG 938 finds a way to be a very soft shooter for such a small gun.
The key to the gun's success is the all-metal frame and the increased weight that frame adds. Unloaded the gun weighs 16 ounces. That's not heavy in the grand scheme of things, but for a gun this it's quite hefty.
The weaker 380 ACP LCP weighs a mere 9.6 ounces and smacks like a little monster. The SIG 938 doesn't deliver the sting, well, at least at the end you're holding.
The 938 has an outstanding single-action trigger that makes it very easy to shoot and handle. The little gun is surprisingly easy to shoot accurately and is outfitted with a proper set of sights to make it easy to aim. If you're vain, the gun even comes in various colors and features.
SIG P938 PROS AND CONS
S&W SHIELD REVIEW
The S&W Shield is one of the old school single stack 9mm handguns. It premiered to great applause well before the single stack 9mm became a category of firearms. The Shield is a little chunkier than most but is still an awesome carry gun that's been serving concealed carriers for almost a decade.
Price-wise, the S&W is a name brand pistol with an MSRP of a mere $385 dollars. Guns rarely sell for MSRP, and I've seen the Shield sell for less than $250.
The S&W Shield is a budget pistol, but that doesn't grant budget performance. The gun keeps up every other single stack 9mm regardless of its price.
The S&W Shield holds seven rounds of 9mm, comes with two magazines, and is ready out of the box for concealed carry.
Because the gun has been popular for so long, the aftermarket is absolutely massive and filled with quality holsters, aftermarket triggers, magazines, and more.
S&W SHIELD PROS AND CONS
BERETTA APX CARRY REVIEW
The Beretta APX Carry is the best single stack 9mm for pocket carry because of its small size and lightweight design.
The SIG 938 could take this role, but the single-action hammer pokes and prods while in the pocket. The APX is a superbly smooth gun that doesn't dig into your body when pocket carried. The APX is ultra-thin at less than an inch thick; it's only 4.17 inches in height.
The APX Carry slides in and out of your pocket without issue, and with the 6 round magazine, the gun is incredibly small and convenient to carry.
If six rounds aren't enough for you, then the additional 8 round magazine gives you a longer grip and more ammo.
The APX Carry features a very ergonomic grip that conforms to your hand and provides you with an aggressive grip texture to keep the gun locked into your hand.
The distinct slide serrations make the slide easy to manipulate with both its forward and rear serrations. The trigger is a single action striker-fired design with a short trigger pull with a nice and tactile reset. The APX Carry is an outstanding firearm and is perfect for pocket carry.
BERETTA APX CARRY PROS AND CONS
SIG P239 REVIEW
This is my wildcard choice for a few reasons. First, it's no longer produced; second, it's a heckuva lot different than any other single stack on this list. The P239 is a compact firearm but compared to most guns on this list, and the P239 is a giant, heavy beast.
At 25.2 ounces, the SIG P239 is a big gun to only hold eight rounds.
Admittedly the gun is big and heavy but is somewhat thin, at least thinner than a doublestack. The P239 is an old school carry pistol. So why did I include this old warhorse?
Because it's a very easy shooting gun, it's soft shooting, comfortable to grip, and extremely accurate. The DA/SA trigger design is my favorite and offers a first long trigger pull, followed by short and light trigger pulls. The P239 is an excellent gun, and if you can find one on the used market, it makes a large but very easy to shoot single stack 9mm.
SIG P239 PROS AND CONS
BEST SINGLE STACK 9MM PISTOL BUYERS GUIDE
Are you looking to get the most out of your new single stack 9mm? If so, you should know what to look for. Choosing the best pistol for you can be difficult. Hopefully, we can help make that decision a bit easier.
FOR NEW GUN BUYERS
If this is your first gun or perhaps just your first 9mm handgun, then there are definitely some things you should also consider so as to not only get the most out of your gun but keep it safe and those around you.
Extra Magazines: Most of these guns are going to come with one or two magazines, but you'll quickly find that these just aren't enough. Unless you like spending most of your time reloading instead of actually shooting, the cool thing is that in several cases, you'll be able to find extended magazines for your new 9mm. Just be sure that they're legal to have in your state. Some states actually limit your gun's capacity, so be wary.
Gun Cleaning Kit: Responsibly owning a 9mm pistol also includes knowing how to care for it. And that means breaking it down, cleaning it, and reassembly. You'll need to ensure you pick up a top-notch cleaning kit so you can ensure you get all the gunk out of places gunk doesn't need to be. We recommend the Gloryfire Universal Cleaning Kit on Amazon.
Shooting Glasses: If you've never shot a gun before, then you may not be aware of the reasons why you'd need safety glasses. But all it takes is one piece of hot brass in your eye, and 5you could be looking at serious injury. Check out our article on the Best Shooting Glasses to determine the right fit for you.
Hearing Protection: It's pretty obvious, but…guns go bang. And it doesn't take much to start causing hearing damage. Protect your ears and hearing by picking up some premium ear pro. There are many different great options available too. Find out the best for you in our Best Shooting Hearing Protection review.
Storage: Finally, if you're going to be a safe gun owner, you're going to want to properly store your pistol. Leaving it out and about where anyone can just snatch it up isn't an option. We recommend the Vaultek Lifepod on Amazon. It's a great safe that's dustproof, airtight, and even waterproof. The Lifepod even floats if accidentally spilled overboard!
BEST AMMO FOR NEW GUN BUYERS
What's the first thing you want to do when you purchase a firearm? Shoot it, obviously! So you'll need ammo, and quality ammo is the best route to take. Good quality ammunition ensures proper reliability, keeps damage down, and doesn't risk an exploding cartridge.
For a self-defense firearm, you'll want to purchase two types of ammunition—one for practice and one for self-defense.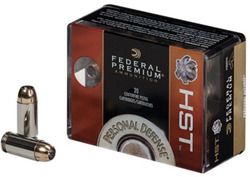 Federal 124 Grain HST
The Federal 124 grain HST loads are one of the most trusted self-defense loads out there. It's the ammo chosen by dozens of police agencies across the country, and for a good reason, it works. The Federal HST loads shoot straight, feature expansive jacketed hollow point projectiles, and function reliably in all conditions.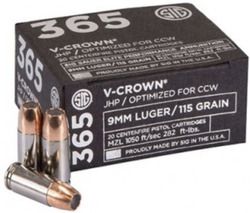 Reduced Recoil – SIG P365 115 Grain JHPs
SIG Ammo has exploded in popularity, and their self-defense ammunition is premium grade stuff. It's superbly accurate, easy to shoot, and this 365 variant is designed for short-barreled firearms. It's a light load with slightly reduced recoil and muzzle rise, as well as low flash powders for short barrels.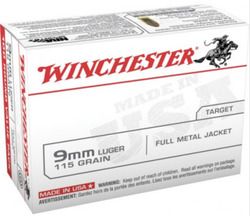 Winchester White Box 115 grain
This brass cased load is as simple as it gets. For practice ammo, simple is good. Simple is cheap, simple is reliable, and Winchester White Box can be found in any self-respecting sporting goods store.
WHY A 9MM SINGLE STACK?
We covered why a single stack is so great, and you stuck with us long enough that I'll let you know why a 9mm single stack is the perfect choice for concealed carry.
The first reason is that smaller guns are harder to shoot than bigger guns. That's just how it is. However, we can make shooting smaller guns easier by utilizing the right caliber. 9mm just so happens to work perfectly and offer projectile options that work well with small, single-stack 9mm handguns.
9mm comes in projectile weights, and velocities that range from 90 grain reduced recoil loads to 147-grain loads, to the fast and powerful 124-grain +P loads. Each offers a different level of recoil, and you can choose the right combination of power and recoil management that's perfect for you. The 9mm round offers excellent and competent ballistics with minimal recoil.
Ballistically 9mm performs very well from short barrels, even with lighter 115-grain rounds. It penetrates deep enough to stop a threat, and with proper jacketed hollow points, the round can expand enough to create significant distress in the body.
When it comes to capacity, the 9mm is also a great compromise. Single stack means capacity is typically going to be on the tight side. With the 9mm round, you can typically squeeze in one extra round over 40 S&W or 357 SIG.
The 380 ACP and 9mm often have the same capacities, but the 9mm has a little more oomph than the 380 ACP, as well as better defensive options.
THE DOWN AND DIRTY ON SINGLE STACKS
Now there are some things you need to be aware of before you jump into the world of single-stack 9mms. I hesitate to call them downsides because they are not necessarily bad things. They are just things to be aware of.
Single stack 9mms are mostly small guns; very few reach beyond that, with the exception of guns like the Glock 48 and P239; this entire list is made up of tiny carry guns. Smaller guns can be harder to shoot due to their shorter sight radius, increase in recoil and muzzle rise, and shorter grips.
The thin grips and lightweight can cause the gun to give you a good little smack. Imagine an intense high five when the gun is fired. This isn't universal but is more common with small, single-stack guns. Thin grips are comfortable, but they displace force in the form of recoil in a more focused manner. Wider grips spread recoil throughout the hand, and thin grips focus the recoil into one small area.
Without a doubt, small, single stack, 9mm guns require more training and practice to be fast and accurate. The investment is well worth the time to master the small gun.
LIMITED AMMO?
You may have noticed that I didn't list limited ammo. Ammo capacity is all relative. An FN Five-Seven with a 30 round seems like a lot, but to a machine gunner carrying 500 rounds, it's nothing. Different guns have different roles.
If you are carrying a small gun, you will have a decrease in ammunition capacity. More ammo is always nice to have, but having less isn't always a downside. Once you focus on the gun's size in relation to its capacity, you can determine if the ammunition capacity is efficient.
A 45 Colt Derringer is about the size of a single stack 9mm, but you only get two rounds. That's inefficient. A 9mm holding 7 to 10 rounds in an easily concealable package is an efficient design.
The overwhelming majority of defensive shootings never go beyond a few rounds fired before the fight is over. Can more rounds be fired? Yes. Has it happened? Yep. Does that mean a single stack 9mm makes you poorly armed?
Nope. Being poorly trained in using your single stack 9mm makes you poorly armed.
WHAT TO LOOK FOR IN A SINGLE STACK 9MM
If you are shopping beyond this list, you might be wondering about other guns not listed. Maybe you saw a screaming good deal on a different gun, and you're not sure if it's a good gun or not. That's fair, and to help you decide, I've added a few things I look for when shopping for single stack 9mms.
Magazine options are the first thing. Can you purchase additional magazines easily? If you can't find extra mags, you might be down a creek without a paddle should you break or lose one.
I would also ensure the gun's likely short grips fit your hands. The more of your hand that fits in your hand, the better you'll be able to control it. I hate a hanging pinky personally and prefer a nice full grip on my guns. Don't fret if, at first, the gun doesn't fit all three fingers.
Single stack guns often have varying magazine capacities that may offer you a little extra room to grip the gun. On top of that, magazines can be fitted with extended baseplates to provide a better grip on the gun with very minimal bulk. A Google search will show you companies like Pearce grip extensions make tons of low price options to make your gun a little easier to hold onto.
Reliability is a huge key in considering your handgun. Who makes the gun? Major companies like Glock, SIG, S&W, FN, CZ, and a few more all make extremely well-made guns designed to function reliably. New companies can do great things, but it's often a good idea to let others Beta test new guns.
Aftermarket support is another important factor in firearm selection. It's great that you got a new carry gun, but what if there is no holster for it? What if grip extensions aren't available? Research the aftermarket for the firearm and ensure you'll have access to good holsters, magazine accessories, magazine pouches, and heck, even mags.
Warranty, warranty, warranty is a huge factor in me purchasing a firearm. If the company stands behind the product, they'll have a warranty. If they don't have a good warranty or some kind of limited two-year deal, they don't stand behind their products.
OVER AND OUT
The single stack 9mm market is massive. It provides you with near-endless options for concealed carry firearms in the world's favorite caliber, 9mm. With such a big market, we knew we had to make it a little easier to navigate, and I hope you fine folks walk away knowing not only what the best single stack 9mms are but with a degree in single stackology.