POF Tombstone Review: A New Take on an Old Design
Tactical lever gun designs are on the rise and getting cooler all the time. Patriot Ordnance Factory has entered the game with their new Tombstone magazine-fed 9mm lever action carbine. We got our hands on a Tombstone and have been running it for a couple months now. How did it perform? Read on and find out in our POF Tombstone review.
POF Tombstone Specs
Caliber

9mm Luger

Action

Lever

Capacity

10 or 20

Barrel Length

16.5 in

Overall Length (Collapsed)

36 in

Weight

5.75 lbs

Sights

XS Ghost Ring

Optics Mount

Picatinny Rail

Stock

Magpul SGA

Safety

Cross Bolt
The Tactical Lever Gun Concept
Lever action rifles have been around for over 160 years. The design has yielded some of the most classic American firearms, like the Winchester 1873 and Marlin 336. Despite its age, several companies are still producing high-quality lever guns, and they seem as popular as ever. My primary deer rifle since 1978 has been a 1963 Marlin 336. Literally every deer I've ever taken has been with that rifle and I don't see that changing.
Lever guns are fast, reliable, and just plain fun. They also offer higher capacities than most bolt action rifles, and they are usually much quicker. Without much practice, a rifleman can operate a lever gun much faster than a bolt gun. Reloading can be a challenge, depending on the model, as can rifle caliber choice.
But lever guns are perfect for pistol calibers and options abound. The lever gun's handiness and speed are naturals for "tactical" exploitation, especially in states that deny their citizens full access to their firearm ownership rights. A carbine length lever gun, run properly, can be a formidable weapon in such situations.
But the traditional lever gun won't do for some folks. Many lever guns feature top ejection ports, limiting, or even eliminating scopes or optics. The walnut stocks and handguards aren't really accessory-friendly either. Finally, loading the tube magazines can be very slow, depending on the setup. Gunmakers are responding with polymer stocks, rails, and magazine fed options. The POF Tombstone is one of those.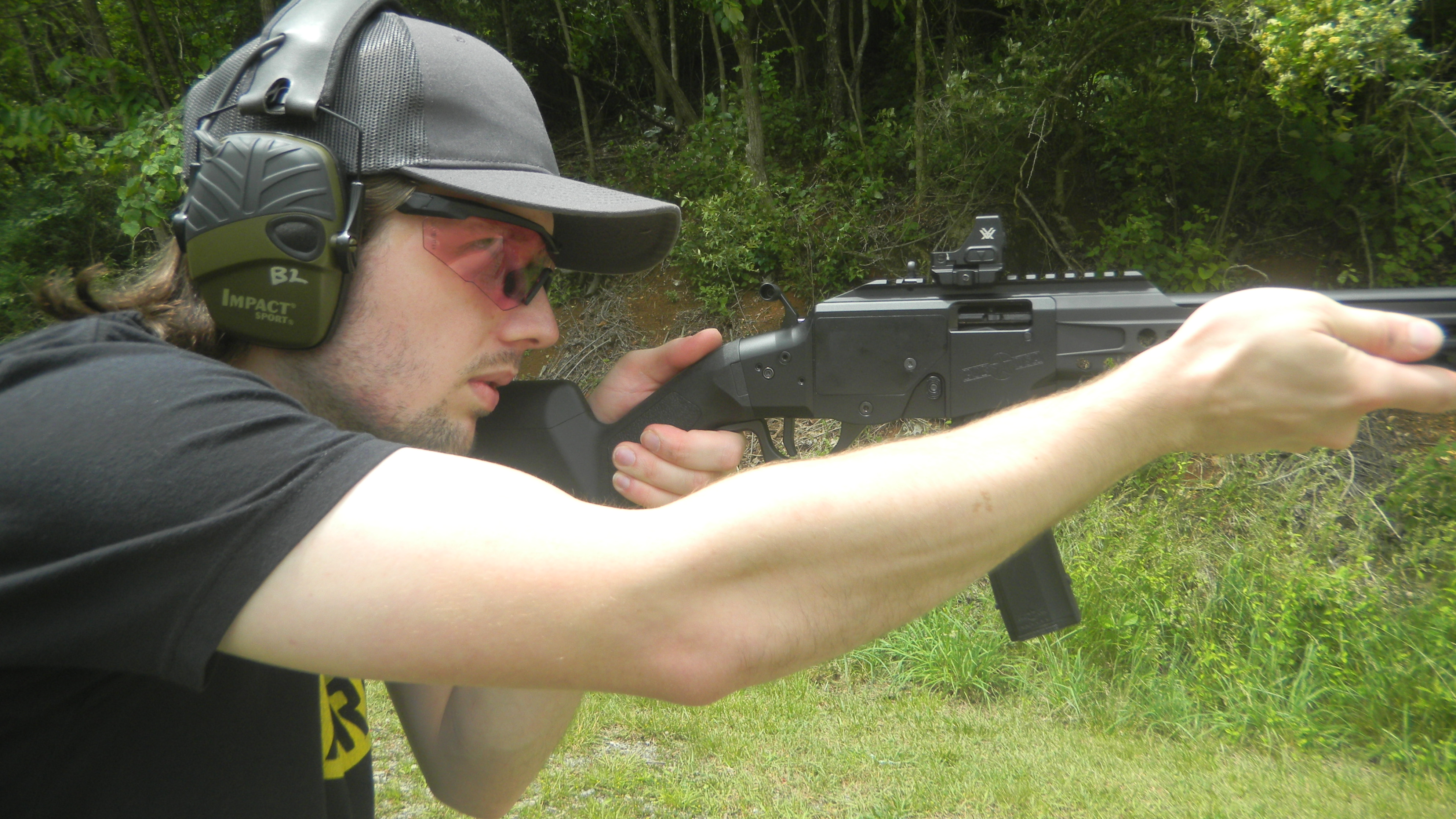 The concept is simple. Marry the speed and handiness of a lever gun with modern synthetic furniture, rails, and muzzle devices. Chamber the gun in a modern, popular, proven pistol caliber, and feed it with a 10 or 20-round magazine. The result is very cool indeed, and the Tombstone may herald a significant trend in future lever gun manufacturing.
Before reviewing the Tombstone, we should note that POF provided this rifle for review purposes. We do not get to keep it. We appreciate POF's generosity, but it did not influence our findings in any way.
POF Tombstone Features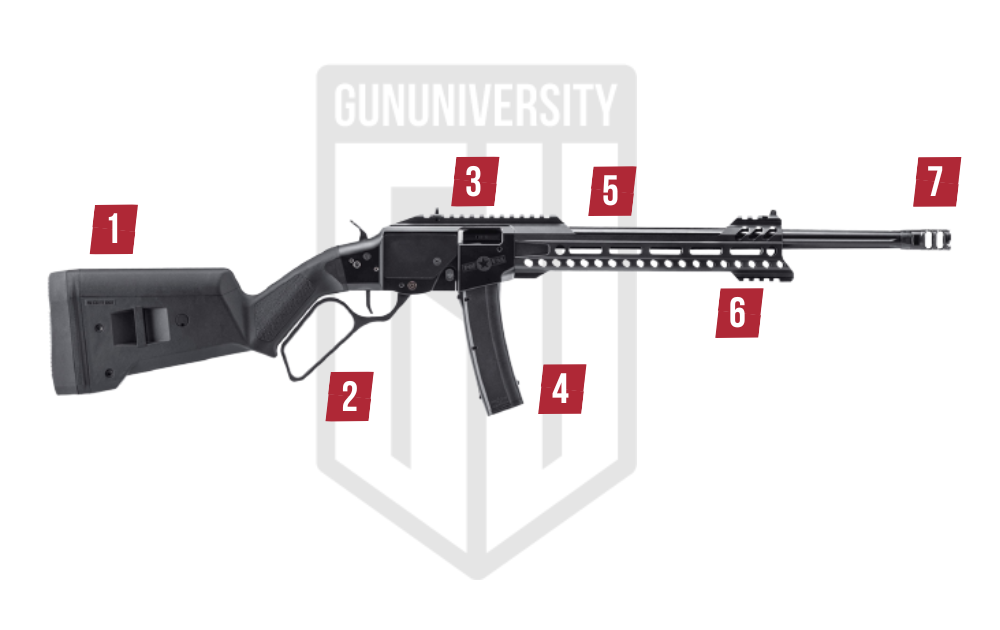 1
Stock
Magpul SGA 870 Stock
2
Lever
Short throw lever and half-cock capable hammer.
3
Picatinny Scope Mount
The receiver-mounted rail offers immediate scope or red dot capability, or you can just stick with the factory ghost ring sights.
4
Detachable Magazine
10 or 20-round magazine offers improved firepower and reloading speed over traditional lever action rifles.
5
Free Floating Barrel
The free-floating 16.5-inch barrel is fluted for reduced weight.
6
M-LOK Handguard
POF's Modular Receiver Rail offers many accessory options with M-LOK slots at the 3, 6, and 9 o'clock positions and short Picatinny rail sections at 12 and 6 o'clock.
7
Muzzle Brake
Removable dual port muzzle brake reduces recoil even more.
Models and Variations
POF also offers the Tombstone in Flat Dark Earth for an extra charge.
POF Tombstone Review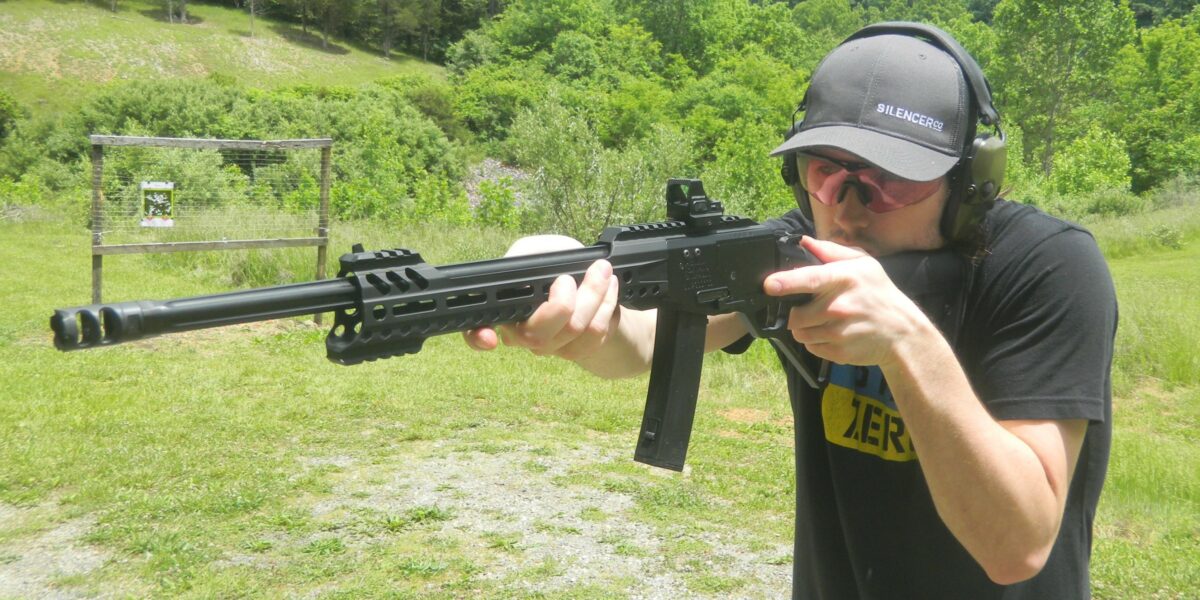 We've been running the Tombstone for several months now and we have a good handle on how it performs and what we can expect from the gun. Our example, anyway. While we love the concept (lever guns are our jam), and we love the setup with the stock, rails, barrel, etc., we are sorry to report that the Tombstone's performance did not measure up to the rest.
In our testing, we experienced multiple malfunctions from the beginning, mostly failures to load. We could mitigate that a bit as we learned the gun, but it was ever a problem and mitigate was the best we could do. We'll address all that below when we discuss reliability. But first…
Shootability
As we noted, the Tombstone is very light and handy and when it ran, we liked the shooting part. It comes on target swiftly and easily and it feels good. I keep saying "handy" because that's what it is. Honestly, in that regard, the gun reminds me of my M-1 Carbines, which is a good thing indeed.
We aren't big fans of ghost ring sights to begin with, but the XS Ghost Rings are fine for what they are, and the rear sight is adjustable for windage and elevation. They were perfectly adequate, but we quickly added a red dot. We had just picked up a Vortex Defender-CCW with a 3 MOA dot and slapped it right on. That improved things considerably, though we admit your mileage may vary if you like ghost ring sights.
We found the Tombstone to be very accurate. We ran close-range drills and took it out as far as 100 yards, both unsupported and from the bench. I'm not really a bench shooter, but I feel obligated for accuracy tests. Once we dialed in the optic, we had no trouble holding 1-2-inch groups up close and 3-4 inches at longer distances. The distance accuracy would likely have been better with a magnified optic, considering my eyes aren't what they used to be. We had no issues with accuracy and are confident that the Tombstone delivers in that category.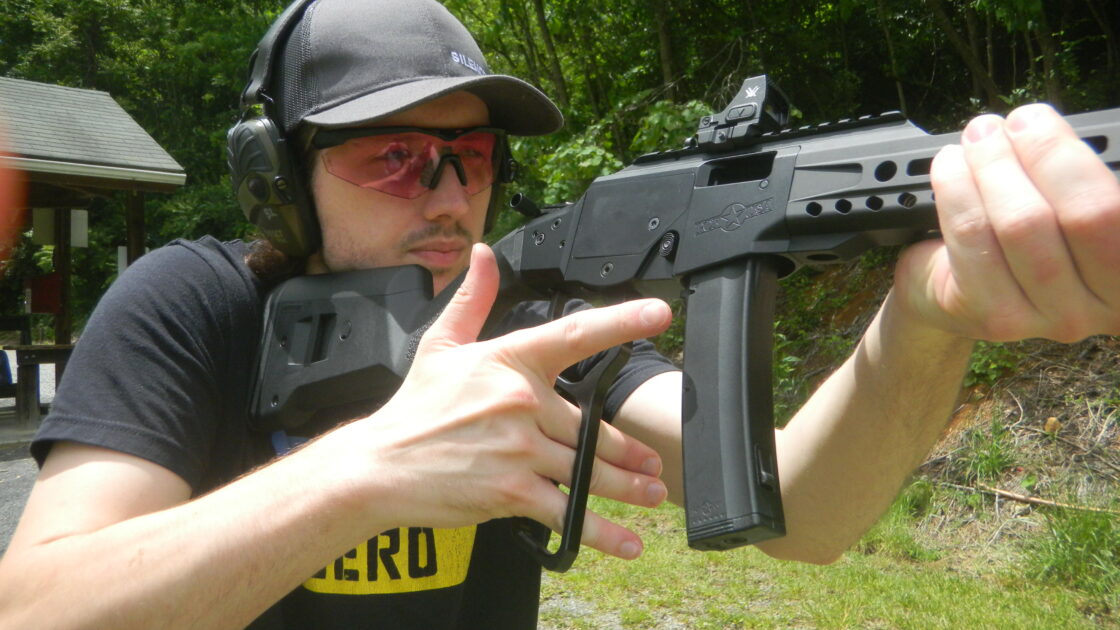 Despite all that good stuff, the lever seriously hampered the Tombstone's shootability itself. The lever is polymer, which is fine. I don't share some people's issues with polymer components, provided they work. The lever works, but MAN, is it unpleasant. Now, I realize that my vintage Marlin and a couple of Henrys have spoiled me, but the Tombstone's lever is just awful.
The throw is rough, and it feels like you have to force it along the entire way, up and back. I had several other people I trust run the action, and the verdict was unanimous. No one liked the action. I hoped it would smooth out a bit once it broke in, but it never did. It's as rough today as when I got it three months ago.
As cool as the Tombstone is, even if I got to keep it, I don't think I would shoot it much because the action makes it not fun. My fellow tester and I run lever guns a lot. We quickly went to gloves because the lever was beating up our knuckles. We commented that we were glad it doesn't have a longer throw. I really hate to report that, because I badly wanted to like this rifle, but a lever gun whose lever beats you to death is a problem, no matter how well-done the rest of it is.
Reliability
As we said before, our Tombstone had feeding issues from the start. We could ease those problems a little once we started learning the gun. For instance, we started off by inserting the magazine while the action was open. That almost invariably led to a failure to load (FTL) on the first round. We can't say whether that's a magazine issue or a gun issue.
The Tombstone uses POF's Phoenix mags, which have been around for a while, so you can decide. We only had the one mag that came with the gun to work with. Could it be that the mag doesn't work as well with the lever action Tombstone as with the semi-auto Phoenix? We don't know.
We learned that closing the action before inserting the mag usually fixed the problem with the first round. Perhaps the mag spring is still a bit strong. We can say that we needed the included mag loader to get the mag even close to its 20-round capacity, which we often loaded with only 18 rounds. At first, anyway. Which leads to the next issue.
We found that we had more FTLs when the mag had more than 9 or 10 rounds loaded. As we got it under 10 rounds, the problems eased, though they never vanished entirely. So, it sounds maybe like a magazine problem. But even then, we probably suffered a 10 to 20 percent malfunction rate. The owner's manual clearly states that short stroking the lever can lead to problems, which makes total sense. But the lever's short throw makes it hard to short stroke, especially for shooters who are used to full throw lever guns. We are certain that short stroking was not the issue with our gun.
The owner's manual advises to remove the mag before clearing the chamber for a malfunction. That, admittedly, took some getting used to for us. The natural reaction to an FTL is to open the action and clear it, which we did a lot.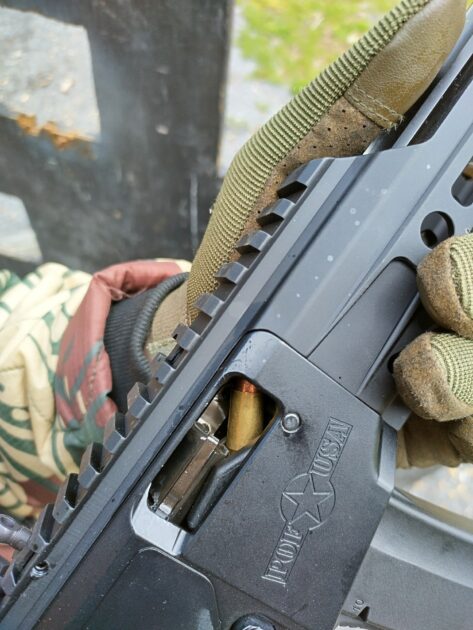 But we also learned why POF advised removing the mag first. Before developing that habit, we instinctively worked the action, which sometimes flipped the cartridges in the mag. We've included a photo of that phenomenon. It only happened when we had two or three cartridges still in the mag. We expect that particular problem was caused by our unfamiliarity with the dynamics of magazine-fed lever guns. Or this one, at least. But we're hesitant to blame that on the Tombstone. We'll take that one, while advising readers to be aware of it. But the fact remains that the FTL caused the problem in the first place.
We should note that we've run 400 rounds of 115 and 124-grain FMJ ammo through the Tombstone. Mostly 115. We ran a few hollow points too, but only about 20 rounds. The hollow points performed, reliability wise, about the same as the ball rounds. We used various brands, including Fiocchi, Federal American Eagle, CCI Blazer, Magtech, and Sellier & Bellot. We did not find that any one brand was more or less reliable than the others. POF notes that the Tombstone is not rated for +P+ ammo, and we were careful not to run the hot stuff.
Controls and Ergonomics
Other than the lever, which we've already discussed, POF did a great job here. The Tombstone comes up easily, points well, and is very comfortable. Controls are positive and easily reached. The trigger is nice, breaking cleanly at what POF says is 3.5 lbs. We believe that claim. Well done, POF. We also liked the ambidextrous AR-style mag release, even if we had to reach for it. That's just the nature of the gun needing space for the lever throw. POF executed it well.
We also liked the Magpul SGA 870 stock. It was light and comfortable, and we easily got our cheek welds for ghost ring and red dot sights. It has ambidextrous integral sling mounts, and we added a 2-point sling with no problem, using a QD swivel on the handguard.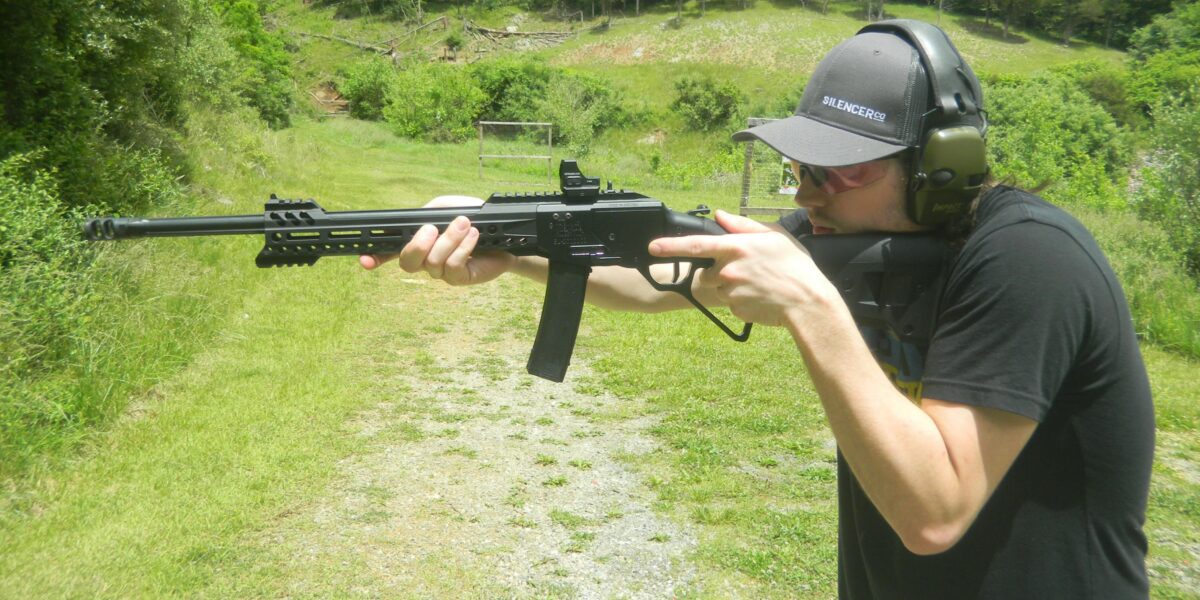 Speaking of the handguard, we both liked that as well. We ran a Streamlight Pro-Tac light on the Tombstone for a while with no trouble, and we still had plenty of hand space. I wondered if heat would be a problem, but it never was. Other than the lever and the too common FTLs, the Tombstone is really very comfortable and easy to run. We found the setup to be quite intuitive.
Despite the lever, we really liked the hammer. It features a long, textured extension that makes operation a breeze. We also like the half cock function. The hammer was smooth and tactile, and we think POF got it right.
But…we think part of the lever's roughness comes from how the bolt engages with the hammer. Not all of it, because even when the hammer is cocked, the lever is still rough. But not as rough. We are not engineers and cannot comment on design choices. But we can note what we observe as shooters. With every other lever gun we've owned or shot, the bolt engages the hammer firmly, cocking it when the action cycles. The Tombstone's bolt does not seem to do that. There's a rod-like extension that the bolt pushes back to cock the hammer. To us (non-engineers), it appears that the mass or surface area is insufficient for the hammer to engage smoothly. Maybe we're completely off-base. But that's what it seems like to us and has done the entire time we've run the Tombstone.
Finally, the Tombstone features a cross-bolt safety. Personally, I'm not a fan, being old school on lever guns. But I understand why they do it and am mostly neutral about it. It works fine if you choose to use it. I didn't, after making sure it functioned properly, which it did.
Let's Talk About Price and Value
We believe that the Tombstone's value is relative, based on where you might live. The gun retails for $1962.00. That's not MSRP. That's the actual cost. If you want the FDE version, you'll shell out $2097.00. Now, if you live in a state where you cannot purchase a suitable "tactical" rifle, that may appeal to you. If not, well, that looks awfully steep to us.
We also believe that a $2,000 gun should run like a top right out of the box. Our example of the Tombstone did not. And it doesn't seem to be breaking in, even after 400 rounds. Again, it's possible that the magazine is the problem. We can't say, as we ran the mag we had. We also feel that a gun at that price point should not be unpleasant to run. Unfortunately, the lever's roughness makes the Tombstone somewhat unpleasant.
We understand that POF is a smaller company, which usually means, understandably, somewhat higher prices. But we believe the execution should justify the price. We do not think the Tombstone does that.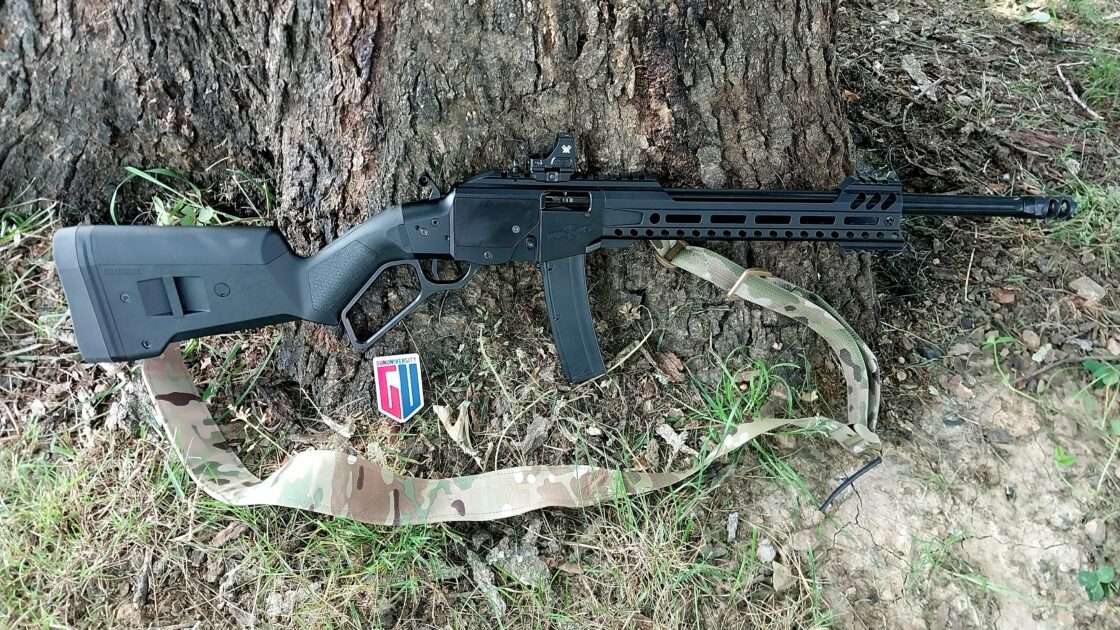 Update – Returned to POF for corrective action!
This review is critical of the Tombstone's action, and rightly so. But we spoke to the folks at
POF and they asked for a chance to make that gun right. We recognize that things sometimes
happen to even the best companies, so we agreed. That process is ongoing, and we will report
back. If it turns out that we had an anomalous firearm, we will address that as soon as we reach
that conclusion. If not, we will note that as well. We appreciate POF's wanting to make it right
POF Tombstone Pros and Cons
Aesthetics – A "tacticool" design that allows you to accessorize to your heart's content.
Tactical – A viable tactical concept, especially for those in anti-gun states.
Caliber – Chambered in a common, relatively inexpensive caliber.
Reliability – No matter how cool a gun is, if it doesn't run reliably, it becomes a liability. Again, it could be the mags, but POF seems to have some work to do.
Action – The action is noticeably unpleasant. Someone could probably smooth it out a little with some polishing in the right places, but should you have to do that to a $2K gun?
Expensive – It's cool, but it costs too much.
Report Card

Shootability

We gave the recoil, comfort, and ease of handling an "A." They totally deserve that. We gave the action a "D." That's the best we can do for an action that actually deters us from wanting to shoot the gun.

C+

Reliability

The number of failures to load was unacceptable. We do not believe it was us, since we ran the action "robustly," as recommended in the manual and we are experienced lever gun shooters. We did not assign a lower grade because we believe the Tombstone's problems might – might – stem from the magazine. But we have no way to confirm that, and POF's website touts those mags as "proven."

D

Ergonomics

The Henry just fits me. It shoulders naturally and the handguard is just enough to fill my hand. The trigger is good but, honestly, I never really noticed it beyond registering that it's good. Sometimes I just pick the Henry up because it feels good. I can't say that about every gun I own, or even most of them. I took off points for no sling attachments.

A+

Accuracy

I think the gun itself is as accurate as I need it to be. I expect it will be even better with an optic. The main reason for this grade is the buckhorn sights, which many people dislike. I'm fine with them, but I have trouble seeing them at times.

A

Value

Yes, this gun lists in the $1,000 range, though it may be had for a bit less. But that's where we are now. And you get an awful lot for that money. This is a quality firearm that will last a long time. I fully expect this gun to be like a well broken-in ball glove a year from now. I would not hesitate to buy this gun at that price, and I plan to buy a full-length Henry rifle soon. If you want to compare what you get for that price to something else, go check out the Winchester website and compare features and prices.

D-

Our Grade
C+
Reviewed by Bucky Lawson
Reader's Grade
TBD
Based on 0 Reviews
Your Grade
Do You Own This Gun? Leave A Review
Success Your Grade Has Been
Added To Our Reader's Score
We use email to verify the accuracy of our reviews. We promise to never spam you.
POF Tombstone Starter Pack
Eye Protection –Having a good set of eye protection is important for all trips to the range.
Hearing Protection – Here are our picks for best hearing protection.
Gun Cleaning Kit – Check out our favorite gun cleaning kits.
First Aid Kit – Every range kit needs a first aid kit.
Sling – All rifles need a good sling.
Upgrades and Accessories for POF Tombstone
Here are some suggested upgrades for your POF Tombstone. Thanks to its modern M-Lok handguard you can easily add a weapon light. A red dot is a great fit for this lever gun.
Upgrades and Accessories for the POF Tombstone
Best Ammo for Your POF Tombstone
Here are some of our favorite 9mm loads to use in your POF Tombstone.
Range Ammo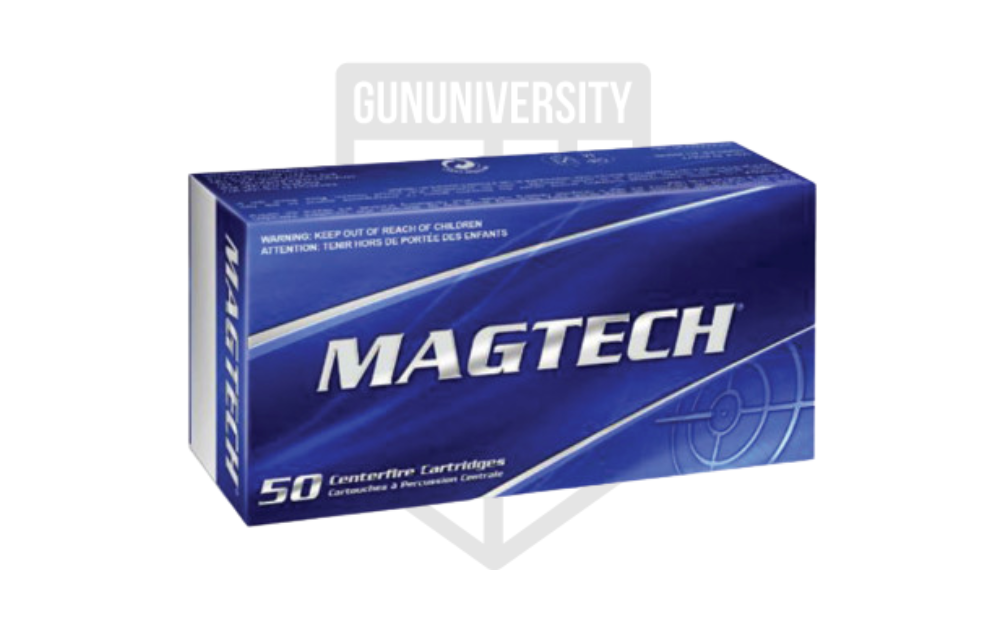 Magtech 115 Grain 9mm FMJ
Defensive Ammo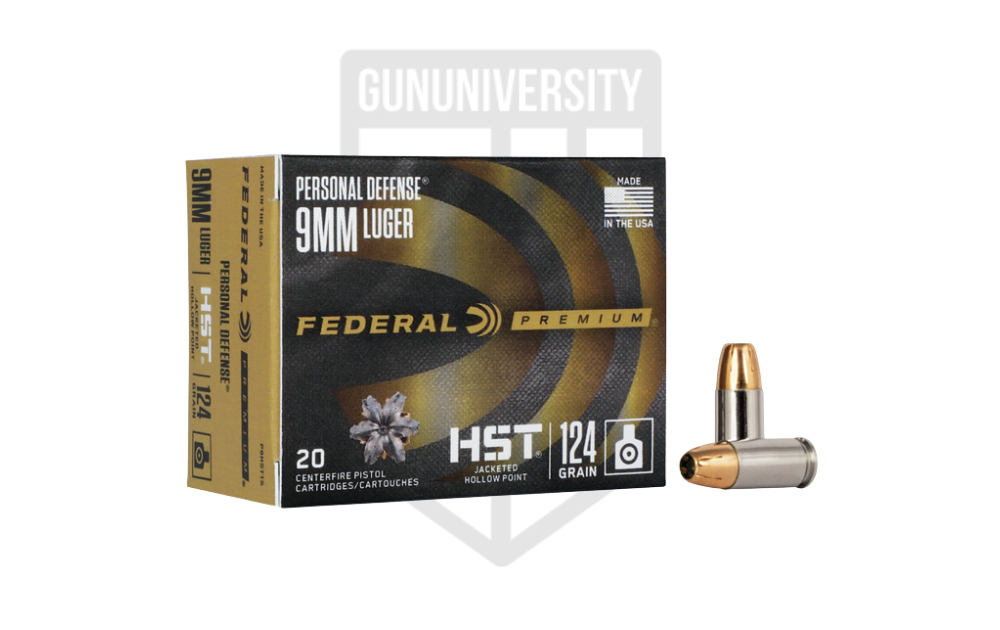 Federal Premium HST 124 Grain 9mm JHP
Other Lever Guns of its Class to Check Out
We have an entire article dedicated to what we think are the best lever action rifles. After reading this article, it should not be a surprise that the Tombstone will not be on the list.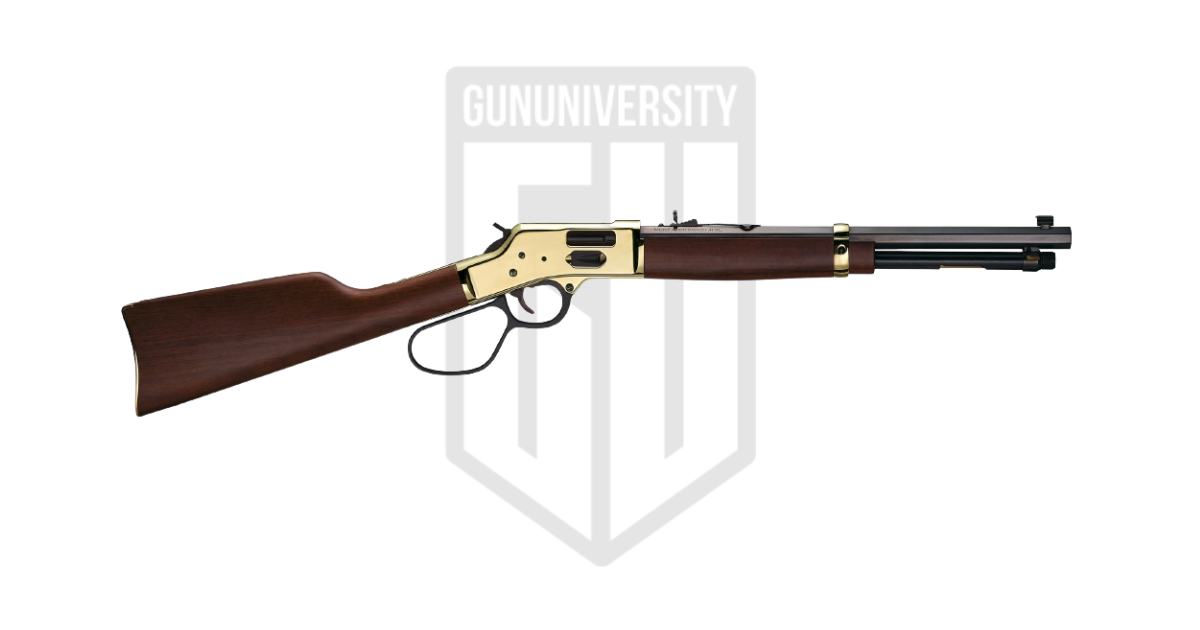 A lever action with both a side loading gate and the magazine tube loading option featuring a shiny brass receiver.
Shootability

A+

Reliability

A+

Ergonomics

A-

Accuracy

A-

Value

A+
Reader's Grade
TBD
Based on 0 Reviews
Your Grade
Do You Own This Gun? Leave A Review
Success Your Grade Has Been
Added To Our Reader's Score
We use email to verify the accuracy of our reviews. We promise to never spam you.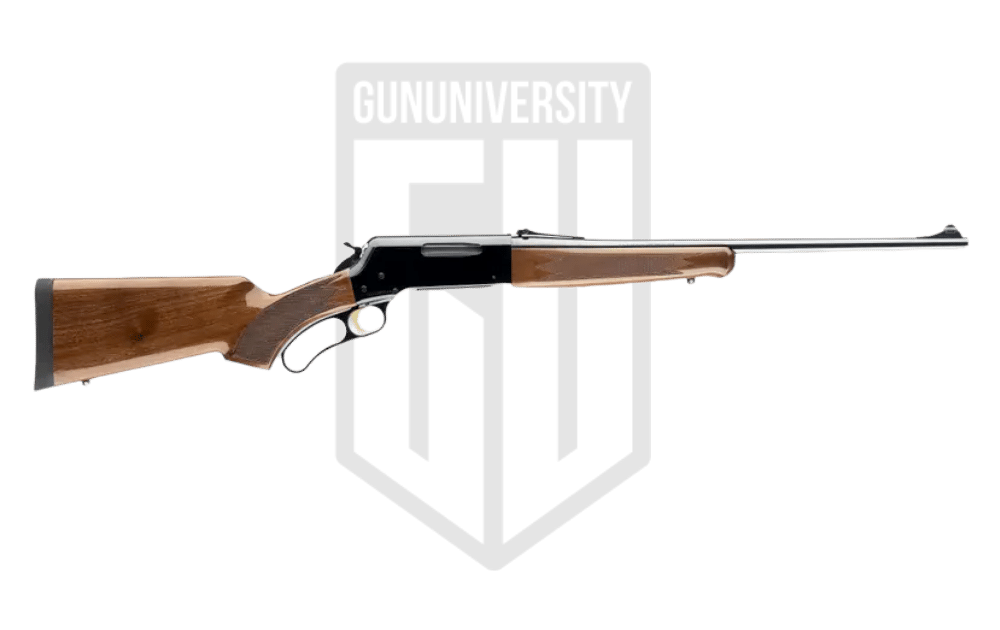 Lever-action rifle with heavy-duty rack and pinion design. Gloss finish walnut pistol grip style stock and Schnabel forearm. Precision barrel and lightweight aluminum receiver with blued finish.
Shootability

A

Reliability

A+

Ergonomics

A

Accuracy

A+

Value

C
Reader's Grade
A-
Based on 2 Reviews
Your Grade
Do You Own This Gun? Leave A Review
Success Your Grade Has Been
Added To Our Reader's Score
We use email to verify the accuracy of our reviews. We promise to never spam you.
How to Care for Your POF Tombstone
Well, I did not find a video about the field strip or cleaning of the POF Tombstone, but I did find a an entertaining review of the tombstone showing how you can make it very tacticool.
Important Links and Manuals for the POF Tombstone
Check out the links below for the manufacturer's website and operator's manual.