PINEWORLD K3 Biometric Gun Safe Review: Hands On Review!
When it comes to selecting the best biometric gun safe, it's important to find something that is reliable, and yet affordable. Biometric gun safes can be quite expensive.
So, is the new PINEWORLD K3 reliable and inexpensive? Is it worth the cost and maybe even a great starter safe? Well, I just got ahold of one, and we'll be putting it through its paces so as to see whether or not this biometric gun safe is a good option.
PINEWORLD K3 Specs
Dimensions

11.1 x 5.9 x 2.2″

Weight

7.7 pounds

Power Source

4x AA Batteries
Why Review this K3 Gun Safe
Having tested over 9 biometric gun safes, and written a full review on PINEWORLD's K5 safe, I knew I needed to check out their latest version, the K3 by PINEWORLD.
If you haven't read my PINEWORLD K5 review, here is a quick overview of that safe. It was extremely well priced, reliable, and well designed.  However, I didn't check the app that it came with (because I don't like/trust the apps), and I wasn't a fan of the button system because they didn't have audible or sensory clicks and so sometimes I thought I had clicked something and it didn't take.  But in the end, the biometric system was excellent and the price was good. 
So, with that in mind, the fact that PINEWORLD K3 claims to be a smaller version, cheaper, and has fixed the button system, I was very interested to not only see if this was in fact true but if the same level of quality of the K5 was still intact.  
PINEWORLD K3 Features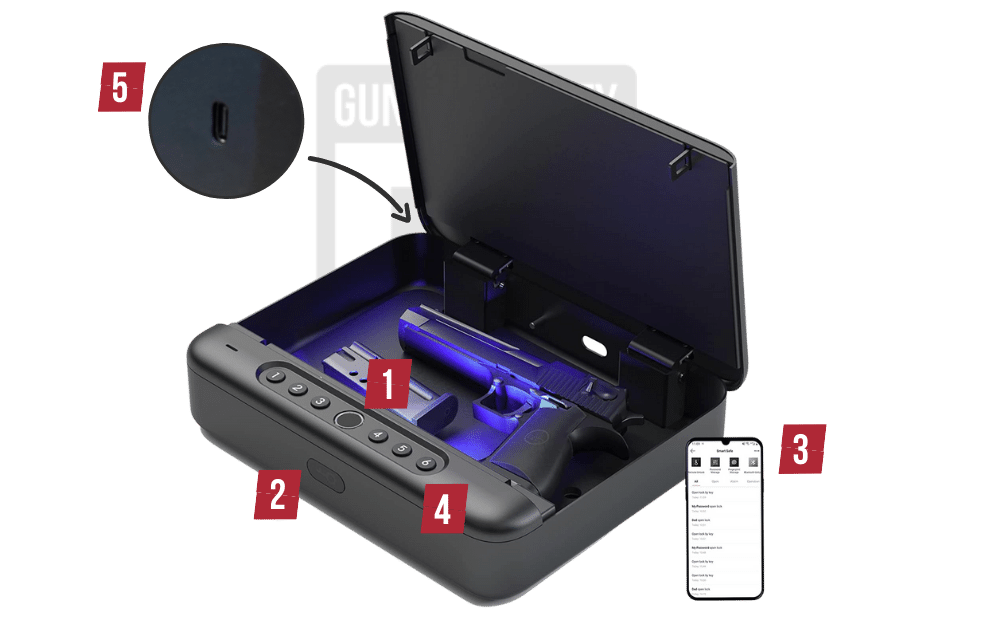 1
Biometric Fingerprint
Biometric fingerprint scanner
2
Key Entry
Physical key as a backup 
3
Remote with App
Free app to allow you to open and monitor the safe
4
Manual Password
Capability to punch in the code
5
Power Supply
Using a USB-C cord (not included) 
PINEWORLD K3 Review – Our Take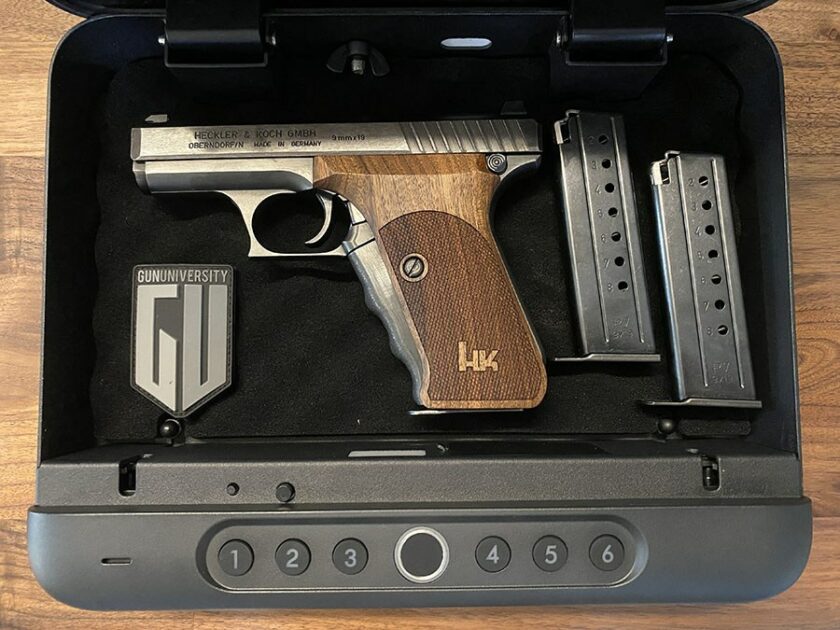 (Sorry guys, but it does not come with this beautiful HK p7 sks)
Okay, so let's start with what is great about this gun safe.  It is small and compact, but as you can see from the image above, it can safely hold a pistol and even have room for extra magazines.  Furthermore, it is also half the weight of the K5 and is a decent size/weight for something that can be portable and not take up the 'whole' nightstand.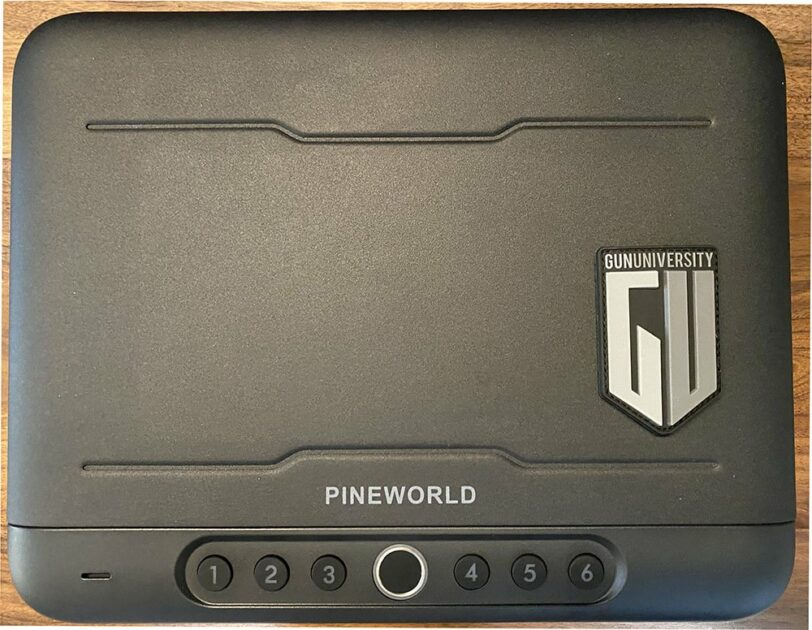 Like the K5, it uses 4x AA batteries but you can connect a USB-C cord to keep it charged. Most of us have one already, but if you don't, I suggest getting one with the purchase. I like having batteries as backups…not the main source of power. It does, however, come with a lock wire, instructions, and keys.
It also includes an app with many features like a warning system when it is open, the ability to open the safe from your app, and more. However, I am not a fan of apps, nor giving companies an ability to track or even mark that I have the safe. So, using that is up to you – just note that I did not test it, and haven't tested any other apps from other companies.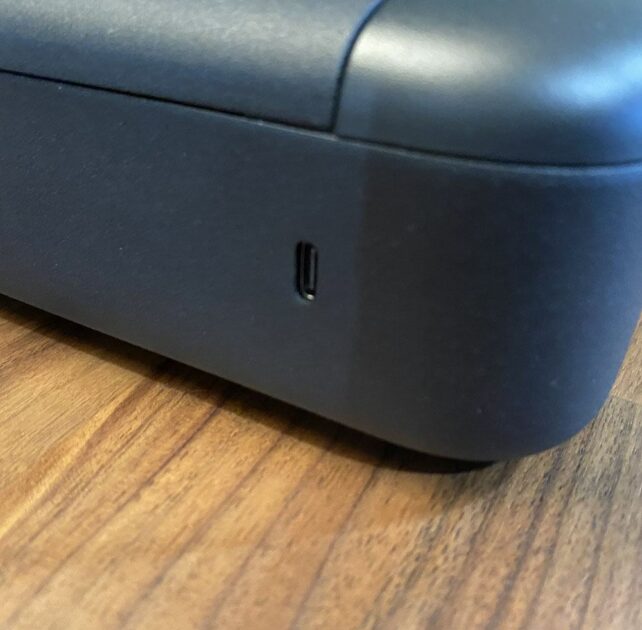 Another feature that they've added to this K3 that the K5 didn't have is an advanced cylinder for locking that makes it extremely difficult for unauthorized entry – almost to the point a master locksmith will have trouble trying to open it. To go along with the locking system, they also have a tamper alarm that will sound if there is any indication of someone trying to force themselves in. If you did set up the app, the app will send you a notification letting you know that someone is trying to enter.
Moving on to the important part – opening the safe. You can either use the biometric finger scanner or punch in the numbers. Starting with the fingerprint, the quality of their biometric fingerprint scanner is up to par with the K5 and rivals even the more expensive Vaultec safes as well (at 1/4 the cost). I have had little to no issues with it, and have even tried having others in my family try the fingerprint scanner with no unauthorized openings of the safe.
Using the keypad is MUCH better than the K5s.  Unlike the K5, you can sense with the button click. Furthermore, you don't have to click the check sign to open it, thus removing one more button click (this was something I was NOT a fan of with the larger K5 model).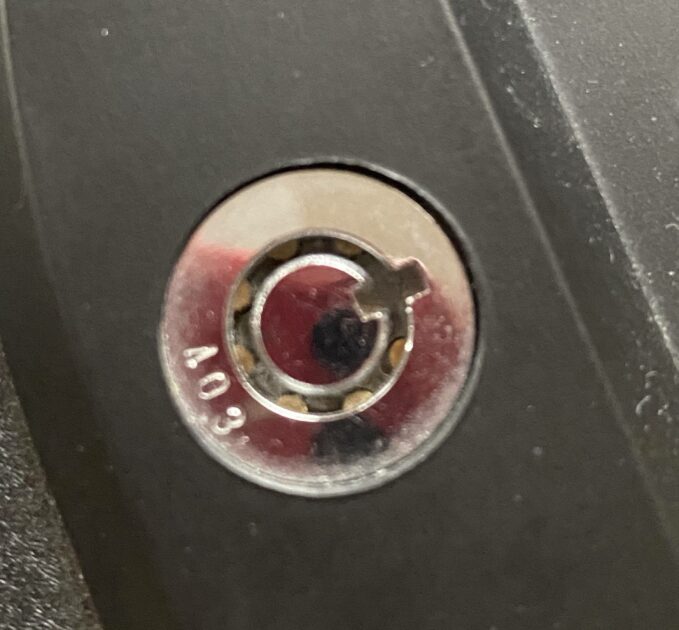 And finally, the thing I love most about this safe is that the price is incredible. It is currently one of the most affordable legitimate biometric gun safes on the market. This will be the recommended biometric to new gun owners because of this price and the legitimacy of the safe itself.
Now that we covered the things I like, let's talk about some of the things I didn't like.
First off, I don't like how when the gun safe door opens, it slams open. This causes the stuff in the safe to jolt. I'm glad the door opens extremely fast, but there should be a buffer that slows it down a bit as it reaches the top.
Another thing that I don't like is something that I also complained about with the K5. For it, you need to enter 6-8 numbers for the code. I'd prefer only 4 but it won't let me. I don't think they should tell me how many numbers I should or shouldn't add. Furthermore, it will stop you from adding a code that is deemed too easy. I don't think that should be the safe's decision, but my own.
So, in the end, I will give this my best budget biometric gun safe award in my list of the best. I think it is one of the cheapest, and yet most legitimate biometric gun safes on the market. It's sturdy and well made and has some excellent features for the price. However, I really wish they would allow me to set a 4 digit number and not stop me for something it deems as repetitive or too easy. I'd also love for the door to not slam open. If they nailed those two things, I'd give it an A+ and absolutely make it my favorite based on the price. But still, if you're on a bit of a budget, then this is the best biometric to choose.
PINEWORLD K3 Pros and Cons
Reliable Biometric Scanner
Sturdy and Well Built
Extremely cheap
Door slams open
Requires 6-8 numbers
Report Card

Reliability

Sturdy, and well made but app is questionable

A-

Access Speed

Biometrics is excellent, but required 6-8 numbers

A

Security

Well built and used sturdy materials

A

Value

One of the cheaper, reliable biometrics on the market

A+

Our Grade
A
Reviewed by Dave Chesson
Reader's Grade
A+
Based on 2 Reviews
Your Grade
Do You Own This Accessory? Leave A Review
Success Your Grade Has Been
Added To Our Reader's Score
We use email to verify the accuracy of our reviews. We promise to never spam you.