PINEWORLD K5 Biometric Gun Safe Review
Choosing the right gun safe can be important, especially when you are looking for one that has all the right features, and capabilities. In this article, we'll be looking at the PINEWORLD K5 biometric gun safe and see whether or not it is worth the cost and as capable as it claims. Read the Gun University Pineworld K5 biometric gun safe review.
Pineworld K5 Specs
Dimensions

13.5"x11"x3.5"

Weight

16.5 pounds

Power Source

4x AA Batteries
Why Review this K5 Gun Safe
Recently, I was contacted by PINEWORLD to test their K5 biometric safe. They had read my review on some of our favorite gun safes and believed they should be included in the list.
Normally I disregard a lot of these outreaches, especially when coming from foreign manufacturers. However, they claimed it was better than the Vaultek 20 Series Biometric Handgun safe, which is the one that I personally use at one of my egress points. Now, as I've said in previous reviews, I'm personally not a fan of using biometrics because they increase the cost of a safe, and aren't generally reliable…or at least the ones I've tried, and so I relegate to just using the keypad. I bought the Vaultek 20 series so as to make that review, but even with the biometric capability I always just punch in the combo to access my gun.
However, I noticed that the PINEWORLD K5 had about the same features as the Vaultek, including an app, biometrics, lockpicking protection and more, but was half the cost. Therefore, I agreed to check out the safe and compare it to the Vaultek to see if it is capable and thus worth the cost. After all, legitimate gun safes have become really expensive, and if there is a viable biometric that is also much cheaper, then it is worth the look.
PINEWORLD K5 Gun Safe Features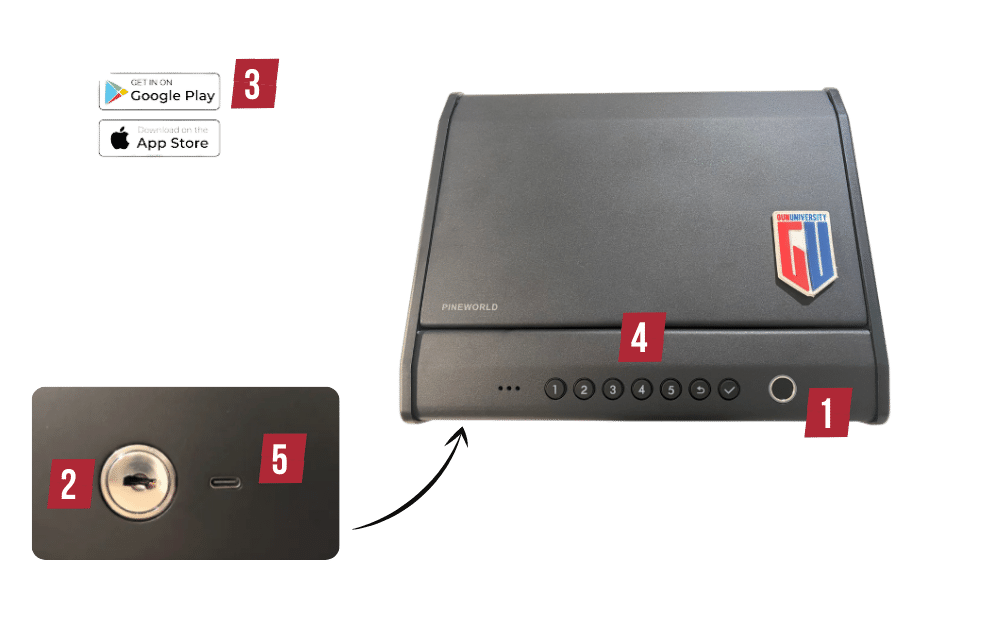 1
Biometric Fingerprint
Biometric fingerprint scanner
2
Key Entry
Physical key as a backup
3
Remote with App
Free app to allow you to open and monitor the safe
4
Manual Password
Capability to punch in the code
5
Power Supply
Using a USB-C cord (not included)
PINEWORLD K5 Gun Safe Review – Our Take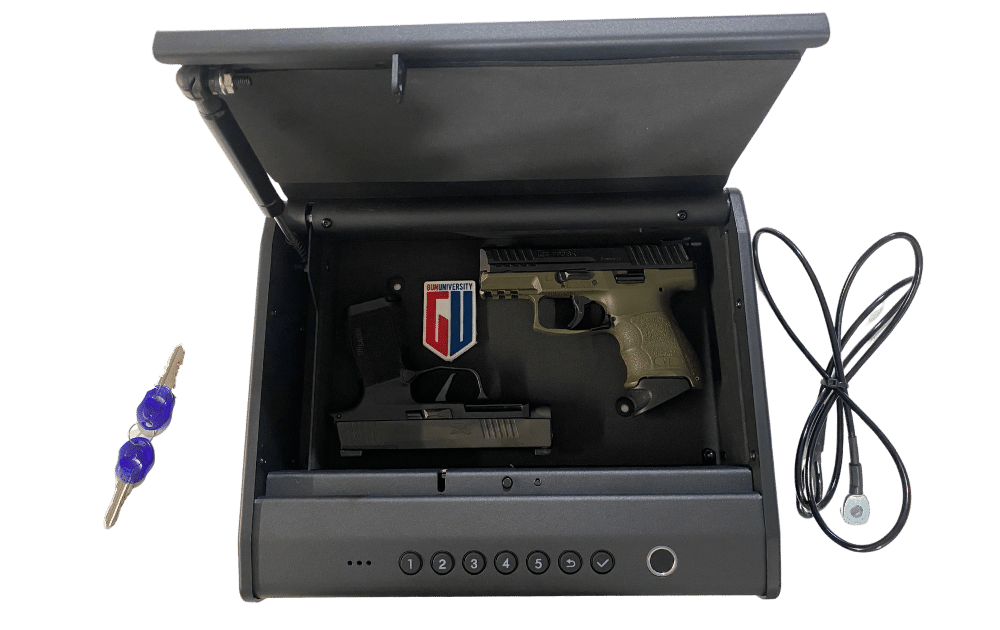 Straight out of the box, it was obvious that this was a legit safe. It's very heavy, coming in around 16 pounds and also well constructed. Feeling around the safe, it doesn't look like any cheap plastic parts were substituted so as to lower cost. All in all, it is very sturdy with no obvious vulnerabilities.
It came with a lock wire, instructions, and keys. You'll need 4x AA batteries, and you can plug it in using a USB-C cord, but that was not included. I'm glad there is a way to plug it in, that way the batteries can be backup in case of a loss of electricity, but I wasn't pleased that you plug it in in the front, instead of the back. Because of this, you have a coord sticking out the front and that can sometimes be impeding, as well as not looking great.
The instructions were easy enough, and setting it up took a matter of 5 minutes. There is an app that you can use, but I choose not to. Unlike Vaultek, who made their own app, PINEWORLD seems to be using the Tuya Smart app which is a universal app that they have tapped into.
First, let me say, I'm not a fan of the apps at all. While there are some added benefits to using the app, like getting notifications when you safe is opened, or being able to open it from the app, I do not believe these abilities are worth giving a foreign app access to your router and wifi password. Therefore, I cannot and will not judge the app.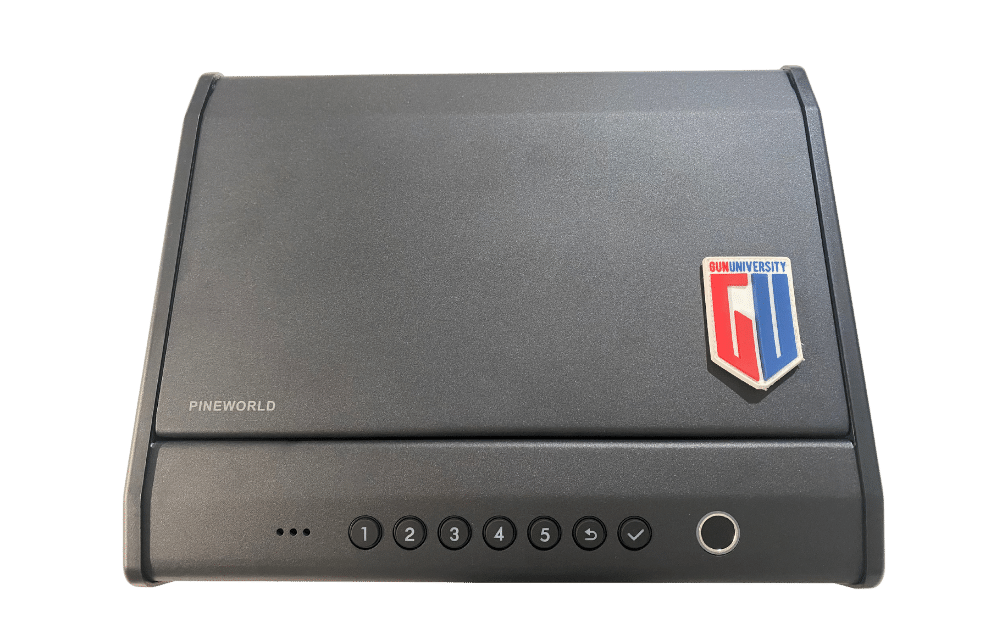 Next is the ability to open the safe. There are three ways to do this: with the key, manually entering the code, or using your fingerprint on the biometrics scanner. The key is simple enough, and there are no issues there.
However, I was not a fan of the process to manually enter your code. First, you have to use a 6-8 digit code, and then upon entering your code, you have to click the check mark button. So, the minimal amount times you would have to press a button is 7 (6 for the code + the check mark). When speed is important, I'd prefer only hitting four like I do on the Vaultek. Also, I constantly ran into problems with the buttons and them not registering that I hit them. The PINEWORLD buttons are made of a rubbery substance, and you can easily hit them and it not be direct enough for the safe to register you did. The Vaultek buttons are firm and I haven't run into any issues with them not registering.

It is important to note, that the PINEWORLD has a loud auditory system which beeps when you click the buttons. You can mute it, but if you do, you won't be able to hear when the system doesn't register the clicking of the buttons. I was a bit miffed about this, because I thought that it wouldn't be a good idea having such a loud sound. I thought that if there was an intruder, the clicking of the buttons would let them know that I'm opening the safe. But when talking to other Gun University instructors, they disagreed with this and would prefer intruders to hear the button sounds so that they know to run. So, in the end, I will leave the loud system on so I can hear when it registers I clicked a button.
Next is the biometric fingerprints. Now, like I said in the beginning, I'm not a fan of biometrics. I find that most of them don't work realy well, and if I'm in a hurry, I'd prefer they be reliable. Furthermore, when a safe has biometric capabilities, they are usually $50-100 more in cost. However, I'll admit, I'm pleasantly surprised with their biometric capability. To test this, I put the safe next to my bed and tried opening it with my finger 50 times, and did the same for the Vaultek. The results were that it opened 43 times for the PINEWORLD, and 32 times for the Vaultek. So, clearly the biometrics on the PINEWORLD is much better. Why? I'm not sure. Both have you take imprints of different sections of your finger, but the results speak for themselves.
So, in the end, this is a sturdy, well built safe, that is large enough for two guns, and comes with most of the features one would look for in a bedside or smaller gun safe. The biometrics are some of the best I've tested, however, I'm not as much of a fan on the construction of the keypad. That being said, the PINEWORLD is much cheaper than the equivalent Vaultek and doesn't lack much, therefore, giving it a good value buy.
PINEWORLD Biometric K5 Pros and Cons
Reliable Biometric Scanner
Sturdy and Well Built
Cheaper Than Most Biometrics
Report Card

Reliability

Sturdy, and well made but app is questionable

A

Access Speed

Biometrics is excellent, but the buttons failed frequently

B

Security

Well built and used sturdy materials

A

Value

One of the cheaper, reliable biometrics on the market

A
Our Grade
A-
Reviewed by Dave Chesson
Reader's Grade
A-
Based on 2 Reviews
Your Grade
Do You Own This Accessory? Leave A Review
Success Your Grade Has Been
Added To Our Reader's Score
We use email to verify the accuracy of our reviews. We promise to never spam you.
PINEWORLD Gun Safe Deals
PINEWORLD K5 Biometric gun safes are perfect for anyone who wants to have the ultimate in security. With its advanced biometrics, this safe is guaranteed not only protect your firearms from theft but also to have quick and easy access when needed.
The new PINEWORLD model offers an intuitive interface which allows users ease of access through fingerprint scan or just key in your security code allowing you to feel comfortable knowing your handgun is close no matter what is happening around you. To find the latest deals on this safe, follow the link below.
Other Biometric Handgun Safes
In this article we were comparing the PINEWORLD K5 Biometric safe to the Vaultek. If the Vaultek VTi Full-Size Biometric Handgun Bluetooth Smart Safe is something that you may be interested in, check out the latest deals below.
Helpful Links for the PINEWORLD K5 Gun Safe and other PINEWORLD products.