Iron Horse Sentry 12 Review: A Good Magazine Fed Pump Shotgun?
Magazine-fed, AR-type shotguns are typically the domain of cheap Turkish junk, typically but not always. Today we are reviewing an exception with the Ironhorse Sentry 12 shotgun and its made-in-America design.
Iron Horse Sentry 12 Specs
Caliber

12 Gauge (2-3/4 and 3 in)

Action

Pump

Capacity

5 or 8

Barrel Length

18 in

Overall Length

36 in

Weight

6.5 lbs

Sights

None

Optics Mount

Picatinny Rail

Stock

Polymer

Safety

AR-Style
Sentry 12 Background
Iron Horse Firearms is a fairly innovative company. They are most well known for their thumb-fired AR-15 lowers. The Sentry 12 shotgun follows their innovative approach to firearms design with a shotgun that's perfect for people who hate shotguns. Well, traditional shotguns.
As mentioned, most mag-fed shotguns come from Turkey and vary wildly in quality. Most American-made mag-fed shotguns use traditional designs like the Mossberg 590M and Remington 870 DM series. These designs modify a traditional design to use a magazine. While they often work okay, they aren't great in the ergonomic department.
Iron Horse built the Sentry 12 from the ground up to be a magazine-fed, pump-action shotgun. This improves the gun's overall ergonomics and helps shape it for magazine use rather than just adapting it to magazine use.
The Sentry 12 is a tactical-style shotgun. The short barrel and general overall design clearly lend this shotgun more towards tactical and defensive use than busting clay pigeons or hunting birds. I'm not saying you can't, but if you put this gun in a box, it would be a defensive shotgun.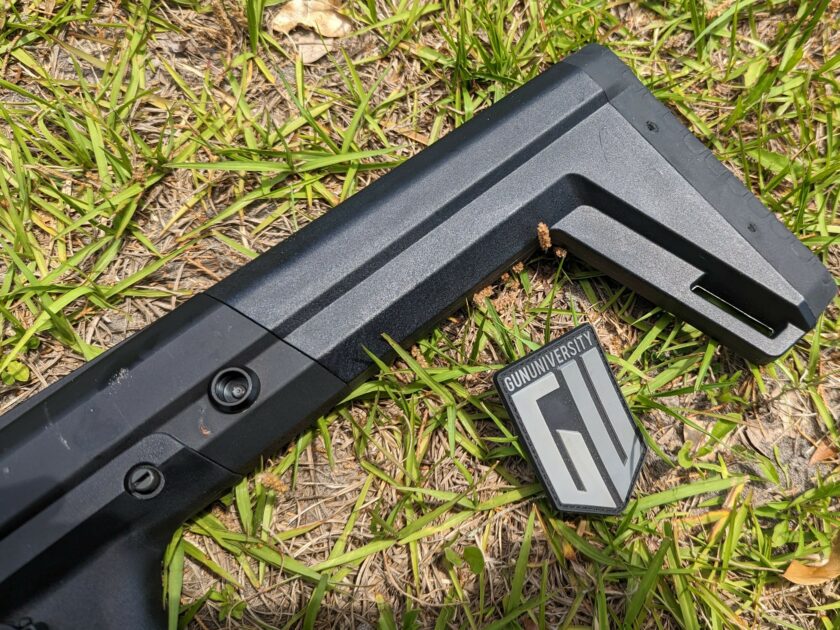 You may also see these firearms branded as Blackwater, which was a short partnership between the two companies. However, that partnership is now over, and they should all be branded Ironhorse these days. Mine is a Generation 1 model, and they've recently adapted the gun into a second-generation model with some slight improvements.
Iron Horse Sentry 12 Features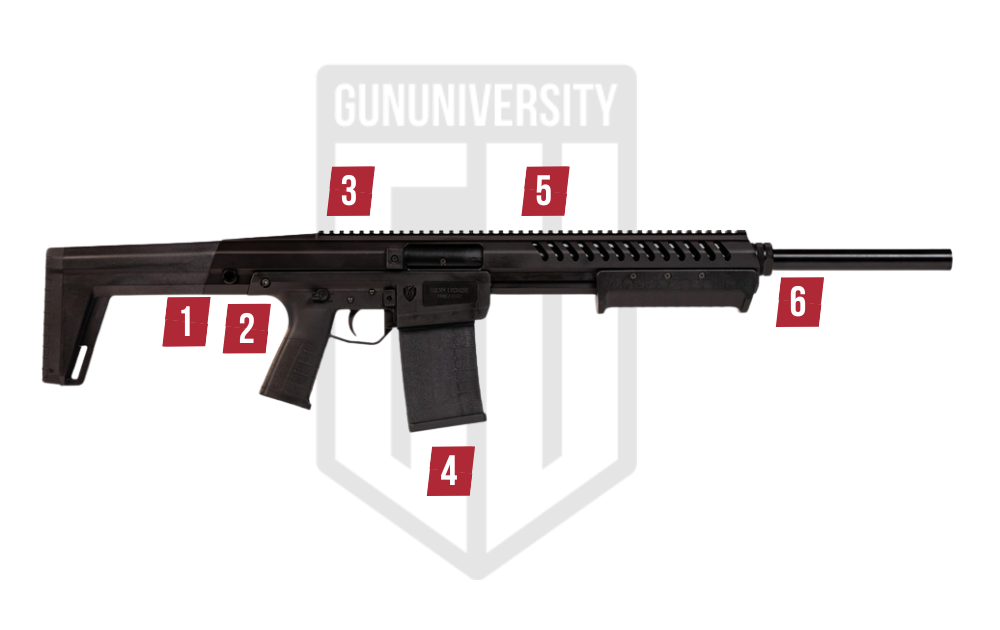 1
QD Sling Slots
Quick detach flush cups for sling mounting
2
Ambidextrous Controls
AR style ambidextrous controls
3
Monolithic Aluminum Upper 
One piece upper receiver made from aluminum
4
Magazine
Removable Magazines
5
Full-Length Pic Rail 
Optics and accessory mounting is easy with a full length picatinny rail on the top of the shotgun.
6
Quick Change Barrel 
Field strip and barrel swap without the need for tools
Models and Variations
The Iron Horse Sentry does not have many variations. You can get a Cerakoted version with some extra magazines and polished internals, but it comes with a hefty price tag over $1,300.
Iron Horse Sentry 12 Review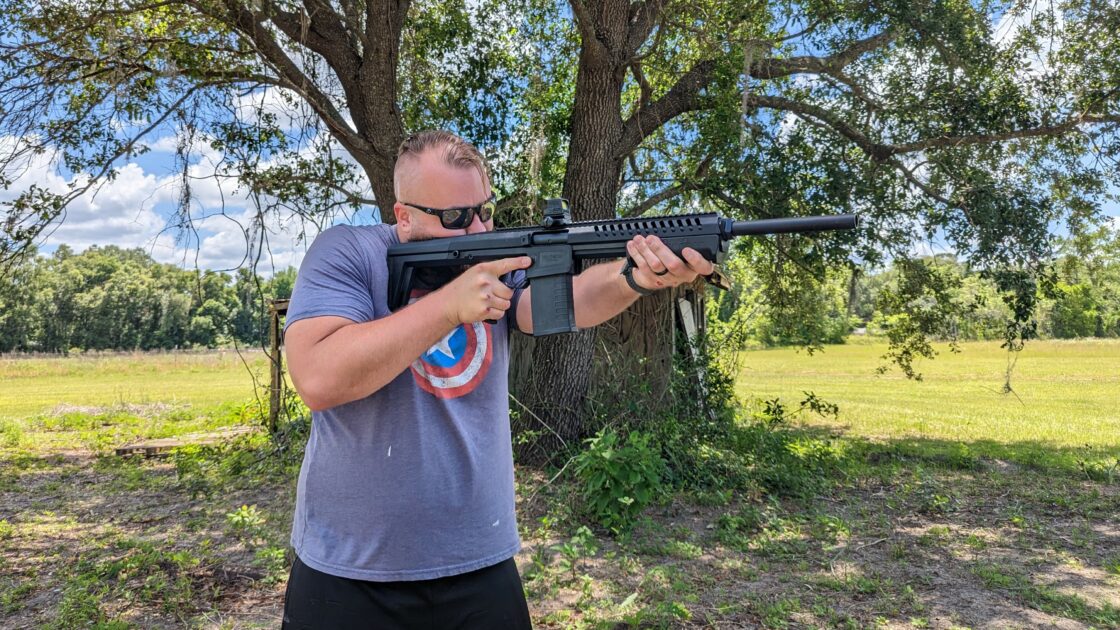 Let's start with one of the big issues shooters have with mag-fed shotguns, and that's reliability. To test reliability, I used a wide variety of shells. This includes cheap birdshot, cheap buckshot, premium buckshot, slugs, and more. I used American-made, Greek made, and who knows who made ammo in high brass, low brass, and even shorter than average shells.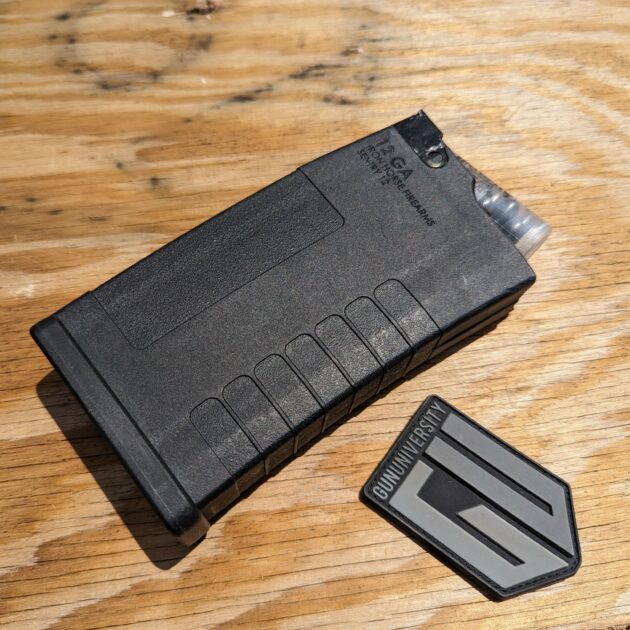 The Sentry 12 doesn't seem to be picky for the most part. They designed the guns and magazines for 2.75 and 3-inch shells. Anything of that length cycles, fires, and ejects without issue. The gun isn't picky, and most pump actions aren't. With shorter shells, you'll run into many issues. Like most shotguns, it's not designed for them. With the Sentry series, you also have to deal with the magazine.
The shortest shells that worked without issue in the magazines are the 2.25-inch shells from Nobel Sport. Anything shorter didn't function well in the magazines. You can manually load, fire, and eject the mini shells, but beyond that, stick to standard rounds.
One problem you might face in a long enough situation is the plastic nature of shotgun shells. That plastic can deform over time when left loaded in magazines. The bottom of the shells tends to flatten out, and this creates feeding problems. This takes months to develop, so as long as you regularly cycle and train with your ammo, it's not a problem.
Shootability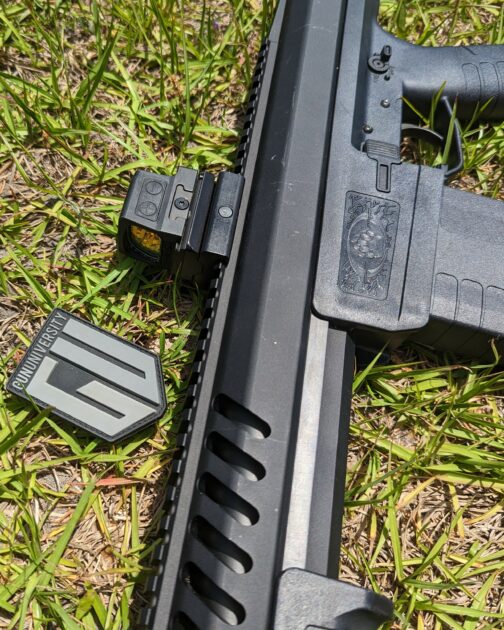 While reliability is a major concern for shotgunners, accuracy typically isn't that big of a deal. A gun designed to be used with 50 yards and to fire nine .33 caliber pellets per trigger pull isn't used for tight groups. As a shotgun, it's as accurate as you expect it to be with buckshot. The gun has a cylinder bore choke, and you get expectable patterns.
My ammo of choice is Federal FliteControl, which creates a tight group without worrying about the choke. With FliteControl and slugs paired with a good optic, you can easily hit targets at 50 yards. With slugs, you can push accuracy to 100 yards and hit a threat in the torso. Shotgun accuracy isn't necessarily a huge factor to consider, but pattern consistency is important. The Sentry 12 does consistently pattern, especially with premium self-defense ammo.
Ergonomics
What about the ergonomics? This isn't your dad's pump action Remington. It's something else entirely. Admittedly, it's benefitted greatly from a few decades of improvements. This includes an inline layout to aid in recoil control, that pairs well with the short 12.5-inch length of pull. It allows you to get behind the gun in a modern stance and square up to your target. That LOP always makes the gun comfy for shooters big and small.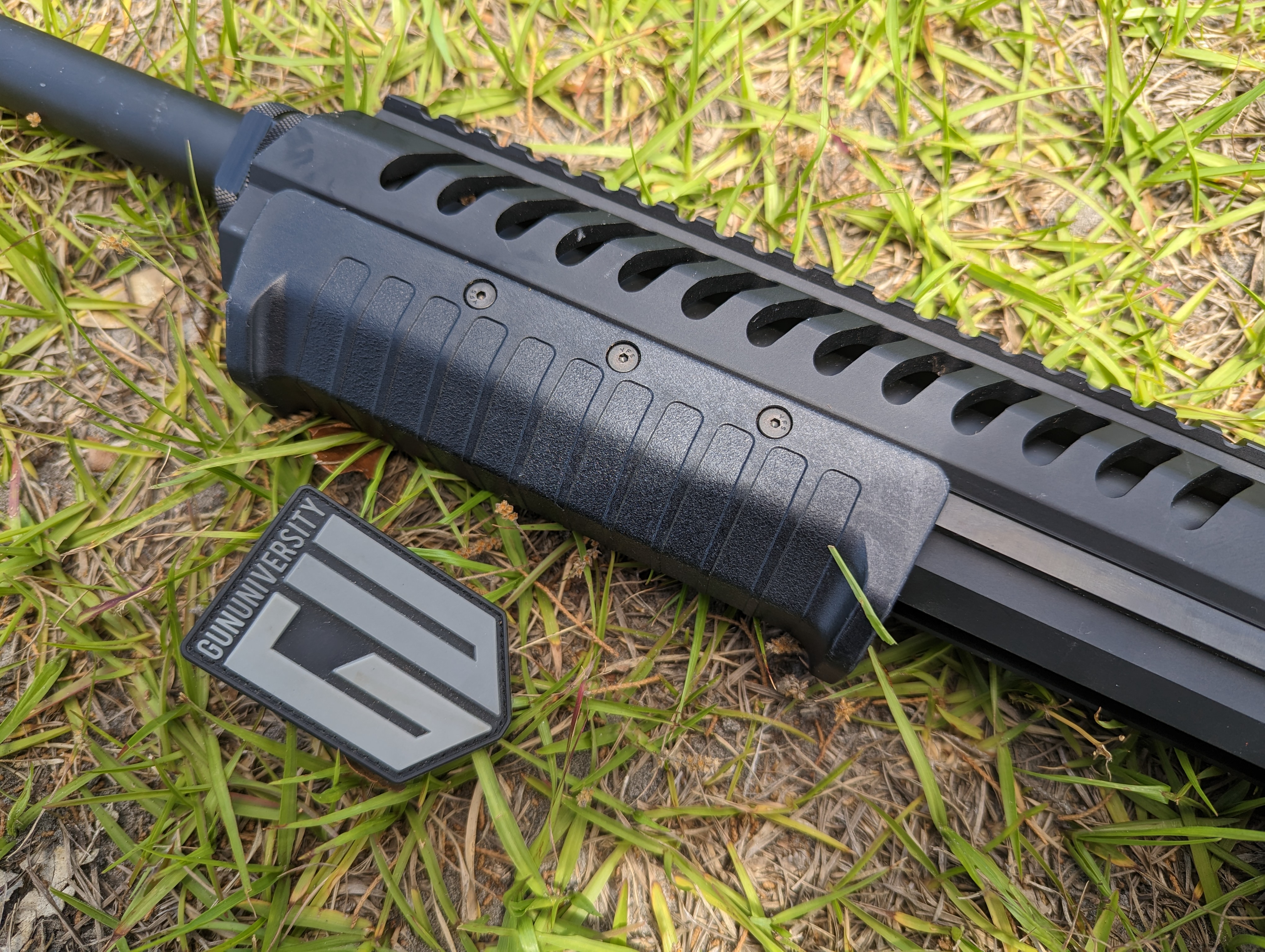 Iron Horse used an AR-like layout that excels in ergonomics. The AR-style safety flips easily, and the magazine and pump release are all exceptionally easy to reach. Plus, the controls are completely ambidextrous.
The one ergonomic shortfall I see is the pump. It's a little too smooth. When you use a push/pull technique, your hand slips a bit. The Elite variant even offers a stippled grip to fix this. There isn't a lot of pump to grip, so keep that in mind. Some skateboard tape would clean it right up.
What About Recoil?
Shotgun recoil is greatly exaggerated. Sure, it exists, but with proper technique and ammo selection, it's not a big issue. The Sentry 12 recoils like any other pump action. The shorter LOP makes it easier to control, and with a properly applied push/pull technique, you'll have no problems keeping the gun on target.
The action is surprisingly slick and smooth. You can cycle and fire quite quickly, and it ejects shells without a problem. The Sentry 12 is quite easy to shoot, and if you are transitioning from a modern rifle, you'll be able to quickly adapt to it.
One thing that many shooters might feel wary of is the price. We can have a Mossberg 590 for about half the price of the Sentry 12. With a price point of about 800 bucks and a magazine cost of 40 bucks a pop, it can be quite the investment. It's certainly not going to appeal to everyone at this price point. However, as far as American-made, magazine-fed shotguns go, this is the very best I've shot.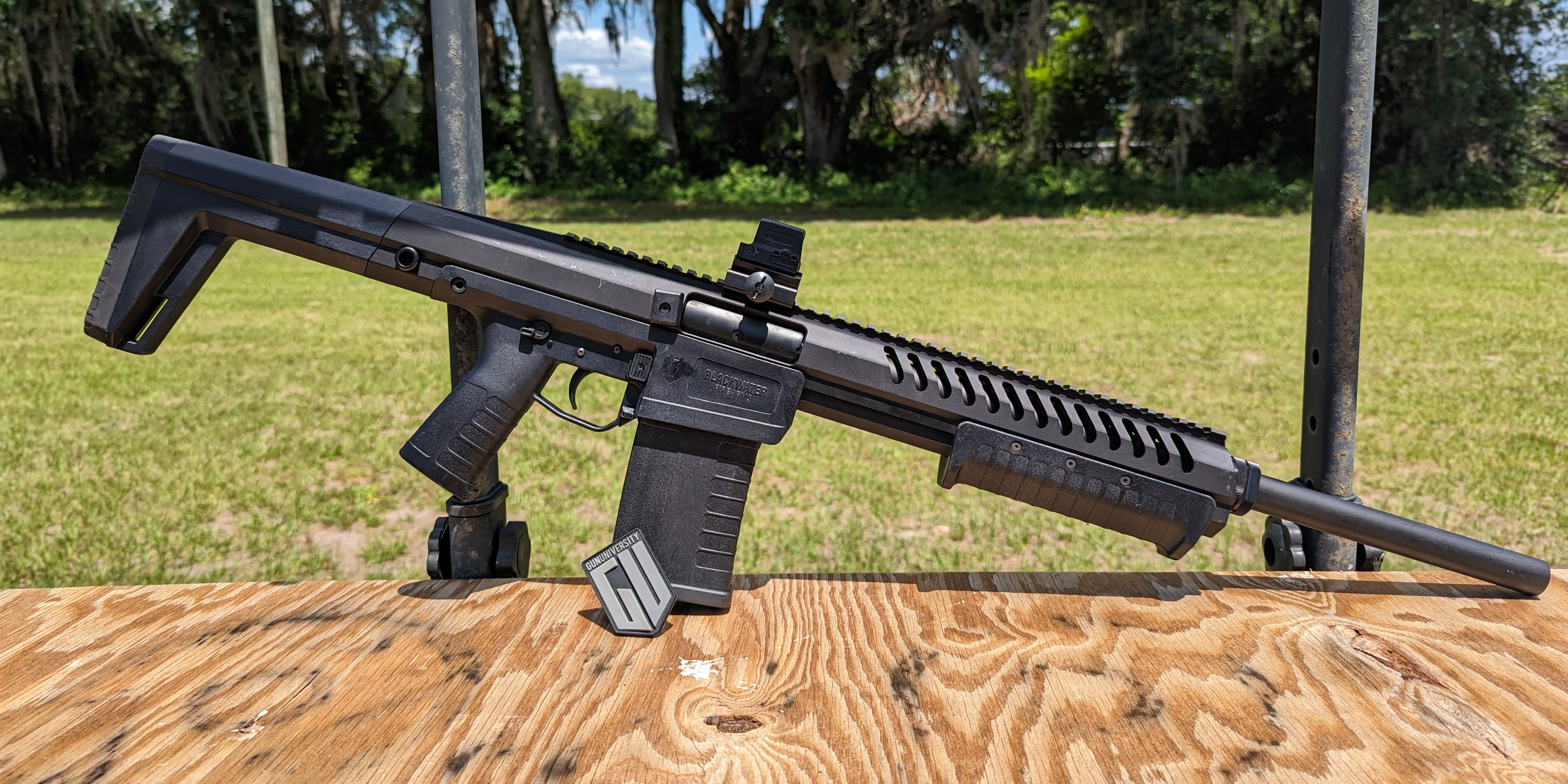 Iron Horse Sentry 12 Pros and Cons
Great Ergonomics
Short LOP
Reliable Action and Magazines
Easy to Shoot
Report Card

Shootability

The slick pump makes it a little hard to go as fast as possible. Other than that, it's like any other shotgun. It requires good technique to control and handle.

B

Reliability

It chambers 2.75 and 3-inch shells, and as long as you meet those lengths, the gun will run. It doesn't have a preference between cheap, expensive, high, or low brass.

A+

Ergonomics

The ergonomics are solid; the controls are ambidextrous, and they fit the gun's lower receiver very well. You'll have no problems manipulating the gun's controls and get to shooting.

A

Accuracy

It is a shotgun. It does shotgun things. As long as you use the right ammo for the right range, it hits where you aim.

A+

Value

This is a very nice shotgun that's American-made and designed. It can't be cheap, but when compared to other guns from Mossberg and Remington, it feels quite pricey.

C+

Our Grade
A-
Reviewed by Travis Pike
Reader's Grade
TBD
Based on 0 Reviews
Your Grade
Do You Own This Gun? Leave A Review
Success Your Grade Has Been
Added To Our Reader's Score
We use email to verify the accuracy of our reviews. We promise to never spam you.
Iron Horse Sentry 12 Starter Pack
Eye Protection –Having a good set of eye protection is important for all trips to the range.
Hearing Protection – Here are our picks for best hearing protection.
Gun Cleaning Kit – Check out our favorite gun cleaning kits.
First Aid Kit – Every range kit needs a first aid kit.
Sling – All tactical shotguns need a good sling.
Iron Horse Sentry 12 Gun Deals
Upgrades and Accessories for Iron Horse Sentry 12
The Sentry 12 has a great picatinny rail, ready to mount a red dot sight and light for your tactical purposes.
Upgrades and Accessories for the Iron Horse Sentry 12
Best Ammo for Your Iron Horse Sentry 12
Here are some of our favorite 12 gauge shotgun loads for tactical uses.
12 Gauge Slugs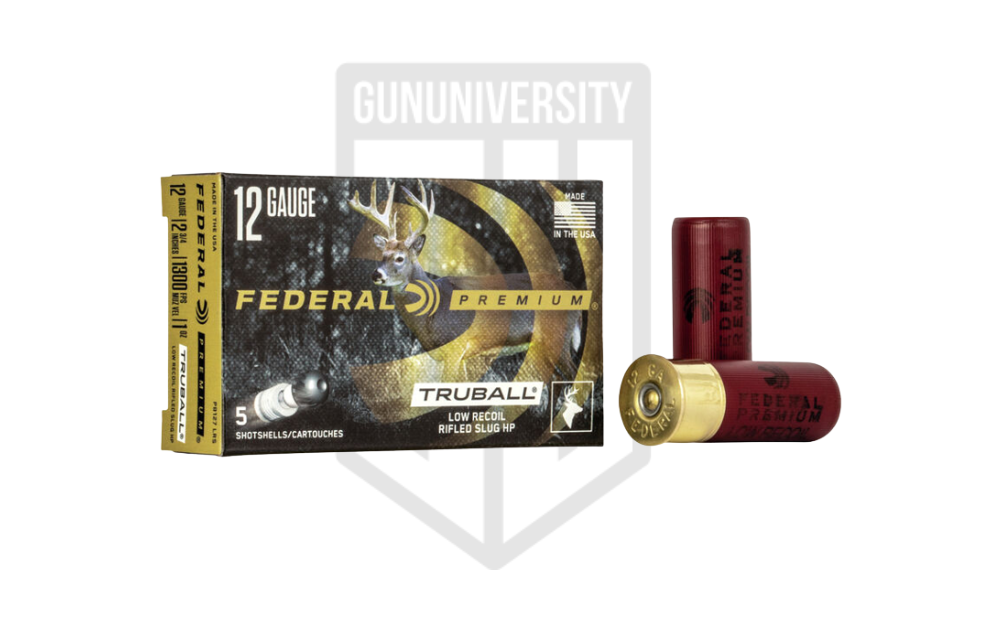 Federal Premium Truball Slugs
12 Gauge Buckshot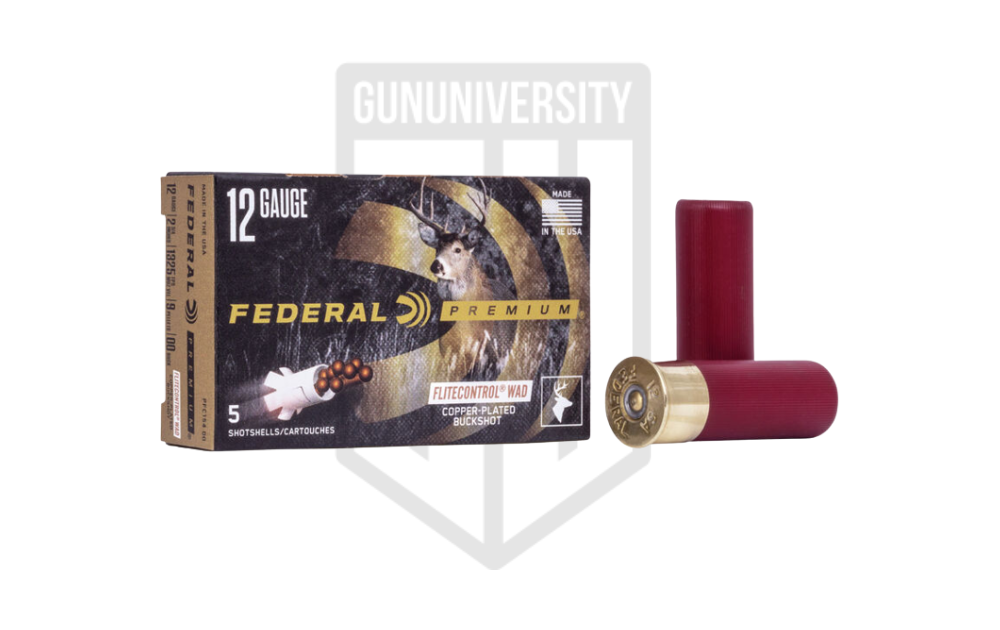 Federal Premium Vital Shok 00 Buckshot w/FliteControl
Other Tactical Shotguns of its Class to Check Out
The Benelli M4 and Beretta 1301 are the top of the line semi auto shotguns, while the Mossberg 590M is a tube fed, pump action shotgun that has been retrofitted to run with a magazine. While the Sentry 12 did score high in our testing, the 1301 is only a few hundred dollars more and might be a better option.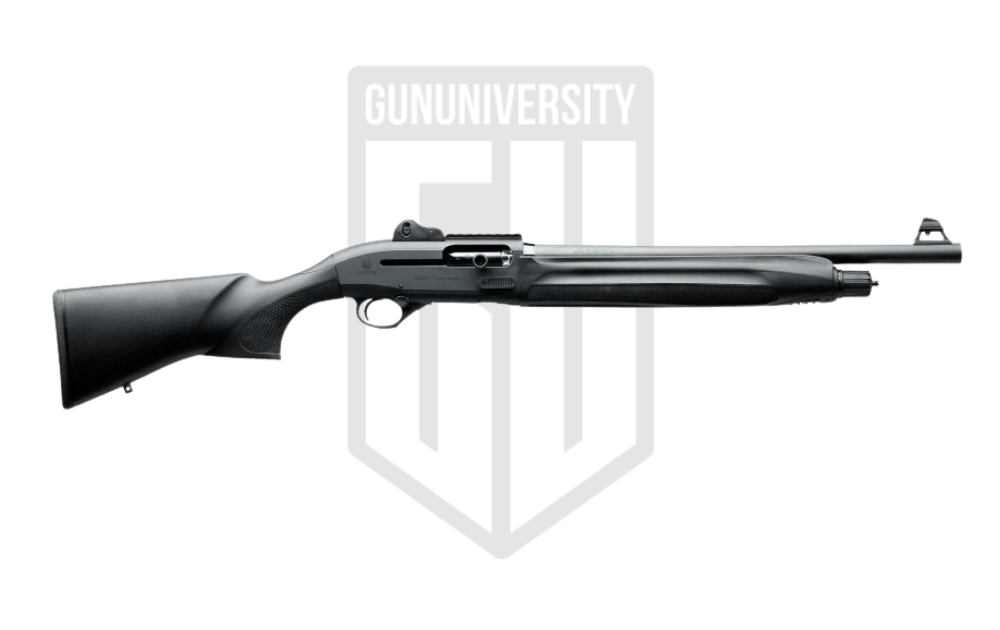 The fastest way short of full auto to send the maximum amount of lead possible towards your target, Beretta 1301 is lightning fast.
Shootability

A+

Reliability

A+

Ergonomics

A

Accuracy

A

Value

B+
Reader's Grade
B+
Based on 3 Reviews
Your Grade
Do You Own This Shotgun? Leave A Review
Success Your Grade Has Been
Added To Our Reader's Score
We use email to verify the accuracy of our reviews. We promise to never spam you.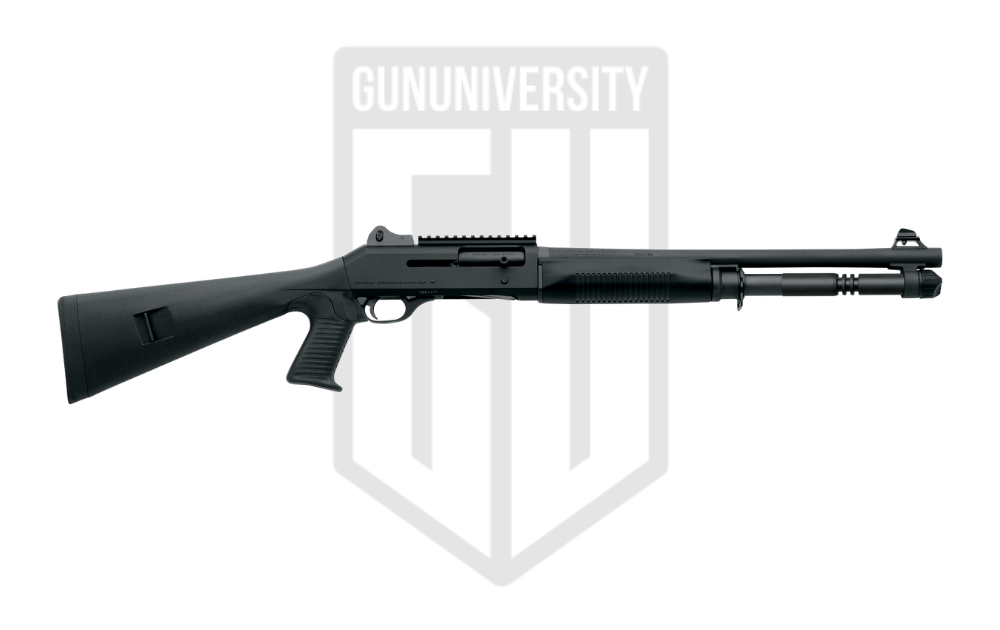 Shootability

B

Reliability

B

Ergonomics

A

Accuracy

A+

Value

D
Reader's Grade
B+
Based on 14 Reviews
Your Grade
Do You Own This Gun? Leave A Review
Success Your Grade Has Been
Added To Our Reader's Score
We use email to verify the accuracy of our reviews. We promise to never spam you.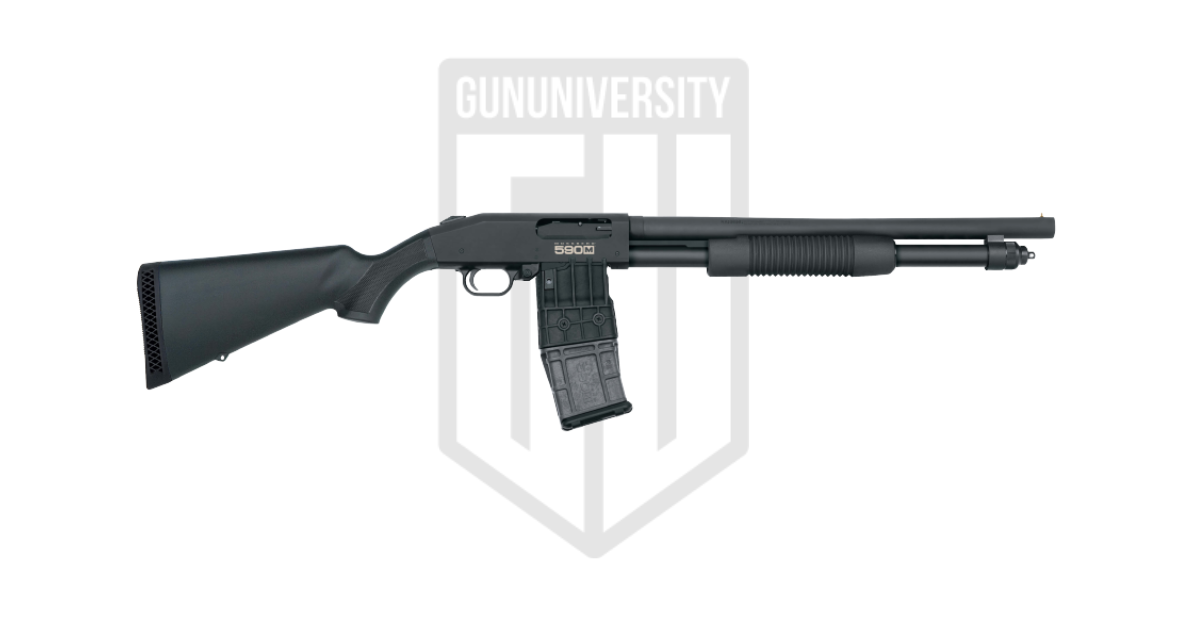 The 590 that feeds from a detachable box magazine .
Our Grade
Reader's Grade
TBD
Based on 0 Reviews
Your Grade
Do You Own This Gun? Leave A Review
Success Your Grade Has Been
Added To Our Reader's Score
We use email to verify the accuracy of our reviews. We promise to never spam you.
How to Care for Your Iron Horse Sentry 12
Here you can see a quick video of how to take down your Sentry 12 for cleaning and maintenance. Notice there are no tools required and very few parts.
Important Links and Manuals for the Iron Horse Sentry 12
Check out the links below for the manufacturer's website.