Blood Diamond Rifle: Build Breakdown
Blood Diamond is a 2006 film starring Leonardo DiCaprio, Djimon Hounsou, and Jennifer Connelly. The movie follows DiCaprio as Archer and Hounsou as Vandy as they struggle to escape the brutal civil war in Sierra Leone. They aim to escape with a massive diamond to fund Archer leaving the continent and Vandy to reunite his family and escape Sierra Leone. The film mixes action and thriller, and we get some stellar performances throughout. What captured me about the film is DiCaprio's skill with a gun.
He plays a former Rhodesian and mercenary, so his skills with a gun should be on par. Throughout the film, he gets them in and out of trouble, often with a gun. One famed scene shows that DiCaprio must have trained hard to become a believable soldier, as he draws a USP Compact and rapidly dispatches several bad guys in seconds. However, today we aren't talking about the USP.
No, sir, we are talking rifles. Specifically, the rifle DiCaprio wields at the film's end. This rifle falls into the AR or CAR 15 family and stands out from the rest of the movie. Not only is it a Stoner platform in a world of AK rifles, but it's a highly custom rifle with a distinct camo pattern that makes it high speed….for 1999.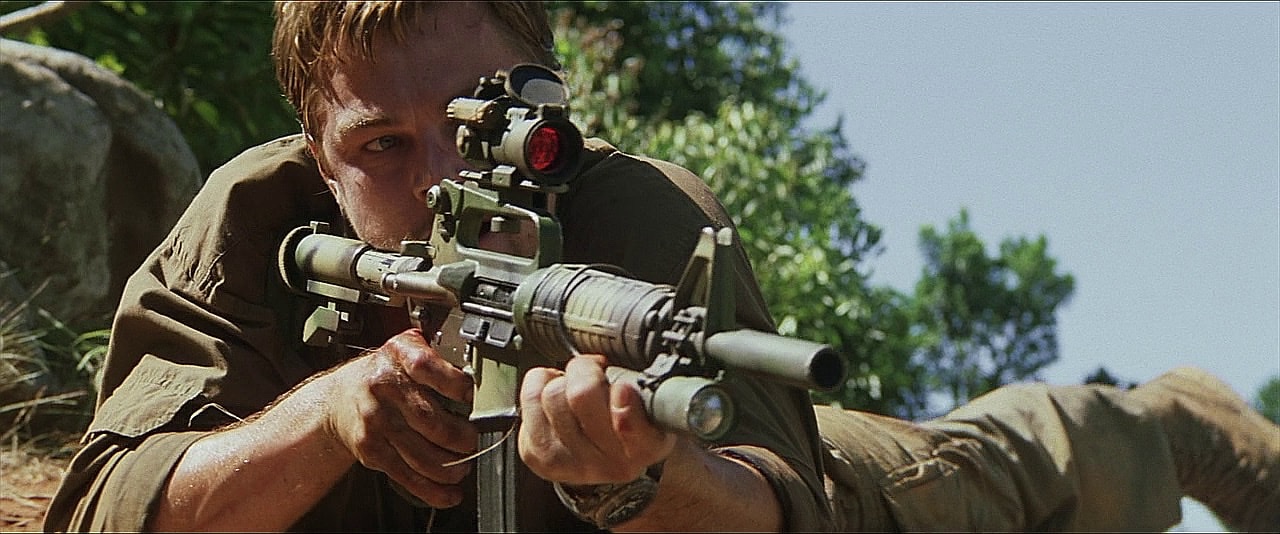 Era Specific
While they made the movie in 2006, it takes place in 1999, which is important to remember. In 2006 RIS rails and flat op uppers were everywhere, but in 1999 the M4A1 series hadn't exactly made it to African shores with flat top uppers and Picatinny rails. The Blood Diamond rifle is high-speed for the location and time frame. While the gun seems like an antique in 2023, don't be fooled. It would still be a fairly competent, lightweight, and handy rifle.
Let's dive in and dissect the Blood Diamond rifle.
Blood Diamond Rifle Parts List
Blood Diamond Rifle Build Breakdown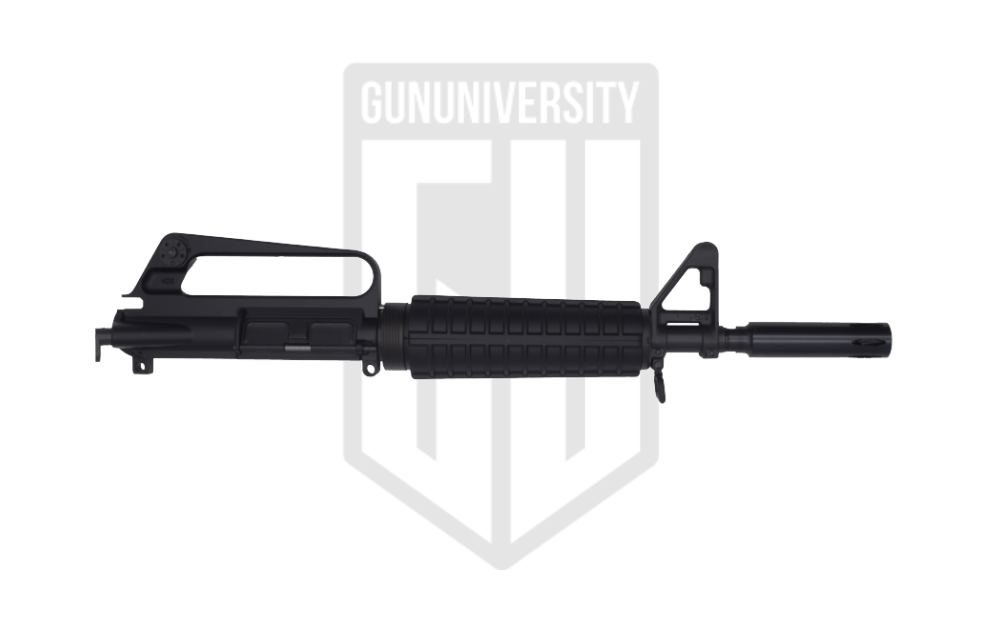 The Core Rifle
We start off with an oddity. It's usually pretty easy to trace a 1990s AR variant back to some specific Colt model. However, the Blood Diamond rifle seems to be an odd amalgamation of upper and lower receiver, with some odd parts tacked on to make what appears to be a CAR-15 family rifle.
The lower receiver is an M16A2 lower receiver. Colt did use these lower receivers to make a few different models, including the Colt Model 725, the 723, the 727, and the 733 series of rifles. Those would feature specific upper receivers with very specific barrel lengths and carry handle sight systems.
We don't have any of those upper receivers here. Instead, we have what appears to be the classic XM1777 upper receivers. Some have suggested GAU-5 uppers, but the presence of a forward assist rebukes this. These are distinctive uppers mainly due to the moderator device at the end of the barrel.
These guns have 10-inch barrels and 4.25-inch long moderators. Our Blood Diamond rifle has that same style of moderator, and it is clearly an early carbine-type weapon upper. The moderator's job was to help moderate the excessive flash that a ten or even 11.5-inch barrel generated with 5.56 ammo. The 5.56 round was originally designed for a 20-inch barrel, so shorter barrels tend to produce more noise. A moderator quieted things down and tamed the flash.
I know what you're thinking. A ten-inch barrel plus a 4.25-inch moderator makes the barrel essentially the same length as the M4 we have now. Why not just extend the barrel to 14.5 inches? At this time period, we hadn't figured out to make carbines work reliably. Part of the effect of the moderator was increasing back pressure to ensure reliable cycling since the dwell time changed so much.
If you want your own XM177 or GAU-5 upper, you might find it challenging. Retro Rifles makes a replica upper for the XM177, and so does TNTE. Lowers vary, but PSA seems to be entering the retro game, which will probably make things a little easier to source lowers.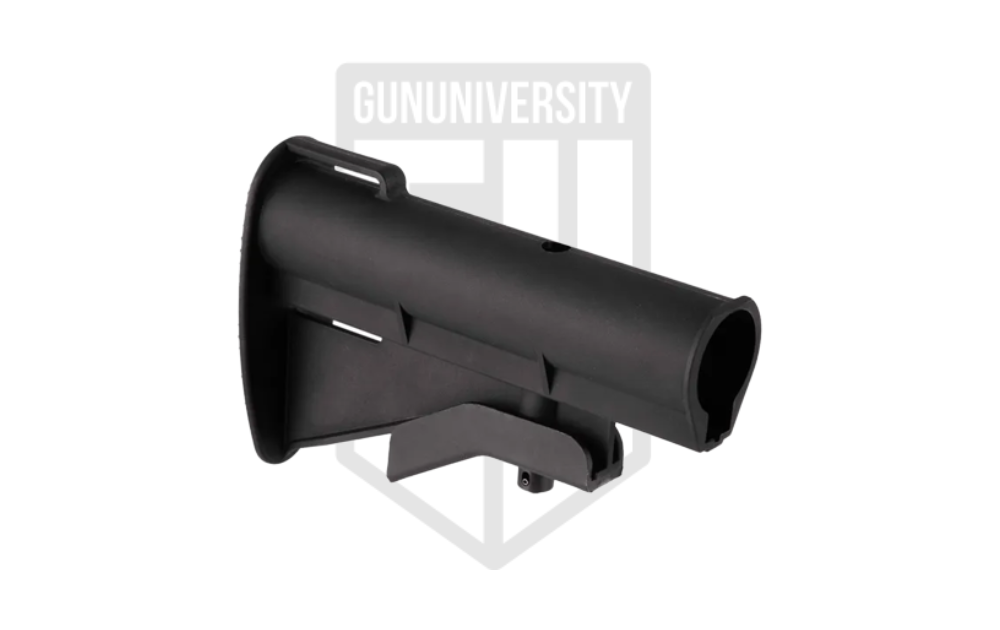 The Furniture
The good news is the furniture is pretty plain. It's simple Colt furniture. We have the famed plastic handguards up front and the CAR four-position stock at the rear. It's not fancy or modular, but it is very light. People really don't appreciate lightweight weapons until they are humping over the fields of Afghanistan for miles and miles.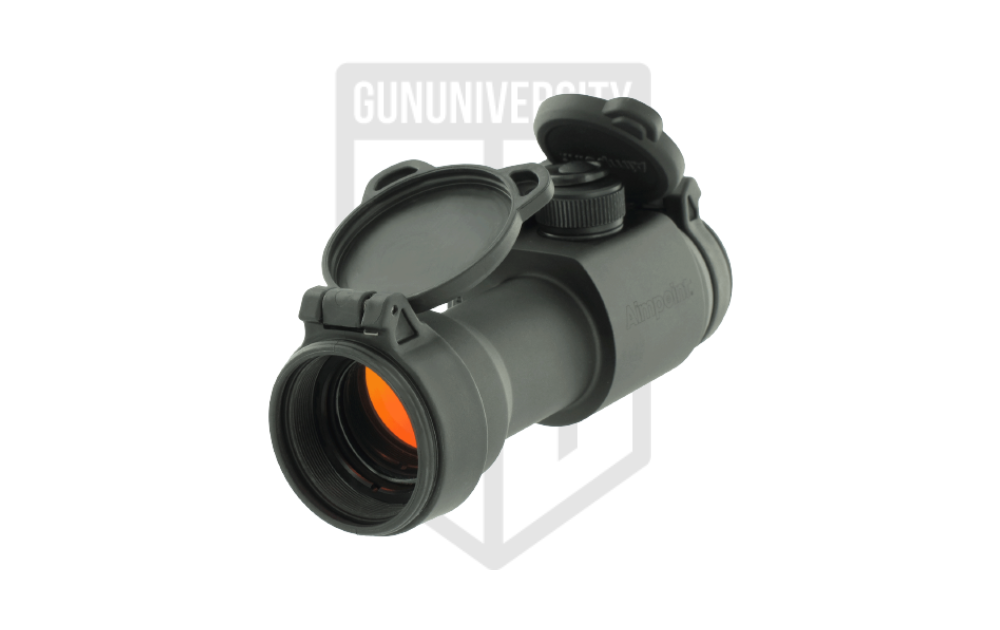 The Optic
Oh boy, the gun comes with a classic carry handle sight system that still rocks. Atop that carry handle sits an attached rail, and on that rail, we have an Aimpoint Comp M2. Aimpoint didn't create the first red dot, but they sure as heck perfected them. The modern red dot comes from Aimpoint, and the M2 is still a very competent optic.
It's a little big and a little heavy, but it still shines bright, has a long battery life, and is close to bombproof. The Aimpoint Comp M2 would be super modern in 1999. In fact, it's so modern it came back from the future! Aimpoint didn't release the Comp M2 until 2000, so the mercenaries must have a portal to the future.
To be fair, it's not that far off, but still pretty far. Maybe a Colt 4X or an Armson OEG would be more appropriate for the era. The combination of a carry handle, a Picatinny rail, and the Aimpoint Comp M2's own ring push it up quite high. Archer can barely get a chin weld to use the gun. With that said, the cool kids these days are rocking and rolling with 1.93-inch mounts that aren't much lower than the carry handle sights.
While the optic came out of the new millennium, it would be a good fit for this rifle. The short barrel of the XM177 style upper wouldn't warrant a high-power optic because it's not a rifle you'd use at long ranges. It's a 300-yard rifle, and it excels at CQB. The red dot makes it a great option for close-range combat. The mercenaries descend from the skies on helicopters and are a raid force, so the optic makes sense for raid purposes.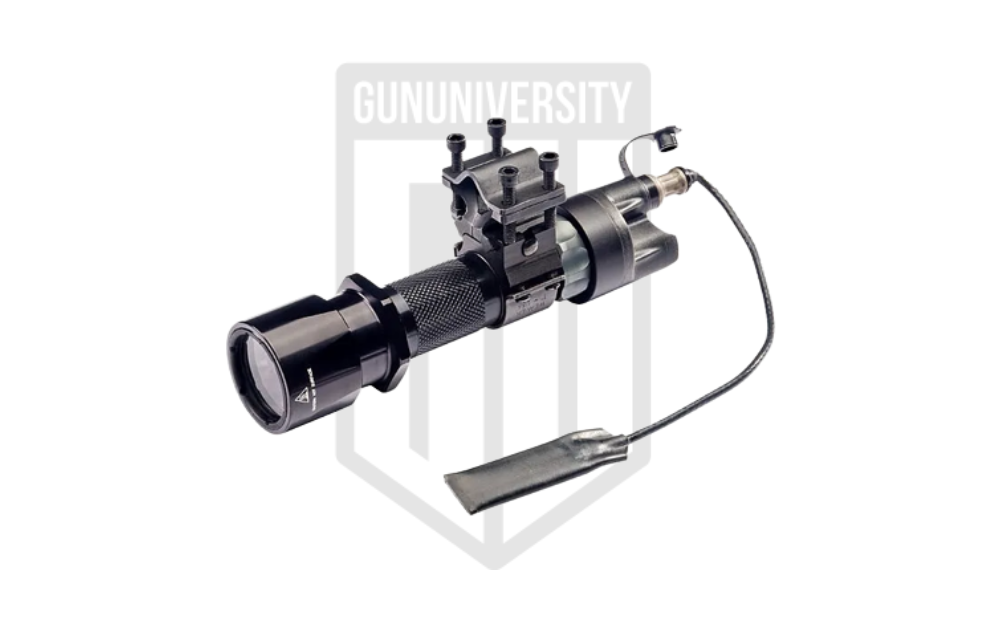 The Light
Optics from the future aside, the weapon has a very modern feature for 1999, a weapon light. Specifically, a Surefire 660 Universal Weaponlight with a pressure pad taped to the handguard. Keep in mind the RIS rails weren't exactly common in 1999, especially in Africa. The Surefire 660 Universal Weaponlight didn't need a rail, which is how it got its name.
Instead, the Surefire 660 uses a clamp mount designed to attach to the barrel of the gun. It's a smart location to mount Archer's light underneath the front sight block (FSB). The frame of the FSB prevents the light from slipping forward or rearward.
The Surefire 660 is a product of its time. This thing tossed out a blinding 120 lumens! These days that's a pen's light worth of power, and flashlights routinely pump out more than ten times that amount of power! The little Surefire tries hard, but time and technology have advanced, and the 660 isn't up to snuff these days.
The Paint Job
One of the most striking features of the rifle is its camo paint job. It took until a few years ago for military forces to allow the infantry to paint their rifles, and it is still resisted by big Army and the Marine Corps. Painting your rifle was something for spec ops and clearly mercenaries. Walking through the jungle decked out in camo and carrying an almost shiny, all-black rifle doesn't make much sense.
However, a camo paint job certainly helps hide your weapon and better camouflage your strike force. The camo pattern has some streaks of Rhodesia inspiration, but it's not a total Rhodie paint job. It's certainly an effective paint job for the environment, and that's impressive to me. It takes advantage of the environment and shows that the filmmakers and armorers paid attention and made sure it made sense.
Hold It Down
Archer's rifle is one of many used by the mercenary force in the film. The configurations and designs appear to be standard amongst the force, which makes sense. Archer gets his hands on one and ends up using it to provide cover against the said mercenary force and does so effectively. He provides accurate, prone fire and lays down enough cover to ensure Vandy can escape and survive to get his family to safety. It's the masculine feeling of laying down cover at the cost of your life personified.
The Blood Diamond rifle has become a favorite of movie cloners. It exemplifies an era that feels between the old school, iron sights, and fixed stocks and the modern carbines we saw come to be during the GWOT. Its striking camo pattern, old-school cool appeal, and modern accessories make the Blood Diamond rifle an awesome option.
Bonus Video
Check out Administrative Results, pre face reveal, LARPing with his blood diamond clone and breaking down how he got the look of this movie rifle. If you like learning more about guns from your favorite movies, check out this Beretta 1301 build breakdown from The Terminal List.