Craft Holsters Vertical Roto Shoulder Holster Review
In this article, I'm going to share my thoughts on a vertical leather shoulder holster (with mag pouches) from Craft Holsters. Shoulder holsters might not be for everyone, but they are the rig of choice (or necessity) for more than a few people. I'm one of them. It's for those folks that I'm doing this Vertical Roto Shoulder Holster review.
Craft Holsters Shoulder Rig Specs
Name

Craft Holsters Vertical Roto Shoulder Holster

Material

Leather

Configuration

Left (right hand draw)

Design

Pistol + 2 mags
Craft Roto Shoulder Rig Background
Some time ago I bought a 1984 HK P7 SPS. This was partly an investment, but it has also become my date night carry…and thanks to how much I love that gun, I've since made it my everyday carry. I've jokingly called it my "Rolex for men."
However, having something like this, I wanted to go a step further and have a top-notch holster for the gun. I've gotten an appendix; however, because the P7's grip sticks out, it's incredibly uncomfortable. Plus, since I use this on date nights or at classy events (like my daughter's wedding), I typically have either a dinner dress coat or a nice coat on and am in situations where I don't have to take the coat off.
This opened up the opportunity to test and try a shoulder holster. Now, I know how many of you feel about them. It is true that the drawstroke generally puts either your own limb (or possibly a bystander) in the line of fire or anyone standing to your left. It is also true that the draw can be slower.
And it is also true that a poorly made shoulder holster can be uncomfortable.
That doesn't mean they're all bad, though.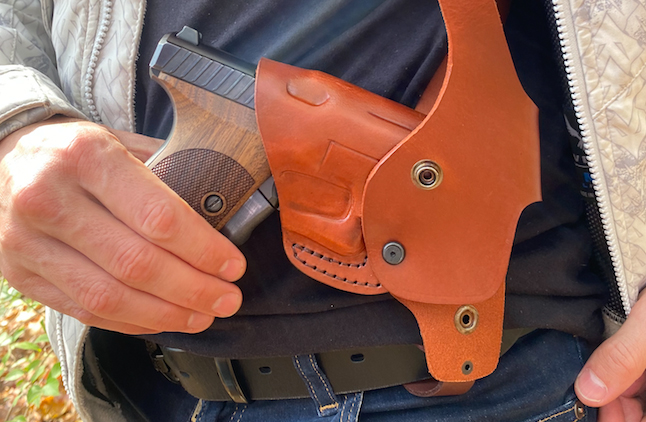 I don't dress in baggy clothes, especially for date night. An appendix carry holster sticks out and doesn't particularly fit me well. Because of these sartorial concerns (and a number of other reasons, including the presence of a coat or jacket), I decided to try a shoulder rig.
Because a poorly made shoulder holster can be very uncomfortable, I decided to contact Craft Holster. They have a reputation for quality, comfortable construction. For this review, they sent me their vertical Roto Shoulder holster. Thankfully, they make custom holsters for the P7 (they list the HK P7 M8 and P7 M13).
I got the P7 M8 which fits perfectly with my P7 SPS.
Craft Holsters Double Mag Pouch Shoulder Rig Features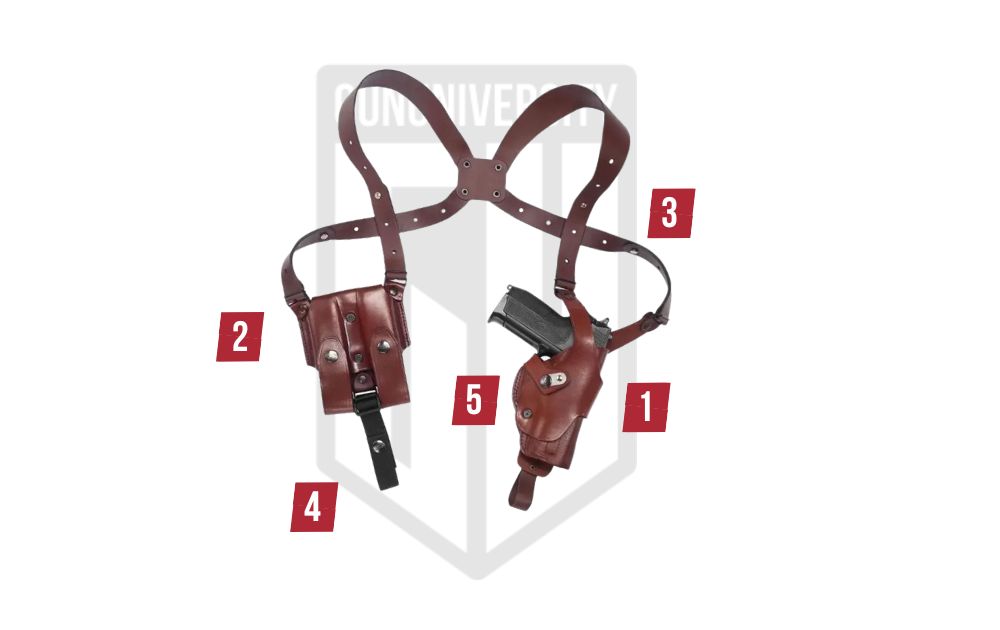 1
Roto holster mechanism
Carry weapon vertically but draw horizontally.
2
Off-side reloads
Optional double magazine pouch or double speedloader pouch available.
3
Adjustable sizing
Side straps are adjustable for size (good news if you're big and tall).
4
Leather belt loops
Secure the rig to your belt over each hip.
5
Optional monogramming
Ooooh, you fancy.
Models and Variations of Craft Roto Rig
Craft Holsters makes a wide variety of holsters in this style, including some in black and many for revolvers. There are right- and left-handed options, of course, as well as some that carry speedloaders for wheelguns (instead of magazines) and others that only hold the gun.
Calibers: .22 – 50AE
Magazine or speedloader offset
Semi-auto models: 50 + manufacturers
Revolver models: 50 + frames and styles
Craft Holsters Vertical Roto Shoulder Rig: Our Take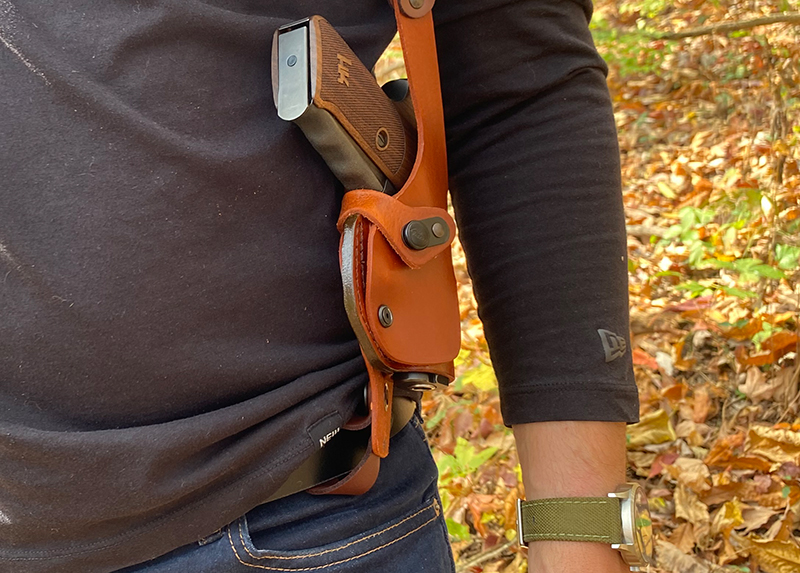 Vertical shoulder holster review: Craft Holsters
Let's start this review with the leather itself. I've used some cheap fake leather rigs before and will never recommend them. I agree you can save a buck or two going after the fake stuff and knockoffs, but for something like this, you should not skimp.
In addition to durability, there is comfort and retention. Fake leather can feel stiff and unforgiving, whereas the Craft Holsters leather is a perfect balance of softness and pliability without losing any integrity.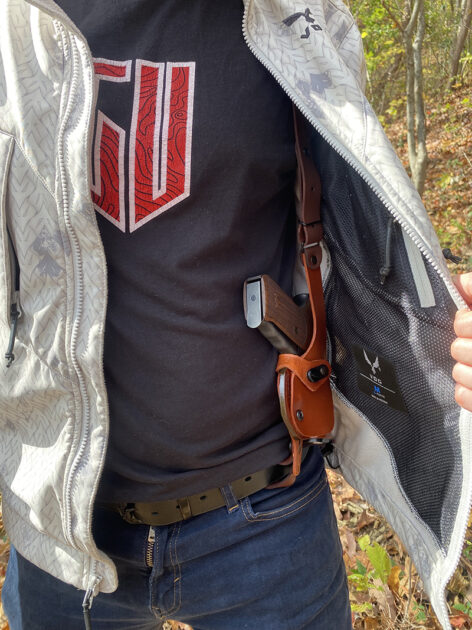 The next thing is its cut and design. This is PERFECT. The way it wraps around the back shoulder blades and the front of the shoulders in between the shoulder and pectoral muscles is exactly how I want it.
Wearing this feels like wearing a comfortable backpack. It doesn't impede my movement and doesn't wear me down. Its straps lend full support to it the entire time, and the excellent fit of the holster to the gun provides great retention.
The straps are adjustable and seem to have the capacity for expansion necessary for larger users. It has two straps that can wrap around a belt, which stabilizes the holster even more. While these are recommended, there have been a couple of nights where I wore the rig without the belt, and it worked absolutely fine.
One of the things that drew me to this rig was the Roto system. This allows me to carry my P7 straight down, so I'm not muzzling people behind me when it's holstered up. The Roto system rotates down for easier access in preparation for the drawstroke.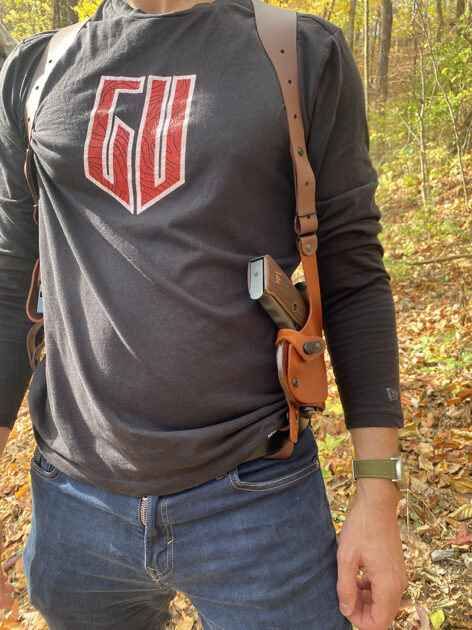 This lets me draw horizontally but also adds a few steps to the draw. I have to establish my grip, unsnap the clasp, rotate, and unholster. This makes the presenting the weapon unavoidably slower (albeit only fractionally so) than from an IWB position or traditional hip rig.
The nature of a shoulder holster draw also makes some additional training steps necessary. I practice on a private range with berms to my left and right, which prevents any muzzling, and I have also been working on maintaining my "chicken wing" when drawing so as to avoid having any part of my arm in front of the muzzle as I draw.
This is tedious but – as this is my EDC – very necessary.
In the end, this holster fits my needs. It looks great and is easy to wear. I can wear it on my date night or under formal clothes, without any problems.
They are a bit expensive, but I'm okay with the extra cost. Getting a good quality holster is imperative.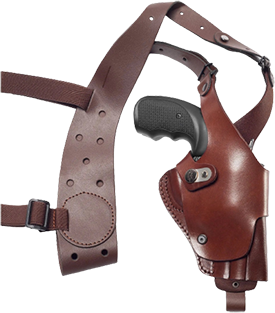 If you are considering a holster like this, don't cut corners.
Make sure you get a rig that is genuine leather and professionally designed.
Report Card

Retention

A+

Concealability

A-

Comfort

A+

Adjustability

A-

Value

A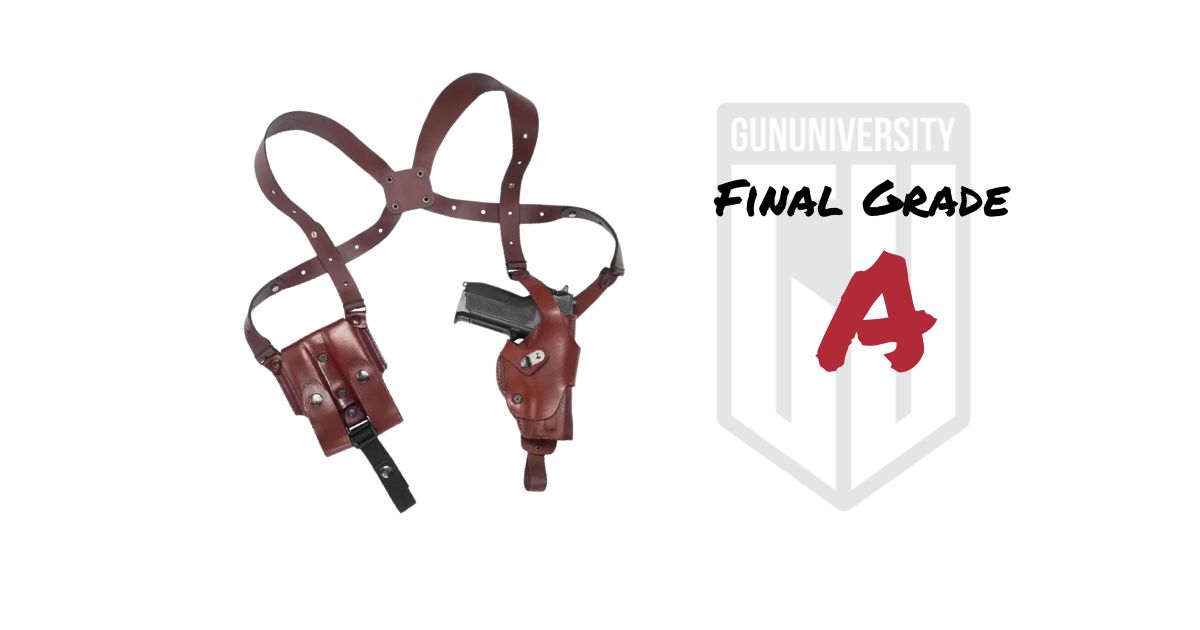 Our Grade
A
Reviewed by Dave Chesson
Reader's Grade
TBD
Based on 0 Reviews
Your Grade
Do You Own This Accessory? Leave A Review
Success Your Grade Has Been
Added To Our Reader's Score
We use email to verify the accuracy of our reviews. We promise to never spam you.
Craft Holsters Roto Shoulder Vertical Holster Gun Deals
More About Your Vertical Roto Shoulder Holster
A little background and information from Craft Holsters.
Additional reading
Looking for some more information on the HK P7? We have a link to the users manual and video from Forgotten Weapons showing you everything you ever wanted to know about the P7, from the history of the weapon and it variations to how it functions.