Sentry Range Bag Review: [Field Tested]
Just recently, Sentry reached out to us to try out their Sentry Range Bag. In the past I've been pretty impressed with their equipment, so I agreed but warned them that I'd give it an honest and fair review like us Gun University writers are required to do. They decided to send it anyway. So, here is my Sentry Range Bag review:
Sentry Range Bag Specs
# of Guns

2-3

Size

1,020 cubic in

Material

600 Dunier

MSRP

$89.99
Sentry Range Bag Review
Generally speaking, I'm very impressed with this bag and its organization. It starts with two detachable slots in the main compartment. This is nice because I usually just bring a can of ammunition to the range and so now I can remove one of the slots, and place the can inside of it and either a pistol or hearing protection or my oakley set in the final slot.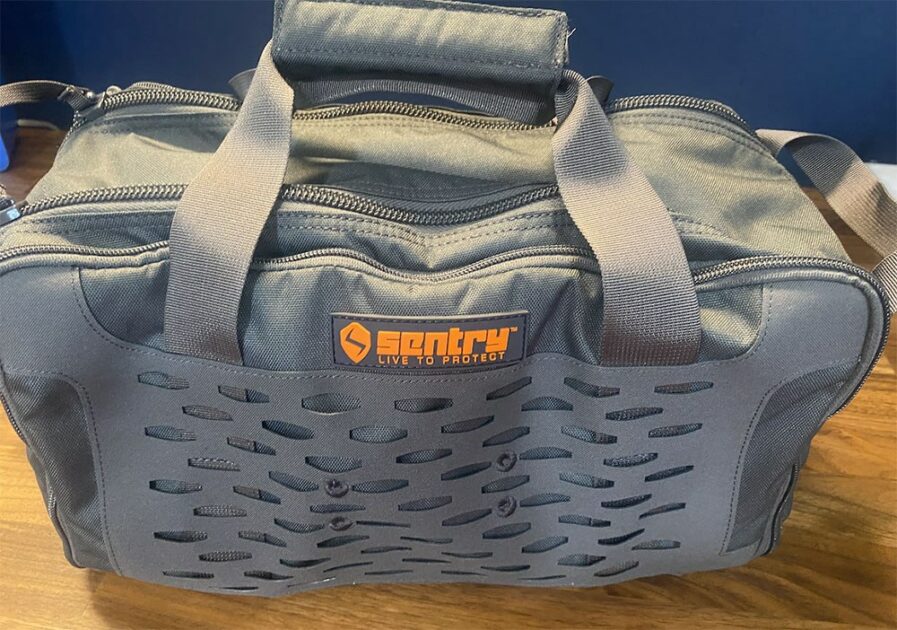 On one of the side pockets, it has 4 bands for holding magazines which is a nice touch. Also, something I'll discuss later is that this pocket, even with magazines in it, can also hold a pistol snuggly inside of it without a problem. However, it's important to note that a AK47 7.62 x 39 magazine can't fit since it's too long and the zipper won't close.
On the outside of the bag, they made a great decision to add molle webbing so as to allow for attachment of magazine holders, or IFACs, etc. This is a nice touch.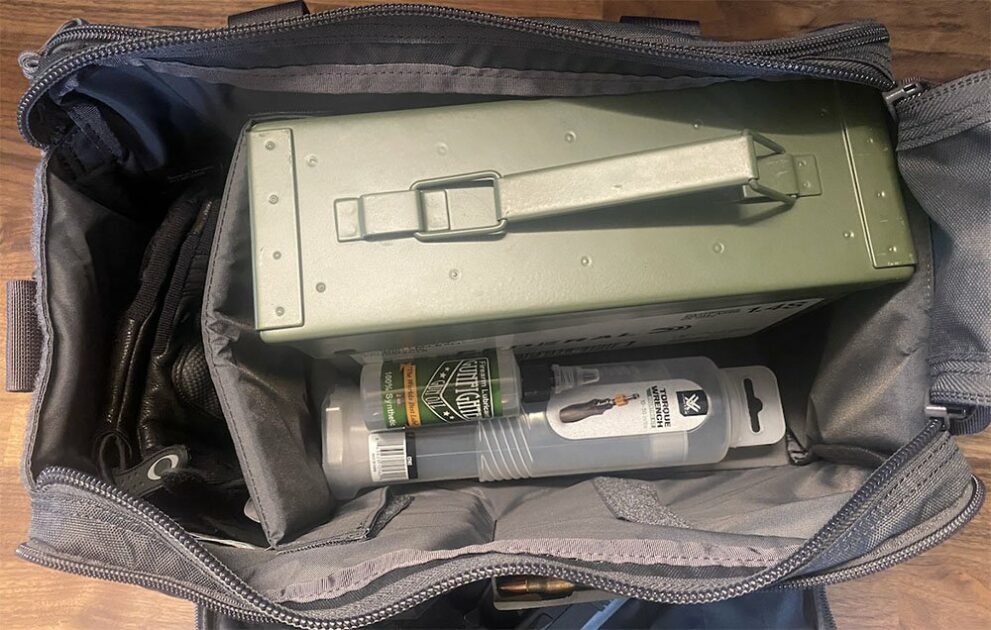 Now, on to one of the most important topics for range bags…how many guns can it hold. Officially they list 2-3 guns. However, I found it can hold more like 4-5 guns separately and securely by putting one of them in each of the side pockets…there's enough room for them and they are secured even with mags in their place. But that being said, you aren't carrying tools, extra ammo, etc. Furthermore, I added a clip to hold my hearing protection outside of the bag. All-in-all though, I felt okay with 4-5, but I appreciate them officially labeling it as 2-3.
One thing that really impresses me with this is the choice in material. Many others go with the rough canvas polyester, whereas this one uses heavy duty 600 Denier tear resistant fabric. I've been seeing a lot of companies move over to this like Maxpedition. I prefer this material for something like a bag because it's strength is excellent and I've never had a problem with it. Furthermore, it's extremely light.
Another feature I enjoyed was the zippers. Using a wide solid loop at the end makes it extremely easy to open, even with thick shooting gloves on.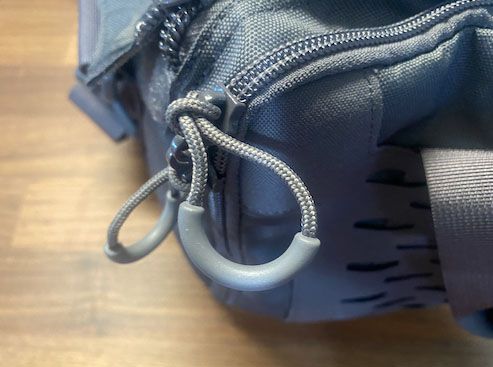 The Sentry Range bag also says that it comes with a lifetime guarantee. Skeptical about a blanket statement like that, I contacted them asking what it meant. I specifically asked if that covers fraying or rips or even negligence and Ellen D. of Customer Service replied, "There are no specifications. We'll replace the item if our customer is unsatisfied in any way." I tried to find something on their website that explains their lifetime guarantee, but to no avail. So, it sounds like they're willing to replace your bag for any reason…(shrug).
Okay, so what about its overall size? To me, this is a bit of the goldilocks system. It's not too big nor too small. I generally will bring 2-3 pistols, a can of ammunition, eye protection and hearing protection. Even with all of that, I still have room for a bunch of tools, and some cleaning components, as well as foam hearing protection for if I have guests going with me, and a couple of odds and ends. I don't really need much more. Anything larger, and it would basically be a bit of overkill, or would make me stuff more things into it…because I can.
On To The Negatives
The first is probably a tool of a statement, but I'm going to say it: I kind of wish they had put some loop velcro on the side that doesn't have the Molle. I'm a bit ashamed to say it, but I do like putting patches on my gun bags. Not that it really matters, but still – it's a gun range bag…why not? I'd love to sport my Gun University patch as well as some of my nerdy ones…yes, I know…shame.
Now, on to the price. A $90 bag is a bit of a hard pill to swallow. In the past, I've used a couple of makeshift bags that cost 1/4th the price. But on the other side of the coin, they weren't designed for gun ranges, and when I did buy a cheap bag on Amazon, it fell apart or frayed with minimal use. With the Sentry though, I don't think this is necessarily overpriced based on its quality. As I've said above, everything was designed well and has excellent quality – even down to the zippers. Furthermore, after using this a couple of times, I feel a bit spoiled.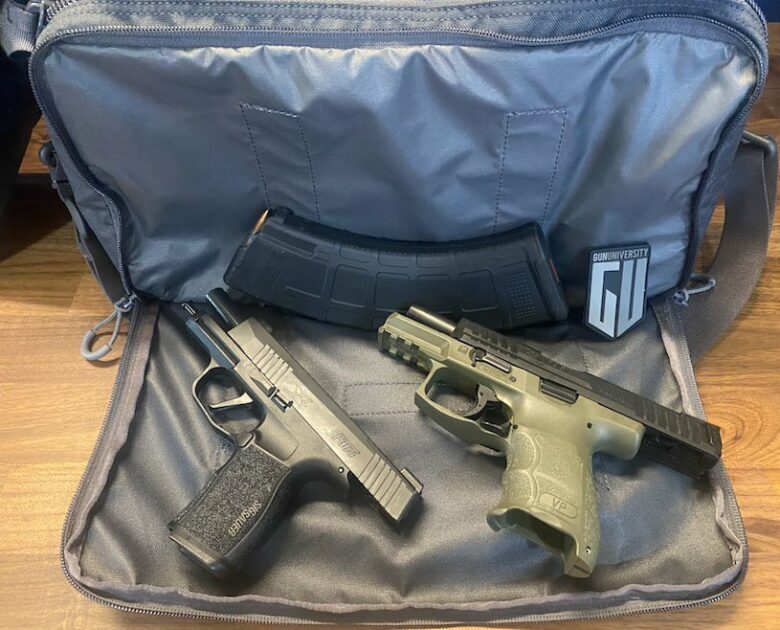 Final Judgment
If you have the money to buy a $90 range bag, then this is absolutely it. It's extremely well made and well designed. I will be replacing my Orca Tactical Pistol Range bag with this because I like it better. Plus, if I had to repurchase either of those two, I'd choose Sentry's over Orca. Last year, I would have chosen Orca's because it was $59. However, they recently jacked up the price to over $85, putting it close to Sentry's. And Sentry's is worth the extra $5 if you're looking for a premium range bag. Therefore this is the best range bag I've tested to date. It will get my Best Premium Range bag award.

Our Grade
B+
Reviewed by Dave Chesson
Reader's Grade
A+
Based on 1 Reviews
Your Grade
Do You Own This Accessory? Leave A Review
Success Your Grade Has Been
Added To Our Reader's Score
We use email to verify the accuracy of our reviews. We promise to never spam you.
Sentry Range Bag Deals