Ruger SP101 Review: Small, Sturdy, and Powerful in 357 Magnum
The SP101 has been a part of the Ruger lineup for years, with many thousands sold. This Ruger SP101 review will look at how it compares to the field.
Ruger SP101 Specs
Name

Ruger SP101

Caliber

.357 Magnum

Capacity

5

Action

DA/SA

Frame

Stainless Steel

Sights

Fixed

Barrel Length

2.25 inches

Weight

26 ounces

Grip

Rubber

Safety

None
Ruger SP101 Background
5-shot revolvers have a long history of concealment use. Shrinking the cylinder down from 6 rounds to 5 rounds is a common way to reduce the size of a revolver. Losing 1/6th of the capacity hurts, but if it makes the difference between getting carried and getting left at home then it makes sense.
Generally, the move from a full size revolver down to a compact model is accompanied by other concealment changes. The SP101 bucks this trend by keeping the standard spur hammer and the full weight of a steel frame. The SP101 also maintains the .357 magnum chambering more commonly found in full size revolvers. Many other concealable revolvers opt for a .38 Special chambering. This does keep recoil down but it limits the ammunition options and ballistic potential. .38 Special ammo can still be fired in a .357 chamber though.
Many other concealed carry revolvers sacrifice grip size in the pursuit of concealability. Both grip diameter and length are maintained in such a way that the SP101 is still shootable.
Ruger's SP101 has a frame made from one solid piece of steel. This is in contrast to other revolvers on the market with side plates that are held on by screws. An overbuilt construction is one of the hallmarks of a Ruger wheel gun. In fact, Ruger's single action Blackhawk models chambered in .45 Long Colt have their own section in reloading manuals because they are able to withstand substantially more pressure than other models. The SP101 takes that same design mentality and shrinks it down into a double action revolver that fits in a coat pocket.
Ruger SP101 Features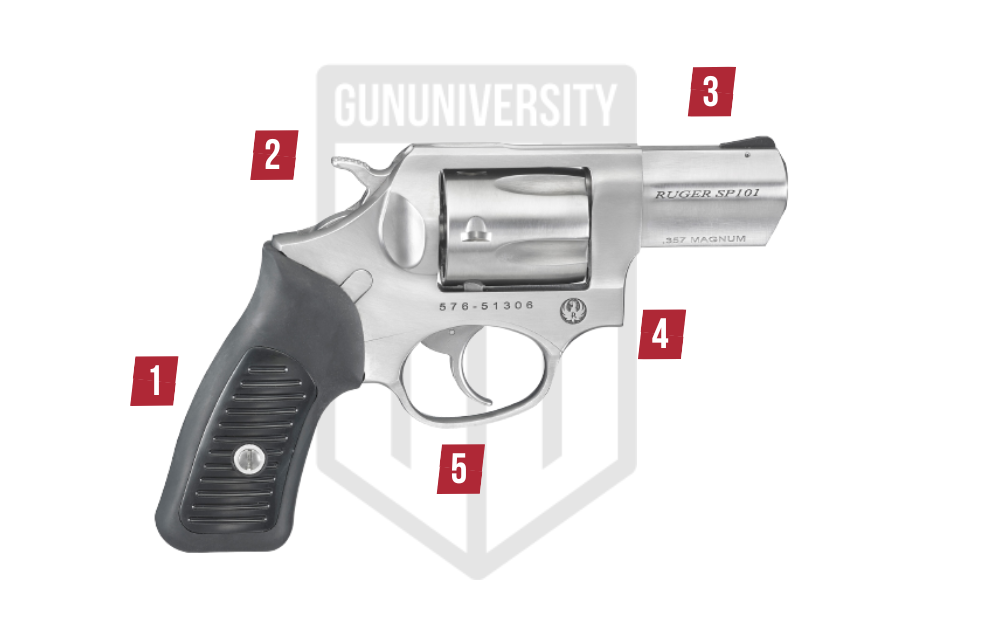 1
Grip
Black rubber grip, frame easily accommodates a variety of custom grips.
2
Steel Frame
Solid steel frame construction 
3
Sights
Replaceable black ramp front sight and integral rear sight
4
Size
357 Magnum power in a small package
5
Trigger
Double Action/Single Action trigger
Models and Variations of the Ruger SP101
There are tons of SP101 variations. Most are chambered in .357 Magnum, but .22 LR, .327 Federal and even 9mm. All are made from steel, generally stainless. Barrels range in length from 2.25″ to 4.2″ and various grip options are also available. Most models have a spurred hammer and function in double action or single action. Some dedicated double action only models with bobbed hammers are available too.
Ruger SP101 – Our Take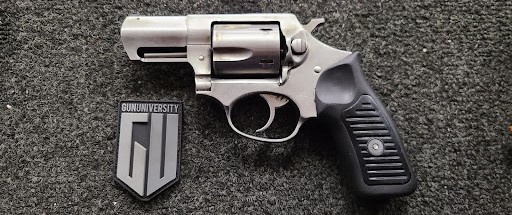 Guns which are easy to conceal are not generally easy to shoot, and the reverse is true as well. The SP101 hits a good center point on that balance. It is not much larger than similar competitor models and still conceals well. It is, however, quite a bit heavier. The SP101 is a steel gun. It is not made from lightweight aluminum or exotic materials like Scandium. Ruger takes a chunk of steel and cuts a revolver out of it. This is a gun that will last forever, but this extra weight takes a little more work to carry. It seems just a little too heavy for true pocket carry use.
This extra weight helps tame the recoil of the .357 magnum in a very small handgun. It may help tame the recoil but it does not eliminate it. Thankfully, the grips on the SP101 are a little larger than those on some pocket revolvers. They are just big enough to help spread the recoil force out across the hand. Their rubber composition also softens the blow slightly. Now, this is not to say that the SP101 recoils like a full size 9mm. It does not. But it is less brutal than the average 5-shot revolver. Even with all the improvements over other revolvers, the middle finger of my shooting hand still developed some bruising from the trigger guard. Most shooters will not want to shoot hundreds of rounds in a day through this gun.
The SP101 is built to last more than a lifetime, and Ruger has a reputation for taking care of their customers if they ever do manage to break something. As long as quality crimped ammo is used (to prevent the bullet jumping forward from the case under recoil) there is little likelihood of having any reliability issue.
The trigger pull on the SP101 is not incredible but it is very functional. In double action, the pull is very heavy. It is smooth though, and I found it very easy to shoot still. The single action pull is very short and light as would be expected. I was able to keep all rounds on an 8.5 x 11" target at 25 yards.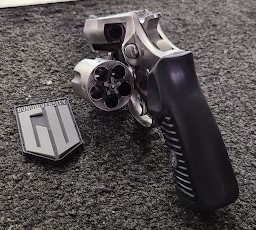 Keeping the traditional spurred hammer is a trade off. The ability to set the hammer for single action use makes shots at longer distances much easier. But it also creates a very obvious snag point when drawing the gun from concealment. However, there are versions of the SP101 with a bobbed hammer (which only function in double action) for those who don't want the snag risk.
The SP101 has fairly minimalist sights. The front is a ramp and the rear is a simple trough cut in the frame. This makes for extremely durable sights that will not lose their zero with rough handling or the bumps and knocks that come with concealed carry. The trade off is no adjustability, so the gun cannot be zeroed to a particular load. The sights lined up very well with full power 158 grain .357 Magnum ammo. Front sights can be changed by punching out a roll pin. Taller or shorter front sight blades could be affixed to adjust point of aim, but that is probably overkill for the type of shooting this gun is made for. A night sight can also be added if the user feels it is important.
The SP101 is a decent value but not amazing. Prices range from $600 to $700 for most models. This is more expensive than other common 5-shot revolvers. The robust, all steel construction does justify much of that expense, but the simple sights seem a little cheap for the price point. This minor complaint is not enough to spoil an otherwise positive experience, though.
Ruger SP101 Pros and Cons
Strength – stout construction
Variations – wide range of variants
Capacity – Limited capacity
Report Card

Shootability

It overcomes the weaknesses of small revolvers well

B+

Reliability

This little gun is built like a tank

A

Ergonomics

It is comfortable compared to the competition, but not semi autos

B

Accuracy

Surprisingly accurate for a small revolver

A-

Value

$600 to $700 is not cheap, but it will last forever

B-

Our Grade
B+
Reviewed by Daniel Young
Reader's Grade
A+
Based on 2 Reviews
Your Grade
Do You Own This Gun? Leave A Review
Success Your Grade Has Been
Added To Our Reader's Score
We use email to verify the accuracy of our reviews. We promise to never spam you.
Ruger SP101 Starter Pack
Along with your revolver, you will want some eye and ear protection for yourself and good cleaning kit for your firearm. See some of our favorites here.
Gun Cleaning Kit: Keep your shiny revolver looking good and give it a good cleaning after use. We've got an article dedicated to gun cleaning kits you'll need to keep your firearm in great shape.
Eye Protection: Eye protection is a must. Check out our recommendations for the best shooting glasses!
Hearing Protection: Along with eye protection you need to protect your eyes. We have an article to help you decide the best hearing protection for you.
Upgrades and Accessories for the Ruger SP101
Revolvers have a classic look and the SP101 is no exception. Why not upgrade the grip to make your SP101 unique. You will also want a classy holster to use to carry your wheel gun.
The SP101 does not hold much ammo, we found two different types of speed loader to hold your extra ammo and make reloads faster. One is round to maximize speed while the other is flat to maximize concealability.
By swapping out the springs you can fine tune your trigger feel to get it just how you like it. We found a set that has the springs you need for your SP101.
Best Accessories For The Ruger SP101
Best Ammo for Your Ruger SP101
Lets talk about ammunition. We usually recommend two types of ammo for each firearm. One for practice and one for more serious purpose. Here are two we liked for the SP101.
Practice Ammo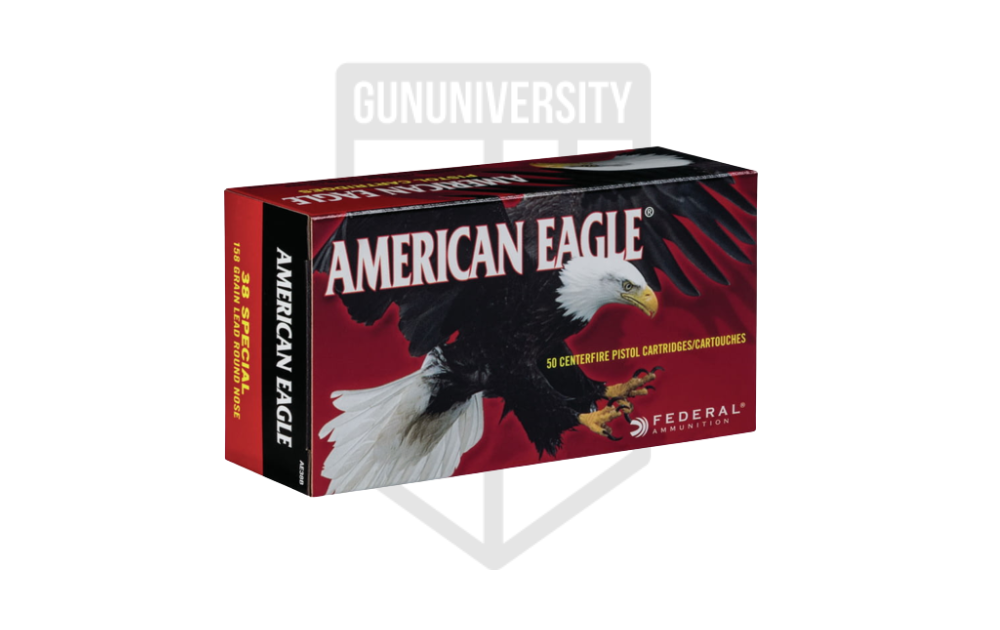 Federal American Eagle 38 Special 158 GR LRN
Other Revolvers of its Class to Check Out
Here are two revolvers similar to the SP101 that you might be interested in learning more about. Both are small and concealable.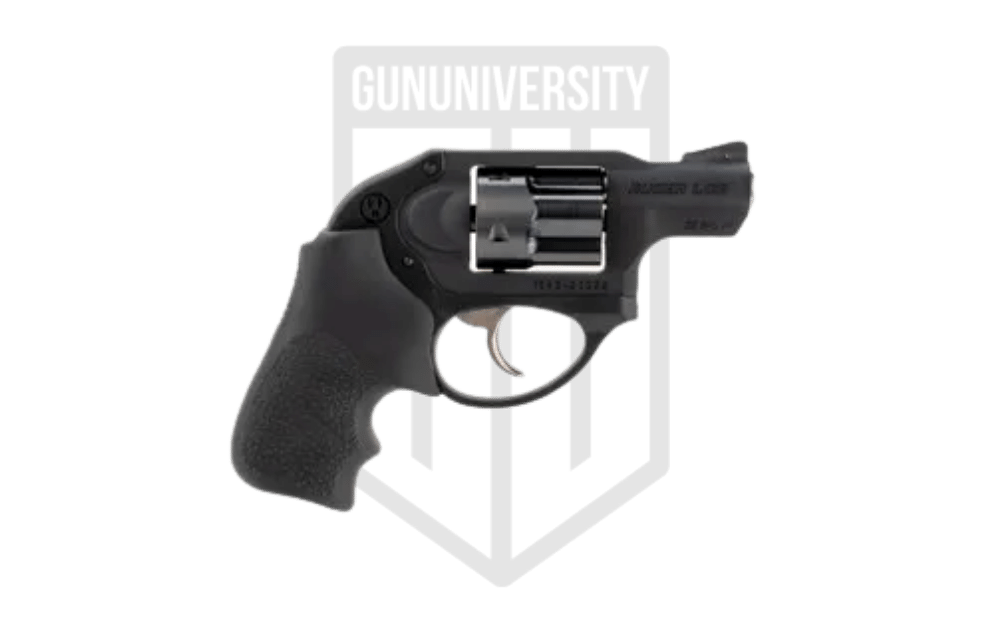 Our Grade
Reader's Grade
TBD
Based on 0 Reviews
Your Grade
Do You Own This Gun? Leave A Review
Success Your Grade Has Been
Added To Our Reader's Score
We use email to verify the accuracy of our reviews. We promise to never spam you.
Our Grade
Reader's Grade
TBD
Based on 0 Reviews
Your Grade
Do You Own This Gun? Leave A Review
Success Your Grade Has Been
Added To Our Reader's Score
We use email to verify the accuracy of our reviews. We promise to never spam you.
There is just something about revolvers. Maybe its the look and feel or maybe it is the cartridges they shoot, or most likely both. We have two revolver only articles for you to check out if you want to learn more about our favorites. One articles is dedicated to revolvers in .357 magnum, the other is open to all calibers. Check them out below!
How to Care for Your Ruger SP101
Revolvers are not that complicated and they are reliable, but they do require maintenance to continue to function properly. This video by Ruger is short and to the point and shows you how they want you to clean and care for your Ruger SP101.
Important Links and Manuals for Your Ruger SP101
Looking for some more information on the Ruger SP101? Check out the links below for the manufacturer's website, operator's manual, and other valuable content.