Glock 23 Review [.40 S&W Gen 3]: Durability and Reliability at Its Finest
This is a review of the well-known, often lauded Glock 23 .40 S&W semi-auto pistol. But this is NOT your typical review. Just because you've seen all the reviews about every generation of the G23, does not mean you've seen all that this gun has to offer.
We hope to add something to the mix with this comprehensive review about an idea, that comes through as a major success in the Glock 23 pistol.
Glock 23 Specs
Capacity

13 (standard), 15/17 (optional)

Caliber

.40 S&W

Height

5″

Length

6.85″

Length (barrel)

4.01''

Weight

23.65 oz

Trigger Pull

5.5 lbs

Trigger Travel

0.5″
Glock 23 Background
The majority of this review will apply to the Generation 3 Glock 23, but as a very harmonious balance between what Glock started as and what Glock is today.
I find it a perfect way to cover a lot of what Glock pistols have to offer.
When the Glock 23 Generation 3 was released in 1998, the gun was already 8 years old. While the .40 S&W was still the law enforcement darling after decades of the .38 Special.
And this was followed by 6 years of 9mm dominance in the holster for most law enforcement officers.
The .40 S&W had already seen nearly half a decade of stealing market share across the board for federal and local law enforcement agencies against the 9mm.
But the full-sized pistols weren't always the best fit for officer demographics which were trending towards more females, and larger overall candidate pools.
Since the original coming out party for the semi-auto pistol, and specifically the Glock Polymer framed pistol, no other gun had been as dominant as the G22/G23 (full and compact sized pistols respectively), except the G17G/19. This included the very well represented S&W stainless steel firearms.
Glock G Series
What was so special about the Glock G series guns?
They were lightweight, bulletproof, easy to handle from a recoil perspective and they carried a lot of ammunition which, when it came down to it, balanced well with a full magazine. One could say, the Glock 23 did more than its even more famous siblings the 9mm-based 17/19 to solidify the Glock name as the universal go-to for law enforcement.
It was an approachable, easy to handle, high capacity firearm, in the trendiest caliber available for LE at the time, and it just didn't stop working. It was also priced right, and had momentum from the other successful Glock forebearers.
But the 23 was a catalyst for the LE community, because it ushered in the idea of duty gun turnover based on key factors – in the case of the G23, the .40S&W cartridge.
The 23 still has a huge sales volume in today's market, despite a law enforcement return to the 9mm almost across the board, and new, interesting pistols from rival manufacturers, as well as multiple generational changes to the Glock pistols. Proof of it's staying power, and the fact that Glock got it right so many years ago design-wise.
Glock 23 Features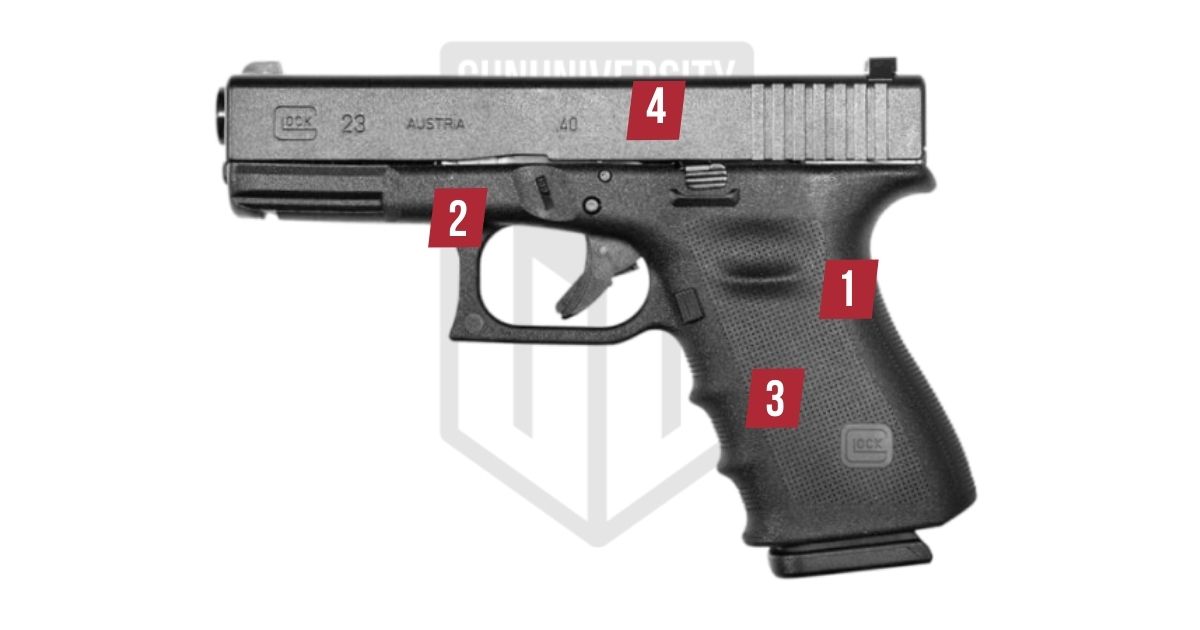 1
Polymer Frame
The Glock 23 features a resilient polymer frame that helps keep the gun "elastic" and adds toughness and durability. It's lightweight too.
2
Modular build across the model range
It's cheap and easy to maintain and repair a Glock 23. But it's also almost never needed. Sure, basic field stripping and cleaning is necessary, but parts interchangeability helps in ownership too.
3
Good Grip
Glock Gen 3 pistols offer finger grooves, but still maintain the subtle stippled panels in conjunction with front and rear strap checkering. It keeps you on target even with sweaty hands. If you need more grip, there are cheap, easy aftermarket options.
4
Metal finish
The metal parts are coated and finished to avoid rust. There have been some subtle changes over the years to the exact formulation, but Glocks ALL have incredible oxidation resistance.
Glock 23 Variants
The GEN3 is available in Black and in some rarer cases, Flat Dark Earth on the frame only. GEN4 can be found in Exclusive colors at certain retail/e-commerce outlets including Grey, Black, Flat Dark Earth and Olive Drab.
GEN5 can also be found in Exclusive colors at certain retail/e-commerce outlets including Grey, Black, Flat Dark Earth, Coyote Tan and Olive Drab.
Many distributors now also offer cerakoted pistols as new, with interesting color palettes.
You can also pickup specialty cutaway and red-handled models great for trainees learning how guns operate or to get used to the weight of carrying one.
Glock 23 – Our Take
I'm just going to come out and say it: the Generation 3 Glock is like the Used Rolex Submariner. Sure you'll pay just about the same for a heavily used one as you will for a barely used newer version, that has sharper features and a prettier surface finish, but you probably won't get the same utility and world-beating durability out of the new one.
The Generation 3 Glock pistol is easily the best mix of features and real-world usability of any generation of any pistol from any manufacturer. You just cannot find a better harmony between "beat it up", and "don't care about it", and yet, still be able to count on it to shoot straight and function every time.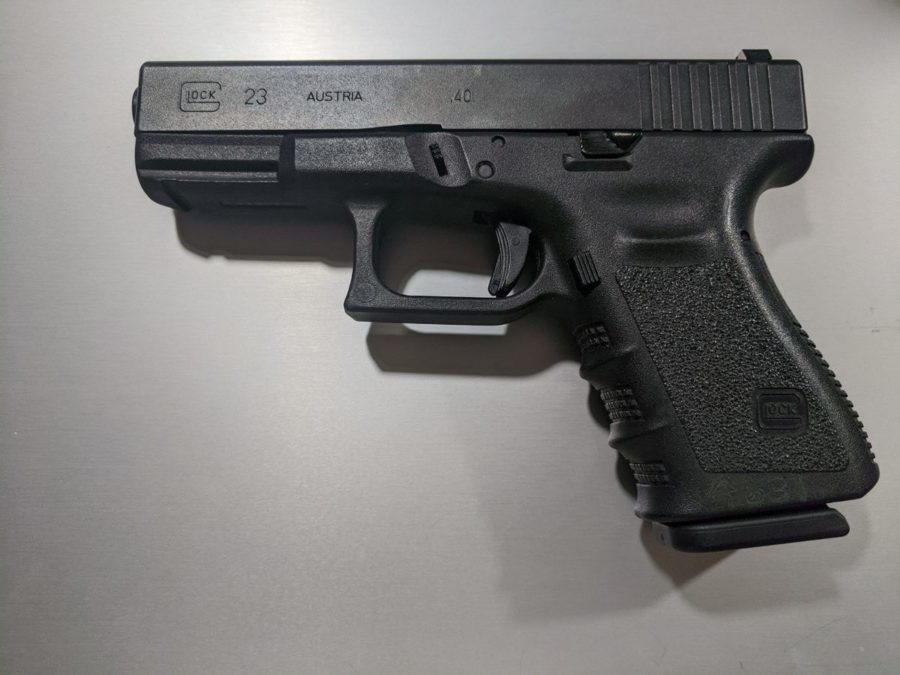 There is nothing wrong with Generation 4 and Generation 5 Glocks. They are also great guns. But there is something about the sort of ugly, humble lines of the Glock Gen 3 that convinces me this was the last time Glock cared about making a truly universal offering.
Today, most of the changes made to the Glock lineup involve saving money on universal tooling or trying to meet the market majority. I like the finger grooves and the old school stippling. I like the lanyard loop and the fixed pistol grip with the "awkward" angle. This coming from a guy who loves to carry a 1911 .45 in condition one, too.
I like the fact that nothing is needed to make the gun function. Though if you look closely you'll see that the slide stop is not a factory variant. That was there when I bought it. It's low profile enough that I didn't decide to replace it with a factory OEM version.
Ergonomics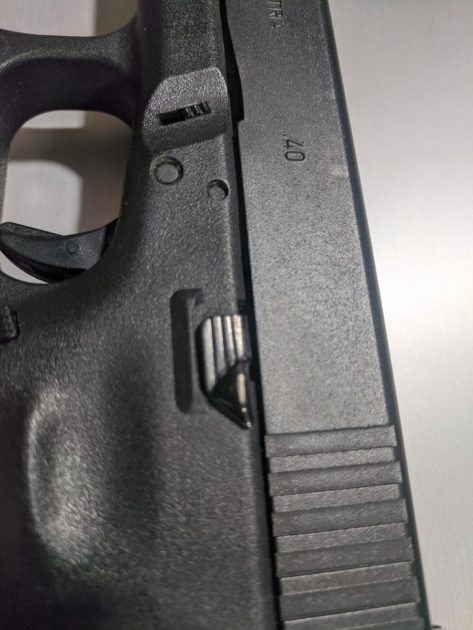 The ergonomics aren't as good as the 1911. Which pistol ergos are? But I shoot this gun sub 2 inches at 25 yards one-handed all day long.
Because it will digest anything, I don't have to worry too much about what I feed it, though, if I'm trying to be nice, I don't shoot non-jacketed lead bullets down the barrel. It's not that it can't handle it, but you don't get the same accuracy after about 25 rounds, and it's not fun to clean up.
The overall value of the gun is unmatched. You can find used versions that are completely serviceable (look at the pictures of this gun with probably close to 90k rounds through it, it essentially looks new) for sub $400 pretty much anywhere except California – even then, they are available from time to time in the $300-400 range there too.
The factory night sights aren't tactically superior to a newer version, but they are infinitely better than the factory plastic sights from Glock. My recommendation is to see if you can find one with the metal sights, they just perform better. Especially if you have the screw-in front sight variant, or the dovetail milled-slide variant, rather than the factory plastic sights.
The .40 S&W offers good ballistics, a decent recoil profile compared to the hottest 9mm defensive rounds and good overall stopping power. If you're still a fan of the .40S&W, you won't complain about the velocity and power delivered out of the standard Glock barrel from a Gen 3.
Customization
Because there are so many aftermarket options for this gun, and you can even do some customization at home, this is a gun that allows you to customize it, without feeling like you are wrecking a factory masterpiece. You can lose the finger grooves on the front strap with some creative taping and sandpaper work. You can play around with the stippling with some basic tools from harbor freight. What are you going to do, make it uglier?
Glock knows it has looks that only a mother or a hardcore fanboy can love. We don't love the G series pistols for their looks. It's all about their reliability and durability.
Durability
The G23 isn't the only Glock I've owned. I've got a Glock 17 with over 200k rounds through it. The only casualties of war for it are a firing pin and two guide rods.
I fully expect this Glock 23 to go the same distance, and God willing, it will be as tough in the second 100k as it has been in the first 100k. I've also owned 3 other Glocks over the years that I don't currently own now. All were excellent CCW companions.
Capacity
The 13 rounds of factory capacity (10 in places like California and New Jersey, etc.) is enough to keep range downtime to a minimum with a few magazine purchases. You can also get higher capacity magazines.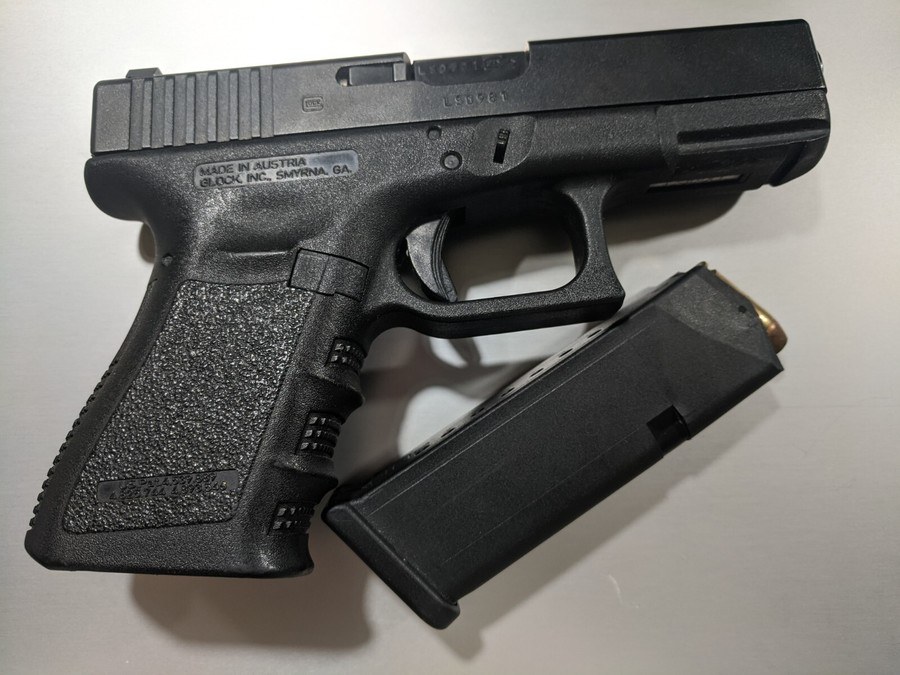 The capacity also allows you to feel confident as you carry it concealed, which this size frame is really good for. On anyone more than about 165 lbs, this gun is infinitely concealable. In a purse or specialty holster, it's every bit as easy to locate, handle, and stop a threat as it is in a concealment position on your waist.
The thing about the Glock 23 Gen 3 is that it's able to be handled by anyone, small hands or big, small frame or big. Shooters who don't like the heavy thud of the .45ACP or the muzzle snap of the 9mm seem to find this is a good compromise. Sure it's still a bit snappy, and it still has a bit of recoil, but it's manageable.
And as much as that old line about polymer frames soaking up some of the recoil seems like just marketing fodder, I really can't prove that it's wrong. It just seems to shoot well for everyone that grabs hold of it.
At the beginning of this section, I compared the Glock Gen 3 G23 to a Rolex. I want to remind you that I never said it was as pretty as a Rolex Submariner, say, from 1990-2002 (like the Black Bezel Model #14060), but I'd be surprised if you don't find the same type of place in your heart for this older generation model as the watch connoisseur finds in theirs for that Submariner.
Glock 23 Pros and Cons
DURABLE. You won't feel bad about using it.
Gen 3 Glocks are exceptionally reliable.
No rust or finish issues.
Even loaded and ready, it's still a safe firearm.
Maintenance is cheap and parts are easy to replace.
Can feel front heavy with low rounds
Factory sights aren't great…It's a Glock.
Everyone likes 9mm now, and this is a .40 S&W
Report Card

Reliability

Failures are exceptionally rare in the Gen 3 pistols across the board.

A+

Accuracy

There is likely not a person on the planet that can't shoot a 3.5-inch group at 15 yards or better with this pistol.

B

Shootability

You'll find it recoils softer than the overall gun footprint and weight might dictate. It also digests everything on the market ammo-wise.

A+

Ergonomics

If you spend about 2 boxes of ammo with any Generation 3 G23, you'll be shooting it at better than average for a defensive pistol.

B+

Value

Given its reliability and longevity, it's better than just about any duty firearm at the price point without hesitation.

A+

Our Grade
A
Reviewed by Benjamin Worthen
Reader's Grade
A-
Based on 38 Reviews
Your Grade
Do You Own This Gun? Leave A Review
Success Your Grade Has Been
Added To Our Reader's Score
We use email to verify the accuracy of our reviews. We promise to never spam you.
Glock 23 Starter Pack
We don't blame you if you're looking to pickup a Glock 23 after this article. Heck, we might grab another one ourselves. However, if you're planning to do so, you should at least have the basics.
Glock 23 Gun Deals
Looking for an awesome deal for a new Glock 23? Check out these sites for some great options!
*These are the lowest prices available at the time of writing. Prices and availabilty may change.*
Upgrades and Accessories for the Glock 23
If you've ever owned a Glock, you know what the first thing you need to do is. Change the sights. But what else do you need to make your QoL better? Check out our other recommendations!
Best Upgrades for the Glock 23
Upgrade
Details
Check Price

TRUGLO TFX Pro Tritium and Fiber Optic Extreme Sights

Day/Night set
U-notch design
Contrasting color front ring

Check Price

The Ultimate 3 Slot OWB Leather Holster

Made in the USA
3-slot pancake design
Genuine cowhide leather

Check Price

Glock Factory Extended Slide Stop

Comes in multiple color choices
Allows better grip when releasing slide
Does not fit on Gen5 models

Check Price
Best Ammo for Your Glock 23
When it comes to purchasing your ammo, you need to double check exactly what you're buying. If you're headed to the range for target practice and to burn through some rounds, you need to pick up ammo suited for just that.
However, be sure that you replace your mags with working ammo afterwards, so your Glock and you are always prepared with maximum stopping power and efficiency.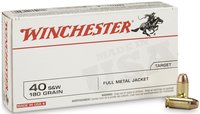 Winchester White Box .40 S&W FMJ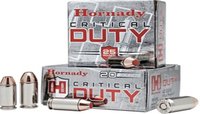 Hornady Critical Duty .40 S&W Flexlock
Other Duty Pistols of Its Class to Check Out
Not sold on this G23? Or maybe you're just one of those Anti-Glock folks. Whatever the reason, we've got two other options you might like better.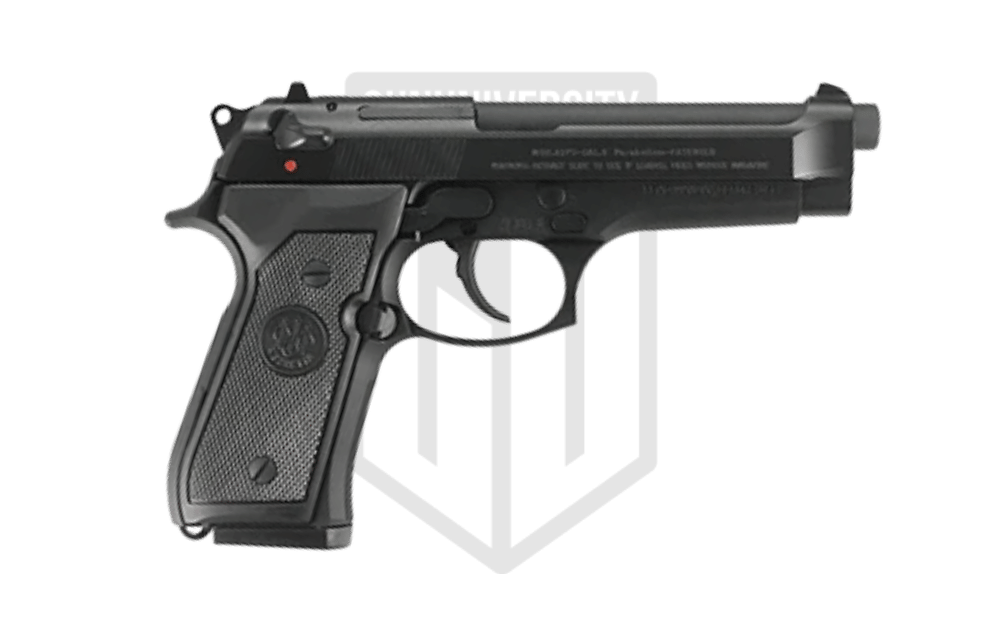 Shootability

C

Reliability

A+

Ergonomics

C

Accuracy

A

Value

A-
Reader's Grade
A
Based on 56 Reviews
Your Grade
Do You Own This Gun? Leave A Review
Success Your Grade Has Been
Added To Our Reader's Score
We use email to verify the accuracy of our reviews. We promise to never spam you.
If you're prior service and you loved your M9–there are some of us out there who actually liked it–you may want to consider the civilian counterpart, the Beretta 92FS. It's a decently accurate shot with the ability to eat anything loaded within. Not to mention, that the Beretta 92FS is…READ MORE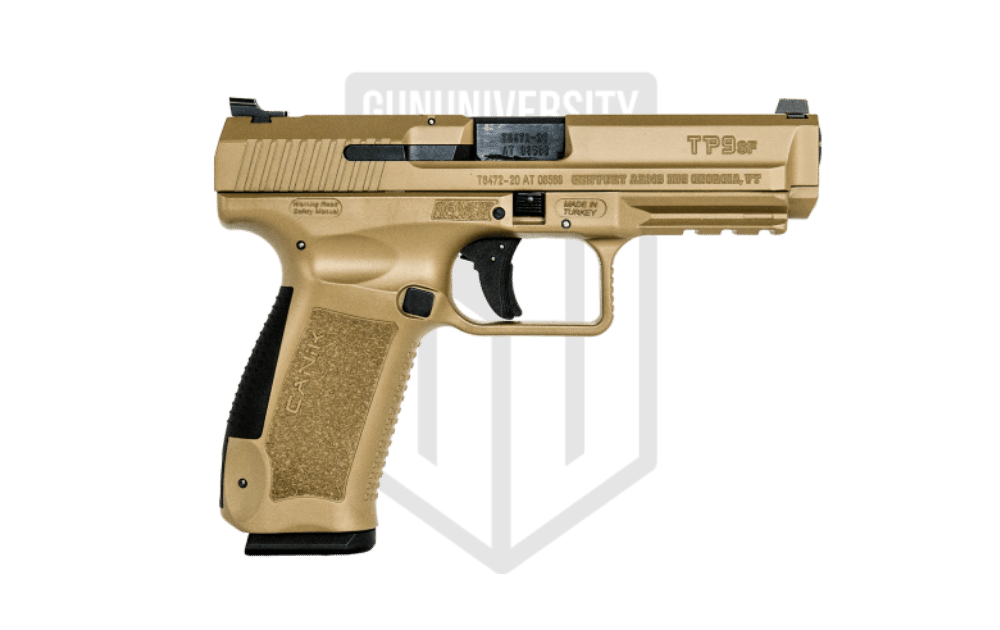 Shootability

A

Reliability

A+

Ergonmics

B+

Accuracy

A-

Value

A
Reader's Grade
A
Based on 97 Reviews
Your Grade
Do You Own This Gun? Leave A Review
Success Your Grade Has Been
Added To Our Reader's Score
We use email to verify the accuracy of our reviews. We promise to never spam you.
The Canik TP9SF is one of our absolute favorite duty guns for a few reasons. One of which is that you can't really find a better budget pistol than this. It shoots great, it's reliable, and most of all affordable…READ MORE
How to Care for Your .40 S&W Glock 23
Cleaning your Glock should be a routine part of ownership. And Glock makes it super easy to do so because all Glocks break down the exact same way. Check out this sweet video by Guns.com where Jacki shows us how to properly take down, clean, and reassemble your Glock.
Important Links and Manuals for Your Glock 23
Are you looking for more information on the Glock 23? If so, check out these key links to build up your knowledge on this awesome pistol: