Beretta Tomcat Review : Hands on Testing
Some guns just have an unbeatable cool factor to them, and the Beretta Tip-Up guns have that cool factor. I've always wanted one, and when I saw the latest model in my local gun shop, I made an impulse purchase and went home with a Beretta 3032 Tomcat, and today we found out if my impulse purchase was worth it. 
Beretta Tomcat Specs
Caliber

32 ACP

Action

DA/SA

Capacity

7

Rear Sight

Adjustable Dovetail

Front Sight

Fixed

Slide

Steel

Frame

Aluminum

Barrel Length

2.4 in

Overall Length

4.92 in

Weight

14.5 oz
The History of the Tomcat
The Beretta 3032, aka the Beretta Tomcat, has been in production since 1996, but the Beretta tip-up series goes back much further than that. The Beretta 950 began production in 1952 and is arguably one of the earliest examples of a modern pocket pistol. This gun features the famed tip-up barrel system that's still present in the 3032.
Tip-up barrels allow the user to place a round directly into the chamber without manipulating the slide. There are two benefits to this. First, if you have poor hand strength, you can easily load the chamber of the gun directly. Second, it makes adding a plus 1 to your magazine capacity very simple and makes it very easy to clear the weapon and know the chamber is empty.
The 3032 is the young gun in this category of firearms. It came to be in 1996, which was the era before common concealed carry. It's the largest caliber of the tip-up guns with its .32 ACP chambering.
These guns have been designed for concealed carry and to act as backup guns for police officers. While small automatics are a dime dozen these days, they were fairly innovative for the period. The tip-up barrel designs are pretty outdated these days and quite heavy and thick compared to other firearms, but they have an undeniable cool factor to them that's tough to beat.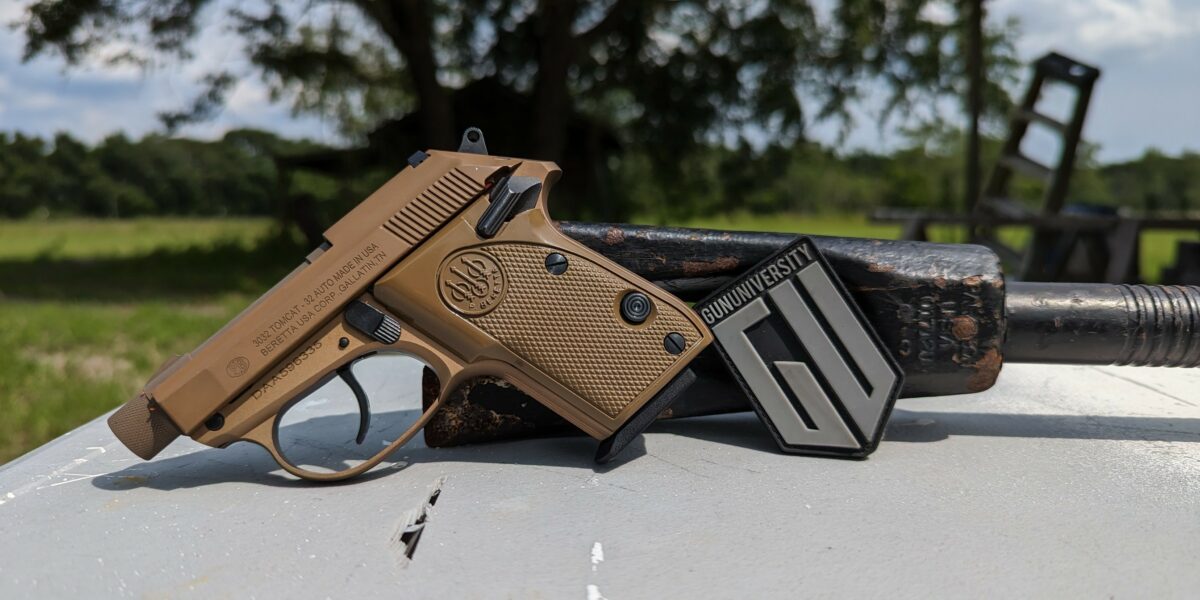 What does make them unique is the fact this is a pocket-sized, hammer-fired DA/SA guns. Those are fairly rare these days in the world of a polymer frame, striker-fired pistols. I love a good DA/SA hammer-fired gun, and that's another big draw to me. There are several models of the gun that have come and gun, such as the Alley Cat and the Covert. Today's example is the FDE variant with a threaded barrel.
Beretta Tomcat Features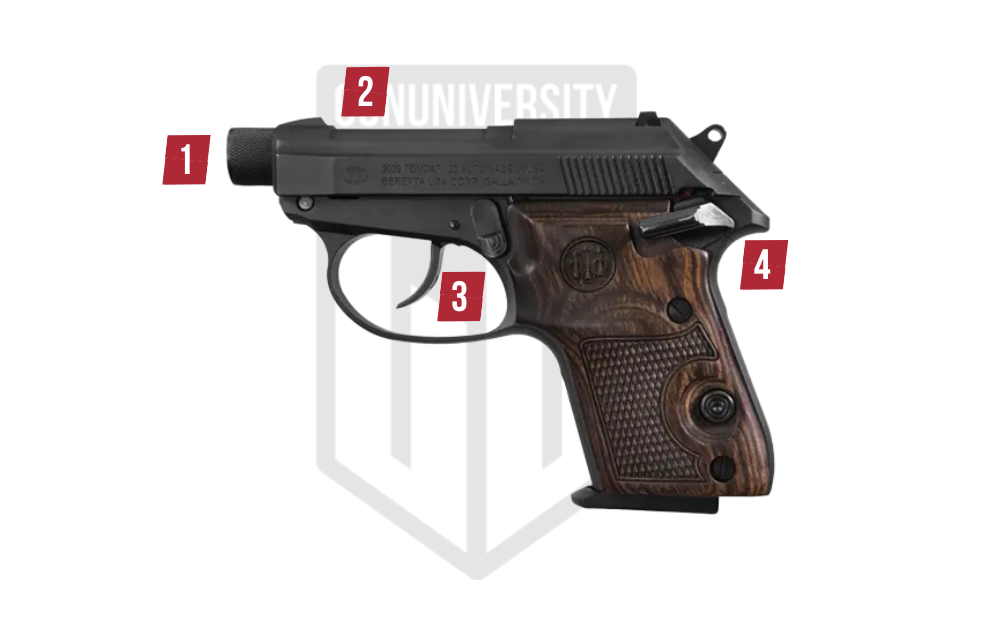 1
Threaded Barrel
1/2×28 threads for muzzle devices.
2
Tip-up Barrel
Allows for chambering without slide manipulation.
3
DA/SA Trigger
The initial shot is double action, but subsequent shots are a lighter single action.
4
Manual Safety
Allows for cocked and locked carry
Models and Variations
Beretta offers a few different color options with the Tomcat. Most come about the same but with different grips or are missing a threaded barrel.
Beretta Tomcat Review – Hitting the Range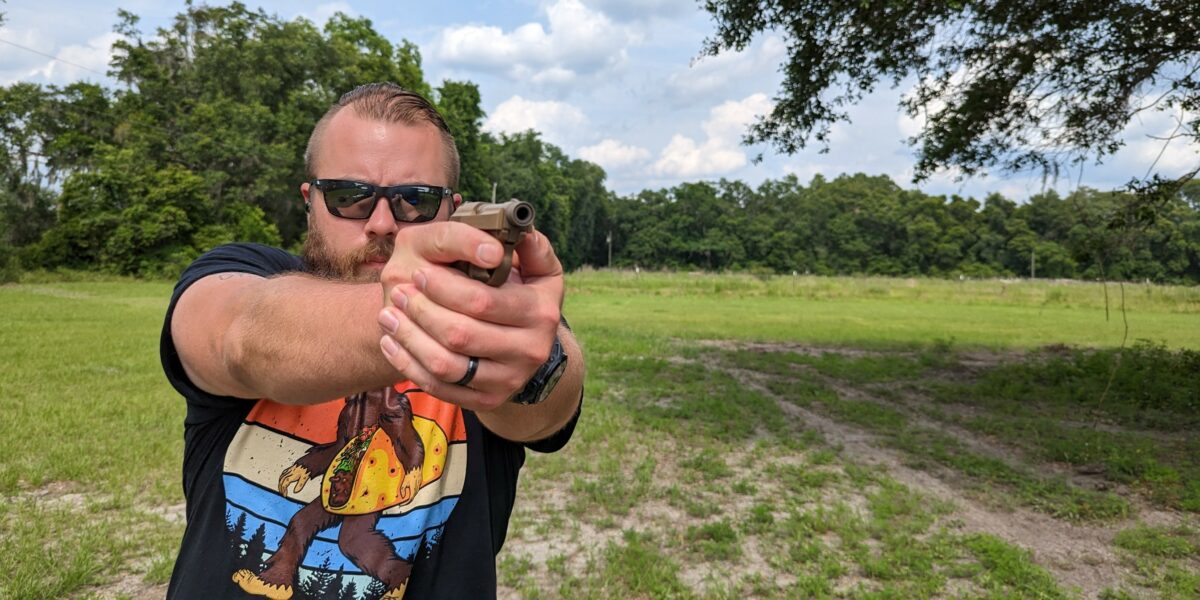 I'm a pocket pistol and .32 ACP fan, which is a new take for me, considering I was a big advocate of carrying nothing smaller than a Glock 19 until 2018. Pocket pistols are interesting and difficult to shoot, and the Tomcat certainly isn't a mold-breaker. The .32 ACP, luckily, generates a lot less recoil than the .380 ACP. The straight blowback system still ensures it's a little snappy, but not in any crazy way.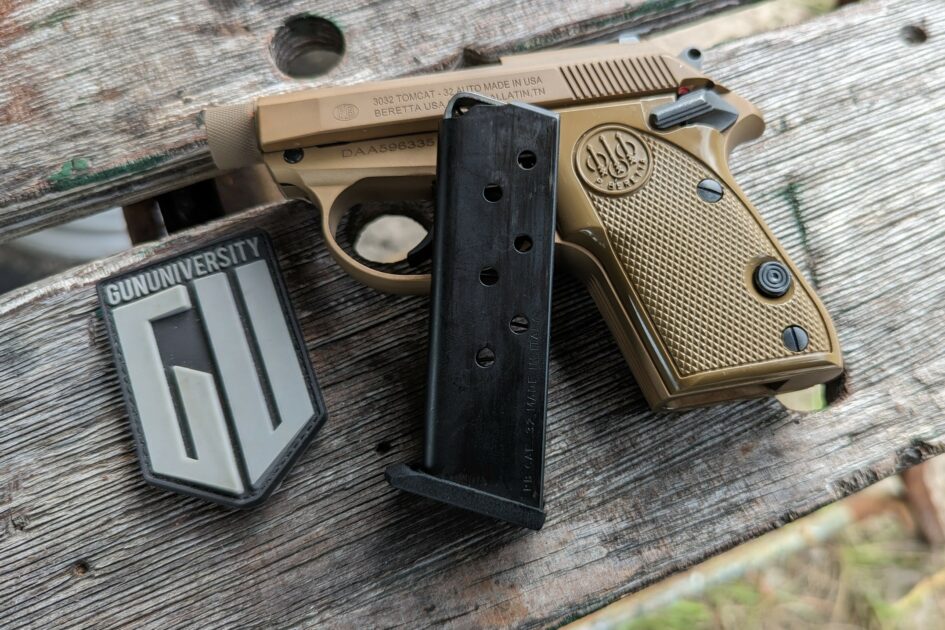 You can fire the gun quickly without the recoil and muzzle rise carrying you off target. Although I can't say, it's not painful. I have big hands, and the slide hit my big hands hard with lots of slide bites. Blood was drawn within the first magazine, and it did cause some reliability issues we'll talk about later. The gun doesn't beat your hand up from recoil, though. It stays in your hand and allows for fairly fast follow-ups.
One of the big selling features of the tip-up barrel is the ability to load the chamber without manipulating the slide. For folks with poor hand strength, this is a plus. However, the double-action trigger is quite heavy and would likely pose an issue to shooters with poor hand strength. The cure would be leaving the gun on single action and carrying it with the safety in place.
Punching Out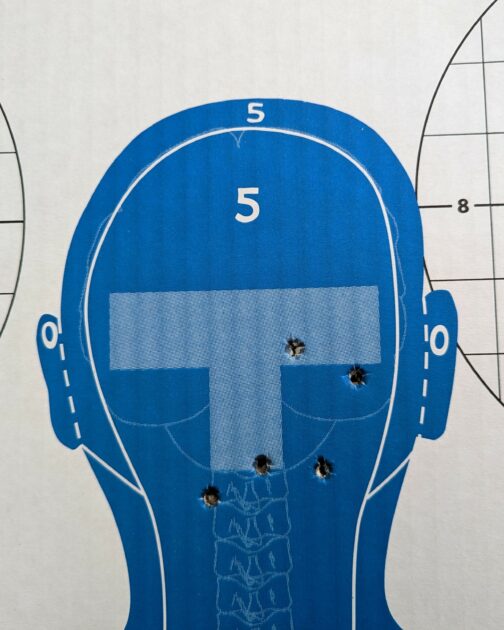 To test accuracy, I started at ten yards and fired two groups. One was double action, only fired into the chest zone of a target. I was able to place even round fairly close together, and the heavy double-action trigger combined with the small grip didn't help with accuracy as each shot pulled left. It's not a mechanical problem but a shooter error. Shooter error can certainly be enhanced by the firearm.
The single action group tightened up, and every round landed on the head of the target with ease. It would have certainly shut the attacker down. Single action is certainly the easiest way to shoot this gun. Just for fun, I backed out to 20 yards and fired a group into the pelvic region of the target. The first shot was double action, and subsequent shots were fired in single action. Everyone landed in the pelvis.
The accuracy is surprisingly good for such a small gun. The sights are fairly small but still usable. The main problem with the sights is the lack of contrast. This makes it tough to recover super quick with a good sight picture and make that accurate and fast shot.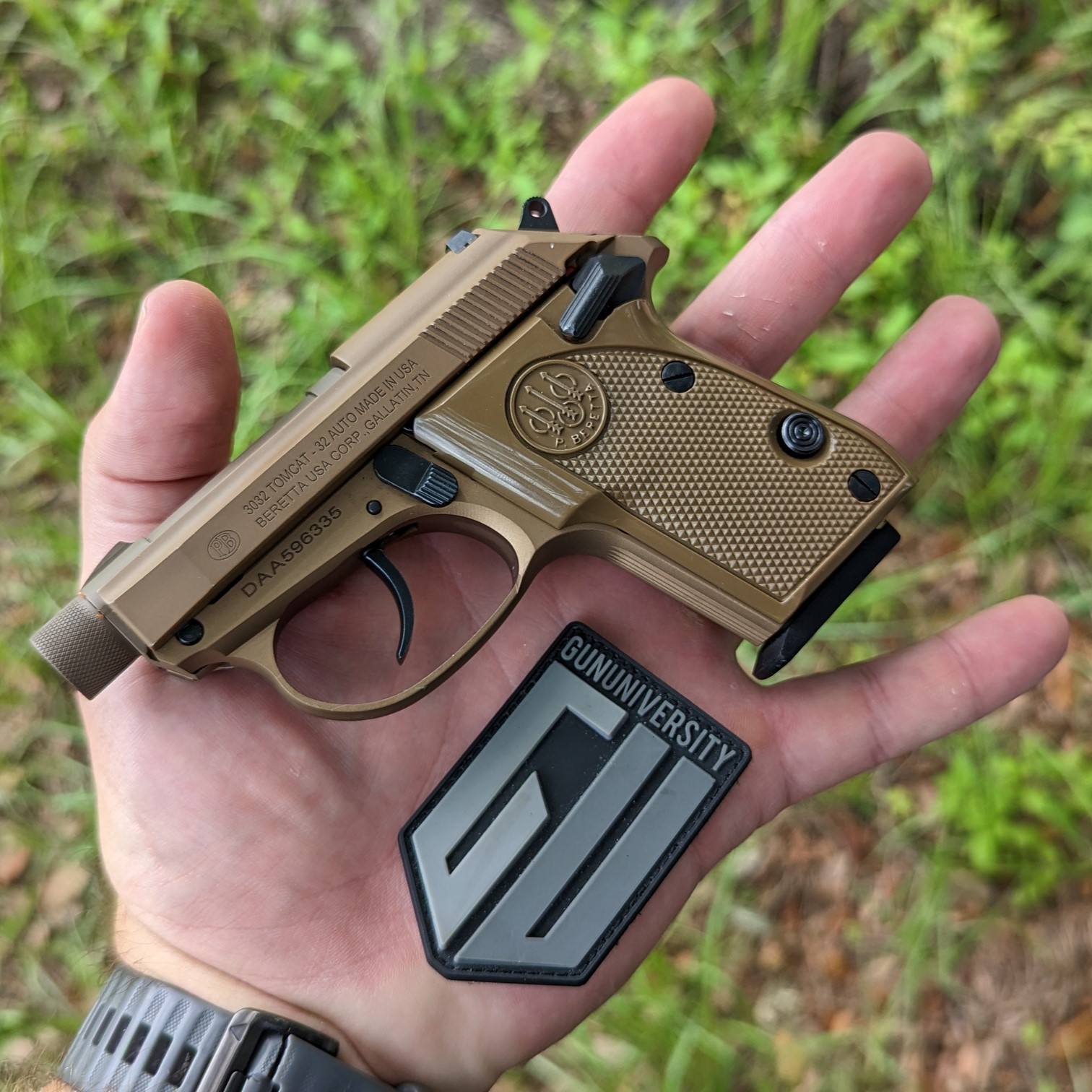 Reliability
In the first two magazines fired, I had one problem with each. The round failed to feed properly. This coincided with a very high grip that dug the slide deep into my hand. I believe the slide slapping my hand is what gave me the failure to feed. Once I adjusted to a lower grip, the problem went away entirely.
It doesn't seem like a big issue, but from a self-defense perspective, will I be thinking about how my grip is when I draw to engage? It's unlikely I go against my muscle memory to get the highest grip possible. While the reliability issues are human-caused, it's the gun's design that makes human error more likely.
Other than that, I had no issues throughout 250 rounds outside of a sore and bloody hand.
Grabbing Steel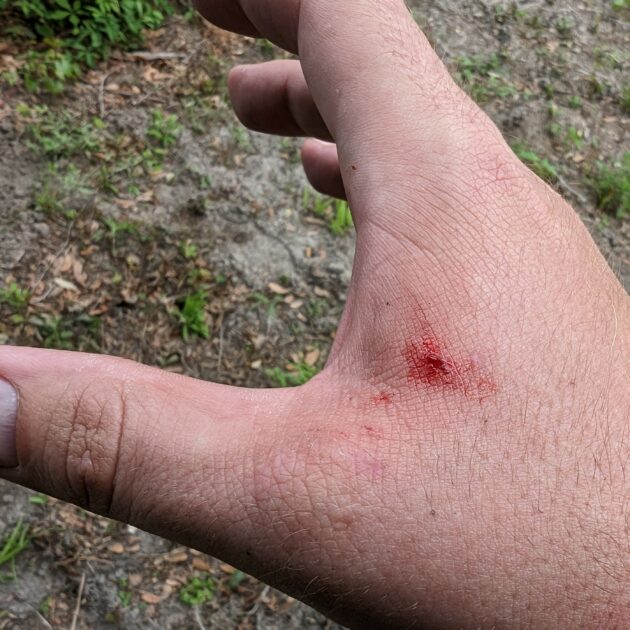 The slide bite takes a good chunk out of the ergonomics department. It is irritating and painful and not a callous I wish to build. Besides slide bite, we have a fairly ergonomically sound gun. The fat grips make concealment difficult but make shooting the gun easier. The hammer is easy to thumb back but reduced for a snag-free appeal, and the safety is frame mounted and easy to engage.
The magazine release is easily the oddball of the design. It's placed at the rear and bottom of the grip. It's honestly not bad for a magazine swap. Reach up, hit it, and the magazine drops out of the gun, and your hand is already in place to swap in the new one. Is it as good as a standard design? No, but it's better than a heel release.
Worth the Change
With an MSRP of 649 and an average street price of 600ish bucks, it's not a cheap pistol. For that much money Beretta gives you a cardboard box and a single magazine, which is disappointing to me personally. It doesn't feel or look cheap, but I would like to see at least a spare mag for the price.
Beretta makes nice guns, and this is certainly a high-quality gun, but it's packaged like a Sccy. The sights aren't fancy, the grips are plastic, and outside of the threaded barrel, it feels a bit expensive. At 400 bucks, it's a solid gun. $600 feels a bit much.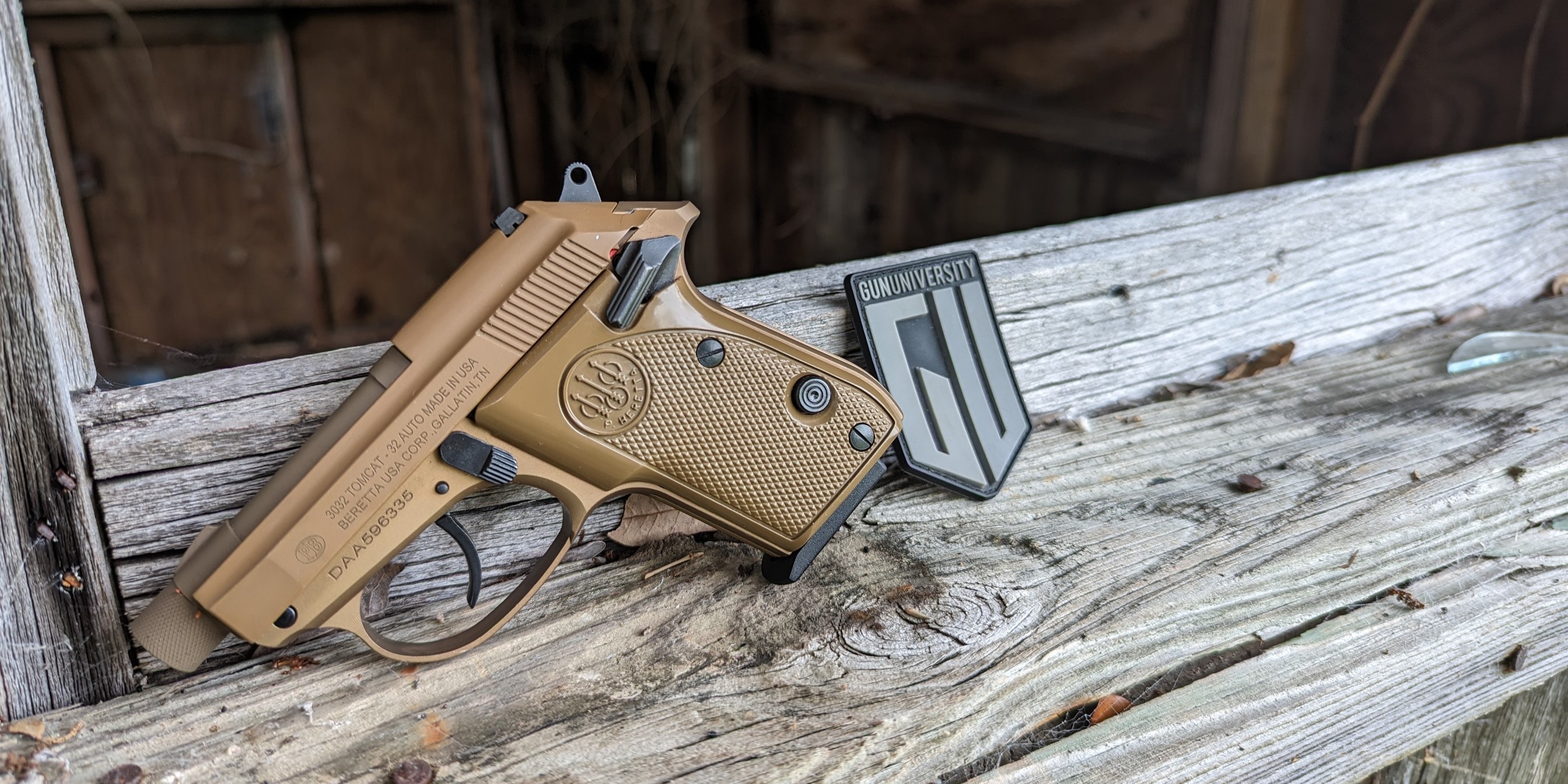 Beretta Tomcat Pros and Cons
Size – Easy to Conceal
Controls – Great Controls
Trigger – Light Single Action Trigger
Price – Expensive
Slide Bite – Nobody likes slide bite
Report Card

Shootability

Slide bite sucks, but the gun doesn't recoil too harshly and is fairly easy to control and keep on target.

C

Reliability

Human error seemed to cause two malfunctions, and that human error was a nice high grip, which to me, ultimately affects the reliability of the pistol.

C

Ergonomics

Slide bite, slide bite, slide bite. If a pistol makes me bleed, it loses a few points. Other than that, the 3032 isn't bad.

C

Accuracy

Not bad for a small gun. A better DAO trigger would help, but the single action is nice. The sights work, but they could also be improved.

B

Value

600ish bucks aren't cheap for a pistol, and this one doesn't deliver a spare mag, fancy sights, or a good trigger.

C

Our Grade
C+
Reviewed by Travis Pike
Reader's Grade
TBD
Based on 0 Reviews
Your Grade
Do You Own This Gun? Leave A Review
Success Your Grade Has Been
Added To Our Reader's Score
We use email to verify the accuracy of our reviews. We promise to never spam you.
Beretta Tomcat Starter Pack
These three items are must haves for all firearms owners, not just for the Beretta 3032.
Here are some deals we found on the Beretta Tomcat incase you wanted to add one to your collection.
Upgrades and Accessories for the Beretta Tomcat
For handguns we always recommend a good holster a lot of spare magazines. We also suggest a different set of grips to make shooting this tiny handgun a little easier.
Upgrades and Accessories for the Beretta Tomcat
Perfect Fit for Tomcat (Even with threaded barrel)
Ambidextrous
Industry Leading Pocket Holster

Buy on Amazon

More aggressive Grip texture
Durable Hard Plastic
Thicker Grips help absorb recoil

Buy on Amazon

Durable steel construction
Clear-cut witness holes
Rugged steel spring
Flat steel follower
Impact-resistant polymer baseplate

Check Price
Best Ammo for Your Beretta Tomcat
Fioochi is the premier defensive .32 ACP ammo believe it or not. The heavier load allows for adequate penetration, and with a gun, this small expanding rounds are a no-go. It's also cheap enough to shoot at the range without complaint.
Range and Defense Ammo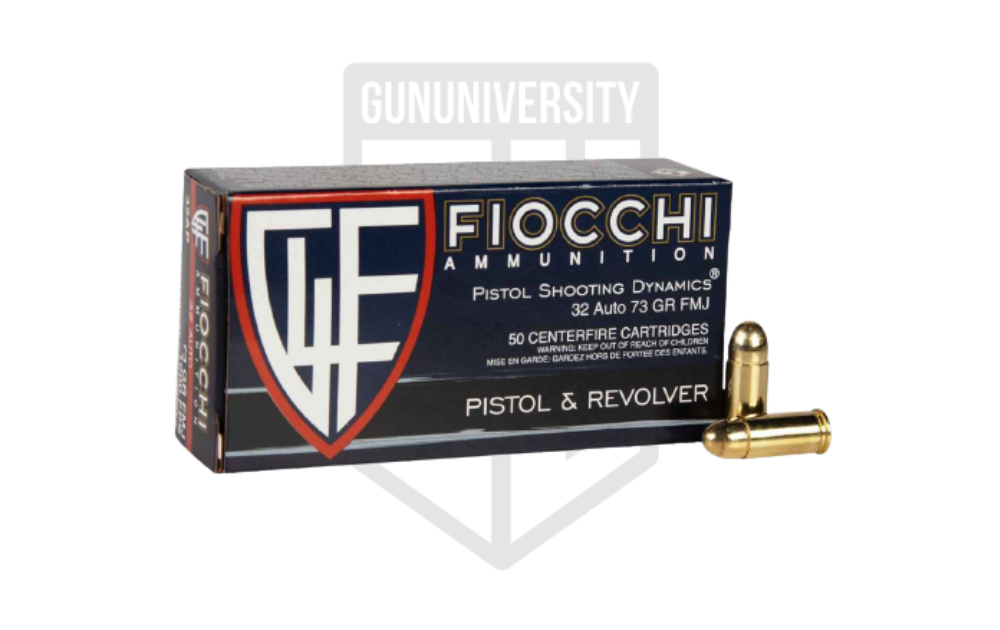 Fiocchi 32 Auto 73 Gr FMJ
How to Care for Your Tomcat
I have included two videos for the Beretta Tomcat. the first by PTPgun.com is a short and to the point video about the takedown of the tomcat for cleaning. the second is a longer video from Lucky Gunner where Chris compares and reviews the Beretta Tomcat and Bobcat
Important Links and Manuals for Your Beretta Tomcat
Check out the links below for the manufacturer's website and operator's manual.