Franklin Armory CA320 Review: California Legal Sig P320
Franklin Armory has introduced a new handgun based on the Sig Sauer P320 especially for Californians who yearn for a modern handgun. You may ask, "how can that be?" Great question, and one that we here at Gun University asked ourselves. So, the folks at Franklin Armory sent us an example of their new CA320 to review, along with their philosophy behind the gun. After several weeks of handling and shooting the CA320, here's what we found.
Franklin Armory CA320 Specs
Caliber

9mm Luger

Action

Striker Fired (Single shot breechloader)

Capacity

1

Magazine

None

Barrel Length

3.9 in

Overall Length

7.4 in

Height

5.5 in

Width

1.3 in

Sights

Sig Sauer X-Ray3 Day/Night sights

Optics Ready

Yes

Safety

External thumb safety

Accessory Rail

M1913 Picatinny
Targeting California's "Safe Handgun Roster"
Being a California gun owner is tough, especially if you want the latest model firearms. The Golden State's so-called "Safe Handgun Act" claims to look out for consumers by only allowing handguns that meet the state's ultra-strict requirements. Without delving deeper (you can do that for yourself) suffice to say that not a single new semi-automatic handgun has made the "Safe Handgun Roster" since 2013. That's because there isn't a new semi-automatic handgun manufactured anywhere in the world that meets the requirements for approval.
That means California gun owners must either choose older models or pay exorbitant prices for used handguns from cops or military guys who are exempt from the restrictions. Nevada's Franklin Armory set out to change that by making a modern handgun that can be sold legally in California by being added to the roster. The result is the Franklin Armory CA320, a single shot, breechloading pistol built on the Sig Sauer P320.
So, you may be asking how a single shot breechloader qualifies as "modern." Fair question. The answer is they built the CA320 around a genuine Sig Sauer P320 Fire Control Unit (FCU), with a P320 slide, barrel, and recoil spring. Franklin Armory provides the grip module. This last part, and how it dictates the CA320's operation, is why the gun made California's roster.
The grip module cannot accept a detachable magazine, nor does it contain an internal magazine. Therefore, it cannot be classified as "semi-automatic" under California law. Guns that avoid the semi-automatic classification face a lower bar for approval. We'll cover this in more detail later. Essentially, every operation on the CA320 requires a shooter-initiated action:
Loading the single round into the breech requires manually locking the slide back.
We then drop the round onto a feed ramp inside the breech.
Manually release the slide.
Press the trigger, firing the gun and ejecting the spent case.
Upon firing, the slide does not lock to the rear. Thus requiring the shooter to lock it back manually and restart the process.
If that sounds strange to you, welcome to the club. We simply could not understand why the slide would not automatically lock back, thus eliminating a step and easing reloading. So, we called Franklin Armory and asked. That led to a productive discussion on the thought process and philosophy behind the CA320.
CA320 Philosophy
When we received the CA320, it was admittedly an odd duck. It looks just like a Sig P320 with an added thumb safety. However, racking the slide and looking where the mag well should be quickly debunked that. Perusing the included owner's manual told us how the gun operates, including the part about the slide not locking back after firing.
Our first range trip perplexed us even more. Not having a mag by which to reload, we carried extra 9mm rounds our pockets. We drilled like with any other handgun, firing, reloading, firing again, etc. After much practice, the best we could do was 8 or 9 aimed shots per minute. And that's only if we didn't fumble when transferring rounds from pocket to firearm.

Another problem was that locking the slide back after every shot soon took a toll on our delicate writer's hands. But carrying the extra rounds in pockets made gloves difficult. So we suffered for our art, or something like that. But we couldn't really come up with a better plan for extra rounds short of an Old West-style gun belt, which we do not own.
By this time, we were wondering what the point was. It's a nice, if rather plain, gun. Still, in any realistic self-defense situation, the CA320 will give you one shot, and that's it. So, you better make it count. After a couple of range trips, we started wondering if "the point" was to introduce a popular, modern modular handgun into the ultra-restrictive California environment. Then allowing its purchasers to take advantage of that modularity. It was the only thing that made sense.
We must be clear that Franklin Armory does not recommend such actions. The owner's manual clearly states that "Altering or modifying the firearm may render the firearm unsafe and/or unlawful (Emphasis added)." If you happen to understand that swapping out the CA320's grip module gives you an actual P320, that's your interpretation, not Franklin Armory's. Keep in mind that the P320's FCU is the serialized component, making the FCU the actual "firearm." Same with the CA320. You can purchase grip modules with no trouble.
We specifically asked Franklin Armory if California gun owners could indeed make that change. They told us they cannot speak to the ins and outs of California gun laws and reiterated that they do not recommend altering the gun. If purchasers do that, it's on them. You may note that their answer was not "no." We did confirm that the FCU, slide, barrel, and recoil spring are indeed factory Sig P320 products.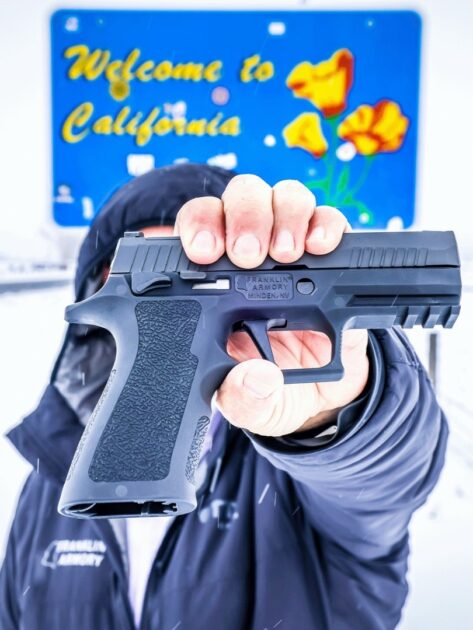 We also asked a friend who works in California law enforcement if swapping out the grip modules was legal. He said he wasn't certain. He did tell us, however, as did Franklin Armory, that California residents regularly purchase guns like the P320 from cops and others exempt from the state's handgun restrictions. So, technically, it's not illegal to own a P320, assuming you adhere to the magazine restrictions. You just can't buy one from a dealer. We also learned that folks who sell those guns jack the prices way up because they can. We all understand how market forces work.
What it comes down to, according to the person with whom we spoke at Franklin Armory, is that the company wanted to make a modern handgun available to Californians. They did that the only way they knew how. Purchasers will do what they will after the sale. We find Franklin Armory's motivation and effort laudable. It's easy to say that California isn't worth the trouble. Franklin Armory evidently does not share that sentiment.
Oh, and as for why the slide doesn't lock back, there is a reason. California is very strict about how firearms operate. Franklin Armory has introduced some California-compliant AR rifles, but only after turning them into bolt action rifles. The shooter must manually operate the action after every round. So, with their previously gleaned knowledge from dealing with California, Franklin Armory decided to give the state one less thing to ding the CA320, by requiring every function to be manually initiated. So, California's deliberately backward policies caused that decision.
Franklin Armory CA320 Features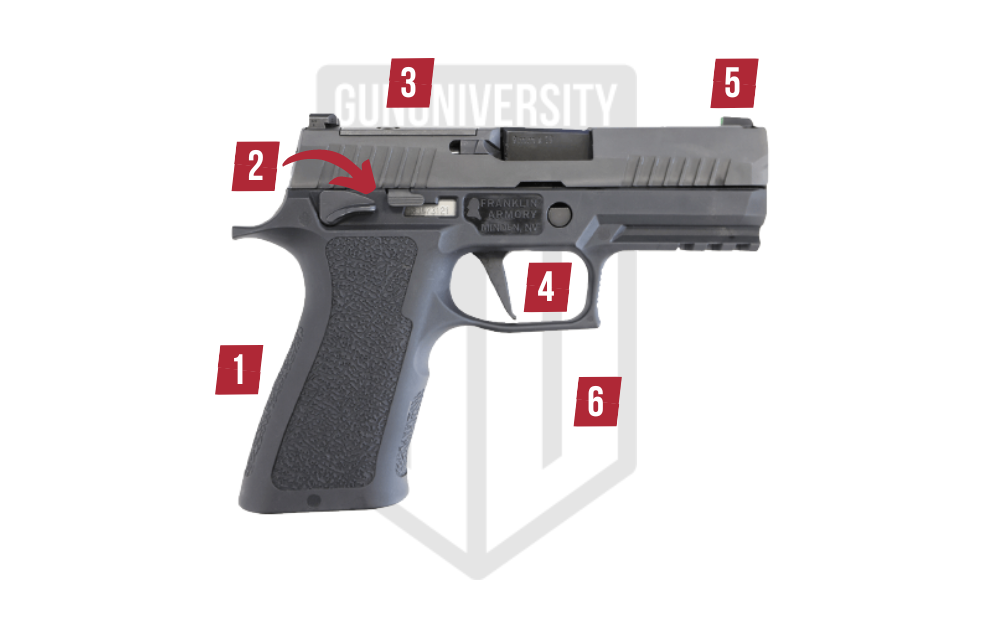 1
Frame
Modular, serialized Sig Sauer P320 Fire Control Unit. This feature allows customization with longer slides and, technically, a different grip module.
2
Ambi Controls
Fully ambidextrous frame-mounted safety and slide release. There is no mag release because there is no mag.
3
Optics Ready
Optic ready and compatible with Sig Sauer ROMEO1-PRO, ROMEO2, Delta Point Pro, and RMR footprint optics.
4
X Series Trigger
Sig Sauer X Series flat-faced trigger. We found the trigger to be okay, very similar to our flat-faced Sig P365XL. Good, but not great, in our opinion. A short take-up followed by a decent break. But that's a Sig thing, not a Franklin Armory thing.
5
X-Ray 3 Sights
Sig Sauer X-Ray3 Day/Night Sights. This 3-dot tritium system provides superior target acquisition in full or low light conditions. We particularly liked this feature, as the green tritium front dot draws our eyes, making front sight focus a breeze.
6
CA Compliant
Probably the biggest feature, California compliance
Franklin Armory CA320 Review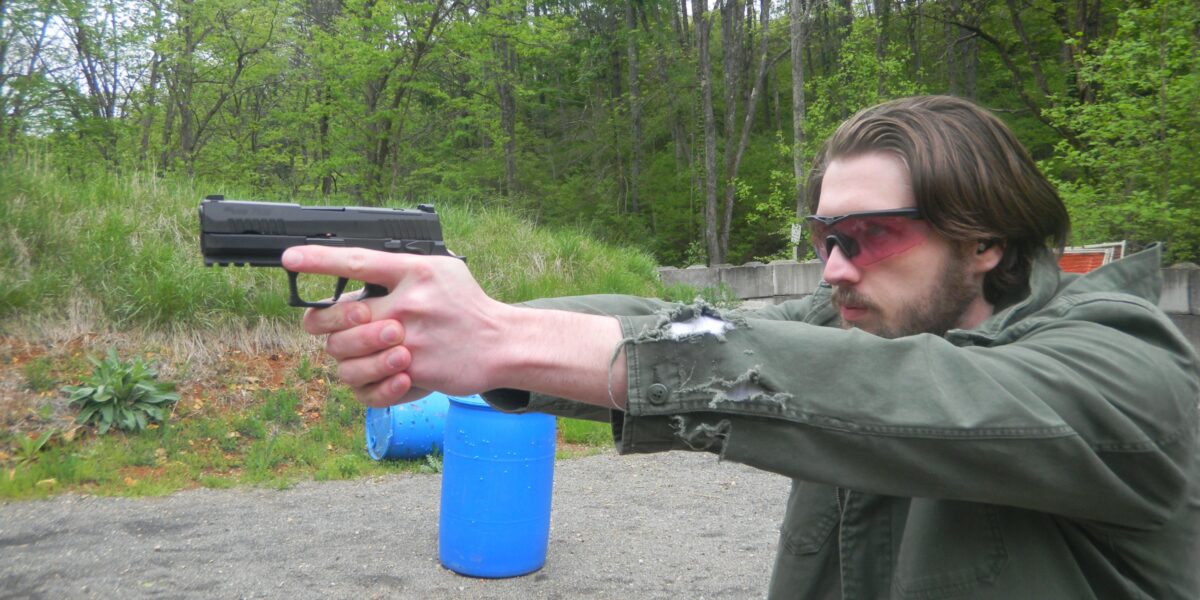 Okay, after all that, let's review the gun itself. As noted, Franklin Armory sent the gun specifically for review purposes. We do not get to keep it. Either way, that does not affect this review.
Comfort and Concealability
The CA320 carries about like other pistols of its size. In our experience, it's most analogous size-wise to our Walther PPQ, which we've been carrying for over a decade. We did not have a dedicated holster for the CA320, but a generic IWB holster worked just fine. With this, the gun was comfortable and easily concealable with early spring attire.
As with our PPQ, we likely wouldn't carry the CA320 in hot weather, preferring a jacket to help conceal it, but we could do it without much trouble. We recommend a dedicated holster for sustained carry. That's easy enough since the CA320 is fully compatible with P320 holsters.
Reliability
To address general reliability, we need to discuss grip, because the two are connected. In many years of shooting semi-automatic handguns, we've never had a problem with limp-wristing. That's across many brands and platforms, from the big Beretta 92FS to the .22LR-chambered Walther PPK/s. But we had that problem with the CA320.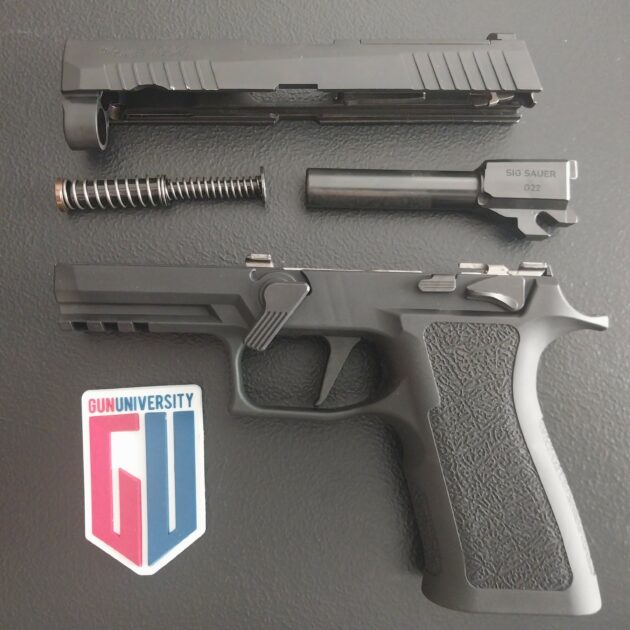 The CA320's initial performance disappointed us. We experienced failure to eject malfunctions on 75 to 80 percent of our shots. Having never, ever limp-wristed a handgun before, we didn't consider that possibility. But the helpful folks at Franklin Armory told us that people who experienced similar problems were indeed limp-wristing the gun. So, though it's embarrassing to admit, firming up our grip completely fixed the problem. We even purposely relaxed our grip on occasion and were able to induce a failure to eject. But going back to the firmer grip fixed it every time.
Franklin Armory's engineers told us they've concluded it's some kind of "psychological jiu-jitsu" that may alter the grip, knowing there won't be a follow-up shot. That was kind of them to say, but we think we just didn't have a firm enough grip. My co-tester and I are happy to report that we experienced 100 percent reliability after fixing our grip. And we wore out our hands verifying that fact.
The CA320 is specifically designed for 115-grain loads, which is noted in the owner's manual. Franklin Armory says the gun may function with more powerful 124-grain and 147-grain loads, but they do not guarantee it. So, keep that in mind. As noted, once we fixed our grip issues, the gun ran like a champ.
Shootability
We've already discussed how the CA320 operates: everything is done manually. Honestly, that's a drag. But to be fair, we place that more on California than we do Franklin Armory. They did what they had to do to make the roster.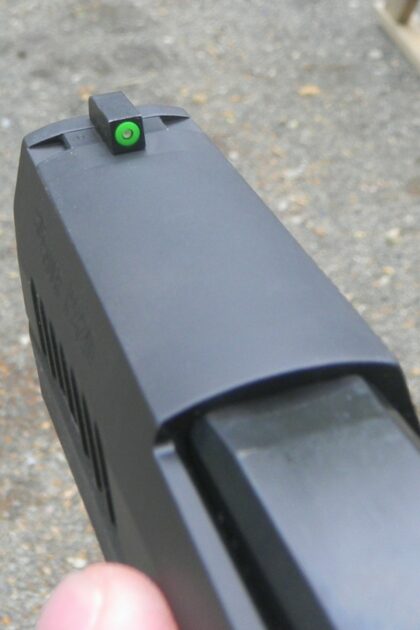 Frankly, the CA320 isn't much fun to shoot because of that operation. But it is accurate, and we easily held 2 to 3-inch groups at 7 yards. Honestly, the gun itself is almost certainly more accurate than that. We think this is because running the action quickly tired out our hands (remember, sensitive writers' hands) and prevented staying on target between shots. The X-Ray3 sights are fantastic. We love, love, love tritium front sights and have them on several of our personal handguns. Those sights are probably our favorite feature of the CA320.
The Sig X Series trigger has a very short take-up with a crisp-ish break. As noted, it's similar to our P365XL. It wasn't something we really noticed one way or the other while testing the CA320.
Controls and Ergonomics
We already mentioned the trigger. The other controls are the slide release and thumb safety. Both are ambidextrous and easy to reach. The slide release is somewhat stiff, but not overly so. We had no trouble engaging it either barehanded or with gloves. The CA320's unusual operation had us using the slide release a lot more than with other handguns. As inconvenient as it was to lock the slide back before each reload, the slide release/catch was right where we wanted it, and we quickly found it intuitively.

The Sig P320 does not have an external manual safety, but California requires one. Franklin Armory's solution was a frame-mounted safety that looks identical to Sig's M17 and M18 models for the US military. The safety catch is easy to reach and operates with an audible, tactile "click." Some folks don't like manual safeties, but we don't mind since we can choose to engage it or not. And if you hate it, blame California.
The Franklin Armory grip is like the standard P320 RXP grip, minus the mag release button and the Sig branding. We don't love it, but we don't hate it either. It's comfortable and we like the grip texture. It's not overly aggressive, which we prefer, though some will want something more sandpapery. But we must admit that it fits the hand well and, did we not regularly carry a PPQ, we'd probably like it better.
Disassembly is a breeze. Lock the slide back, rotate the lever, take off the slide. No trigger pull necessary. The recoil spring and barrel come right out. Standard P320, which is a good thing.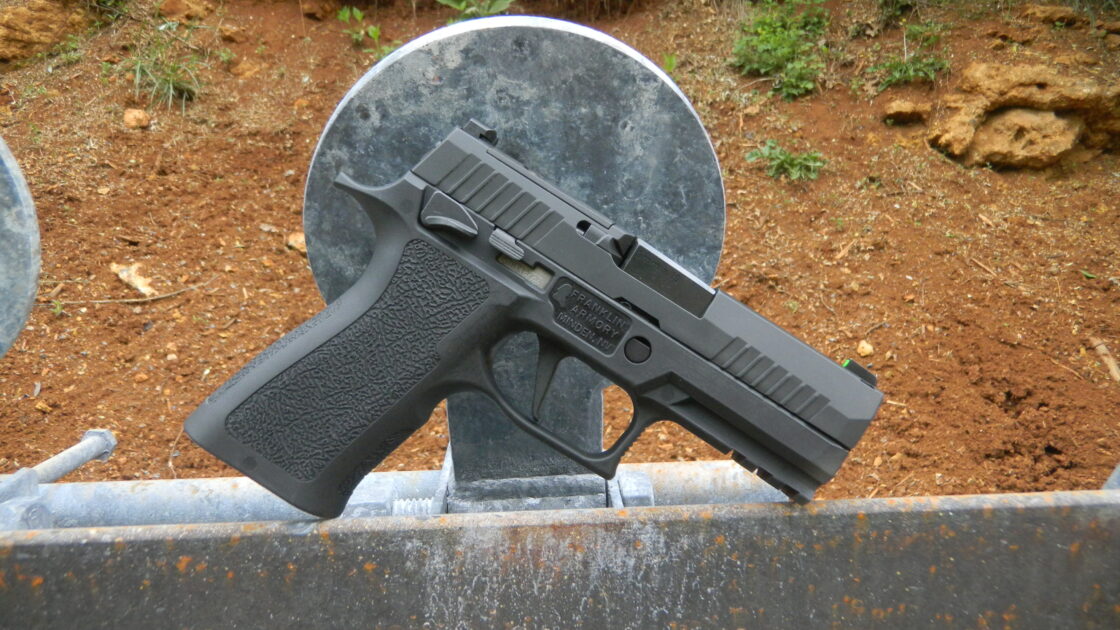 POF Tombstone Pros and Cons
CA Compliance – The CA320 is a modern handgun available for sale in California.
Reliability – We want to stress that our initial reliability issues were completely on us, not the gun. Once we fixed what we did wrong, the CA320 ran at 100 percent reliability.
Sights – Standard tritium night sights and optic ready slide.
Controls – Ambidextrous controls
Operation – Operation. Again, this isn't a knock on Franklin Armory. It's a necessity to get on the roster. If you're a Californian, maybe you can remedy that. It's on you.
Niche – The CA320 is absolutely a niche gun. It's tailored for California. If you live in any other state, there's no reason to buy this gun. Maybe that's not really a con, but we felt the need to lay it out there.
We must view some of these grades in their proper context. Since this is a niche gun designed for California, these grades reflect the gun in that context. If the CA320 were to be purchased in another state, some of these grades would be lower. Again, that is not a criticism of Franklin Armory. Rather, it reflects the realities of operating in California.
Report Card

Shootability

Even accounting for California, the CA320's operation is a problem. As it is, a shooter can only fire one shot in a self-defense situation. We give it a "C+" because that operation is necessary to market the gun in California. Otherwise, this grade would be much lower. If you decided to exchange the grip module, this grade would immediately jump to an "A." Again, California marketing realities.

C+

Reliability

Even though the gun ran great after we firmed up our grip, we are withholding an A+ here because the CA320 requires that firmer grip to operate properly. It may take some getting used to by some people.

A

Ergonomics

The grip is comfortable if a bit functional. But there's nothing wrong with that. The controls are responsive and easily accessible. The ambidexterity is a plus.

A

Accuracy

The gun is probably more accurate than it showed, thanks to hand fatigue from running it. The excellent X-Ray3 sights are a very nice feature.

A

Value

This one is very relative. The CA320 lists for $949.00 on Franklin Armory's website and we found it for less at several places. If you live anywhere but California, that is not a good value at all. A Plain Jane P320 can be had for less than 600 bucks in some places. But, again, there's no reason we can see to buy this gun outside of California. If you are in California, however, given what we've seen in the used handgun market, this is a good deal. Used P320s can easily go for $1,200-1,500.00. You can get a brand new CA320 and, if you're so inclined, a P320 grip module for under a grand. That's a good deal, relatively speaking.

A
Our Grade
A-
Reviewed by Bucky Lawson
Reader's Grade
TBD
Based on 0 Reviews
Your Grade
Do You Own This Gun? Leave A Review
Success Your Grade Has Been
Added To Our Reader's Score
We use email to verify the accuracy of our reviews. We promise to never spam you.
Franklin Armory CA320 Starter Pack
Eye Protection –Having a good set of eye protection is important for all trips to the range.
Hearing Protection – Here are our picks for best hearing protection.
Gun Cleaning Kit – Check out our favorite gun cleaning kits.
First Aid Kit – Every range kit needs a first aid kit.
Franklin Armory CA320 Gun Deals
Upgrades and Accessories for Franklin Armory CA320
Upgrades and Accessories for the Franklin Armory CA320
Best Ammo for Your Franklin Armory CA320
Here are some of our favorite 9mm loads to use in your Franklin Armory CA320.
Range Ammo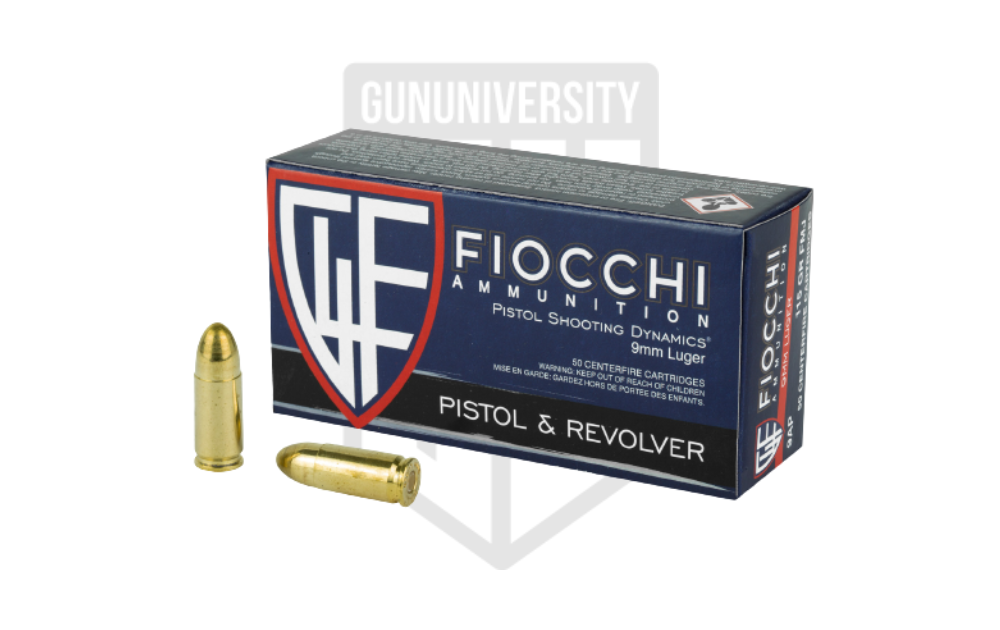 Fiocchi Range Dynamics 9MM Ammo 115gr FMJ
Defensive Ammo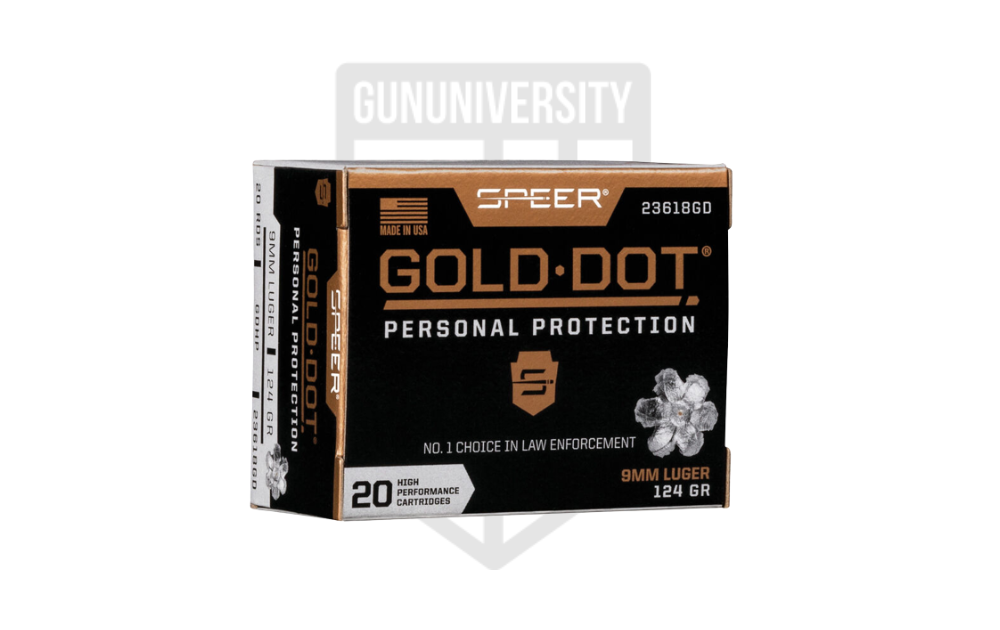 Speer Gold Dot Personal Protection 115 gr HP
Other Handguns of its Class to Check Out
Well, the CA320 is in a class of its own. But here is a Sig P320 and a Glock 19 that are semi auto competitors to the CA320.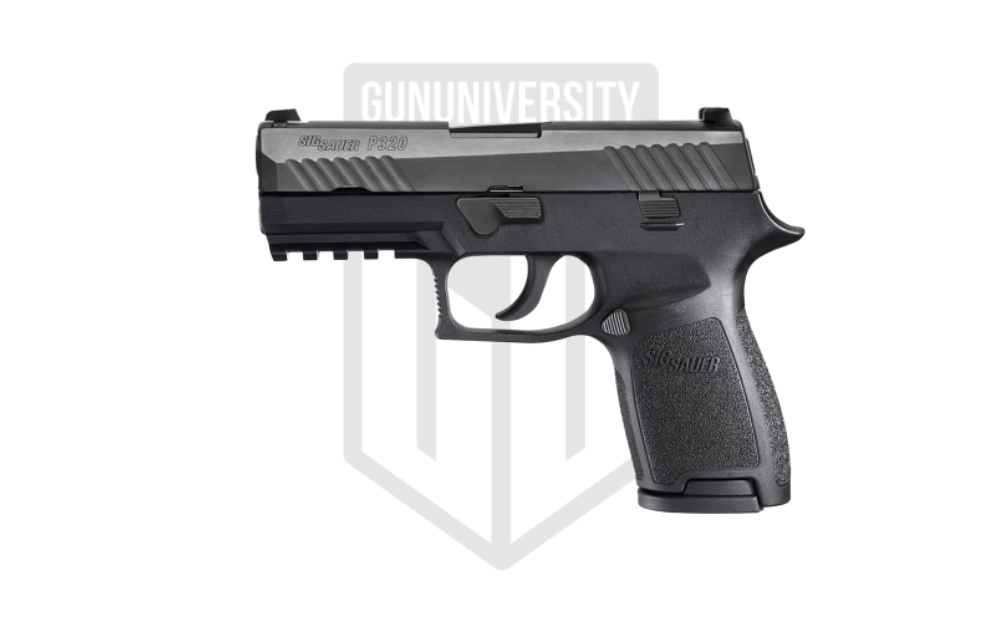 The Sig p320 is a modular reliable 9mm pistol that is the best all-around handgun.
Shootability

A

Reliability

A

Ergonomics

A

Accuracy

A-

Value

B
Reader's Grade
A-
Based on 84 Reviews
Your Grade
Do You Own This Gun? Leave A Review
Success Your Grade Has Been
Added To Our Reader's Score
We use email to verify the accuracy of our reviews. We promise to never spam you.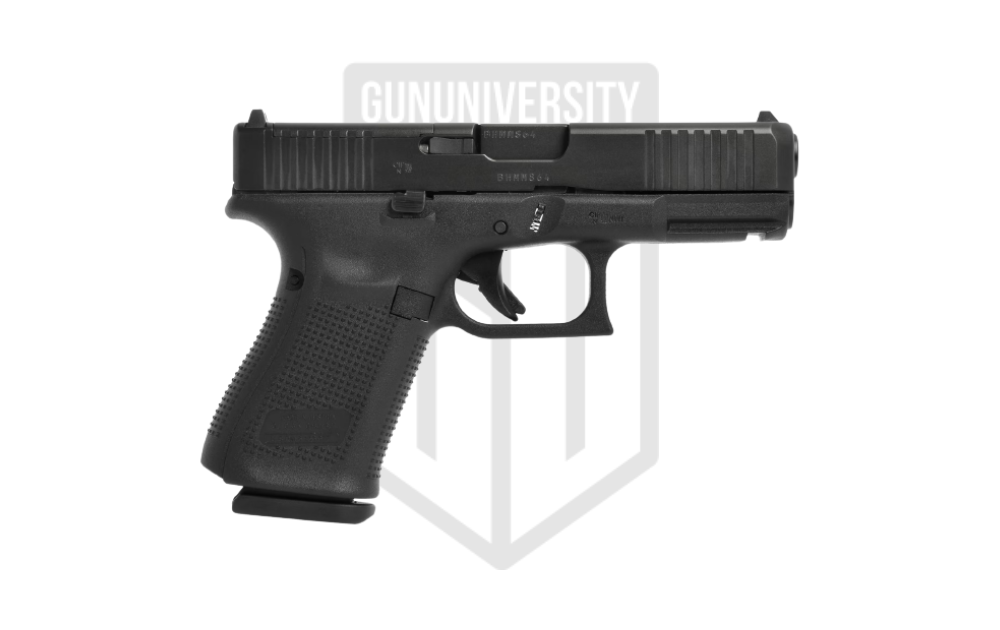 The popular compact Glock 19 with upgrades including optics ready MOS system, removed finger grooves, and front slide serrations in 9 mm Luger.
Shootability

A

Reliability

A+

Ergonomics

B

Accuracy

A

Value

A
Reader's Grade
A+
Based on 2 Reviews
Your Grade
Do You Own This Gun? Leave A Review
Success Your Grade Has Been
Added To Our Reader's Score
We use email to verify the accuracy of our reviews. We promise to never spam you.
How to Care for Your Franklin Armory CA320
Since the CA320 is pretty much a Sig P320, we have a video showing you how to field strip and clean a P320.
Important Links and for the FA CA320
Check out the links below for the manufacturer's website and a video showing you the CA320.