Eva-Dry Renewable Mini Dehumidifier Review
The Eva-Dry Renewable Mini Dehumidifier is another very popular gun safe dehumidifier on the market and it's definitely worth considering along with the other solutions that made our Best Gun Safe Dehumidifier List.
For a small dehumidifier, it's a great choice for anyone looking for an effective and affordable way to keep their gun safe dry and free of moisture.
Below in this Eva-Dry Renewable Mini Dehumidifier Review, we'll dive into the installation process and the pros and cons of this dehumidifier solution and see if it's suitable to protect our firearms from rust and corrosion.
Eva-Dry Renewable Specs
Dehumidifier Type

Dessicant

Cubic Ft Efficiency

333 cubic feet

Dimensions

6.5″ x 5″ x 3″

Weight

2 lbs
Eva-Dry Renewable Mini Dehumidifier Review
The Eva Dry Renewable Mini Dehumidifier uses a unique silica gel technology to absorb moisture from the air. This is how we can control the moisture levels in our gun safe. The Eva Dry dehumidifier is extremely effective at pulling the moisture out of the air which will help prevent rust and corrosion in your gun safe. I find that this solution is great for a small space especially if it's prone to humidity.
The unit is very easy to use and install, simply place it inside your gun safe and it will start working automatically, pulling humidity from the air. When I was using this in my rifle safe, I just sat it on the top shelf. Now I have moved this into a smaller pistol safe as I have the Golden Rod Dehumidifier Rod in my larger safe and I feel that this desiccant solution is more conducive to a smaller safe or closet. This is suitable for an area of up to 333 cubic foot space, so if you have a small room that has a musty odor, a room prone to mildew or mold, this type of desiccant dehumidifier is a good consideration for small enclosed areas to avoid moisture damage.
The Eva-Dry Renewable Mini Dehumidifier has silica gel crystals inside which start off as a yellow color, and when they turn toward a green hue it's time to 'recharge' this unit. Now, when we say recharge, we're not referring to recharging something like batteries, but instead we're 'resetting' the crystals by drying them out.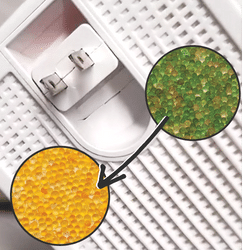 When the silica beads turn green, it has done its job keeping your gear free from excess moisture, now it's time to plug the unit into an electrical outlet. Depending on how much humidity you have in the air will determine how often you'll have to recharge it. I find that it's usually around every 3 to 4 weeks.
On the back of the Eva Dry e 333 is a socket plug, and by adjusting it 90 degrees outward will set you up ready for recharging and removing the excess moisture from the indicator crystals. Now all you need to do is plug it into a socket outlet. I tend to leave mine plugged in for the day to reset the indicator crystals. I do find that the unit is a little warm once recharged, so I'll let it sit for 15-20 minutes before putting it back into my safe.
Maintenance is probably my main complaint about this type of unit, as you have to check in on it semi-regularly, at least on a monthly cycle. This was one of the reasons I went for a dehumidifier rod for my rifle safe. Although for a wireless mini dehumidifier option it's hard to fault.
The Eva Dry Renewable Mini Dehumidifier is extremely affordable and easy to use. It's the perfect solution for anyone looking for an effective way to keep their gun safe dry and free of moisture. Also this unit is a great solution for your camping gear as well to keep that nice and dry while in storage.
Eva-Dry Renewable Mini Dehumidifier Pros and Cons
Rechargable up to 10 years
5 year warranty guarantee

Our Grade
B
Reviewed by Tom Moore
Reader's Grade
C+
Based on 3 Reviews
Your Grade
Do You Own This Accessory? Leave A Review
Success Your Grade Has Been
Added To Our Reader's Score
We use email to verify the accuracy of our reviews. We promise to never spam you.