Chiappa Rhino Review: Spaghetti Blaster for Space Cowboys
The Chiappa Rhino will instantly make you feel like a space cowboy. This futuristic sixgun has stepped out of the future and into my hands and maybe my heart…well, we'll see about the second one in our Chiappa Rhino review.
Chiappa Rhino 40DS Specs
Caliber

.357 Magnum

Capacity

6 round cylinder

Barrel Length

4 inches

Overall length

8.5 inches

Weight

30 ounces
Chiappa Rhino: Modern Spaghetti Blaster
The origin of the Rhino goes back to Italy. Production and design started there, and famed revolver designer Emilio Ghisoni worked with Antonio Cudazzo to produce the Rhino. Ghisoni originally worked on the Mateba series of semi-auto revolvers.
The Rhino would sadly be the last gun he'd lend his modern flair to. The weapon was designed in 2008, and he passed away a short time later.
The Chiappa Rhino's goal was to become a modern revolver in every sense of the word. Most revolver technology isn't much different than it was in the early 1900s. The biggest differences often are safety-oriented and improved metallurgy. The Rhino earned its space cowboy reputation by being something truly different.
The biggest design difference was orientating the bottom of the barrel with the bottom cylinder of the revolver. This lowers the bore axis and nearly aligns it with your wrist. This is said to create less muzzle flip and more recoil transferred rearward into the wrist than upward and off target.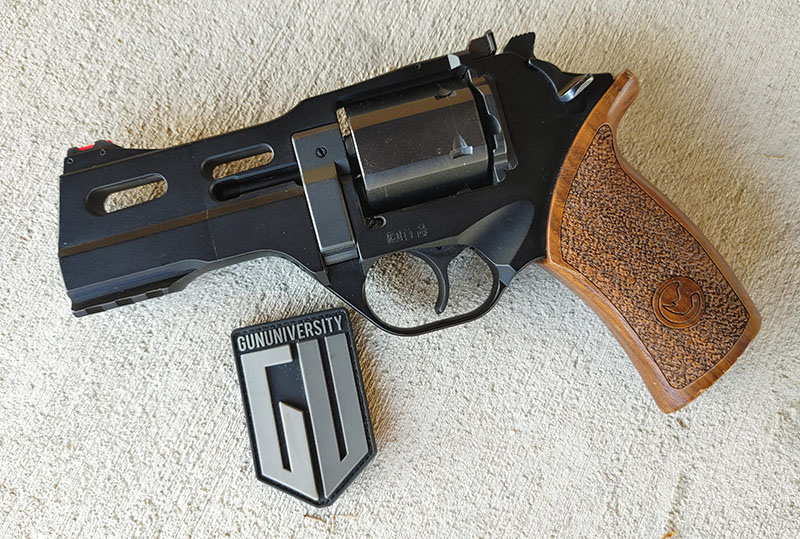 The weapon has a hammer, but the thing that looks like a hammer isn't a hammer. Think of it more as a cocking tab. When you pull it to the rear to cock the gun into single action, it drifts back to its original position, but the gun is still single action. It doesn't move as you pull the double-action trigger, either.
Another neat feature is the presence of optics and accessory rails. Depending on the size of the Rhino, you'll have a rail for lights, and with the 60DS model, you even get an optic rail. The Chiappa Rhino comes in .357 Magnum, 9mm, 40 S&W, and 9x21mm. I've seen talk of a .44 Magnum Rhino, but I'm not sure if it was ever produced or at least released in the United States.
Rhino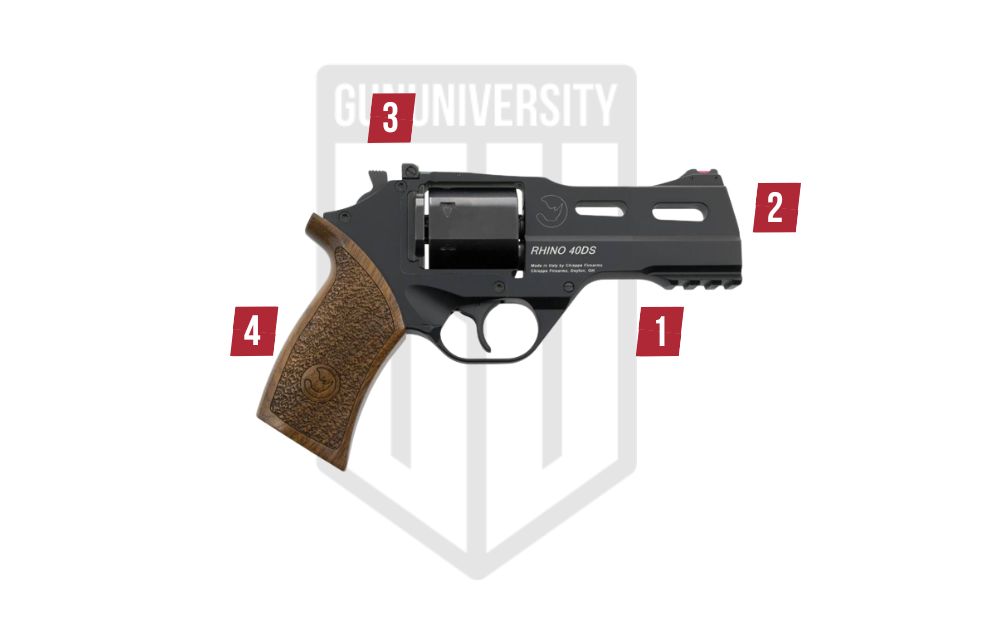 1
Accessory Rail
For lights, lasers…bayonets, maybe.
2
Bottom Mounted Barrel
Contributes significantly to reduced muzzle flip.
3
Adjustable Sights
But you could get crafty and put an RDS on it. Maybe.
4
Wood Grips
The disparity between a futuristic design and wood grips makes it look even more cool.
Models and Variations of the Chiappa Rhino
Other versions of the commercial Chiappa Rhino are mostly named for the length of the barrel and the action, i.e., 20D is a double-action-only pistol with a 2-inch barrel, whereas the 50DS is a double/single action with a 5-inch barrel. This is applied across all standard calibers.
Chiappa Spaghetti Blaster – Our Take
Rhino 40DS in Action
Let's talk shootability. The big claim to fame of the Rhino is the bottom-mounted barrel that reduces muzzle flip and makes the gun softer to shoot. I loaded up some 125-grain .357 Magnums and took the Rhino to task. I'm not a revolver guy, but I've shot a fair number of .357 Magnums. Is there a noticeable difference between the Rhino and a standard .357 Magnum revolver?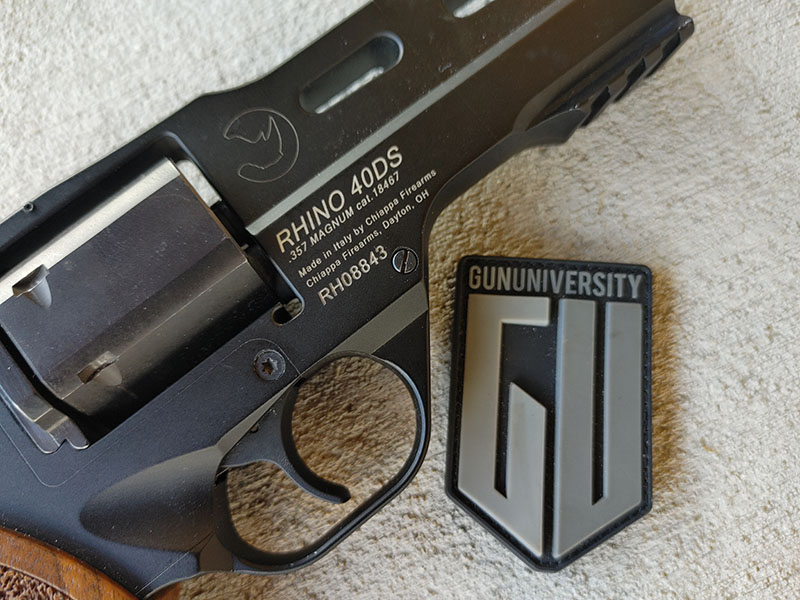 Oh yes, a big difference. In fact, I'd say it makes a .357 Magnum handle more like a .38 Special at most. It's quite the difference and a nice, impressive reduction in recoil. I enjoy the lower recoil and muzzle rise, and it makes me feel like I know how to handle a revolver when I very clearly don't. It's a nice touch, and it goes beyond a gimmick.
One small improvement they could make to make these guns more shootable is a more aggressive grip texturing. This would make the gun even easier to handle.

Shooting Straight
The downside of the design is that we get into a height over-bore situation at ranges inside five yards. The barrel is quite a bit lower than the sights, so at these close ranges, you'll hit low from your point of aim.
Outside of that, we have a decently accurate gun that doesn't quite live up to its potential. The double-action trigger is very heavy but admittedly smooth. It's not bad, but it gets whipped by gun triggers like the LCR. The gun can be cocked into single-action, but holy crap, is that one stiff cocking lever.
It takes two thumbs to cock the gun into single action. And I don't have small hands.
This stiff cocking lever means I would never use the single-action outside of the range. Although in single-action, the trigger is very nice, light, and short. The adjustable sights also help to dial in some precision, and the high visibility front sight is quite nice. This is a revolver that will make you a very good revolver shooter with a strong trigger finger.
Ergonomically Inclined It's Not
You might have to throw away most of what you know about revolvers. I mentioned the cocking lever is stiff, and I want to mention it again. Holy crap. I have decent grip strength, and the fact it takes two thumbs is absurd. The cocking lever is also small, with very little texturing to provide a good grip on the thing.
The cylinder release is positioned right below the cocking lever, and while different, it's very easy to use. The cylinder pops right out and makes reloading easy. The ejection rod tosses out the casings with ease. The grip is okay, not bad, and plenty comfy, but I want more texturing!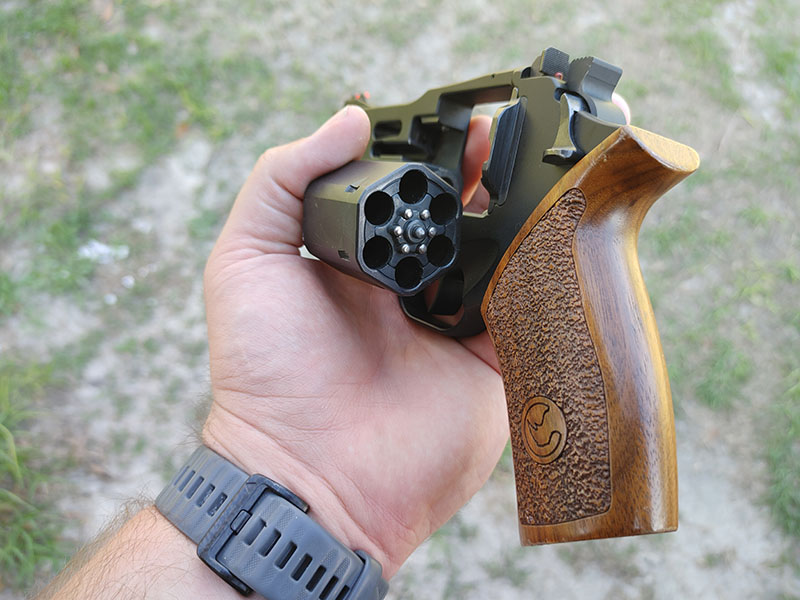 Blasting Away
Man, I see why I don't shoot revolvers often. The ammo is expensive! Even .38 Special costs significantly more than 9mm. Oh well, I guess that's the price of admission. After a few hundred rounds of .38 Special and a box of .357 Magnum, I can say the Rhino lives up to one normal part of revolver usage: it's reliable!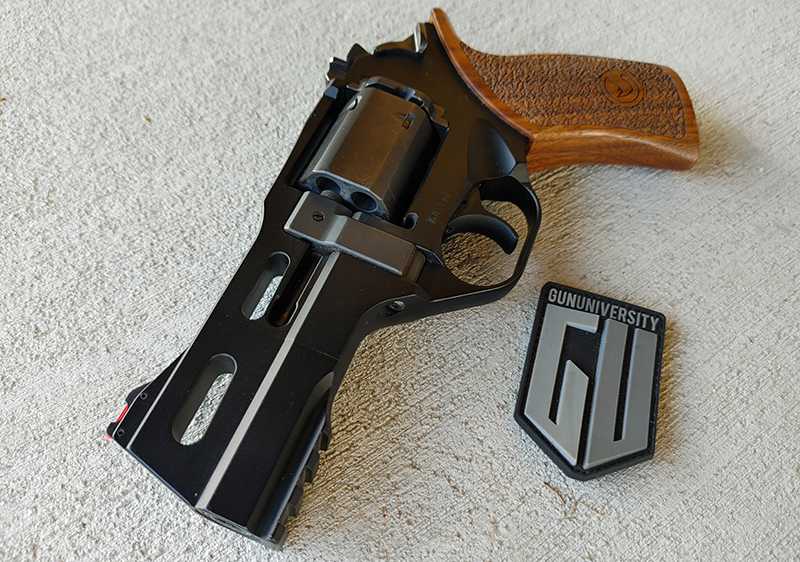 The gun didn't have issues digesting the mix of Remington and Winchester white box ammo I put through it, and it always went bang. More than that, the cylinder always popped out easily, and rounds left the cylinder without a problem.
They are proud of this thing when it comes to value. Consider it a value if you can pick one up for less than a thousand dollars. These are not cheap guns. I don't mind paying a good bit of money for a nice gun, but I have a hard time justifying the cost of the Rhino. The heavy trigger and hard to cock single action really make me lean more toward an S&W Performance Center than a Rhino. But the Rhino did make our list for best 357 Magnum revolvers.
Chiappa Rhino Pros and Cons
Not impulsive – Extremely lenient muzzle rise
Pops loose – Excellent cylinder release
Goes railed – For lights and such
Terrible trigger – No seriously, it's TERRIBLE
Hard to cock – Extremely stiff *snicker*
Expensive – Cool design and aesthetics do not = good gun
Report Card

Shootability

The low muzzle rise is a nice touch, and the gun stays put in your hand. What makes it tough to shoot is the heavy trigger.

B

Reliability

The Rhino has no problems going bang. It's a capable weapon that will function with every press of the trigger, in my experience.

A

Ergonomics

The grip is good, and the cylinder release is great, but the heavy cocking lever really pops points off. Why even offer a single-action option?

C

Accuracy

The gun could be much more accurate, but the hefty trigger makes it a little harder to keep the gun on target, and getting into single action isn't easy.

C

Value

The unique design of the gun likely led to its high price, but that unique design doesn't warrant Performance Denter prices without Performance Center performance.

D

Our Grade
C+
Reviewed by Travis Pike
Reader's Grade
A
Based on 5 Reviews
Your Grade
Do You Own This Gun? Leave A Review
Success Your Grade Has Been
Added To Our Reader's Score
We use email to verify the accuracy of our reviews. We promise to never spam you.
Chiappa Rhino Gun Deals
Ammo: Feeding Your Rhino
Feeding a Rhino can be expensive. And loud! But here are some suggestions.
Least Expensive for Training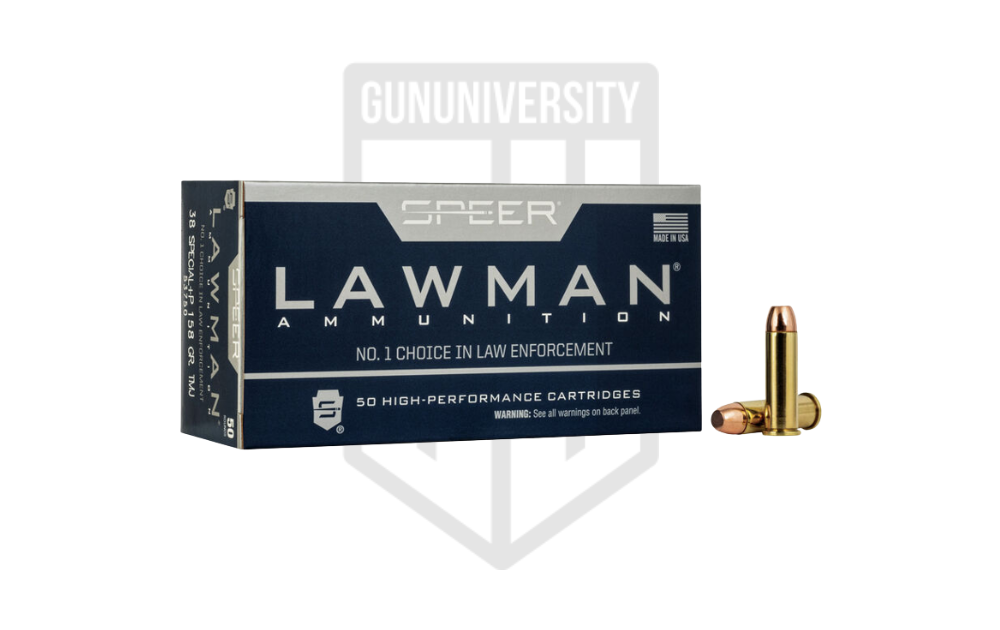 Speer Lawman 38 Special 125 GR TMJ
Great for the Range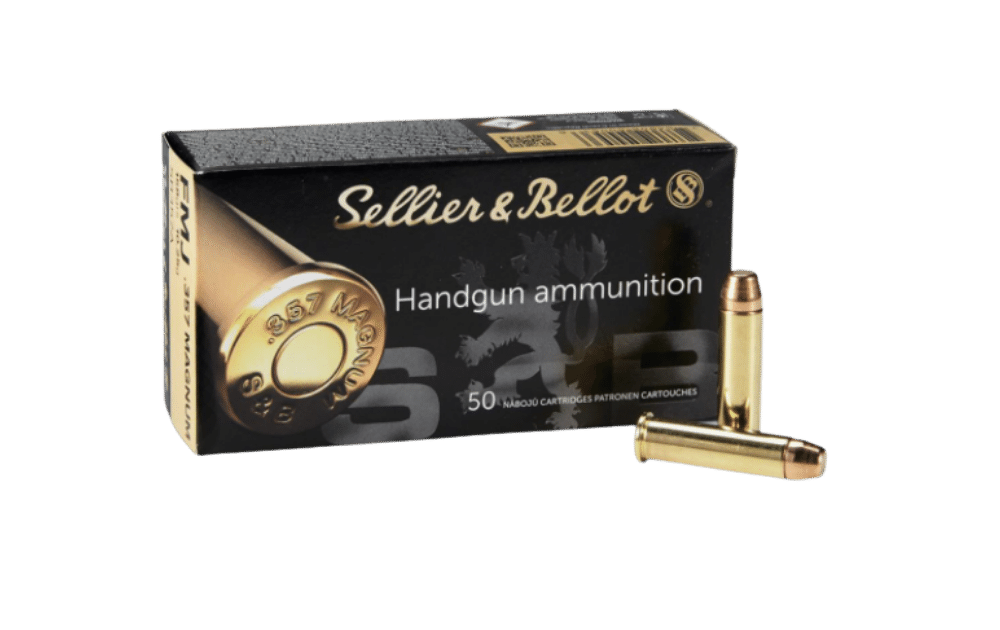 Another Defensive Option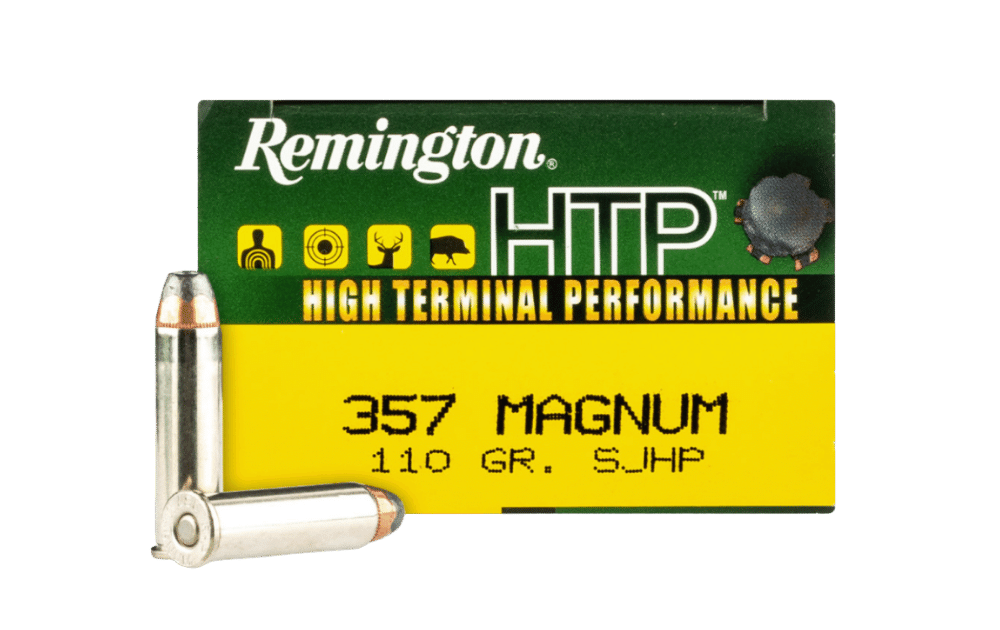 Rhino Accessories
Rhino Accessories
1000 lumens
TIR lens for far-reaching light
Attaches with Universal and Picatinny rails

On Amazon

Flashlight/red laser combo
1,000 lumen output
283m beam range

Check price

Clean your optics and weapon light lens
5ml Weapon Light Cleaner
10ml Optic Lens Cleaner
Micro Fiber Cloth

Check price

Proper eye protection is critical and should always be worn
Ballistic rated, not just sunglasses

Compare top eyepro

Ear protection is also critical. Protect your hearing!
Many styles (some stackable) are available

Compare best earpro

For cleaning, care, and maintenance
Not all kits are created equal

Compare top kits

You should always have medical gear when shooting (any gun)
External Tourniquet for easy access
Pull handle for rapid deployment
Vacuumed sealed insert to keep your contents protected
Kit content scalability

Check price

Fits .22 to .45 as well as some oddball cartridges.
Wide range o
Fits .22 to .45 as well as some oddball cartridges.
Wide range of tools for maintenance and cleaning.
Big work area but stores small.
Tools for maintenance and cleaning.
Big work area but stores small.

Check price

Biometric scanners are a plus but only one 0ption
Securing an off-body handgun is paramount

Compare biometric safes
The Chiappa Rhino is a neat gun with a smart design that does try hard to push the revolver forward. It fails to some degree, but I can honestly say good luck finding something that competes with it.
Care and Feeding Your Rhino
A reliable handgun requires regular maintenance and cleaning. Check out this video to help you with that task.
Suggested Resources