Centerpoint CP400 Review: Our Favorite Crossbow!
The Centerpoint CP400 powered by Helicoil technology with its 400 feet per second (fps) force, is one of the more popular crossbows on the market. Coupled with its affordable price compared to other capable crossbows, it has driven considerable interest in the community.
Because of this, I've gotten a lot of questions about the CP400 and my thoughts. Since I hadn't had much experience with the CP400, I contacted Centerpoint and had them ship a CP400 for testing so that I could write this Center Point CP400 review. Is it worth it? Let's find out.
Centerpoint CP400 Specs
Name

CP400

FPS

400 fps

Power Stroke

13 in

Limbs

Compression Fiberglass Quad

Riser

Aluminum

Stock

Composite

Weight

7.8 lbs

Length

31.75 in
Centerpoint CP400 Background
Before we can get into the background of the CP400, first we need to take a quick look into the history of Centerpoint, which will help to explain a bit of the adoption of the technology inside this particular crossbow.
While Centerpoint has a long history of excellent crossbows in the industry, it is important to note Velocity Outdoors, a holding company, not only owns Centerpoint, but also owns Ravin, a high-end well loved crossbow company.
Due to this level of collaboration, it was 'probably' through this that Centerpoint was able to use the Ravin Helicoil technology – which is credited by their site as the "engine behind Ravin crossbows." This capability coils the cables away from the cams in helical grooves which helps keep the cams balanced when releasing. Because of this, it allows for stronger and more accurate release while also keeping the crossbow more compact in width.
This to me is incredible because it is an opportunity to get a strong crossbow with a small width at an affordable price – Ravins being a bit pricier. This alone is what really drew a lot of attention to the CP400 as an excellent ROI for the price. However, later, Centerpoint made the Wrath 430, which many have asked how these two differ. Truth is, they are really close to each other with the exception of the Ravin Helicoil on the CP400 (which is excellent) and maybe in the future I will write a comparison piece on the two. But ultimately they are very similar and come down to the users particular preferences like weight, speed, width, etc – which each going tit-for-tat one which one they excel in.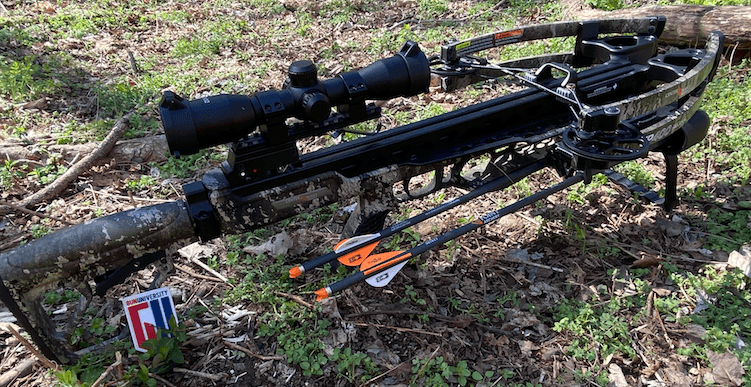 Centerpoint CP400 Features
1
90 Degree Folding Stirrup
3
Anti-Dry Fire and Auto Safety
Centerpoint CP400 Review: Our Take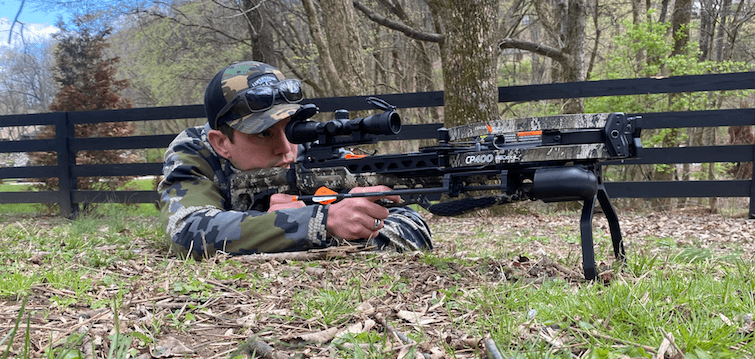 The Centerpoint CP400 is an ultra compact crossbow touting 400 fps and a 6 inch wide axle-to-axle width when cocked. This makes it one of the most slender crossbows on the market – especially when compared to the other higher priced versions out there.
Out of the box, it is mostly assembled with the exception of the need to attach the ambidextrous quick-detach quiver and the scope – luckily this comes with the necessary scope rings. Also, I'd recommend adjusting the screws on the rotating stirrup – mine had a bit too much movement, but after a tightening, it was perfect.
Speaking of the scope, the 3×32 illuminated scope that comes with it was a major surprise. Many of the scopes that come with crossbows are usually generic riflescopes – something I'd put on a low end 22 rifle. But not this one. It's clearly meant for crossbows and displays marks at 10-yard increments from 20 to 100 yards. I especially liked the two color illumination capability.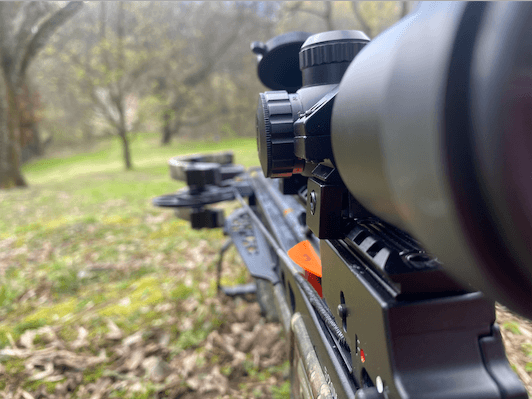 I was actually prepared to switch this stock scope with my Vortex Crossbow Crossfire 2 2-7 x 32 scope. However, I really didn't need to. It's more than capable for my needs and again, a real surprise. This definitely adds to the ROI of this crossbow.
The folding stirrup is an excellent feature. Having it down made installing the pieces easy, and cocking the crossbow from a tree stand is very easy. Furthermore, I can use it like a bipod for better shots.
After all things were set, taking it out to the range was a blast. At 10 yards my first shot was really close. Only required a couple of adjustments. Then after that, moved back to 30 yards, and made one more fine adjustment. From then on, I've been able to move freely between 100 to 30 yards with no problems – not that I intend to hunt at that range, but just for testing purposes.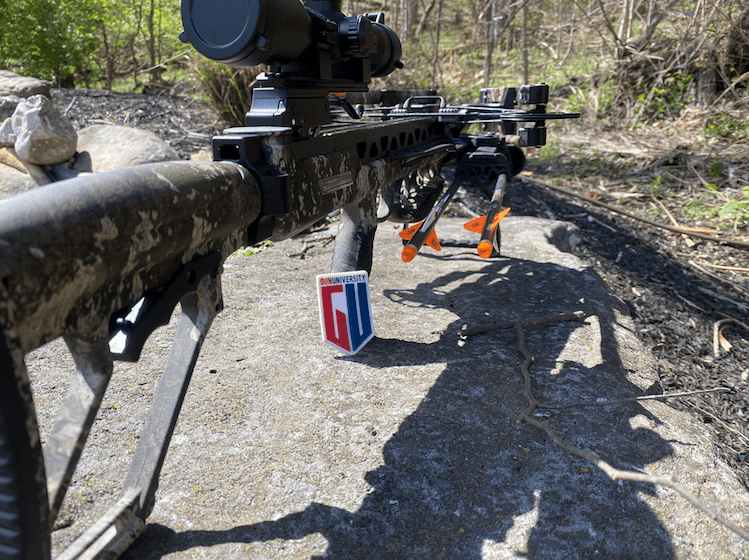 Because of this, it's definitely one of the more accurate crossbows I've fired at this price range. I think it's a combination of the Helicoil as well as the fps and its even distribution. But I was finding no problem hitting my target after zeroing the scope.
Another thing that probably helps with this is the ergonomics. Both the pistol grip and foregrip are well designed and extremely comfortable. Whether bare hands or gloved, these grips do incredibly well and provide enough room. Furthermore, I love the added fluted finger guard that helps to ensure my fingers don't ever get caught in the cables. I haven't lost any fingertips but I have heard of others who have.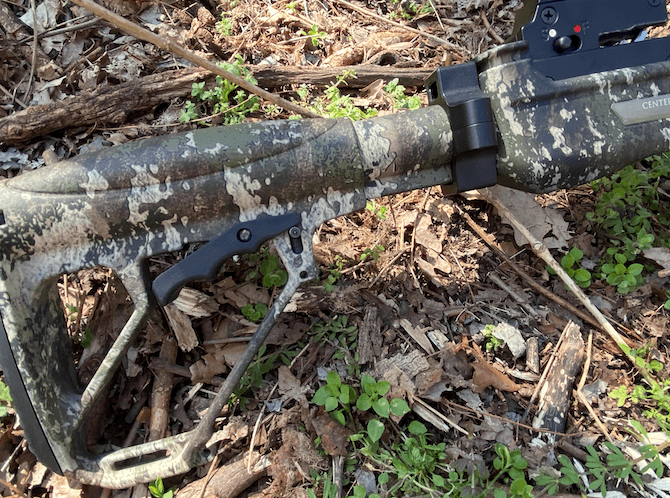 Another thing about the ergonomics is the adjustable stock. This has allowed me to adjust the stock for better sight and comfort. Also, I've had my kids use it a couple of times (with supervision of course), and adjusting the stock has been excellent for them. Because of the locking, I can usually find my original spot with ease. One thing to note though is that the stock adjustment is a bit noisy. Although, while on the hunt, I intend to have it in its proper spot before venturing to the stand so this shouldn't be a problem.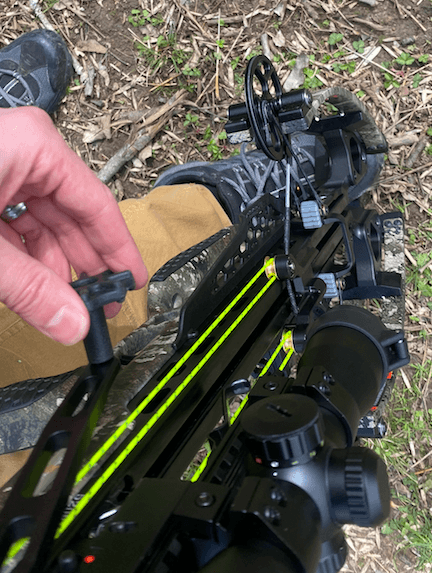 Mine also came with the silent crank which I'd absolutely recommend someone get. It made drawing the crossbow that much easier, and was as the name says, silent. However, it does take a bit of getting used to. Getting the crank to unwind after use has become a bit of an art form.
Of note, I personally did make a mistake once while cocking the string back. I had it fully back, and in trying to get the crank to loosen so as to remove it, I thought I had the release pressed. Apparently I did not, and I ended up breaking the knob on that side. Luckily, it's ambidextrous so I just put the handle on the other side. So, in the end, this was the fault of my own.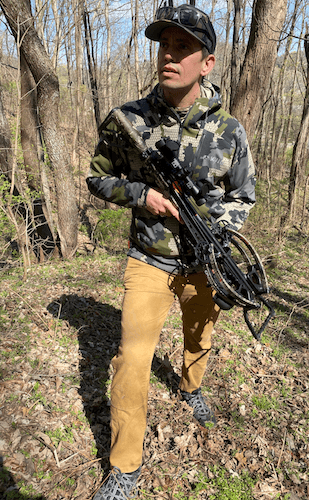 One thing I'm not a fan of though is the trigger. It took about 8 pounds of pressure to fire and there was no breakpoint that I could feel. This caused me to jerk the trigger a bit in the beginning, but now that I know to look for it, and what to expect, I've been able to compensate for this.
So far, I've fired around 100 shots. I've had no issues whatsoever, but I'll continue to fire it, and see how long the cables last before they show signs of replacement. I will be sure to come back to this review and update as necessary. But so far, no signs of issues.
Final Thoughts: I absolutely love this crossbow for under $1000. It comes with an excellent scope, and many features and capabilities that you'd normally have to jump up to higher prices to reach. It produces incredible speeds for such a narrow width, and includes great ergonomics and safety features. This will serve as my go-to hunting crossbow.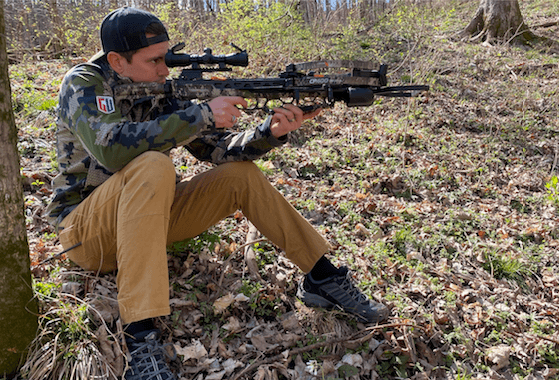 Centerpoint CP400 Pros and Cons
400 fps for the price
Excellent crossbow scope
Adjustable stock
Folding stirrup
Report Card

Shootability

Needs a better trigger, but everything else is great.

A-

Reliability

Will update over use, but seems very reliable so far.

B

Ergonomics

Very comfortable to hold and grip.

A+

Accuracy

Very accurate during tests.

A

Value

Based on capability and comparison to like crossbows, this is a good price.

A

Our Grade
A-
Reviewed by Dave Chesson
Reader's Grade
A-
Based on 5 Reviews
Your Grade
Do You Own This Crossbow? Leave A Review
Success Your Grade Has Been
Added To Our Reader's Score
We use email to verify the accuracy of our reviews. We promise to never spam you.
Centerpoint CP400 Gun Deals
If you are interested in picking up the Centerpoint CP400 for yourself, here are some deals we found.
Upgrades and Accessories for the CP400
This gun is pretty close to perfect, but there are a few things that you should think about getting to customize your Shadow 2 and take it to the next level–such as a sweet red dot and some aftermarket grips.
Best Accessories For The Centerpoint CP400
Comes with

30mm Rings (2)
Flip Caps (2)
Neoprene Cover

Check Price

Light Weight
Contoured Design
Non Slip

Check Amazon Price

3 Pack
Extends life of strings

Check Amazon Price

Pack of 6
400 Grain
20 inch

Check Amazon Price

Pack of 3
400 Grain
20 inch
Lighted nocks

Check Price
How to Care for Your Centerpoint CP400
As a crossbow owner, you probably need to take your bow to a quality archery shop to do many of the adjustments needed over the life of your bow, unless you have your own bow press. However, this video from Lancaster Archery walks you through some of the things you can do at home to check for issues and maintain your bow.
Important Links and Manuals for Your CP400
Looking for some more information on the CP400? Check out the links below for the manufacturer's website and operator's manual, and other neat content.