7 Best Shoulder Holsters: When OWB and IWB Wont Work
Ever want to feel like Don Johnson? Or maybe Steve McQueen? Or perhaps you just want a comfortable carry option that gets the gun off your waist? If that's the case, then you can either go up or down on the body. Today we are going up and talking about shoulder rigs. Shoulder holsters dominate pop culture with the cool guy look and feel, but in reality, they can be an effective means of carrying a sidearm.
Their history goes back fairly far. Early origins point them to the American Civil War, and horse bound troops used them. Doc Holliday famously carried one of his two guns in a shoulder holster. In WW1 and WW2, soldiers in armored vehicles often used them. Nowadays, they are regulated to concealed carry and offer a comfortable, effective, and capable alternative to traditional holsters.
Shoulder Holsters Pros and Cons
Before we dive into the best shoulder holsters currently on the market, we need to do a little educating. We are Gun University, you know, so let's get the educational portion out of the way and focus on the pros and cons, as well as some basic shoulder holster information.
Shoulder holsters are admittedly niche carry holsters, and in certain niches, they excel and do quite well. Yet, the downsides are worth acknowledging.
Seated Carry – One of their most dominant niche uses is in seated carry. The shoulder holster can be very comfortable and easy to access when in a seated position. This is especially true when it comes to vehicles and road trips, which is where I break my shoulder holster out.
Large Frame Guns – Shoulder holsters can also make it easier to carry larger guns, including full-sized pistols. Carrying a Glock 17 isn't too tough when you have a shoulder holster.
Accessory Carry – Additionally, most shoulder holsters feature some form of extra mag pouch to allow for a magazine or two to be carried to be an all-in-one design. A good shoulder holster (like the ones in this article) is quite comfortable and makes carrying big guns easy.
Cover Garment – Shoulder holsters require something to conceal them. This means an overshirt or jacket, which can be inconvenient in the summer.
Price – Shoulder holsters, or at least good ones, tend to be quite expensive. Well over a hundred dollars in most cases.
Slower Draw – they can be slower to draw from, and you need a practiced draw to ensure you are not flagging yourself or others as you draw. This requires your nondominant hand to often reach for the sky.
Discomfort – Discomfort typically occurs with bad shoulder holsters that lack support, adjustment, and maneuverability.
Shoulder Holster Orientations
Shoulder holsters come in a few variations. These days the most common are horizontal and vertical, and each has its pros and cons.
Horizontal – Horizontal is the most common method to carry a shoulder holster. It's the classic method and typically the more popular design. The main advantage of the horizontal shoulder holster is the speed of the draw. You can draw the weapon quicker, and that's valuable to a lot of shooters. They also tend to be more compact overall, and they keep things further from the hips.
Vertical – Vertical shoulder holsters orient the weapon muzzle down and tend to be excellent for very large firearms. Think Glock 34 size. They keep the weapon along the body and help to conceal it effectively. Nothing sticks out or pokes outwards. Much like appendix carry, the body conceals the gun.
Upside Down – I don't think any serious holster maker makes an upside-down carry-shoulder holster. They used this older design for very small guns, often J-frame revolvers. It oriented the gun barrel up and made for a quick draw. However, it also points the gun at the person carrying it, creating a crazy degree of risk, one I advise against 100%. (If you want to dress up like Steve McQueen from Bullitt, use a squirt gun.)
Gun University's Choices of the Best Shoulder Holsters
Best Shoulder Holsters
Standard Bearer of Shoulder Holsters
Spider Harness Allows For Maneuverability
Allows for Various Attachments

Buy on Amazon

ALS Retention
Minimalist Design
Easy to Conceal

Check Price

Highly Adjustable Straps
Allows for Cant
Works With Various Holster Shells

Buy on Amazon

Active Retention
Dual Mag Pouch Included
Tie Down Ready

Buy on Amazon

Customizable
Optics Ready Options
Light Ready Options

Check Price

Optics Cut Is Standard
Light Ready Options
Multiples Offset Pouch Options

Check Price

Designed for SMG Sized Guns
Dual Mag Pouches
LARP Ready

Buy on Amazon
Best Shoulder Holsters Specifications
Below is a table of the specs for holster. Click the name of the item to jump to that review.
| Holster | Orientation | Material | Retention |
| --- | --- | --- | --- |
| | Vertical & Horizontal | Leather | Active |
| | Horizontal | Leather and Polymer | Active |
| | Vertical & Horizontal | Leather and Polymer | Active |
| | Horizontal | Leather | Active |
| | Vertical & Horizontal | Polymer and Nylon | Passive or Active |
| | Vertical & Horizontal | Polymer and Nylon | Polymer |
| | Vertical | Nylon | Active |
Best Shoulder Holsters
Here is our list for the best shoulder holsters:
Shoulder Holsters – Reviews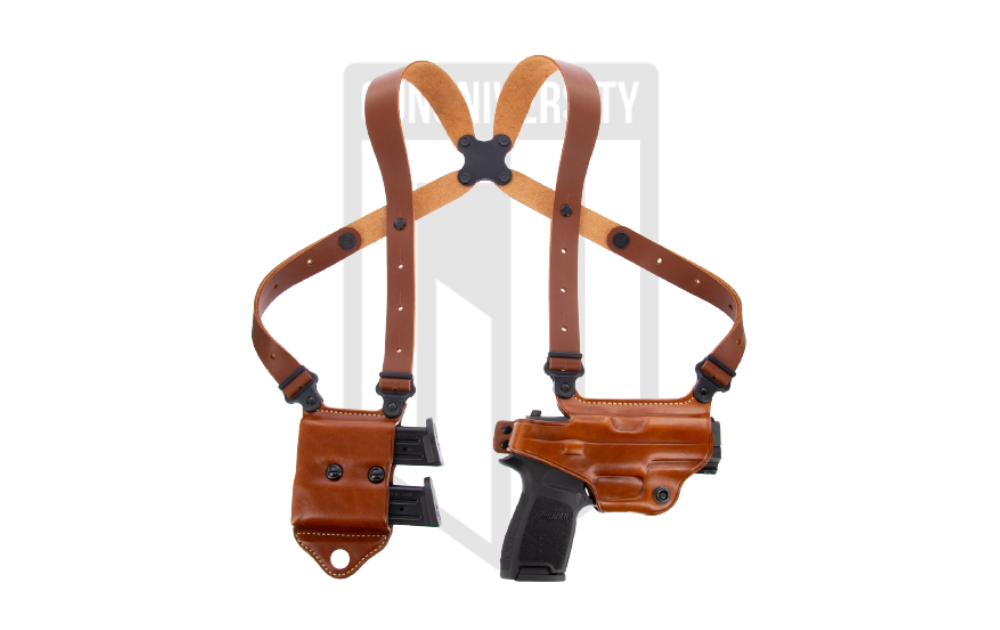 A customizable shoulder holster made from leather available in tan or black for a wide range of firearms.
Galco Miami Classic 1 and 2 Specs
Orientation

Vertical & Horizontal

Material

Leather

Retention

Active
Galco Miami Classic 1 and 2 Review
One of the original high-quality, adjustable, and comfortable shoulder holsters comes from Galco in the form of the Miami Classic. The name comes from the fact Galco adapted one of their Jackass rigs to fit Don Johnson of Miami Vice. The name stuck, and it continues to be one of the best shoulder holsters on the market and my personal favorite. Both the Classic and Classic 2 fit the bill.
The differences are minor, and the Classic 2 has a horizontal magazine carrier with passive retention. It's also got thicker straps for increased comfort. The Classic is lower profile overall. These classical leather designs function well and provide a flexible material that doesn't rub or cause pain.
The real charm of the Miami Classic is the rear spider harness. That's where the comforting magic happens, and it allows the holster to move as you move. It is not straps holding you back, but straps and a gun that moves with you. This prevents fatigue. The harness is very adjustable and can be customized to the shooter's size.
Galco also offers a degree of modularity. The holster can be worn with a right or left-handed holster. You can attach mag pouches, cuff pouches, speed loader pouches, or even this big ole knife holster if you feel froggy. If you own one set of straps, you can always swap the holster without having to buy an entirely new rig.
The key problem with the Miami Classic is that it doesn't always support modern carry accessories. It does not allow lights to be used, and the compatibility with optics depends on the gun and optic used. It tends to work most of the time. Other muzzle devices like comps can also be hit or miss with the Miami Classic.
The Miami Classic is a classic of shoulder rigs. It's my go-to on road trips, and I carry my P365 XL with a Holosun EPS and two spare mags without issue. It's made for tons of guns, so if you are packing, Galco likely makes an option for you.
Galco Miami Classic 1 and 2 Pros and Cons
Comfortable
Modular
Proven
Doesn't support Modern Accessories
Safariland 7053 7TS ALS Specs
Orientation

Horizontal

Material

Leather and Polymer

Retention

Active
Safariland 7053 7TS ALS Review
Many people don't seem to know that Safariland makes a shoulder rig for concealed carry, and it's often ignored in favor of their duty options. Safariland makes so many duty holsters that their designs have largely become the standard, with very few competitors challenging them for the top spot. The Safariland 7053 7TS ALS design is the most underrated option on this list.
The holster is an odd combination of modern materials mixed with an old-school leather design. The holster is an ALS design made from the Safariland SafariSeven material. This is a polymer that is a nylon blend, to be specific. They make the cuff that goes over your shoulder from more traditional leather. The design of the 7073 makes it a bit more affordable than most high-quality leather holsters.
Polymer is cheaper, and Safariland already makes tons of ALS holsters, so it's an easy adaption. Also, the harness is basically cut in half. The portion that supports the gun has a leather shoulder strap, but the other side gets a simple nylon cord that wraps around the opposite arm. This is both a benefit and a downside. It works well for concealed carry because it's so lightweight and low profile.
The downside is that it won't be comfy for big guns. It's not super supportive and really works best with micro compacts like the SIG P365 and single stack 9mms like the Glock 43. Small guns are where this Safariland 7053 works best.
The Safariland utilizes the ALS active retention system with the 7053. While most leather holsters use a thumb strap, the 7053 uses the faster and easier-to-use thumb release. It's pressed inwards naturally when you draw the gun.
The lightweight design does keep things comfy and very concealed. It does lack a lot of modularity. You also don't have an option for lights or optics either. This is a recurring theme, but I promise it's not universal.
Safariland 7053 7TS ALS Pros and Cons
Low Profile
Lightweight
ALS retention
Affordable
No Lights, No Optics
Only Works Well With Small Guns
Alien Gear Shapeshift Holster Specs
Orientation

Vertical & Horizontal

Material

Leather and Polymer

Retention

Active
Alien Gear Shapeshift Holster Review
The Alien Gear Shapeshift system is interesting, but it's largely not for me. It's not bad, but we won't get deep into that. What did impress me was the Shapeshift shoulder holster system. The Shapeshift system allows you to move one holster to a variety of carry styles, from OWB and IWB to shoulder and ankle carry. In the shoulder configuration, the Shapeshift excels for a number of reasons.
First, yes, it's modular and affordable to swap out the polymer molded shell with another gun. This allows you to carry whatever gun you have. Also, this shoulder rig is among the few that enable effortless adjustment of the gun's cant. You can wear the holster as a regular horizontal carry design, add a little upwards cant, or even just switch to vertical carry. You can also attach or detach spare mag pouches.
Next, the holster is incredibly comfortable. It has a harness at the back that allows for movement, and the straps are very adjustable to make life easy for carriers, both big and small, and everywhere in between. The included belt tie-downs are also flexible and allow for movement and adjustability, as well as maximum comfort.
The downside comes down to the fact the Shapeshift shell system is devoid of light and optics-ready options. It's plain guns and plain guns only. That kind of sucks in an era where even small guns have red dot options available to them.
If that's not an issue for you, then the Shapeshift offers a very adjustable, comfortable, and modular shoulder holster design. It's even better if you like the Shapeshift system as a whole. That will certainly help you make your decision.
Alien Gear Shapeshift Holster Pros and Cons
Highly Modular
Easy to wear
Adjustable
No lights, No Optics
Expensive
Galco Classic Lite Specs
Hand orientation

Horizontal

Material

Leather

Closure type

Active
Galco Classic Lite Review
Another day, another Galco. The Galco Classic Lite gives us an affordable option in the shoulder holster world and gives us leather and maximum support. It uses the general layout of the Miami Classic series with a more affordable design. This keeps the holster priced right around a hundred bucks, which is half the price of the Miami Classic.
What they cut was fancy-looking leather. It's not a glossy, fancy leather design. It's also not molded with the same high degree of refinement as the Miami Classic. While it's molded enough to offer retention and safety, it doesn't give that molded look. The straps are plain.
While we sacrifice the fine leather work, we do get the basics of what makes the Miami Classic so comfortable. This means we get the spider harness for comfort, and you can adjust the holster as necessary for a good fit. This is what you really need for a comfortable carry, and the classic light doesn't skimp.
The Classic Lite comes with a vertical, dual magazine pouch, and the mag pouch and holster both use a basic leather strap with a button for retention. Overall, it's a solid design that is quite functional and doesn't break the bank. The biggest complaint I have is that the holster portion and the rougher leather can rub right above the elbow unless you are wearing a long sleeve shirt.
Galco Classic Lite Pros and Cons
Affordable
Comfortable
Adjustable
No lights, No Optics
Rubs slightly
Ares Tactical Shoulder Holster Specs
Orientation

Vertical & Horizontal

Material

Polymer and Nylon

Retention

Passive or Active
Ares Tactical Shoulder Holster Review
Let's move away from old-fashioned leather and into 2023. The Ares Tactical Shoulder Holster defies what a shoulder holster can and should be. They ditched leather for the holster material of the century, polymer. Gone are leather straps, and in their place, we have nylon. This reduces bulk and forms a modern option that's less sensitive to the weather and environment.
The Ares Tactical Shoulder Holster has a spider harness design that secures the straps and allows free movement. Each strap is very easy to adjust and allows for a good customization over your holster and how it fits your individual body.
While the Ares Tactical Shoulder Holster checks the right boxes for a comfortable and useable, it goes beyond the pale in modular and uniqueness. After you select the basics, like what gun you're carrying, you can continue to select various options. This includes an optic cut and a light option. They have tons of light options from companies, both big and small.
The default off-hand side is two mag pouches, but you can add a third mag pouch, do a mag and light, or two mags and a light, or a single mag pouch, and the list goes on. There are just tons of options out there to make the holster you want. That's a neat concept and allows you to get what you need out of the gun. Even with a ton of options added, I landed at below the cost of a Miami Classic.
Ares Tactical Shoulder Holster Pros and Cons
Customizable
Light and optic Allowed
Uses Modern materials
Extras Features = Extra Money
Gunfighters Inc Spectre Shoulder Holster Specs
Orientation

Vertical & Horizontal

Material

Polymer and Nylon

Closure type

Polymer
Gunfighters Inc Spectre Shoulder Holster Review
Gunfights Inc might offer the most advanced shoulder holster on the market, the Spectre. They made their name with chest rig holsters and adopted their modern take on the chest rig to the shoulder holster. This creates a shoulder holster with all the modern features of a hip rig.
The Spectre series uses modern polymer material to craft holsters directly molded to your gun. This offers superior retention and fit while remaining low profile and resistant to most normal wear and tear. It also allows for light-bearing options, and they cut each Spectre rig for optics. The open-bottom threaded barrel accommodation is stock as well.
You can use a variety of support side attachments. This includes the standard dual mag attachment, as well as the ability to add a second holster for a second gun, just because. A New York reload is always cool. Additionally, with some guns like the Glock series, you can select the Happy Stick option to carry a 33-round spare mag.
They add tie downs, and shooters have the option to choose suppressor height sight to ensure a large channel. It's all fairly nice and makes for a modern carry option. They make the straps from wide nylon to distribute weight and are quite adjustable. They allow for great freedom of movement and superior comfort.
I don't have much to complain about. It's one of the more expensive rigs on this list, especially if you choose the light-bearing options. However, it's the most modern, and who doesn't like modern?
Gunfighters Inc Spectre Shoulder Holster Pros and Cons
Modern Design
Optic and Light options
Comfortable
Desantis DSD Rig Specs
Orientation

Vertical

Material

Nylon

Retention

Active
Desantis DSD Rig Review
I like to toss a wild card in every so often, and today's will be the Desantis DSD Rig. They designed every other shoulder rig on this list for handguns and for concealment. The DSD Rig went a different direction and was designed to allow the user to conceal either an SMG or SBR-sized rifle. Yep, it's not your typical rig.
Desantis designed these for overseas work that required discretion, but not at the expense of firepower. The DSD rigs come in either 9mm or 5.56 models and are designed to position an SMG or super short rifle under your arm. Admittedly, this won't conceal super well. On the opposite side, you can carry two spare magazines.
Your weapon straps into the rig and features a quick detach system to get it in the ready position. It's a neat design, but it's largely useless for the everyday Joe. However, Desantis offers it to anyone who wants one. You can LARP as a secret agent if you so choose and wander around your house, or your Mom's basement, with whatever large format pistol you could ever want.
Desantis DSD Rig Pros and Cons
Designed for 'BIG" guns
Spare Mag Pouches
Just Fun
Pointless for 99% of People
Shoulder Up
Ahh, here we are at the end. Don't be sad. It's over. Be happy we had this time together. All joking aside, while shoulder holsters aren't common and can be niche, I still find them to be quite valuable. As a bigger guy, most vehicles put my knees into the center console and forced a rough ride with IWB carry. Shoulder holsters make my road trips stress-free, and A/C doesn't care about my overshirt.
The shoulder rig can still be a very viable option, but you need to be picky about it. Hopefully, we've helped guide you in the right direction to picking out your favorite shoulder holster.