7 Best Mini Red Dots: CCW Aiming Cheat Codes!
When we discuss handguns, red dots have really become the new LPVO. What I mean by that is that they are in vogue, so to speak. Most companies who release a handgun in the 2020s are releasing an optic-ready option from the jump. Red dots on handguns have become mainstream in all worlds, from duty and defense to competition shooting. In fact, they've migrated to smaller guns, guns that fall into the single stack or micro-compact realm. Today we review the 7 best mini red dots.
The SIG P365, the Kimber Mako, the Hellcat OSP, and so many more now come with optic cut options, and many use the Shield RMSc footprint. It's nice to see some form of universal footprint amongst firearms. The market for these dots has exploded, and I've been lucky enough to try out many micro-sized red dots. Most are pretty solid optics, and I wanted to gather the best for you at all budgets and design types.
Why Red Dots on Little Guns Make Sense
Little guns might be convenient to carry but are often tougher to shoot fast and accurately. A red dot can't do anything to help aid you in control, but it can help you shoot straighter. Red dots on handguns allow you to shoot faster, further, and with greater accuracy.
The speed comes from not needing to align a front and rear sight. Put the dot on the target and pull the trigger. The longer range comes from the fact the dot is smaller, and you use a target focus versus a front sight focus. Being able to see the target better makes it easier to hit.
On a small gun, we also have sight radius issues. Short barrels and shorter slides make for a shorter sight radius. A sight radius doesn't make a gun more accurate, but it makes it easier to shoot accurately. Sight radius isn't a factor when using a red dot. In fact, I'd red dot everything, down to J-frame snub noses if I could.
The obvious downside is the bulk and height added. However, most red dots are fairly small in this genre, and they certainly make up for the height and bulk they add to a gun.
If you have to call your concealed carry gun into action, you want to be able to aim as quickly and accurately as possible. A red dot sight is almost like a cheat code when aiming, allowing you to focus on the threat, while overlaying the red dot, and not having to focus on aligning a front and rear sight. If I was to find myself in a situation involving my concealed handgun, or any handgun, I want all the advantages and overmatch I can get. Wouldn't you?
Gun University's Best Mini Red Dot Sights
Best Mini Red Dot
Massive Lens
Auto Adjusting Brightness
Open Emitter

Check Price

Enclosed Emitter
Manual Controls
Battery Door

Buy on Amazon

Open Emitter
Basic, But Affordable
Metal and Glass Design

Buy on Amazon

Open Emitter
Multi Reticle System
Side Loading Battery

Buy on Amazon

Open Emitter
Multiple Model With Various Features
Durable and Affordable

Buy on Amazon

Open Emitter
3 and 6 MOA Reticles
Large Window

Buy on Amazon

Open Emitter
Multiple Reticle Options
Affordable

Buy on Amazon
Best Mini Red Dot Specifications
Below is a table of the specs for each red dot. Click the name of the item to jump to that review.
Best Mini Red Dot
Here is our list for the best mini red dot sights:
Best Mini Red Dots – Reviews
Here are the detailed reviews of all the mini red dots I've listed along with a side-by-side spec table on each. Each one of these red dot sights has unique features which lead to their location on this list.
A min red dot sight with an extra large lens available in many different colors with either 4 or 8 MOA dots and with either a glass or polymer lens.
Shield RMSx Specs
Height (in)

0.9

Weight (oz)

0.61

Reticle Size (moa)

4 or 8

Battery Life (hours)

17,520+
Shield RMSx Review
If you have a little gun but want a big lens, then the Shield RMSx is the optic for you. The Shield RMSc started the pint-sized optic's movement, but it's bigger yet younger brother, the RMSx, provides the best bang for your buck. The RMSx has a tiny footprint and matches the Shield RMSc pattern, but it provides you with a massive full-sized lens.
It's huge and rivals the lens of full-sized optics like the Trijicon RMR. The bigger lens's biggest benefit is that it's just easier to find the dot. The big lens is perfect for shooters new to the micro red dot world who need to learn to find the dot. That lens is also remarkably clear, a common compliment given to Shield optics. The same goes for the reticle. It's a perfect 4 or 8-MOA circle, depending on user preference.
The design works well, but it has some quirks. Like the original RMSc, it's a minimalist optic. There are no buttons, and it's always on. A rubber cover comes with the optic, and when in place, the optic dims it down to nothing to save the battery. Without buttons, the optic auto-adjusts to ambient light. Luckily, it does so quickly and efficiently. Another gripe I have is the polymer lens. The RMSc recently got a glass option, and I'd prefer that in the RMSx.
Overall, it's the biggest of the micro-optics but remains lightweight. It's quite easy to zero, and the lens is clear, which is impressive for a polymer material. If you want big, you want the RMSx.
Shield RMSx Pros and Cons
Lens –Massive, clear lens
Auto Adjust –Excellent and quick auto adjustment
Dot Clarity –Super Crisp Dot
Lens Material –Polymer Lens
Battery Location – Battery Has to Be Removed to Change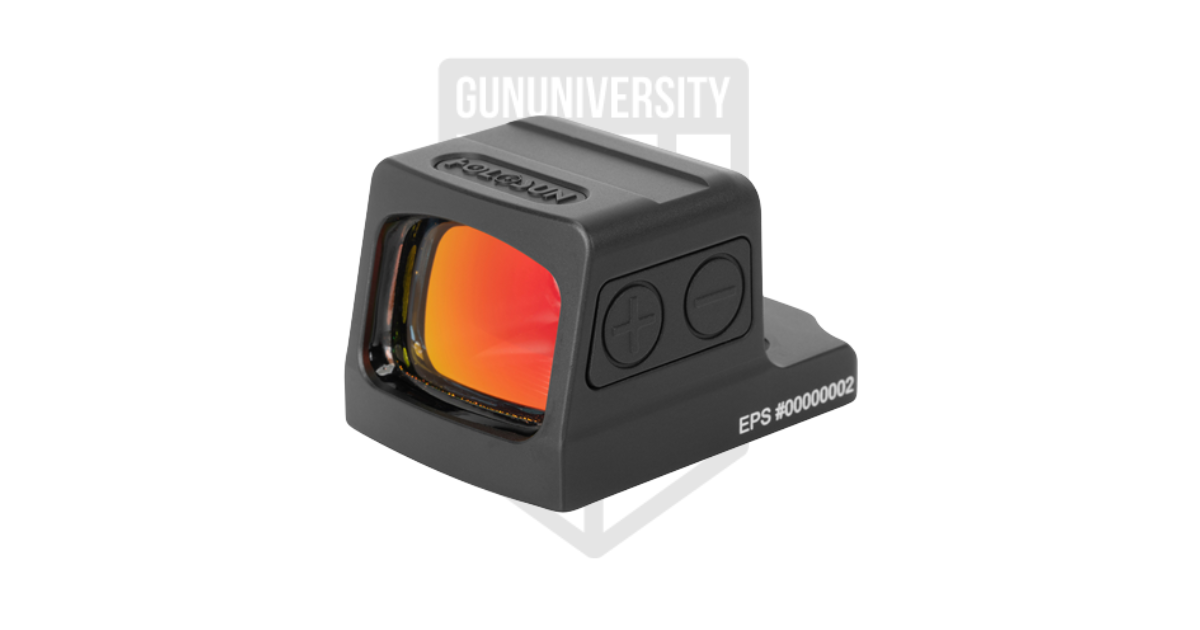 A enclosed emitter min red dot sight with a few different reticle sizes and in either red or green.
Holosun EPS Specs
Height (in)

0.99

Weight (oz)

1.4

Reticle Size (moa)

2 or 6

Battery Life (hours)

50,000
Holosun EPS Review
The Holsoun EPS has started a bit of a revolution. For years we were stuck with open emitters for our small guns. Larger firearms got blessed by the ACRO, the Steiner MPS, and the 509T. Holosun took the 509T and shrunk it to give us the EPS. The EPS, or Enclosed Pistol Sight, gives the little gun an enclosed option for maximum reliability. The EPS uses the Shield RMSc footprint without the need for any adapters or plates.
The Holosun EPS provides shooters with several options and variances. The current options include the standard and slightly smaller carry model. Reticle options vary from 2 to 6 MOA dots, and a model that hasn't made it to the market promises a multi-reticle system. The Holosun EPS offers an easy access battery door and two buttons for adjustments, with an auto adjustment setting.
The EPS is a rock-solid optic that grants decent clarity and a decent dot. In lens clarity, it lags behind the Shield, but is more than clear enough. The EPS offers great big buttons that are slightly recessed. It takes an intentional press, and an accidental press would be difficult to achieve. It can get awfully bright, and it will satisfy users with a green preference, with both red and green dot options.
My biggest gripe was the lack of tactile or audible clicks when it came time to zero the EPS. That made it difficult to zero the optic efficiently. If you can get past that, the EPS is an awesome and reliable option for concealed carry.
Holosun EPS Pros and Cons
Closed Emitter –Protects the emitter from water and debris that can block it
Options –Many different variations
Battery Life – long battery life
Weight –Heavy for a micro red dot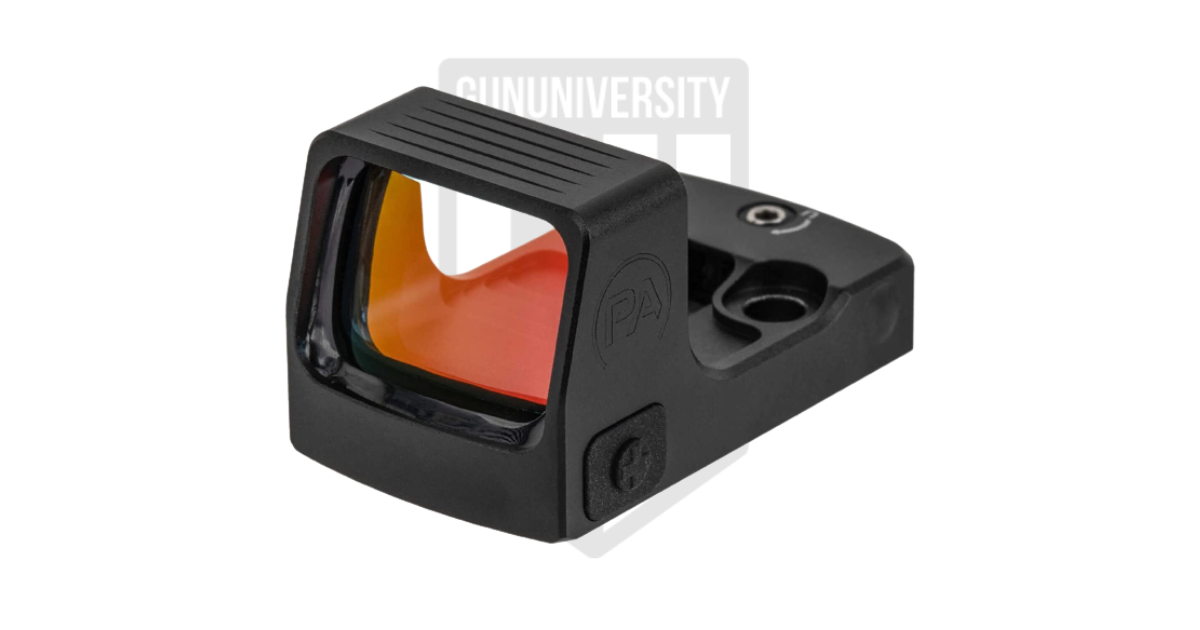 A low cost and light weight mini red dot sight with a 3 MOA dot.
Primary Arms Classic Micro Specs
Height (in)

Weight (oz)

0.56

Reticle Size (moa)

3

Battery Life (hours)

25,000-50,000
Primary Arms Classic Micro Review
If you want an affordable red dot that works and has mastered the basics, then the Classic Micro from Primary Arms is for you. I can't sit here and brag about its innovative features and the million things it does differently. The Classic Micro promises a basic, functional, and durable red dot that gives the user a very capable option for less than 200 dollars.
The Classic Micro is exactly that. A classic red dot sight designed to be ultra-small and compact, with some basic features. The optic packs two buttons to change the brightness between its ten levels of brightness. The 3 MOA dot is impressively nice for such a cheap optic, and it gets bright enough to deal with high noon.
This tiny optic is situated low on the gun.. The Classic Micro weighs a mere .56 ounces, which is impressively lightweight even for a micro-sized optic. The downside is they positioned the battery at the bottom of the optic, which requires you to remove the optic to swap batteries.
While it's affordable in testing, I found it to be rather nice. It functioned fine in various light conditions, including bright light from the sides, front, and rear. The dot remained visible and easy to see and use in these various conditions. It even took several drops and falls without complaint. Color me impressed by a 150-dollar optic.
Primary Arms Classic Micro Pros and Cons
Price –Super Affordable
Dot –Surprisingly Nice Dot
Battery –Bad Battery Location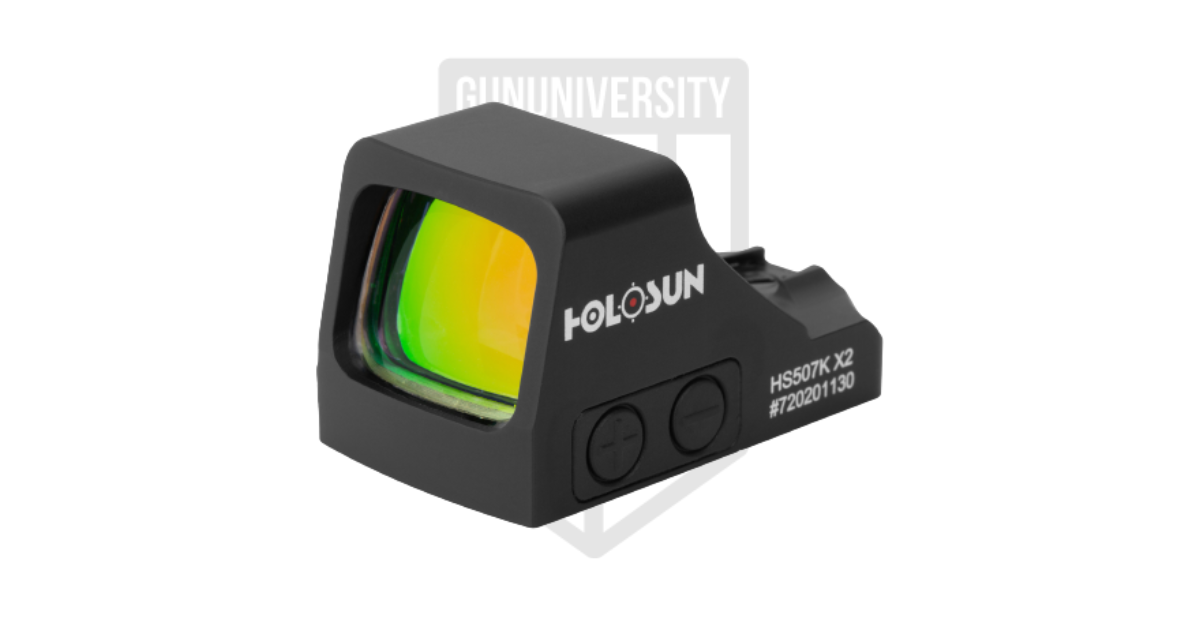 A min red dot sight available in either red or green with either with a multi reticle system that has 2 MOA dot and a 32 MOA circle.
Holosun 507K Specs
Height (in)

0.95

Weight (oz)

1

Reticle Size

2 MOA Dot/32 MOA circle

Battery Life (hours)

50,000
Holosun 507K Review
The Holosun 507K was the first real Micro-Sized red dot that offered the durability needed for concealed carry. It pioneered the microdot market and went on to inspire changes with both SIG and Shield to produce tougher optics. Not only was the 507K concealed carry-worthy, but it packed all the features Holosun had become well known for.
This includes the multi-reticle system. The 507K packed a 2 MOA dot, a 32 MOA circle, and a combination of the dot and circle. The circle, in particular, is great for some shooters with astigmatism. It doesn't work for all, but for some, it's the only option for clarity's sake. I actually don't mind the massive 32 MOA circle, although it takes up a lot of your lens. If you are focused only on close-range shooting, it's massive and tough to beat.
The optic features two push-button controls and a battery door for easy battery swaps. It's smartly designed and easy to attach to your gun of choice. At the rear, a small notch serves as a rear sight. This is handy on guns like the P365, where removing the rear cover removes the rear sight. The 507K packs shake awake technology to preserve battery without compromising your use need.
The 507K packs most of the features I want in an optic. If I had a complaint, it would be the buttons are tiny, likely due to the Trijicon lawsuit. They've returned to large buttons on the EPS, but the 507K is stuck with the little fellas. If you can get passed small buttons, there is a lot of optic to appreciate in a very small package.
Holosun 507K Pros and Cons
Durability –Great Durability
Reticles –Multiple Reticles
Battery Location –Easy to Swap Batteries
Lens –Heavy blue tint on the lens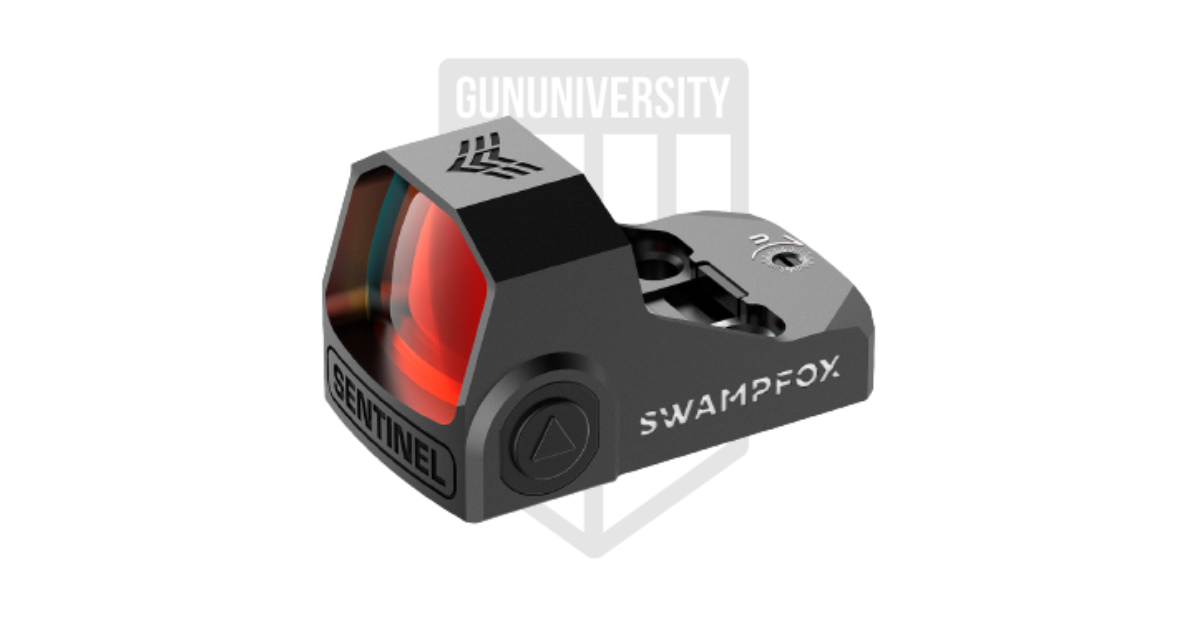 A min red dot sight available in either red or green with a 3 MOA dot and with an optional auto brightness feature.
Swampfox Sentinel Specs
Height (in)

0.94

Weight (oz)

0.62

Reticle Size (moa)

3

Battery Life (hours)

17,520
Swampfox Sentinel Review
Swampfox is another budget brand that makes some rather nice optics. The Sentinel is simple but good-looking and well-designed. The little optic uses the RMSc footprint and comes with a 16mm window that is made from polymer. While the window is polymer, they make the body of the optic from CNC machine 7075 aluminum for a durable but lightweight design.
The Sentinel can withstand a dunk worth of water exposure, so occasional rain and splashes aren't an issue. Don't go swimming with it and make sure you install the flexible seal between the battery and the slide. The optic can resist 1500Gs of force, making it just fine on your reciprocating slide. The polymer lens comes with an anti-scratch coat that will help it resist the frailty of polymer.
The optic comes in either an always-on, auto-brightness model or a manual model. You can also pick between a green or red reticle. I like the manual option with the shake awake technology. A 3 MOA reticle is easy to see and perfectly crisp for easy shooting.
Sadly, the battery goes in the bottom of the optic, meaning you gotta remove it to swap batteries out. The battery lasts two years of constant on, so you won't have to make the switch often. It's that's any consultation. The Sentinel is probably the toughest optic you can get for such a low price point.
Swampfox Sentinel Pros and Cons
Auto Brightness– Auto brightness adjusting option available
Ironsides Shield– Available stainless steel housing
Battery Location – Bottom loading battery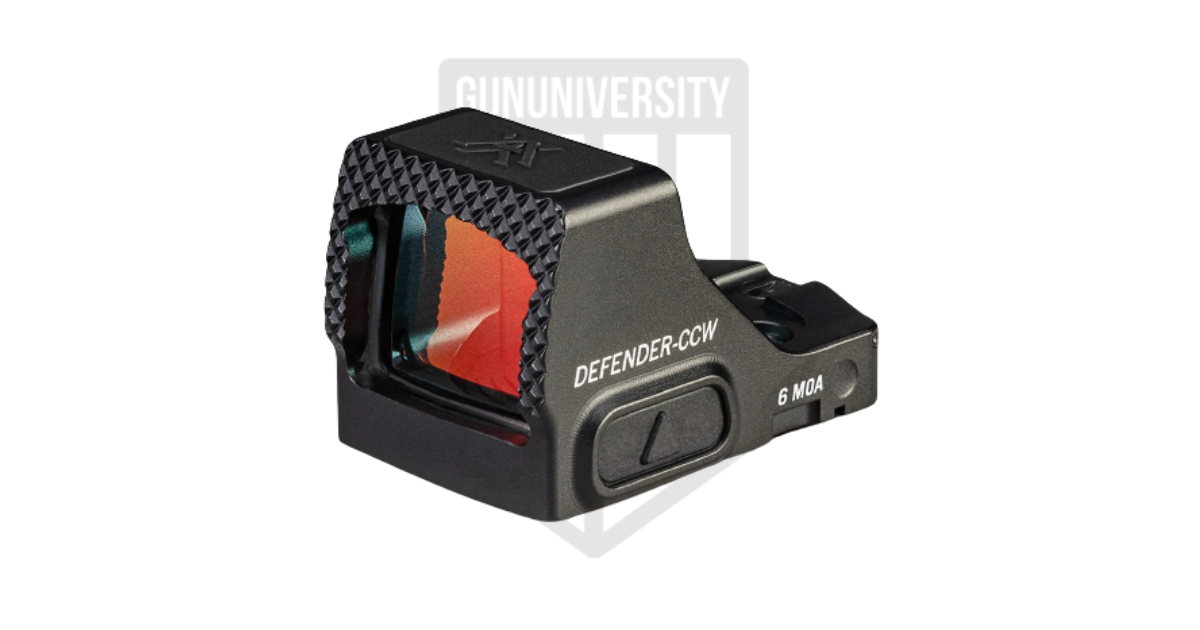 A min red dot sight available with either 3 or 6 MOA dots and with a textured front housing.
Vortex Defender Specs
Height (in)

1

Weight (oz)

0.95

Reticle Size (MOA)

3 or 6

Battery Life (hours)

9,500
Vortex Defender Review
Vortex does everything in the optic realm these days, and they've been making red dots forever. The Vortex Defender is a CCW-oriented optic that is designed for your little guns. The Defender is brand new and already making quite a splash. Not only are they giving you a defensive-worthy CCW optic, but they are giving you an affordable optic for CCW use. The Vortex Defender sits nice and low, and a cut in the rear makes a nice rear sight.
The Defender features a top-loading battery with a simple and effective notched cap for quick and easy removal and remounting. You have two big buttons with one on each side to make adjustments quickly and easily. The optic comes with either a 3 or 6-MOA red dot, and I can attest the 6-MOA red dot is very crisp and nice to use.
The window size surprised me a good bit, and it's larger than most micro-sized windows. It's smaller than the RMSx but bigger than the rest of the competition. The Defender features a polymer insert designed to absorb shock and improve durability. The face of the optic features aggressive texturing and hard angles for easier one-hand manipulations.
The downside is the battery life is quite short at under 10K hours. Vortex seems to be getting awfully serious about the concealed carry red dot market, and the Defender shows some interesting forethought.
Vortex Defender Pros and Cons
Ergonomics –Great Ergonomics
Window Size –Large Window
Innovation –Innovative Shockshield Insert
Battery Life –Short Battery Life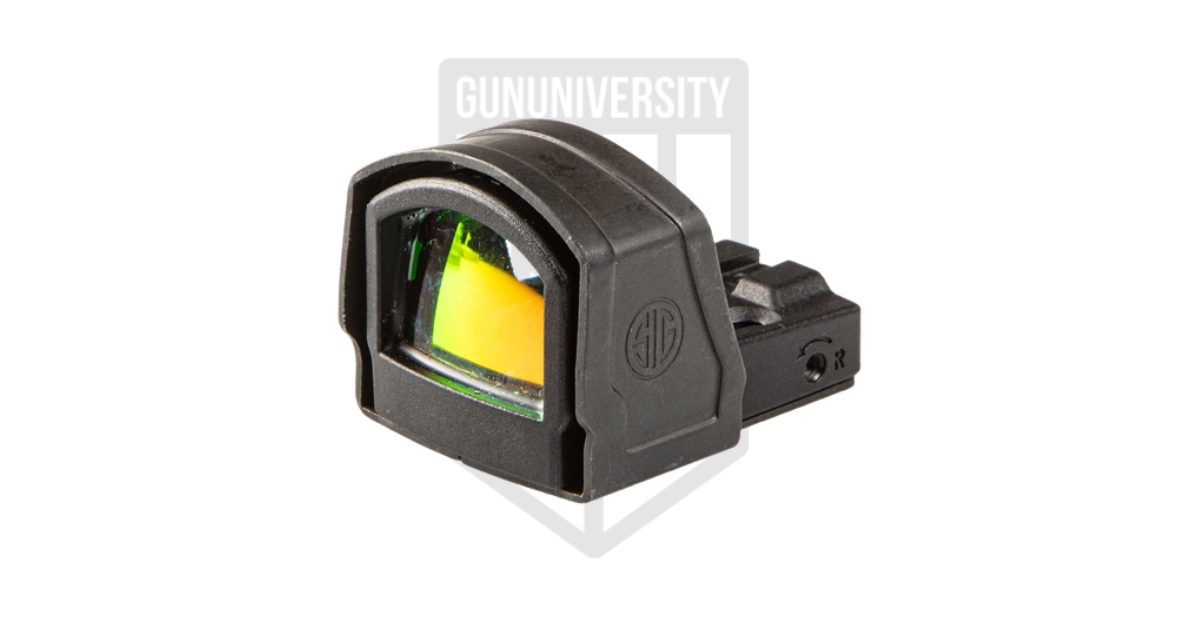 A min red dot sight with a polymer housing and removable steel shroud and a glass lens available with either 3 MOA dot or 2 MOA dot with a 32 MOA circle.
SIG RomeoZero Elite Specs
Height (in)

0.98

Weight (oz)

0.5

Reticle Size

3 MOA or 2 MOA Dot/32 MOA circle

Battery Life (hours)

20,000
SIG RomeoZero Elite Review
The SIG RomeoZero optic was one of the first micro-sized red dots to hit the market. It was right behind the Sheild. Sadly, it wasn't quite up to snuff, and SIG went back to the drawing board to develop the RomeoZero Elite. This new optic is durable, well made, and will take the abuse concealed carry will throw at it. SIG Built the RomeoZero Elite to be durable all by itself but also implemented an optional metal shield that provides another degree of durability.
The RomeoZero Elite also implemented a glass lens system to increase clarity and durability. Its lens offers zero distortion and is one of the clearer options that rivals the Shield for the best clarity possible. The RomeoZero Elite offers you the choice of two reticles, one being a 2 MOA dot and the other being a 32 MOA circle for astigmatism sufferers.
The RomeoZero Elite lasts for 20,000 hours with eight daylight settings. It appears at first to not have any controls, but when you look inside the optic, you see a single button control. This is the SIG TAPS system. It has a single button control that allows you to control the optic, though it is admittedly oddly placed. At least it's odd for my big hands and I smudge the lens with every press.
SIG RomeoZero Elite Pros and Cons
Reliability –Durable and Reliable
Price –Affordable
Reticles –Multi reticle
Button –Weird Button Placement
Red Dot Madness
Before we go, let's dig into some of the features we discussed when we picked our red dots. If you were a bit confused by certain terms, I hope to better explain them here, so you have a clearer overall picture.
Enclosed or Open Emitters
Most of the red dots on this list and most pistol red dots are open emitters. This means that they consist of a single lens with the emitter placed behind the lenses. It's often easy to see when looking down at the red dot base. With an open emitter, you get a smaller, lighter optic. The design also offers great clarity due to a single lens and is typically more affordable.
An open emitter allows for debris, moisture, and more to get between the lens and the emitter. The most common issue is rain. When this occurs, the rain washes out the dot and interrupts the reticle, rendering it useless..
Enclosed emitters add a hood and a second piece of glass to the design. This adds some weight, some bulk, and two lenses that rely on clarity. It envelops the emitter, protecting it from debris, rain, snow, dirt, and anything else that can be thrown at it. The downside is not only being a bulkier optic, but a more expensive one as well.
Dot Size
When we talk about dot size, we are talking about how large your reticle is. We measure reticle size in MOA, or Minutes of Angle. We won't go deep into this, but it's important to know that 1 MOA is essentially 1 inch at 100 yards. So if your dot is 1 MOA in size, it's covering one inch of a target at 100 yards. If it's 6 MOA, it's covering 6 inches at 100 yards.
As you get closer, the dot covers less of the target. When it comes to dot size, you typically want to find what works well for you. You typically have to compromise between a dot that will not obscure your target too much, but will also be large enough to see easily.
On small guns, a big dot can often be valuable for close-range shooting. A 6 MOA dot would be considered large and is easy to use between five yards and 50 yards. However, it's far from the only viable option. Plenty of people use 3.25 MOA dots and even 2 MOA dots, and they all work. It's really on the shooter and what they prefer.
To Co-witness or Not
When we talk co-witness, we mean talking about using your iron sights in coordination with your red dot. A red dot raises your sighting plain to the point where you can't necessarily see or use your front and rear sights. To co-witness, you'll likely need taller sights. They commonly refer to these sights to as suppressor height sights. They stand tall enough to see when looking through the optic.
With micro-sized guns and optics, you don't have a lot of room, so a number of optics institute a rear sight built into the optic. This means you'll only need a front sight at suppressor height. The real question is, how important are they? Especially with small guns.
I think they are important, and my chosen carry gun and optic allow me to use the notch in my rear sight with my front sight. I've broken more iron sights than I have red dots. However, I like the idea of having a second sighting system just in case something goes wrong with my electronic sighting system.
Zeroing Micro Dots on Small Guns
Before we leave, let me give you some tips on how to set yourself up for success. Your ability to zero your micro-sized red dot depends on your ability to shoot well. Small handguns are tough to shoot, so it's often hard for shooters to make a small group at 25 yards with a small gun.
I suggest zeroing first at ten yards and using a rest. A rest allows your arm to sit still and helps eliminate some of the human error factor. Shoot at ten yards and follow your optic's instructions on how to zero until you are producing a tight group at the point of aim. Do not zero the dot to your iron sights. Slaving the dot to the sights eliminates some benefits of a red dot, so just avoid that.
If you can easily zero at 10 yards, move to 15 and check your zero. It will probably be close. I would continue to zero at greater distances until your skill level tops out and you can no longer produce tight groups.
Sighting In
Little guns get big benefits from red dots. I've become a convert and love the dot on my P365XL. I think it's the next step in the evolution of handguns. A good dot can take you a long way and is the superior sighting system. What do you think? Share below!