Winchester SX4 Review: Balancing Budget & Performance
I first encountered the Winchester SX4 at Shot Show's media day after having fired many in its class that day.
Needless to say, upon getting home, I immediately placed an order for one. For me, it was an excellent, versatile shotgun option for a myriad of activities, from hunting to skeet shooting, and served my needs as an all-in-one shotgun – snobs be darned.
So, in this Winchester SX4 review, I'll offer an in-depth look at this fourth-generation shotgun. I will capture the experience I've gained from taking it out in the fields for hunting, as well as to my local clay pigeon range for some mild competition.
Winchester SX4 Specs
Gauge

12

Action

Semi Auto

Capacity

4+1

Barrel Length

26 in

Overall Length

47 in

Weight

7.1 lbs

Sights

Fiber Optic

Stock

Synthetic

Receiver

Aluminum Alloy

Choke System

Invector-Plus Flush
Winchester SX4 Background
Before we get into my full review, I'd like to first explain why this particular shotgun was built by Winchester and how it compares to others.
The Winchester SX4 is the fourth generation of the renowned Super-X series, offering a lighter and more versatile shotgun with various finishes and barrel options. Some key features of the SX4 include:
Weighing in at just 7.1 pounds, the SX4 is lighter than some of its competitors, such as the Browning Gold.
The SX4 comes in a range of finishes, including wood, black synthetic, and camo.
Some models feature a pistol grip for added comfort and control.
All SX4 models come standard with a red TRUGLO Long Bead fiber-optic front sight, providing an edge over the SX3's brass bead sight on certain models. Initially available in 3- and 3 1/2-inch 12-gauge models, the SX4 caters to a wide range of gas gun enthusiasts.
In terms of barrel lengths, standard models are available with a 26 or 28-inch barrel, while the compact model offers 24, 26, and 28-inch options. Synthetic models of the SX4 come with sling swivel studs, making it a suitable waterfowl gun for hunters. The SX4 is lighter than the SX3, making it a great option for duck hunting and other outdoor activities.
Wood finish is available for Field and Field Compact, black synthetic for all models and camo finish for the Waterfowl Hunter.
The fourth generation Super X4 builds on the lightweight and sleek design of the X3, introducing:
A larger bolt handle, safety, trigger guard, and bolt release for improved usability in inclement weather
A more affordable price point
The nickel-teflon coating on the SX4 inhibits corrosion
Hunters and target shooters favor the larger bolt handle and bolt release for their size, which is not too big.
At the heart of the SX4 lies the Active Valve System, a gas system specifically designed for this shotgun. This innovative system ensures smooth operation and reduces potential issues by controlling the amount of gas released when the gun is fired, resulting in more reliable performance.
Winchester SX4 Features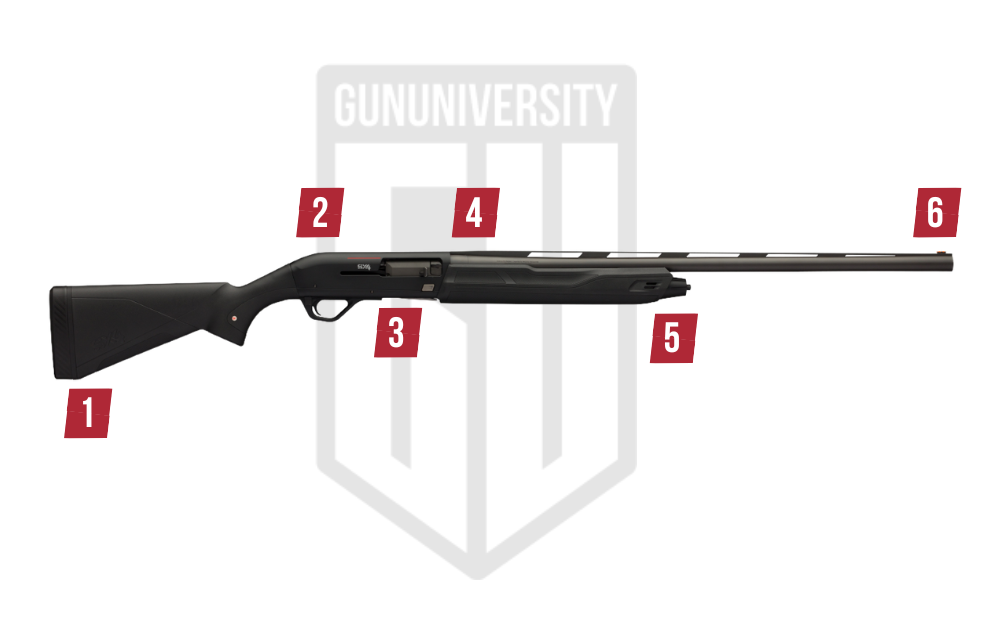 1
Adjustable LOP
Customize the stock with included length of pull spacers to get the perfect fit.
2
Non Glare Finish
Corrosion resistant non glaring finish helps keep you concealed.
3
Large Controls
Large bolt handle and bolt release, along with large trigger guards make operating the shotgun easier, especially with globes on
4
Active Valve Gas System
The gas system is self adjusting to work with your ammo of choice for versatility and reliability.
5
Gas Vents
Forend gas ports help vent any extra gas from the system to keep you shotgun cleaner.
6
Truglo Long Bead Sight
Fiber optic front sight provide a precise and easy to pick up sight.
Models and Variations
Winchester offers many different variations of the SX4, including left handed options and both 12 and 20 gauge. If you have a favorite camo pattern, they probably have it. Do you prefer a classic metal and wood look, they have it. If you need a more compact version for smaller framed hunters, or you just wear thick clothing to stay warm, they have that also. Here are a few variants you may be interested in.
Winchester SX4: My Take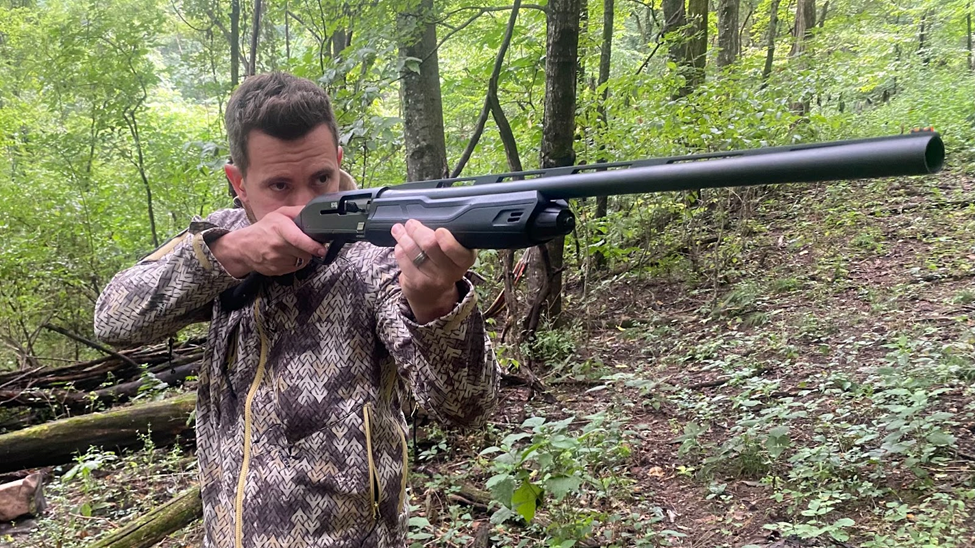 Like I said earlier, I first stumbled upon the SX4 at Shot Show during the media day. I used it on a couple of clay pigeon targets and immediately loved its weight, control and recoil. Once I got back from Shot Show, I placed an order purchasing it and have used it extensively over the past couple of years – giving me the ability to write this shotgun review.
So, what makes it such a great purchase and who is it for? Well, to best answer that, let's cover some of its capabilities and downsides.
Considering its versatile design, this fourth-generation shotgun is ideal for those who want to use it for multiple scenarios and not limit themselves to a single use-case. Whether it's hunting waterfowl like duck hunting or busting clay pigeons, this gun is designed to excel. The SX4 is definitely an improved version of its predecessor, borrowing some great features from the Browning Gold and Browning Silver lines, and is better and cheaper than the SX3.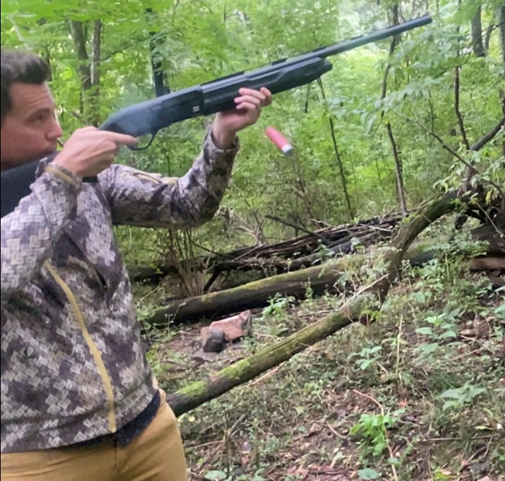 SX4 Recoil Management
When I compare the SX4 to other shotguns like the Franchi Affinity, one difference that stands out is the SX4's superb recoil management. This is thanks to its Inflex Technology recoil pad and active valve system. Even after a long day of shooting, my shoulder felt much less fatigue than with other shotguns. The felt recoil is significantly lighter, making it a great choice for new or smaller frame shooters.
Ergonomics An Issue?
Ergonomically, the SX4 is a dream to handle, which also helps with the felt recoil. The pistol grip fits well into my hand, providing a comfortable and secure grip. The oversized controls, including the bolt release button and the safety, are easy to operate—even with gloves on during a cold hunting trip. Adjusting the length of pull is a breeze, thanks to the spacers Winchester provides.
Patterns & Accuracy

Accuracy is always a paramount concern, and the SX4 doesn't disappoint. The red fiber optic aids in sight alignment, making it easier to aim and shoot. I've had consistent shots with turkey loads and even with lighter loads, which I consider a win.
In terms of shooting patterns, the SX4 produced excellent results on the pattern board. With its factory modified choke, it achieved 35-yard patterns that exceeded the aftermarket tube typically used by myself. The pattern printed 60 percent above the point of aim and 40 percent below, which is considered to be optimal
Overall, it's accurate enough for my hunting and shooting needs.
Durability in All Elements?
Reliability is where the SX4 truly shines. After using mine for four hunting seasons, I can attest that it withstands the rigors of diverse hunting scenarios—from waterfowl to turkey to deer. It's had a few minor hiccups, like the occasional hang-ups with certain shell types, but that's to be expected with any gun and wasn't outside of what I'd consider the norm.
I specifically found that the SX4 did experience some issues with Kemen 7/8-ounce 8s at 1,200 fps, which did not eject properly. And while I'd say that might be my specific issue, I did find that others reported the same thing.
It's also easy to disassemble and clean, making maintenance a minimal chore which, for me is a plus.
Release Button and Bolt Speed Issues
To be honest, I was a little skeptical about the bolt release button and bolt speed, having read older reviews and forums that mentioned charging handle issues – something that was a legit issue, but has since been resolved. But my experience has been smooth sailing, perhaps thanks to Winchester addressing these problems in their latest models. So, you might want to beware if you are buying an older model or a used one at a gun shop.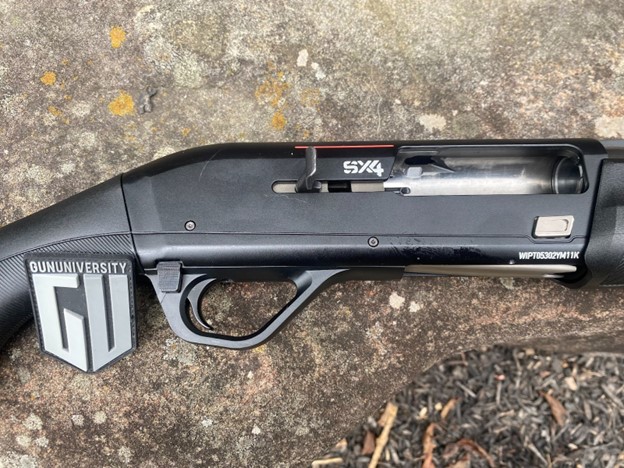 Worth the Price or Overpriced?
Okay, so how about the price? Well, it isn't the cheapest shotgun on the market; that's for sure. However, it is excellent for what it is designed to be and sits well as compared to others in its class. Priced at around $1,000, the SX4 is $200 less than its predecessor, the X3. It offers a sleeker profile and lower recoil compared to other shotguns in its price range, such as the Beretta A300 Outlander and the Franchi Affinity. So, for its ability as a whole, I think it has excellent ROI and is priced extremely well.
Winchester SX4 Pros and Cons
Shootability – Excellent shootability with minimal recoil
Reliability – High reliability, even under heavy use
Length of Pull – Adjustable length of pull for a custom fit
Ergonomics – Great ergonomics, especially the pistol grip and bolt release button
Price – Not the cheapest option available
Charging Handle – Initial models had charging handle issues (now resolved)
General Purpose – Might not be specialized enough for some applications
Final Thoughts
The Winchester SX4 is a reliable, ergonomic, and accurate shotgun. For someone like me, who enjoys both hunting and sport shooting, it's a great buy.
Despite some minor cons, it's a gun I'd highly recommend for its performance and versatility. A well-deserved winner of the Great Buy Award, if you ask me.
Generally, I think this is the best shotgun option for those who want one shotgun for many purposes, isn't shopping with the lowest budget, but wants something decent and trustworthy.

For me, I don't have a specialized over-under, nor do I have a special turkey gun, or a deer gun, like some of my other friends. Instead, I paid for one decent shotgun that is reliable and will do the trick for any of those needs. If I ever get really serious in one of those areas, I might look to buy a shotgun that specializes in that. But for now, this really is all I need.
So whether you're in the market for a new shotgun or just exploring options, keep the SX4 in mind. It's a Winchester built for the long haul, and it has lived up to its name in all my shooting escapades.
Report Card

Shootability

A

Reliability

A

Ergonomics

B+

Accuracy

B+

Value

A

Our Grade
A-
Reviewed by Dave Chesson
Reader's Grade
TBD
Based on 0 Reviews
Your Grade
Do You Own This Gun? Leave A Review
Success Your Grade Has Been
Added To Our Reader's Score
We use email to verify the accuracy of our reviews. We promise to never spam you.
Winchester SX4 Starter Pack
Eye Protection –Having a good set of eye protection is important for all trips to the range.
Hearing Protection – Here are our picks for best hearing protection.
Gun Cleaning Kit – Check out our favorite gun cleaning kits.
First Aid Kit – Every range kit needs a first aid kit.
Upgrades and Accessories for Winchester SX4
One of the best way to customize your shotgun to your needs is through a good set of chokes. While the SX4 comes with some chokes, you may need more specialized chokes. We have full breakdowns on our favorite shotgun chokes for:
Best Ammo for Your Winchester Super X4
Here are some of our favorite shotgun loads for turkey hunting and target practice.
Turkey Ammo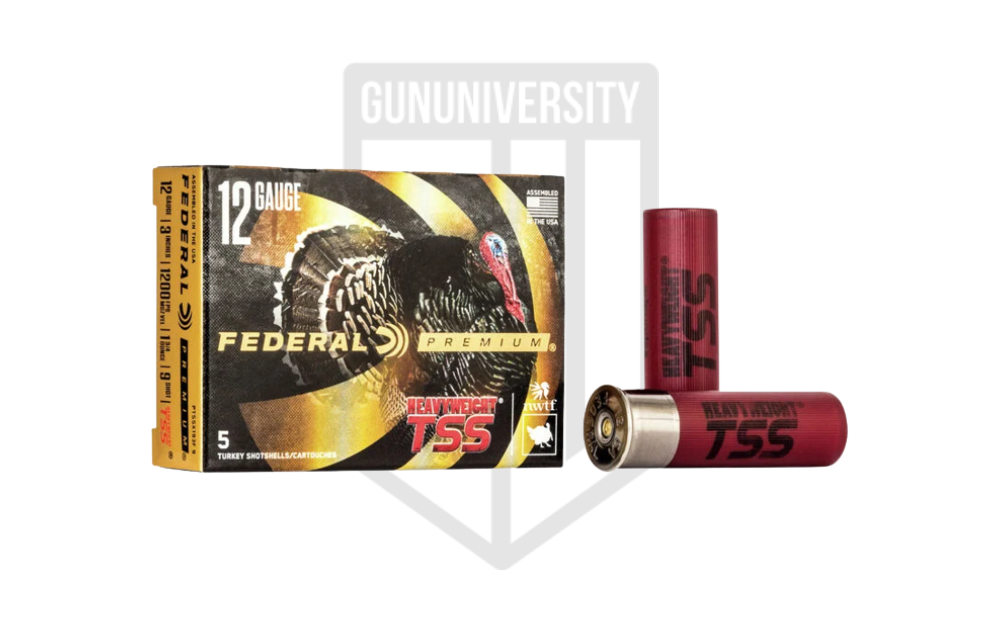 Federal Premium TSS 12 Gauge
Other Shotguns of its Class to Check Out
There are a lot of great hunting shotguns out there.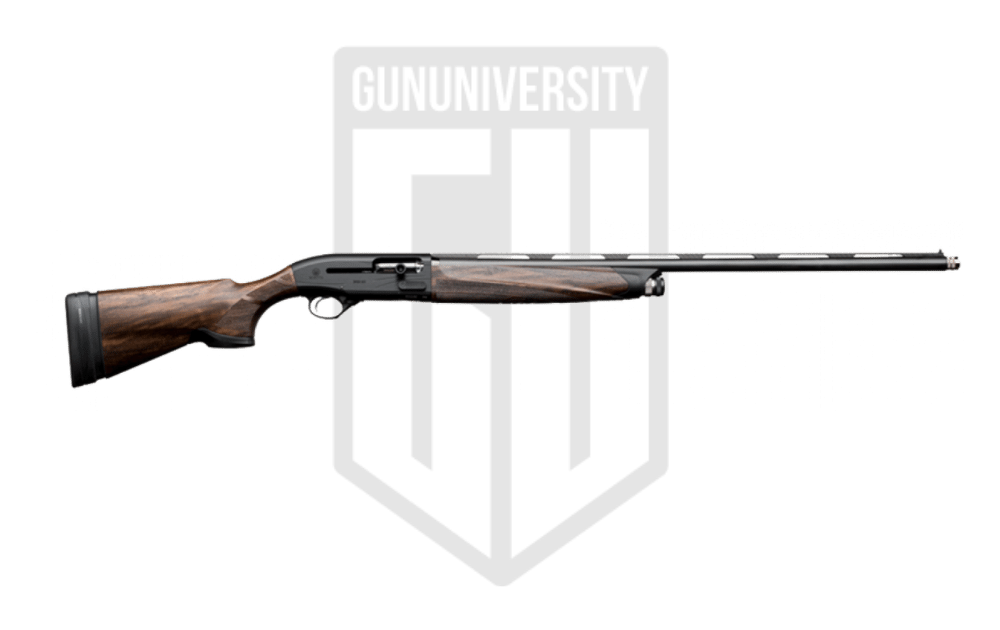 Shootability

A+

Reliability

A+

Ergonomics

A-

Accuracy

A+

Value

A
Reader's Grade
A-
Based on 5 Reviews
Your Grade
Do You Own This Gun? Leave A Review
Success Your Grade Has Been
Added To Our Reader's Score
We use email to verify the accuracy of our reviews. We promise to never spam you.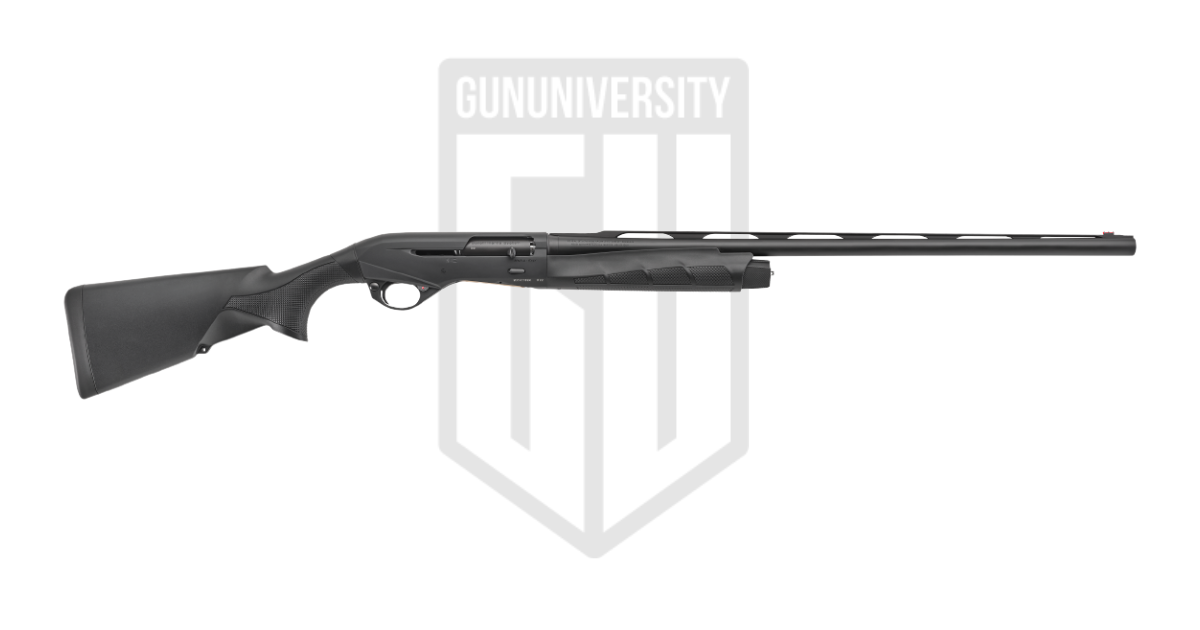 Benelli's inertia driven shotgun available in tactical, competition, and field ready options in 20 and 12 gauge.
Our Grade
Reader's Grade
TBD
Based on 0 Reviews
Your Grade
Do You Own This Gun? Leave A Review
Success Your Grade Has Been
Added To Our Reader's Score
We use email to verify the accuracy of our reviews. We promise to never spam you.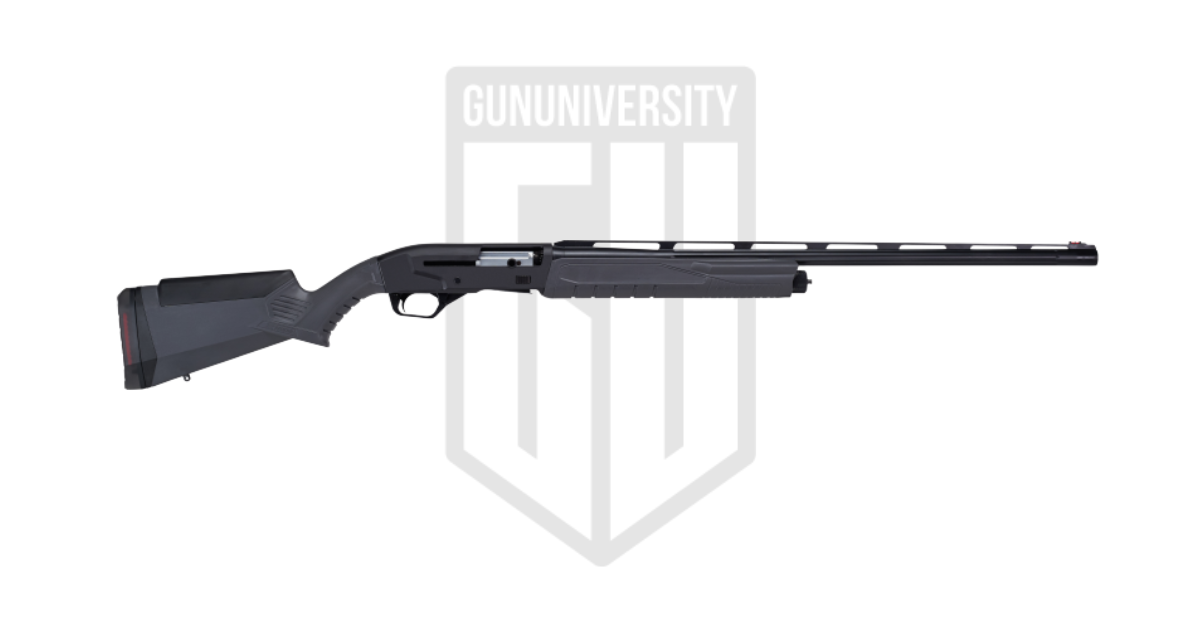 A gas operated semi auto shotgun available in many different configurations, from field hunting, to home defense, to competition shooting.
Shootability

A+

Reliability

A

Ergonomics

A+

Accuracy

A

Value

C
Reader's Grade
TBD
Based on 0 Reviews
Your Grade
Do You Own This Gun? Leave A Review
Success Your Grade Has Been
Added To Our Reader's Score
We use email to verify the accuracy of our reviews. We promise to never spam you.
How to Care for Your Winchester Super X4
Here is a video showing you how to disassemble and clean your SX4.
Important Links and for the Winchester SX4
Check out the links below for the manufacturer's website and owners manual for your SX4.
FAQ
Is the SX4 good for beginners?
Absolutely, its low recoil and ergonomic design make it ideal for new shooters.
How does the SX4 compare to the Browning Gold?
The SX4 incorporates many features from the Browning Gold, like the active valve system, but offers them at a more affordable price point. One difference is that the SX4 is generally lighter.
Can it handle heavy loads?
Yes, it can handle heavy loads very well, thanks to its valve gas system that adjusts to the type of load you're using.
Is the Winchester SX4 suitable for smaller shooters?
Absolutely, the gun's lighter weight and reduced recoil make it an excellent choice for smaller frame shooters.
How does the SX4 fare in cold weather?
They designed its oversized controls and trigger guard for easy use, even with gloves, making it a reliable choice in colder conditions.
So, if you're still asking yourself whether the Winchester SX4 is for you, my final thoughts would be: if you need a shotgun that is both versatile and reliable, then yes, it most certainly is.