Velocity Systems Scarab LT Review: Combat Ready?
When it comes to plate carriers, there's no room for compromise. As someone who values both comfort and functionality in their gear, I recently had the opportunity to put the Velocity Systems Scarab LT plate carrier to the test. In this technical review, I'll provide an in-depth overview of this plate carrier and share my personal experiences with it. Whether you're in law enforcement, a member of a tactical team, or simply a gear enthusiast, read on to discover what makes the Scarab LT stand out.
Velocity Systems Scarab LT Background
The Velocity Systems Scarab LT plate carrier is not just another piece of tactical gear; it's a favorite among federal government and law enforcement agencies for good reason. Let's delve into the key features and specifications that set it apart.
Velocity Systems Scarab LT Features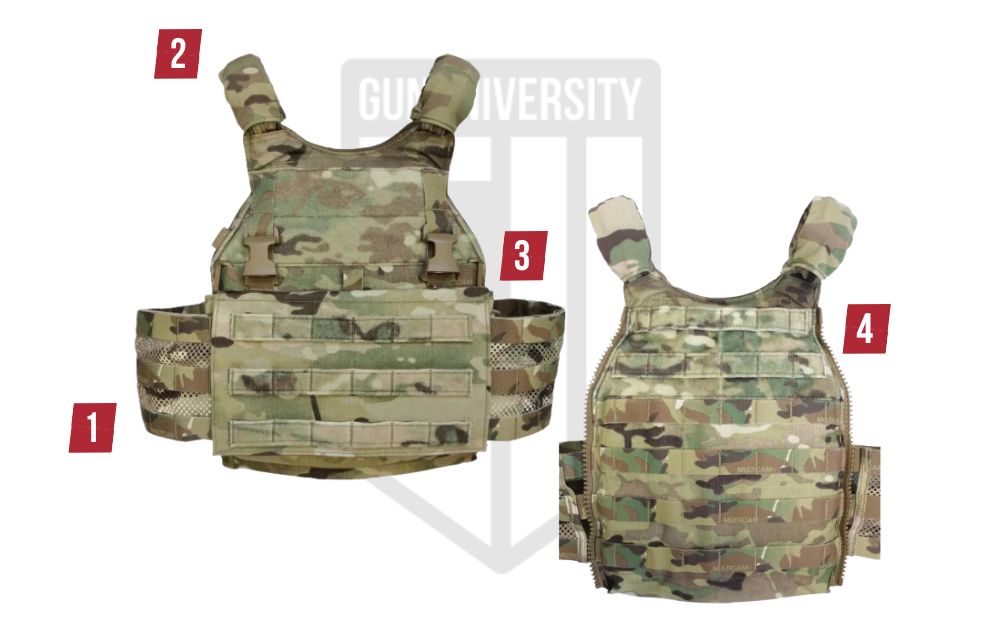 1
Cummerbund Options
Availably with 3 different cummerbund options.
2
ULTRAcomp Shoulder Straps
Shoulder straps articlulted on a D-ring so they sit correctly on your body to increase comfort. They are adjustable and have a padded sleeve.
3
Customization
Swift clips for chest rigs placards and MOLLE all over allow for customization.
4
Zip-On Back Panels
The Scarab LT has zipper sections that allow for zip-on back panels to further customize your plate carrier.
Models and Variations
The Scarab LT is available in four sizes and four colors. It is also available with three different cummerbunds options.
Velocity Systems Scarab LT Review
The Scarab LT's design is where it truly shines. One of the standout features is the narrow shoulder straps, designed for ergonomic and comfortable wear. The V cutout in the shoulders is a game-changer, allowing for secure buttstock placement, which is vital for weapon stability.
I've encountered plate carriers in the past with bulky, sweat-trapping shoulder pads that pinch my collar and hinder movement. The Scarab LT's design eliminates these issues, providing comfort even during extended wear. Plus, it includes convenient covers for concealing communication cables, ensuring a streamlined appearance.
The circular D-ring attachments on the back of the carrier prevent twisting clips and hotspots, allowing me to wear it for hours without discomfort. The quick on-and-off functionality is a significant advantage, and the carrier is compatible with various accessories, making it highly versatile.
Protection is paramount when it comes to plate carriers, and the Scarab LT doesn't disappoint. It accommodates SAPI and ESAPI plates up to one inch thick, providing reliable ballistic protection. Whether you're facing potential threats in law enforcement or the tactical field, knowing your armor can withstand the test is crucial for peace of mind.
Customization is where the Scarab LT truly excels. Velocity Systems offers multiple cummerbund options, allowing you to tailor your plate carrier to your specific needs. I opted for the MOLLE LT edition for versatility, which came with swift clips for easy attachment of additional panels. However, keep in mind that side clips for extra panel retention need to be purchased separately.
The MOLLE webbing on the back opens up a world of possibilities, from attaching a Haley Strategic Flat Pack to a hydration source attachment. This flexibility is invaluable for adapting your loadout to different missions.
While the Scarab LT is competitively priced for the complete package, it's important to consider that additional attachments and accessories can increase the overall cost. However, the level of customization and quality you receive makes it a worthwhile investment for those who demand the best.
Conclusion
In the world of tactical gear, the Velocity Systems Scarab LT plate carrier stands as a testament to thoughtful design, reliable protection, and unmatched customization. After thorough examination and years of hands-on experience, I can confidently say that the Scarab LT is a formidable choice for those who demand the best from their plate carriers.
The Velocity Systems Scarab LT plate carrier has proven itself as a top-tier choice for professionals and gear enthusiasts alike. Its blend of comfort, protection, and customization options makes it a reliable companion in the most demanding situations. Remember that the key to maximizing its performance lies in tailoring your loadout to your specific needs and context. If you're seeking a plate carrier that delivers on its promises, the Scarab LT should undoubtedly be at the top of your list. In fact, it made our best plate carrier list. See the others that made our list as well.
Velocity Systems Scarab LT Pros and Cons
Comfortable Design – The shoulder straps and ergonomic design make long hours in the Scarab LT manageable.
Customization Options – With various cummerbund choices and MOLLE webbing, you can create a loadout tailored to your specific needs.
Reliable Protection – The ability to accommodate SAPI and ESAPI plates up to one inch thick ensures top-tier ballistic protection.
Quick On-and-Off – The carrier's ease of use and compatibility with accessories make it a versatile choice for tactical situations.
Shoulder Strap Noise – The metal D-ring attachments on the shoulder straps can produce an audible squeak, which may not be suitable for stealth operations.
Report Card

Design

The Scarab LT has some good design features, including the D ring shoulder strap attachment.

B+

Protection

The Scarab LT accommodates SAPI and ESAPI plates up to 1 inch thick.

A

Customization

With multiple cummerbunds options, MOLLE and zipper attachment methods, you can customize the Scarab LT to your mission.

B+

Price

The price is deffinatly not a budget price, but it is a good value for the quality.

B+

Our Grade
A-
Reviewed by Dave Chesson
Reader's Grade
TBD
Based on 0 Reviews
Your Grade
Do You Own This Accessory? Leave A Review
Success Your Grade Has Been
Added To Our Reader's Score
We use email to verify the accuracy of our reviews. We promise to never spam you.
FAQs
Can the Scarab LT accommodate different plate sizes?
Yes, the Scarab LT comes in various sizes for both plate bags and cummerbunds, ensuring a good fit for different body types and plate sizes.
Is the Scarab LT made in the USA?
Yes, Velocity Systems proudly states that all their products, including the Scarab LT, are made in the USA.
How does the Scarab LT handle weight distribution for heavy loads?
The Scarab LT can handle additional weight, especially with the MOLLE webbing on the back, but adding pouches and attachments can make the front sag. Consider accessories like the "turtle shell" attachment for better weight distribution.
Can you recommend a solution for the shoulder strap noise issue?
Some users have successfully addressed the shoulder strap noise by applying lubricant or padding to minimize friction. However, this may vary depending on individual preferences and mission requirements.
Important Links