12 Types of Rifle Scope Mounts: [+ 4 to Avoid!]
There are many different types of scope mounts one can use to attach the scope to their rifle. And sadly, many of those are either no longer in use, or only fit a certain situation.
Therefore, to help you choose the right mount for your scope, we created this guide to not only help you understand all the different types of scope mounts on the market but also when someone should choose one over another.
If you already know which type of mount you want, check out our Best Rifle Scope Rings and Mounts list.
With that said, in this article we're going to cover:
Once you know which mount you should use, you can use our Scope Ring Finder to help find the right mount to purchase, that will fit with your rifle and scope, and then can use our guide on how to put them all together. Let's jump in.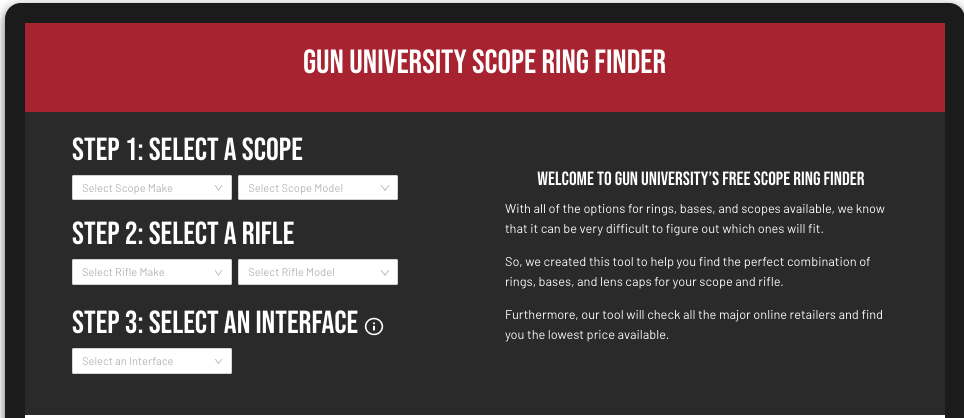 What is a Scope Mount: Different Parts
A scope mount is a fixture that attaches a scope to the rifle. Essentially, it can be made up of multiple parts including scope rings and a base mount, or it can be one piece that combines the rings and the base together.

There are typically two parts to a scope mounting system: the scope rings and the rifle base. However, some modern systems incorporate both parts into one (we cover these integral mounts below).
The Different Types of Rifle Scope Mounts
The different types of rifle scope mounts and when to use them are:
There are 5 more types of rifle scope mounts, which we'll cover later in the article, but are more of a capability to add.
Best Scope Mounts: If you don't want to read about each interface for mounting your scope and would rather just cut to which you should use, here you go:
Target or Tactical rifle – use Picatinny
Hunting rifle – use Integral
Rimfire or Plinking rifle – Dovetail or Weaver works
Weaver Mount

The Weaver mount is a type of cross slot type of scope mount with specific dimensions to the width of the rail and also the cross-cut slots/grooves in the base.
The side-to-side slots are where the rings may attach by clamping onto the sides of the rail. There is a bolt on the bottom side of the rings that allows for the rings to clamp onto the rail – this bolt sits within the slots and is thereby securely held from sliding forwards or backward.
When to Use a Weaver Mount:
If you want a cross-slot system for your hunting rifle, consider Weaver mounts over Picatinny as they are usually lighter weight and less expensive.
Picatinny Mount

The Picatinny interface is a type of cross slot mount similar to the Weaver interface (discussed above) with specific dimensions to the width of the rail and also the cross-cut slots/grooves in the base. The Picatinny interface is standard for military-style applications. For example, flat-top AR-15-style rifles have a Picatinny rail on top. When it comes to precision rifles for long-range shooting, military-style rifles, or any application where repeatable durability is required, you'll find Picatinny mounts.
Because of their strength, know that picatinny rails and rings can be costly. There are cheaper options out there though but aren't as reliable.
Typically you'll find that Picatinny accessories will fit on a Weaver rail but that doesn't necessarily mean you should do that. Just because something can fit doesn't mean that it'll fit well.
When to Use a Picatinny Interface:
If you're mounting a scope on a target or tactical rifle or you want to ensure the most strength and consistency in the mounting platform, choose the Picatinny interface. Like we said above, this is the best scope mount for tactical guns like AR-15.
Integral Mount

The integral interface is another type of scope mount and it removes the need for a base. Instead of other scope rings being made with a particular mounting interface to match a rail and then the rail is designed to match the rifle, integral rings are made to mount directly to the rifle.
You MUST ensure that you are getting the correct rings for your scope AND rifle with the integral system.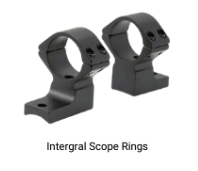 When to Use an Integral Mount:
If you are mounting a scope to a hunting rifle, we strongly recommend integral rings. This is the best rifle scope mount for a hunting setup.
Dovetail Mount

A dovetail scope mount interface is a very simple system that is similar to the cross-slots interface above, however, there are no cross-slots. Instead, the rings simply pinch/squeeze along both sides of the rail to be held in place.
Dovetail rails are popular as a factory option on some rifles (like Tikka bolt action) and on rimfire rifles where a lot of strength is needed. One of the most common dovetail sizes is 11mm and 3/8″. Some other less known, but currently commercially available dovetail mounts, are 12, 13, 13.5, 14, 14.5, 16, 16.5, 17, and 19 mm.
When to Use a Dovetail Mount:
Use the dovetail interface on rimfire rifles and also rifles with a built-in dovetail rail if you're looking for simplicity and don't need a lot of strength. This is the best scope mount for a 22lr or plinking rifle.
Standard Mounts (STD)

The "Standard" interface is a mount that was created by Leupold, however, it is anything but 'standard.' In fact, the standard interface is very rare now and should be avoided as it is complicated and not near as strong nor easy to use as other interfaces here.
The front ring twists 90 degrees and locks into the base and is held into place by the scope whereas the rear ring is pinched in place by two small screws that can be used for windage adjustment. You're most likely to see this setup on a rifle from the 1960s.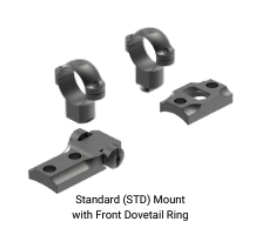 When to Use an STD Mount:
Unless you're looking for a vintage look to a rifle or you're trying to match some rings to a base that is already on the rifle and you don't want to upgrade to a better interface, you should avoid the STD interface.
Quick Release

Quick Release (QR) mounts is another type of scope mount made by Leupold and has a confusing name. This is because other rings can say they are 'quick release' as a function. But when it comes to QR mounts, its a specific interface/product by Leupold. Later below, we'll discussion the functionality of a quick release rings.
When to Use a Quick Release Mount:
Unless you're going for a very specific look or function on a rifle, or you're trying to find rings to match bases that are already on a rifle, we do not recommend using QR rings or bases.
Dual Dovetail Mounts

The Dual Dovetail/DD interface is an evolution of the STD/standard interface above.The DD interface uses the same system from the front ring in an STD interface for both the front and rear rings.
There are some benefits to this system as it is very strong and unlikely to fail. This is because each ring is inserted and rotated 90 degrees to lock into each base and then the scope body is installed within the rings.
Therefore, as long as the scope is in the rings, the rings can not come out of the base. This should also obviously show the problem with this system: the scope must be removed out of the rings in order to detach it from the rifle. This means that to re-attach the scope, it will need to be reset for the position in the rings which includes re-leveling the scope and re-determining the forward and backward position.
When to Use a Dual Dovetail Mount:
Unless you're going for a very specific look or function on a rifle or you're trying to find rings to match bases that are already on a rifle, we do not recommend using Dual Dovetail rings or bases.
Scope Mounting Options
There are some other terms and options you may encounter when determining the best system to mount a scope to your rifle. These terms are not unique interfaces but they are options you may see within a particular interface.
Quick Release Rings: Quick release rings are any rings that can be attached to, or removed from, a base or rail without tools. For tactical rifles and low-powered optics or red-dot scopes, it is common to use rings with a Picatinny interface but with a quick-release feature so that they can easily be removed.
Off-Set Mounts: An offset scope mount is a scope mount that is offset from the centerline of the rifle. This allows you to mount a secondary optic to your rifle. Offset scope mounts are typically used on tactical rifles, where a low-powered variable optic (LPVO), like a 1-6x scope, might be used in conjunction with a red dot. An offset mount is usually like a Picatinny-style mount set at a 45-degree angle.
One Piece Rings/Mounts: Especially when dealing with scopes for AR-style rifles, one-piece rings/mounts are sometimes used. These items are two scope rings connected as one unit – this makes it easier and faster to mount optics as well as provides a good platform for a Quick Release mount system because only one main attachment point to the rifle exists.
Cantilever Mount: On AR-style platforms, it is difficult to get the scope as far forward as most shooters need it to be. This is because of the relatively short receiver to which the scope can be mounted. Because of this, cantilever mounts were made that use a one-piece ring system that allows the scope to extend past the receiver and give an extra couple of inches of room for the shooter's eye. If you're mounting a scope on an AR rifle, a cantilever one-piece mount is a good idea.
Next Steps to Mounting Your Scope
As you can see, there are different types of scope mounts to choose from. Depending on your purpose with the rifle, this can dramatically change which one you should use.
Now that there is a strong understanding of this, your next steps will be to purchase the right mount for your rifle, and then attach them. In the old days, one would have to go to a market, and search through their large catalogue of mounts, hoping to find one that will attach to their rifle/scope combo. Luckily, though, thanks to the free online Scope Ring and Mount Finder tool, doing this has never been easier.