CMMG Dissent Review: 5.56 in the Field
CMMG has been making AR-15-style rifles for two decades. They've come up with some new innovations that set trends in the firearm industry along the way. The Dissent pistol is one of their more recent products, and I was excited to see if the excitement was warranted. As a serious aficionado of short-barreled rifles (SBR) I immediately wanted to see what the Dissent had to offer – which of course, brings me to this CMMG Dissent review.
CMMG Dissent Specs
Caliber

5.56mm

Operating System

Compact action radial delayed blowback

Barrel Length

6.5 in.

Trigger

Triggertech AR-D 2-stage

Weight / Length

4.6lbs / 14.7″

Barrel twist

1:9

Muzzle thread

1/2×28
CMMG Dissent Background
The Dissent is an AR anomaly. In fact, it's even more unusual than the Banshee Mk4 I wrote about previously.
The Dissent utilizes CMMG's compact action. It doesn't use the buffer tube we are familiar with on AR-type rifles. Instead, the buffer assembly has been reloaded inside the upper receiver above the bolt carrier assembly. This allows the Dissent to achieve ultimate compact size without the need to fold or attach a buffer system to operate the gun.
In place of the buffer tube, there is instead a vertical pic rail to allow installation of your choice of arm brace, buttstock, or any other suitable accessory.
A quick perusal of CMMG's website can give you the feeling that they, too, don't care for the pointless infringements imposed on owners of SBRs by the NFA. The DIssent name itself seems to be a swipe at the ATF's meddling.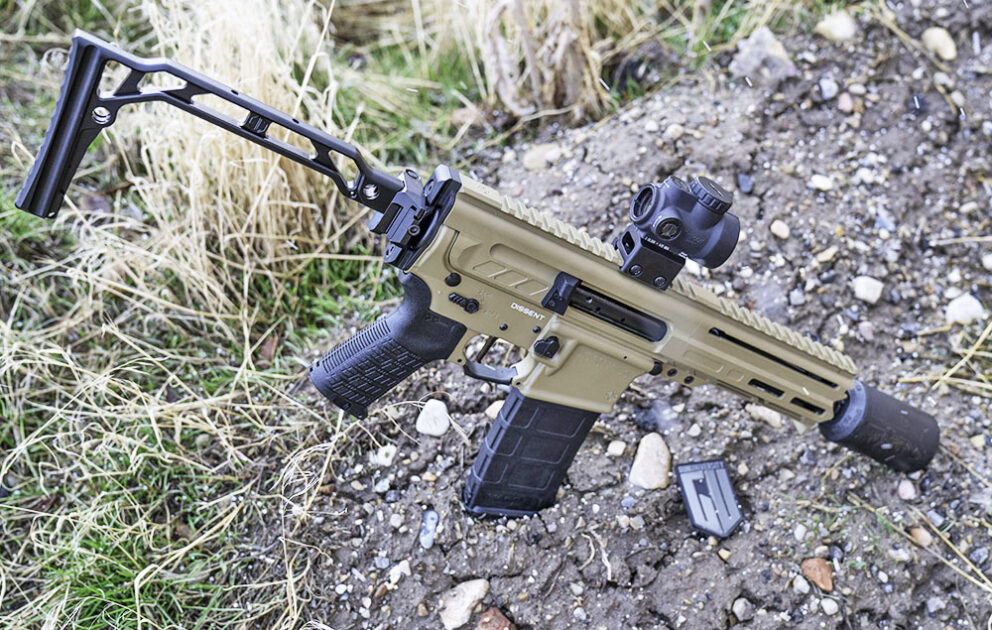 The Dissent brings with it CMMG's high quality and classy fit and finish. It's a handsome weapon from a proven manufacturer…but how does it shoot? Keep reading.
CMMG Dissent Features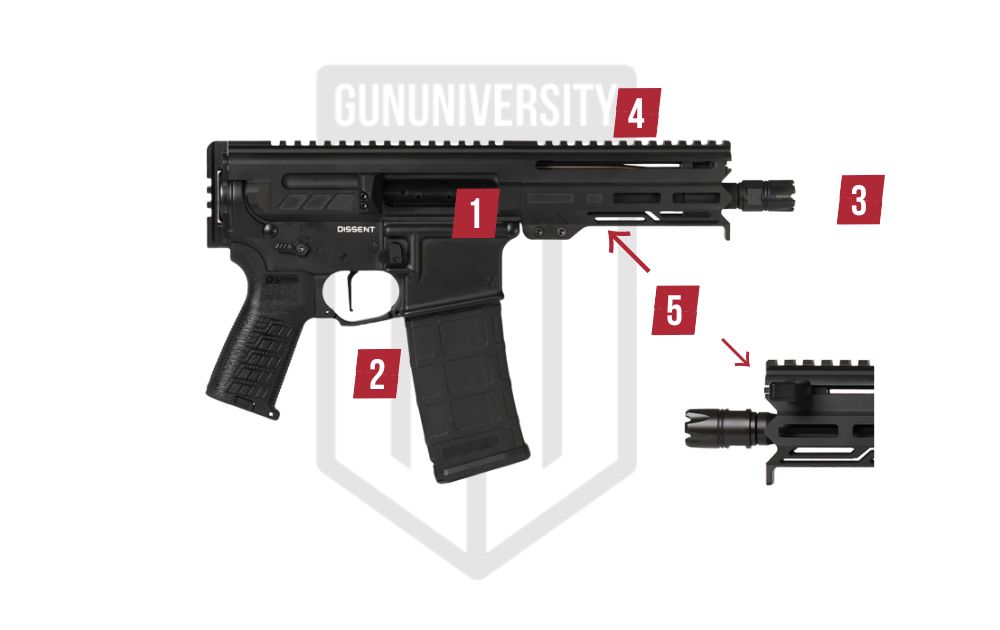 1
Patent pending compact action
A compact action radial delayed blowback system.
2
Triggertech AR-D 2-stage
An excellent trigger with a proven track record.
3
Muzzle threaded at 1/2 x 28
Allows for a wide range of muzzle devices.
4
MLOK compatible handguard
For the accessories or furniture you need/want.
5
Non-reciprocating side charging handle
Another factor in its compact maneuverability.
Dissent Models and Colors
The Dissent Mk4 is available in three calibers and many colors; the version I'm testing today is a Coyote Tan pistol chambered in 5.56×45. Other calibers you can get in the Dissent include 9mm, 300Blk, and 5.7×28.
You can choose from several color options and two barrel lengths: Armor Black, Charcoal Green, Coyote Tan, Midnight Bronze, Sniper Grey, and Titanium among the latter, 6.5″ and 10.5″ in the latter.
On The Range – Our Take
After installing a Trijicon red dot on the Dissent, I took it out into the winter wonderland to warm it up. With a few boxes of PMC XTac 55-grain ammunition and some other gear that I figured would help feel out the Dissent.
After (legally) putting a stock on it and loading up a few PMAGs, I figured I'd start slow and make sure everything was flawless before I got too aggressive with it.
The first shots from the rifle came easy enough; a butt stock makes all the difference. I am more of a rifle than a pistol guy, so holding the Dissent without a stock felt awkward and silly.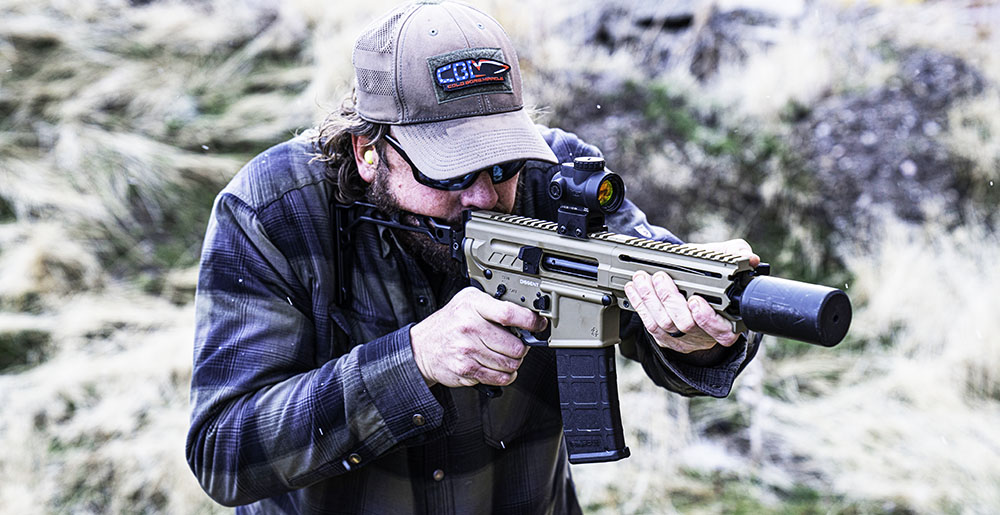 The gun functioned perfectly, despite the sub-freezing temperatures around us.
It didn't take long to get comfortable, and I was in a groove with the Dissent very quickly.
Shootability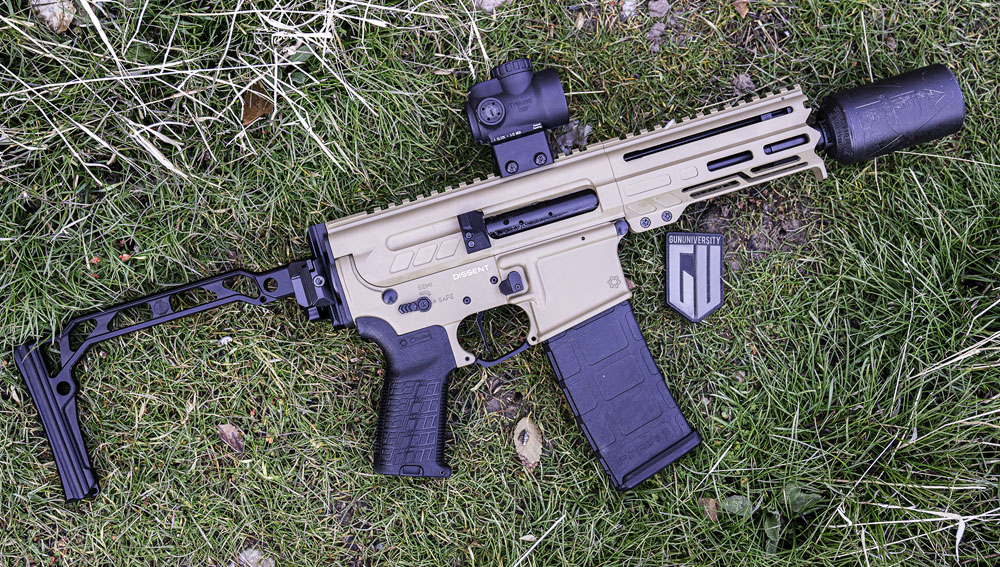 The Dissent was very easy to handle of course, due to its diminutive size. The controls are all smooth and comfortable as you'd expect from a quality AR rifle. I was really surprised by how nice the trigger is, Trigger Tech's are alway nice in my opinion, but such a nice trigger in a pistol/SBR is a breath of fresh air.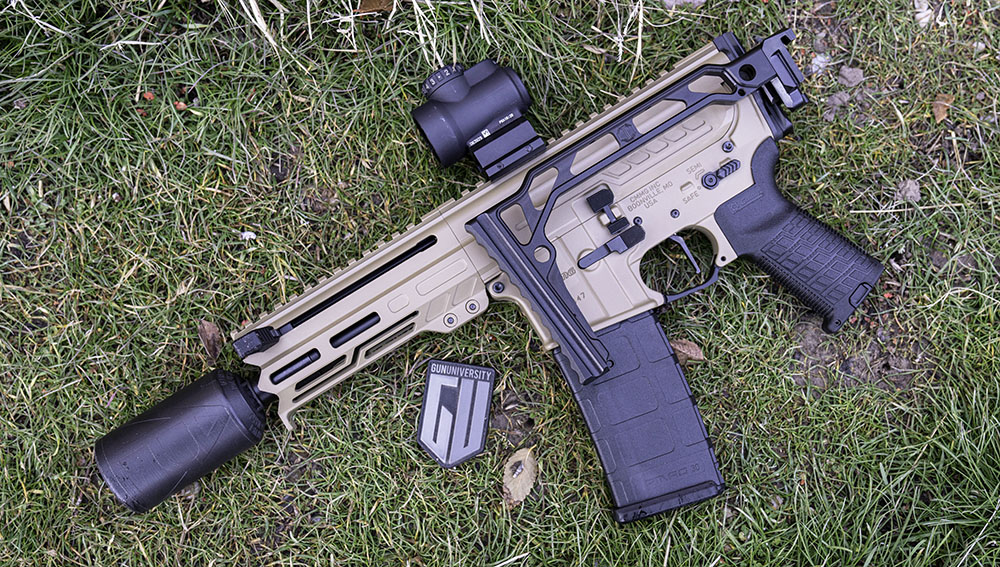 The charging handle is in the front of the rifle, on the left side of the handguard. It's easy to grab and very functionally pleasing, the claw that keeps it from reciprocating is easily depressed when charging the rifle, and keeps it out of the way while you're shooting.
The gun is incredibly short, CMMG has one of their fairly standard hooks at the bottom front of the handguard, but it is barely enough to keep your fingers a safe distance from the muzzle. I easily corrected this issue by installing a suppressor.
Reliability
As expected, the Dissent went flawlessly until I ran out of ammo; no malfunctions of any kind were experienced during my testing. I shot both PMAGs and GI metal magazines without issue, and adding a suppressor caused the Dissent no problems.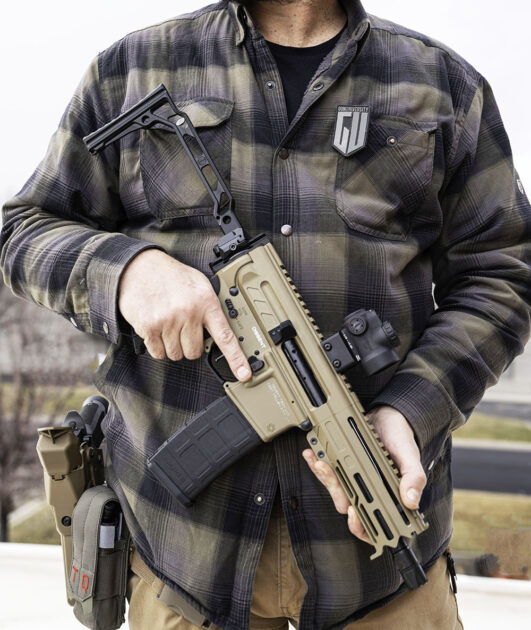 Ergonomics
The CMMG "Zeroed" brand furniture was a perfect match for the gun. The only time I found the gun less than comfortable was when I tried shooting it without the stock. I felt much like a chimp with a tennis racquet until I got the stock properly installed.
The charging handle can be reversed to the right side of the gun if you so choose, but that does require purchasing a right-side charging handle. I would have preferred they design it to be reversible.
Accuracy
Short-barreled rifles and pistols of this type are not particularly designed for accuracy. The short barrel, while stiff, does rob the 5.56 cartridge of a good deal of its velocity. Firearms configured like this are better suited for close-quarters situations. For that, I found the accuracy to be perfectly acceptable.
The one-in-seven twist barrel had no issue stabilizing bullets even at these lower speeds, and accuracy at twenty-five yards using my red dot sight was everything I would expect for a gun of this type. Shots were grouping around 1.5 inches at this distance.
Value
The Dissent's MSRP isn't insignificant. However, when compared to other similar rifles offered in the industry, the Dissent does compare pretty well. There are plenty of competitor rifles with a similar price point, and they come with buffer tubes and mil-spec triggers.
While the Dissent isn't what I'd call cheap, I think it certainly warrants their asking price. Assuming the weapon fits your needs (or wants), the quality and features that accompany it make it worth the expense.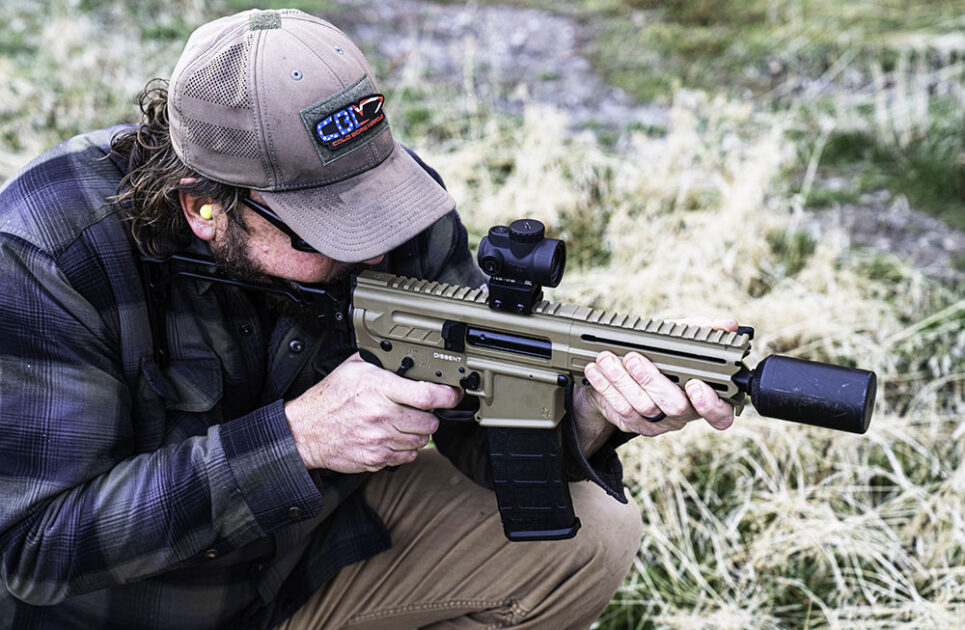 CMMG Dissent Pros and Cons
Bufferless- Very compact and easy to fire
High Quality- Lifetime guarantee, Cerakote, excellent fit & finish
Trigger Tech – Trigger Tech's AR-D is the bee's knees
Great suppressor host- Radial delayed blowback makes a fine host
Not Cheap- But I guess that's a good thing
You'll wanna SBR it- You're gonna end up paying the ATF
Stubby- Very short; watch your fingers!
Report Card

Shootability

With a stock properly installed it is fantastic.

A

Reliability

No malfunctions were experienced during testing.

A

Ergonomics

Great fit, could use a bigger hook at the front of the handguard.

B+

Accuracy

For what it is, accuracy was fine (it's not a sniper pistol).

B-

Value

Not inexpensive, but certainly worth it for those who want this kind of gun.

B+

Our Grade
A-
Reviewed by coldboremiracle
Reader's Grade
TBD
Based on 0 Reviews
Your Grade
Do You Own This Gun? Leave A Review
Success Your Grade Has Been
Added To Our Reader's Score
We use email to verify the accuracy of our reviews. We promise to never spam you.
CMMG Banshee Mk4 Gun Deals
CMMG Dissent Mk4 Ammo
Most of what I shot in the Dissent was PMC XTac, I did shoot some Hornady Frontier 55 grain HP ammunition that also worked great.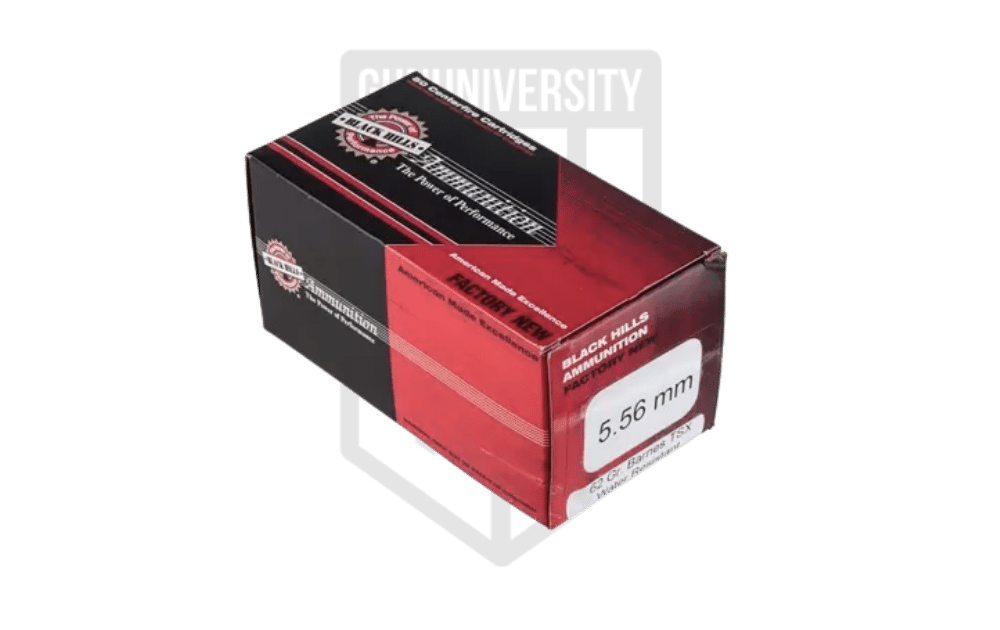 Black Hills 5.56 NATO TSX Ammo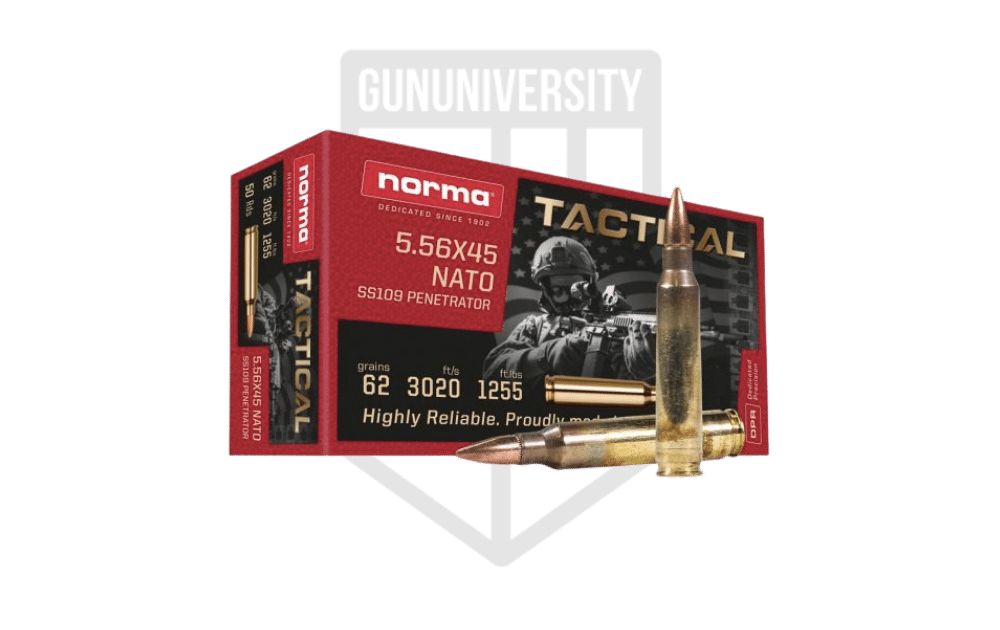 NORMA 62 GR FMJ 5.56X45
I would have liked to try some 75- or 77-grain ammunition just to see how the seven-twist would stabilize it from such a short barrel but that will have to wait for another time.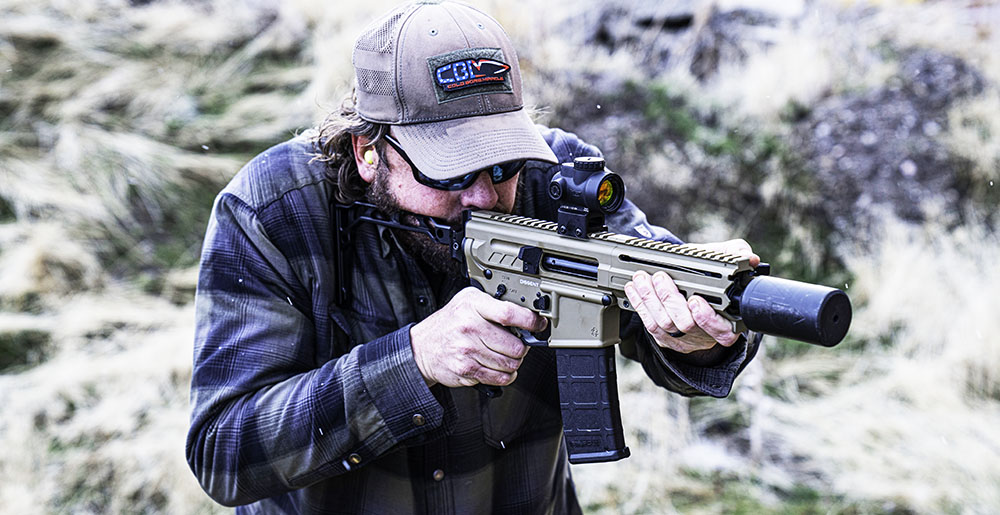 Targets? Targets!
If you're going to shoot, you'll need some targets. We have 'em for you. You're welcome.
Dissent Accessories
A buttstock- For me, this was a must-have. I prefer the JMAC version sold by CMMG. Another good option if you don't want to kneel before the crown is the JMac Arm Brace.
A good red dot or prismatic sight is always a Good Thing- I used the Trijicon MRO but any quality red dot sight would be a good fit for this firearm.
Suppressor- I used several suppressors, and all worked well. Others, like the Surefire Socom 556, would also suit the Dissent.
Vertical Grip- This could easily remedy the issues caused by the (very) short barrel. It would give you a better purchase and stopping point for your hand. This one from BCM won't significantly increase the size of the Dissent and will function admirably in this capacity.
Proper eye protection is critical and should always be worn
Ballistic rated, not just sunglasses

Compare top eyepro

Ear protection is also critical. Protect your hearing!
Many styles (some stackable) are available

Compare best earpro

Every rifle should have a sling and a light
MS1 slider provides rapid adjustments
Strong and wear resistant
Survived testing with tens of thousands of cycles in wet, dry and sandy conditions.

Check price

4 light mounting positions
45 degree offset for ergonomic activation
Ambidextrous 4 total hand-guard mounting solutions
Designed by Haley Strategic for use with laser aiming device

Check price

Proven WML option
1000 Lumen Ultra Hight Output LED
Rugged and reliable
Mil-Spec Hard Anodized finish, and O-ring sealed to keep out the elements.

Check price

Less expensive WML option
Up to 22-hour battery life
TEN-TAP Programming
Includes 2 switch controls (single button & remote pressure switch)
Dual fuel capable
Includes USB-rechargeable battery pack with charging cord

Check price

Good budget RDS option
2 MOA Red-Dot
Motion Activated Illumination
Integrated M1913 Picatinny interface

Check price

Excellent (higher end) WML option
Quickly adjust the reticle in accordance with projectile ballistics and distance to target
Wind compensation adjustment in 3 levels
Compatible with the Aimpoint 3X & 6XMag-1 magnifiers

On Amazon

Lightweight good quality LPVO option

Hash-marked reticle using MOA or MRAD

3.8″ eye relief

112.5-18.8 ft/100 yds

Check price

Clean your optics and weapon light lens
5ml Weapon Light Cleaner
10ml Optic Lens Cleaner
Micro Fiber Cloth

Check price

For cleaning, care, and maintenance
Not all kits are created equal

Compare top kits

You should always have medical gear when shooting (any gun)
External Tourniquet for easy access
Pull handle for rapid deployment
Vacuumed sealed insert to keep your contents protected
Kit content scalability

Check price
More About Your Dissent
Important Links And Manuals For Your 5.56 Dissent
For more info regarding the Dissent, and some ways to train, check out the following resources: