ATN X Sight 4k Pro Review: Affordable Night Vision Scope?
Because the ATN X Sight pro is both affordable, and pretty popular (although I think that is because of the brand name and lower price for a night vision scope), I constantly have people ask me whether it is a decent enough for the price.
Truth is, I think it is. But it isn't my #1 recommendation for best night vision scope under $700. So, read on to find out why it takes second place in that category and what is a better option.
ATN X Sight 4k Pro Specs
Magnification

3-14x

Length

13.8 in

Width

3 in

Height

3 in

Weight

33.6 oz
Specs of the ATN X Sight Pro
Before diving into my personal experiences with the ATN X-Sight 4K Pro, let's discuss its features and capabilities.
Designed with a rugged aluminum alloy housing, they built the scope to withstand harsh weather conditions and the demands of the field. The sleek design is both aesthetically pleasing and functional, providing a lightweight yet robust platform for the range of features it offers.
At the heart of the X-Sight 4K Pro is its ultra HD 4K sensor. The sensor and Dual Core Processor work together to create good images and run advanced apps like a rangefinder and ballistic calculator. The sensor and processor combine to offer users smooth zoom capabilities. This allows for close-up views without sacrificing image quality.
One of the standout features of this scope is its ability to function both during the day and at night. The night vision mode uses infrared (IR) illuminator to offer clear images in complete darkness. The switch between day and night modes is seamless. Without having to change equipment, users can operate under various lighting conditions .
The ATN X-Sight 4K Pro also offers a range of smart features aimed at enhancing user experience. One of these is the Recoil Activated Video (RAV). This feature automatically starts recording when it senses recoil, ensuring that you never miss capturing a shot. The rifle scope comes with built-in Wi-Fi and Bluetooth capabilities, allowing users to connect it to smartphones or tablets.
It comes with a built-in lithium-ion battery that is reported to provide up to 18 hours of continuous operation. This is particularly beneficial for extended hunting trips or long days at the range.
4K Ultra HD Sensor
X-Sight 4K Pro with Obsidian 4 Dual Core
Night Vision Mode
Ballistics Calculator
Recoil Activated Video (RAV)
WiFi (Streaming, Gallery & Controls)
IR Illuminator
Multiple Reticle Options
Up to 18 hours Battery Life
ATN X Sight 4k Pro Features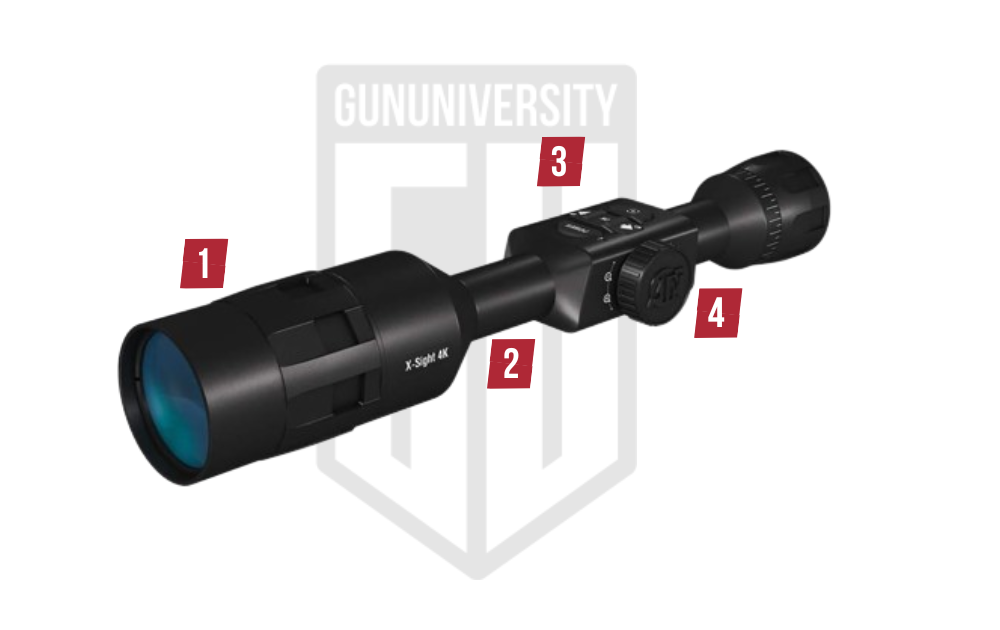 1
Lens Size
Choose either a 3-14x or 5-20x lens to best suit your hunting needs.
2
30mm Tube
Easy to find scope mounts with the 30mm tube if you dont want to use the included rings.
3
Easy to access buttons
Top mounted controls are easy to access and use.
4
Spin to Zoom Wheel
Tactile spin to zoom wheel is intuitive to control your magnification level.
Models and Variations
The ATN X-Sight 4K Pro is available in either 3-14x or 5-20x. You can also get them in 3 different camouflage patterns.
Full Review of the ATN X-Sight 4K Pro
After putting the ATN X-Sight 4K Pro through its paces, I can confidently say that my feelings are a blend of admiration and a bit of reservation. Sure, it's not your run-of-the-mill optical rifle scope; it's a hybrid that meshes traditional scope functionalities with modern tech features. Although the visual clarity isn't what you'd get from an optical scope, it still holds its own—coming close to 90% of traditional scope performance.
The day and night vision capabilities are a huge draw. I tried it during night hunts and while it's not military-grade, for a price point around $700, it's more than acceptable. Also, the ability to record hunts and navigate through its many settings—like Bluetooth and range-finding—elevates the experience. The intuitive buttons made navigation a breeze, something I truly appreciate when I'm in the zone during a hunt.
However, it wasn't all smooth sailing. The scope rings it ships with are sub-par and should be your first replacement. They're likely the culprits when people complain that their scope doesn't hold zero, an issue I also encountered. My test run on a .308 AR-10 confirmed that the device itself can maintain zero. So, don't blame the scope; blame the accessories.
Another area for improvement is the included IR illuminator for night vision. It's passable, but if night hunts are your thing, investing in a better illuminator will pay off. That said, I was quite satisfied with its performance for up to 150 yards during night hunts.
What sets this scope apart for me was its teaching potential. With Bluetooth streaming, I could guide new shooters in real-time. The One Shot Zero feature is a time and ammo saver; it's innovative and works well. However, the digital display leaves a bit to be desired, especially at higher magnifications. The reticle options are also somewhat limited.
I also had a minor hiccup when the scope display froze during a crucial moment, which raised questions about its reliability under stress. Battery life, however, has been impressive, barely dipping even after a night-long hunt.
All things considered, the ATN X-Sight 4K Pro offers a suite of features that traditional scopes can't compete with. While it has its drawbacks—namely the visual clarity and some reliability concerns—the range of features makes it a reasonable investment if you're open to embracing the future of digital scopes.
Still, if you're looking for a scope where reliability trumps tech features, then its competitor, the Sightmark Wraith, might be a better choice. It may not have all the bells and whistles, but it offers robust performance, and that's something you can't overlook.
My Final Recommendation
After spending considerable time with the ATN X-Sight 4K Pro, my feelings are mixed. I appreciated its unique features like the ballistics calculator and night vision mode. I could get decent shots at 100 yards and over – unlike others, and the ultra HD optic was a game-changer for night hunting. However, its downsides, like the blurry image at higher magnifications and the occasional software glitches, are hard to ignore.
Overall, while the ATN X-Sight 4K Pro is not the best night vision scope on the market, it's far from the worst, it did make my list of best night vision scopes under $1,000 after all. If you are tech-savvy and are looking for a scope that merges digital features with traditional scope functions, this might be for you. However, for pure reliability, I'm leaning towards its competitor, the Sightmark Wraith, as the better night vision scope in the same price range. The Wraith offers fewer bells and whistles but more robust performance….where it counts.
Report Card

Tracking

Scope tracking was on par with other scopes in its price range.

B+

Glass

You will not get as good of a quality of image from this digital image as you would from a standard glass scope.

C+

Reticle

There are multiple reticle and color options.

C+

Turret Feel

The buttons were not the most tactile, but they worked and were easy enough to access.

C+

Value

Great value and many great features for the price.

A

Our Grade
B
Reviewed by Dave Chesson
Reader's Grade
TBD
Based on 0 Reviews
Your Grade
Do You Own This Optics? Leave A Review
Success Your Grade Has Been
Added To Our Reader's Score
We use email to verify the accuracy of our reviews. We promise to never spam you.
FAQ on the ATN X-Sight 4K Pro
Is the ATN X-Sight 4K Pro good for an air rifle?
Yes, it works well with air rifles, especially for backyard shooting.
How effective is the night vision mode?
The night vision mode is effective up to 200 yards with the help of the IR illuminator.  However, I think the better range is probably 160 or less. 
Can I record video with this scope?
Yes, it comes with a Recoil Activated Video feature, but your mileage may vary on its effectiveness.
Does the scope have a ballistics calculator?
Yes, the ATN X-Sight 4K Pro comes with a built-in ballistics calculator among its many features.
Are there any reliability concerns with the ATN X-Sight?
There have been instances where the digital display froze during use. This is something to consider if you require a scope to perform under stressful conditions.
Important Links