Aimpoint ACRO Review: Solid Mini Red Dot Option
The Aimpoint Acro is the first time Aimpoint has gotten serious about mini red dot sights. Sure the T1 and T2 series optics have been adapted to the mini red dot sight role, but they are still relatively large for their size. The Acro shrunk things down a bit and aimed to retain the legendary Aimpoint reliability in a micro-sized red dot.
Aimpoint wasn't one to take the traditional route when it comes to MRDS design. Instead of an open window design, the Aimpoint uses an enclosed system. We are going to talk a bit more about that unique design take, as well as everything else about the Acro, during our full review.
Aimpoint – Red Dot Masters
Aimpoint ACRO SPECS
Length

1.9″

Width

1.2″

Height

1.2″

Weight

2.1 oz

Magnification

1x

Eye Relief

Infinite

Window Size

.63 inches

Adjustment Gradiation

.6 inches at 100 yards
Aimpoint is a Swedish firm that arguably created the modern red dot. Way back in 1975, they made the first modern red dot optic, and boy oh boy, was it massive.
It's incredible how far Aimpoint has come when you look at the original optic and then the Acro. It's a good thing they found a way to shrink things.
Aimpoint optics have a long history of military service dating back to the 1980s.
Delta Force was a big fan of early Aimpoints, and they were used extensively by Delta during Operation Acid Gambit and the Black Hawk Down situation.
The United States Army adopted Aimpoint's M4 model as the M68 CCO for general issue. Aimpoint red dots serve in a wide variety of police forces both in the United States and around the world.
Aimpoint makes tons of different red dots and magnifiers for a variety of different roles. They make dedicated optics for hunting like the H1 and H2 red dots and the S1, a shotgun specific optic. They were even the first company to create red dot with ballistic drop turrets for specific rifle rounds.
The Acro premiered in 2019, and by now, it's received its comeuppance from the gun community, so is the juice worth the squeeze?
Aimpoint ACRO Features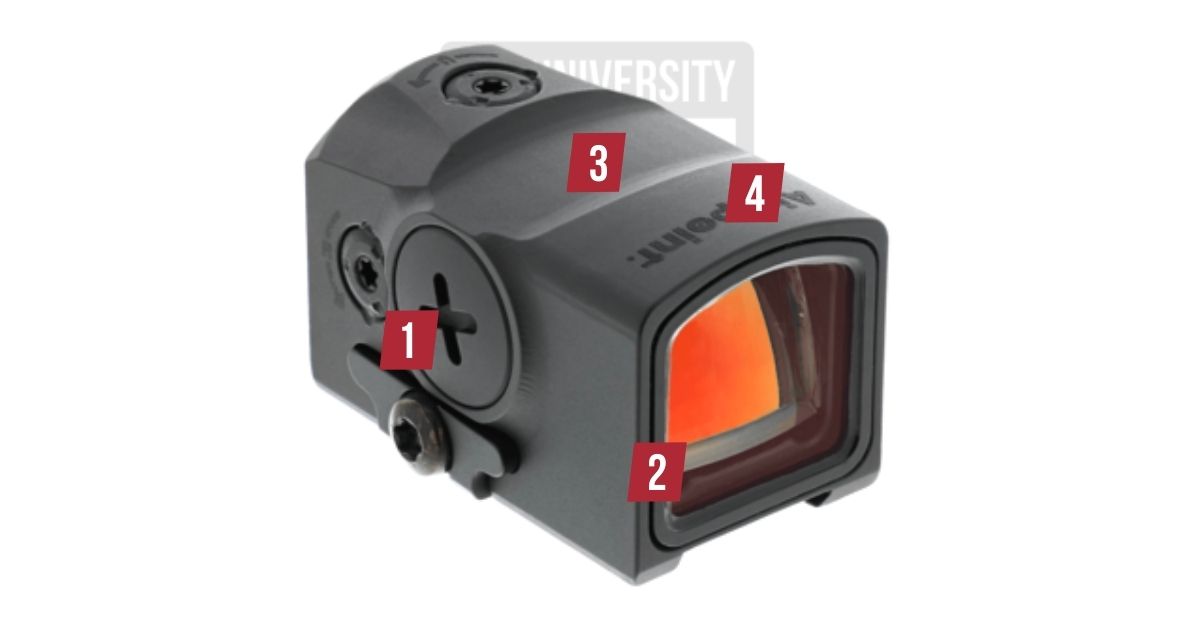 1
Side Loading Battery
Makes for easy replacement when needed.
2
3.5 MOA Reticle
It's a simple red dot, but it's visibly clear and crisp.
3
Night Vision Compatible
The P-1 variant has 4 different night vision settings!
4
Fully Enclosed System
Reliable, robust, and completely protected.
ACRO Variants
The Acro comes in two variants. This particular model is the P-1, and the other variant is the C-1. The P-1 is intended for the professional market, and the C-1 is designed for the civilian market.
The P-1 has four-night vision settings, and the C-1 has only two. Both have ten total settings.
The P-1 can be submerged to 25 meters, and the C-1 can be submerged to 5 meters. The P-1 has an operating temperature range of –45°C to 71°C and the C-1 operates at –30°C to 60°C.
The Aimpoint Acro – Our Take
The Acro is a controversial optic. The enclosed design led to a lot of naysayers who didn't like the design and felt it to be overly bulky. Most of these claims were made before the optic was even released.
However, do they have merit?
Is the Acro a worthy red dot for your handgun or for any other weapon?
What's It Good For?
We've mentioned handguns a lot, and the Acro was undoubtedly designed with guns in mind. But that's not all. The Acro P-1 is an excellent optic for a wide variety of roles. The Aimpoint Acro could be equipped to a handgun but also be suitable for a shotgun or rifle.
Shotguns and red dots are a natural fit, especially small red dots that can be mounted low and used with traditional shotgun stocks. Rifle wise these are well suited for a close quarter's home defense weapon. Toss it on a PCC or a subgun, and you have a small and lightweight optic that keeps your gun small and light as well.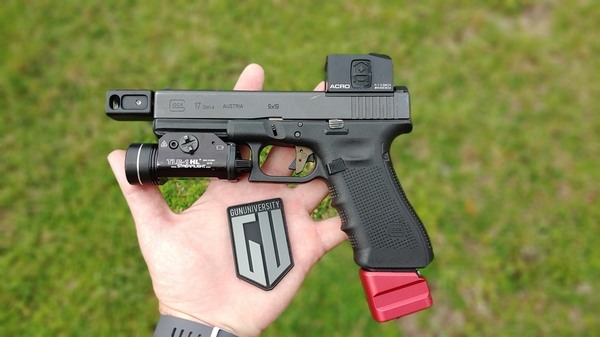 On a carbine, this is a great choice to piggyback on a magnified optic for on the fly close quarter's shooting.
Aimpoint and the aftermarket are quite supportive of their optics. Aimpoint makes optics plates for the Glock MOS guns, for the CZ P-10 series, and about a dozen different handguns. There are AR height scope mounts, level sitting rifle and shotgun mounts, and more.
The View
The viewing window through the Acro is small, especially compared to other open window designs. The enclosed design does create a bigger gap in your peripheral vision than most MRDS options. Here's the thing though, if a threat is far enough away to appear small enough to be blocked by the enclosed design of the Acro, then that threat is likely too small to hit with an MRDS.
To me, it's a non-issue.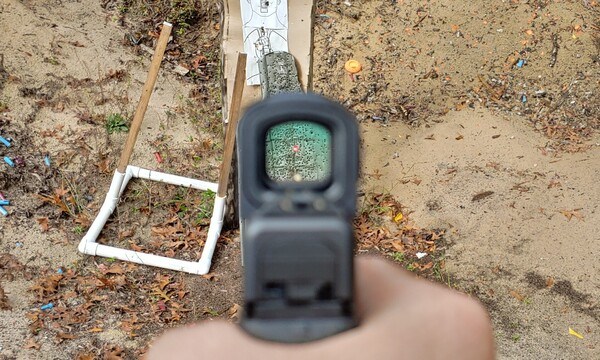 The window does have a noticeable blue tint. That's a requirement to make the red dot a bit easier to see. It's a bit more noticeable on the Acro than other optics I've used, but it's not enough to obscure your view by any means.
Design
The Acro's enclosed design does make the optic larger and bulkier than competing MRDS designs. The Trijicon RMR, for example, weighs 1.2 ounces and is smaller in every direction than the Acro, and offers a slightly larger window too. However, the enclosed design is unbeatable when it comes to durability and reliability.
Open designs like the RMR have an exposed emitter to create the red dot. If this emitter gets wet or blocked, you effectively lose your ability to use the red dot. A blocked emitter isn't common but can happen.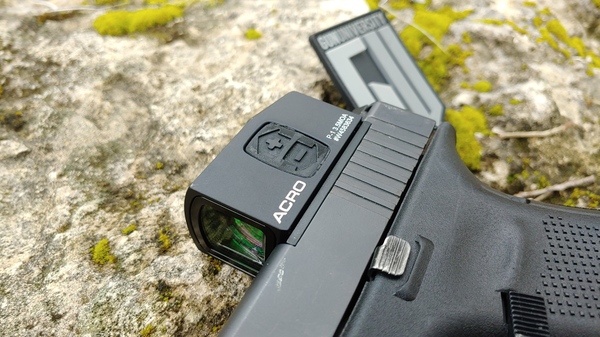 The Acro's fully enclosed design completely protects the emitter. There is no way to prevent the emitter from working without a hammer and some rage. The Acro's design makes it more reliable and robust.
The bulkier design does lend to a few nice design features. The side-loading battery compartment works without a sliding tray, so a fragile failure point is eliminated. The buttons that control brightness are absolutely massive. And easy to engage. With a two-handed grip, your off-hand can make adjustments without breaking your sight picture or grip.
Reticle
The reticle is predictably just a red dot. That red dot is a 3.5 MOA model, so it sits on the side of both precise and easy to see. It's small enough to be used on a rifle at most ranges but large enough to be easily seen for fast shooting.
Clear, consistent, and crisp describe the reticle itself. Some red dots can be less dot and more star, but that's not the case here. The little circle is near perfect throughout its entire range of brightness levels.
Turrets and Adjustments
The turrets sit below a slight lip in the optic and remain exposed. They require a star-shaped drive, and Aimpoint does include one with the Acro. Each click represents .6 inches at 100 yards, and that just a bit over half an MOA per click.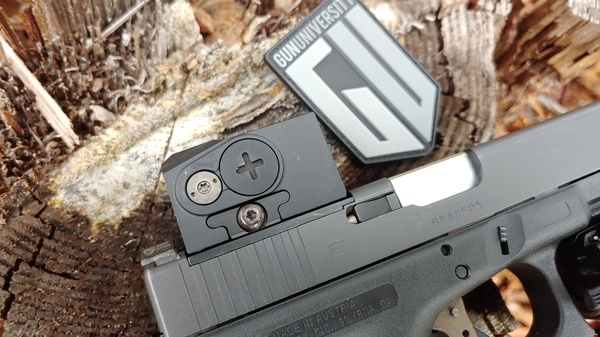 It's an odd adjustment, but it works fine for a red dot like this. I wouldn't want this on a variable or magnified optic. For a dot meant for close-range shooting, it's acceptable and hasn't caused me any issues.
What Don't I Like?
I like most things about the Acro. It's currently mounted on my Glock 17 MOS and will likely stay there for now. My main complaint comes from the battery life. From a company that revolutionized battery life in red dots, the Acro disappoints. It will last 15,000 hours on setting six.
Setting six is just barely daylight visible, and something like setting 7 or 8 is a better choice for bright environments. The RMR and most other MRDS sights outperform the ACRO.
Would I like a smaller and lighter optic? Yes, but I won't say I dislike the Acro because the heavier and bulkier design makes the optic near invincible.
The Dot Life
I like shooting fast and shooting from a distance, and I can do both of those better with the Acro on my Glock. The Acro P-1 proved itself to be an excellent handgun red dot. The robust and rank like design comes at a cost, but man oh man, is this one durable optic. The Acro is a professional grade optic and packs a pro-grade price, but it won't let you down.
Aimpoint Acro Pros and Cons
Durable Design
Excellent Ergonomics
Side Loading Battery
Crisp and Clear Dot
Protected Emitter
Expensive
Heavy
Lowered Battery Life
Report Card

Reliability

Aimpoint built a tank that doubles as a red dot. This thing can't be stopped and will work long past the point other MRDS would fail.

A

Clarity

I'll give it a for the very noticeable blue tint. Other than that, the Acro is clear and provides you a very clear and crisp red dot reticle.

B

Shootability

The optic is incredibly easy to use. The red dot is easy to see, and it's the perfect size for both close and moderate range engagements. The reticle brightness levels allow you to accommodate any environment.

A

Features

The buttons and side loading battery are a brilliant design influence. The enclosed design is perfect for those who value durability over weight savings. I just wish Aimpoint found a way to make the battery last longer.

B
Mounting Your Aimpoint ACRO
If you want to make use of an Acro on your handgun, you need to have a compatible system. Aimpoint makes the plates for a variety of different guns, including Glock, HK, S&W, and CZ.
And if you want to mount the Acro to a rifle, then the Rpeitilia mount allows you a lightweight mounting solution that gives you a lower 1/3rd co-witness with AR height sights.
Either way though, you're going to need the Aimpoint Micro Tool. It's a must for attaching the optic and making adjustments. It's a simple tool that works and is always handy to have on you.
Below you'll find links as where to pick up these mounts and tools plus a sweet cleaning kit you want to keep that reticle ready to go.
Aimpoint ACRO Scope Deals Gun Deals