Trijicon MRO Review: Rugged Red Dot Optic for Durability
If you're in the market for a professional-grade optic that won't break the bank, the Trijicon MRO is a strong contender. As someone who's owned this optic for about 10 months now, in my review I can say that it offers great value for the money and has performed admirably. While there have been some concerns about quality control, I've had a positive experience with my MRO. My confidence in Trijicon's reputation for durability remains unshaken.
In this red dot sight review, I'll delve into the nitty-gritty details of the Trijicon MRO based on my first-hand experience. I'll address some of the common issues and misconceptions about this optic. I'll also provide insights and personal tips to help you make an informed decision.
Let's dive into my journey with the Trijicon MRO.
Trijicon MRO Specs
Magnification

1x

BDC

No

Battery

CR2032

Dot Size

2 MOA

Weight

4.1 oz
Background and Specifications of Trijicon MRO
Before I go into my review for the Trijicon MRO, here's a quick look at its specifications and background.
Trijicon is the industry standard and they have a solid reputation for building optics that can withstand just about anything. They developed MRO (miniature rifle optic) as a response to a growing demand for compact and lightweight red dot sights that retained the durability and performance synonymous with the brand. I own quite a few Trijicon red dot sights myself, including the Trijicon RMR. However, if I am looking for something that can withstand heavy action, then I'd always go with the MRO or the variations, the Trijicon MRO HD or MRO Patrol.
Now that's out of the way, let's get into the specifics. The Trijicon MRO is a small, lightweight scope made for rifles and shotguns. It gives you a clear view of your target without making it look bigger (that's the 1x magnification). This means you can quickly aim and shoot at close and medium distances.
The MRO features a 2 MOA (Minutes of Angle) dot reticle. The 2 MOA dot is an excellent compromise between speed and precision. It's small enough for precise aiming at distances, yet large enough for fast target engagement. The Trijicon MRO offers an expansive field of view, which is a significant advantage for shooters.
This scope has different brightness settings for the dot. It provides six levels of brightness for daylight use and two levels suitable for night vision, catering to a wide range of lighting conditions. You can also choose between a red or green dot. It's like picking the color you like best or the one that works best in the environment you're in.
The MRO offers precise windage and elevation adjustments, with each click representing 1/2 MOA. This level of adjustment granularity is really great because it allows for fine-tuning the point of impact and ensures accuracy.
The MRO is built like a tank. It can take a beating and still keep hitting the target. It doesn't lose its aim even with heavy recoil from shotguns and rifles. They make the outer shell from sturdy forged aluminum, so it's not going to break easily. It's also waterproof and can be submerged up to 30 meters. The design also features a watertight reservoir, making it easier to clean the lens and maintain the optic.
Trijicon offers the MRO with different mounting solutions. You can choose from a variety of mounts, including low-profile mounts and a taller 1/3 Co-Witness mount.
Okay, now that you know about the specs and the background of this red dot sight, let's jump straight into my thoughts about this optic.
Trijicon MRO Features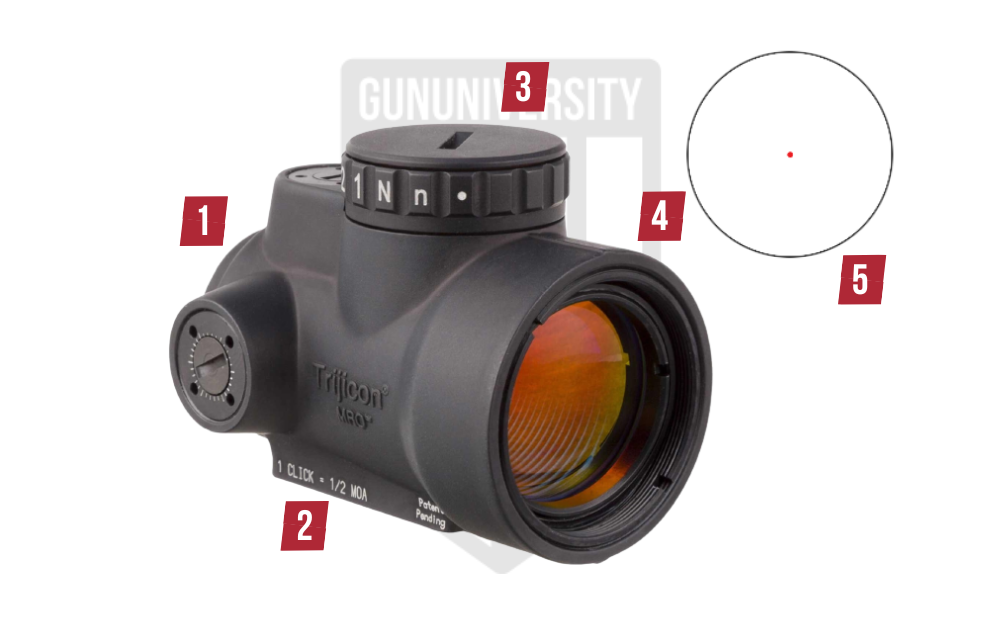 1
Point of impact adjustment
Capless windage and elevation adjustments eliminates snags and lost cap issues and has  1/2 MOA adjustments for fine tuning your zero.
2
Mount options
Different mounting options available to fit whatever weapon platform you are using it on.
3
Brightness controls
Top mounted, ambidextrous brightness control with 8 easily visible settings including 2 night vision compatible settings.
4
Large viewing lens
Large, multi-coated lens provides a clear viewing area with limited distortion for faster target acquisition.
5
Reticle
Simple 2 MOA dot in a large viewing window provides a simple and clear aiming point.
My Review of Trijicon MRO
One of the key selling points of the Trijicon MRO is its optical clarity. Just like other Trijicon optics, it offers excellent clarity. However, there's a slight caveat. When shooting with both eyes open, some users have noticed a subtle bluish hue on the lens. I can confirm this observation, but it's more noticeable indoors than in natural light. Personally, I prefer a more colorless optic, but it hasn't affected my shooting performance.
The MRO excels in many aspects, but it does have a slight drawback that caught me by surprise—it exhibits a very subtle, but noticeable amount of magnification. This becomes more evident when shooting with both eyes open, especially at close quarters. While it hasn't posed a significant problem for me, it's worth noting, especially if you plan to use it predominantly in tight spaces. MRO is the solution if you want fast target acquisition in all lighting conditions, and don't care about magnification.
Glare can also be an issue with the MRO, especially when you crank up the brightness in darker spaces. In some cases, it can result in a halo effect. Additionally, glare is more pronounced in direct sunlight. While this is partly due to the large objective, it's manageable by using the correct brightness settings for your environment. A kill flash can also help reduce glare.
One of the aspects where the Trijicon MRO truly shines is its reliability. It's built like a tank, and I've used it extensively without any issues. It has held zero through many range sessions, even on a shotgun. However, some users have reported zero shift problems, which can be an issue in a professional context. It's something to be aware of, although it didn't affect my personal experience.
The Trijicon MRO offers several features that make it a competitive option. It has six levels of adjustable brightness and two levels of night vision compatibility. This versatility is a significant advantage, ensuring you can use it effectively in various lighting conditions. Additionally, it's available in both red and green dot variants, with the green dot offering better visibility in bright sunlight.
Final thoughts on the Trijicon MRO
My overall experience with the Trijicon MRO has been positive. It's a robust optic that's stood up to the test of real-world use. Despite some minor drawbacks, it delivers excellent performance for its price range. That's why I ranked it as my best duty grade red dot sight in my article–you can check it out here.
In conclusion, the Trijicon MRO offers reliable performance, excellent clarity, and durability, making it a compelling choice for those seeking a high-quality optic without breaking the bank.
Trijicon MRO Pros and Cons
Large viewing lens
5 year battery life
2 night vision settings
Many mounting options
Slight blue tint when indoors
Report Card

Clarity

Large viewing lens is clear, but user might see a slight blueish tint.

A

Reliability

Rugged construction that holds zero and has a 5 year battery life.

A+

Features

The MRO does not have many extra features, but it has all the basics and they work great.

B

Shootability

Simple reticle with large window along with many available mounting options makes this a very shootable optic.

A

Our Grade
A
Reviewed by Dave Chesson
Reader's Grade
TBD
Based on 0 Reviews
Your Grade
Do You Own This Accessory? Leave A Review
Success Your Grade Has Been
Added To Our Reader's Score
We use email to verify the accuracy of our reviews. We promise to never spam you.
FAQ on Trijicon MRO
Is the bluish hue on the lens a significant issue?
The bluish hue on the Trijicon MRO lens is noticeable but more pronounced indoors. In practical shooting situations, it doesn't adversely affect the optic's performance.
How does the slight magnification impact real-world use?
The slight magnification of the MRO becomes more noticeable in very close quarters. However, for most scenarios, it doesn't significantly affect functionality.
Can glare be mitigated when using the MRO?
Glare can be managed by adjusting the brightness settings to match your environment. A kill flash can also help reduce glare in certain situations.
Are there affordable lens cover options for the MRO?
Finding lens covers for the MRO can be a challenge, but some users have found success with the Butler Creek #17 for the front objective.
How does the Trijicon MRO compare to other red dot optics?
The MRO offers a balance of features, durability, and performance for its price range. It's important to try it out and compare it to other options to determine the best fit for your needs.
Is the Trijicon MRO a good choice for law enforcement or military use?
While the MRO offers solid performance, professionals in law enforcement and the military should compare it to other options, such as the Aimpoint Micro series, to ensure it meets their specific requirements.
What are the advantages of the green dot variant of the MRO?
They designed the green dot variant of the MRO for improved visibility, especially in bright sunlight. It takes advantage of human vision, as many individuals perceive green better than red in various lighting conditions. However, it may require some adjustment if you're used to red dots.
How is the battery life of the green MRO compared to the red version?
The green MRO offers slightly shorter battery life compared to the red version. Trijicon claims over one year of battery life on setting three for the green dot, but real-world experience suggests it lasts about six months on setting four. Extreme temperatures can affect battery life.
How does the MRO compare to other popular optics like Aimpoint and EOTech?
The Trijicon MRO offers a different set of features, such as a wider field of view and ambidextrous controls. It's a durable and reliable option, but it's not necessarily a replacement for established optics like Aimpoint pro, AImpoint T2 or EOTech. It complements them by offering a different set of advantages.
Important Links