MagPump Review [2023 + VIDEO]: Ammo Reload?
I'm new to the MagPump – I'm sure I'd seen it before but I have never really given it much thought. Not until I decided to evaluate and write a MagPump review.
There's just something about devices to load magazines that seemed unnecessary at best or something for weaklings at worst.
As you can tell, I've got a very important tough-guy image to protect (that's a joke) so I've always resorted to loading magazines by hand (or by thumb as it were).
So, what did I think of the MagPump magazine loader? Let's find out…
Magazine Loader Background
Magazine loaders are nothing new.
In fact, many firearm manufacturers now include magazine loaders in with their products from the factory.
However, many of the loaders I've seen before are simply sleeves that allow the user to push down the most recent round of ammunition in a magazine so that it is easier to insert the next cartridge. Then, the loader must be raised to allow the cartridge to fully be loaded. These always seemed clunky to me because nobody seemed to have figured out how to handle pistol magazines (until now).
Rifle speed loaders are even more common. In the military, we used "stripper clips" to quickly and easily load 10 rounds of rifle ammunition at a time.
AR-style magazines are very easy to load because the ammo can be pushed directly in from the top – unlike pistol magazines which generally require pushing down on the previous round in the magazine to slide the next cartridge in under the magazine's feed lips.
Also, stripper clips made an easy method of storage for loose rounds of ammunition.
Up until the MagPump, I've never seen a magazine loader that I'd consider spending money on.
Magpump Mag Loaders Features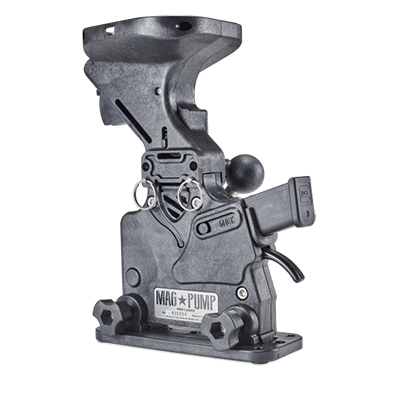 1
Easy Operation
When we met the MagPump crew at SHOT Show, they emphasized that the MagPump isn't for speed (even though it's fast…see my race with it below) but rather ease of use.
2
Works with any Round Orientation
Just grab your ammo and dump it in! The 9mm loader that we used to race (below video) was used by just grabbing a handful of ammo and dumping it in.
3
Durable
We haven't had the time to test one for years, but it looks like it'll last that long (especially the upgraded versions). The mag pump looks over-built.
MagPump Review – Our Take
We first found the MagPump at SHOT Show 2019 when our buddy Kyle Lamb asked us if we heard about it and made us detour to their booth.
I'd like to think I'm fairly fast at loading pistol magazines (when the rounds are oriented properly) so I challenged Kyle to a race…on video…
Well, if you watched the video above, you know that I got smoked. ?
I was loading the rounds fast enough but I just couldn't get one turned around correctly with 16 rounds in my hand.
HERE'S THE EASIEST SUMMARY I CAN GIVE: I've already ordered a pistol and rifle MagPump loader for myself!
As I mentioned above, magazine speed loaders have never really been my thing. Even as Kyle brought them over to their booth, I was wondering if this was a solution in search of a problem.
Boy, I was wrong!
I am always a fan of good engineering and of novel concepts – this thing is both. It automatically orients the rounds and feeds them into the magazine.
Now, I just wish that I could find a way to hook it up to my reloading machine so that it could just fill the magazines as I went!
The real trick that won me over was the pistol magazine loader by Magpump. Sure, the rifle magazine loader is cool, but a simple tray of ammo or speed loaders can do the job just fine (and perhaps even faster). Pistol mags are the real magic here – the Mag Pump can orient the round properly and then slide it up and under the mag's feed lips.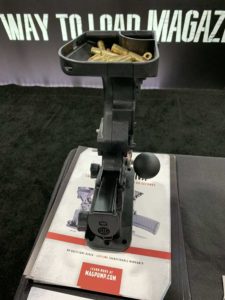 While we were playing with them, we did have the loader get stuck once. Actually, it wasn't really "stuck" but it did need a "jostle" to get feeding again.
This is a much better problem to have than getting jammed down in the mechanism. Once the rounds got into the MagPump, they easily and smoothly fed into the magazine.
If you can't tell yet, I was converted into a fan within a few minutes.
Now, if you are going to the range with only a couple of magazines and a few rounds, this loader may not be for you. Or, at least you shouldn't bring it to the range for you. Sure, it's handy, but it's just too much for this task.
This might be better mounted to a bench at home to use before the range trip.
The MagPump comes with magazine adapters (Kyle showed them off in the video above) that make it easy to switch between makes/models of magazines. there's a little trick to getting the mags in (front down, back down, then slide it in) but after one or two tries, you'll get the hang of it.
Want to see more of the MagPump loader in action? Just pay attention to future GunUniversity videos – we're sure to have it in the background because we'll be using it for all of our magazines!
Mag Pump Pistol Video
Mag Pump Rifle Video
Mag PumpPros and Cons
Easy to use
Fast
Saves thumbs
Might need upgraded durability model
Needs an occassional "jostle" to keep going

Our Grade
A+
Reviewed by Ryan Cleckner
Reader's Grade
B-
Based on 2 Reviews
Your Grade
Do You Own This Accessory? Leave A Review
Success Your Grade Has Been
Added To Our Reader's Score
We use email to verify the accuracy of our reviews. We promise to never spam you.