5 Best Shooting Benches: Field Tested (+Buyers Guide)
When my friend wanted to buy a shooting bench, he came to me for some advice on choosing the right one for the type of shooting that he does. He's someone who usually hunts varmints on his farm, where it can take hours for prey to come by, so it's difficult for him to hold the same position for long with a heavy gun.
Shooting benches are great for staying comfortable during long hunts, and the right one can really support you in improving your accuracy as well. Personally, I have found a sturdy shooting bench to be of great help when I need to quickly sight in my rifle or take an accurate shot with my shotgun.
So to help him out, I set out to find the best shooting benches in the current market. After a lot of testing and research, I've put together a list of shooting benches that can be a good fit for different shooters with different needs.
Before we dive into the list, let's take a quick look at how a shooting bench can help you out.
Why do you need a shooting bench?
If you are serious about shooting, a shooting bench can really help you up your game:
It provides great stability – The main reason I use a shooting bench is to give a solid foundation for my gun. When you are out on the range or field, you need to make sure your firearm is not wobbling or off balance, even on unlevel ground. A shooting bench offers you exactly that; a sturdy platform to steady your aim when you're taking crucial shots.
It helps you shoot comfortably – Hunting is a waiting game, and it's common for hunters to wait for hours in position to take that perfect shot. However, standing or kneeling with a heavy firearm can get extremely tiring and even mess with your accuracy. Here's where a shooting bench can help; you can comfortably take a seat while lining up your shot and actually focus on shooting without worrying about the discomfort. Even at the range, I use a shooting bench because it helps me concentrate better over long periods.
It helps you shoot consistently – I've noticed that I get a lot more consistent shots when I'm using a shooting bench since I'm not constantly shifting my body the way I do when I'm just standing and shooting. Being able to shoot consistently is all about training your muscle memory, and the shooting bench can help you do just that.
Now, you might ask why not use a regular table or any other flat surface instead of going for a specialized shooting bench. One reason is that you can experience some recoil with your gun when firing, and while regular tables can cause skidding, shooting benches are specially designed to stay stable. Secondly, a shooting bench can give you a lot of flexibility in hunting and is usually customizable to fit you; from adjustable rests to ammo compartments, shooting benches can be very helpful to a shooter.
While I do think that most shooting benches bring net positives, there are a couple of cons to them as well. Here's a quick comparison between the pros and cons of shooting benches in general.
Improves accuracy
Provides stability to your firearm
Gives you consistent shots
Helps you shoot comfortably
Expensive
Bulky to carry around
Not ideal for every hunting situation
Since there are quite a few options out there, I tested some shooting benches to find the best ones in the market.
How did I test the shooting benches?
To test the benches, I first made a shortlist of 15 benches based on the ones that I've enjoyed shooting with and the ones that my buds at Gun University have liked as well. Then, I designed a few tests based on a few specs to evaluate the shooting benches.
Stability – I loaded up the shooting benches and took them to different types of terrain, from the ground at the range to the forest, to test their stability. This helped me test their performance on uneven ground and see how they stabilize the firearms.
Space – When testing for space, I checked both the area of the bench's surface and how much of it is actually usable to the shooter. Once I had measured each table to find its area, I loaded the table surface with different shooting equipment and guns to check its capacity.
Portability – Now, this was a tough category to design tests for, so I measured it based on a few factors; the weight of the shooting bench to make sure you can carry it, the ease of taking it apart and putting it back together, and how well the bench fits in a standard truck.
Performance – To measure performance, me and my buddies took turns shooting on the bench with several guns. One of my friends even took a few crossbows to some of the benches. This helped us judge both performance and comfort across a pretty diverse range of guns.
After putting the shortlisted benches through these tests, I finally came up with the top shooting benches for different shooters. Keeping in mind that not every shooter's needs are the same, I didn't rank them in any particular order. Instead, I've thought of what different shooters might want out of their shooting benches and sorted them into those categories.
Gun University's Picks for best shooting benches
Shooting Bench Spec Comparison
Below is a table of the specifications for each shooting bench. Click the name of the item to jump to that review.
Best Shooting Benches
Here is our list for the best shooting benches
Best Shooting Benches – Reviews
I've written a detailed review of the best products for each category and listed factors that can help you choose the best one for your needs.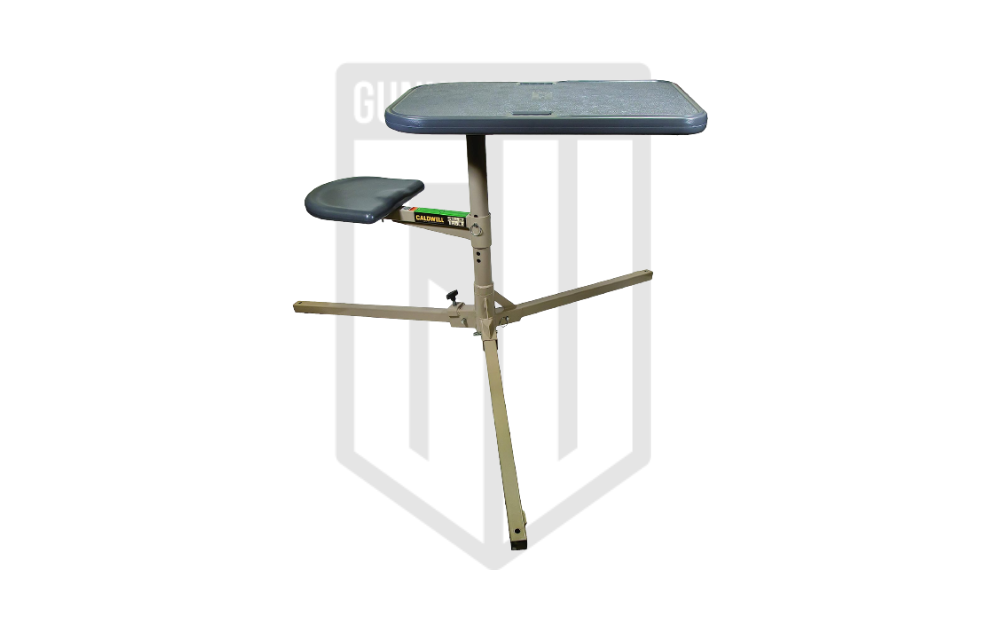 The Caldwell Stable Table is sturdy shooting table with adjustable seat height and strong construction.
Stability

A+

Comfort

A

Durability

A

Portability

A-

Overall

A
Reader's Grade
TBD
Based on 0 Reviews
Your Grade
Do You Own This Accessory? Leave A Review
Success Your Grade Has Been
Added To Our Reader's Score
We use email to verify the accuracy of our reviews. We promise to never spam you.
Caldwell Stable Table Specs
Material

Plastic, alloy steel

Surface area

34" x 23"

Weight

60 lbs

Does it come with a seat?

Yes
Caldwell Stable Table Review
Caldwell Stable Table has some great features that can support shooters in a lot of different scenarios. Though it isn't the best table for any particular category, its overall performance is solid and that's why it's my pick for the best overall shooting bench.
I didn't actually buy the Stable Table first; I started with the Caldwell Stable Table Lite, which is a good collapsible option, and since I was very happy with it, I decided to try its big brother, the Stable Table. The Caldwell Stable Table not only met my high expectations but even managed to exceed them because of how much of a positive impact this had on my shooting.
The first thing I liked about it is the feature that gave Stable Table its name–stability. The Caldwell Stable Table is built to keep your shots rock-solid with its sturdy steel frame and the heavy-duty tabletop can handle whatever you throw at it. I also really like how much space it has because I can keep my ammo, cleaning forks, and other equipment on it without overcrowding the table.
I mostly use the Stable Table to sight my rifles and the spacious tabletop is great for that as it gives me plenty of room to set up my rifle. A nice feature of the table is that it has two slots for the cleaning forks. Sometimes, when I'm sighting a rifle, I need to clean it for a better grouping and having the cleaning forks and the space to clean my rifles on the field has saved me a lot of time.
Another nifty feature I like about the Stable Table is its adjustability. Both the seat and the table can rotate 360 degrees together, so you can shoot from any angle you like. The legs are also adjustable, so you don't have to worry about it wobbling on uneven ground.
Assembly is pretty straightforward, but I'm going to be honest with you; doing it for the first time takes a bit of hands-on work. You are going to need a couple of wrenches to attach the seat and the tabletop but after that, any time you want to use your Stable Table, all you have to do is adjust it to your liking and get right to shooting or sighting.
I do have a few issues with it though. One is that it's a fairly heavy table and is not collapsible, so that makes transporting it anywhere a huge pain. The Stable Table is a great option if you're looking for a more permanent table in your backyard. But if you want to lug your shooting bench out hunting, something like the Stable Table Lite or MLM HLST High Low Table would be a better option.
For the same reason, I don't use it to hunt game. I've seen my buddies use it, but while I can understand using it to hunt prairie dogs or whistle pigs, I don't think it'd work that well for more agile game as it's not very portable.
Another is that the seat has no back support, so it can get really uncomfortable if you are staying out shooting for long periods of time. This is not a deal breaker for me because I don't really mind it, but if you are someone who considers back support and comfort essential, this might not be the one for you.
Other than those small complaints, I do think Caldwell's Stable Table is a great option for any shooter who is looking for a sturdy shooting bench. It's fairly priced and keeps you and your guns stable, so I highly recommend it.
Caldwell Stable Table Pros and Cons
Durable and weatherproof
Stable metal frame
Tabletop can be rotated 360 degrees
Railing on the edge to prevent items from falling
No built in barrel support
No back support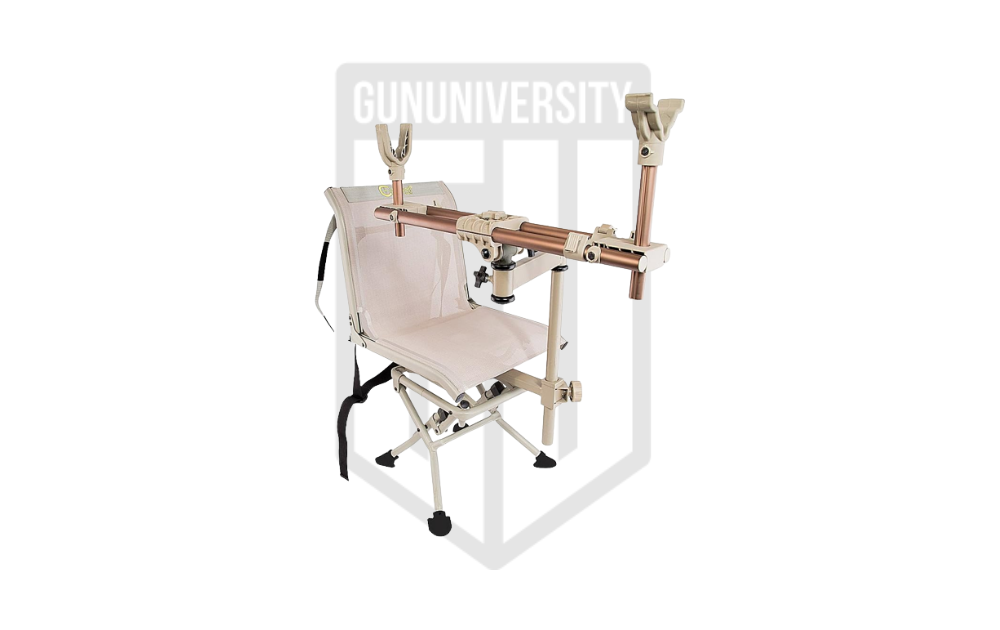 The Caldwell DeadShot Chairpod is a very portable shooting platform with adjustable shooting rest.
Stability

A-

Comfort

A

Durability

A-

Portability

A+

Overall

A-
Reader's Grade
TBD
Based on 0 Reviews
Your Grade
Do You Own This Accessory? Leave A Review
Success Your Grade Has Been
Added To Our Reader's Score
We use email to verify the accuracy of our reviews. We promise to never spam you.
Caldwell DeadShot Specs
Material

Aluminum

Surface area

N/A

Weight

22 lbs

Does it come with a seat?

Yes
Caldwell DeadShot Chairpod Review
Another Caldwell on the list! That's because they are one of my most trusted shooting table brands whose quality of work and craftsmanship is always top-notch.
Technically, the DeadShot Chairpod is more of a shooting rest with a chair than a shooting bench. It doesn't have a tabletop–which is a huge bummer because there's no way to store ammo or equipment–but this design keeps the gun and the shooter stable, so you can take long-range shots with confidence.
The chair is super comfortable and supports me well, but what really sold me was the versatile shooting rest. The rest worked great for all the rifles and crossbows I've used it with–except my Excalibur Matrix Micro 335–so I can somewhat forgive the lack of a tabletop.
Another plus is that it's a great compact option for hunters who are looking for a rest to keep their guns stable on uneven terrain. With a little practice, I could set it up steady and level even on hillsides and rocky ground, so stability wise, I have no complaints with the DeadShot Chairpod.
The whole thing (the chair and the shooting rest) collapses neatly into a bag and it barely weighs 22 lbs, so you can carry it hiking with you. I actually did this last season and while I'm not a fan of the way it thumps against my back when walking, it's a pretty convenient option for most shooters.
Assembly was fairly easy, but remember to follow the manual closely; with all the moving parts that DeadShot has, it's easy to miss something when assembling. The first time I assembled it, I actually made a mistake with the pivot and couldn't get it to stabilize. So I had to take the whole thing apart to put it back together the right way.
The DeadShot Chairpod has a lot going for it, but there are a few cons you should know about if you are thinking of getting this one. While it's a feature-packed shooting rest that's both comfortable and functional, it also comes with a pretty steep price tag. I'd say you definitely get bang for your buck, but if you're looking for a budget option, this might not be the one for you.
Another issue is the lack of a tabletop; you have to make sure the gun is in your hand before standing up or sitting down, or else your muzzle will hit the dirt. You also don't get much space to store your ammo or other equipment, so if you are looking for something to sight your guns with, I recommend going with some other bench that has a tabletop.
Even with those issues, I still think the DeadShot Chairpod is a great option for long-range hunters looking for a good shooting bench to invest in.
Caldwell DeadShot Chairpod Pros and Cons
Can be used with most rifles and crossbows
Rotatable 360 degrees with minimum effort
Light weight
Comes with a big chair and a backrest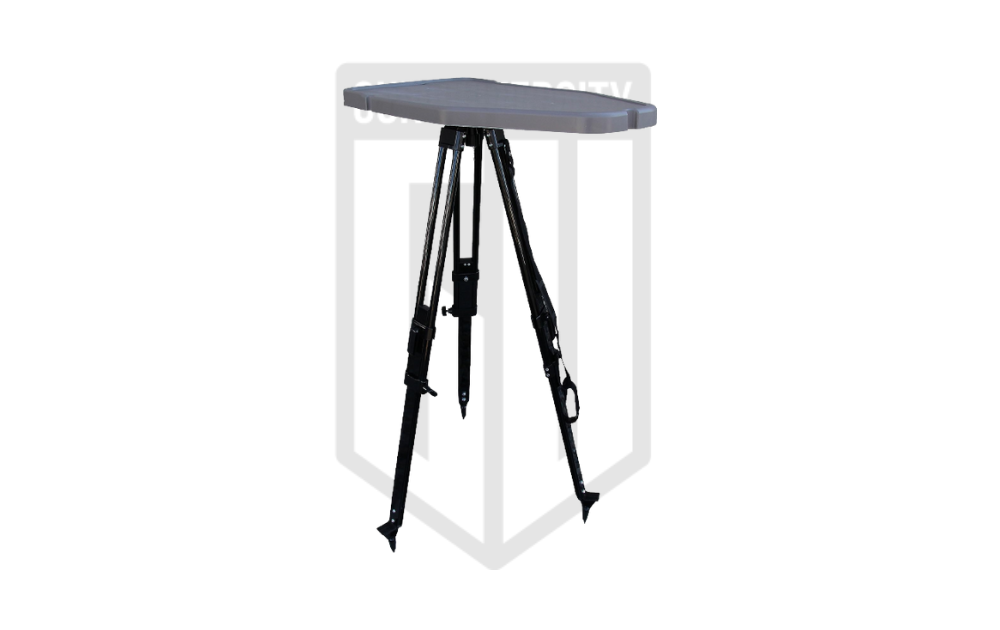 The MTM HLST is a very lightweight and portable shooting platform with a tripod base.
Stability

A-

Comfort

B+

Durability

A-

Portability

A+

Overall

A-
Reader's Grade
TBD
Based on 0 Reviews
Your Grade
Do You Own This Accessory? Leave A Review
Success Your Grade Has Been
Added To Our Reader's Score
We use email to verify the accuracy of our reviews. We promise to never spam you.
MTM HLST High Low Shooting Table Specs
Material

Plastic, aluminum

Surface area

17" x 33"

Weight

11 lbs

Does it come with a seat?

No
MTM HLST High Low Shooting Table Review
MTM Case-Gard are known in the shooting community for making quality shooting accessories and their portable shooting bench, the MTM HLST High Low Shooting Table, does not disappoint. It might look simple, but if you're looking for a lightweight, ultra-portable, and sturdy shooting bench, the High Low Shooting Table is definitely worth checking out.
What makes the High Low Shooting Table stand out to me is its portability. It weighs barely 11 pounds and is made up of two removable pieces; the tabletop and the tripod stand. Both pieces were very easy to carry around as they are designed for maximum portability (the tabletop has a molded carry handle and the tripod has a shoulder strap, so they are both easily transportable).
They make the tabletop with strong polypropylene plastic and it provides you a lot of space to play around with; I could fit my rifle, gun rest, and ammo comfortably on the bench when I took it out last season. The MLT HLST High Low Shooting Table also has these neat little slices on the sides to rest the rifle when you are not using it. I wish they had added some storage pockets, but since it's a portable bench, I understand not wanting to make it too heavy.
Another nifty feature of this shooting bench is its individually adjustable tripod legs. They are great on uneven ground as I could easily adjust each leg to get a nice, level, stable surface for my gun. It helps that the tripod legs have a pointy shape; I could stick them tight into the ground, and that kept the bench stable through different ground conditions. The High Low Table is also very versatile when it comes to height; I can adjust it from 18 inches all the way up to 55 inches. It's also fully rotatable, meaning you can take shots from any angle you like.
However, the High Low Shooting Table has a major problem; it doesn't come with a chair, so if you want one you'll have to carry it separately. I did add a separate folding chair to my trips, but if you are looking for a full set complete with a chair, this might be a deal breaker for you.
Another issue is that the tripod is not the most stable to use in the shooting range. What makes it so great for the outdoors works against it indoors because the spiked tripod legs are unstable on smooth or hard surfaces. So if you are more of a range shooter, then I recommend going with something like the Stable Table Lite instead of the High Low Shooting Table.
That said, if your main goal is to have a good portable shooting table to throw in the back of your truck for outdoor hunting trips, and you don't mind getting a separate chair, then I recommend going with the MTM HLST High Low Shooting Table.
MTM HLST High Low Shooting Table Pros and Cons
Light weight
The table has a ridge to prevent items from falling off
Tabletop can be swiveled 360 degrees
No chair provided
Not the best on smooth, hard surfaces
The X Stand is a portable shooting bench with build in chair and gun rest.
Stability

A

Comfort

B+

Durability

B+

Portability

A-

Overall

A-
Reader's Grade
TBD
Based on 0 Reviews
Your Grade
Do You Own This Accessory? Leave A Review
Success Your Grade Has Been
Added To Our Reader's Score
We use email to verify the accuracy of our reviews. We promise to never spam you.
X Stand Hunting Bench Specs
Material

Padded, steel

Surface area

21" x 28"

Weight

35 lbs

Does it come with a seat?

Yes
X Stand Hunting Bench Review
I was excited to test the X Stand because I heard so many good things about it. After I tested it, I found its performance very impressive, considering it only costs $129..
The X Stand is very sturdy–it has a strong steel frame, and I was able to keep my gun rock steady with the helpful barrel support that came with it. Assembly was straightforward as well, and it took me an hour or so to put it together.
What caught my attention with the X Stand though, is the accuracy boost it gives. I tested shooting both with and without the bench, and I noticed a big improvement in my accuracy when I was using the bench. If you're a shooter who is just starting out, this is a good shooting bench, as it won't cost you much and really helps in honing that muscle memory.
I was skeptical about the tabletop at first because they made it from vinyl, and was very sure it wouldn't stand up to the plastic and wood tables I usually use. But what do you know, vinyl proved me wrong–it is actually softer and more comfortable to use than wood or plastic, and it stabilizes the gun well too.
It also comes with padding–I took it with me for a two hour shooting practice, and I had no issues with it at all. The chair was soft to sit on, I could easily adjust it, and the tabletop was spacious and comfortable. However, the X Stand doesn't have back support, so if back support is something crucial for you, then it might not be the best choice. The X Stand is very functional as a shooting bench, but as it is a budget brand, it doesn't have the bells and whistles that you'd find in a more premium model.
One major issue I had with it is its durability. The X Stand is not going to be a good permanent bench that you can install in your backyard, because it can't withstand harsh weather conditions. Since it's made of steel and coated with black paint, rusting is going to be unavoidable, as there's no powder coat. So if you get it wet or place it outside, rust is going to build up really quickly, and you'll have to replace it.
I also don't like transporting the X Stand because it's a ton of effort. It's large, heavy, not collapsible, and takes up a lot of space, so I don't really pick it up if I'm planning on going far out into the field. The top half of it, the table and seat, are constantly fighting with each other to open back up. Same issue with the bottom half–the legs just flop around. There are bungee cords to tie these together, but that means I have to lug around another part with me.
If you are going to mostly range-shoot or sight your guns and are on a budget, go with the X Stand; it gets the job done and doesn't cost an arm and a leg. However, if you want something nice and portable for hunting and have some extra cash, consider making an investment in a bench that would last you for a while.
X Stand Hunting Bench Pros and Cons
Great barrel support
Side pockets for storage
Easy to assemble
Not rust proof
Uncapped square tubes can cause injury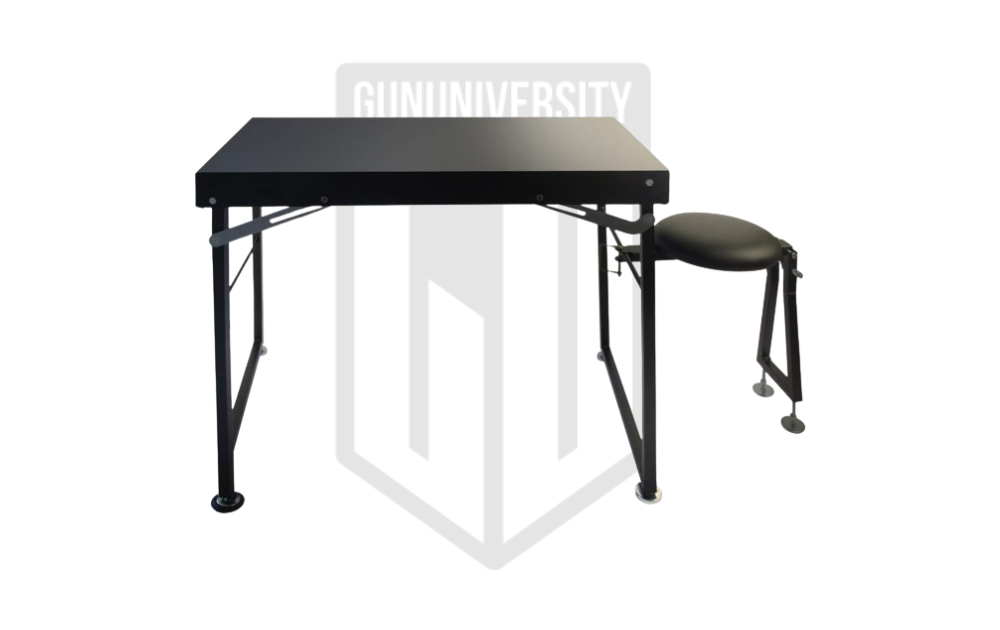 The BenchMaster is a sturdy shooting bench with optional chair.
Stability

A

Comfort

A-

Durability

A

Portability

A

Overall

A-
Reader's Grade
TBD
Based on 0 Reviews
Your Grade
Do You Own This Accessory? Leave A Review
Success Your Grade Has Been
Added To Our Reader's Score
We use email to verify the accuracy of our reviews. We promise to never spam you.
Benchmaster Specs
Material

Steel

Surface area

36" x 23.5"

Weight

30 lbs

Does it come with a seat?

Yes, but it can be bought without the seat as well
Benchmaster Review
Since I spend a lot of money on my shooting equipment, I want to make sure they're durable–no point in burning cash if the gear won't last for a while. That's why I really like the Benchmaster; it's built to take a beating and still keep on going strong.
The first point in its favor is that the Benchmaster's top and legs are powder coated. I always try to go for a powder coated shooting bench rather than a painted one because they are more resistant to rust and won't wear out quickly. They made the legs from solid steel, so this bench would last you a while and also keep you stable.
Other than the durability, the Benchmaster is also easily storable. It has one of the easiest folding and unfolding mechanisms that I've seen in a shooting bench, and this means I can easily get it ready when I need it and pack it up when I'm done shooting.
The Benchmaster is a good portable option as well, since it only weighs 30 lbs and has a sturdy carrying handle. As a bonus, it doesn't come with any additional parts to assemble on the field, so I didn't have to worry about leaving anything behind.
I'm partial toward spacious shooting tables, so I instantly liked the Benchmaster's wide tabletop. I was able to keep all of my accessories and ammunition in the storage space, including my food and drink, which really helps on those long hunts. It's a pretty large table, so I could also take different resting positions with my rifle.
While the Benchmaster is very durable, it is not a very comfortable shooting bench. It doesn't come with any padding and it has no backrest, so you can't sit on it for long periods of time without being uncomfortable. It's understandable though, since the Benchmaster prioritizes durability and any padding could easily be ruined in bad weather, but I do think they could have at least added a backrest.
Another issue I have with it is that the table isn't very height adjustable because, at most, you can only add two inches to it. If you are a shooter on the tall side, this can become a problem because you can't use it without quite a bit of crouching, which can get uncomfortable real fast.
If you are looking for a solid shooting bench that'll last you a long time and are willing to put up with some discomfort or bring your own padding, then the sturdy Benchmaster can be a good choice for you.
Benchmaster Pros and Cons
Powder coating for durability
Large tabletop
Sturdy design
No backrest
Not very height adjustable
Buyers guide
Shooting benches can keep you comfortable and boost your performance during the long hours spent looking for game. But finding the right balance between these features can be difficult, especially for beginner shooters. That's why I put together this buyer's guide to help you pick the right shooting bench for you. Let's get right into it.
What are the different factors to consider when choosing a rifle light?
Before you can find the right shooting bench for you, let's take a quick look at the types of shooting benches. As shooting benches come in many shapes and sizes, it's easiest to start by narrowing down the type of shooting bench you want to go with.
Do-It-Yourself (DIY) – I'm not a handy man myself, but if you like to build your equipment from scratch, you can always make a shooting bench yourself. There's plenty of material online to help you design and build it at home, but keep the following in mind if you are choosing this option:
To install a shooting bench permanently, select materials that are durable such as weatherproof wood and rust-resistant hardware.
A portable bench would have to be sturdy but light enough to carry around and assemble.
You can always go to a shooting range and see what the benches there are like to get an idea of the design.
Consider add-ons like a roof, rain protection, bullet holders, and padded seating when you are building your bench. Don't be afraid to have fun with it!
Portable – If you often go beyond your own backyard and like to explore new environments to hunt in, a portable shooting bench would be the best option for you. These are easy to transport and store as they can be assembled, disassembled, and folded. They usually come in a range of sizes to fit in a pickup or even a smaller vehicle. The right size for you really depends on what you're looking for, how big your vehicle is, and how much storage space you have at home.
Adjustable – The shooting bench that best fits me won't always be good for you; no two shooters are the same, after all. That's why I always look for adjustable shooting benches, as they can be customized according to my build and height. The height, armrest, and table are usually adjustable in this type of shooting bench.
360-degree swivel – The best part about having 360-degree rotation ability is the wider shooting range. Most of these benches can be rotated with or without the legs, and some of them let you rotate the chair in tandem with the table.
The best type of shooting bench for you will depend on where you plan on using it and the different features you want out of your bench. So let's take a look at that next.
What are the different features to consider when choosing a shooting bench?
Now that we've looked at the types of shooting benches in the market, the next step is to think about the features that you should consider when buying one. I've put together the features that I look for when I buy a shooting bench; have a look and see how this list can help you.
Stability – Stability is the most important feature, as it would determine the accuracy of your shot. You can't be using wobbly equipment if you're looking to hit your mark, so don't compromise on this feature. Your shooting rest–where you place the barrel of your gun–and your tabletop need to be as stable as possible. It's also worth taking a look at the material that the legs of your chair are made from–sturdy materials like solid steel will give you greater stability.
Comfort – When I first started hunting, I absolutely hated the waiting game, but once I found a comfortable shooting bench, the wait became a little better. If you have to sit still for hours on end, then the least you can do is find a comfortable chair to do it on. Seats with back and thigh support, foam pads, and adjustable hand rests are some of the features that can increase your comfort levels during a long hunt. Weatherproof seating benches are also a must have–imagine sitting drenched in the rain for hours when hunting.
Portability – The most fulfilling part of any good hunt for me is the change in scenery, but the last thing I want to do is haul around a bulky bench while I'm trying to enjoy myself. Portable shooting benches are a great solution to this, as they can be carried to your hunting spots. While most portable shooting benches can be put in a pickup truck, look for lightweight ones that you can carry by hand for ease of use.
Durability – Since shooting benches often face harsh weather conditions, durability is a must to look for when buying one. Don't opt for painted benches as they will rust; look for ones with a powdered coating that would prevent rust from building up.
Space – Space depends mostly on your needs and what you like to have at hand when you are out shooting. I like to have a big tabletop and some side pockets to store my extra ammunition and empty shells during the hunt. This means that all of my accessories are within my reach and I don't have to worry about my position while looking for something. So think of what you'd like to have with you during hunting trips, and look for a shooting bench that has the right amount of space for it.
Purchasing a shooting bench is a big decision and you need to look at a lot of different specs to find the right one for you. Once you've found the one for your needs, it'll help you improve your accuracy as well as stay comfortable during long shooting sessions.
Conclusion
Shooting benches are great for improving comfort and accuracy during long sessions of shooting, but picking the right one can be a little nerve-wracking for most shooters. Since they're usually a one-off investment, read the reviews and think carefully about what you need from your shooting bench before making a purchase. Happy shooting.
Shooting Bench FAQs
Are shooting benches easy to assemble and disassemble?
Yes, shooting benches are easy to assemble and take apart. Setting up your bench for the first time can be tricky, but after that, they are pretty easy to handle.
What is the best shooting bench for beginners?
X Stand Hunting Bench is a good option for beginners as it is value priced and gets the job done. Once you get more familiar with bench shooting, you can look for more premium options.
Are shooting benches universal for left-handed and right-handed shooters?
Not all shooting benches are made with both left-handers and right-handers in mind. I recommend looking at the product descriptions before you make a purchase–they usually specify if it's ambidextrous.
Do you need a chair when using shooting benches?
You don't need a chair to use shooting benches but I recommend getting one for comfort. While you can get by without a chair, it can make long shooting sessions a lot more comfortable. If you're looking for a complete shooting bench set up, it's worth looking to see if a chair is included in the set.
What is the best height for a shooting bench?
A typical table is around 32" to 34". If you DIY a shooting bench, just pick a height that seems to work best for you, depending on how tall you are and the targets you often go for. If you're looking to buy one, try and opt for one with adjustable heights.
What is the best position to shoot from a shooting bench?
The best position depends mostly on the type of firearm you're shooting with. Generally speaking, you should make sure that you are able to position yourself comfortably while the firearm is positioned straight and aligned with the target.
How to level the shooting bench on the ground?
It depends on the type of shooting bench; most of them are adjustable and will work on most surfaces. However, if you require additional support on very uneven surfaces, you can try using a sturdy piece of wood to help level the surface.