A Woman's First Gun Purchase (Written by a Woman)
Realistically, women should be the most trained demographic of people on the planet because of the inherent risk they face all over the world. For this reason, it is important to develop a plan to become educated about self defense and personal safety through instruction and training.
Taking your first steps in learning about self defense can be intimidating, but it doesn't have to be that way. Owning a firearm and becoming proficient is one of many ways to become more prepared to handle an attack.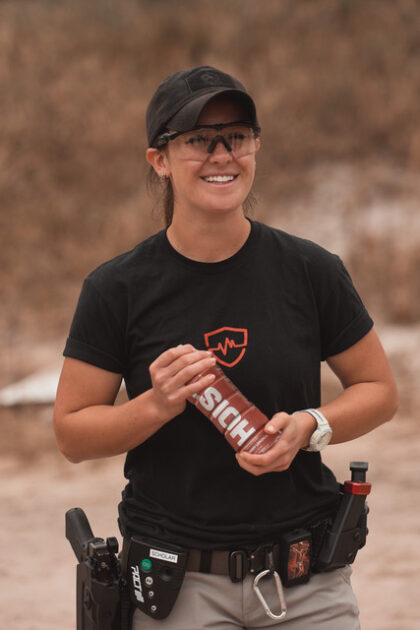 If owning a firearm is something that you are considering, it is most important to first know how to safely handle and operate it.
Fundamentals Training
It is strongly recommended, at minimum, to participate in a fundamentals course before buying your first firearm. This will not only help ensure that you understand the responsibility of owning a firearm, but it will also give you a basic understanding of what components are important to consider when buying your own.
Establishing a baseline of fundamentals will also help you to distinguish between different makes and models of pistols as opposed to taking the internet's word for it.
Choosing the Right Handgun
This purchase needs to be your decision, even though you may be new to the realm of shooting, it is not advisable to rely on someone else to pick one out for you.
Make sure to rent a few of your top choices and actually shoot them before purchasing, bonus points if you can find an instructor to help you do this. This will help prevent you from investing money into a gun that may not realistically fit your needs.
Size Considerations
One common misconception that often causes women to end up with a gun they are unhappy with could be due to the marketing associated with smaller framed guns, aka, "micro-pistols". Many manufacturers market these types of smaller framed pistols towards women and buyers with smaller hands because, at face value, this correlation would make sense.
In reality, smaller pistols are much harder to grip, have significantly more recoil than larger frame guns in the same caliber, are less accurate, and hold less rounds in the magazine. Yes, smaller hands may require a thinner grip or a shorter trigger reach, but this is different from having an entirely smaller gun. Additionally, the shorter barrel length creates an unequal balance above and below the belt line for concealed carry, which often times actually ends up making it more difficult to conceal.
Caliber Choice
Smaller caliber pistols are often marketed in the same way, for example, the 22lr or 380. Shooting a smaller caliber round will certainly have less recoil, but through proper training you will most likely quickly outgrow them through understanding proper technique and practice.
In general, 9mm has proven to be a more effective defensive round.
Semi-Auto vs Revolver
Lastly, the debate between the revolver and semi-automatic.
Although revolvers are simpler to load and unload, the long term benefits if you plan to consistently train with your new gun are outweighed by the semi-automatic.
The most common hurdle faced with the semi-auto platform is that oftentimes, new shooters have a hard time racking the slide on the gun. However, I can assure you that with proper technique and repetition, this becomes less and less of an issue.
If a shooter is using all of their strength to pull the slide back, there may be a flaw in the technique that is limiting them. Don't give up on it after a few tries, I suggest finding an instructor who can help you address the issue and push past the block.
I cannot stress the importance of proper technique enough, especially if being smaller in size is a factor. As a 5'1", 115 pound woman, who at one point faced these decisions myself, I recommend new shooters to begin learning with a larger framed, semi-automatic, 9mm pistol and focus on building the fundamentals and technique before making a decision of which gun to purchase. I cover many of these topics on my Instagram Page.
Next Steps
So, you've taken a fundamentals course and purchased your first gun- now what?
Oftentimes new shooters are unsure of which steps to take next so they end up not training at all, but there is so much more to it!
Shooting fundamentals take time, repetition, and continued learning to develop. Additionally, it is important to continue education through courses that teach holster draws, concealment methods, situational awareness, de-escalation, low light, medical response, and most importantly, decision making under stress.
Although it may be more difficult to find, I especially recommend seeking out courses that utilize scenario based training to allow students to utilize their skills under pressure in a safe and controlled environment.
With this in mind, The Red Letter Project hosts three women's retreats per year, each designed to incorporate the topics listed above.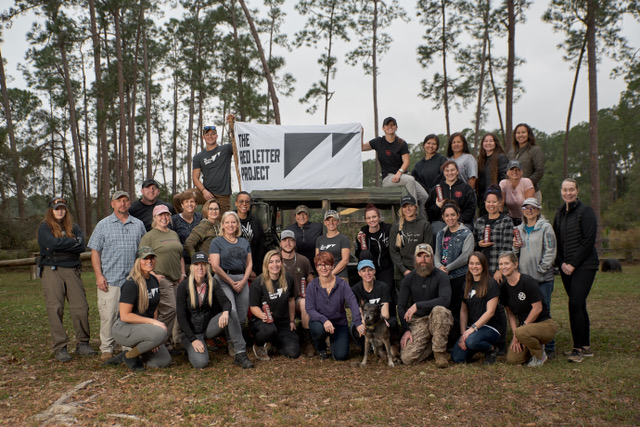 Whether you are a new or seasoned shooter, the host of instructors will meet you at your skill level and help you grow in these areas. We provide a unique learning environment that builds community among other women while also setting the standard in women's education.
RLP even has rental gear available if you are still in the beginning stages of your self-defense journey and do not yet own your own pistol.
RLP is a Christian based organization. Although optional, we host small group Bible studies throughout the retreat weekend for those who would like to join. We believe that God places a special emphasis on the value of human life and justice throughout scripture, which is why we continue to train and develop the skills needed to protect ourselves and our family.
As an example, one of our retreats' main theme is "Home Defense" and we cover topics including defensive pistol, an AHA CPR certification, a low light seminar, and scenario based training simulations.
You can read more about all of our events and see our current schedule on our website. There is no better time than now to learn how to better protect yourself and your loved ones. The world we live in is unpredictable and volatile and training has – and will always be – imperative, and it may be the most important investment you will ever make.
All of us at The Red Letter Project thank you for entrusting us with your protection and safety and hope to see you at the next event!